2019 has been a weird old year. Probably the most anxious year of my life in fact; long-term visa decisions, a new job, my first press trip, living away from home for the longest period to date… oh – and not forgetting Brexit.
At the same time, it's been a year of less international flights and more micro-adventures such as to Ballarat, the Great Ocean Road and Tasmania. I've got to know my adopted home of Australia more than ever and gone from liking it, to totally falling in love with it.
Though it pains me to admit that even throughout this journey there have also been some real emotional lows. But I guess sometimes you need the lows to really appreciate the highs, right?
So as we approach a new year, excuse me for a minute (or five) as I self indulge in a 2019 year in review (from the good to the ugly).
1. Sponsored travel collaborations are stressful
So hopefully I don't sound like an ungrateful brat here but I always think it's important to be completely transparent about things.
A press trip was something that I had been dreaming about since I first started travel writing and blogging back in 2017. Though I didn't actually think I'd ever get one. So it was a complete surprise to be offered a luxury hotel stay in exchange for blog and social media posts during my trip to the Philippines in May.
I was a complete novice to this kind of partnership. Consequently I spent the whole three days freaking out about what to capture, whether I was doing it well enough, worrying about the photography and mainly what I was actually going to write about at the end of it. Imposter syndrome hit me hard. So much so that I was actually scared they'd kick me out for being a fraud.
I was in 5* luxury and appearing to have the time of my life. Instead my partner and I bickered, we got up at the crack of dawn every day to get pictures with no-one in sight and had an intense program of activities when we just wanted to chill and get over our jet lag. It kind of tainted the whole experience.
I calmed down a lot on my second press trip to Romania but what I did learn is that you're very much working on these kind of arrangements. You often have a tight itinerary of activities and little time to yourself.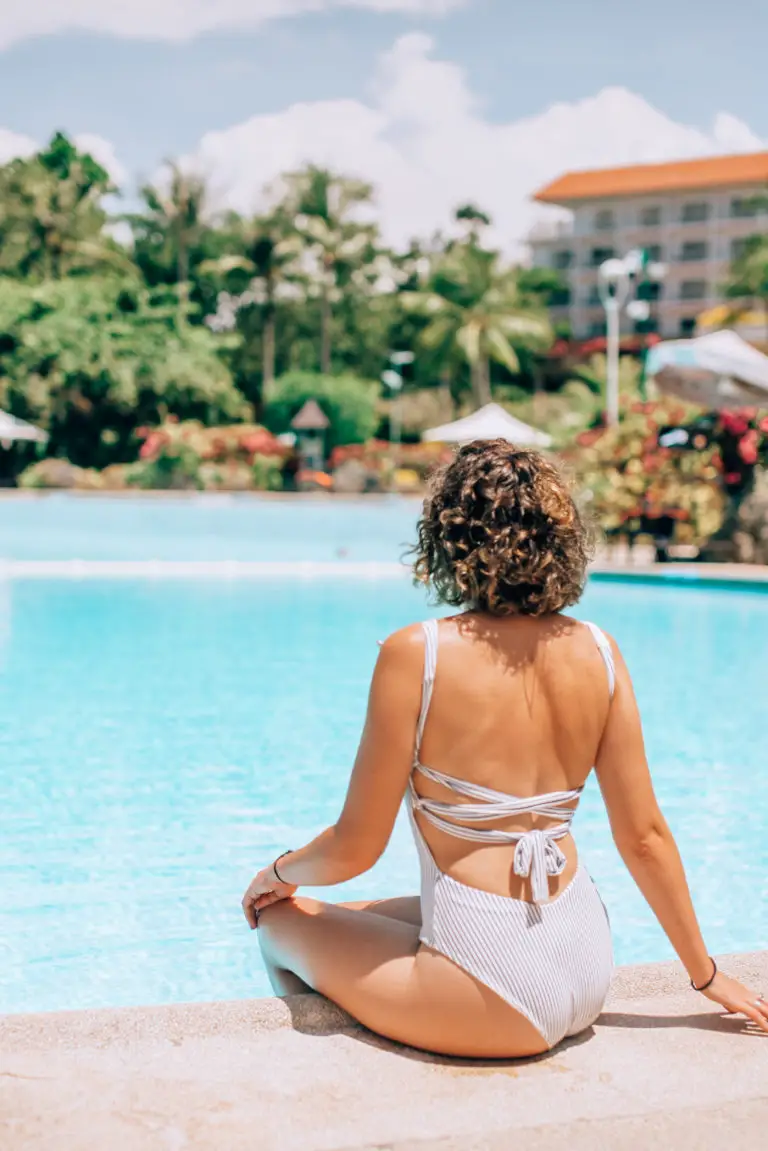 2. Working four jobs is too much
I guess this may sound kind of obvious but I like to keep busy so I don't overthink and I also like doing varied work. In 2019, as well as a full-time marketing contract, a freelance job and travel writing (oh and blogging), I decided to get a bar job on a Friday and Saturday night.
Safe to say it lasted one weekend. I realised that not only were the managers bullies to the younger staff and I don't actually need to willingly put myself into a toxic environment, the burnout is also not worth it.
Rest and down time makes you more productive than overworking ever will.
3. Visas Suck
Although I'm extremely grateful to be a UK citizen with a strong passport allowing me to work in many places around the world, there comes a time when visas expire. And I'm a few months away from that right now.
Now that the end of my Australian second year working holiday visa is drawing near, I have to decide whether I leave my partner in Australia or file for a defacto visa at a cost of $8,000 and stay. 
However one major concern with defacto is that travel is difficult. I have to apply to leave the country at an extra charge.
Travel restrictions for someone whose life is travel = freaking out about the future.
4. Camping is Totally Underrated (and WikiCamps is Awesome)
During my quest to explore local more often, I've headed out camping probably once a month (depending on the weather).
I've been using Wikicamps, a camping app that has allowed me to find some awesome and completely free camp spots a short drive away from Melbourne. 
I generally choose highly-rated free camp spots and set off there with no prior knowledge of the area and have consequently stumbled upon some absolute gems. I've discovered fantastic hidden wineries, impressive waterfalls and brilliant hikes through rainforest, coastal tracks and rolling hills.
Reading by a campfire at night, waking up to the sound of birds and cooking breakfast outdoors has been bliss and made me feel more reconnected to the outdoors.
I've been trying to save money recently and so camping has been the perfect cheap activity to escape the city. I've learnt you really don't need much money (or even anyone to hang out with) to camp – just yourself, a car and a tent. 
5. Seoul is My New Favourite Asian City 
If there is one place I would recommend travellers to go right now, it would definitely be to South Korea, more specifically, the capital city of Seoul.
I decided to visit South Korea because I was looking for somewhere cheap to go after the Philippines and before my flight back to Australia. A $50 flight piqued my interest and after some research, thought it looked like a cool place to spend a few weeks. 
I went with minimal expectations and was blown away with how cool Seoul is. The city is a clean and modern metropolis with pockets of beautifully preserved architecture, a cool cafe culture, fascinating history, friendly people and loads to do. The city is surrounded my mountains so you get the balance of city life and beautiful countryside just beyond. 
Visiting the North/South Korea DMZ was also a totally fascinating experience!
I've always loved the crazy olfactory overload of South East Asian cities such as Bangkok and Hanoi, but it was so nice to just chill out in Seoul and not feel like I was out of my depth.
If you're thinking about heading to South Korea, make sure you read this post about 12 things you need to know before you go.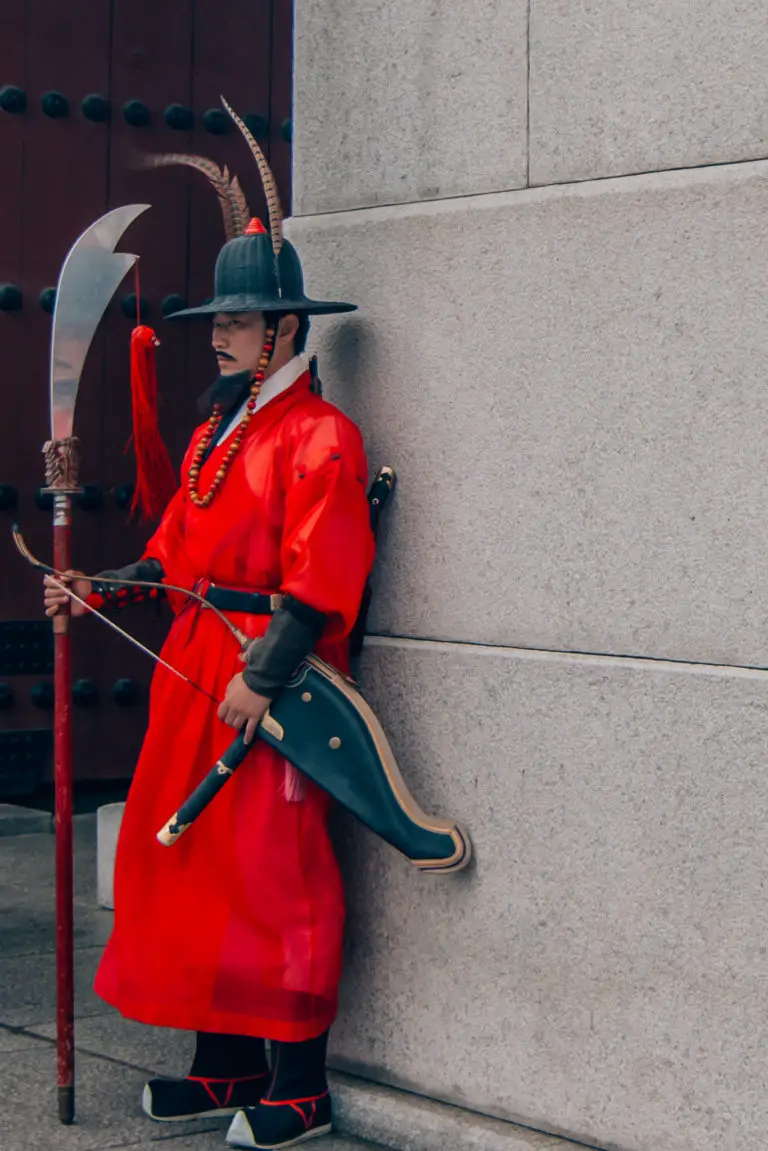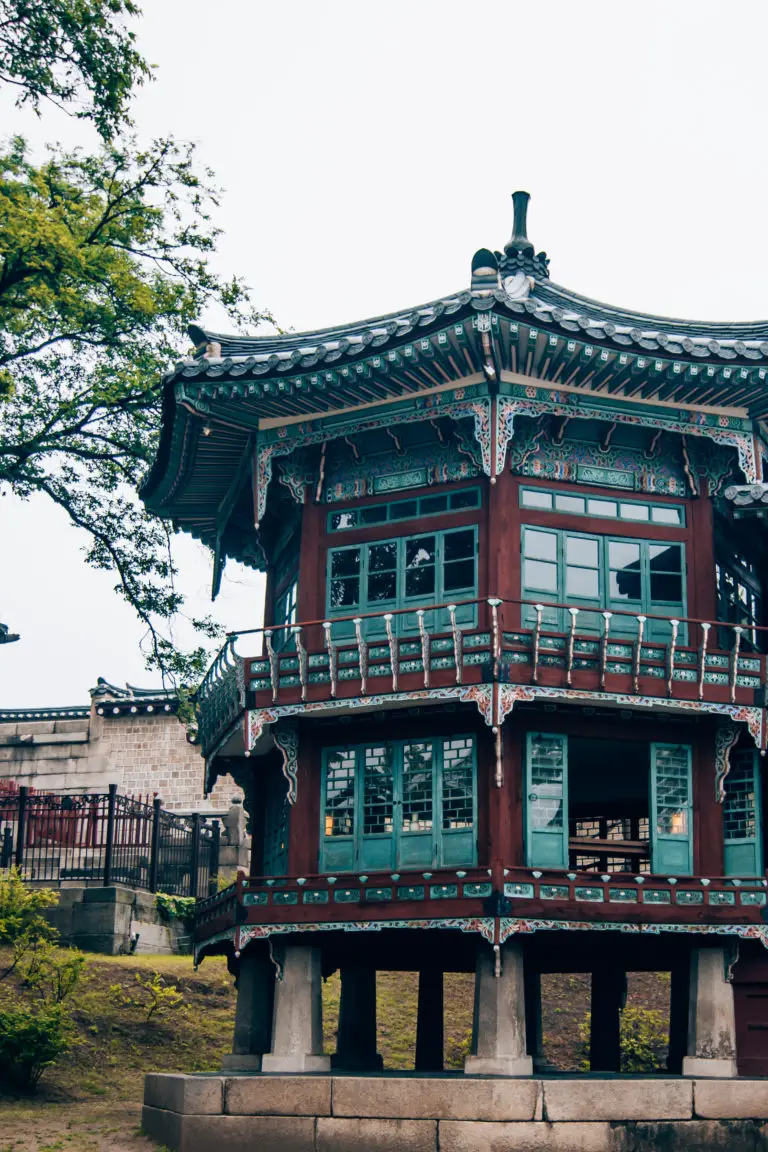 6. Making Friends in a New Place is Hard
In 2019 I moved into a beautiful place with my partner. We absolutely love it (and have even adopted an adorable cat) however I admit I feel a bit isolated. The friends I made at hostels when I first arrived to Melbourne in 2018 have moved on or gone home and I've realised meeting people outside the travel bubble (aka real life) is actually kind of hard.
I've tried though. I've forced myself to events on my own that have been way beyond my comfort zone, paid for courses just to meet people, reached out to other bloggers (including setting up a failed work club) and joined social clubs I don't actually have much interest in. All the while being a little socially awkward. I'm actually kinda proud of myself.
But I can't deny that as I see friends at home or abroad have babies and get married, the more isolated and *ahem* lonely I feel here in Melbourne. I'm at an age (28) where people are typically 'settling' and although it's not what I want for myself yet, I'm starting to feel their contact slip away.
On the flip side, 2019 was a year I met two ladies in Melbourne whom I instantly bonded with over our shared love of travel. One I met through Instagram and one from a course. They're both inspiring for very different reasons and although it's still early days with our friendships, I'm hopeful. It has essentially taken me about 1.5 years to get to this point so it really hasn't been an easy journey.
I've learnt so much throughout; I'm more resilient than I think I am, people can be lonely and not seem it on the outside and travel is truly incredible for the openness and friendship it fosters between complete strangers.
7. Pay For Freelance Work is Generally Pants
In between my full-time contract and freelance content publishing job, I have been doing the odd bit of copywriting and pitching pieces to online travel publications and magazines.
I find these kind of pieces take me a lot of time and effort. Eventually, when you've gone back and forth to different publications and finally found someone who wants it, or have edited it to perfection with your first acceptance, you often don't get paid enough for the hours you've put in.
A recently did a personal essay piece that look me a total of 12 hours to write, edit and perfect. The publication loved it – awesome! I got paid a grand total of… $35AUD (that I negotiated up from $30). That's a puny $2.90 per hour.
Sure, it's all good practice and useful for creating a portfolio but it can be disheartening to not get paid as much as you think you're worth, or not even minimum wage. 
If I was living somewhere cheap I could maybe get by on this, but it certainly isn't something I could do full-time. Not at least with Australian rent to pay.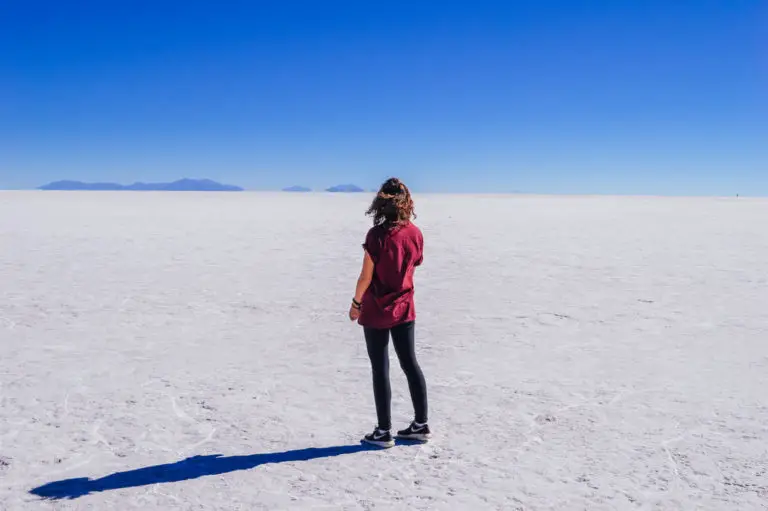 8. Melbourne's Weather is Bizarre
As a Brit I know what it's like to have unpredictable weather and sometimes experience 'four seasons in a day'. However Melbourne takes it to a complete other level. More like four seasons in an hour!
Two weeks ago it was a stifling 44°C. I work in an air-conditioned office but wore a light dress to get some air flow going on my commute. I grabbed lunch at 1pm and worked up a sweat walking 200m. Then at 5pm I left the office just after a crazy wind storm and it was now 15°C and FREEZING. It dropped a whole 29°C in less than 4 hours. It honestly blew my mind!
Lesson learnt here: always bring a jumper and sunscreen where ever you go in Victoria!
9. The Planet is F*cked and I need to do something about it
All the news about climate change, the out-of-control bushfires here in Australia and politicians still not understanding the urgency of climate change (or not even 'getting it' at all), has got me damn depressed at the state of the world. We're such selfish beings who would happily drain the resources of the world, at the cost of nature (and ultimately our future generations') to satisfy our desired lifestyle.
I love this beautiful planet. I want my kids and my grandkids to see the kind of sights I have. I don't want animals to go extinct because we have driven them from their homes, drained all their water and deprived them of food. I want my kids to see the magical beauty of Venice with their own eyes instead of just hearing a story of a flooded marble city. I want them to be amazed at the world's largest jungle and not look out onto bleak farm land instead.
The catastrophic state of the world has triggered a few life changes for me such as going vegetarian, travelling less, growing more plants and trees and choosing more eco-friendly products and habits. I haven't totally nailed it yet but I'm getting there.
If you want to know what I'm doing right now to reduce my environmental impact, have a read of these five easy tips to become a more eco-friendly traveller.
I'd also highly recommend these five tried and tested environmentally-friendly products that I'm using and would genuinely recommend.
10. Tasmania is my favourite place (so far) in Australia 
I've probably visited Tasmania about five times now and each time I adore it more and more.
40% of the state has national park status and so you can find some of the best accessible wilderness hikes in Australia.  To me, the landscape is a mix of the UK and New Zealand countryside – lusciously green, staggeringly rugged and quaint all at the same time.
Though it's not only the landscape I love – the people are 'outdoorsy' and environmentally conscious which is really refreshing. There's a real community and hippy spirit and I can quite easily see myself living there
11. There's an Awesome blogging community 
2019 was the year I decided to properly invest in my blogging and engage with various Facebook groups and Twitter pages. I am so grateful I did!
The blogging issues, concerns and wins I previously experienced alone have become shared with like-minded people who genuinely seem to be interested. To my amazement, people have taken the time to help troubleshoot my technical problems for absolutely nothing in exchange, shared my posts and openly offered their advice and expertise on blogging. It's nothing short of beautiful.
If you're one of these people reading – then thank you.
12. Blog Traffic Doesn't Come Fast
When I first started blogging in 2017, sometimes I felt like I was just talking to myself half the time. I could almost hear an echo. The two views a day from people no doubt accidentally stumbling on my site and hastily exiting was actually quite amusing. 
I'm now reaching all time visitor highs month on month as Google slowly begins to reward me for my SEO efforts, regular posts and as I gradually create a loyal reader base. I'm even now earning a bit of coin.
It's been a real slow journey though. All the stuff you read online from other bloggers about how they earned X amount of money in their first year of blogging or how they reached Y amount of traffic in six months is pretty rare. They're probably trying to sell you a course or e-book. 
The more I talk to other bloggers, the more I realise traffic occurs at a much more organic pace than that, reflecting how much work you put into it and how long you've been grinding away.
I'm sure there are a few people that absolutely smashed it right away, but for the rest of us, it's the long game (and I'm totally fine with that).
13. A Best Friend Knows No Distance
I didn't believe in soulmates until I met my best friend. Although I've only known her about seven years, I love her like a sister. She has quite literally changed my life and there is not a day that goes by when I am not grateful for her.
Like me, she shares a unbearable love for travel and has no real desire to conform to the life everyone else around her lives. However that comes with one big downside – these days we're often not in the same country.
Every year we have made the effort to meet up at least once in addition to our regular phone calls and messages. Either when we are in the same country by chance, or even if it means catching a long haul flight. We have met up in Madrid, Barcelona, Melbourne, Sydney and in 2019 we spent a weekend in York.
When someone truly loves you, distance really isn't a big deal. They'll make it happen.
14. There are Limited cheap destinations from Australia
I obviously knew this before I even got here but I still look on Skyscanner and get caught out every. single. time.
Probably the biggest thing I miss about home (aside from my friends and family of course) is the £20 return flights to Europe. I used to go on spontaneous trips with friends regularly just because I could. In Europe, you have so many cost-effective destination choices at your very fingertips. 
Out here, you're looking at about 5 x the price to go to another state within Australia. Still – it has meant I've taken less flights, but this is something I drastically miss about home!
15. Working at a winery is the best kind of farmwork
To get my second year working holiday visa I had to do 88 days of farm work in a rural region in Australia. If you don't know about this little visa condition then essentially you slave away for three months to prove how much you want a visa whilst also helping the Australian economy due to the shortage of rural workers.
Unfortunately you hear horror stories about backpacker farm work all the time; being exploited, enduring poor conditions, not getting paid, facing sexual harassment and generally having a miserable time. 
Somehow I struck absolute gold thanks to a friend who gave me details of a winery he used to work at. A few months later, I moved three hours away and began intense and fast-paced work. I operated press machinery and ran around transferring juice to tanks via a very complicated network of hoses and interchanges. 
I worked multiple weeks straight without days off but I absolutely loved the work and my colleagues. Those three months of rural life are probably some of my fondest memories to date.
Even despite that time I was covered in two tonnes of red wine due to an accident…
I am so grateful to have had the opportunity to work at a winery and I would 100% recommend it to anyone needing to do farm wok.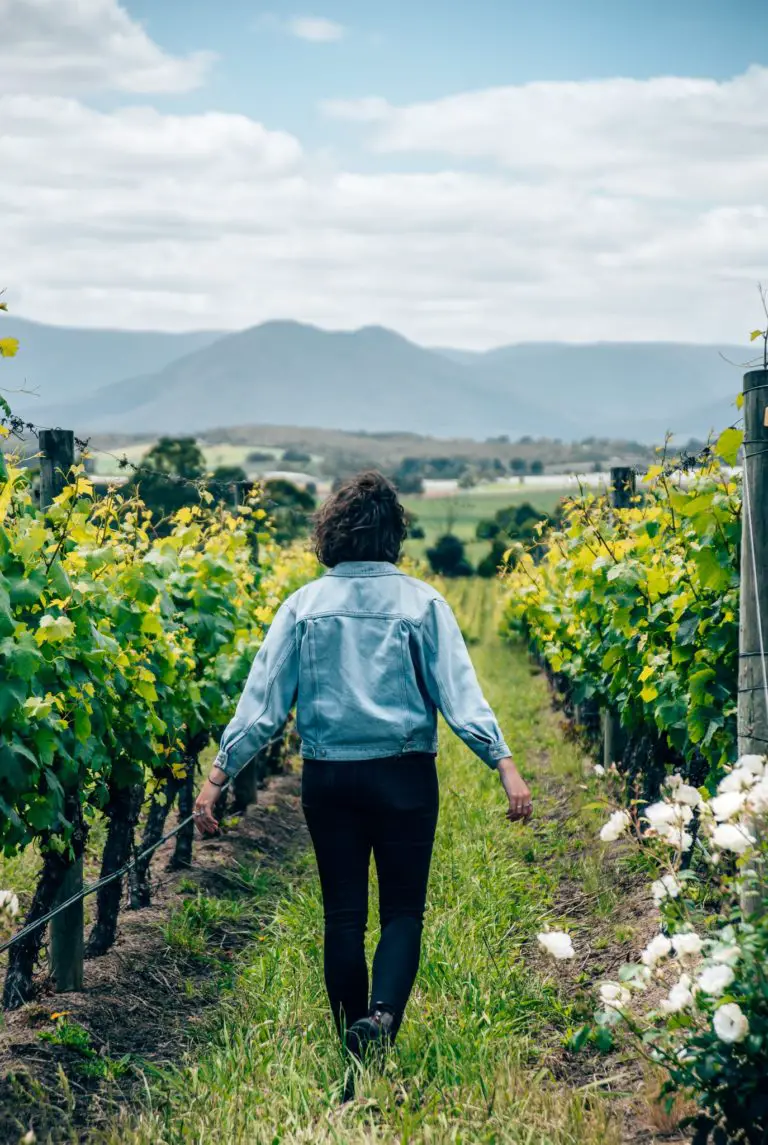 16. You Never know until you try (or apply)
In 2019 I was doing traffic control casually alongside my freelance work. Traffic was mind-numbing and began to frustrate me. I decided to apply for jobs more in line with my experience (marketing) but I was in no real rush. I wanted to find something right.
I applied for a job with a government organisation that I thought I was majorly under qualified for. Turns out I was the only person they wanted to interview and I got offered the position a few hours later.
It's a dream job with dream colleagues who make me laugh every single day. I've never felt more comfortable and happy in a company and the best bit of all, I NEVER imagined I'd end up doing it. 
Life is an adventure and I wouldn't have it any other way.
17. It's OK not to like somewhere That other people do
When I booked a trip to the Philippines, so many people recommended a visit to Boracay. I decided to schedule in four days there right at the end, to finish the holiday on a high.
It turned out that for me, Boracay was extremely disappointing. There were a number of reasons why I didn't like Boracay but I found it amusing how this place was supposedly paradise. Of course people like different things but I had never experienced such a disparity from what I had been told, to what I was actually looking at.
After the trip, I looked into it a bit more and discovered some blog posts essentially saying the same as what I thought. I was annoyed for not finding them at first, but then I realised I gave it a shot and had the opportunity to experience it myself to form my own opinion.
Sometimes you don't like a place as much as you thought you would, or someone else did, and that is OK. Not every destination is perfect or right for you. Travelling isn't all roses and it made me realise how important it is to be honest when writing blog posts about my own travels.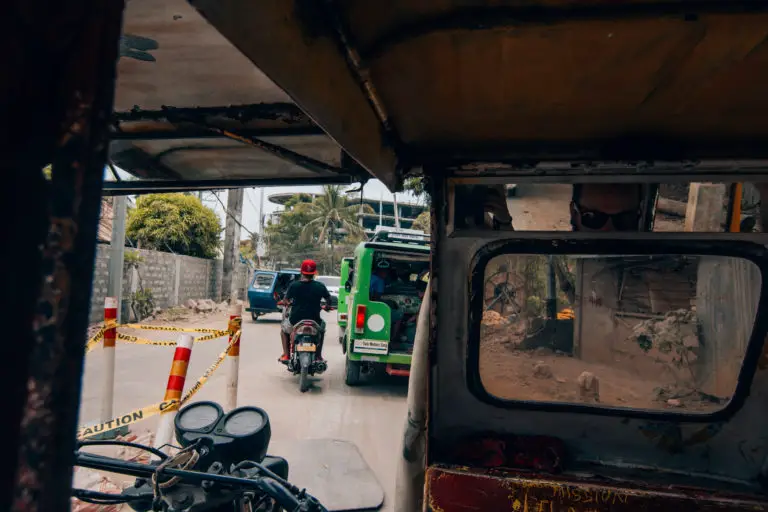 18. I still can't sleep on transport
On every single bus, plane and train I close my eyes and try my hardest to sleep. It's dead time and it would be absolutely amazing to catch up on some ZZZ's. But nope – even flights that are 13 hours long, I just can't do it no matter how tired I am.
Maybe next year's my year…
19. Home Will Always Be England
This year I went home for only for about six days but for the first time, I could see myself settling there sooner than I imagined.
Despite Brexit, despite the fact the weather is crap and sometimes the people utterly miserable, I love the sleepy quaintness of England, the historic buildings on ever corner and the cities that look like they're straight from a book. The crispness of the Yorkshire air and greenness of the trees just can't be compared to anywhere else.
No matter where I'll end up in the world over the next few years and whatever I do about visas, I know that eventually, when I'm ready, I'll be headed back to Blighty.
---
Thanks for bearing with me as I ran down through 19 things I've learnt from 2019.
I would love to hear about your biggest lessons of the year from both your life and travels. Please feel free to share them in the comments below!
PIN ME FOR LATER: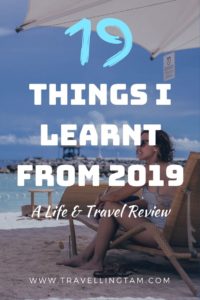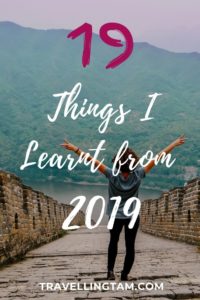 *This post may contain affiliate links meaning should you purchase a product via this link, I'll earn a small commission at no extra cost to you. These are still products I use or believe in regardless. See my privacy and disclosure policy for more.*