* trigger warning: assault*
My international travels have messed up probably more times than I'd like to admit. Looking at my photographs you could perhaps think that it's all perfect. But just like everyday life, there are plenty of hiccups on the road too (and I'd argue perhaps even more!)
I've been stranded, scammed and in a few cases, felt genuinely scared for my life (um, this is your cue to stop reading mum). It's all character building stuff (and a good story), right?
So to keep things 'real', as I always like to do, here is a dedicated post about my worst travel experiences to date, and most importantly, what I learnt from them.
In some cases I've chosen not to reveal the destination where my experienced occurred. I don't want it to put anyone off, or form a negative perception of the country in question.
So brace yourself for a few amusing, deep and potentially triggering experiences I've experienced on my travels… 
My worst travel mishaps (to date!)
Stranded on an island in Cambodia with only $5
For those of you not familiar with Koh Rong, it's a stunning paradise island near Sihanoukville in Cambodia, well loved for its lack of modernity and authentic 'castaway' feel. At the time, the island had no permanent electricity infrastructure and so inhabitants had to run generators during certain times of the day.
With this in mind, it sounded like the perfect opportunity to 'unplug' for the day – I was sold.
Leaving my phone at the hostel, I headed to the pier to catch my boat to the island. It was raining heavily but it was still early – I was confident the sun would burn through later in the afternoon.
It wasn't long after setting off on the 40 minute journey that the bumpy sea became unbearably rough. The boat slammed into every wave with such force I genuinely thought it was going to break – or worse – capsize. People around me began throwing up and it was mere minutes before I joined the cacophony of wretches.
Noise erupted around me – people began screaming and crying as we were constantly thrown out of our seats. Rain smashed against our faces, pelting through the plastic covers that were ripped open by the storm.
The seasickness was unbearable. So with my head in a bin, I closed my eyes and gripped on for dear life, praying that I would somehow black out and it would all be over. 
Finally we arrived and slowly, painfully disembarked. Man, I needed to lie down.
Walking up the rainy beach I found a hotel with sunbeds under umbrellas and laid down to enjoy solid land.  Eventually I felt a little better and spent the day walking around and looking at the small shops. When it was time to leave, I wandered back to the pier and went to the ticket desk to ask which was my return boat.
"Oh there's no more boats today" the lady at the desk exclaimed casually. "Tomorrow". I stared at her in horror – how come there wasn't a return?! "The boat broke in the storm this morning. Tomorrow".
Bewildered, I left. I had $5 in my pocket (there was no ATM on the island), I was soaking wet, had absolutely nothing with me, had thrown up all day and now I had to stay the night. Great.
I checked out a few of the guest houses but they were all over my measly budget. One lady took pity on me and showed me to a guest house that would accommodate me. I could see why.
The guest house was a run-down timber building with lopsided everything. The holes between some of the wall planks were so large I could have put my fingers between them. Anyway, I couldn't be fussy. I was thankful and was ushered to the room.
All night I tossed and turned in the steaming hot room with no fan or air-con, itching and scratching on the old sheets as I was serenaded by the only other guests – two male backpackers – who decided to drink, sing and play ping pong against my wooden wall until 5am.
In the morning, groggy, sore and exhausted, I woke up. I looked down at my body – every single inch of my bare skin was swollen and bitten red raw. Bed bugs! Safe to say I got up and bolted back to the pier as quickly as I could. 
Like a beautiful mirage, there was the boat back to Sihanoukville. I never thought I would have been so happy to see that same damn boat ever again.
What did I learn?
Having travelled Asia quite extensively now, I've come to learn that quite often things don't go to plan. However you can't get too upset, you just need to go with the flow. Sometimes the unplanned parts even become the best kind of adventures.
What I should have done though is travelled with a day pack at least; a spare change of clothes, some snacks and of course more money. 
You can have absolutely no possessions but as so long as you have money, no matter where you are in the world, you can at least buy shelter and food. I'm never making the same mistake again!
Assaulted in an Alleyway by a man at 2am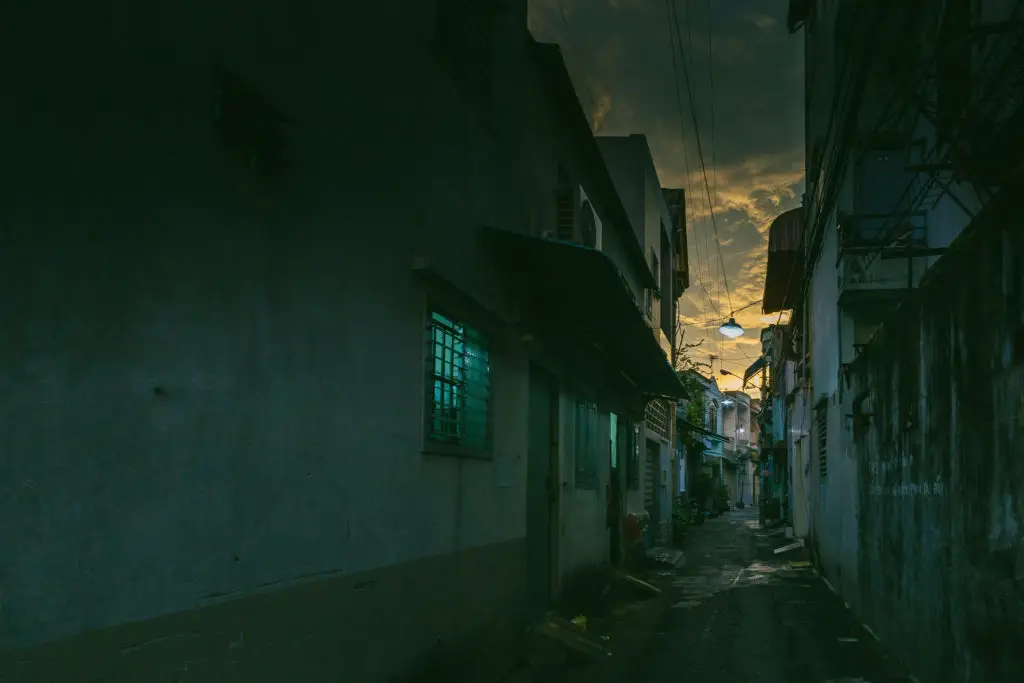 Ahem – If you're still reading mum, then this is your second warning to stop…
So picture this. You're on a picture-perfect island in Asia. You've spent a week laughing harder than you ever have in your life. You've met people you swear are going to be friends forever. You've danced on the beach in bare feet as the sun set, and you're on day five of a holiday romance that has been nothing short of bliss. Well, despite the fact I later found out he was married – but that's another story. Oh, and you're 22 on your first ever solo trip. You're naturally going to have your guard down, right?
It was Mr Holiday Romance's final night on the island and we'd been out for dinner and drinks. He had a red-eye bus the next morning, and I had booked to go diving at the crack of dawn. Saying farewell outside his room of the hotel, I departed, aiming for my hostel only 150 metres away.
As I meandered down the outside spiral staircase, a man in the pitch dark alleyway below wolf-whistled at me. My stomach sank and I sped up. 
I'd timed it badly – dread filled me as I bumped into him at the bottom of the staircase. Shit.
He attempted to talk and drunkenly directed disgusting and misogynistic slurs at me. I ignored him. He walked close behind, getting increasingly aggressive and irritated that I was not being swayed by his… 'charm'.
Suddenly grabbing my shoulder, he swung me around and pushed me against a wall as he shouted right up into my face, so close I could smell his wreaking alcohol breath and feel the heat radiating from his skin. I was trapped between the wall and his body.
Without thinking twice, I kneed him in the balls as hard as I could and legged it as he crumpled to the ground. A few expletives were exchanged but I didn't look back. 150 metres never felt so far away.
What did I learn?
Well, first of all, I couldn't have been more proud of myself. I had a split second of adrenaline and my instinct was to fight (which was probably the only thing that would have worked in this scenario). At the time I was very much a people pleaser but I knew there was no polite and reasonable way to get out of this. So my anger came out and I assaulted him right back.
Secondly, I'm an idiot. Mr Holiday Romance had offered to walk me back to my hostel but I had declined as it was further away and didn't want to trouble him. I also wasn't prepared with anything like pepper spray which I've learnt isn't a bad idea, just in case.
Last of all, this experience certainly wasn't representative of the rest of my trip here. Men had been respectful, kind and I'd otherwise felt safe throughout. It definitely didn't ruin the rest of my trip.
However it will forever irritate me that we, as women, have to always watch our backs from men who like to prey on vulnerable females. We can't simply walk at night without potentially becoming a victim. However I've never let this fear stop me. If it did, I'd never leave the house. We just have to be prepared mentally, and physically. 
But of course, this isn't a common thing to encounter travelling and I think I was particularly unlucky.
Losing all my bank cards 9,500km Away From Home
Well, it seemed as though Asia had even more in store for me on this trip. 
The ATM's in Thailand are a little different to the ones at home. You put your card in, enter your pin and get your cash and then they return your card. At home, they return your card first and then give you your cash. Well, I was none the wiser having never travelled before, so at an ATM in Chaing Mai, I waltzed off with my pocket full of cash, leaving my bank card behind.
But it was alright – I was prepared. I had a back up.
Weeks later when I had made it to Laos, I had returned from shopping for souvenirs at the incredible markets in Luang Prabang. I opened my purse to see how much cash I had left and realised my last visa travel card had gone. I must have had dropped it. Panic mode was activated. 
Luckily I had enough cash for another week in a budget hostel and for food, but definitely not for activities. I immediately arranged for new bank cards and my mum to express post them to the hostel when they arrived. Unfortunately the whole process took weeks.
A week after the incident, a friend I had met briefly in Thailand got in touch saying he was heading my way. Upon hearing my dramas, he gave me the equivalent of US$400 without me even asking.
He moved on two days later and simply trusted that I would pay him back when I could. His generosity and trust in me quite literally saved my ass. I was so grateful!
What did I learn?
Well apart from the obvious that I needed to be more careful and organised with my money and usage of ATM's, I realised that there are actually some kind and trusting people in the world.
The hostel was also really understanding and offered me free accommodation until my cards arrived if I needed. There are not many businesses that would do that for a backpacker. 
Again, this is something that I don't ever want to repeat but the experience was truly humbling.
Getting pick-pocketed (but catching them)
During my travels around South America, I had decided to slow down a bit and spend two weeks in a city I had absolutely fallen in love with. I took up Spanish lessons early every morning, and by day, wandered around the incredibly colourful markets and occasionally went hiking nearby.
One afternoon, sporting my gorgeous new backpack (which of course was pretty but my no means practical) I wandered back to my hostel, enjoying the sights and sounds of bustling local life.
Suddenly the streets began overflowing with people. There must have been an event or gathering that had just ended. Perhaps church?
As I pushed past people I noticed a man – dressed in a grey suit with a phone pressed to his ear – walking right in front of me. I stepped left, he stepped left. I stepped right, he stepped right. He was looking at me from the corner of his eyes and still got in my way. Something immediately didn't feel right.
As I was about to turn away, I felt a small tug on my backpack and a weight lift – shit!
I whipped around and grabbed the person behind me. It was a small, fat old woman, wearing gloves and a big floppy hat. She was holding my wallet.
I screamed in her face and she dropped it on the ground. I grabbed it and as soon as I looked up, she'd disappeared into the bustling crowd. 
They were clearly working as a duo and nearly took absolutely everything – my drivers license, cash, bank cards, photographs… the lot.
What did i learn?
This was the first and only experience like this I've had but I realised that crowded places provide the ideal conditions for pick-pockets to operate. I hate crowds at the best of times but now I avoid them even more, or at least have my wits about me.
The cute backpack I bought only had a little buckle and a draw string top which was easy enough to open in a couple of seconds. It was the last time I used it travelling. Instead, I now use a bum bag or something that goes around my shoulder to ensure I can keep it close to me and in sight. I must have stood out as an easy target with a bag like that. Pretty isn't often practical!
I also now never travel with everything valuable in one place. I will always split possessions and money between bags, or leave the bulk of my cash/cards in a locker or safe. Spreading your possessions and therefore risk, is one of the easiest things you can do to ensure the safety of your valuables.
---
I'd like to say that these are the extent of my worst travel mishaps but that wouldn't be true!
As much as these were unpleasant and devastating at the time, they have shaped me into the traveller (and person) that I am today. Sometimes you need to learn the hard way and as you can see, I have certainly learnt some important lessons!
I by no means wanting to scare people or put people off, but it doesn't harm to share these experiences so others can also learn from them.
What have been your biggest travel disasters and worst travel mishaps to date?
PIN ME FOR LATER: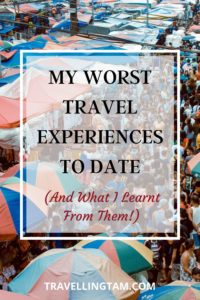 *This post may contain affiliate links meaning should you purchase a product via this link, I'll earn a small commission at no extra cost to you. These are still products I use or believe in regardless. See my privacy and disclosure policy for more.*