I have been living in Melbourne for about a year and a half now. Although I usually actively sightsee as much as I can, recently I've been slacking. I blame the miserable winter and worst spring Melbourne has apparently seen in decades.
Still, it's no excuse to neglect a city I love. So last week I decided that it was time to get myself in gear and break up the monotony of the work-eat-sleep cycle by doing something 'touristy' at least once a week.
The Melbourne Star is the Southern Hemisphere's largest observation wheel and it's an attraction I had been meaning to visit for a while. Considering I work a ten minute walk away and the ride is only half an hour, it was the perfect after work activity to kick-start my quest to re-explore my adopted home.
The Melbourne Star sits in the Docklands district, on the western cusp of the city. As a prominent feature of Melbourne's skyline, it has become quite an icon for the Docklands.
By night, the Star lights up in an array of funky designs. Sometimes it's a colourful static image that reflects beautifully in the Yarra River. Other times it's a mesmerising flashing pattern, like a piece of modern art against a cityscape canvas, for everyone to admire.
The roundness of the wheel contrasts starkly against the rigid angles of high rise buildings, the splash of colour injecting vibrancy into the predominantly dark skyline.
The Star is now a familiar landmark to me – one that reminds me I'm home.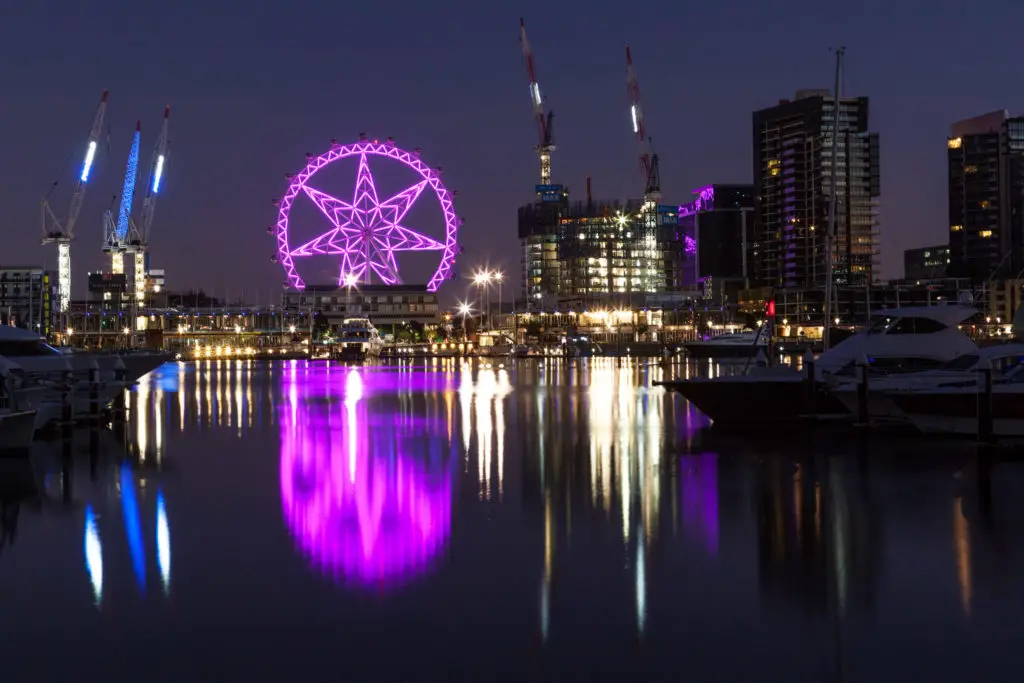 Despite the fact the weather wasn't on our side for our visit (I mean, there was a LOT of rain) we stayed cosy in our temperature controlled cabin, sipping on red wine, tucking into canapes and admiring Melbourne from an angle I had never seen before.
The higher we steadily glided, the more Melbourne opened up like a book. My previously confused, fragmented perception of the city began to piece together bit by bit, completing the map of Melbourne in my mind.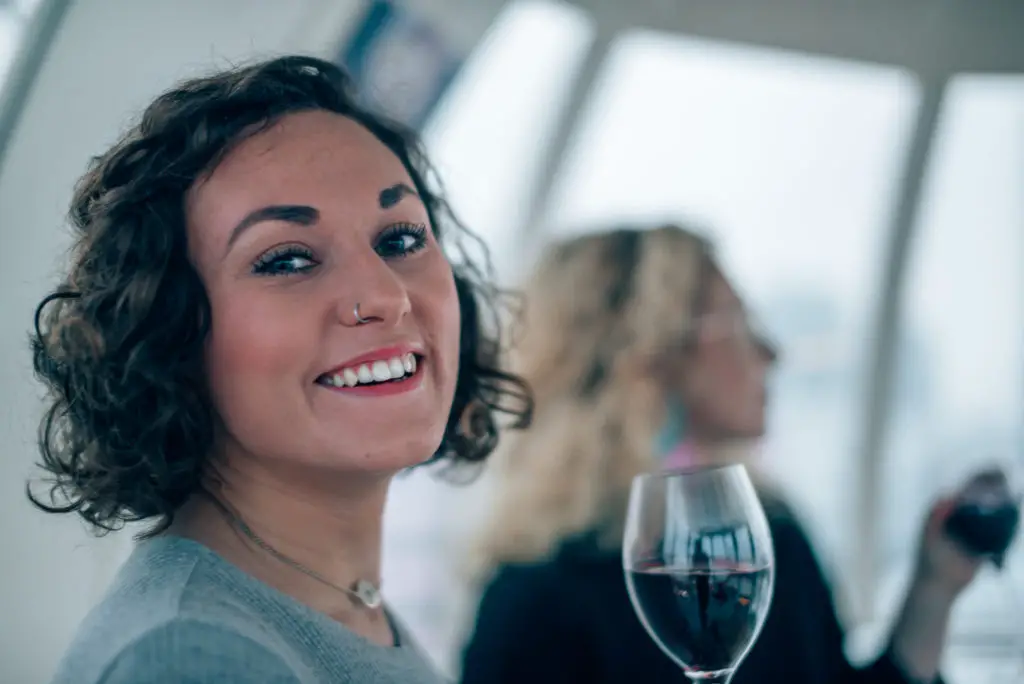 Aside from work or an occasional event, I actually rarely go to the city.
Though day in day out, I will carve the same route through it, forming rigid habits I have acquired through repetition. I forget to look up and admire the beautiful buildings, absorb a moment of tranquillity as I meander through the parks, notice the quirky cafes and food joints popping up all over the place and watch as people from all walks of life converse peacefully together.
On my daily commute, I simply forget to appreciate all the different things that make Melbourne… Melbourne.
Taking a step back, well – seeing Melbourne from a comfortable pod 120 metres up high – reminded me that my commute is only one chapter of my Melbourne story. 
The city is a lot bigger than it seems from the ground and there are still a plenty of parts I have not yet even set foot.
Plans began to form in my head. It was time to visit more of the famous 'alternative' laneways (such as Centre Place and Tattersalls Lane), cruise on the Yarra by boat, visit the Scienceworks museum, have a night of glitz at the Crown Casino and go to my first ever Australian footy match.
Even the Docklands district, the home of the Melbourne Star, is an area I've neglected to thoroughly explore. Unlike the CBD, the Docklands waterfront is blissfully quiet pretty much all year around. To be honest, it's a district that tourists have been a bit slow to catch on to. 
For someone who wants to be near the water (but prefers to steer clear of the crowded beaches or sand), a walk along Victoria Harbour, admiring the superyachts and stopping at the promenade cafes, may just be the ideal alternative. Perhaps an activity best saved until summer though…
Immediately surrounding the Melbourne Star is the District Docklands, a brand-new shopping and entertainment precinct. Ice skating, glow-in-the-dark golf and watching a movie at the fancy HOYTS cinema are just a few of the activities I'm yet to do here.
Seeing my adopted home from this new angle made me appreciate that really, I don't know Melbourne at all. There is still so much to do, so many corners to explore and most importantly, many more memories to make.
Thank you to the Melbourne Star for gifting this private ride, food and drinks. Although this experience was complimentary, opinions I express in the blog post are still my own.
Heading to Australia soon? Don't forget these essentials!
Flights: compare and search using Skyscanner
Accommodation: hotels to hostels, glamping to apartments I always use Booking.com
Tours: to search and compare the best group tours and activities worldwide (with up to 20% off), use Viator
Visa: don't forget to check the entry requirements for Australia on the government website for the passport you are travelling with
Inspiration: Lonely Planet's guide to Australia or for your next trip, how about Lonely Planet's Guide to the World?
PIN ME FOR LATER: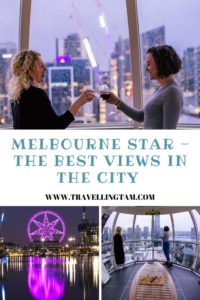 *This post may contain affiliate links meaning should you purchase a product via this link, I'll earn a small commission at no extra cost to you. These are still products I use or believe in regardless. See my privacy and disclosure policy for more.*