Barcelona is a city of endless fun. The food, history, music, art and culture are a fiery fiesta for the senses, inadvertently sweeping you up into the city's fast-paced and intense embrace. I've visited a few times now and on each and every trip, I fall in love with this enchanting city even more
Although as much as I adore the all-consuming intensity of Barcelona, just like with any other metropolis, in order to preserve our relationship, I need to be able to escape from it – and fast.
When the city havoc (and not to mention my tapas and sangria-induced weight gain) have become too much, I have often found myself exploring beyond the cosmopolitan crowds to beaches, historic towns and the countryside.
Of all the day trips I have managed to take from Barcelona, there is one that stands out in my mind by miles. It is one place I urge absolutely anyone staying in Barcelona to venture out to see – gorgeous Montserrat.
Here's what you need to know about a Montserrat day trip from Catalonia's capital.
*This post may contain affiliate links meaning should you purchase a product via this link, I'll earn a small commission at no extra cost to you. See my privacy and disclosure policy for more.*
PIN FOR LATER:
What Is Montserrat?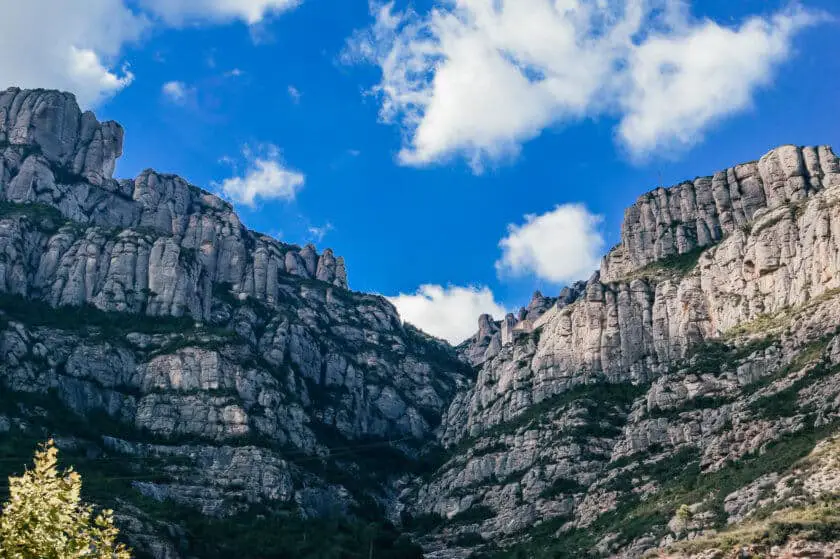 Montserrat is an unusual-looking peaked mountain range in Catalonia, just an hour north west of Barcelona. The nearly 9,000 acre mountain range was established as a national park in 1987, called the Parc Natural de la Muntanya de Montserrat.
Shaped by thousands of years of wind, rain and frost, the gnarled limestone turrets here extend up dramatically from the mountain base for as far as the eye can see. 'Montserrat' literally translates as 'saw mountain' in Catalan, owing to the mountain range's serrated appearance. It's one of the most beautiful natural wonders in Catalunya.
Nestled within one of these mountains is a dramatic cliff-side monastery called Santa María de Montserrat, one of the most important religious sites in Spain. Pilgrims from Spain and all over the world come to this ancient site to see the wooden statue of the Virgin and Child, supposedly carved by St Luke, whom many say performs miracles.
Both the landscape and religious significance make Montserrat a fascinating day trip from Barcelona and one I urge you to visit!
How Do You Get to Montserrat?
One of the most fantastic things about a day trip to Montserrat from Barcelona is how easy it is to get here by public transport. However there are three main ways to get to Montserrat:
Montserrat by train
The train is by far the most convenient option for getting to your Montserrat day trip. Only around 50km away from Barcelona, the journey takes just one hour and drops you off right in the valley of the Montserrat mountains. All you need to do is catch the Plaza Espanya line (R5) in the direction of Manresa from Placa d'Espana station in Barcelona.
When you are exiting Montserrat station, just make sure you check the departing train times back to Barcelona though as they do not run very late.
Hire a car
If you'd rather not get public transport, hiring a car in Barcelona is an easier alternative so long as you are comfortable driving in a foreign country. The Spanish drive on the right hand side of the road, which is unusual for many European countries.
The drive will take you just under an hour via the C-58. The last part of the journey is very windy as you navigate up the stunning mountain to the monastery, where there is free parking at the top. Just avoid busy religious holidays as parking is limited.
Go on a tour
The easiest and often most convenient option is going on a pre-organised tour via an air conditioned bus or private vehicle. Group tours often run early in the morning or in the later afternoon, and so are essentially only a half day. Great if you have limited time, but not so if you would normally like to spend a lot of time wandering around at your own pace.
Why Should You Visit Montserrat?
First and foremost you should visit Montserrat to get a good healthy dose of this unique Spanish countryside. You won't find geological formations that look quite like this anywhere else in Spain, or indeed the world. Though there are many other reasons for a visit too:
The Hiking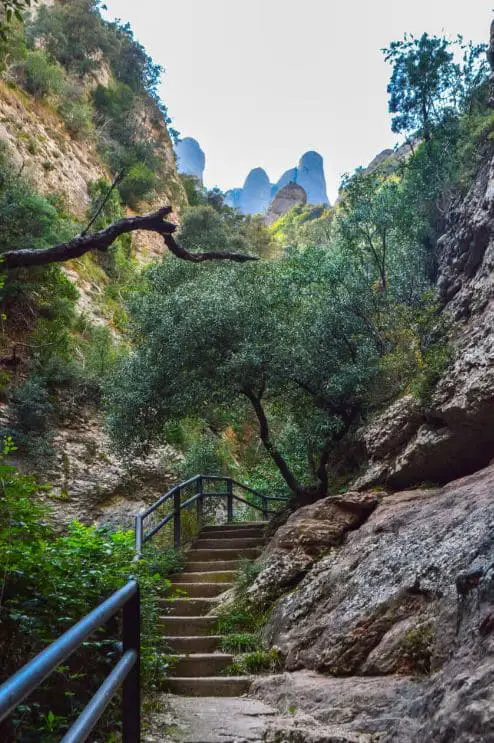 The distinctive Montserrat peaks provide some of the most unique hiking and climbing opportunities in the whole of Spain. The bulbous sedimentary rock formations are even more fascinating close up than they look from afar; each corner you turn revealing a mesmerising new perspective on a surreal natural phenomenon.
Hiking here is really straightforward too thanks to the clearly signposted routes. The shortest track (from the Monastery to the Degotalls) takes around 50 minutes. Arguably the hardest hike in Montserrat is the Saint Jeroni Summit Loop which is 9.3km taking around 3hours and 40 minutes. At the top there are excellent views of villages but of course a steep descent awaits as it's the highest peak in Montserrat.
One of the most famous walks in Montserrat is to the Santa Cova chapel (or grotto), an important and famous pilgrim site for the Catalan people. From the monastery, it's a 3.2km walk on a well-trafficked trail with views towards the valley below, taking roughly 1.5 hours.
Here you will find the famous statue of the Virgin Mary whom religious visitors proclaim performs miracles. This being said, to miss the crowds at this popular site it is wise to avoid Sundays as well as religious and school holidays.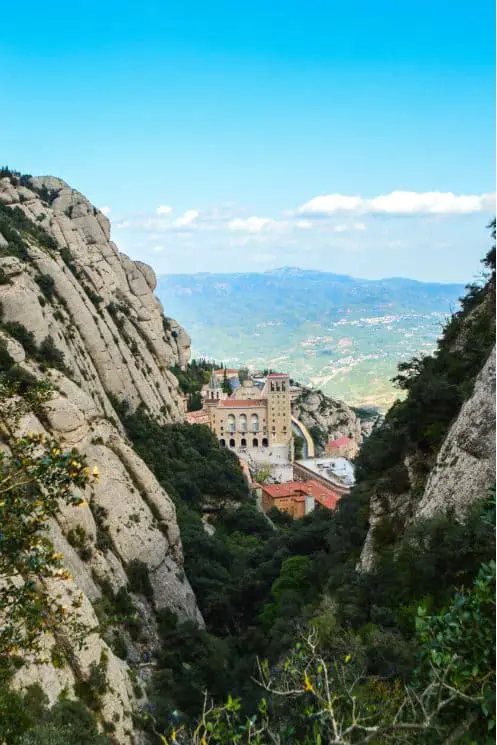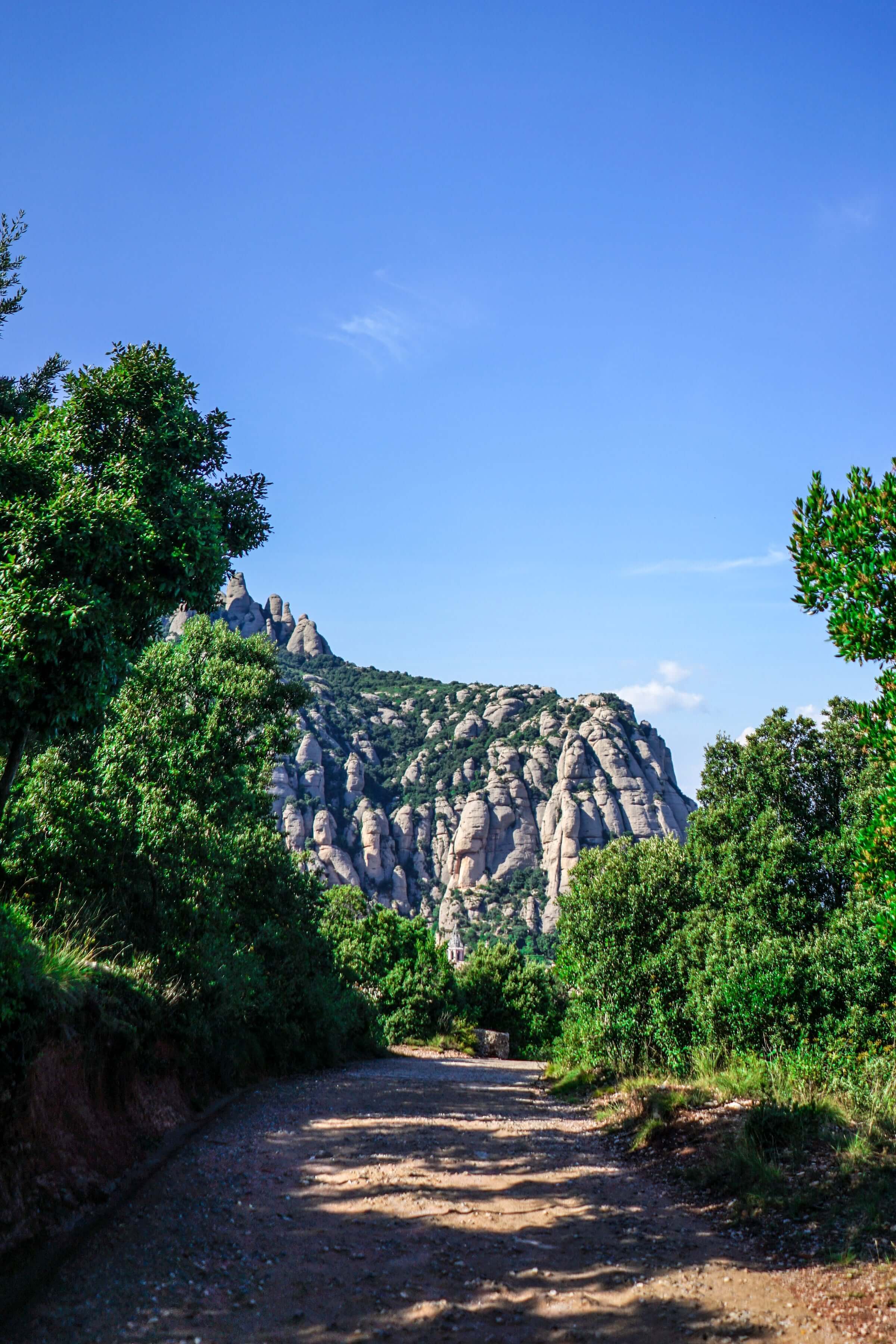 The Cable Car Experience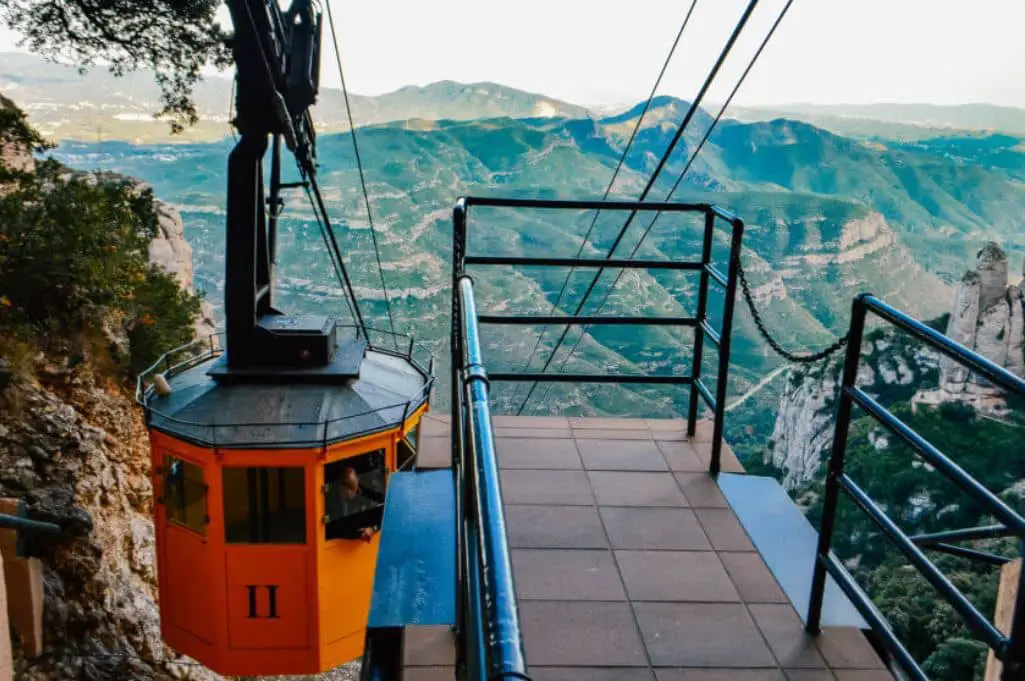 Once you arrive into Montserrat there are two ways to reach the monastery and starting point for hikes. The most fun way is via the awesome (but fairly rickety) bright yellow cable car.
Being suspended within the stillness of the valley is the perfect way to take in the unique surroundings. You'll just wish that the journey lasted a little bit longer!
The cable car is an exciting way to start off your day exploring the Montserrat peaks so it is highly recommended. However if the cable car doesn't appeal, don't worry – you can also go up via a more sturdy funicular cab (or sometimes called 'rack rail' or 'cremallera').
For the Religious Significance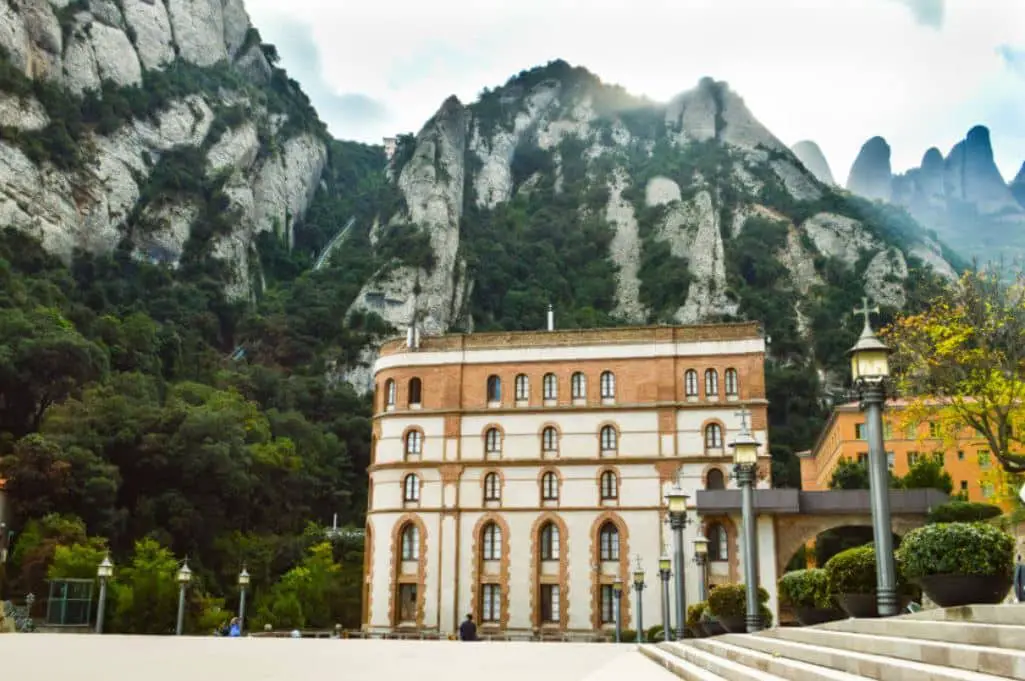 For some people, a visit to Montserrat is a religious pilgrimage to seek spiritual connections or to strengthen their Catalonian identity. Or, to admire the famous Black Madonna statue, the Patron Saint of Catalonia. Then there's people like me who aren't religious but enjoy bathing in the spiritual nature of the place that means so much to many.
Legend has it that the Benadictine monks could not physically move the Black Madonna statue to build their monastery here. Instead they built a magnificent monastery around the figurine, to celebrate and protect it. Now behind glass, The Madonna has only one part uncovered – the sphere that she holds in her hand representing the world. It is tradition to kiss or touch the Virgin's hand whilst raising your own out to Jesus.
Visiting the religious figure is free. If you're interested to learn more about the Madonna and its various depictions, you can visit the Montserrat Museum which costs 8 Euros.
To Explore The Historic Monastery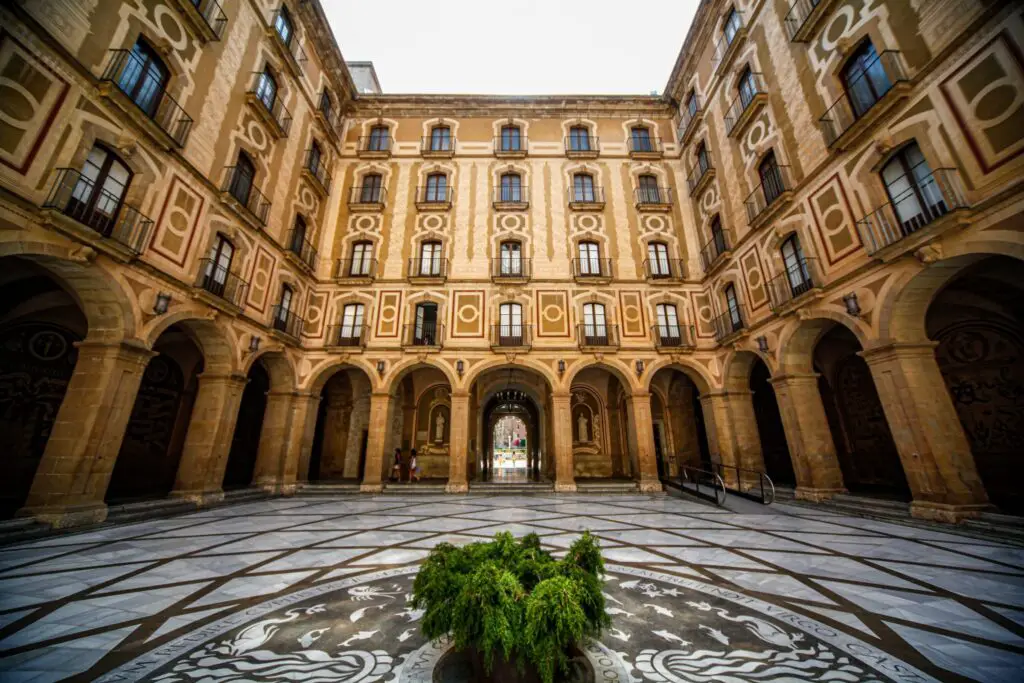 The Monastery has been nestled within the Montserrat mountain range in one form or another since the 9th century (as parts have been burnt down and rebuilt a few times!). Stepping inside the Gothic building, you can uncover the lives of the monks who still live here, as well as the Basilica's luxuriously ornate features.
The Atrium – the open topped courtyard area – is particularly spectacular due to the black and white chequered floor designed in the style of Michelangelo's Capotolium in Rome.
To admire it from the outside, the best way by far is buying an ice cream from one of the small shops and sitting on the courtyard steps just in front of it.
Tips for a Montserrat day trip:
Lines to visit the Black Madonna at the monastery can be huge, especially around midday. Aim to get to Montserrat early, and enter the monastery first before exploring elsewhere. It could save you a few hours!
If you're planning to hike in Montserrat, ensure you bring water and a hiking pole as all trails are steep and you'll work up a sweat. Make sure to avoid a day trip to Montserrat during a

Spanish heat wave

by checking the weather before you go.
As mentioned, avoid visiting during public holidays, especially religious holidays, as people from all over Spain and Catalonia visit at these times and it gets packed.
Combined return tickets for the train and cable car can be purchased from Placa d'Espana Station for €23.
Restaurants are quite limited and a little overpriced. It's best to bring a picnic / packed lunch for your Montserrat day trip to enjoy at a scenic spot.
---
Religious or not, there is something utterly mystical and uplifting about the landscape of Montserrat. The hiking is some of the best in the country and the scenery simply ethereal. I hope this has convinced you spend a day trip to Montserrat from Barcelona!
Going travelling Soon? Don't forget these essentials!
Flights: compare and search for the cheapest flights using Skyscanner
Accommodation: hotels to hostels, glamping to apartments, I always use Booking.com
Tours: to find the best group tours and activities worldwide (with up to 20% off), use Viator
Visa: don't forget to check the entry requirements for the passport you are travelling with
Inspiration: to kick-start your next adventure, how about Lonely Planet's Guide to the World?
Have you been on a Montserrat day trip? Let me know, I love hearing from you