As winter sets in and snow blankets the mountains, there's nowhere quite else like the backcountry of Victoria, Australia. It's wild, it's raw beauty, it's true peacefulness like nothing you've ever experienced before.
In winter, many outdoor-goers condemn their camping gear to the back of the cupboards awaiting the first hints of spring. But what they are missing out on is not only quiet campgrounds, but the indescribable feeling of waking up to pristine winter scenes that look like they belong in a coffee table photography book.
We're spoiled with stunning scenery in Victoria which only takes on a new majestic form when carpeted in untouched bright white snow. Camping within it is the most raw and authentic way to appreciate it.
Snow camping is a daunting thought, often drawing a firm 'no way' even from the most avid adventurers. But snow camping in Victoria is something that I think anyone willing to put mind over matter should try at least once. Fortunately there are many great places in the backcountry for beginners, many of which are totally free too!
For snow camping as a beginner, as well as great gear and preparation, choosing a suitable location is essential. 
The perfect location for snow camping should be somewhere secluded to offer the full alpine experience, yet near enough to civilisation or ski patrols in case you need help.
Having snow camped all around the alpine regions, these campgrounds are where I would recommend beginners try their hand at snow camping.
PIN FOR LATER:
---
JB Plain Hut – Dinner Plain
Nearest town: Dinner Plain (1.8km)
Access: 200m flat walk from car
Activities: Cross-country skiing/snowshoeing, resort skiing (Mt Hotham), dog sledding and tobogganing (Dinner Plain)
Toilets: 1 x long-drop
Cost: Free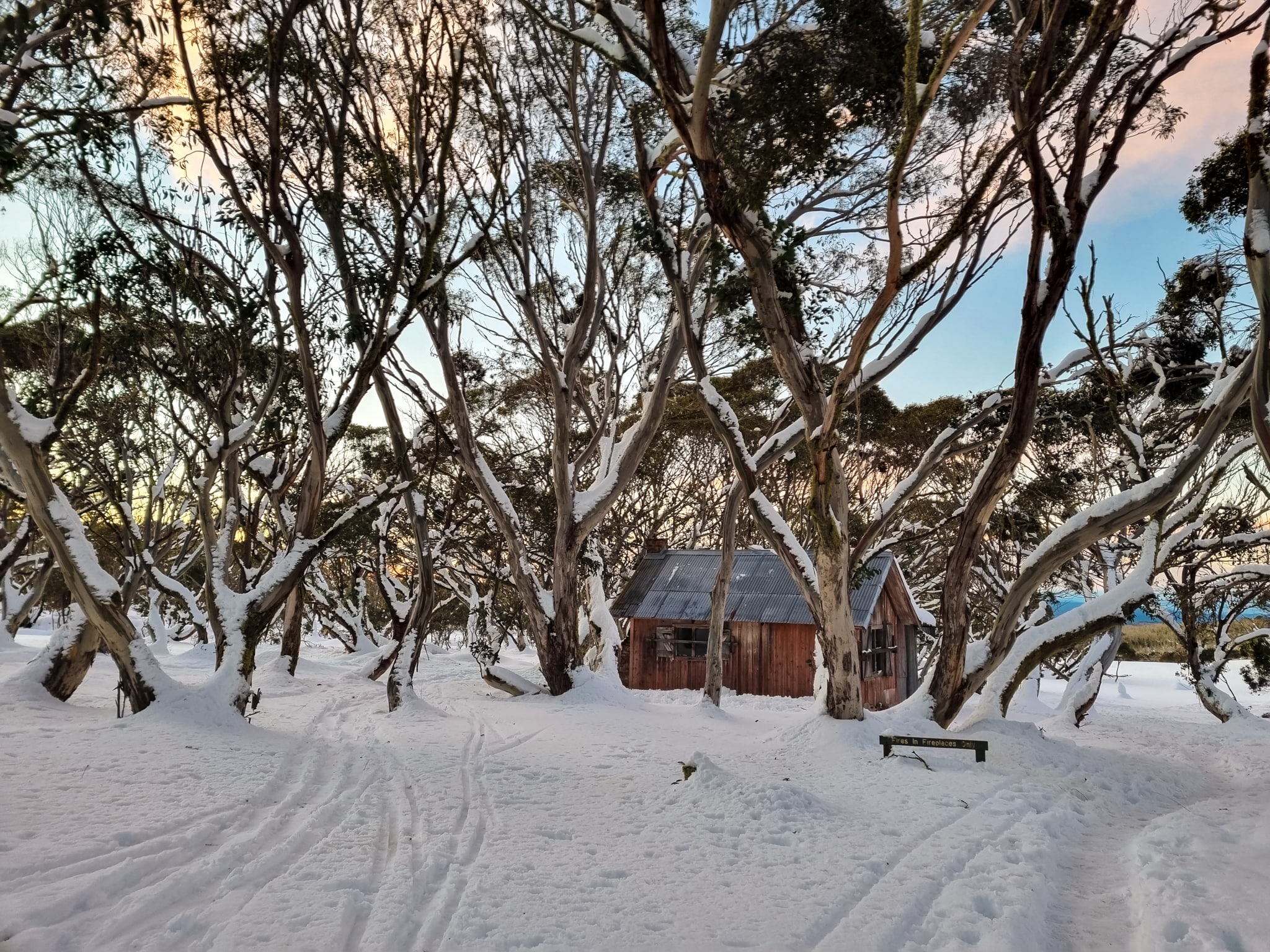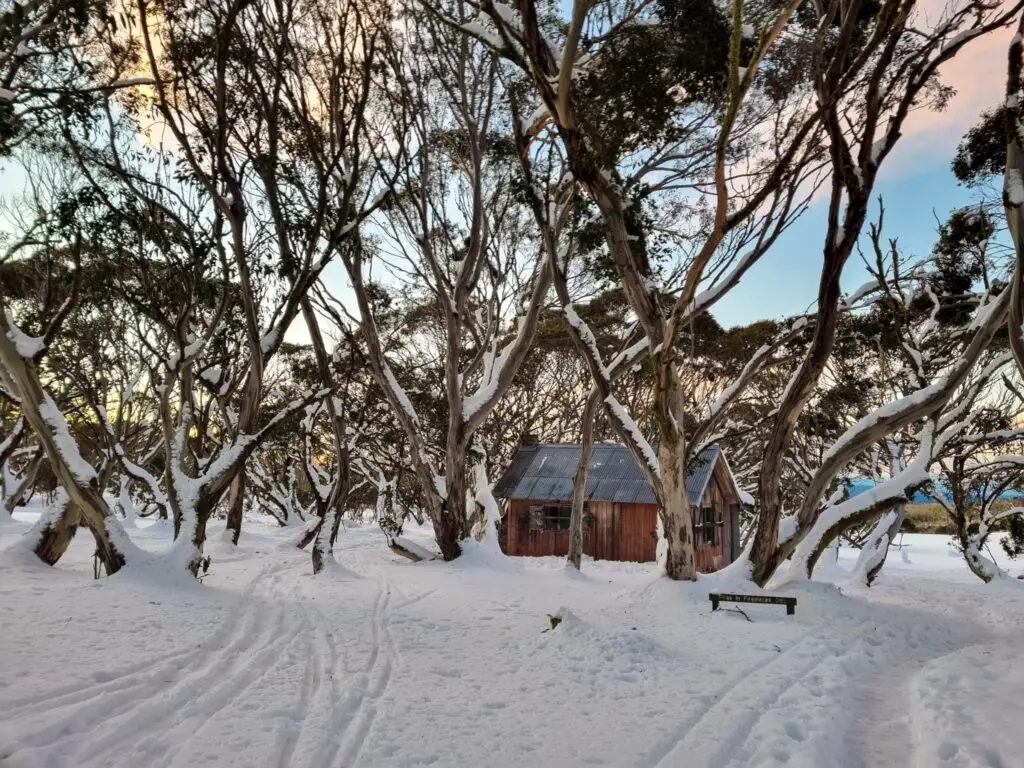 JB Plain (just outside Dinner Plain) near Mount Hotham is probably the most perfect place for first-time snow camping in Victoria, as the carpark is only 200m away from the campground.
That means no wading miles through the snow with all your gear and the comfort of knowing you're not isolated in the wilderness. It's essentially car camping.
With the beautiful town of Dinner Plain just a 1.8km walk (or ski) downhill from the campground, you have many lovely cafes, pubs and restaurants available to grab a hot drink or hearty meal.
There are also shops to hire or buy kit, just in case you do end up forgetting something. Just because you're snow camping, it doesn't mean you have to compromise on a little bit of luxury!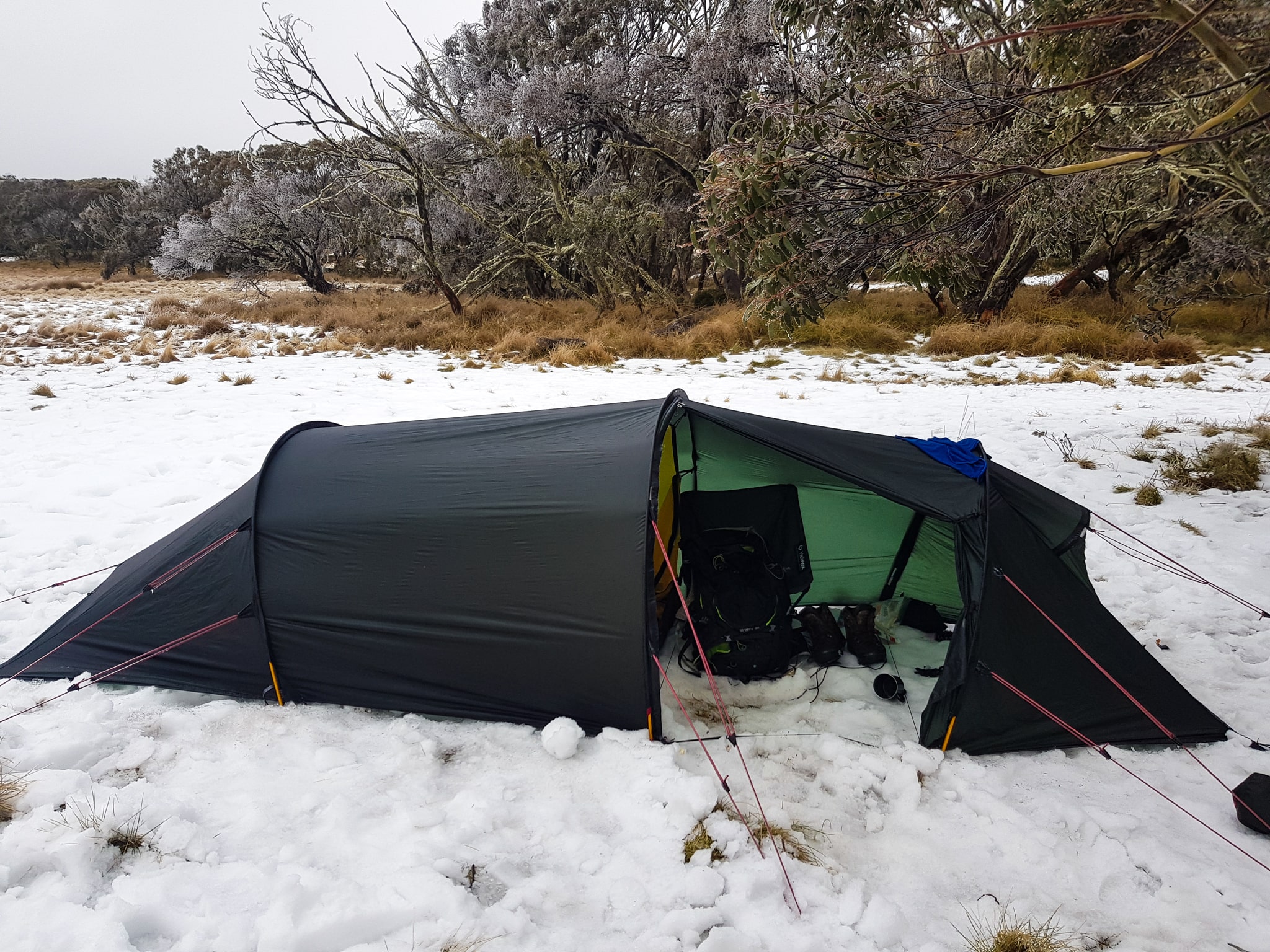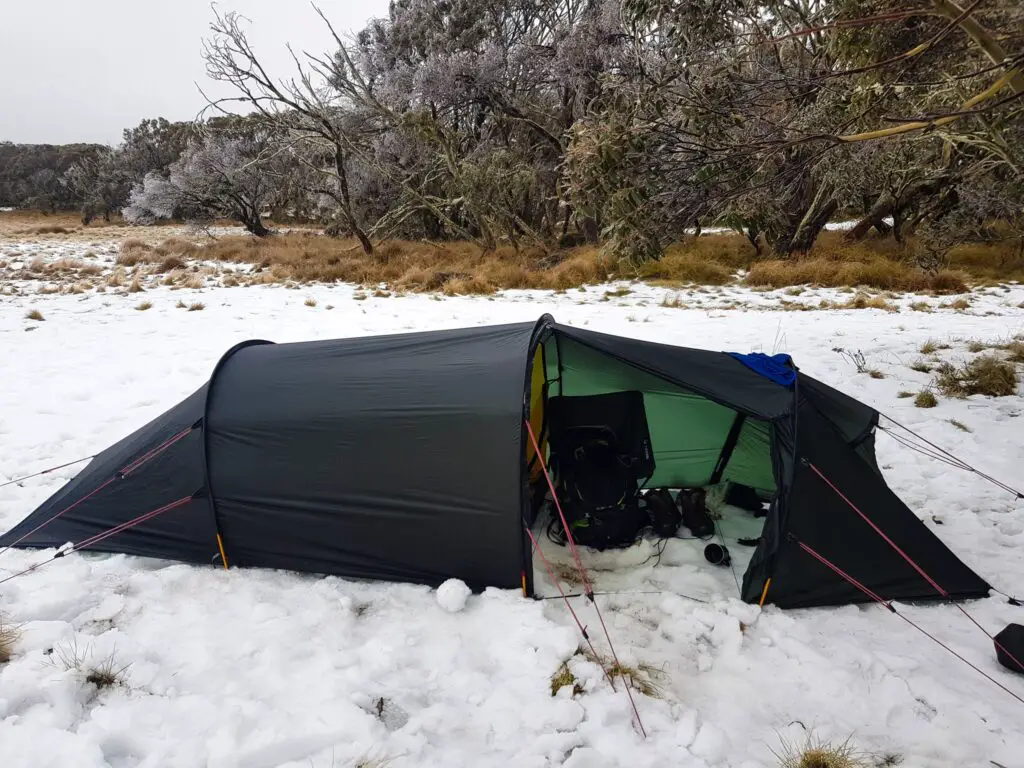 The hut is an ideal base for cooking dinner out of the cold and getting toasty beside the fireplace before bed. Just make sure you bring firewood to replace whatever you use so it's always fully stocked.
Remember, as with the majority of alpine huts in Victoria, you should not sleep in the huts unless it's an emergency. 
If you want an easy introduction to snow camping, the proximity of the car park, flat terrain and nearby facilities make JB Plain the perfect spot for a first-time snow camper. In fact, it was the first place I ever snow camped myself!
Bluff Spur Hut – Mt Stirling
Nearest town: Mansfield (37kms)
Access: 5km ski/snowshow from Telephone Box Junctions (TBJ)
Activities: Cross-country skiing, snowshoeing, hut exploring, Stirling summit
Toilets: 1 x long drop
Cost: Paid parking permit required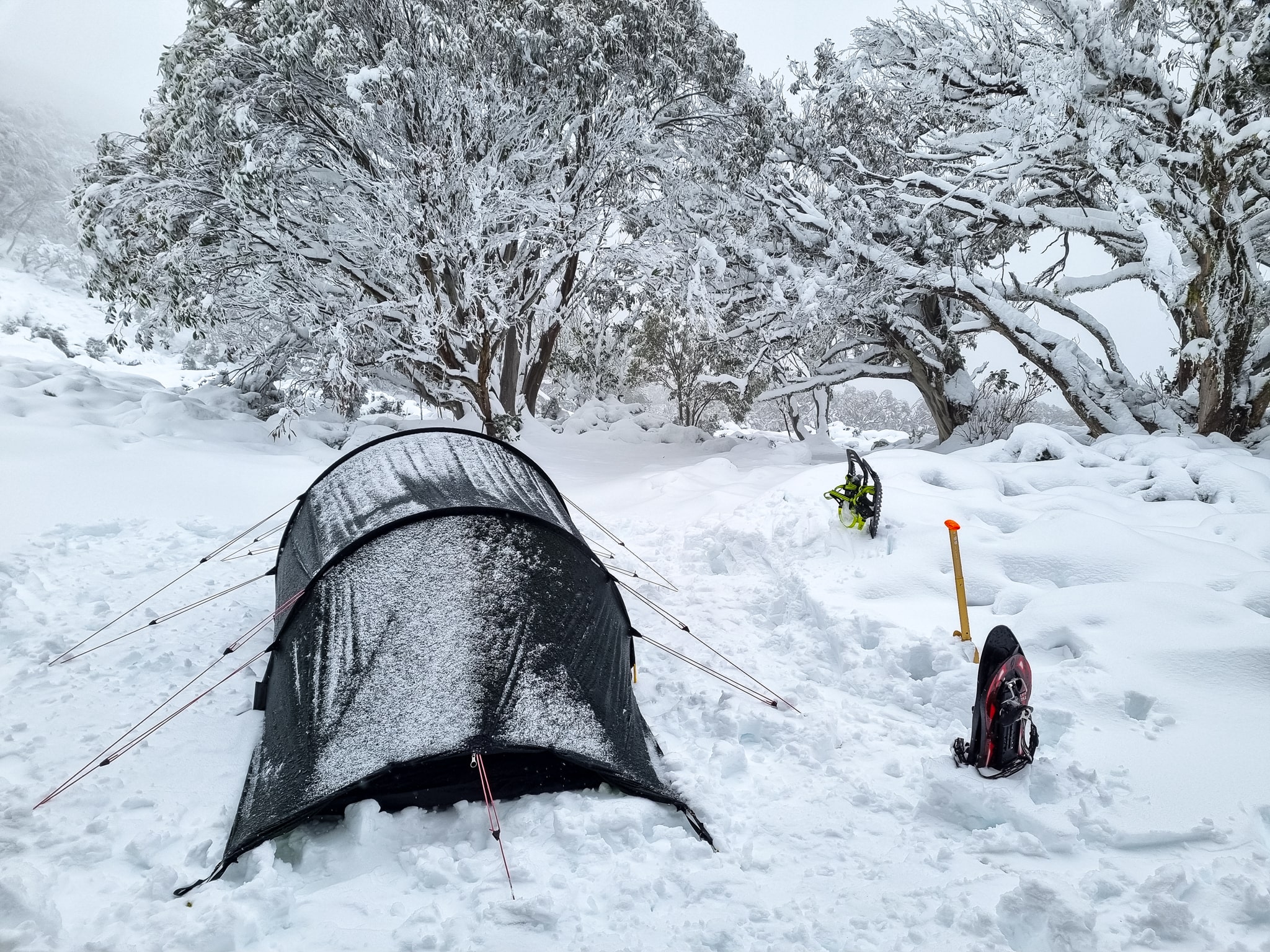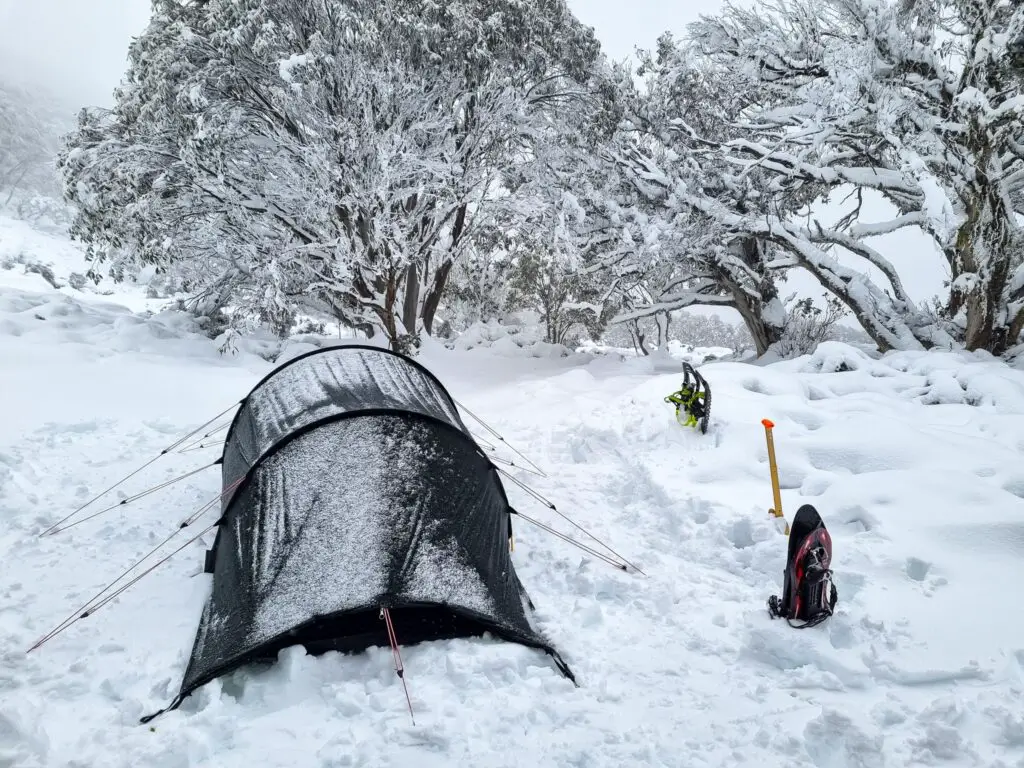 Bluff Spur Hut on Mt Stirling is a bit more of a challenge to get to, but is still easily achievable in roughly 2 hours of slow hiking on a well-formed and trafficked trail.
From the Telephone Box Junction (TBJ), follow the upper right section of the Circuit Road, turning left into Baldy Loop then right up Bluff Spur Trail. You will either need to snowshoe or use cross country skis. It's pretty much all uphill for 5kms, so ensure you have a comfortable backpack that isn't overpacked and heavy.
Bluff Spur Hut is the first alpine hut you reach on the Bluff Spur Trail. The area around it for camping is often the most sheltered on the mountain thanks to being slightly below the summit and between trees.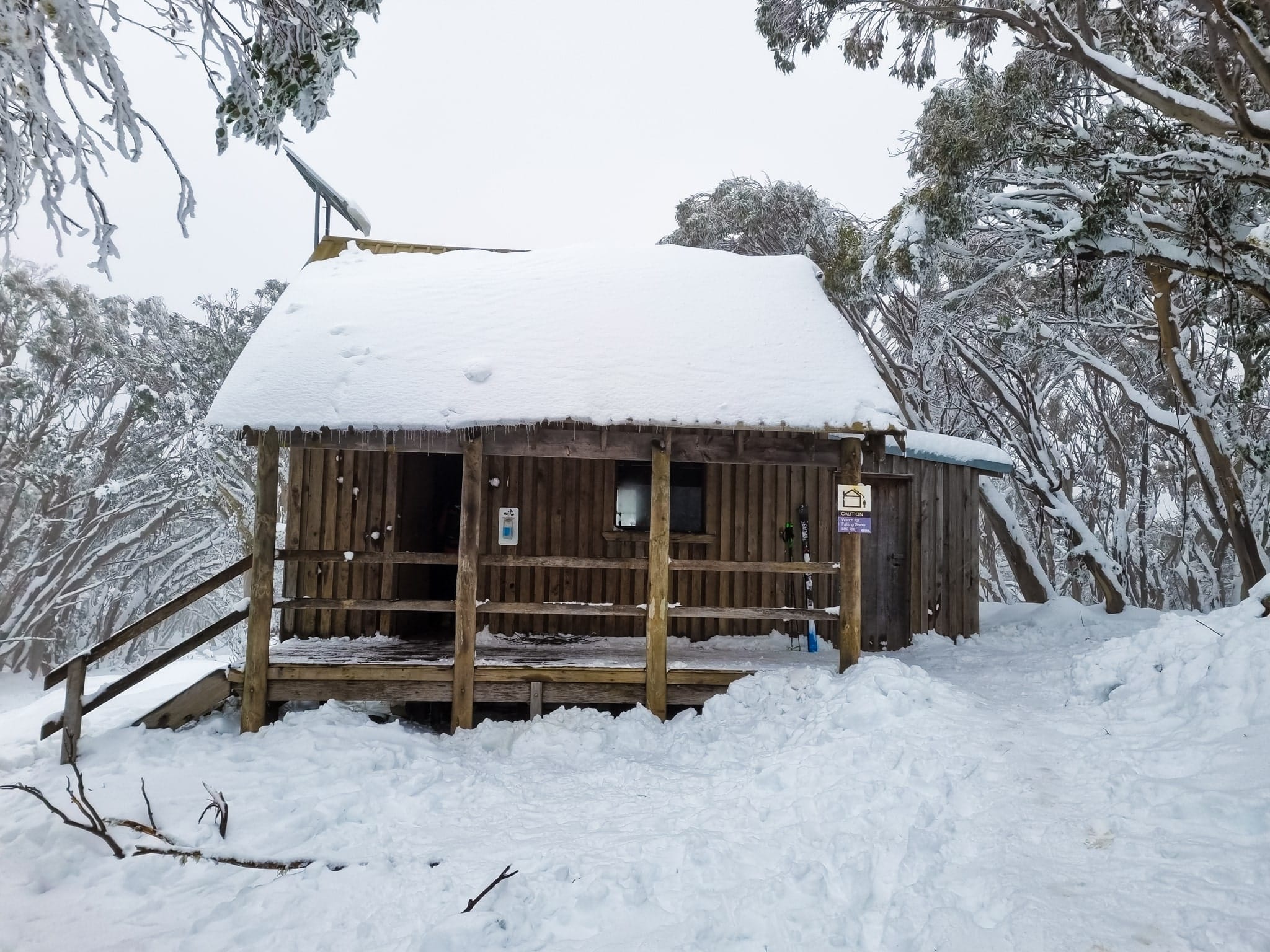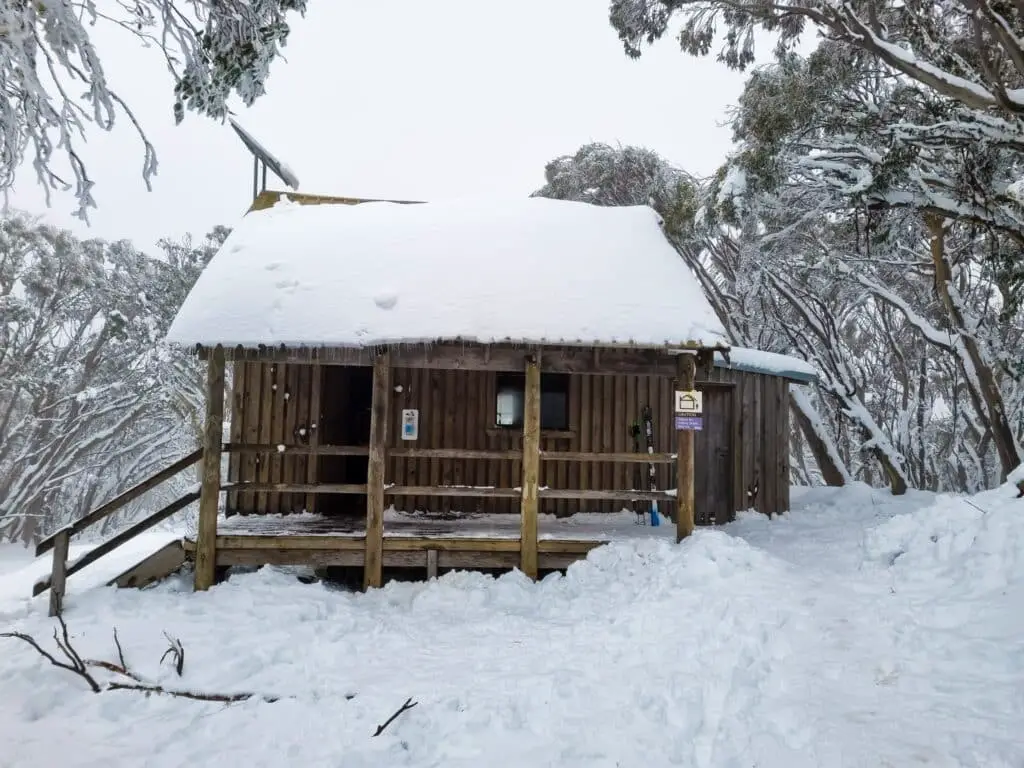 You may however wish to consider the other camping areas on the mountain such as GGS Hut (a further 1.5kms and pretty much on the summit) or King Spur Hut (listed below as an easier option) as alternatives. 
I really like Bluff Spur Hut as its location under the summit means you can ski down from a day of skiing to the door of your tent. I also really like the atmosphere here, more so than GGS hut, which is owned by Geelong Grammar School.
Bluff Spur Hut has emergency sleeping platforms and a communal area with plenty of seating to cook and chill, and a wood-burning stove in the middle to warm up.
For a moderate challenge for someone who likes the idea of a walk or achieving something before setting up camp, Mt Stirling would be my go-to pick.
King Spur Hut (Hut 36) – Mt Stirling
Nearest town: Mansfield (37kms)
Access: 2.1km ski/snowshoe from Telephone Box Junction (TBJ)
Activities: Cross-country skiing, snowshoeing, hut exploring, Stirling summit
Toilets: 1 x long drop
Cost: Paid parking permit required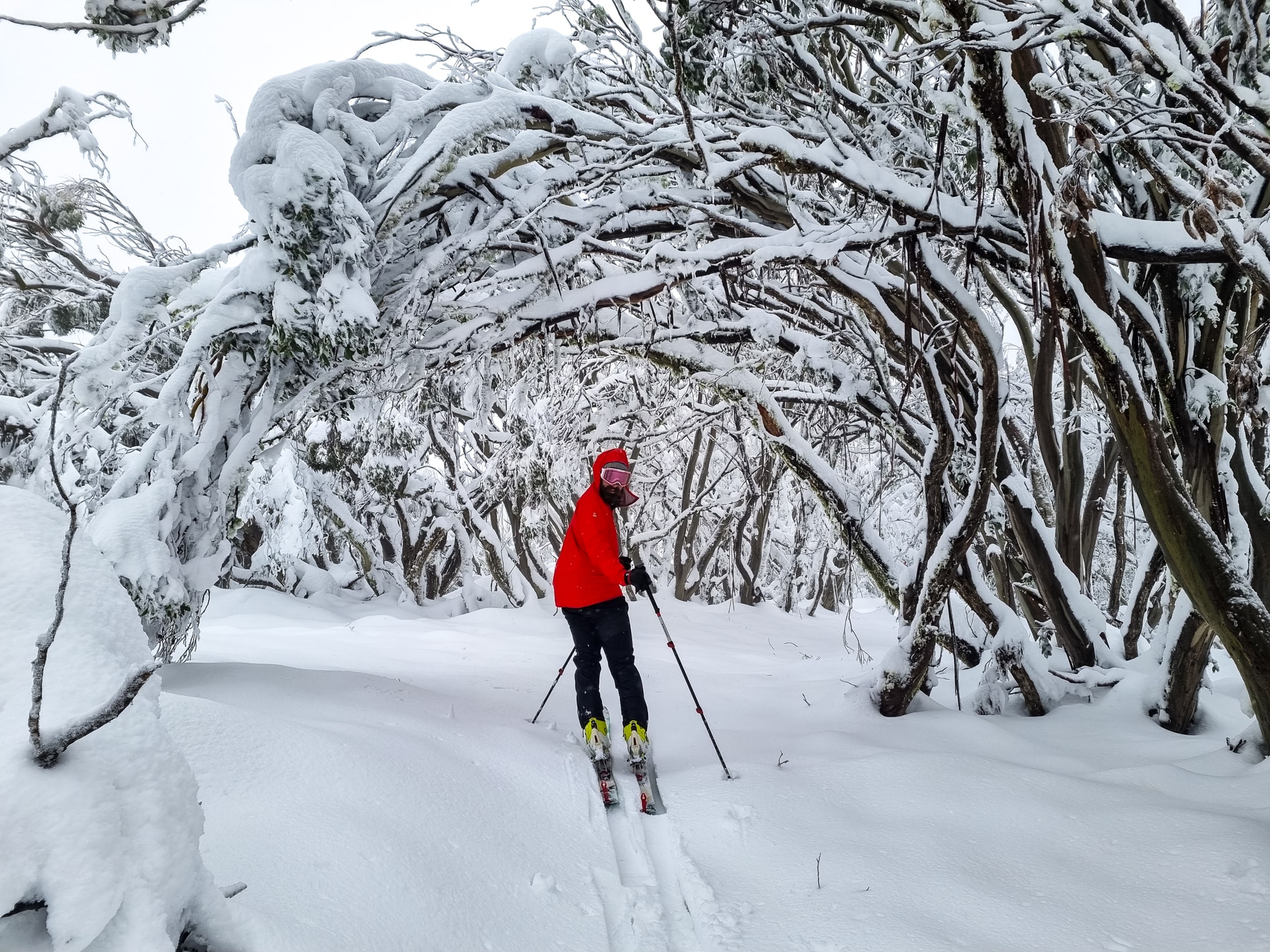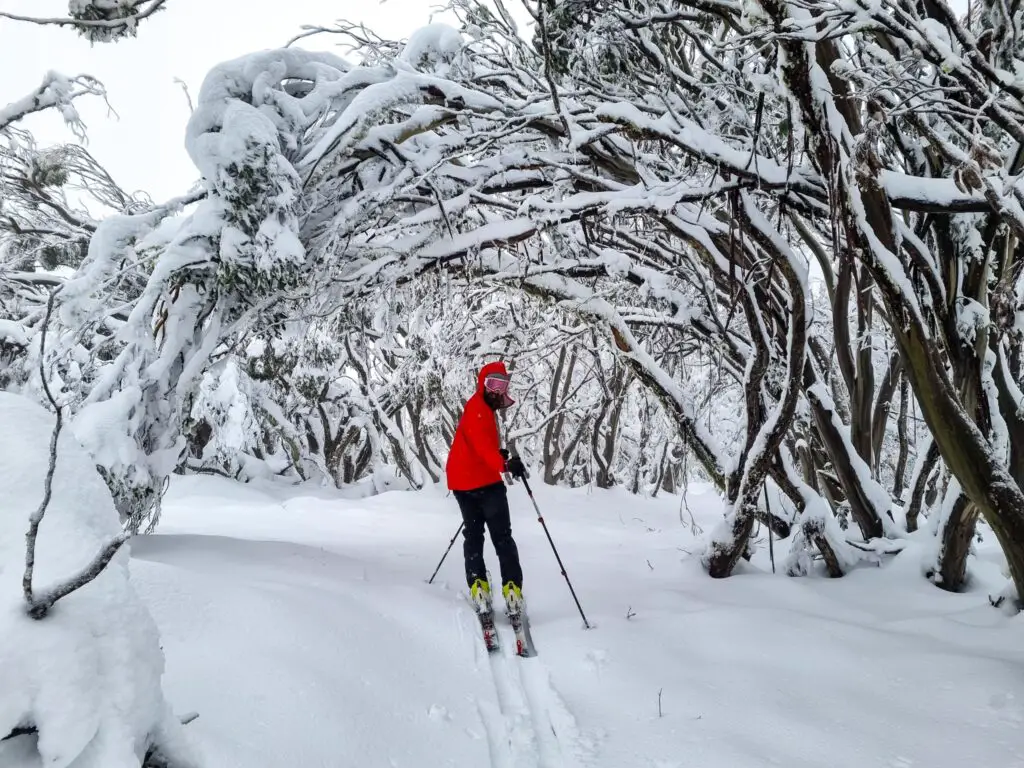 A much easier option than Bluff Spur Hut on Mt Stirling is King Spur Shelter which you can approach from the other side of the mountain, also from Telephone Box Junction.
From the TBJ car park, take the path on the left on the Circuit Road Trail (instead of the right which would lead to Bluff Spur Hut). It's an easy 2km ski/snowshoe on a gentle, well formed track.
Opting for this hut gives you peace of mind knowing that you are only a short downhill distance away from the visitor centre, cafe, ski shop and ski patrol centre at Telephone Box Junction.
King Spur Hut is a large and really attractive hut, which feels much more modern than many and is always stocked to full with firewood for the pot belly stove. The camping area surrounding the hut is wide and flat, so you have multiple options for pitching your tent. 
5kms further uphill will take you to the Mt Stirling Summit which you can reach during the day, and then ski back down to the hut afterwards, via some nice windy tracks.
There are also the other huts I've mentioned to check out, including GGS and Bluff Spur Hut.
If you like the idea of snow camping on Mt Stirling, but the slightly more challenging hike to Bluff Spur puts you off, then Kings Spur is a much more gentle alternative.
Lake Catani Campground – Mount Buffalo National Park
Nearest town: Porepunkah (28km)
Access: 1km ski/snowshoe from carpark
Activities: Cross-country skiing/snowshoeing, lake exploring, viewpoints, waterfalls, tobogganing and snow play (Cresta Valley and Dingo Dell)
Toilets: 1 x long-drop
Cost: Free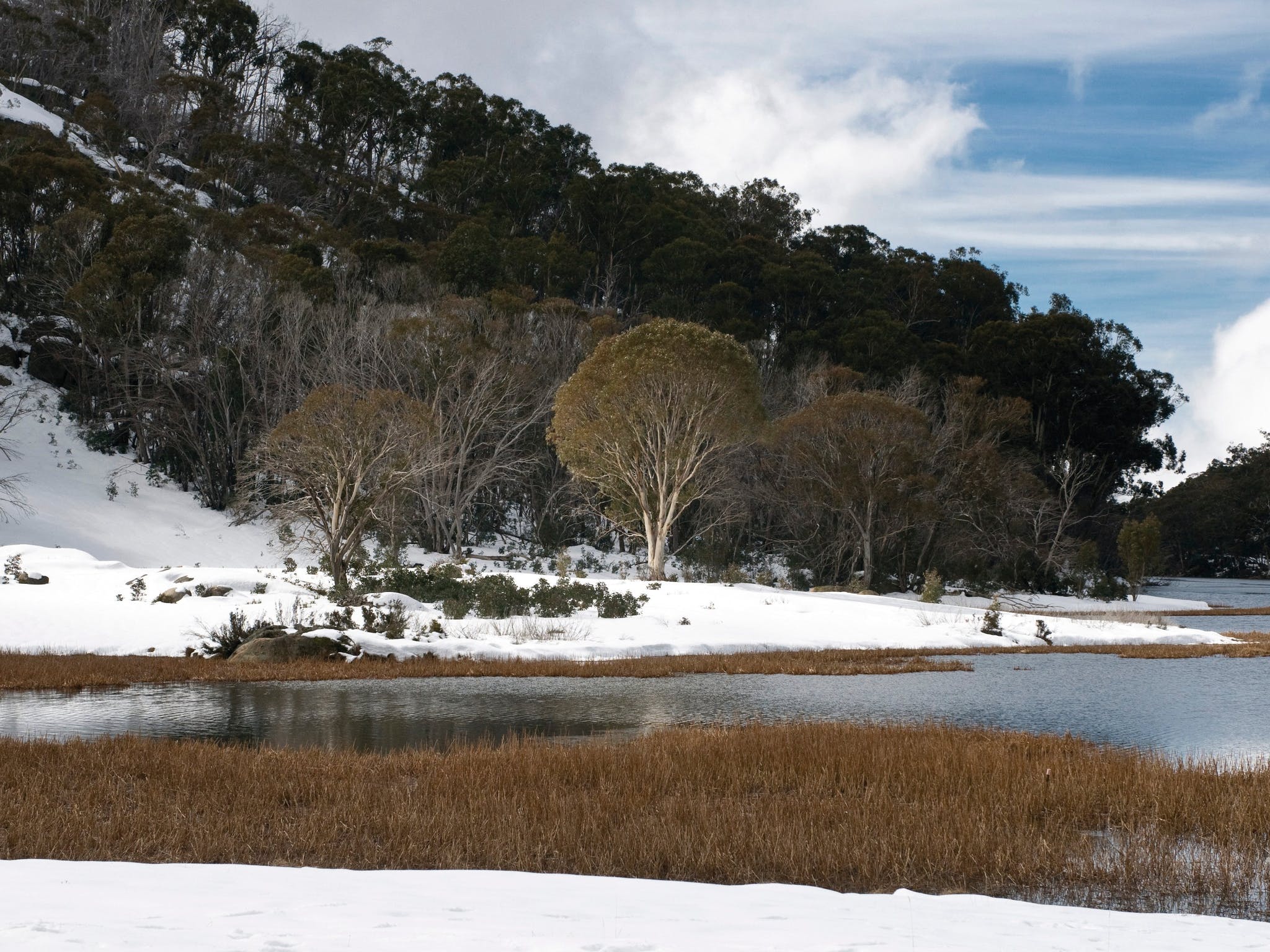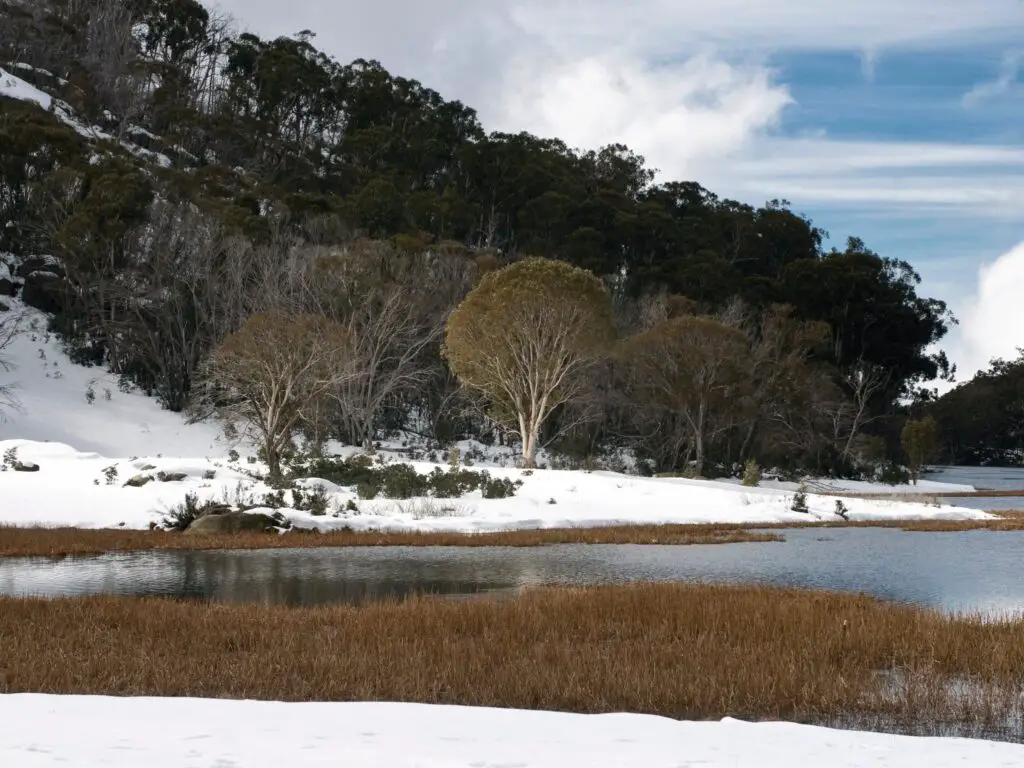 Located on the Mount Buffalo plateau in a Snow Gum Woodland is Lake Catani Campground, an idyllic spot suitable for beginner snow camping in Victoria.
From the car park, it's only a 1km flat ski or snowshoe to the campground. There are four other hike/ski-in sites also available nearby for free winter camping during the declared snow season. 
For something a little more remote there is Mount McLeod and Rocky Creek (8km and 6.5km respectively) accessed from the Reservoir Picnic area. They have to be booked for a small fee via the Parks Vic website. 
In summer there is a BBQ, flushing toilets and showers at Lake Catani, but in winter sadly they are closed (sorry to disappoint!) but instead there is a pit toilet behind the hut.
The distance from the nearest town makes Mount Buffalo National Park feel like a remote camp. However it's a popular and an easy access campground from the car park, with tonnes of interesting things to do nearby (beyond simply skiing or snowshoeing).
Edmonson Hut Campground & Surrounds – Falls Creek
Nearest town: Falls Creek (9.5km on foot)
Access: <7.5km ski/snowshoe from the dam, 9kms from Falls Creek
Activities: Cross-country skiing/snowshoeing, resort skiing (Falls Creek), hut exploring, waterfalls (Fainter Falls) lookouts, Rocky Valley Dam
Toilets: Long-drop
Cost: Free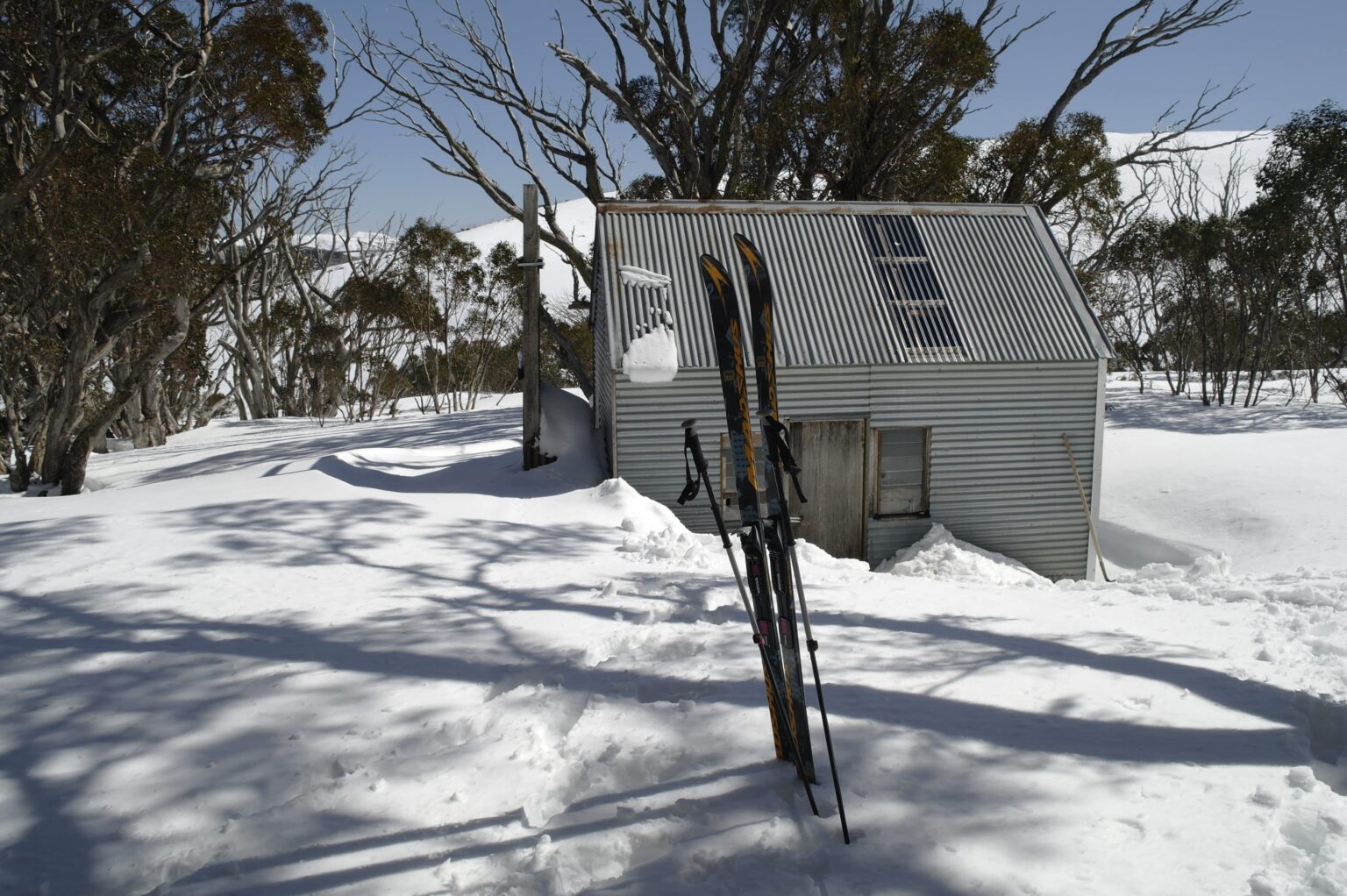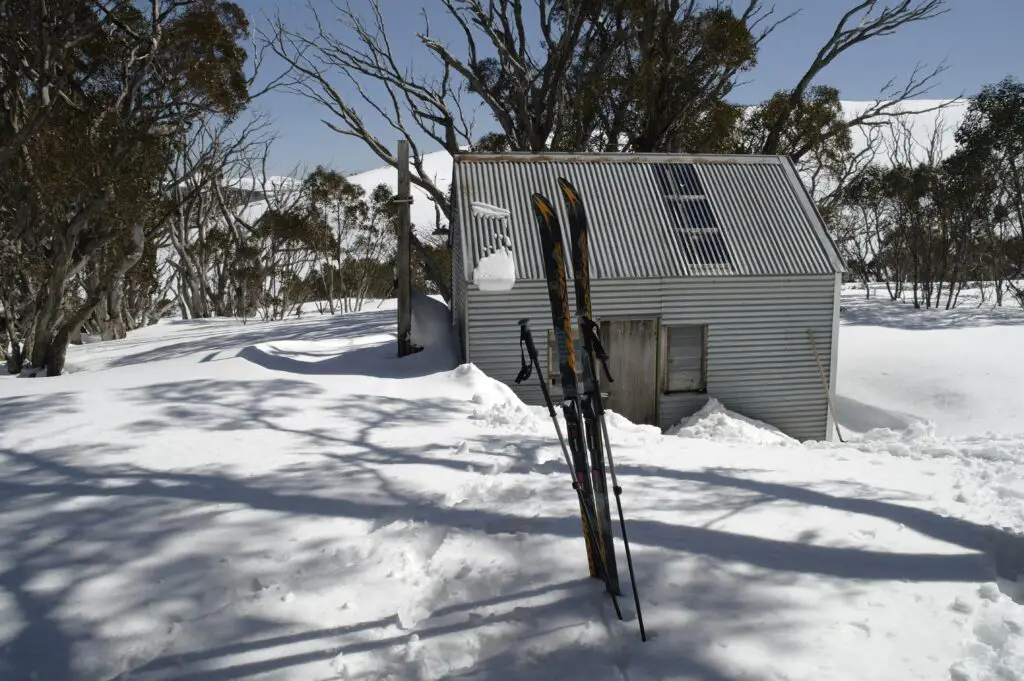 At the Foot of Mount Nelse is Edmonson Hut Campground which is about a 7.5km snowshoe or cross country ski from Heathy Spur Carpark/ the dam wall.
Or, if that is a little too far, the Bogong High Plains Road is the resort boundary so you can bush camp anywhere east of the road towards Mount Nelse in the Alpine National Park. Some restrictions for dispersed bush camping do apply though, which you should look up first on the Parks Victoria website.
If you do make it to Edmonson Hut, you will have the 'luxury' of a fairly new drop toilet (instead of bush toileting, which can be a little challenging to dig holes for in freezing conditions!). In case you can't be bothered to melt snow for water, there is also a creek 200m away behind the hut.
The hut itself is sadly a little tired and the terrain around the hut for camping is very slightly sloped, but it's a stunning setting with beautiful snow gums dispersed around open grass, which is ideal to pitch a tent. 
---
These 5 places are some of the best spots to go snow camping in Victoria. They are all easy to access, have huts with fireplaces to warm up and are reasonably close to civilisation. Whether you want to camp beside the car or fancy a small walk to a campground, I hope these 5 will ease you in gently to alpine snow camping!
Quick Snow Camping Tips:
Always fill in an intentions form with your route and contact details so you can be found if you get into trouble
Always tell a trusted person where you are going and when you anticipate returning
Remember to use chains for car tyres for driving 2WD's in snow/ice conditions. Always carry chains for 4WD/AWD's
Always check the weather before departure and postpone if storms or heavy winds are expected
Don't camp under trees to avoid large sudden dumps of snow in the night, or worse, falling branches
Winter specialised gear and equipment for snow camping is essential. Incorrect gear or being unprepared for freezing conditions is dangerous and can be fatal.
A blog post on the essential gear for snow camping, suitable for the conditions in Victoria is coming soon!