Welcome to my review series where I share independent, authentic reviews of travel, lifestyle and outdoor gear I have bought or been gifted. You can be sure they're always unedited photos and my 100% unbiased and honest opinions.
This week is the Sacred Lotus Love Tea Tumbler review, which I bought from Amazon.
The Lotus Tea Tumbler is a 14oz (114ml) double-walled glass tea bottle for diffusing loose leaf tea or fruit/vegetables in either hot or cold water. It comes with an insulating sleeve and a travel case.
*This post may contain affiliate links meaning should you purchase a product via this link, I'll earn a small commission at no extra cost to you. See my privacy and disclosure policy for more.*
---
Rating
Packaging: 9/10
Functionality: 9/10
Practicality: 7.5/10
Design & branding: 8.5/10
OVERALL SCORE: 8.5/10
Why did I buy the Sacred Lotus Tea Tumbler?
I'm a stereotypical Brit. Drinking tea, in any form (but especially hot herbals) is more than just an enjoyable moment taken for myself, it's a daily necessity and a passion!
In an attempt to cut down on my everyday plastic usage, I've steered away from tea bags. At home I use loose tea leaves, sometimes creating my own blends. I have many loose leaf tea pots and strainers for home use, but I wanted a tea flask to take out with me. For example, to work and on road trips in my Ford Econovan camper van.
I was seeking a glass bottle with metal and wood elements, and minimal plastic. When researching online, the Sacred Lotus Love Tea Tumbler was one of the only bottles in the size I was after, that was not plastic.
I also wanted a secure screw lid so it wouldn't leak if it ever toppled over, and I could put it into a bag if required and not worry about always keeping it upright.
All in all, although a little pricey, the Sacred Lotus Love Tea Tumbler looked like a well designed and attractive tea flask that was suited to my initial requirements.
Functionality of the Lotus Tea Tumbler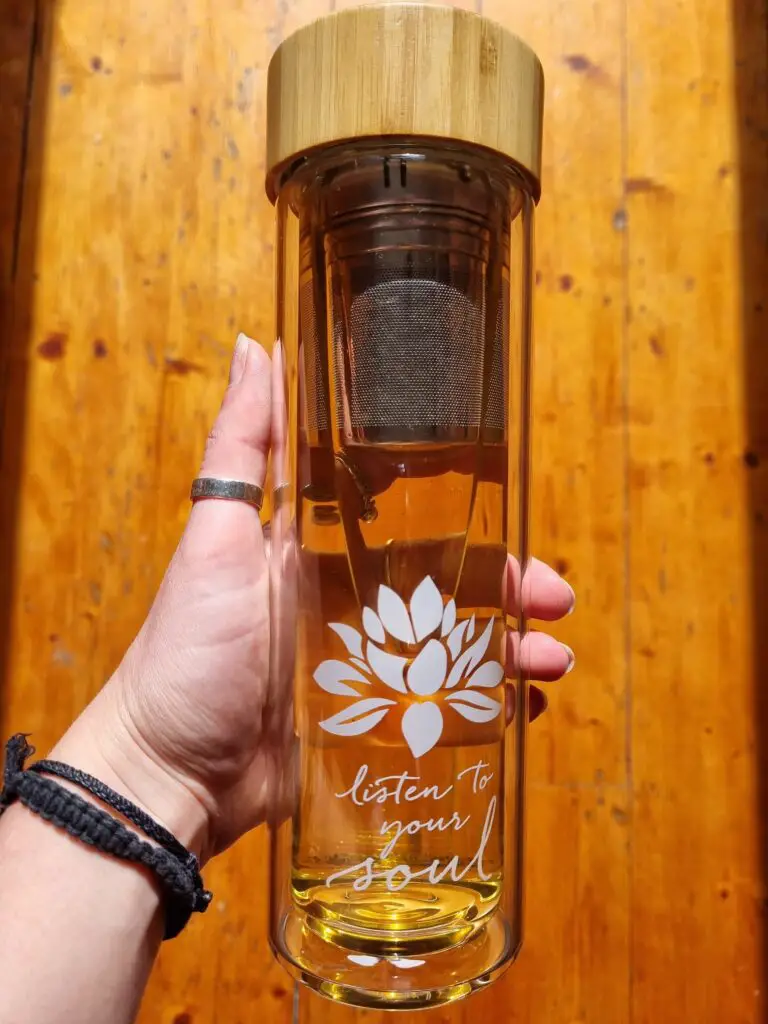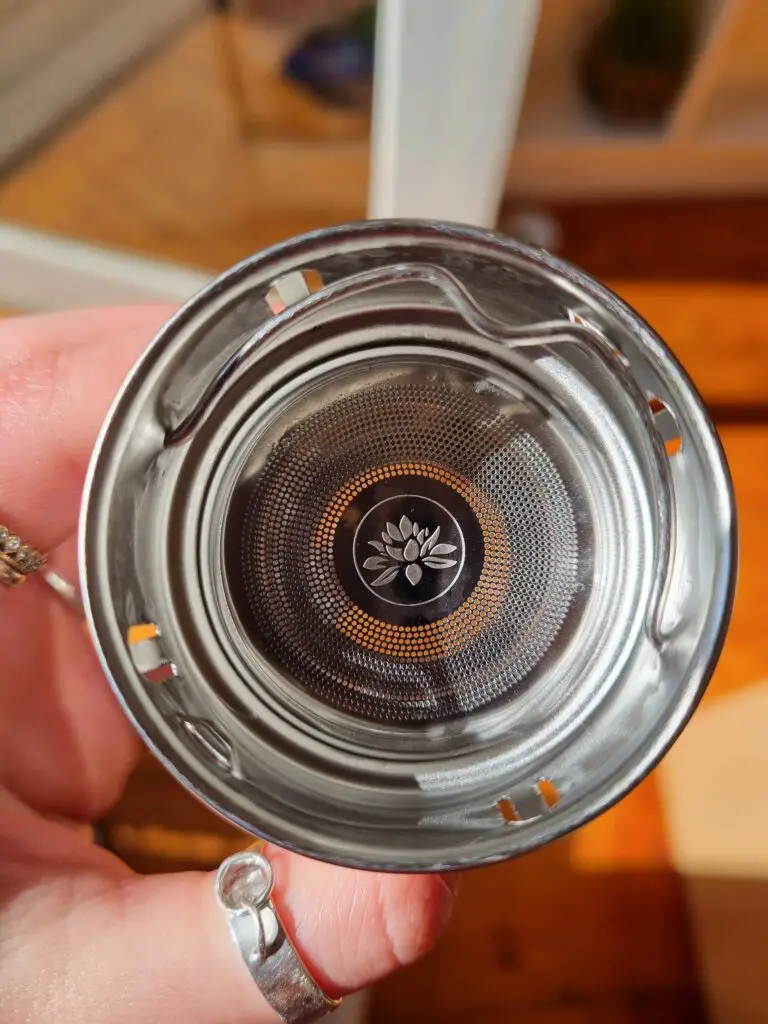 The Sacred Lotus Love tea tumblers are perfect for loose tea, but also for creating infused water with fruit, vegetables, herbs and spices.
The handy metal stainless steel strainer/basket is multi-use. It can open up to contain loose leaves to lightly click into the top of the bottle to infuse the water, or the strainer can be screwed apart. 
The bottom part of the strainer can be removed, and the top part secured in the neck of the bottle to act as a filter when there are items in the water. Or you can take it out completely and just use the bottle!
It's useful to have this multi-functionality as during the summer in Australia for example, I'll likely have less hot tea, and more ice-infused fruit water just using the basket filter. The large neck also allows for plenty of space to gently add ice cubes or crushed ice.
There is no special lip or nozzle for drinking out of which I like, it's just the smooth glass rim.
The borosilicate glass is double-walled meaning that the bottle doesn't get too hot to touch and has insulating properties. However, for the best insulation to keep your drink hot or cold, it's obviously best to use the insulating sleeve with the nylon loop it comes with. 
The liquid in the bottle is meant to stay hot for around 45 minutes – 1 hour, which I would say is quite accurate. I always wait a minute or so once the kettle has boiled before filling it so as to not scold the tea leaves, and even then it stays hot for around 40 minutes with the insulated sleeve on.
How practical is the Lotus Love Tea Tumbler?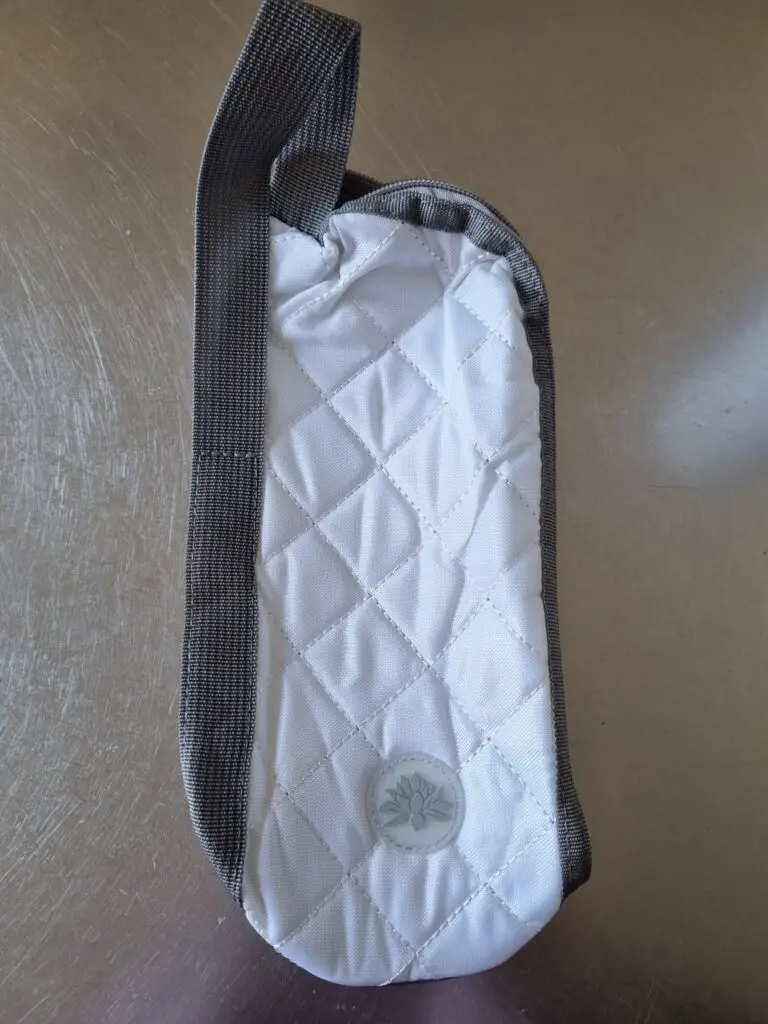 I had hesitations over the practicality of a glass tea bottle, but so far so good. You do have to take extra care to not chuck it around so it doesn't crack. But there is something quite nice in treating a possession with care. It also has a reinforced bottom so it does feel quite sturdy.
Not only does the tea tumbler come in a very snug insulating sleeve, it has a travel case with a strap for added protection if you ever need to pack it into a suitcase or take it away with you.
The nylon loop on the insulating sleeve is very useful. I often find myself walking around with it looped around my finger and it can also be secured onto a backpack or bag.
So long as the bamboo lid is screwed onto the bottle correctly, and the inner silicone seal is therefore tight, this bottle does not seem to leak.
However the useful care booklet that comes with the package gives advice on how to readjust the silicone seal if it comes loose, which it does very occasionally. There's also a spare silicone seal provided which I think is very practical!
The bottle weight is 103grams. To me it feels fairly heavy to pick up, but also what you would expect for a glass bottle. That being said, I don't notice it's a burden walking around with it, which is the most important thing.
Washing the Bottle
Unfortunately for some, all elements of the bottle must be hand washed and are not dishwasher safe. A soft bottle brush will do the trick.
The care booklet advises tea may stain the stainless steel infuser over time, but it's nothing some baking soda and an old toothbrush can't clean up.
Generally I don't really use dish soap which is a trick I learnt to prevent tainting the bottle when you're using mild flavour herbal teas. A rinse with very hot water works fine considering it has boiling water poured into it most of the time anyway.
Branding & packaging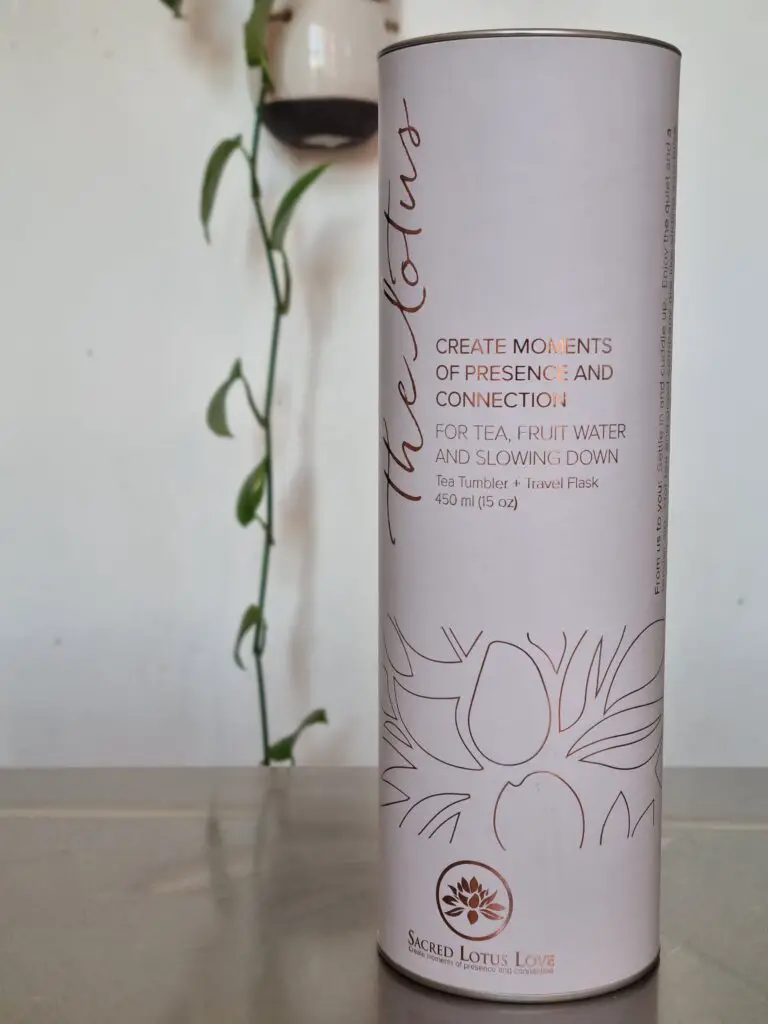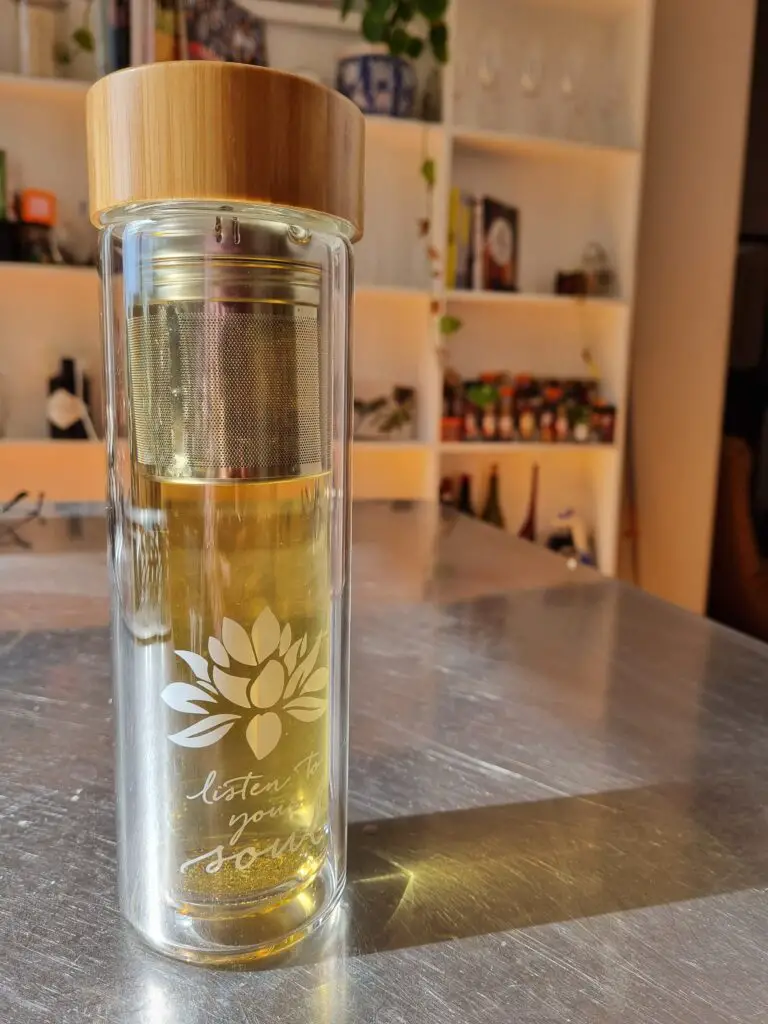 The Sacred Lotus Love Tea Tumblers are available in different designs: The Lotus (the white one I have based this review on), The Sacred (black) and The Love, which is bamboo encased. There is clearly an element of spirituality incorporated into the branding and artwork.
I must admit I personally find the branding of this product a bit naff and try-hard. Their ethos is to "create moments of presence and connection" and "to help you slow down and connect". For me, it's a cute bottle and a good tea flask and nothing more. All the other bits it comes with, such as a card with a quote by Rumi for your purse is good marketing, but it isn't really my thing. Though I'm sure it will be for others!
That being said, the packaging and detail on the tumbler itself is really high-end and cute. Their lotus logo is etched on the strainer elements and the design of the bottle without the insulating cover is very attractive.
It came wrapped beautifully within a white and gold embossed cardboard tube with a metal lid. The tube was wrapped in a plastic bubble wrap inside the delivery box. Considering my ultimate goal was to cut down on plastic, I was a little disappointed it wasn't sent in a biodegradable padded alternative. 
Overall, a lot of thought has been put into the design of the Sacred Lotus Tea Tumbler. There's clearly money spent on the packaging to give it a high-end, gift-wrapped feel. It would definitely make a really nice gift for the tea-lover in your life.
The Verdict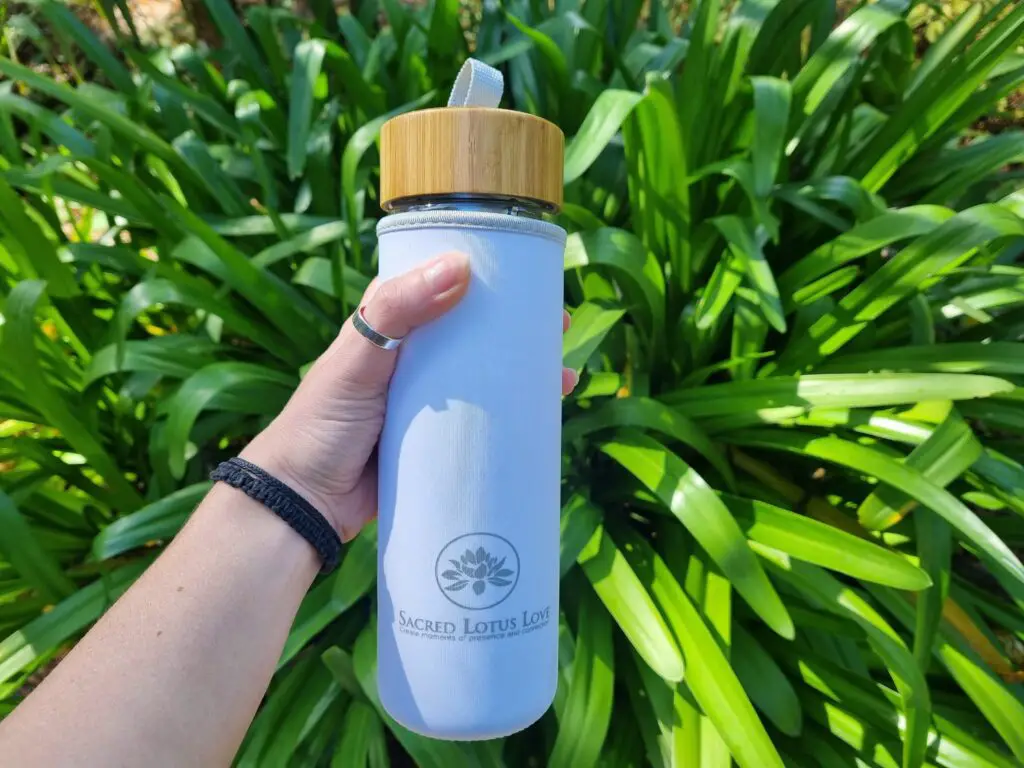 The Sacred Lotus Love Tea Tumbler feels like a high-end and indulgent product for enjoying tea on the go every day. I really enjoy the experience of drinking from it.
Although glass isn't the most practical material for a bottle to use on the go, it does ensure you look after it well and it's a little more planet-friendly. Overall, I have experienced no issues and I am pleased with my purchase.
Pros:
High end materials and packaging
Useful insulating sleeve and travel case
Dual-use strainer/basket
Suitable for a variety of hot/cold drinks
Doesn't leak + spare seal
Warranty available
In-depth care guide
Ideal gift for yourself or others
Cons:
Not dishwasher safe – hand wash only
Max 1 hour heat retention may not be enough for some
Somewhat delicate – must take care with ice and metal spoons, can't freeze or microwave
Some plastic in the delivery packaging
Silicone seal sometimes falls out from the lid
I hope this Lotus Love Tea Tumbler review has been useful if you're considering buying one for yourself or as a gift.
PIN FOR LATER: