Mimoza is my Turkish friend living in Barcelona. We met at university and I fell in love with her bubbly, sunny personality as soon as I spoke to her. After living with each other in our final year of Uni, she then went off to Spain to complete a masters degree and fell for Barcelona so much that she has stayed there to do a SECOND masters!! Not only does she have endless drive and energy, she is also the biggest foodie I know and so has combined these skills to give you a low down on the best brunch places in Barcelona. Trust me, if you follow her Instagram (@mimozaeverywhere), you'll see she really knows her stuff!! Enjoy Mimoza's takeover!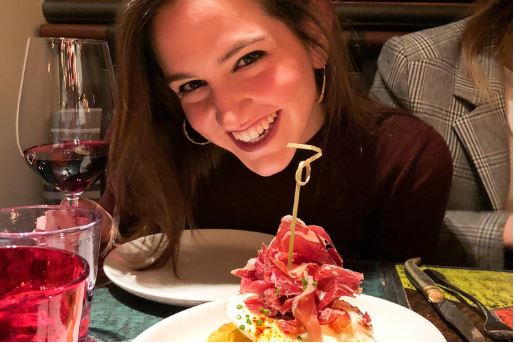 ---
The best places for Brunch in Barcelona
My favourite meal of the day: breakfast. When you wake up late (probably quite tired from last night), this favourite meal of mine transforms into an even better concept: brunch. The dictionary describes it as "a late morning meal eaten instead of breakfast and lunch", but I describe it as pure happiness.
Since I live in Barcelona, I feel like I have to share my knowledge with you, everyone, on this very serious and important matter. So, I'm not going to talk more and will directly get to the point. Here are the best brunch places in Barcelona that I've been to, and yes, of course it includes that famous Brunch & Cake that everyone is crazy about.
1. Can Dendê
I have to give 1st place to this 'small in size but huge in success' café.
Can Dendê is located in Poble Nou, which is the new cool and hip neighbourhood of Barcelona. This area used to be full of old factories and warehouses and now all these spaces are being converted into new offices, lofts, art galleries and cafes. It has become this hipster 'barrio' (neighbourhood in Spanish) of Barcelona. Although Can Dendê itself is not an old warehouse (actually, so far from it because it is TINY), it still manages to catch the vibe of the district.
The menu includes sweet options like pancakes and French toast (they are to DIE FOR) and of course sandwiches and burgers. They have alcoholic beverages if you don't feel too hungover from last night and a delicious home-made iced tea too!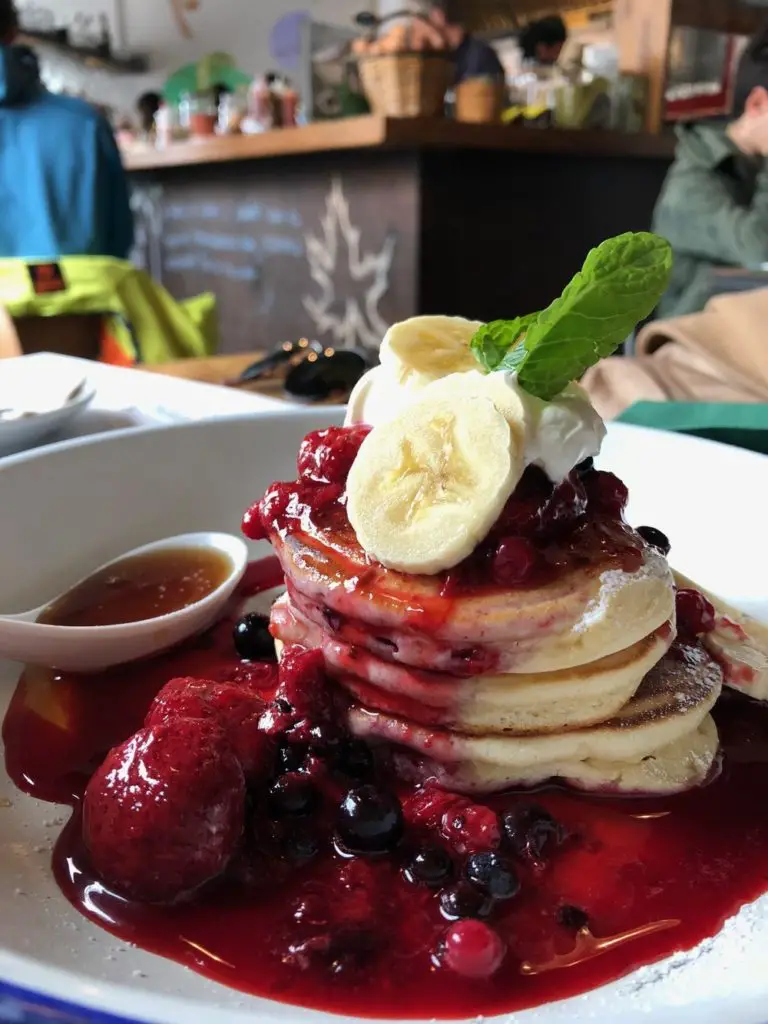 What do we eat?
This place is a project of Patricia Leone (who is in the kitchen cooking!) and Belén (who always manages to smile!) and since Leone is half Brazilian, the food has Brazilian touches.
Ask for Pao de Queijo while you wait for your food, which are small balls of cheese bread. Then I would order savoury pancakes with scrambled eggs and salmon or a bagel with bacon and scrambled eggs. 
After devouring all this, I would share a French toast with berries (they are famous in town) AND pancakes with crème fraiche and berries (how do they make these pancakes SO fluffy?). 
If this is not enough, or if I'm feeling full but still wanting something sweet, I would choose Infancia Feliz, which is crème fraiche with dulce de leche (milk caramel) and slices of banana.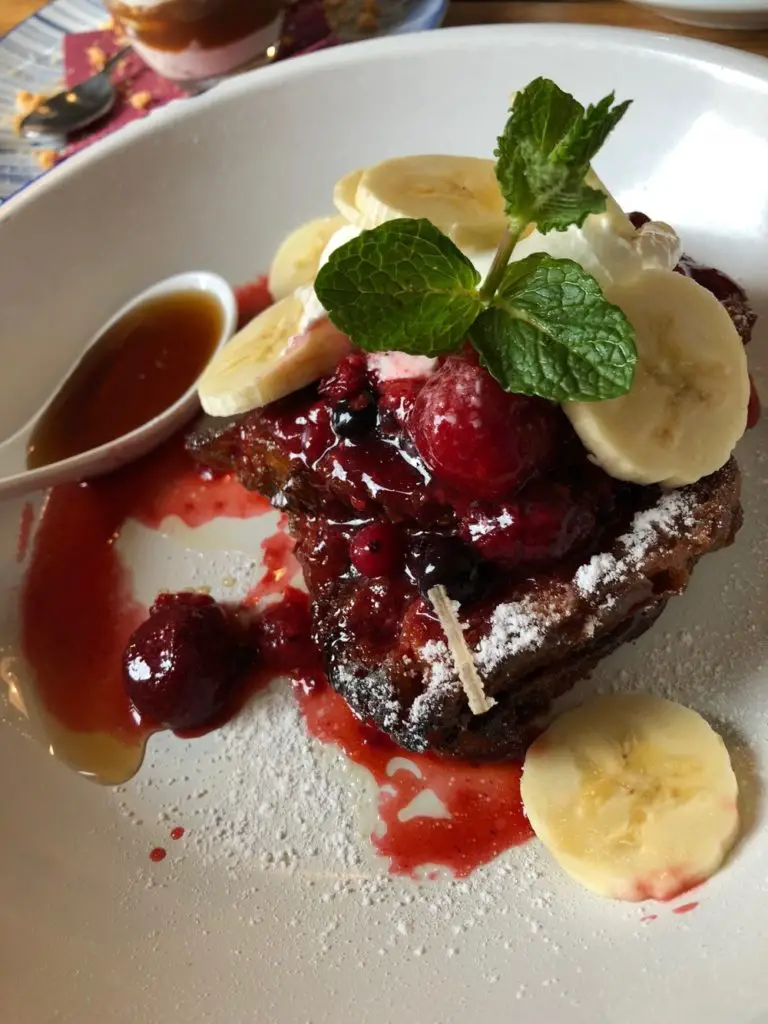 Key information:
Can Dendê is closed on Tuesdays and Wednesdays, open during the other days of the week from 10:00 to 16:30 and on the weekends until 16:30. It has a terrace outside where you can enjoy the sunshine of Barcelona. They don't take reservations so make sure you go quite early to skip waiting in the queue.
2. Brunch & Cake
So, everyone who plans a visit asks their friends which is the best brunch place in Barcelona and everyone will tell you it's Brunch & Cake.
Especially in summer, if you walk pass Brunch & Cake you will think that you are either in the UK, Australia or somewhere which is not Barcelona, because it will be FULL of tourists.
Although Brunch & Cake has various branches around and each of them always busy, my favourite (and quietest) is one is 'Travel & Cake' located at Rosello 189.
This place is famous for its very 'Instagrammable' plates because everything you order comes in a form that you don't expect it to come; an acai bowl in a real pineapple, waffles in a shovel, cheesecake in a flower pot and everything else with amazing colours and flowers! When it comes to their taste: yes – they are delicious as well.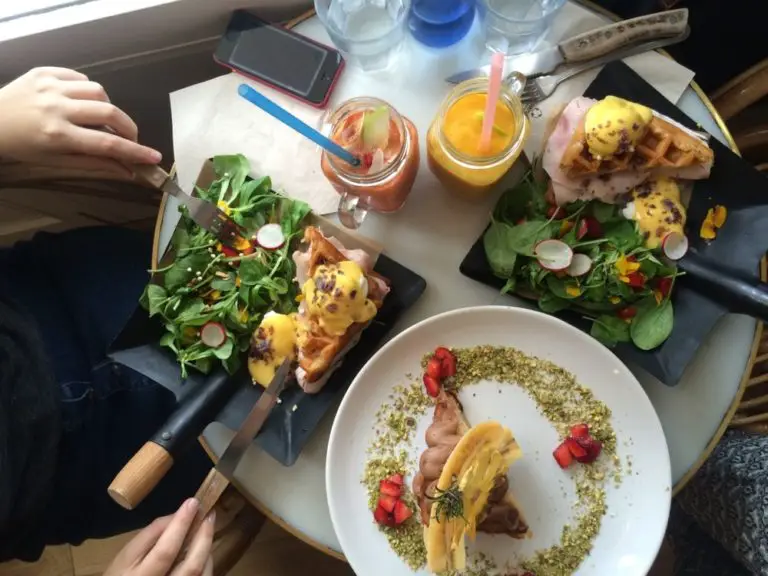 What do we eat?
The menus change according to the season and depend on the branch you are in. However there are some classics that I can recommend. The black charcoal waffles with eggs benedict are amazing! Super Sandwich with pulled chicken and guacamole is also very tasty and filling.
If you are feeling a bit healthy, their quinoa burger is huge and delicious! After your main course, try to leave some space for their famous cakes and cupcakes because there are always some on the buffer looking at you!
Key Information:
They are open from 09:00 to 20:00. It's advised to go early, during the week or in the afternoon. Otherwise, you will have to wait for a long time and I for one am not a fan of waiting when incredibly hungry! In the Travel & Cake branch, if you sit outside, there is a small supplement price you pay, so don't be surprised when this is added to your bill.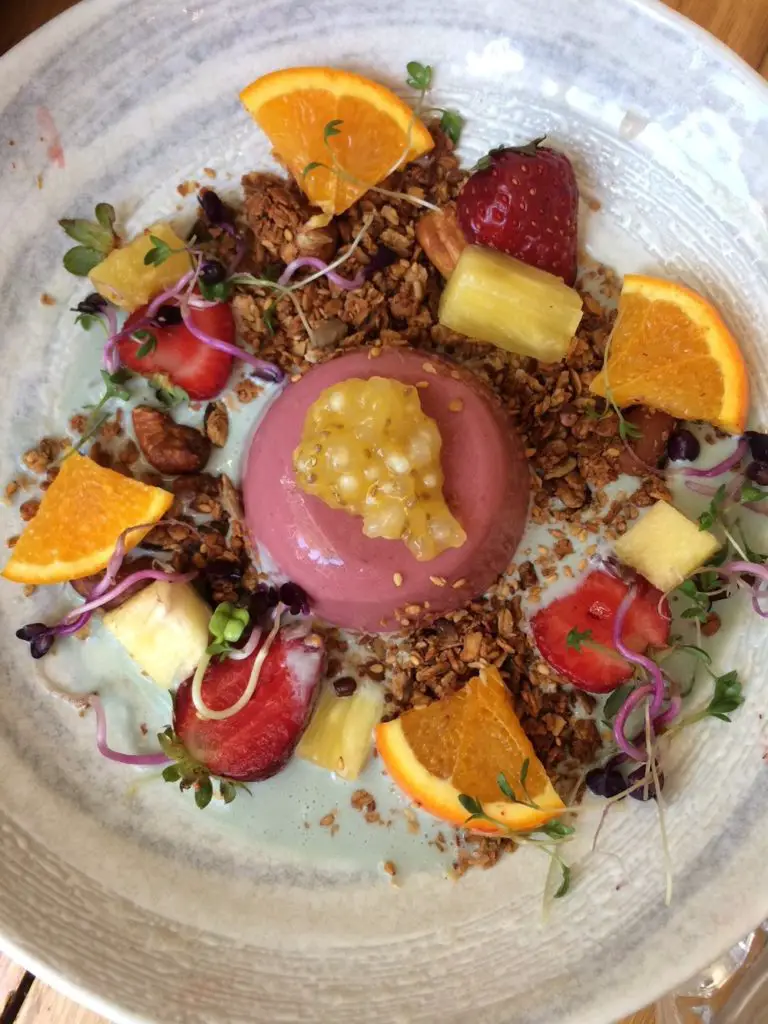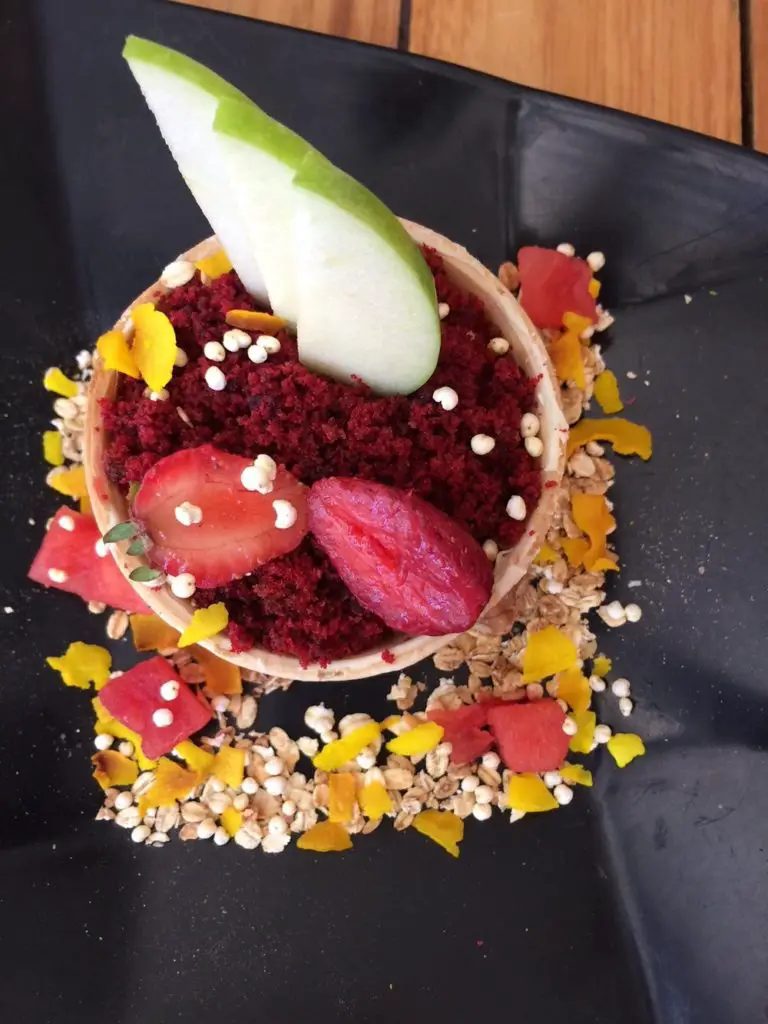 3. Federal Café
Federal is famous not just in Barcelona; they also have branches in Madrid, Valencia and Girona. In Barcelona there are two branches, one in the Gothic area and another in Sant Antoni.
If you ask me, I prefer the one in the Gothic quarter since its more spacious and it has a nice little yard which is cool on a hot and sunny day in Barcelona.
That being said, Sant Antoni is good for a change since it's not a neighbourhood you would normally pass by during your touristic walks. If you want to take your laptop and work, the one in the Gothic area is a good option since at the back there is a small room which is quieter.
When it's busy, the service gets slow and confused, however this never affected my repeated visits.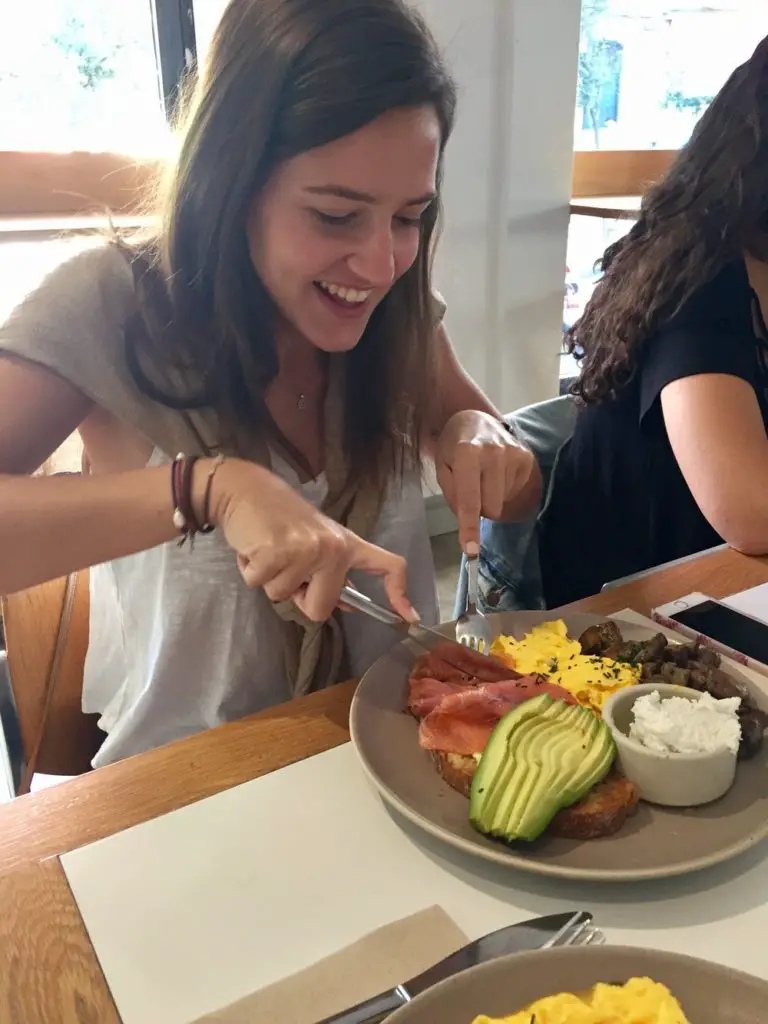 What do we eat?
Their menu includes cereals and croissants, lots of options of toasts, eggs, salads and burgers. When I go there, I always make my own plate of eggs: scrambled eggs with two toasts and I add avocado, salmon, sautéed mushrooms and ricotta. Although there are loads more interesting choices like their shakshuka or morning burger! 
The light options like the chia pudding or Lizzie's muesli are really tasty too. Make sure you try their juices, homemade croissants and their delicious coffee!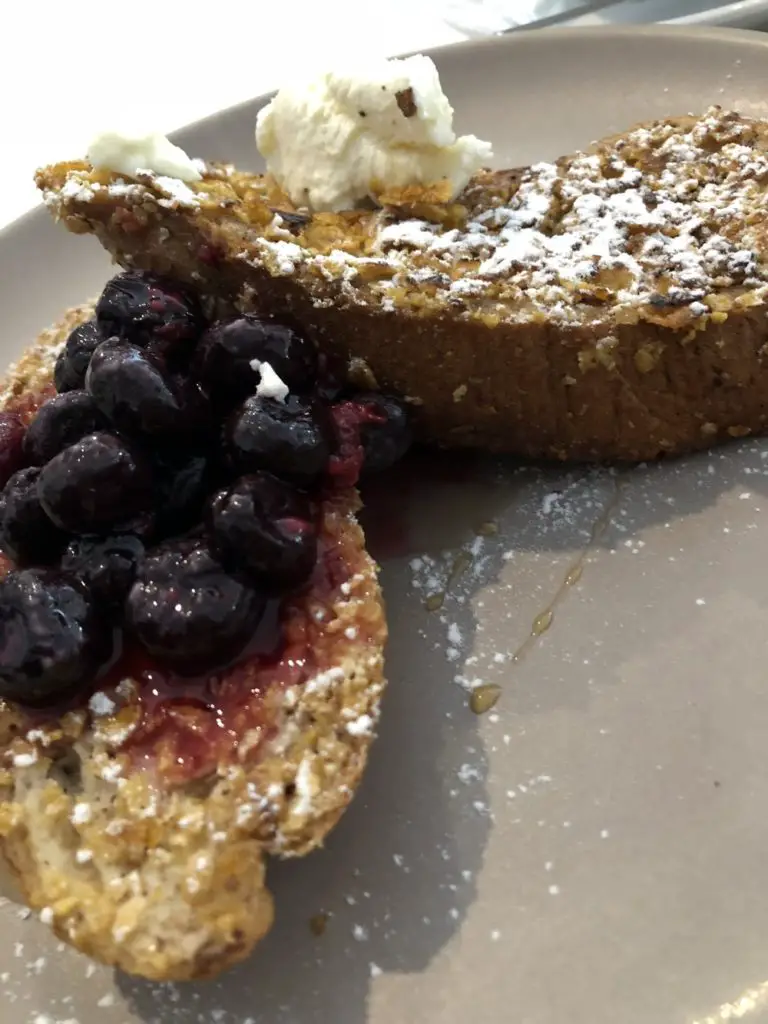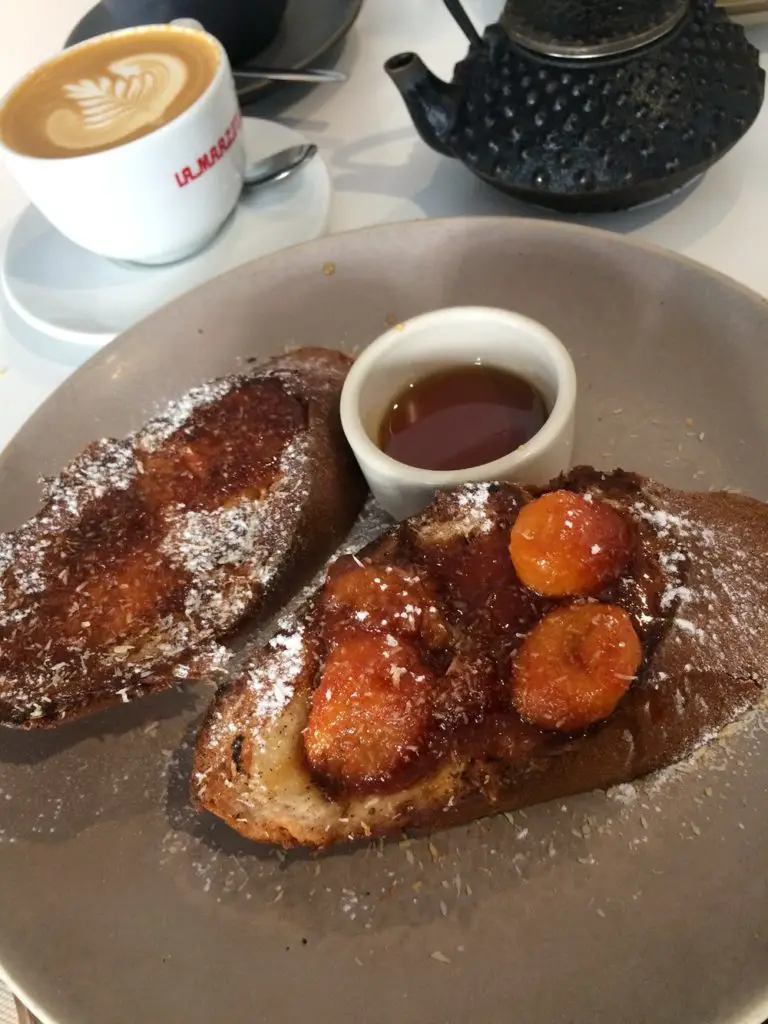 Key Information:
Like Travel & Cake, they charge an extra 10% for the terrace. They are open from 09:00 to 23:00 from Monday to Thursday, they close at 23:30 on Friday and Saturday and at 17:30 on Sundays. 
If you want to go to work with your laptop, they only allow you to sit on the big table in the middle or in the back room.
 Of course like many places in Barcelona, they don't take reservations.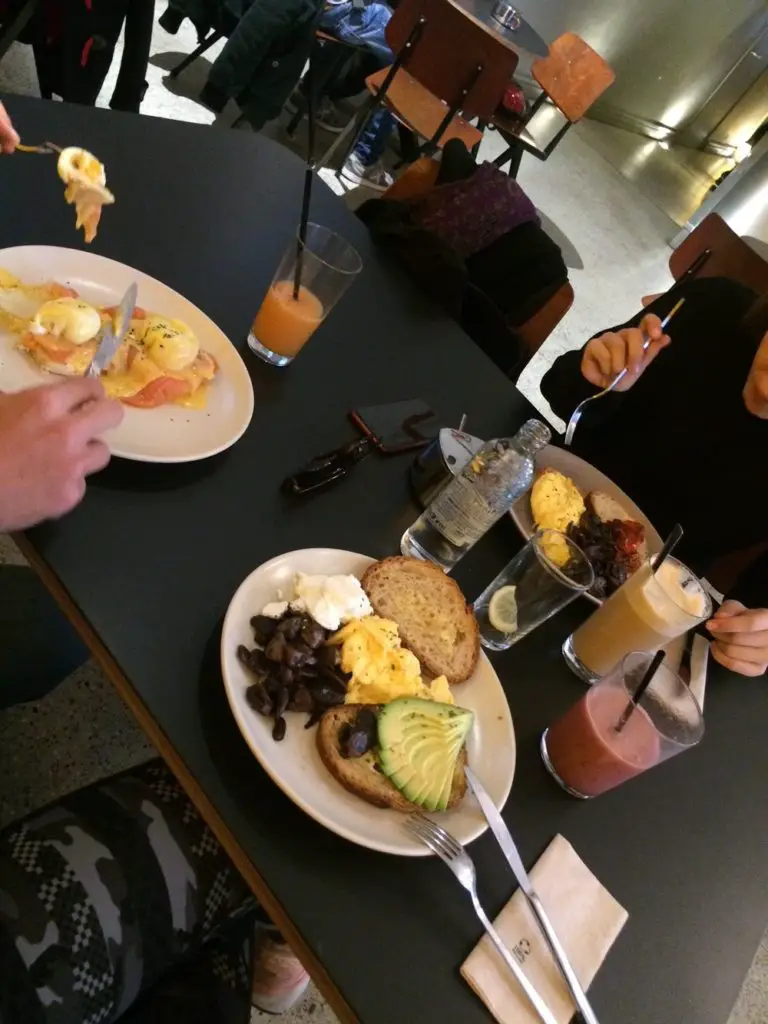 4. OMA Bistró
I read somewhere that this place looks like somewhere from Greenwich of New York because it has this lovely vibe with huge windows, comfortable sofas, a communal table and bright atmosphere. 
It's not one of the places that comes to my mind every time I think of brunch, however every time I go there, I ask myself why not?! Because it has everything I need in a brunch.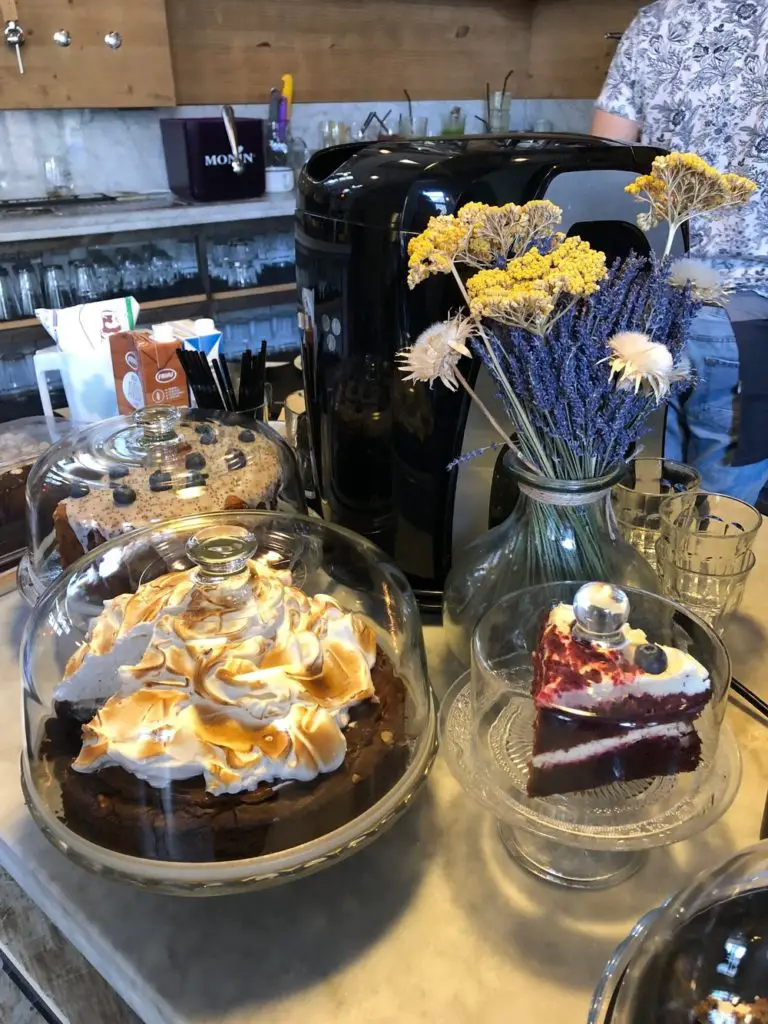 What do we eat?
Eggs benedict with salmon, pancakes with maple syrup, one of their tasty cakes! If you like beer, they have loads of different types of craft beer! I also still can't forget the tea I drank there, so do something good for your body and try their green tea!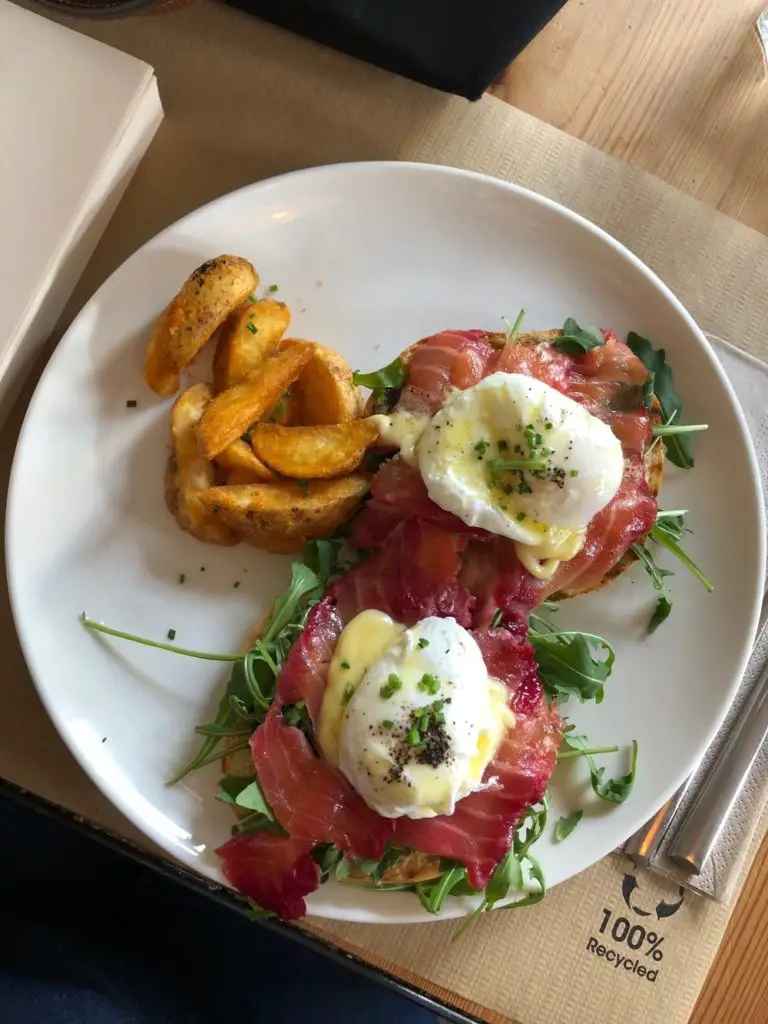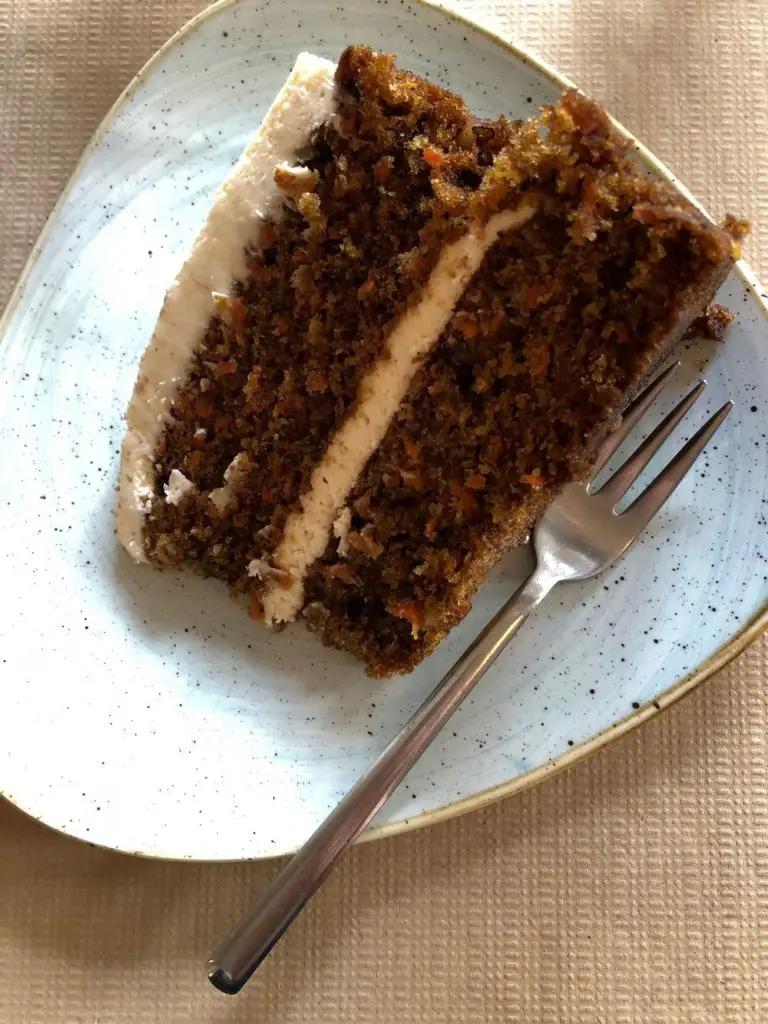 Key Information:
You can actually make a reservation here and so that may be a good idea if you are pre-planning to visit. They only serve their brunch menu on the weekends from 10:00 to 16:00 but they do have breakfast options from Tuesday to Friday.
5. Alsur Café
This is another touristic but very tempting option for brunch! Every time I go through their menu though I go crazy because somehow every time I go there, I am on a diet! However thanks to my friends, I get to see what they have to offer!
They have various branches in Barcelona but my personal favourite is the one in El Born because it is quite spacious and has an outdoor terrace in front of it, which is a small "plaza" and really pleasant on a nice day.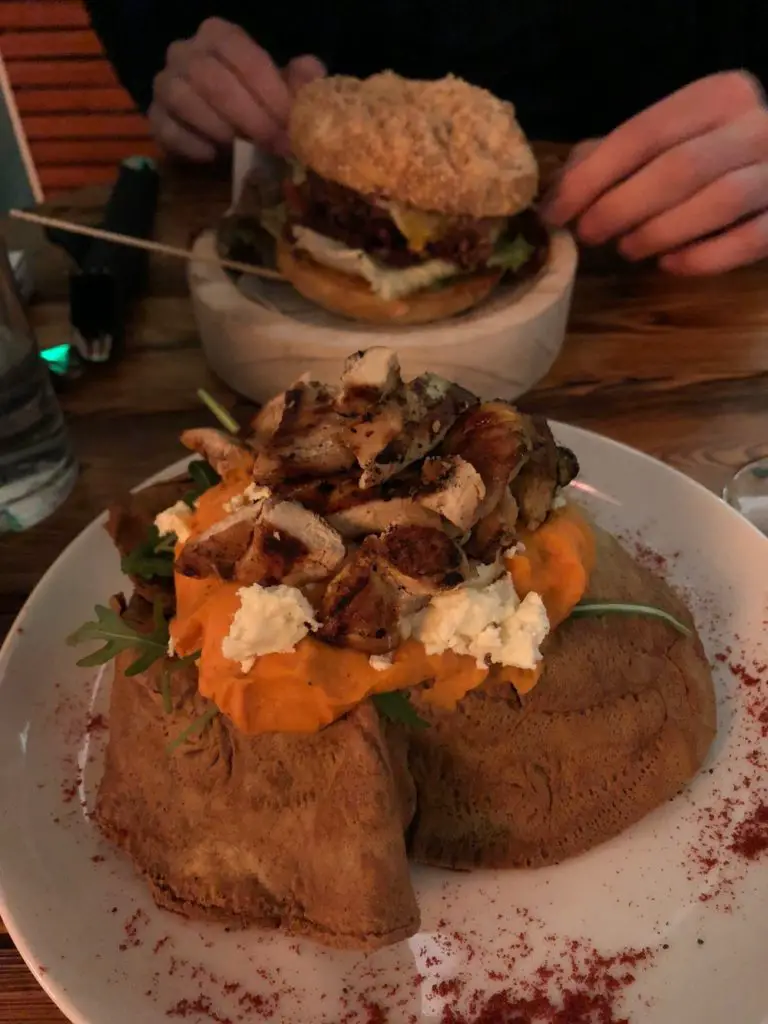 What do we eat?
Their waffles and pancakes and banana bread French toast! If it is a cold winter day, their hot chocolate comes with marshmallows and it's just what you need!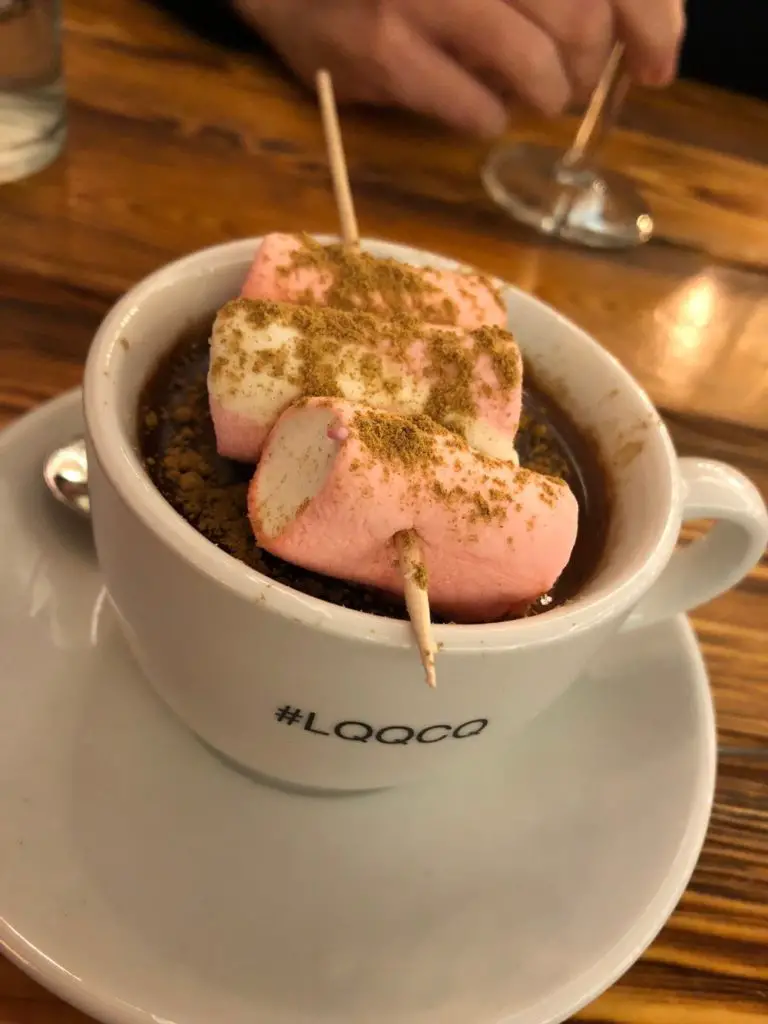 Key Information:
There is a brand new Alsur Café which recently opened, again in the neighbourhood of El Born, next to Parc de la Ciutadella and Mercat del Born. 
Currently it has a "back bar" so during the day you can enjoy their daily menu and brunch classics, and at night can taste their cocktails! 
The opening times vary depending on the branch so make sure you check them beforehand from their Facebook page.
6. Roast Club Café
This place is probably one of the cutest places in Barcelona. It's very small, cosy, and what makes it even better is the lovely staff. They really make you feel home; they are always smiley and lovely (also, I think I'm in love with the guy at the back of the bar… Anyway!).
This place doesn't have the classic brunch option of eggs however, they do have toasts with avocados, acai bowls and many other bagel, sandwich and croissant options.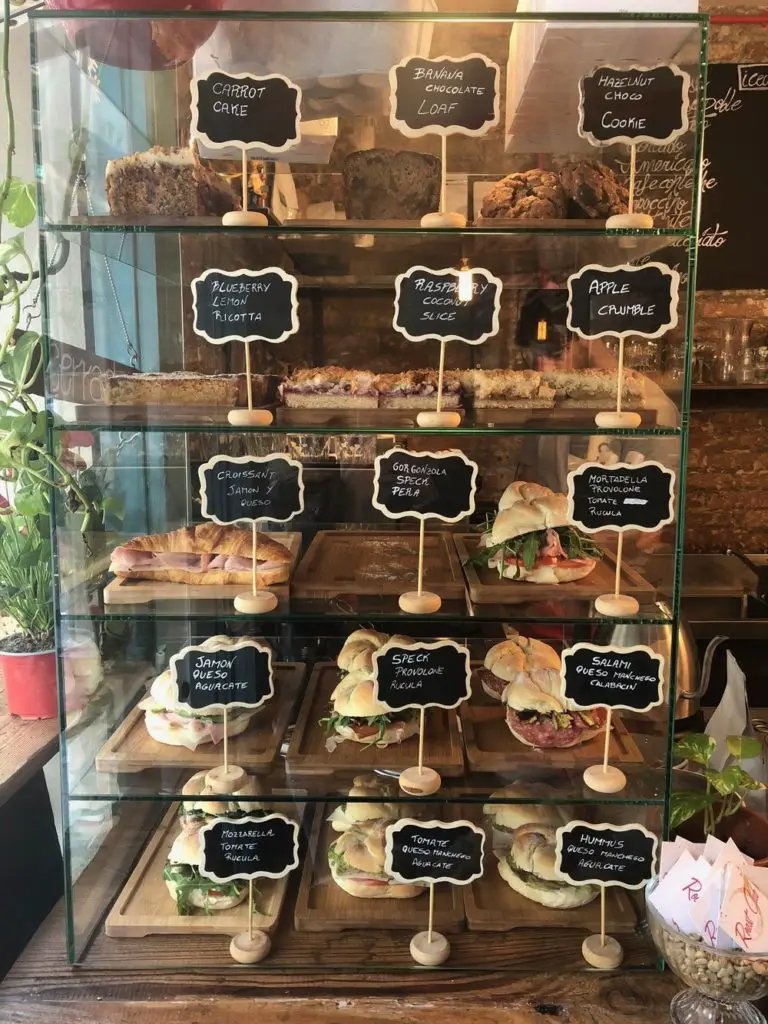 What do we eat?
As soon as you enter, on your left, you will come across all their delicious-looking sandwiches, croissants, cookies and bagels. Will you go for the raspberry-coconut slice? Or the blueberry-lemon-ricotta slice? What about the hazelnut and chocolate cookies which would go perfect with their delicious speciality coffee? Ah but mortadella-tomato-rocket bagel or the other bagel with salami, manchego cheese and zucchini also looks good!
You will have hard time choosing, but don't just limit yourself to this beautiful buffet – they also have a menu and I had one of the best acai bowls I ever had in Barcelona in Roast Club!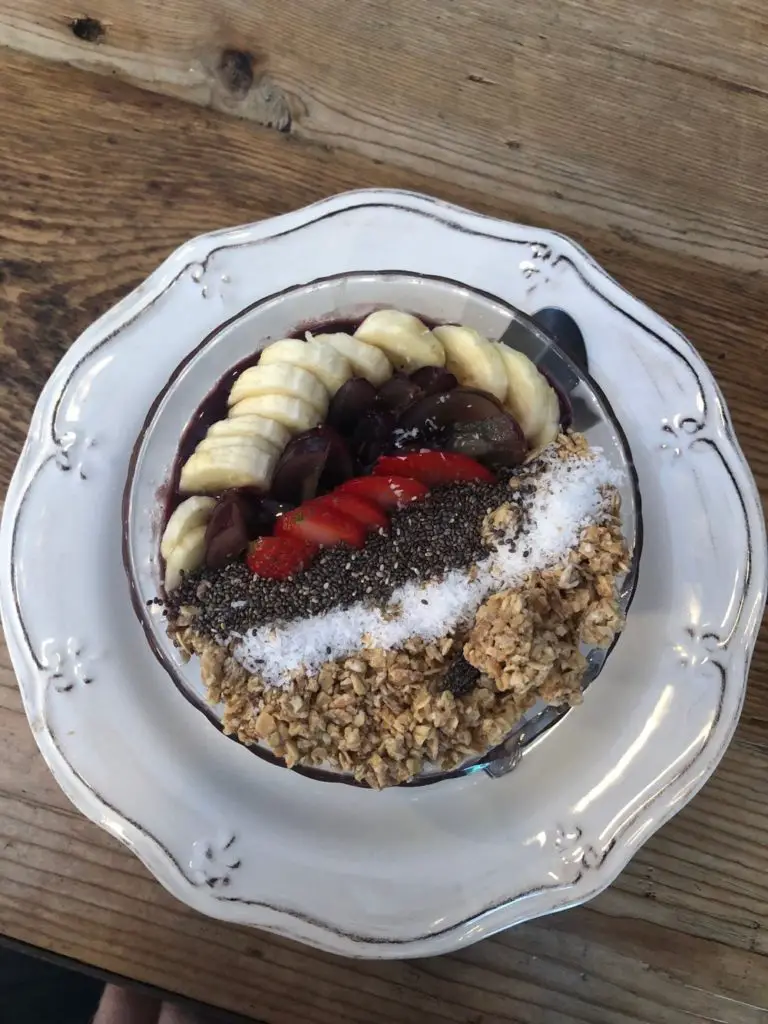 Key Information:
They are closed on Mondays. Open from 08:00 to 19:00 from Tuesday to Friday, 09:00 to 19:00 on Saturdays and 09:00 to 17:00 on Sundays. They literally have four or five tables so it may be a bit hard to find a space to sit when you are there on a busy time. They don't have a terrace outside.
7. The Juice House
The Juice House is always a good option if you are around the El Raval / San Antoni / Poble Sec area. They have weekly menus in conjunction with their brunch menu.
For me, the only thing I remember from this place was that their food was delicious, but their portions were a bit too small for me (I think I eat too much though, maybe it's better that they are small!).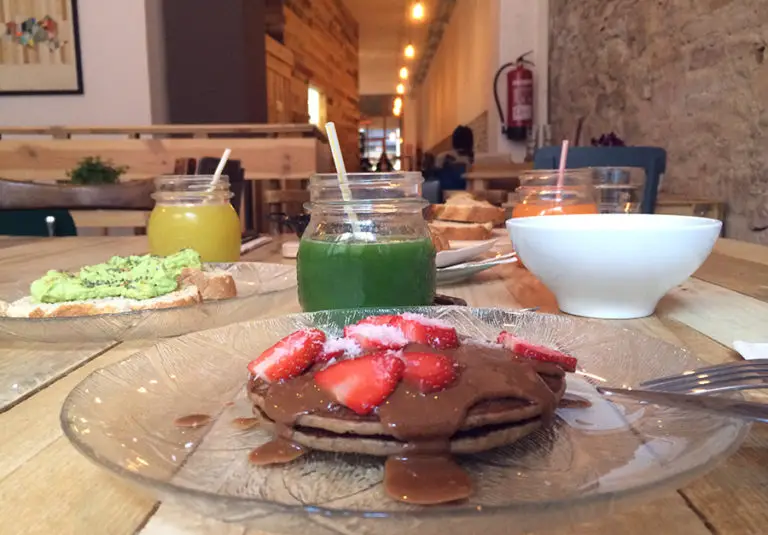 What do we eat?
You can try their açai bowl, chia pudding and oven baked eggs – they're all super yummy!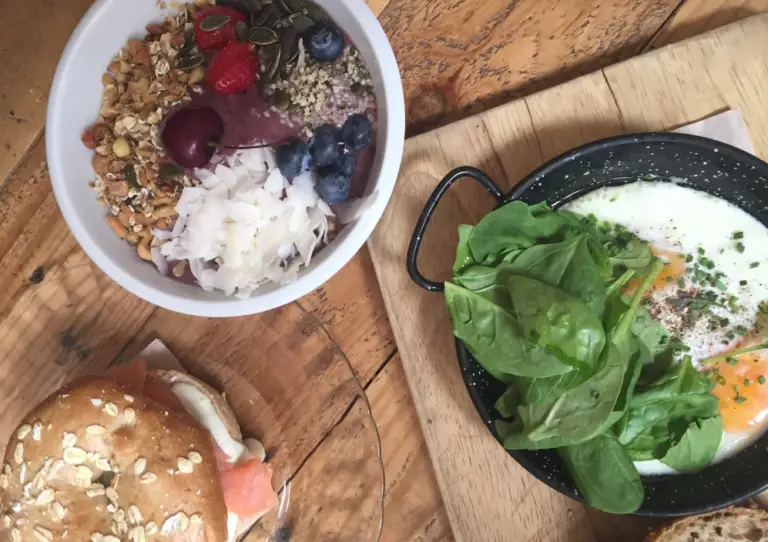 Key Information:
From Sunday to Wednesday they are open from 10:00 to 21:00, from Thursday to Saturday, 10:00 to 24:00. They have various options for vegans, vegetarians and flexitarians.
8. Trópico
I recently started to go around the Raval neighbourhood. I always knew that this area is the new popular area of Barcelona and that there are many cool places but never actually got used to making plans around there. So Tropico is a perfect reason to start your day in El Raval. 
It has a huge menu, colourful decoration and instagrammable plates – what else do you want?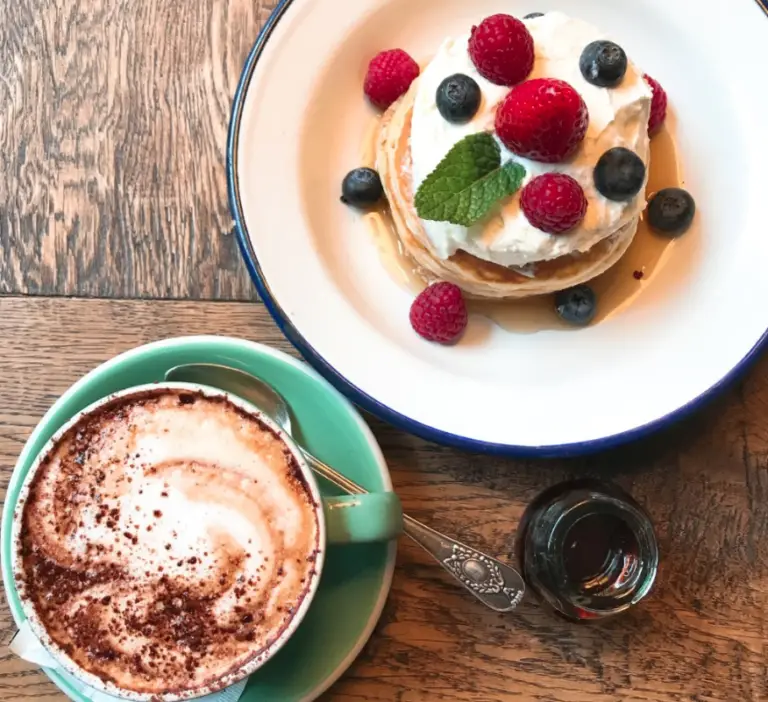 What do we eat?
Of course I cannot not recommend their pancakes with berries, but since we have been counting brunches with pancakes until now, here I also want to recommend to you the Msemen and Arepas. 
Msemen is an arabian crepe and it is served with cream cheese, honey and scrambled eggs. Arepas, on the other hand, are Mexican. They are corn flatbreads filled with scrambled eggs, tomatoes, onions and cheese. Don't forget to try their delicious juices as well!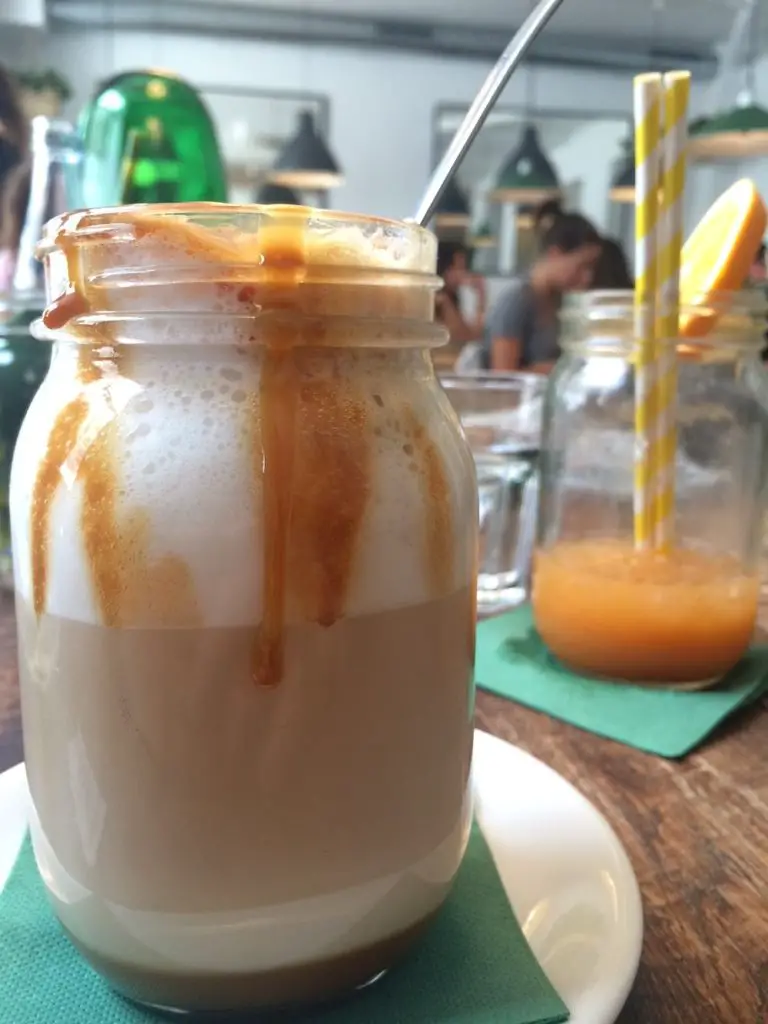 Key Information:
They are open from 10:00 to 24:00 every day. They also serve lunch and dinner. They take reservations, so especially if you are planning to go as a big group, make sure you reserve your table beforehand.
Others I still have to try…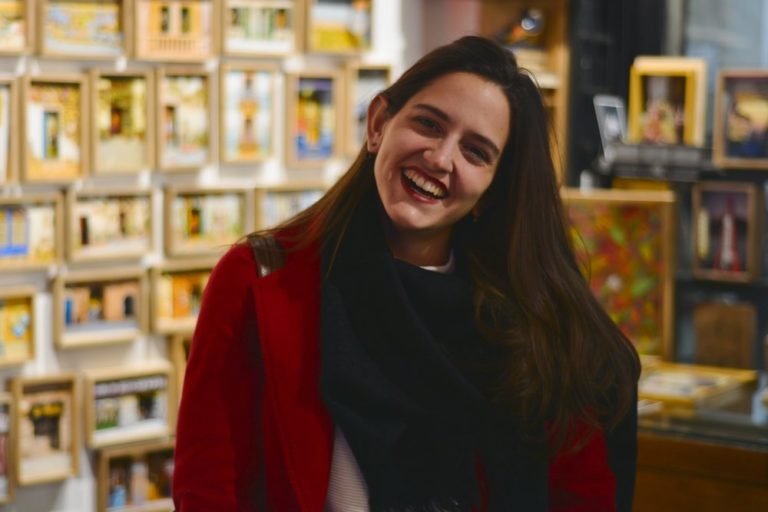 Of course I haven't tried all the best brunch places in Barcelona! It is amazing how fast this concept is growing in town and every other week there is a new place opening! So I am trying to catch up, but meanwhile, I want to leave you with a few places that I heard a lot about and I'm pretty sure are great, but haven't tried myself.
Itacate: Healthy food with cheeky indulgent options.
Bendita Helena: In Les Corts, offering flexitarian comfort food.
Mama's Café: A small café with organic kitchen in Gracia, which also has a backyard.
Ugot: It's known as a 'cake & brunch' place, so this should be good!
Enkel: They actually have burgers and craft beer but that doesn't mean that they are not good in brunch!
So, which one would you want to try the most? Would you go for eggs or bagels? Or maybe arepas? Barcelona has a lot to offer! Let us know if you had the chance to go to any of these best brunch places in Barcelona, we would love to hear  your comments!
Hope to see you soon again with another insider post about Barcelona!
Until then, take care! 
Mimoza x
---
All pictures on this article are copyright of Mimoza Cendey.
All information in this post was correct at the time of publishing but things may have changed. Please check the website of the restaurants before you plan to visit.
PIN FOR LATER:
Going travelling Soon? Don't forget these essentials!
Flights: compare and search for the cheapest flights using Skyscanner
Accommodation: hotels to hostels, glamping to apartments, I always use Booking.com
Tours: to find the best group tours and activities worldwide (with up to 20% off), use Viator
Visa: don't forget to check the entry requirements for the passport you are travelling with
Inspiration: to kick-start your next adventure, how about Lonely Planet's Guide to the World?