Stumbling out from the hippy rooftop lounge of Cafe One Love after too many mango mojitos, I swore to the honeymooning German couple propping me up that I was never leaving Ella.
I realise now that (apart from being a great passion-killer), I was simply one of the many travellers hopelessly under the influence – sorry – spell, of this magical hillside village.
Ella is indeed one of those dangerous places – and not only due to the lethal mojitos. With all the brilliant things to do in Ella, it will completely screw up a traveller's tight itinerary. Like me, people find themselves staying a lot longer than originally planned.
In addition to the great nightlife, Ella has some of the most magnificent landscapes and best hikes in the whole of Sri Lanka.
As an ideal respite from the hot city smog of Colombo or blistering sun of the southern beaches, (not to mention accessed via the world's most scenic train ride), excuses for skipping hillside Ella are simply unacceptable.
Commonly scheduled in for only two days, Ella realistically needs three or four days to explore properly. So here are the best things to do with your time in lovely Ella:
Hike Little Adam's Peak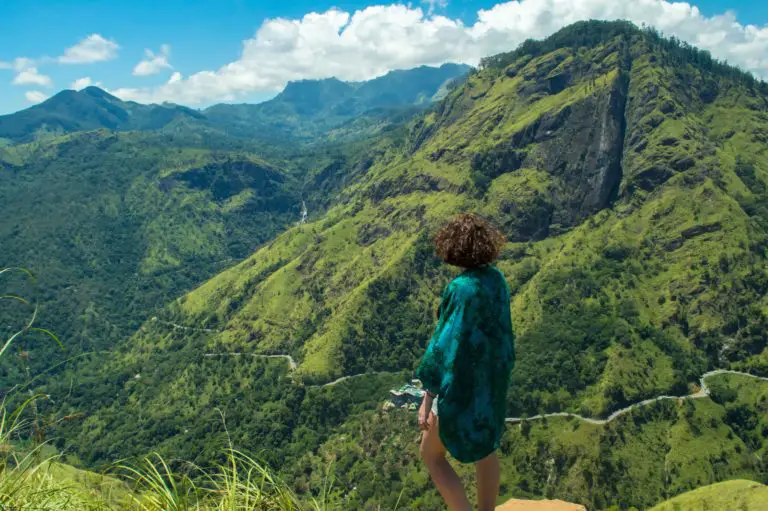 Little Adam's Peak (or sometimes called Mini Adam's Peak/Punchi Siri Pada) is one of the most popular hiking activities in Ella.
Smaller than it's sacred mountain brother 'Adam's Peak' in the Central Highlands, this hike can be achieved in only 30-45 minutes from the entrance. You will need to either get a tuk-tuk there, or walk an extra hour from the centre of town.
Regardless of how you do it, the steep uphill hike is guaranteed to turn even the un-sweatiest of people into a dripping mess (so, now you know it's less artistic candidness and more strategic angling when you don't see my face in pictures!).
To really feel like you have achieved something, I would recommend starting from the town of Ella. You can also combine this hike with a visit to the Nine Arch Bridge which is nearby. Aim to start your ascent in the morning and not in the afternoon though. I learnt the hard way that the heat, especially when walking up the tarmac road for the first part, is a killer; there is no shade!
If you go from the main entrance of Little Adam's Peak, you first walk up through a tea estate, the luxury grounds of the 98 Acres Hotel and Resort and then along a fairly flat gravel path.

Taking the first set of steep steps on your right through the vegetation, this will lead directly to the top of Little Adam's Peak.
The view from the top is of course what you are there for and it does not disappoint. In front of you are jagged, vegetation covered mountains but in the far distance in the other directions, the most intriguing flat landscape for as far as the eye can see.
Walk Along the Railway Tracks to Nine Arch Bridge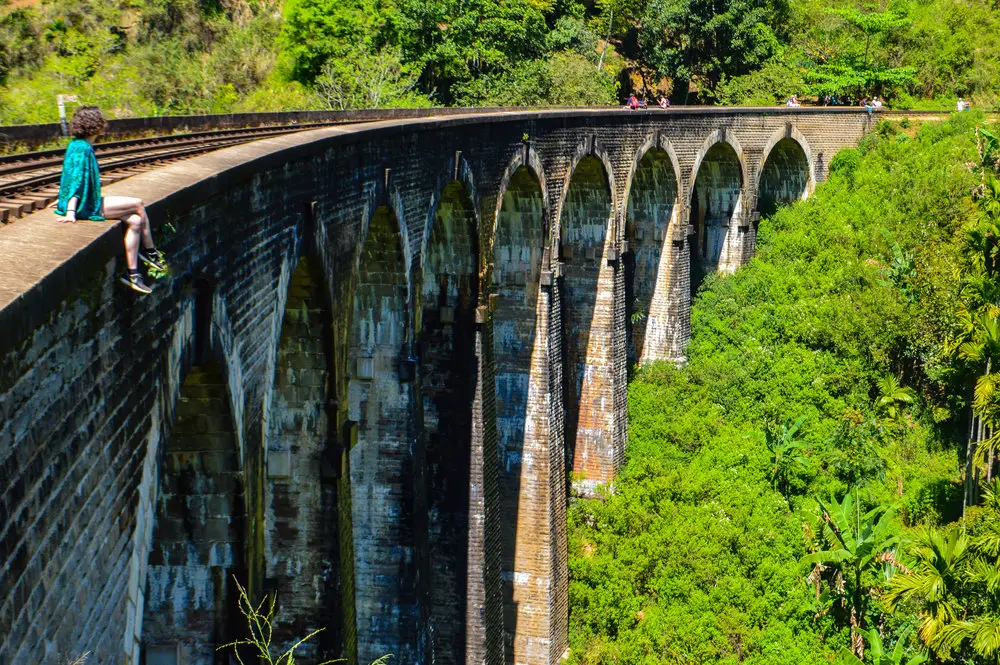 The Demodara Nine Arch Bridge is a cool example of 20th century engineering from the British colonial period.
Iconic even to locals, it's an especially popular spot with tourists who get pictures sitting on the edge of it. If you're organised (and fearless) you can time it with a train going by too.

From Ella town you can walk to the bridge along the train track (in the direction of Demodara) for 3km which takes 30–45 minutes.

Alternatively as mentioned above, it can be combined with your hike to/from Little Adam's Peak. Although it's well worth visiting, you can't spend much longer than about half an hour here and so tagging it on to something else is a good idea.
Get Lost Hiking Ella Rock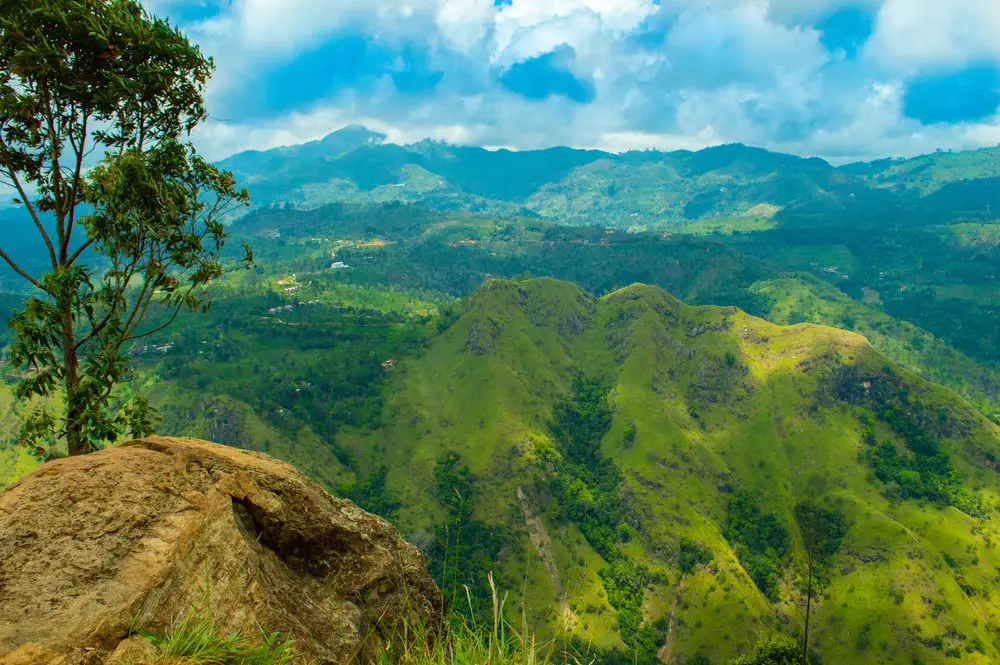 I say get lost because 80% of people do. But I can assure you, there are way uglier places to lose your way!
I approached this hike solo, with way too much ambition and to be honest, too little preparation. I'm usually good with directions but I got hopelessly lost just half an hour in. Only thanks to an equally lost couple, did we managed to team up and get back on track together. Because of this, and the resulting incredible sense of achievement, it actually turned out to be my favourite hike in Ella.
It's an unquestionably knee-straining climb, but mainly challenging due to how hard it is to navigate. I think the best way to tackle it is with the understanding that no matter how much you research it in advance, you still will probably get lost – so embrace it!
So long as you keep choosing a path that goes up, you should eventually make it. Or you can always download the offline map, Maps.Me which I've now learnt is the most amazing app for hiking routes.
All being well the walk takes about four hours in total. If you do get lost, make sure you politely yet firmly decline the help of any locals offering to assist you. It's a common scam for them to take you all the way to the top and them demand large sums of money in return for being your 'guide'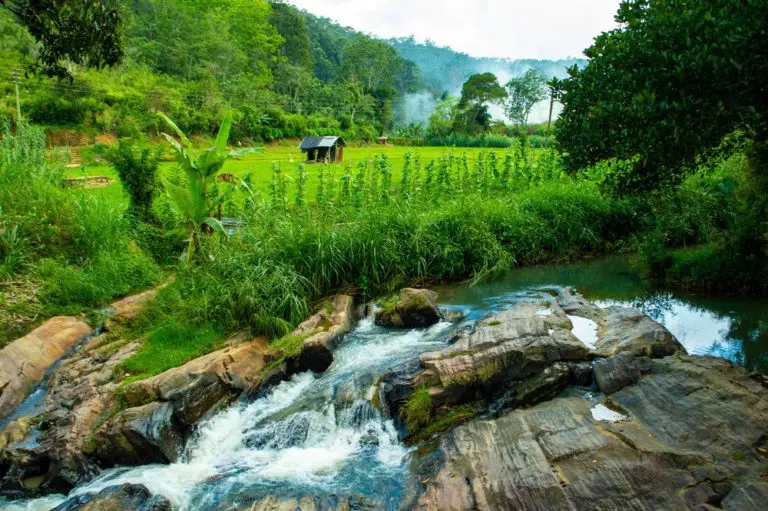 Ella Rock is actually opposite Little Adam's Peak but it's much higher. There's a natural rock platform sticking out over the edge so if you're not too freaked out, you can dangle your legs over the thousand metre drop below!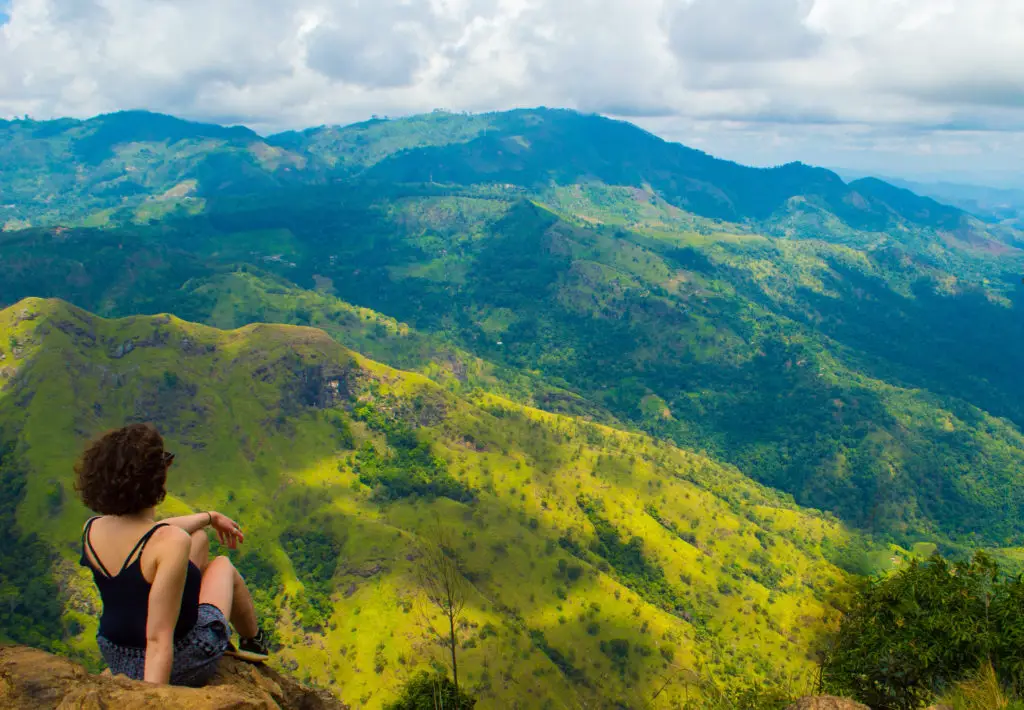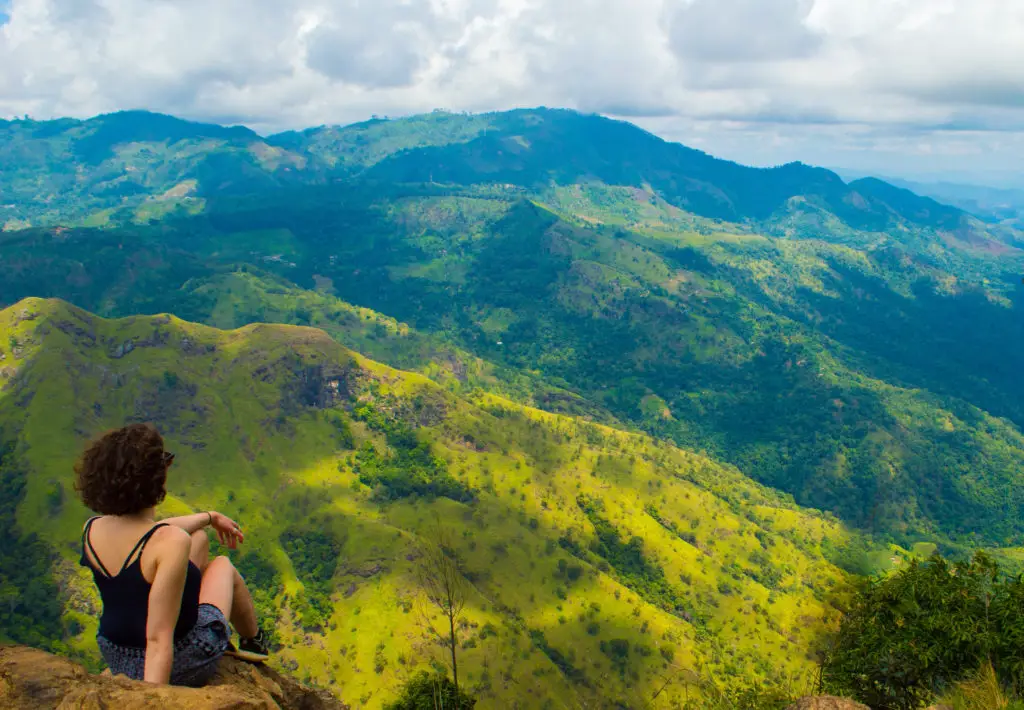 If you are short on time and are not able to do both Ella Rock and Little Adam's Peak, I think they are equally as impressive as each other.
If you're looking for a quality, rewarding hike with incredible expansive views, I would personally choose Ella Rock. If you just want an impressive view with an easier hike, Little Adam's Peak is ideal because the front face of Ella Rock, which you look at, is really rugged and attractive.
Cool Off at Kithal Ella Falls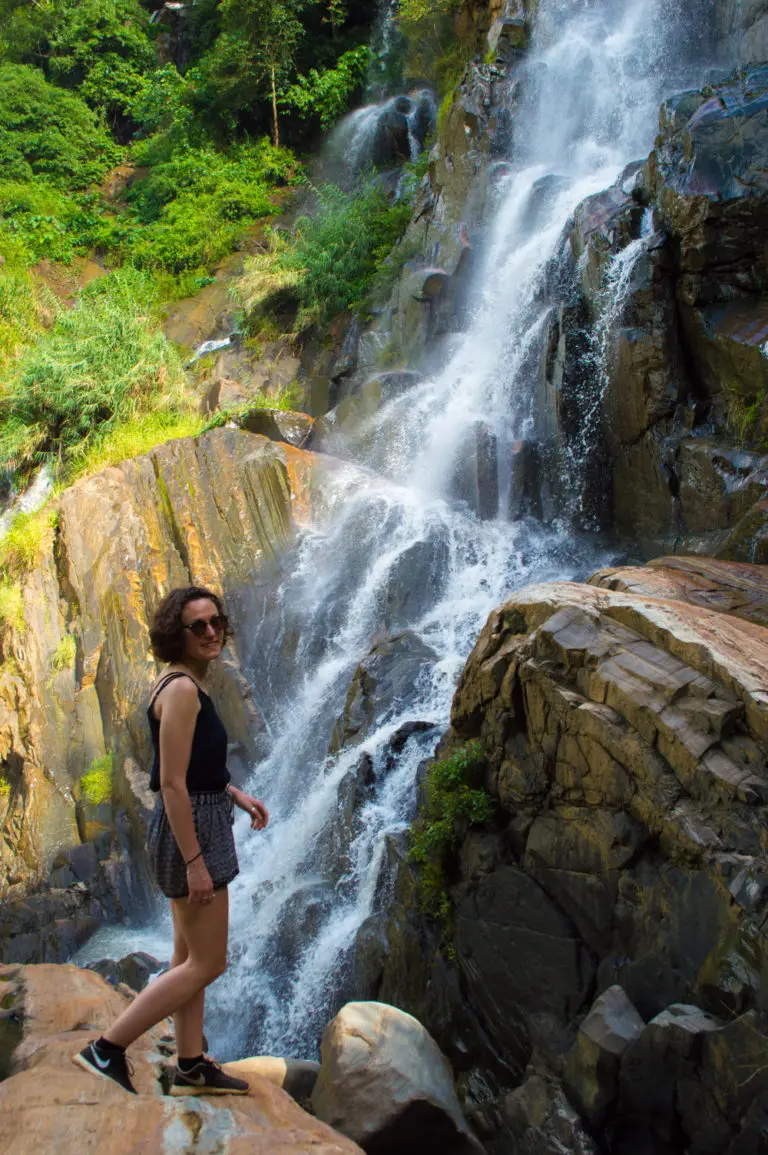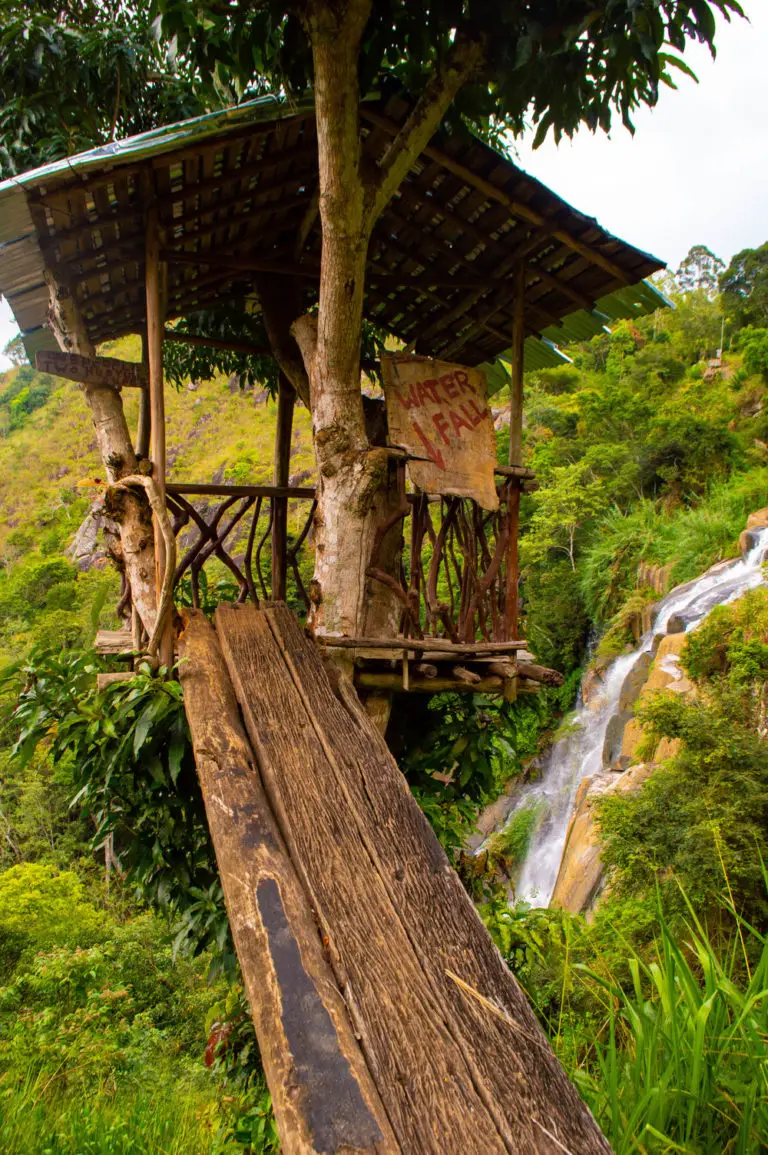 Returning along the train track from Ella Rock, past Kithal Ella train station, you will come across signs to a waterfall. It's called Kithal Ella Falls (or sometimes known as Little Ravana Falls). Although it only has a small area to bathe in, it is perfect for easing aching muscles after Ella Rock. 
The walk to the waterfall from the railway line is downhill through jungle vegetation for about 15 minutes. It's pretty awesome and made me feel like I was Mowgli from the Jungle Book (my ultimate childhood Disney fantasy!).
Just make sure you pay the 200LKR entrance fee to the cowboy who has set up his 'house' there declaring it's private land otherwise you may be chased with a blunt knife like me.. ha! All character building stuff, right?
Make Time for Tea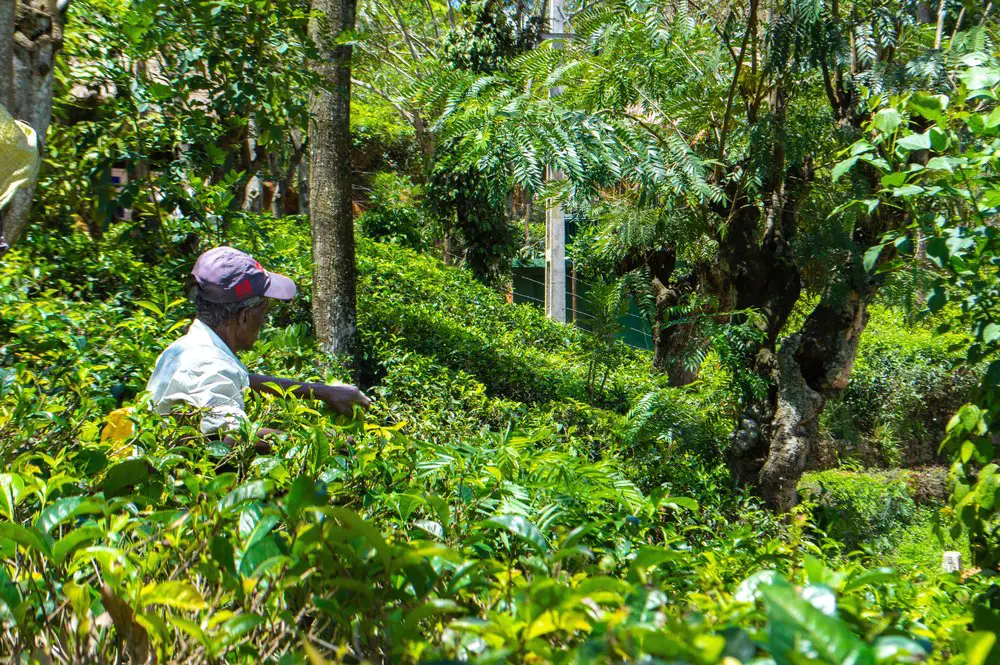 Tea is one of Sri Lanka's most exported goods. Globally, they are the fourth largest producer of tea in the world, so you're pretty much guaranteed to find a decent brew here, especially at the villages where it is freshly picked such as Ella or Nuwara Eliya.
In the central province you can find endless rows of shiny, green bushes of tea carpeting valleys and hills. Taking a hike through the plantations and watching workers pick tea is a blissful way to spend a sunny afternoon. If you want to know more about tea beyond the harvesting, you can take a factory tour at Halpewatte, just north of Ella town.
Feel on Top of the World at Lipton's Seat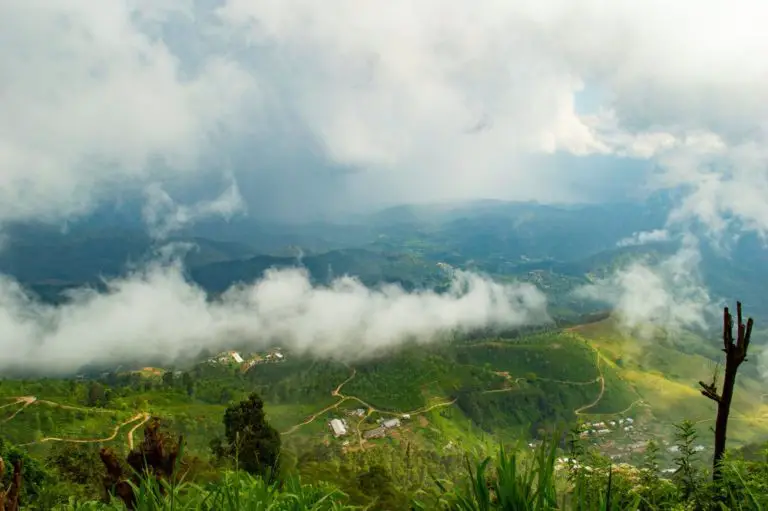 If like me you decide you can never have to much tea in your life, another activity you can do during your stay is visiting Lipton's Seat.
It is the most famous viewpoint in the Badulla district and is said to be where Mr Lipton himself used to sit and admire his expansive tea plantations. It is located near Haputale which is a 45 minute train journey from Ella station.
Once at Haputale you can get a tuk-tuk all the way to the top of Lipton's Seat or to the Dambathenne Tea Factory which is 8-9km away and then walk. Alternatively the budget option is getting a local bus to the tea factory (which will cost 50LKR and then walking. One way from the tea factory to Lipton's Seat via tuk-tuk is around 700-900LKR.
From outside the Dambathenne Tea Factory, the hike is actually a pretty strenuous climb all the way up the incredibly windy road. There are a few short cuts between the fields that the tea pickers use, but the paths are rocky and steep. I'd perhaps recommend getting a tuk-tuk up to Lipton's Seat initially, but walking back down afterwards to enjoy the plantations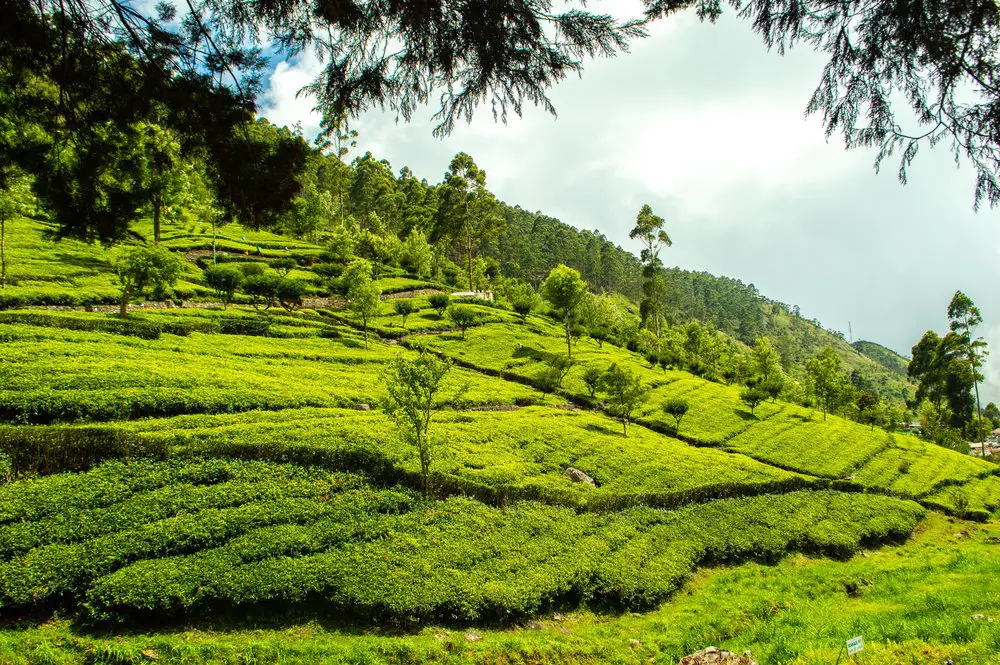 Finding the 'bus stop, once you arrive in Haputale isn't easy. So long as you're roughly where I have circled in the direction of Dambetenne, you will be able to flag something down to the tea factory.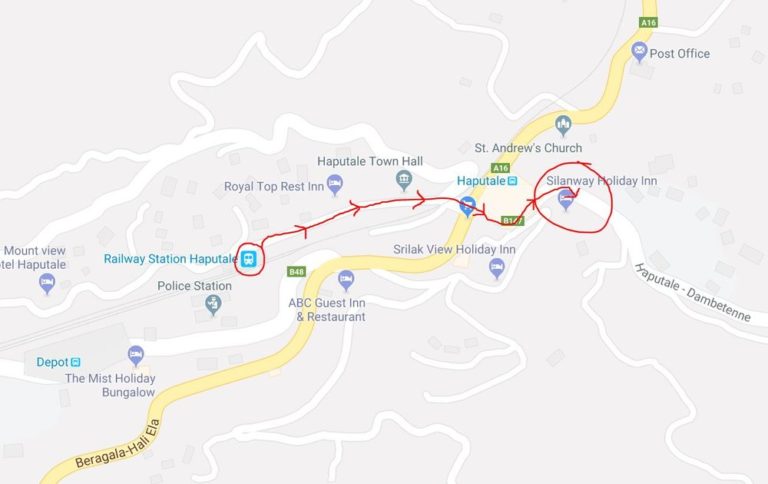 The entrance fee to Lipton's Seat is 200LKR per person and once at the top you can enjoy a cup of tea and some rotti's as you absorb the view.
As the viewpoint is so high, it can get really misty and cool so it's worth bringing an extra layer. It is recommended to go early in the morning, or better yet for sunrise on a day with good weather. When I went early afternoon there was sadly too much mist to really enjoy the expansive views properly – boo!
Get Refreshed at Ravana Falls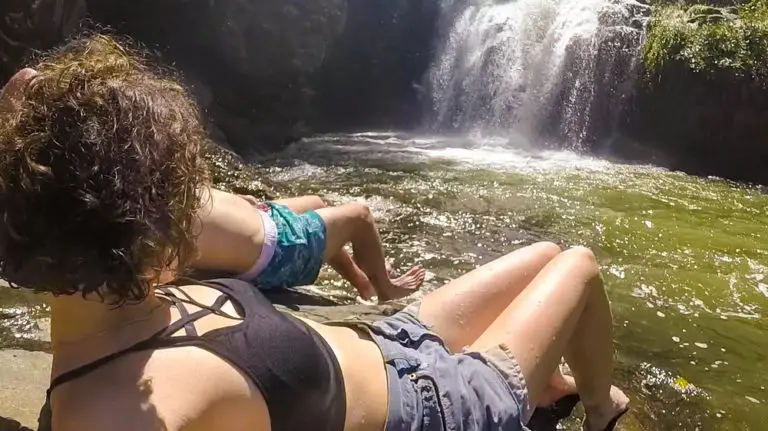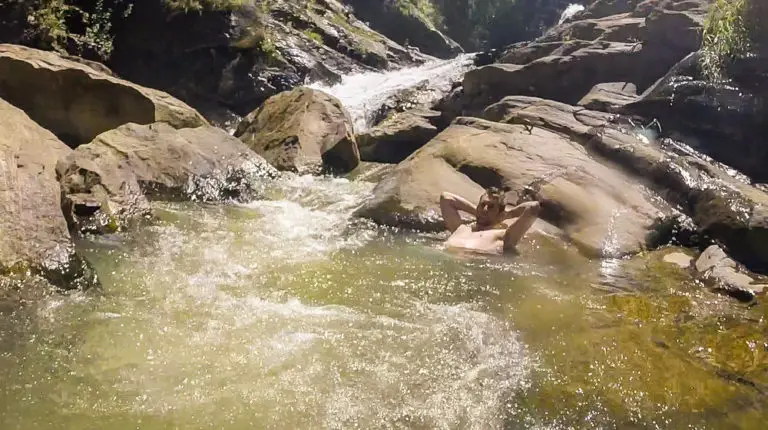 The Ravana Falls is one of the widest waterfalls in the country and it is a particularly great waterfall for bathing in due to the multiple large natural pools. I went with the two guys I hiked Little Adam's Peak with and it was exactly what we needed as there's loads of space to stretch, swim and sunbathe.
The water cascades from an oval-shaped rock outcrop and drops for about 25 metres. In the wet season, or after heavy rainfall, the water volume can be quite high and subsequently the force of the water quite powerful. Also be aware of monkeys around your possessions as they have a tendency to steal anything they can get their hands on!
To get here, you can get a tuk-tuk from Ella (for 3 people, an hour of swimming and the return journey, it cost us 1,500LKR), or you can stop off here if you are heading on to Galle (as its literally just next to the main road out of Ella).
Due to the mountainous landscape of the Badulla district, there are also loads of other places you can visit to ensure you get your waterfall fix. Duhinda Falls, (said to be one of the most attractive in Sri Lanka) is located 25km from Ella. There's also Diyaluma Falls, which at 220 metres high makes it the second tallest waterfall in the country. It's a bit further out at 40km from Ella though but it's easily accessible from the main road.
---
As you can see, there is loads of things to do in Ella so it really is worthy of a good few days of your time. If you've been to Ella and feel like I've missed somewhere off this list – please let me know in the comments below!
Heading to Sri Lanka Soon? Don't forget these essentials!
Lonely Planet's guide to Sri Lanka or for some travel inspiration for your next trip, how about Lonely Planet's top 500 places to see… ranked?
Book your accommodation through Booking.com or Hotels.com.
Got travel insurance? Make sure you're covered for any unplanned situations. I use and would recommend World Nomads.
Organised your visa? Don't forget to check the entry requirements for the Sri Lanka on the relevant government website for the passport you are travelling with.
To search and compare the best group tours and activities worldwide (with up to 50% off), use TourRadar.
PIN FOR LATER:
*This post may contain affiliate links meaning should you purchase a product via this link, I'll earn a small commission at no extra cost to you. These are still products I use or believe in regardless. See my privacy and disclosure policy for more.*