|Paid Ad|
As every man and their dog flocks to the Lake District or Cornwall this summer, there will understandably be many people who are not a fan of crowds, traffic jams and inflated ice cream prices.
For a fantastic UK holiday destination sans the peak season tourists, why not consider somewhere a little different? There are many often overlooked and underrated UK cities to visit instead. 
From the country's smallest city to the ex-capital of Scotland, this thought-provoking list of alternative small and medium sized cities will give you all the inspiration you need for a jolly good – and jolly rejuvenating – UK holiday.
*This is a paid ad. My words and opinions however are still my own.*
*This post may also contain affiliate links meaning should you purchase a product via this link, I'll earn a small commission at no extra cost to you. See my privacy and disclosure policy for more.*
PIN ME FOR LATER: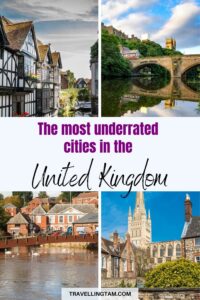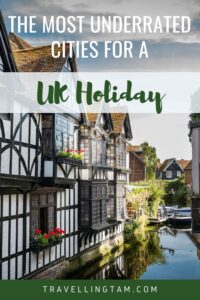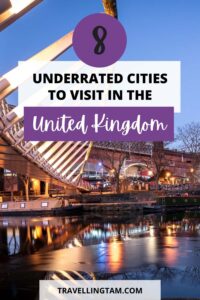 Armagh – Northern Ireland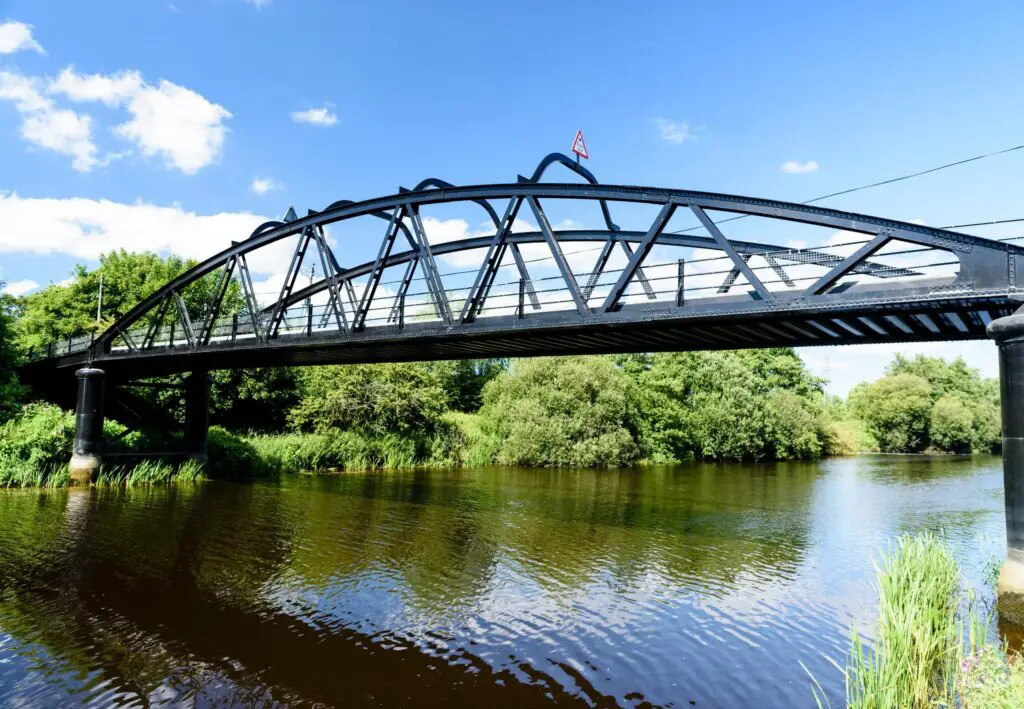 With the lowest population of all the cities in Northern Ireland, county Armagh offers a quiet holiday retreat with some of the best countryside in the region almost all to yourself. The best way to take it all in? Take a spin along the Slieve Gullion Scenic Drive – either on two wheels or four.
Along this route, visitors can uncover the geology, wildlife, archeology and the legend of the area through the multitude of walking, cycling and driving routes. 
Staying a bit more central, there's the second largest park in Ireland. The wonderfully manicured Lurgan Park is perfect for a summertime stroll. Or, for something a little more active, a row on the lake for only a £2 hire fee.
The most notable part of Armagh has to be the abundance of historic places in the form of handsome palaces, forts and cathedrals – some of which date back to St Patrick in the 5th century AD! Within walking distance of Armagh city centre, there's the stunning Palace Demesne Park, Saint Patrick's RC Cathedral and only a 5 minute drive away, the Navan Centre & Fort for an insight into life in ancient Ireland.
Forget busy Belfast or the Giant's Causeway. With this much casual history and open space to roam, Armagh may well be one of the most underrated destinations in Northern Ireland. 
Canterbury – South East England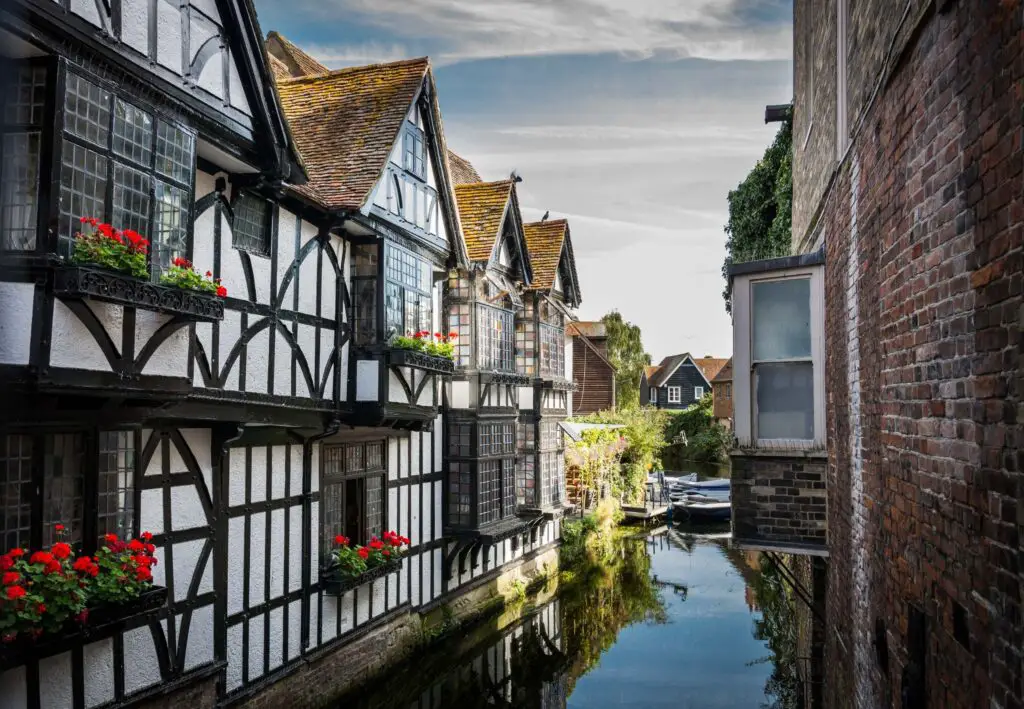 Encircled by ancient walls built by the Romans, the timber-framed abodes and cobbled streets of Canterbury should be the destination of choice for heritage fanatics who want to feel like they've stepped back in time. 
As a place of pilgrimage since the 12th century, the world famous heritage listed Canterbury Cathedral is an absolute must-visit, as well as the oldest church in England, St Martin's! 
One of the highlights of Canterbury is taking a scenic river cruise along the pretty river Stour which is lined with grassy banks and attractive flower beds. It's also a great way to admire some of the city's wonderful architecture as you will cruise right past the windows of many historic buildings.
Only an hour's drive from London, Canterbury ticks the box for a holiday close to, yet far away enough from the UK's bustling capital.
St Davids – Wales
For thalassophiles (that's people who feel intimately connected with the ocean), don't head to the South Coast like everyone else – try St Davids, possibly the most underrated destination in Wales. 
It may well be the smallest city in Britain, but St Davids in Pembrokeshire will provide a big break from reality thanks to its invigorating coastal lifestyle.
The award-winning Whitesands Beach is a mecca for all activities related to the sea. Whether that's world class surfing, scuba diving, swimming, whale and dolphin watching, voyages on historic fleets or simply walking stunning coastal cliff tracks. There's also nearby islands you can explore by boat.
As the only city in a national park, there are plenty of beautiful landscapes and nature to enjoy, coupled with the conveniences of city living.
Back onshore, the narrow streets are filled with cafes, restaurants and galleries – but rather unusually for the UK, only one pub!
There are many other attractions in the city too. For example, the 13th century Tower Gate and the ruins of St Non's Chapel, said to be the birthplace of St David, the patron saint of Wales.
Durham – North East England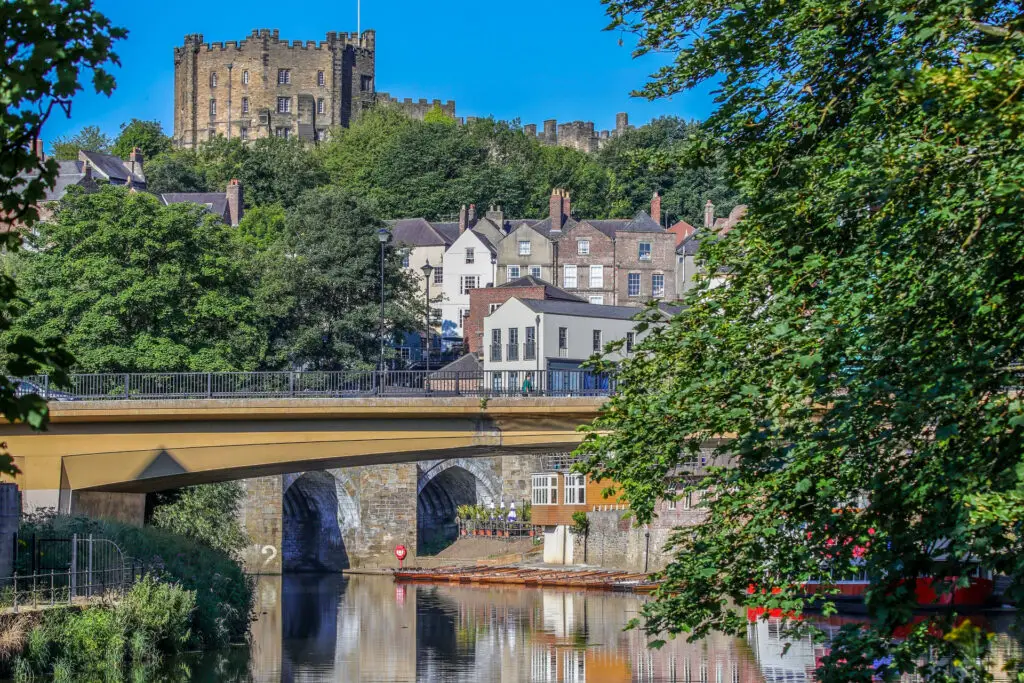 Overshadowed by grand old York, the modest and admittedly less-polished Durham has just as many 'big-ticket' things to do as its rival 1.5 hours away, but it simply doesn't get the attention it deserves. From someone who adores York and is actually from North Yorkshire, I always recommend Durham as one of the best places to visit in Yorkshire.
Thanks to a world-class university (after famous Oxford and Cambridge of course) there's naturally great nightlife, events, food, sports and theatre. There's always something going on in Durham.
But for those wanting to take it easy city-style, there's art galleries, the incredible outdoor air museum of Beamish and an abundance of castles.
There's also plenty of natural spots such the aptly named High Force Waterfall. With its water crashing from a height of 21 metres, it's one of the biggest and most spectacular waterfalls in the country.
Manchester – North West England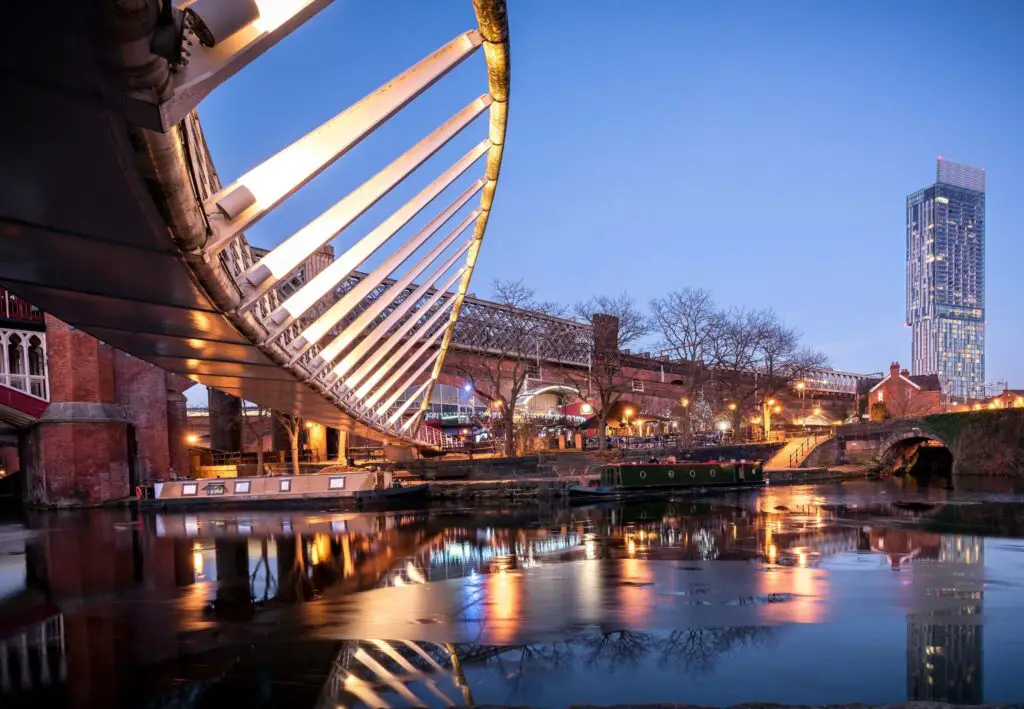 The most modern of all cities in the UK is Manchester, once the cotton capital of the world and one of the production power houses behind the industrial revolution.
If 18th century history interests you, then check out the Museum of Science & Industry. Or, simply look around the Salford Quays Dockyards and fascinating warehouse buildings and factories as evidence of it's working past.
Home of world famous bands such as Oasis, New Order, The Smiths and The Stone Roses, music is obviously quite a big deal in Manchester. Outside of London, the live music and nightlife scene is simply some of the best in the country. 
The hipster vibes, cool shopping, amazing street and gallery art – not forgetting the music scene – will absolutely make for a fun and lively city break.
Perth – Scotland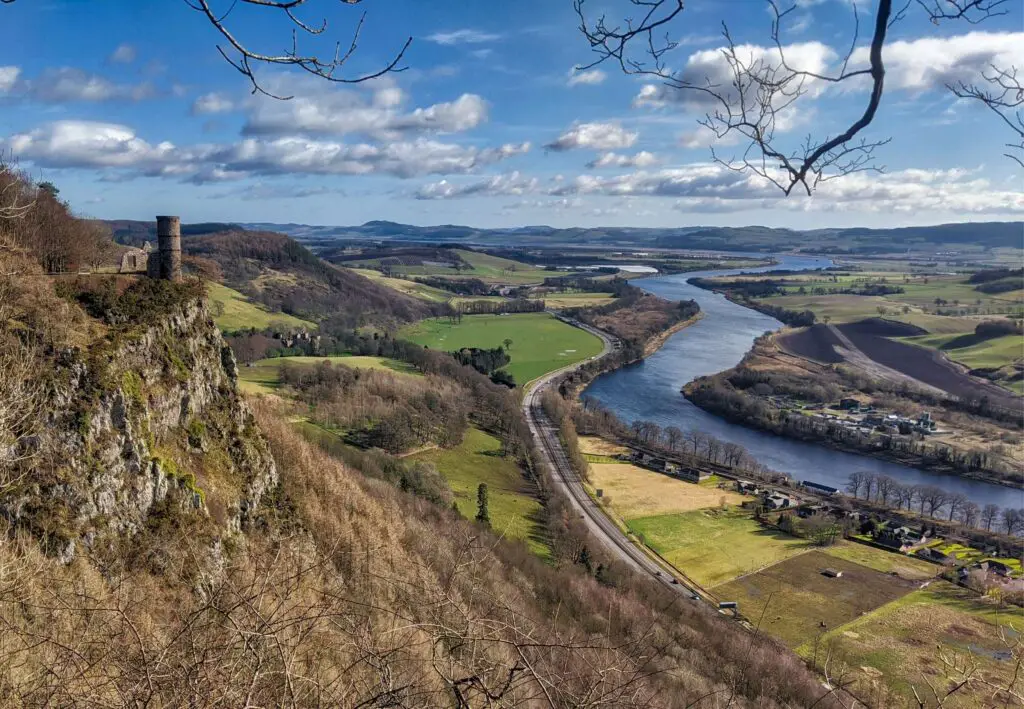 Once upon a time, Perth was the capital of Scotland and remnants of its royal history still enchants visitors to this day. However, it only received its modern city status in 2012. 
With a palace, multiple castles and elegant Georgian townhouses contrasted with modern day comforts like an exciting art and café scene, Perth really has built an energetic city on top of its historic foundations.
Recommended as a 'must-do' by locals is a hike up Kinnoull Hill within Scotland's first official woodland park. From the summit of the hill there are sensational views over Perth and the Tay Valley.
Only an hour away from Edinburgh or Glasgow, there really is no excuse to skip this Scottish gem. Perth is absolutely one of the most underrated UK cities!
Norwich – East England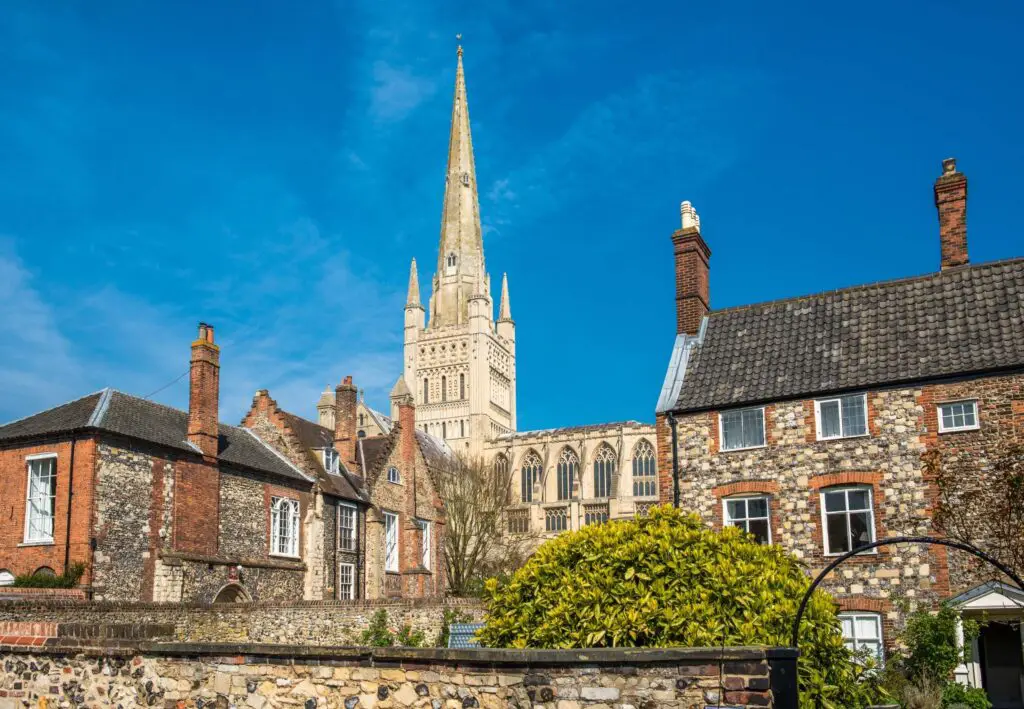 Affluent Norwich is a treasure trove of medieval architecture so it's no surprise it is the most complete medieval city in the UK.
You may get lost in the tangle of medieval laneways as you let your eyes lead you, but just look up and you will be guided by the spire of Norwich Cathedral or Norwich Castle perched dominantly on the hill.
Norwich claims many other impressive titles such as England's first UNESCO City of Literature and having the largest permanent undercover market in Europe!
Location-wise, the city of Norwich is the gateway to the Norfolk Broads, vast wetlands with a network of scenic lakes and rivers to boat on all year around. Whether you stay in the city or just outside it, there will be heaps of impressive things do in Norwich.
Exeter – South West England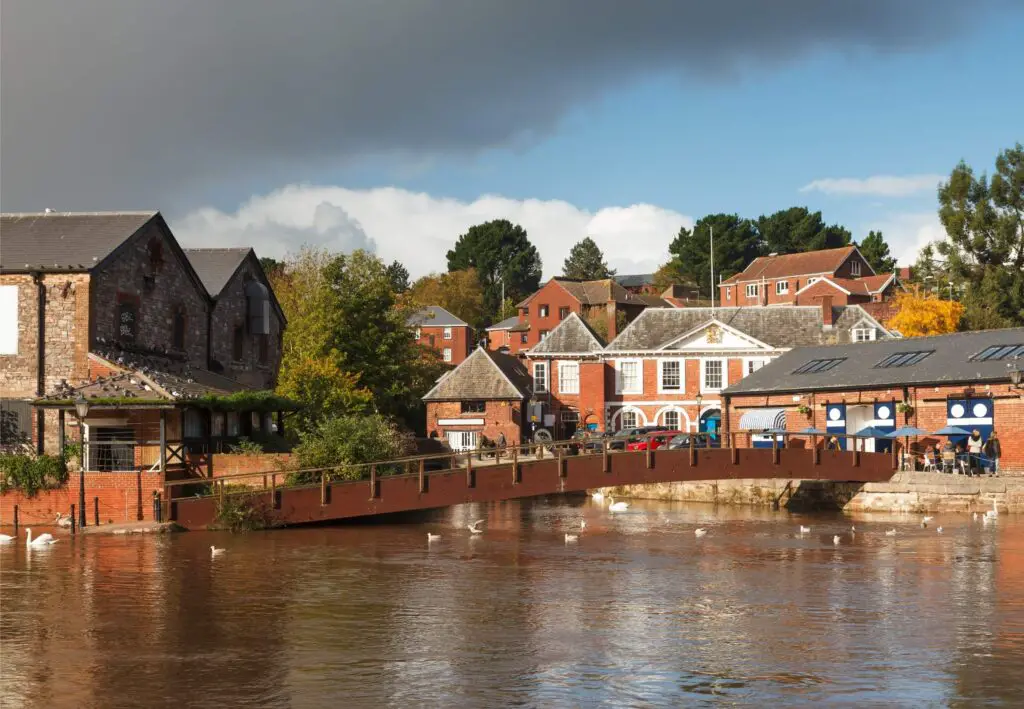 Whilst everyone escapes to Bournemouth or in fact, whizzes right down the south coastal tip to Cornwall, they're missing a trick by driving straight past pretty Exeter.
20 minutes away from the coast yet near to the Dartmoor National Park, Exeter has the best of both worlds – whether you're a beach bum or the serenity of the forest calls.
Like many cities on this list, Exeter oozes history which predates Roman times. The remaining Roman Walls, St Nicholas Priory and Exeter Castle are fascinating historic attractions to visit. You can even investigate underneath the city via a network of tunnels and vaults built in the Medieval era for drinking water pipes!
To take in the quirky architecture from afar, enjoy a pick-me-up on the street-side tables at Mols Coffee House or at a café on the Quayside.
For something a little stronger, there's even wineries to the south of the city such as Pebbled Vineyard for – believe it or not – English grown AND award-winning wine!
Book Your accommodation 
For the best deals on a range of accommodation – from hotels to homes and apartments – check out Ebooking when planning your next UK city holiday. 
If you don't yet know your dates, Ebooking allows you to search properties without entering them which is ideal to browse what's available and find something in your budget you love.
They also have none of their own cancellation or booking modification fees which in this rather unpredictable day and age, gives the peace of mind you need.
Top tips for a UK holiday:
With so many people holidaying here this year, book your accommodation as early as possible to avoid missing out on the best value rentals.
Many cities offer hop-on hop-off buses or park & ride facilities. Leave your car and cruise into the city without the stress of getting into traffic jams or paying for often expensive parking. I always recommend doing this where possible as the less cars in the city, the better for everyone!
If you want to go completely car-less then there are loads of good value tour companies to join. Take a look at Get Your Guide and TourRadar.
Of course British weather is always unpredictable. Even if you check the weather before you leave it's always a good idea to bring summer wear such as sunscreen and light clothing just as it is warm layers and waterproofs!
I hope one of these underrated UK cities has piqued your interest and you'll consider it for one of your next holidays! Let me know which looks like your favourite, or if you have been before!