Located off the mainland of Australia to the south of Victoria is the fascinating island state of Tasmania. Tassie is famed for the cleanest air in the world, exclusive native wildlife and over 40% of land protected as national parks or reserves. And that's to name just a few things!
A road trip is undoubtedly the best way to see Tasmania, and a 5 day Tasmania road trip is the perfect way to get an introduction into the different elements of this incredible state.
Surprisingly, Tasmania is often overlooked by people when planning a holiday Down Under. But for nature lovers, Tassie may well be the best place in Australia for a road trip whether that's in a car with overnight stops or a campervan.
Whether you're after cities filled with delicious eateries and world class art, or would rather hike incredible mountains in the wilderness or relax on the best-looking beaches in Australia, Tasmania truly has something for everyone. 
This 5 day road trip itinerary for outdoor enthusiasts will take you on a small lap around central and eastern Tasmania, with a particular focus on the state's natural wonders.
But before you head off, just make sure you read these 8 things to know before you go to help prepare you for your trip!
How to get to Tasmania:
To do a road trip in Tasmania, you have two options to access the state from mainland Australia:
1. Fly and hire a car
Flights from Melbourne to Hobart can often be found for as little as $50 per person for a return with Jetstar. The flight time is only about 1 hour and 15 minutes so it's a great option to make the most of your short visit. Most major airports in Australia also fly to Tasmania. Compare flight prices on SkyScanner for the cheapest rates.
Once you arrive, you can easily hire a car from the airport to do your road trip. Renting a car to travel around the state is common, so there are many car hire companies with competitive rates to choose from. Compare car rentals here.
2. Bring you Vehicle on the Spirit of Tasmania Ferry
The Spirit of Tasmania is either a day or overnight ferry from Port Melbourne to Devonport, taking just over 8 hours. If you only have 5 full days to do a road trip, I would recommend taking the overnight ferry the night before.
Be warned that the ferry is a painfully slow and often expensive journey though. You have to pay for a bed or private cabin as well as your ticket (unless you're happy with a semi-reclined chair for free).
Every time I have looked at tickets they've been $500-$1,000AUD return for one person to take my small Econovan camper – and that's with the free chair option.
Though the benefit of the ferry to Tasmania is that you have your own vehicle with you so do not have the expense and inconvenience of hiring one. If you have a campervan, it may be worthwhile paying for the ferry in order to save money on accommodation.
Either way, it's best to do some research and some quick maths to work out ultimately which option is cheapest and most convenient for you.
How to spend a 5 day Tasmania road trip:
5 days is probably the bare minimum amount of time you'll need to get a good insight into Tasmania. Having travelled there a few times alone and also staying with my partner's family who lived there, here is my suggested 5 day itinerary for my favourite Australian state.
Day 1: Hobart to Mount Field National Park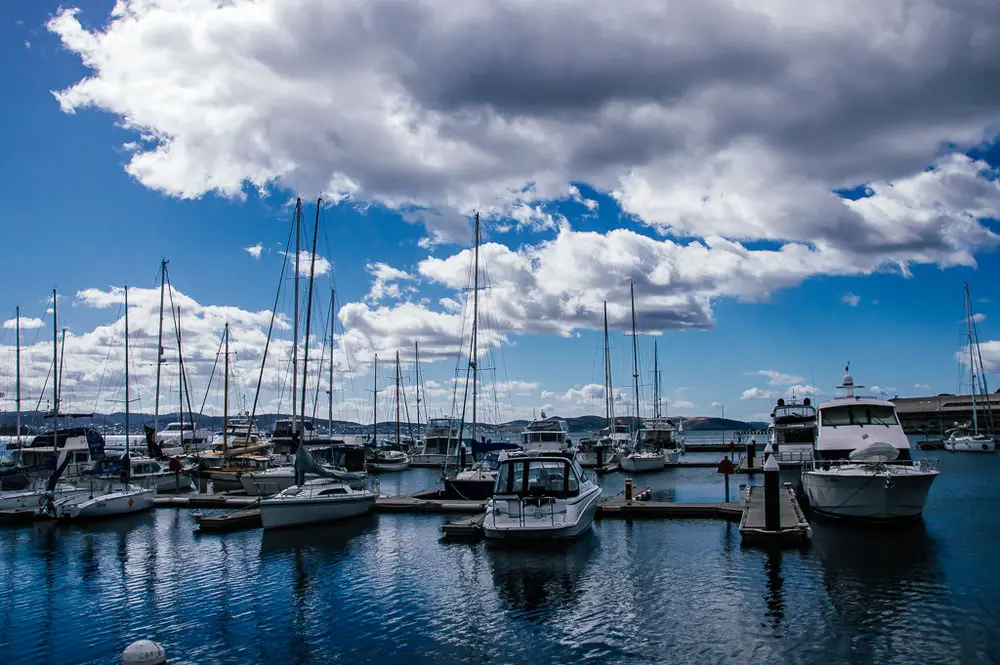 Start off your 5 day Tassie road trip adventure with a touch of culture in the capital, Hobart. The lively harbour city brims with character from its beautiful heritage architecture and a thriving art and culture scene.
Hobart has some exciting things to offer visitors such as the thought-provoking MONA art museum. Accessed by a quirky ferry, this millionaires playground has some of the most outrageous and interesting art I've ever seen, sure to shock and intrigue you! 
If the museum doesn't sound like your thing and you want to hit the outdoors right away, then instead drive up Mount Wellington to see stunning views across the whole city. 
There's also Hobart's famous Saturday markets such as Salamanca. Spend the morning browsing and getting your hands on some locally produced goods.
When you're ready, head west to the first destination, Mount Field National Park!
The drive to Mount Field is just over 1 hour, where you can find all sorts of hikes and waterfalls, along with campgrounds to stay the night if you have a van or tent.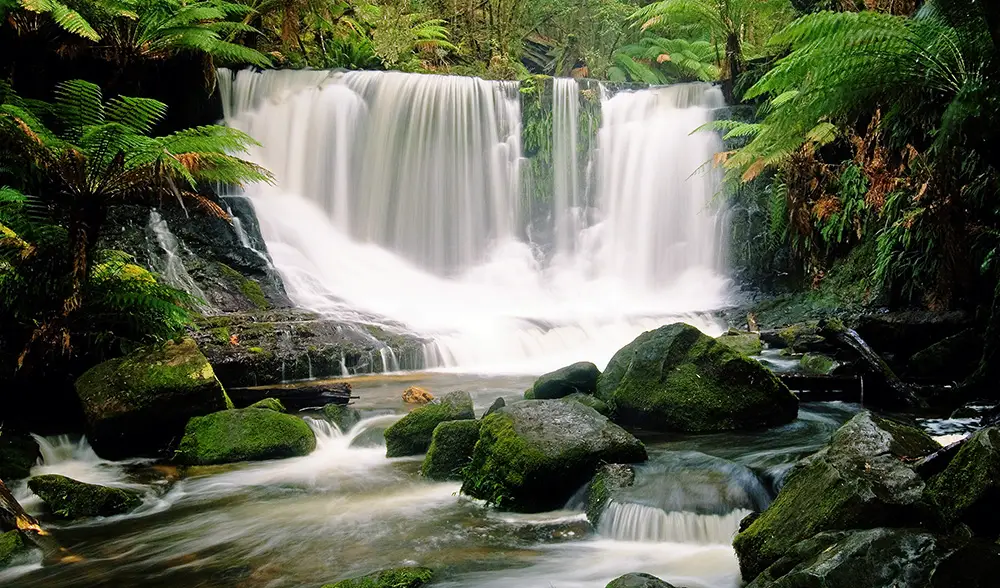 This National Park is the first of many to be seen over the course of the next few days, so I recommended purchasing a park pass here to gain access to all the National parks in Tasmania. This is something you'll need to keep visible in the front of your car, and you'll be set for the rest of the trip!
Spend the afternoon walking the 6km Three Falls Circuit to see some stunning waterfalls. It will take about 2-3 hours to complete. Keep an eye out for Swamp Gums, the world's tallest flowering plant – just one of the many cool flora and fauna in Tassie! 
After the walk, continue driving and stay somewhere enroute to Cradle Mountain such as Mole Creek where I found a lovely B&B.
Where to stay – Mole Creek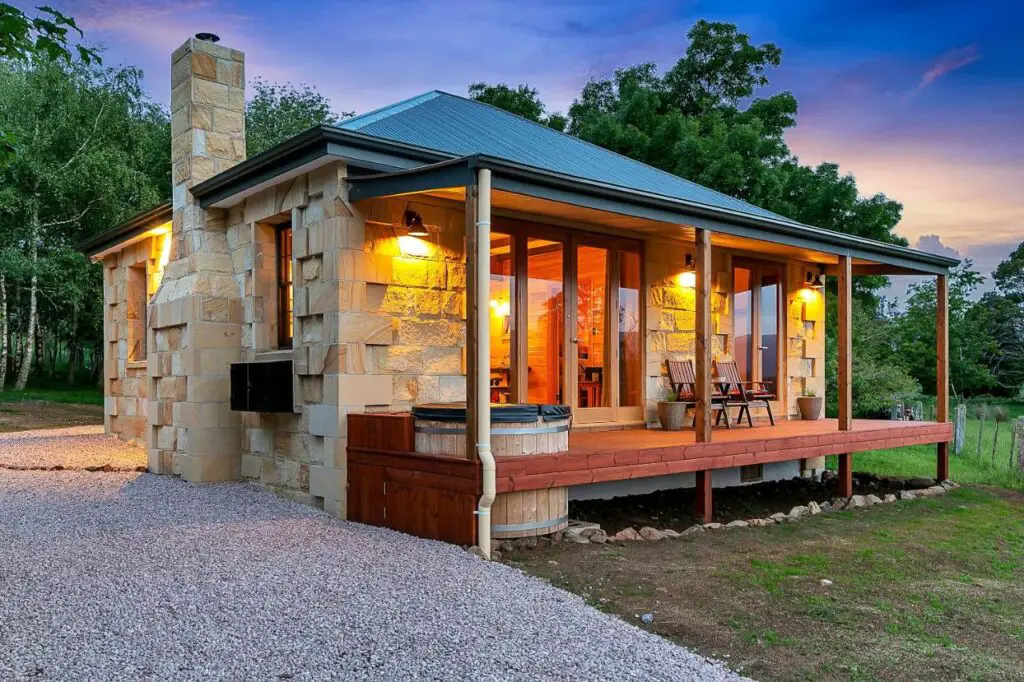 This is an adorable heritage stone cabin with modern interior. Located on a secluded private working farm surrounded by manicured gardens and rolling hills, this accommodation is ideal for a couple. View property
Day 2: Cradle Mountain to Launceston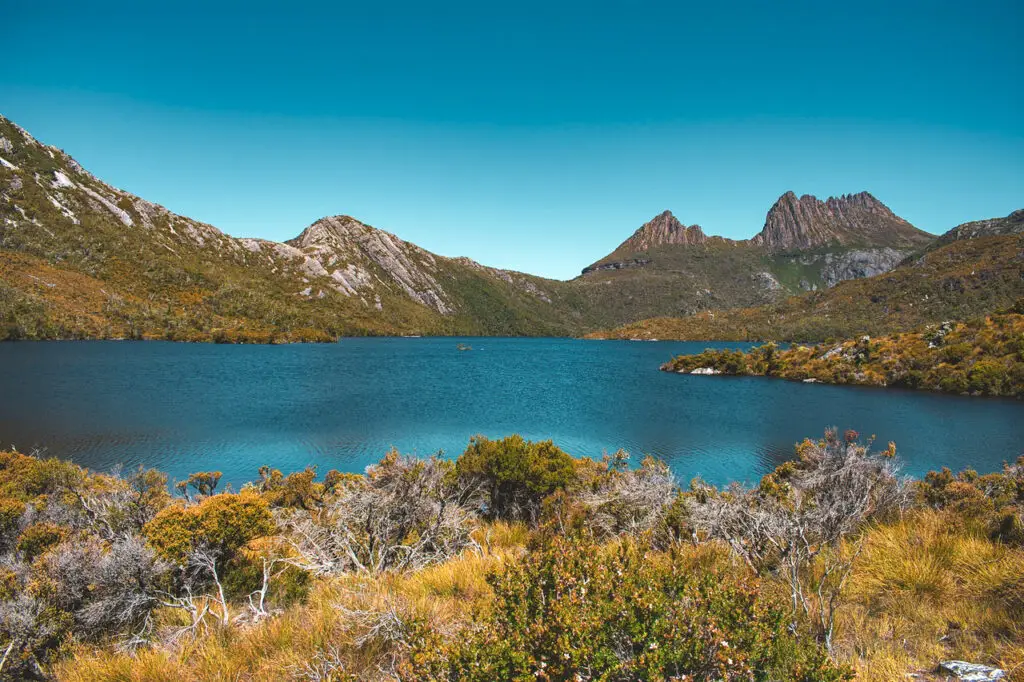 One of the most popular 'must-see' destinations in Tasmania is the iconic Cradle Mountain, and for a good reason. Cradle Mountain is what sets Tasmania apart from the rest of Australia. 
Jagged prehistoric-like peaks protrude from ancient rainforest which reflect dramatically in the midnight blue of Dove Lake. It is clear why this area of outstanding natural beauty is the most popular outdoor attraction in Tasmania.
Depending on where you stayed the previous night, you should be about a 1-2 hours drive from Cradle Mountain. Plan to arrive here in the early morning. It can get quite busy with mini buses of tourists, so the earlier the better.
There are a variety of walks to choose from, but the Dove Lake Circuit is one of the most popular as it is the easiest. This is a 6km looped walk at the base of Cradle Mountain offering spectacular views, and should take about 2-3 hours to complete. 
Alternatively, if you're up for getting the heart racing a little more, you can head up to the right of the lake to Marion's Lookout. This walk offers probably one of the best views of Cradle Mountain and the lake. This short but steep out-and-back 3km walk will take roughly 2 hours to complete.
After spending the morning in the Lake St Clair National Park, it's time to hit the road and head to Launceston, the second biggest city in Tasmania. 
Charming Launceston lies in the heart of a wine growing region and is surrounded by rows of vines and lavender fields. 
The drive here from Cradle Mountain is around 2.5 hours, and will be the next stop for the night.
One of the highlights of Launceston is the Cataract Gorge, home to the longest single span chairlift in the world! It's hard to believe the gorge is just 2 minutes from the centre of the city considering the abundant wildlife (such as the famous peacocks!).
If you want to splash out somewhere nice for dinner in Launceston, I would highly recommend a visit to the waterfront fine dining restaurant of Stillwater with its menu embodying the best of fresh Tasmanian produce.
Where to stay – Launceston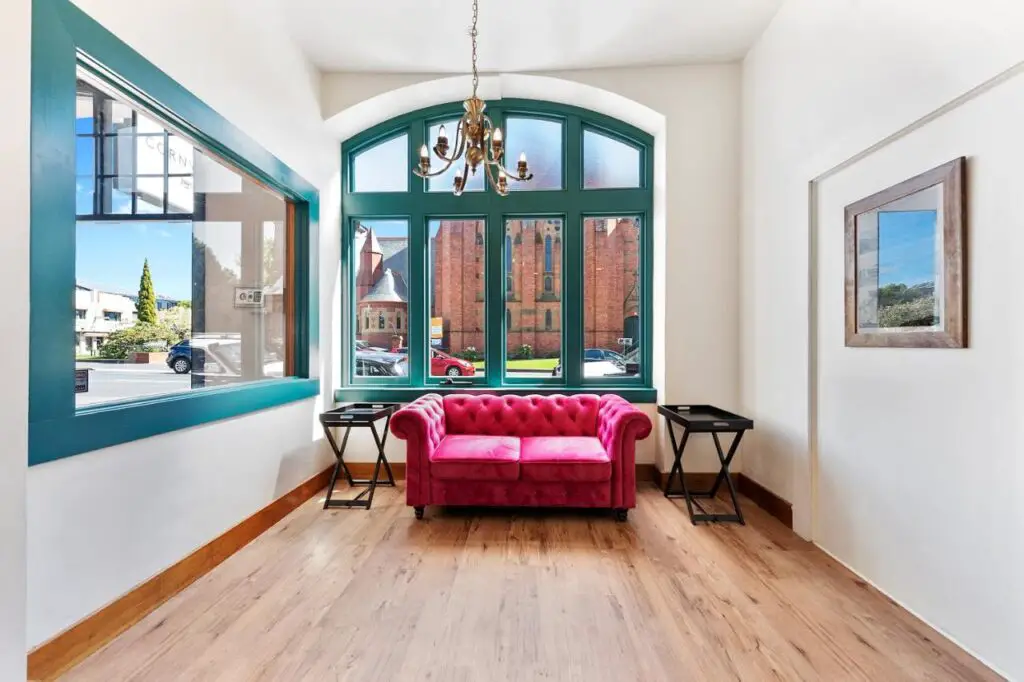 You won't struggle to find great options in Launnie. For one of the top rated hotels in the city, try Peppers Silo. For a reasonably priced modern hotel, try The Cornwall. If you're on a budget, I've also stayed at Art Hostel and had a great time (and surprisingly a good sleep!).
Day 3: Launceston to Bay of Fires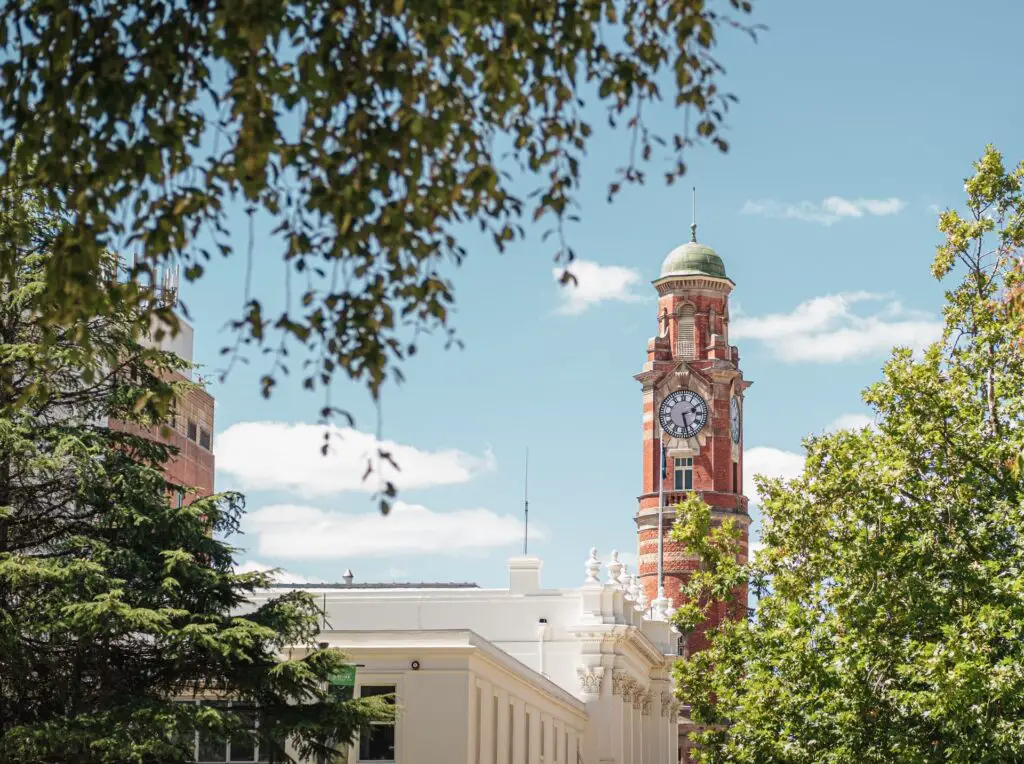 This is the day where things start to change, where the winding roads through the hills aren't so windy anymore and the mountainous views turn to stunning sandy beaches. 
Start off the morning grabbing a coffee and breakfast from one of Launceston's quaint cafes before making your way to today's destination, which will be the Bay of Fires. 
The drive from Launceston to the Bay of Fires is about 2.5 hours long, but there's some great places worth stopping along the way! 
The first stop is Bridestowe Lavender Estate, the world's largest privately owned lavender farm. The farm only blooms in summertime, but it's still a nice place to visit year round. There's a gift shop and cafe full of all things lavender, along with a distillery onsite. Whether the fields are awash in purple or not, it's still an iconic spot to visit on your Tasmanian road trip.
The next stop after the lavender is Little Blue Lake near South Mount Cameron. This is only a quick stop, as there's not much to see other than the crazy milk-turquoise color of this old mining hole.
From here there's only 1 hour of driving to reach the Bay of Fires.
The Bay of Fires is a stretch of incredibly white sandy beaches accompanied by a clear blue ocean. The rocks here are covered in orange lichen. People often think this is how the Bay of Fires got its name. In fact, it was because the bay glowed orange from all the fires lit by the First Nations People when the colonists sailed past on ships.
On this 5 day Tasmania road trip there's only enough time to get a quick taste of everything, and the absolute best time to take in the beauty of these beaches is at sunrise and sunset.
I highly recommend camping for the night at the Bay of Fires if you can, however there are plenty of accommodations nearby in Bicheno as well. 
Where to stay – Bicheno or Bay of Fires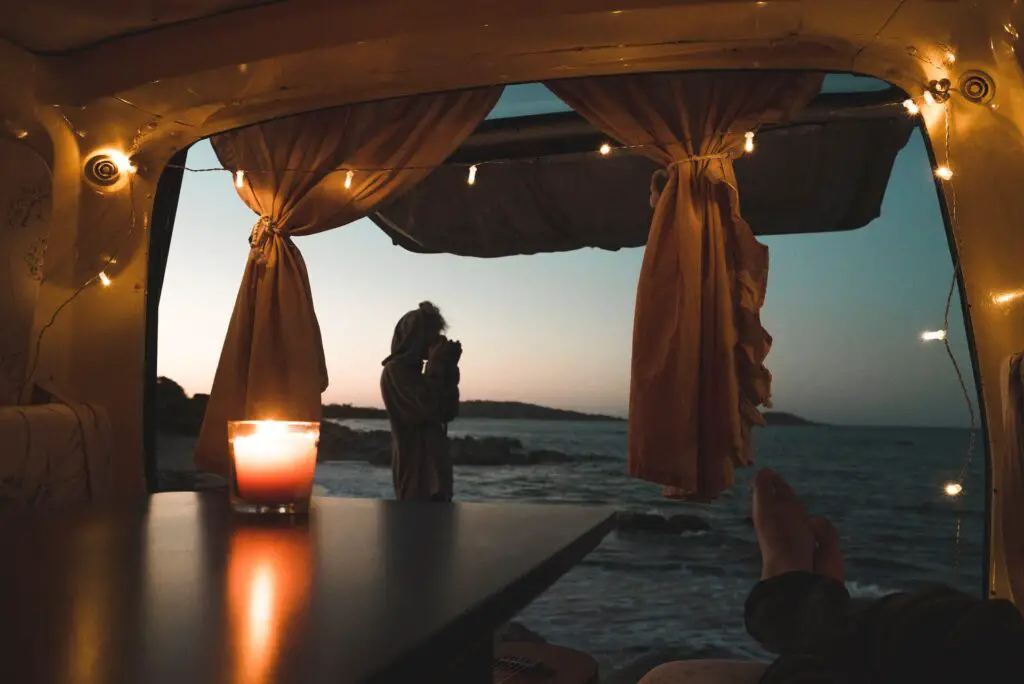 There are plenty of stunning beaches to choose from when camping at the Bay of Fires, and they're all completely free! Make sure to get there early enough to claim a spot. They have traditional drop toilets and often fire pits.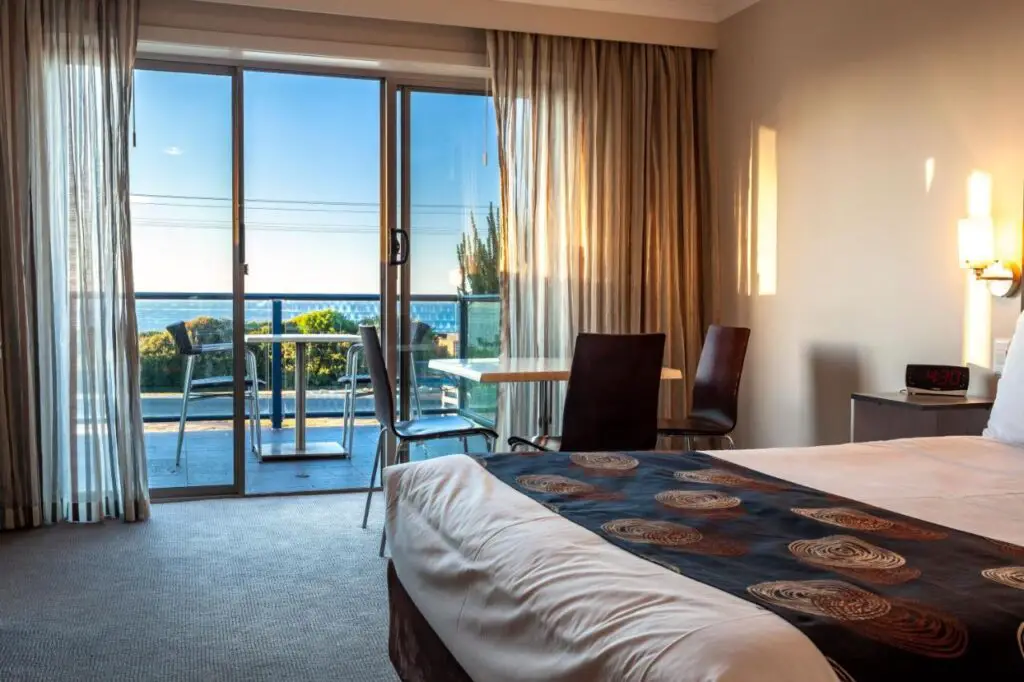 If camping isn't for you and you would prefer a little more comfort then check out the reasonably priced Beachfront Bicheno with a private patio to enjoy seafront or pool views. 
Day 4: Bay of Fires/Bicheno to Freycinet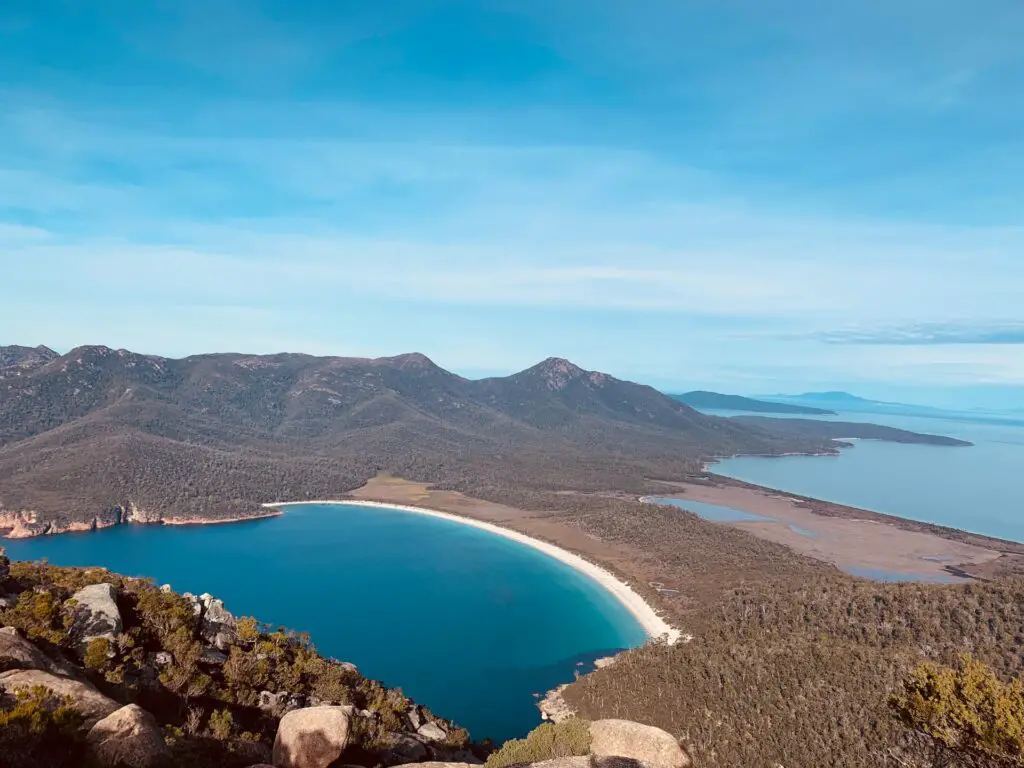 Perhaps after an inspiring sunrise on the beach to start the day, it's time to drive down to the famous Freycinet National Park. This will be the 3rd (and final) national park visited on your 5 day Tasmania road trip!
Freycinet is another iconic destination in Tasmania, where many people go to see the stunning birds eye views from Wineglass Bay Lookout. This walk is 3km and takes around 1.5 hours.
If you love a good beach, make sure you continue to head down to Hazards Beach to make the walk a bit longer to experience its dusty white squeaky sand, clear water and gorgeous little sheltered lagoons.
Before you leave make sure you head to Freycinet Marine Farm for some of the best oysters in the world! Tasmania is known for its seafood, and these fresh local oysters just around the corner will not disappoint. However keep in mind the oyster farm does close at 5pm, so make sure to get there in time! 
The next stop on the 5 day Tasmania road trip will be heading south, so anywhere along the coast this way will be a convenient place to stay. I recommend looking at the town of Swansea.
Where to stay – Swansea
This motel was a good budget friendly accommodation right on the water. Perfect for a short, comfortable stay with a great sunset (or sunrise) admired from the balcony.  View property
Day 5: Maria Island to Hobart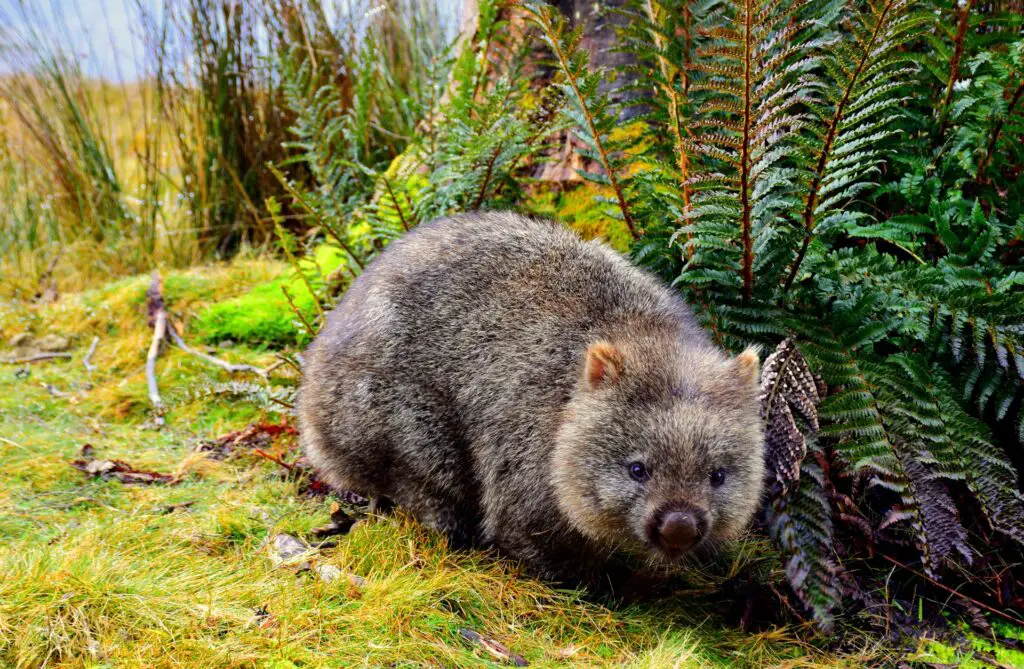 At this point I am sure it will feel like the days have gone by all too fast. It is the last full day of the road trip and also time to explore one of Tasmania's islands! 
The destination for the day is Maria Island, which can be accessed by booking a ferry from Triabunna. Triabunna is about a 1.5 hours drive from Freycinet, and about 40 minutes drive from Swansea.
Before heading to the ferry, stop at Kate's Berry Farm for some of the most delicious jams in all Australia! There are several to taste and try, as well as a full cafe menu to sit down and have a nice brekky. The farm is in a beautiful location and will be the perfect way to start today's adventures just right.
The ferry to Maria Island takes about 45 minutes. When you arrive you'll find yourself in one of the more remote, untouched parts of this state. With no cars, shops (or in fact predators), it's a true wildlife haven. So much so, it's often referred to as Tasmania's Noah's Ark! 
That being said, Maria island is one of the best places to observe wombats, kangaroos, wallabies and the Tasmanian Devil. When it comes to birdlife there are over 150 species here alone!
The most enjoyable way to explore the rural island is by renting or bringing your own bike.
After your active day of sightseeing around Maria Island, it's just over an hour drive from Triabunna to Hobart, bringing everything full circle to end your trip! 
Where to stay – Hobart
It's your last night of your road trip, so why not make the most of it and splash out for Islington Hotel. If funds are a bit low, stay in a beautifully renovated 19th Century mansion at Montacute Boutique Bunkhouse.
This 5 day Tasmania road trip is designed for those who want to make the most of their time in this beautiful Australian state. It is packed with all the highlights, from incredible views and delicious foods, to beautiful nature walks. 
Tasmania's truly unlike any other state in Australia. It's beauty will leave you in absolute awe, feeling relaxed and recharged, and inspired for an even longer road trip next time!
---
Heading to Australia soon? Don't forget these essentials!
Flights: compare and search using Skyscanner
Accommodation: hotels to hostels, glamping to apartments I always use Booking.com
Travel insurance: make sure you're covered for any unplanned situations. I use and would recommend World Nomads
Tours: to search and compare the best group tours and activities worldwide (with up to 20% off), use Viator
Visa: don't forget to check the entry requirements for Australia on the government website for the passport you are travelling with
Inspiration: Lonely Planet's guide to Australia or for your next trip, how about Lonely Planet's top 500 places to see… ranked?
PIN ME FOR LATER:
*This post may contain affiliate links meaning should you purchase a product via this link, I'll earn a small commission at no extra cost to you. These are still products I use or believe in regardless. See my privacy and disclosure policy for more.*