Due to its vast size and diversity, road trips around Australia are simply hard to beat, (so long as you're not shy of smashing out some generous kilometres that is). A road trip is undoubtedly the best way to explore Australia, whether that's just for a weekend away to somewhere like the famous Great Ocean Road, or a much longer and slower adventure around the country. 
Spectacular beaches and coastlines, waterfall-drenched rainforest, mountains, and the striking orange outback makes a road trip in Australia a truly exciting experience. There are few countries with all this type of contrasting scenery in one place!
However even if you are fairly road trip savvy, there are definitely some Australian-specific road trip essentials, and some things you should know before you set out on your adventure. And that's regardless of whether you're just going in your car or you have a campervan/RV.
Even before I bought my van and converted it into a camper, I've spent years doing road trips and staying in a combination of epic accommodation, or even sleeping in my car. I've learnt a lot about some staple Australia road trip essentials for different road trip styles, which can make your experience all the more comfortable and safe.
To ensure you have an awesome and stress free time, I thought I'd share my comprehensive list of must-have Australian road trip essentials. 
*This post may contain affiliate links meaning should you purchase a product via this link, I'll earn a small commission at no extra cost to you. See my privacy and disclosure policy for more.*
Australian Road Trip Essentials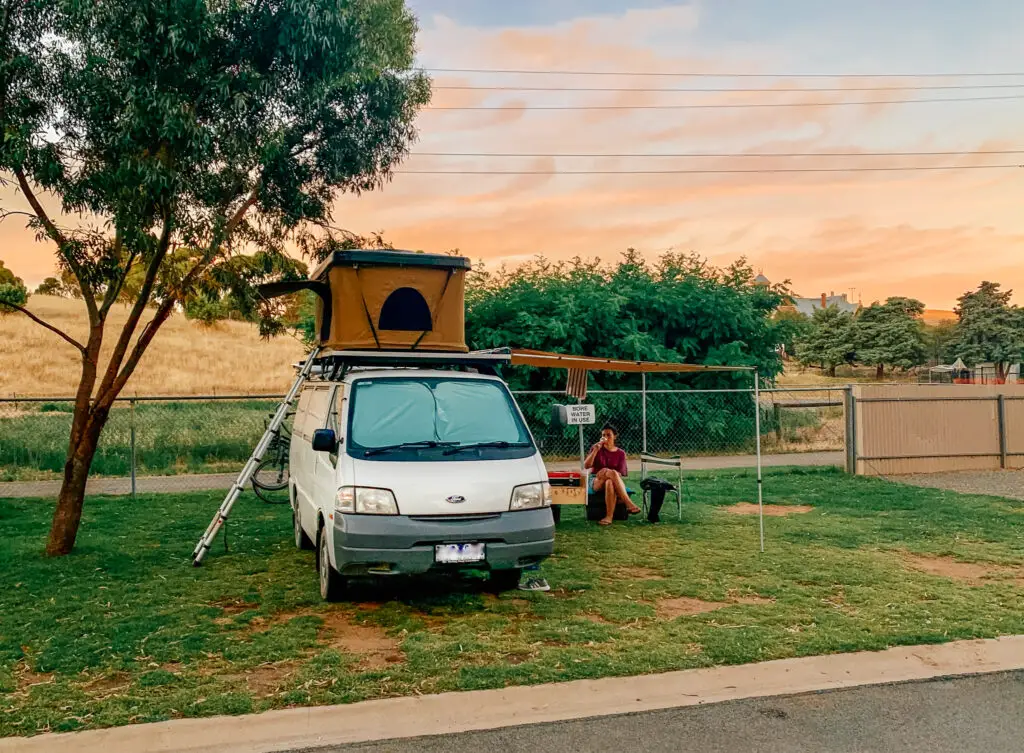 Before I launch into the road trip checklist, I have tried my best to include useful items for all seasons. However obviously some of these items probably won't apply to you, depending on when you are travelling Australia, and where. Tasmania compared to the Northern Territory for example, at opposite ends of the country, can have very different weather, climate and driving conditions!
This is not a 'one size fits all' checklist and so feel free to pick and choose the Australia road trip essentials most relevant to you and the length of your journey.
Regardless of what trip you're taking, I hope these recommendations offer you some practical ideas and suggestions, so you don't forget anything!
I've divided this Australian road trip essentials checklist into three categories; 1. driving and car essentials, 2. personal care essentials, 3. sleeping and camping essentials. 
Happy road tripping!
Driving and Car Road Trip Essentials: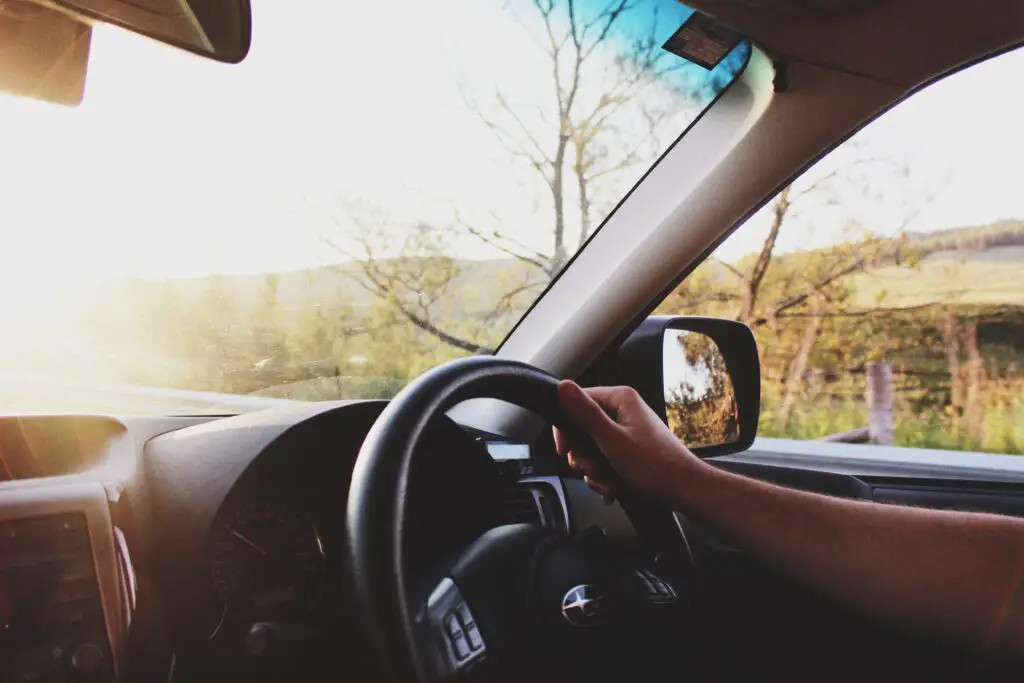 First of all…
Have You Checked Your Vehicle?
Car tire pressure
Oil and coolant levels
Spare tire and jack
No mechanical warning light are on
Full tank of fuel
Screen wash full and wipers working
All exterior lights work
Car manual is in the vehicle
Valid car insurance
Valid registration
Valid roadside assistance cover
GPS and a map
As I'm sure you are very well aware, Australia is a vast country and some parts of it pretty baron. As much as Google Maps is amazing, away from the cities you will definitely lose data connection. Even if you pre-download Google maps for offline use, you can still find yourself in trouble, especially if you are going even slightly off-the-beaten track.
Good GPS navigation with the latest map update which isn't your phone, is a great idea. However you should also always, always travel with an Australian road map in case both of them fail you. Sometimes nothing beats a good old paper map!
Toll tag
Toll roads are quite common in Australia and are largely automated. That means they're just cameras/sensors on top of a metal frame over the road.
If you are hiring a car, the hire company should provide you with a tag already attached to the window or dashboard. The toll fees will just be added to your account. 
However if you are not hiring a car or not an Australian resident with a toll tag, I would advise getting your hands on one, especially if you're road tripping long term. 
Alternatively, if you're doing a shorter road trip and don't get a tag, you must call the toll company and pay within 3 days of passing through the toll point, otherwise you'll get fined. 
Towing rope and shovel
If you've got the space in your vehicle, I would 100% recommend you to bring a shovel and some rope or snatch strap in the instance of getting stuck in mud and sand. Or at least to help someone else out if they do.
I have got my vehicle completely stuck in sand beside a river before. Only thanks to a passer-by with a 4×4 vehicle, some rope and a shovel did I get out. Without him I would have been stranded there another night as no one else passed by all day.
Plastic sand/snow/Mud recovery tracks
There is such a wide variety of terrain in Australia, and you'll definitely at least encounter sandy back roads at some point! So even if you do pack a shovel, rope/straps and have a 4X4 vehicle, plastic recovery tracks are a must-have Australian road trip essential so you can always get yourself out of trouble if no one is around to assist.
Road trip apps
There are a few apps that I use on almost every road trip. They are Wikicamps for finding great camping spots, All Trails for good hikes and booking.com for finding the best accommodation.
Spare tire 
As you have probably gathered from the last point, the terrain in Australia can sometimes be pretty tough to tackle.
Ensure you have checked your tires before you set off, and ideally book in a full vehicle service too. Though in case disaster strikes, ensuring you have a working spare tire in the boot (and knowing how to change it) is essential. 
Call outs to change a tire can cost you heaps of time and money (if they can even reach you), and put a real downer on your road trip!
Jump starter battery
An item I never road trip without is a jump starter battery pack which I make sure I charge before I leave, or as soon as I hit the road through the USB port.
A simple mistake like accidentally leaving a light on or the door open etc, can drain your car battery. If you're out bush, you may not get a single passer-by to help you jump start your vehicle. Being self-sufficient with a battery pack offers complete peace of mind.
It's also useful to charge other electronic devices off.
Jumper cables
A battery pack is pretty pricey and so another option is simply chucking some jump starter leads in the boot/trunk.
However the downside to this of course is that you have to rely on someone else being around and kind enough to lend you their vehicle to jump start off.
Ice Scraper 
On a winter or mountain/alpine road trip, you may experience temperatures below freezing. An ice scraper or anti-freeze spray is always a good idea.
Alpine Diesel/Fuel Additive
For winter road trips in some of the colder parts of the country such as Tasmania or the Australian Alps, it may be a good idea to use alpine fuel or an additive with you, to prevent fuel gelling in cold conditions.
Car tire chains
Car chains are mandatory by law during winter in some parts of the country for going up the mountains. A snow chain kit to chuck in the boot is a must for anyone going on an alpine adventure.
Phone USB Charger
Car USB chargers are simply amazing. They're cheap and so convenient to charge things on the go.
If you don't already have one, make sure you buy a charger with at least two ports so you can charge multiple electronic items at once.
Window sun shades
Australia can get hot. Like, hot enough to melt plastic and even asphalt roads kind of hot. Your metal vehicle can heat up in minutes and the sun will sear through the windows when you drive. There are two types of sun shades you should consider.
Whenever you park up and head out, I'd always recommend you put up foldable reflective sun shades so you're not faced with scorching hot seats and seat belts when you return. If you are sleeping in your vehicle sun shades also provide some privacy and relief from the sun. If you're a solo female road tripper, then it's one thing I recommend in my list of essential solo female van safety tips.
In the winter, you may find these reflective shades to be useful to prevent frost building up.
When you're on the road you may find filtered sun shades an option, especially if you have kids or passengers. 
Mobile phone holder
If you are using Google Maps, want to see your playlist or make calls etc, having a phone holder is just one of those 'must-have' road trip essentials. It's the safest way without touching your phone.
Be aware that touching your phone whilst driving in Australia is illegal. It is something that local police look out for and of course being distracted by your phone is plain dangerous.
Power bank
For charging larger electrical items such as cameras, I'd highly recommend a good power bank. They can often be charged via the USB lighter port in your vehicle and they're getting smaller and smaller in size.
Flash torch/light
If you break down, want to find something in your car at night or are just making your way back from the beach in the dark, a torch is an essential road trip item. 
Avoid a torch with batteries though as they never last that long. Wind-up torches are great especially for emergencies or short-term use (and are better than draining your phone battery).
Games and activities for kids
If you're travelling Australia with kids, the long stretches of driving will no doubt be stressful, tiring and boring for them. Having plenty of games, activities, movies and toys prepared to help entertain and distract little ones is absolutely key to a successful family road trip!
Think multi-use, games with minimal 'pieces' that will inevitably get lost and enough imaginative games prepared for short attention spans!
Playlists, audibooks and podcasts
Just as a lot of driving can be boring for kids, it can be boring at times for adults too! A good playlist, podcasts and audiobooks can be literal mind-savers when you have hours on the road.
If you're interested in rock and indie music, check out my all out Aussie playlist, or if you're a female road tripping alone, my badass playlist for solo female travel. Just make sure whatever you want to listen to, you pre download it for offline use.
Car insurance and valid vehicle 'rego'
If you're hiring a car then you won't need to worry about car insurance or whether your vehicle has valid registration. However if you own your vehicle, driving without car insurance and proper state registration is illegal (and you'll get fined if caught). You can lookup if your vehicle is registered online.
In the state of Victoria at least, Budget Direct is the cheapest insurer and is who I use for my own personal vehicle.
Window Bug Net
During the evening when you want some fresh air but not all the critters that come with it, an elasticated bug net you can put over the window is a life saver. You can just chuck it into your glove box when you don't need it so it's super convenient.
Coolant, water and screenwash
Australia is particularly dusty and hot in the warmer months. Proper screen wash and coolant products picked up from a service station or hardware store are the most effective car care fluids to use.
An absolutely essential car care item to have as a backup is a large bottle or box of water to use especially for emergency screen wash or coolant.
Guide Book
For the ultimate road trip inspiration and destination advice, you can't beat a good guidebook to pour over and inform your travels. You won't want to miss the highlights after all!
The original and the best is of course Lonely Planet. They have a book for the whole of Australia as well as for the East Coast, West Coast, Tasmania and even road trip specific guides like 'Australia's best trips' and 'Tasmania road trips'.
Jerry can of fuel
Venturing into the outback? Road tripping for a while? You'll likely need  a spare canister of fuel strapped to the outside of your vehicle for those just-in-case moments! 
Personal Road Trip Essentials
Camera and GoPro
An Australian road trip essential is hands down a camera and/or a GoPro! You'll feel the urge to pull over to snap some scenic shots frequently and a high quality DSLR like my Nikon D3200 is a must!
When it comes to surfing in Bryon Bay, snorkelling the Great Barrier Reef and cruising on boats in the Whitsundays, you'll definitely wish you had a waterproof GoPro Hero to capture the moment.
To ensure it doesn't get lost, ensure you buy a floating handle with a wrist tie!
A first aid kit
A first aid kit is an absolute must to chuck into the car for hikes and day trips on your road trip adventure.
Make sure it contains a snake bite kit (as during the spring and summer there are LOTS of snakes throughout Australia), plasters, pain killers, antihistamines, tweezers, bandages and antiseptic wipes at the very least.
Sunscreen & SPF lipbalm
Being sunsmart is important anywhere you go and not just in Australia. But the thing is, even if it's cold, overcast or sunny with a cool breeze, you can be tricked into thinking you don't need sunscreen at all – but you absolutely do!
One thing I learnt travelling Tasmania is that you should wear sunscreen every day. I try to opt for eco-friendly products with no plastic or polluting ingredients such as sunscreen by Raw Elements or All Good Mineral Butter. 
Mosquito repellent 
You may be surprised by just how many mosquitoes, bugs and bitey creatures there are on your road trip adventures in both rural and metropolitan parts of Australia.
As the sun sets, you'll likely get eaten alive so always pack a good, natural bug spray. And remember to not leave car doors or windows open at night as the interior light will attract all the flying critters!
Travel neck pillow
For passengers, a travel pillow with neck support can really make a long journey a lot more comfortable. Blow up ones are especially convenient as they take up very little space.
Sunglasses
To prevent the glare from the sun whilst driving and harmful UV damaging your eyes when you're out exploring, sunglasses are a must.
Insulated hydro flask or Lifestraw Go Bottle
A great bottle to keep in the car is an insulated water flask to keep your water ice cold, even in the heat.
If you're planning on doing a lot of hiking, I love using a Lifestraw Go bottle so I can safely drink water fresh from waterfalls and streams thanks to the micro filtration technology. Plus the water straight from nature is just delicious.
Towels – micro towel, beach and bath towel
A compact micro towel is great for when you want to quickly dry yourself down after being in the sea etc. Unlike a normal towel, it will be dry before you know it!
If you're camping or staying in your own camper you'll need to make sure you pack a shower towel and for the beach, a towel to lie on that can get sandy.
Baby wipes
I swear baby wipes are the most useful items ever for a road trip. Ideal for freshening up the whole body, cleaning your hands before you eat, wiping down surfaces and more! Make sure they're in the glovebox so they're handy.
Ziploc bags
Ziploc bags aren't something you'd necessarily think about packing in your car for a road trip but I'd urge you to – they are so incredibly useful! 
Ideal for snacks, litter, putting your wet swimwear in (even as an emergency sick bag!) – the uses for Ziploc bags are endless.
Toilet paper/tissues
If you're doing a lot of camping or time on the road, it's useful to carry toilet paper in your car in case campsite toilets, service stations or rural rest stop conveniences are all out!
Day bag/Cotton tote/reusable bag
Whether you need to grab something from the shops or collect multiple items from your vehicle, I always find having a couple of reusable bags or a fold-up day bag handy for a multitude of reason!
Hot drink keep cup
When you're in need of an on the road pick-me-up instead of single-use cups chuck a reusable coffee cup with a screw on lid or hot drink flask in the car to use instead. 
Toiletries 
And don't forget sanitary items, deodorant and your toothbrush and toothpaste!
Clothing and shoes (inc. swimwear and sleepwear)
Your favourite warm and cool weather clothing, including swimwear and sleepwear. I always find three pairs of shoes are useful – trainers for walking/hiking, thongs (or as I call them flip-flops) for beach days and pumps/sandals for meals out etc.
I've also forgotten a rain jacket on more than one occasion, so I now keep an emergency foldable waterproof in my Ford Econovan camper van permanently.
Personal electronics and chargers
That includes laptops, phones, music players, headphones, ipads and their charging cables. Or you can get a single charger with multi-use outlets.
If you're planning on working on the road or you need the internet, you can't rely on tethering off a phone due to limited data beyond the towns. Your best bet is a portable WiFi router by Telstra. 
Sleeping and Camping Essentials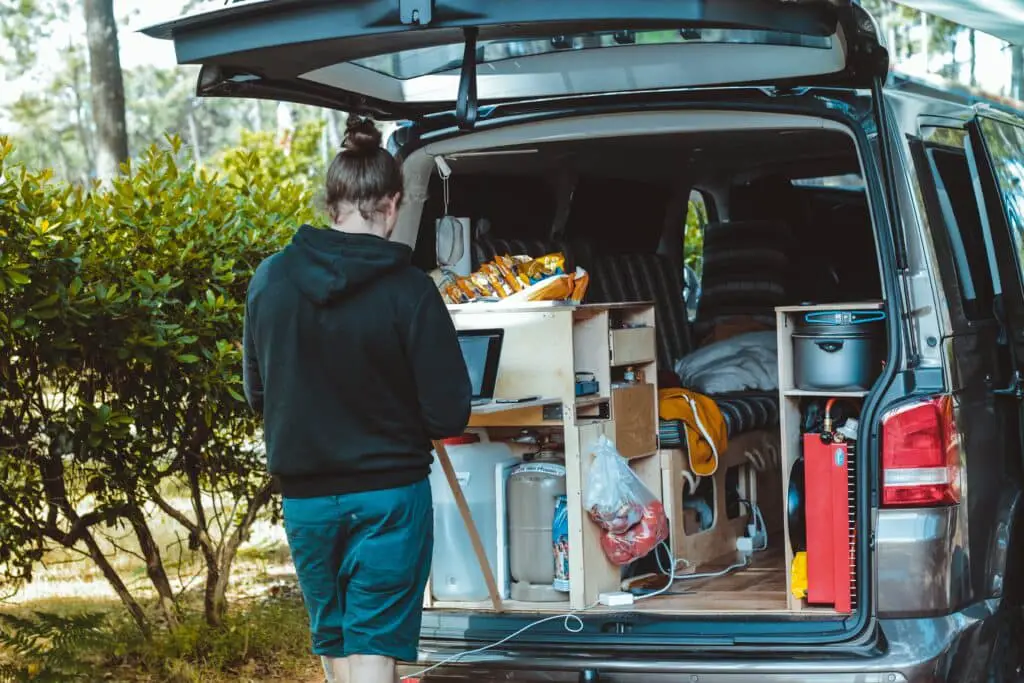 If you're staying in hotels or Airbnb's you'll likely not need much from this list, but if you're camping or living in your vehicle, there are many things you just can't forget!
Tent, sleeping bag and roll mat
For campers, good quality equipment to withstand all different weather scenarios is essential. Personally, I love my Marmot 2 person tent as not only is it lightweight and reasonably priced, it goes up super quickly and is made from good quality materials.
To make camping extra comfy, a blow up pillow, a good sleeping bag and a comfy roll mat (I'd highly recommend my Exped Hyperlite Winter mat which is apparently the lightest 4-season sleeping mat on the planet) are a must.
Ear plugs & eye mask
Always useful to pack, especially for light sleepers and daytime nappers, especially when for passengers when there are long stretches of driving.
Lighter or matches
A great idea in the instance of an emergency, or lighting a gas stove or a camp fire.
Gas stove, jet boil and spare gas canisters
One of my favourite camping items is my Jet Boil which is a small, collapsible gas cooking system that boils water in just over a minute. It's great for a cup of tea or coffee on the road or for heating up your lunch, be that soup, beans or pasta.
If you're camping and cooking your own meals, make sure you bring spare fuel for your cooker such as gas canisters. 
Cooking utensils
The above being said, remember basic cooking utensils such as tongs, spoons/ladles, spatula, masher, cutlery, scissors, chopping board, sharp knives, a bottle opener/corkscrew, cheese grater, strainer, can opener and serving utensils.
Bin bags and plastic Tupperware are also always useful.
Firewood & fire starters
A lot of Australian states have total fire bans so look out for signage and follow local guidance. However if fires are permitted where you are, remember fire starters, kindling and firewood.
I also have a Kings portable fire pit which slots together that is ideal for when there are no fire pits around.
Washing up equipment
Doing the dishes on a road trip or when camping sucks but a collapsible bucket with sponges/brush, cloths, dish soap and tea towels are essentials.
Esky or portable fridge
For short road trips over a weekend or long weekend, a good esky/cool box loaded up with ice can suffice. However I would highly recommend investing in a portable fridge if you do not already have one in your vehicle, to keep your food and drinks fresher for longer. 
An Engle portable fridge/freezer is one of the best small ones out there or for a camper with more space, I use a Waeco chest fridge.
Camp chairs, picnic rug and table
Pull over at a scenic spot for lunch or eat dinner around a camp fire with foldable camp chairs, a camp table and a water-resistant rug which you can permanently keep in your vehicle. 
I hope you have found this list of Australian road trip essentials and tips useful. If you think I've missed anything off or there is something you can't live without for a road trip, I'd love to hear what it is! And if you're a female about to head out on the road alone, don't forget to check out my safety tips for solo female van life. Thanks for reading!
Heading to Australia soon? Don't forget these essentials!
Flights: compare and search using Skyscanner
Accommodation: hotels to hostels, glamping to apartments I always use Booking.com
Tours: to search and compare the best group tours and activities worldwide (with up to 20% off), use Viator
Visa: don't forget to check the entry requirements for Australia on the government website for the passport you are travelling with
Inspiration: Lonely Planet's guide to Australia or for your next trip, how about Lonely Planet's Guide to the World?
PIN ME FOR LATER:
*This post may contain affiliate links meaning should you purchase a product via this link, I'll earn a small commission at no extra cost to you. These are still products I use or believe in regardless. See my privacy and disclosure policy for more.*