For me, there is nothing more therapeutic and invigorating than a solo trip in my small camper van. When it's just my Ford Econovan Maeve and I on the road, I honestly feel invincible. The buzz of a scenic open road all to myself and being parked up in nature to enjoy ultimate 'me time' is what keeps me utterly hooked to solo van life.
Despite generally being a confident solo van traveller (at least now I have some experience under my belt), I'm often met with surprise when people realise I'm travelling alone. And well, sometimes that can be a little unnerving. It always grounds me when people seem surprised or raise their concerns. There are indeed dangers travelling and sleeping in a van solo, especially as a woman.
Solo van safety is a really important topic and the more you can prepare yourself or those you care about, the better.
My first introduction to van life was actually very basic – simply camping in my car (with seats that didn't recline!). After two years of that, in October 2020, I upgraded to my home converted van, and over the years, I've learnt a lot of solo van safety tips.
So if you're looking for how you can be safe travelling in a van and also sleeping solo in a van, then here are my top tips for solo van safety!
*This post may contain affiliate links meaning should you purchase a product via this link, I'll earn a small commission at no extra cost to you. See my privacy and disclosure policy for more.*
Pin for later:
Pre-trip van safety tips:
Before you head off on your solo van trip, there are numerous things you can do beforehand to prepare yourself for a safe journey and overnight stay. Here are just a few things that I personally do for both short and long-term van travels: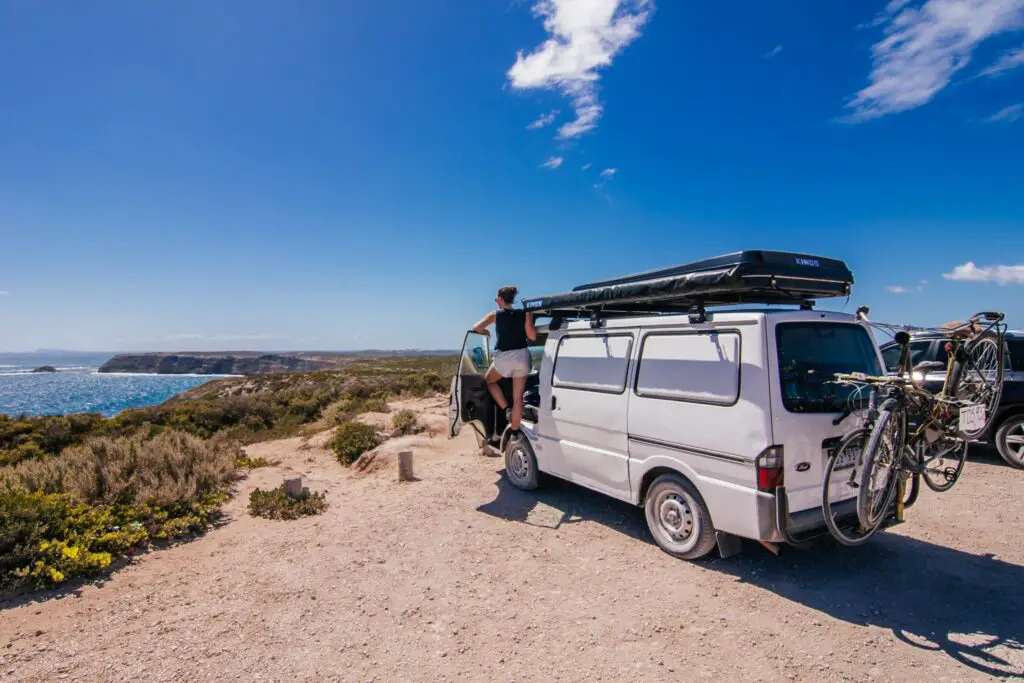 Research your route
Before I set off on a solo trip in my camper van, I always ensure that I not only thoroughly research the place I am going to, I study how to get there just in case I lose GPS signal. I even have a road map I can refer to as a backup in my van. Don't rely on your phone or a navigation device as they can let you down.
I also think it's important to know the nearby amenities – where to get potable water, where the nearest (and last) petrol station is or the nearest supermarket. 
Select a good campsite in advance
Similarly, it's also really important to research your campsite and plan where you will stay for the night in advance. There's nothing worse than it getting dark and the anxiety of not knowing where you'll be staying.
If you're new to solo van travelling, then you should know that just parking up anywhere to sleep is illegal in many places around the world. Plus, it can be really unsafe, especially if you don't know the area. You should always go to a property designated campsite, either a private paid campground or public free campground managed by a National Park or local authority. 
One very important thing that I have learnt living in Australia, is that you need to ensure the campground is accessible and suitable for a van of your size, and if you don't have a 4WD, it can be accessed by a 2WD. There are many campgrounds that are accessible only by crossing rivers, or incredibly bumpy and treacherous terrain out here.
Some campgrounds are also tent only with car parks that do not allow overnight sleeping. Look out for reviews and the campsite's key information to know if there's an area suitable for campervans.
Ideally you should pick a moderately trafficked campground where they'll be other people around such as families, and not go somewhere totally remote and hard to access. Again, reviews on things such as WikiCamps or Air Camp can give you a really good insight into how busy it is and what kind of people go there. For example, is it family-orientated or a common hangout for rowdy and noisy groups?
The quality of your campground can really make or ruin a solo van experience so it's a really basic but important solo van safety tip!
Stock up before you go
Before I set off on a solo van excursion, even if I know there are places to stop on the way, I will always fill my pantry with long-lasting and non-perishable foods such as pasta, rice, jars of sauces and freeze-dried meals. I also fill both of my 20L jerry cans with fresh water, and fill up my fuel tank and a 10L petrol jerry can which is strapped to the roof. Always take spare food, fuel and water if you can.
For fuel, make sure you do not keep it inside the vehicle or store it in 'crumple zones' on your vehicle (i.e. the front or back). You should always aim to put your jerry can of fuel in the middle on your roof.
Know how to change a tyre (and check you actually have a spare!)
A common vehicle problem is getting a flat tyre and so it's a great idea to first check that you have a spare with you. You'll also need a jack AND know how to change one.
If you don't know how to change a tyre by yourself, have a look on Youtube for a quick tutorial so you can feel more confident if you ever find yourself with a puncture.
You should also do some basic pre vehicle checks – tyre pressure, topping up the coolant, screen wash and ensuring no warning lights are on.
Tell someone where you are going
Sharing your whereabouts with a trusted person is an important solo van safety tip especially for women. I always let my partner know where I am going and the name of the campsite, just in case something should happen.
When I go on solo hikes, I also share my live location with him which you can do via Facebook for an hour at a time. 
If you're going off-grid, a device such as a Garmin inReach or similar communication product that uses satellites and not cell phone networks, may be a worthwhile investment.
Have a fire extinguisher somewhere handy
When you're cooking with open flames, like you often do when you're on the road or camping, it's a great idea to have a fire extinguisher located somewhere easily accessible. That's obviously regardless of whether you're solo or with others!
If you've got an electrical set up in your van, this is also just as important as an electrical fault could lead to your system going up in flames. It's best to pack a powder or CO2 extinguisher and definitely not a water-based one or a fire blanket, as they can be dangerous for electrical fires.
It's also useful to have one onboard just in case someone else needs it too.
Solo van safety tips at the campground:
Now that you've successfully made it safety to your campground, here are some things you can do to keep yourself safe in your van when you're hanging out, and at night.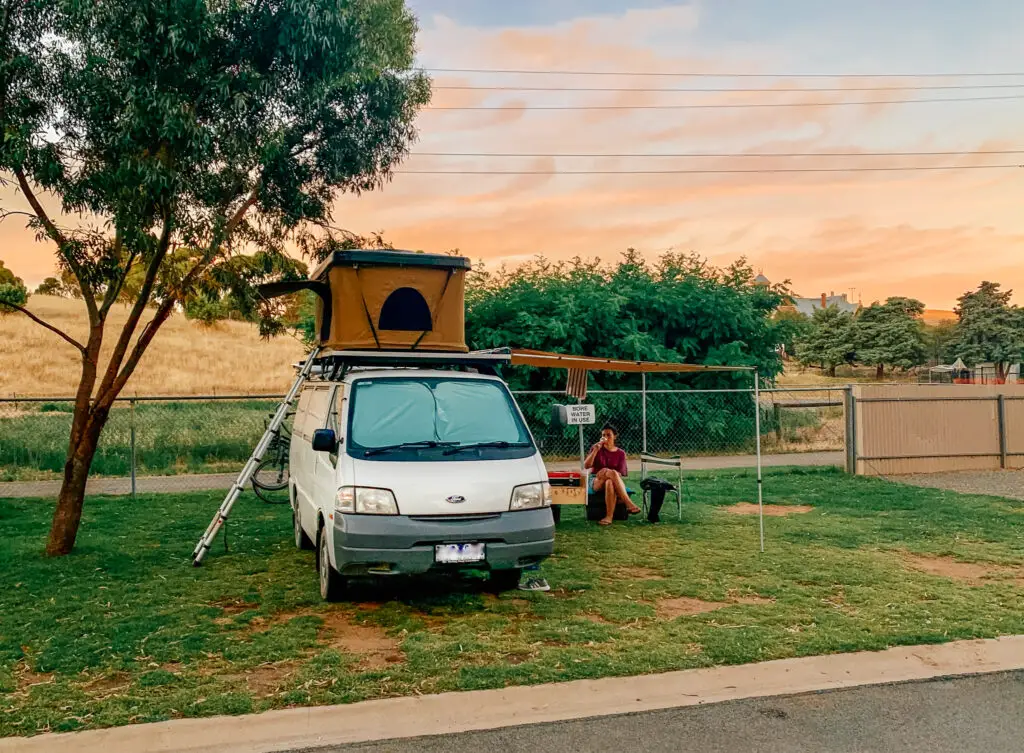 Familiarise yourself with your surroundings
Aim to get to your campsite during daylight hours so you have plenty of time to set up, check out your surroundings and relax after your drive. Arriving at night can be a really daunting and anxious experience if it's somewhere new.
Walking around in daylight so you can get your bearings in a new place is always a great idea. I always find I sleep better at night when I am familiar with my surroundings having explored every part of it.
Locate the closest toilets/facilities, if there any other exits/entrances/paths, landmarks such as lakes or creeks and familiarise yourself with who else is staying at the campground.
Leave gas canisters and bottles outside
Numerous people die every year from suffocation caused by leaking gas canisters or burning fuel inside their vehicles or tents. Always leave your gas canisters outside at night. If you're worried about someone stealing it, bring a bike lock and secure it to the nearest tree or post.
It's also important that even in bad weather, you do not cook inside your vehicle unless you have good ventilation. Absolutely do not burn a gas stove or small fire to keep warm inside either. Carbon monoxide is produced when fuels such as gas, oil, coal and wood do not burn fully. It's odourless, tasteless, does not irritate and is absolutely deadly. 
Although I am always cautious and leave gas bottles outside, at night I often leave a window nearest to me open a crack for some ventilation, just in case. I'd recommend doing this as well to give you extra peace of mind.
Lock up at night
Despite having a pop-up tent on the roof of my van, I will always sleep inside the vehicle on my fold out day bed instead because I can lock myself in. I feel so much safer knowing I'm in a secured vehicle.
Always make a habit at night to have a routine where you check all the doors are locked so you can have a sound (and safe) sleep!
Use blinds, curtains or screens
For privacy and so any Peeping Toms don't know you're alone, blocking the windows is a really good solo van safety tip. 
Most hire vans will have curtains already installed, so shut them as soon as the sun begins to set.
I personally decided not to install permanent curtains inside my vehicle but instead have a large sun reflector that goes across my front windscreen, black bug nets that go across the front and passenger windows and a sheet of vinyl that is secured with Velcro across the back window. In the morning I whip them off and I'm ready to roll.
Conceal a weapon
Not everyone will feel comfortable doing this and that's totally OK, but I like to have a weapon concealed nearby my bed to defend myself just in case someone tries to break in. Luckily, I've never had to even think about using it, but it does give me peace of mind.
Pepper spray (mace) probably isn't a great idea though as if you need to use it, it will affect you in the van too. Best save that one for outside.
Consider an indoor toilet solution
If you do not already have facilities in your vehicle and you're worried about going outside at night, then consider a portable toilet solution.
I have a Dometic 972 chemical toilet costing $135AUD which I bring on long trips for emergency use only (though have not yet used it). Generally I feel comfortable going to public toilets at night with my headlamp but if you don't, then it's a great back up to have one.
If this isn't an option, then make sure you don't drink too much before bed, and visit the bathroom before it gets dark to see if you can make it without needing to get up in the night.
Bonus tip: don't let anyone know you're alone
Sometimes when people come and chat to me, I don't make it obvious that I'm alone. Sometimes I even get out two camping chairs so from afar it looks like I have company.
Especially if men ask me if I am camping alone, I'll sometimes lie and say something like "right now yes, but my boyfriend is on his way!". Or I may throw plurals into a conversation such as "we". It really irritates me that the threat of a man is a powerful weapon for us women to protect ourselves from potentially dodgy men, but hey, here we are.
On that note, if you identify as male and want to know how you can better support women, then check out my post about how men can be allies to solo womxn travellers.
---
Travelling solo in a van is an incredible experience and although it's unlikely anything will happen, it's a great idea to be prepared regardless. Some of the best experiences in my van have been solo so I hope these solo van safety tips have given you some ideas and have encouraged you to embrace it!
Going travelling Soon? Don't forget these essentials!
Flights: compare and search for the cheapest flights using Skyscanner
Accommodation: hotels to hostels, glamping to apartments, I always use Booking.com
Tours: to find the best group tours and activities worldwide (with up to 20% off), use Viator
Visa: don't forget to check the entry requirements for the passport you are travelling with
Inspiration: to kick-start your next adventure, how about Lonely Planet's Guide to the World?