With limited international travel on the horizon for many of us, us Australians will be blessed with 'staycationing' in our own backyard. Luckily we really are spoilt for choice about where to go and stay in this diverse and massive country.
If you live in Victoria, there's no better way to pimp up a staycation than with some unusual and quirky accommodation, of which there is an abundance all across the state. I've uncovered some of the most unusual accommodation in Victoria, available right now in 2022, to make your getaway feel extra special.
Whether it's for a quick weekend or a little longer, these quirky rentals will be the absolute cherry on top of your trip. From eco huts to churches (even an old steam train) there's not a dull, bog standard hotel room in sight.
Whilst you're here, you can also check out my other posts about the best glamping accommodation across Victoria, magical treehouses in Australia or unusual rentals in Ballarat for even more unique accommodation inspiration!
Take a look at these quirky accommodation options in rural Victoria, Australia and also what you can do there:
*This post may contain affiliate links meaning should you purchase a product via this link, I'll earn a small commission at no extra cost to you. See my privacy and disclosure policy for more.*
PIN FOR LATER:
---
An Eco Yurt – Emerald, Dandenong Ranges
Price per night: from $208
Sleeps: 2 (1 bedroom)
Alkira Eco-Glamping Retreat is an octagonal straw-bale yurt set within 40 acres of enchanting forest in the beautifully sounding town of Emerald. As far as uniqueness goes, this hand-made hut styled with thoughtful and adorable interior furnishings, really is one-of-a-kind. Both inside and out of the rental oozes with rustic character and a homely ambiance.
There's no denying that this hut is truly magazine worthy – in fact, it has featured in a lot of the media, including the  Herald Sun newspaper, Channel Nine's 'Postcards' program and countless fashion photoshoots.
Just outside the hut is a well designed outdoor kitchen, bathroom facilities and a cute seating area. 
A few metres away from the property is a beautiful creek providing you with the gentle soundtrack of nature. Alkira is a magical getaway to make your trip to the Dandenong Ranges an unforgettable one.
What is there to do in Emerald?
You're likely to not really want to prize yourself away from his adorable hut, but if you do, there are loads of brilliant things to do in Emerald and the Dandenong Ranges:
Ride on Puffing Billy, a heritage steam railway. The journey will take you amidst lush fern gullies, and Mountain Ash trees towering overhead. Puffing Billy makes for a wonderful opportunity to relax and enjoy the surrounding temperate rainforest.
Enjoy Emerald Lake, a gorgeous park ideal for picnicking, walking, fishing and paddle boating.
Go bushwalking in some of the Dandenong Range's famous trails and lookouts such as the Eastern Sherbrook Forest Walk, John's Hill Reserve Lookout and the Kokoda Track Memorial Walk, otherwise known as the 1,000 steps!
Zip amongst the trees at the Trees Adventure in Belgrave, a tree-top obstacle course for adventurers of all ages and abilities.
Chill out at the botanical gardens, beautifully maintained gardens and lakes with breathtaking views over the Yarra Valley and enough walking paths for you to not go down the same ones twice.
A Steam Train Carriage – Forrest, The Otways
Price per night: from $370
Sleeps: 6 (3 bedrooms)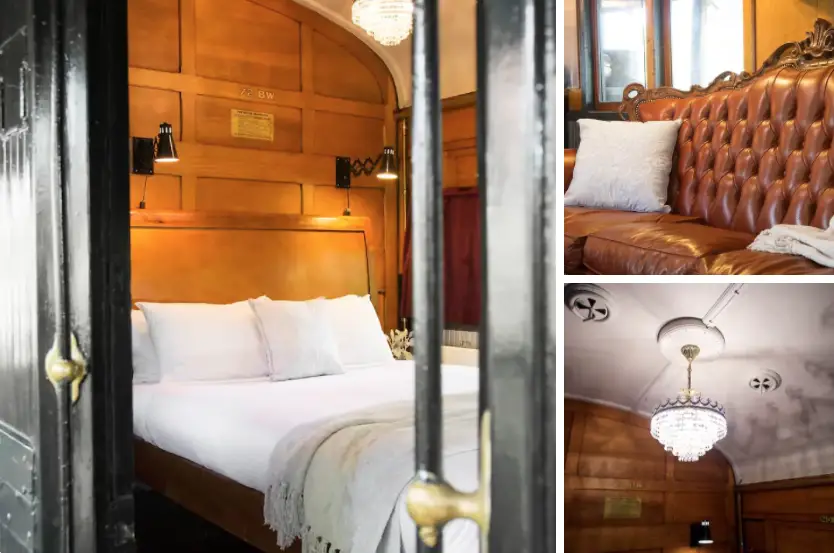 This classic steam train rental will take you back in time to a dazzling bygone era when riding on a train was the absolute height of luxury. 
The carriage is restored with so much attention given to the original features, such as wooden panelling, chandeliers, rich red carpeting and carriage numbering and signage. 
When you rent this unique steam train, you have a full spacious carriage yourself or you can share it with up to five other friends or family members. It's a pretty unusual and surreal accommodation option that would be a great idea for a special occasion. 
Inside you'll even fire a log burning stove, a spacious kitchen and bathroom amenities. 
What is there to do in the Otway National Park?
The Otways is one of my favourite regions in Victoria and there is an absolute abundance of things to do here.
Due to the temperate rainforest and the most amount of rainfall in Victoria, the Otways is an especially brilliant place to explore some incredible waterfalls. 
Here are some more ideas about what you can do in the Otways:
Drive along the Great Ocean Road

. As far as scenic roads go, the Great Ocean Road is one of the most iconic in Australia, if not the world. Make sure you get to drive down it either to or on the way back from the Otways to see what the fuss is all about!
Visit the Redwood Forest Walking underneath these giant towering Redwoods is a real humbling and peaceful experience. The mossy forest floor with ferns and a trickling creek is also utterly magical and a highly recommended place to walk around.
Fly High at Otway Treetop Adventures. Walk amongst the towering ancient trees and zip between branches at the area's most popular outdoor adventure centre.
See Victoria's oldest working lighthouse, Cape Otway and enjoy incredible coastal views.
Lighthouse Studio  – The Otways
Price per night: from $330
Sleeps: 2 (1 bedroom)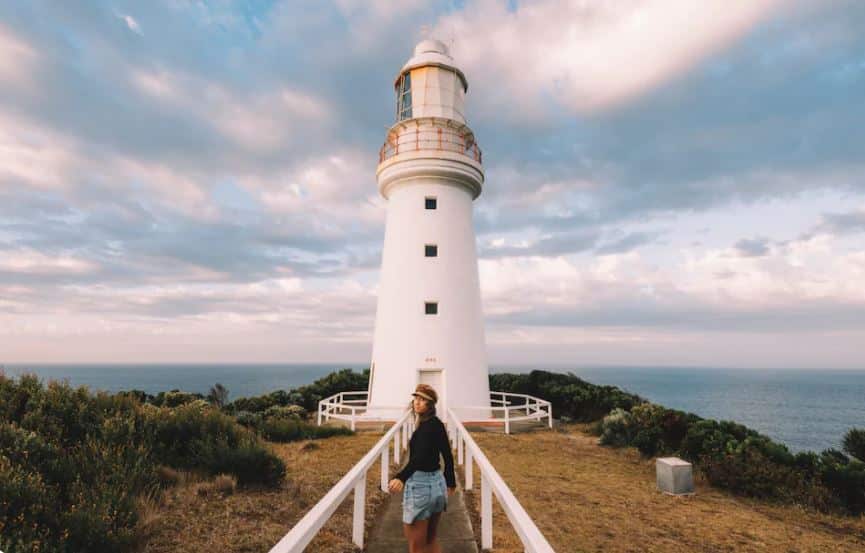 I adore the Otways, but I had no idea that you could actually stay the night next to the stunning Otways Lighthouse (with after hours access to the Heritage Precinct) – wow!
This once-in-a-lifetime opportunity to stay on the site of the the oldest lighthouse in Australia cannot be overlooked. You can't get much more of a memorable experience for a special occasion that this! 
The 5* rated, one bedroom and one bathroom light-flooded accommodation option will be the cherry on top of your visit to the Otways or Great Ocean Road.
The Church House – Fish Creek
Price per night: from $450
Sleeps: 2 (multiple rooms available)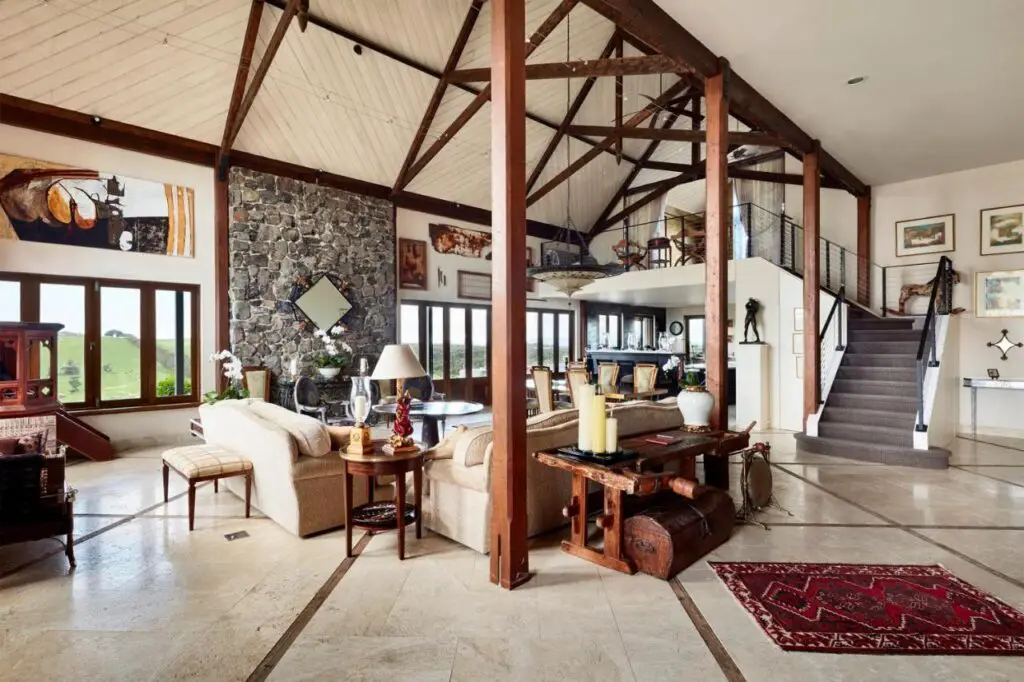 Set within 20 acres of gorgeous private property – which even includes a small vineyard and a hot tub – this old church really will get you shouting hallelujah!
Stunningly converted into accommodation, this light, airy and unique hotel still retains many of its original features from its time as a place of worship, such as a pulpit and arched windows. Lifted with bright white walls and muted with wood, the interior decor really adds an ethereal touch.
Unlike many properties on this list, this hotel has multiple private rooms but shared communal space. Therefore it's not private (unless you were to rent out the whole hotel!) but for a slice of this heaven, who cares.
The Church House is a fantastically memorable base from which to explore Wilson's Prom and the Tara Bulga National Park.
A 115 year old Tower – Rutherglem
Price per night: from $550
Sleeps: 2 (1 bedroom)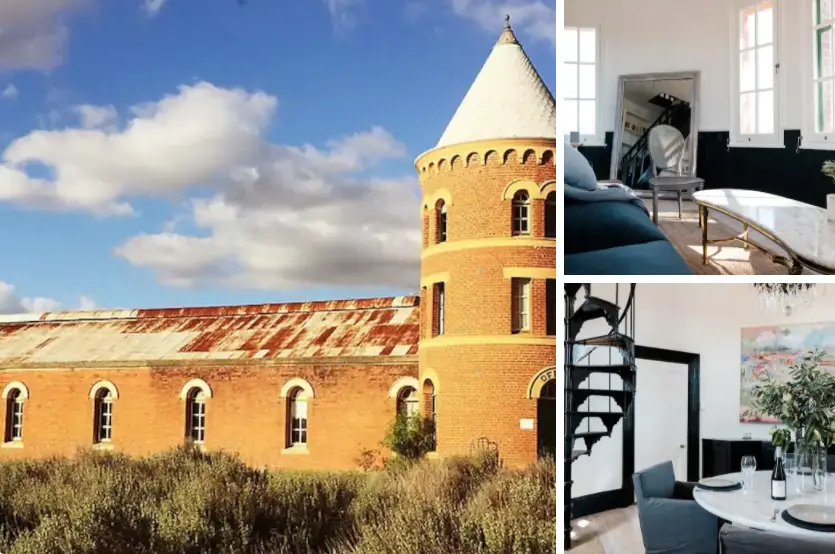 Completed in 1903, 'The Tower' at Mount Ophir Estate is a quirky architectural feat located on a winery in Rutherglen. At one time, this building was the largest state-of-the-art wine producing complex in the Southern Hemisphere!
This three storey building has absolute ample space for two guests and provides a fairytale base for your nearby vineyard frolicking!
The delicate black spiral staircase on the ground floor leading up to the sitting room and library, is a really attractive feature piece. The black, white and marble interior colour schemes lifted by crystal chandeliers and artwork gives this castle accommodation a truly elegant and sophisticated feel. 
Whoever stays in this wonderful castle is sure to feel like a true king or queen!
What is there to do in Rutherglen?
Rutherglen is near the northern border of Victoria/New South Wales. It's only a half an hour drive away from the rural town of Wangaratta where I lived for a few months working on a winery in 2019!
Here are some things you can do in Rutherglen:
Wineries, wineries and more wineries! Rutherglen is an incredible food and wine destination offering over 20 award-wining wineries with cellar doors wide open for tastings. You'll also find a range of boutique local produce shops such as olives, cheeses, gelato, handmade chocolates and more.
To make the day a little more activate, how bringing or hiring a bike and taking on the Rutherglen to Wahgunyah Rail Trail? Following the meandering of the Murray River, the trail shows you the highlights of the region (and of course passes many cellar doors).
Walk the Arts Rutherglen Sculpture Trail, a 6km (1.5 hour) trail of locally commissioned sculptures in the centre of Rutherglen and looping around King Lake.
Check out Rutherglen Gold Battery built in 1908 during the areas famous gold rush era. The primary purpose of this site was to crush quartz from local quartz reefs to extract gold.
Notel Airstreams – Melbourne CBD
Price per night: from $380
Sleeps: 2 (1 bedroom)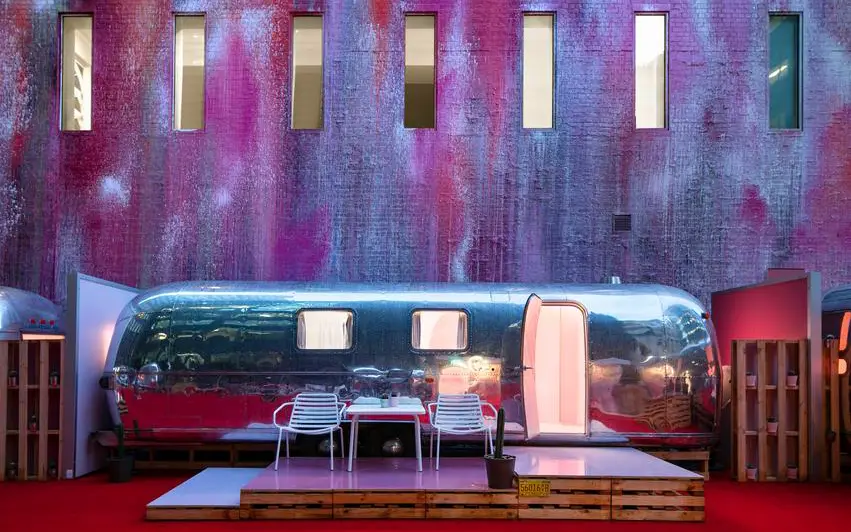 Melbourne is well-known for its rooftop bars, but who would have thought you could actually stay on a rooftop too?
Notel which is 'no hotel' (see what they did there?!) is a series of super cool looking airstream trailers which you access by going through a secret 'speak easy' entrance. It's clear that Notel is more than just accommodation – it's a unique experience. 
The urban trailers have their own deck to enjoy a beverage or two from the free mini bar. They're also fitted with a queen sized bed and a bathroom. Some airstreams even have a private hot tub so you can enjoy the sun setting over the city skyscape.
If you love the razzle-dazzle of a city, these unusual rentals will provide the an ideal base to explore central Melbourne.
What is there to do in Melbourne CBD?
Melbourne is one of the most exciting cities in Australia (and yes I may be a little biased because I live there but I still believe it!). It's brimming with fantastic art, great food, hipster culture, great shopping and more. Here are a few highlights of Melbourne: 
Melbourne's graffiti laneways such as Hosier Lane are some of the most famous in the world. You can walk around the area and see an ever-changing urban gallery before you.
The NGV (National Gallery of Victoria) is Australia's oldest and largest gallery space. It is truly incredible. The thought-provoking modern art, pop-up exhibitions and breath-taking classic art is world-class. I am always going to new exhibitions here – you really never get bored of the work on display.
If you're into designer brands there are loads of great shopping opportunities in Melbourne Central and DFO South Wharf. If like me, you'd rather shop vintage and second hand, check out Fitzroy and Brunswick for some of the best vintage shops and record stores in Melbourne.
Melbourne is a food lovers paradise. As a melting pot for cultures all over the world, Melbourne has a tantalising blend of cuisine. I love heading to China Town for dinner and of course you have to do brunch once you've checked out!
A Rustic Barn Conversion – Belmont, Geelong
Price per night: from $119 per night
Sleeps: 4 (2 bedroom)
If like me you love wood – the look, the feel even the smell, then this quirky wooden barn conversion, Tanglewood may well pique your interest.
Tanglewood is lofty and spacious rental with two bedrooms to accommodate two couples. The huge kitchen/dining and lounge area is ideal for cooking up a feast and entertaining. 
I adore the arched doorways contrasted with the harsh right angles. The arty feature pieces such as wooden mirrors and the incredible master bedroom window is a really unusual twist. It's clear that this accommodation was hand-crafted and as such, it really is one-of-a-kind.
At $92 per night divided between four people, this quirky accommodation in Victoria is great value too.
What is there to do in Geelong?
Geelong is about 1 hour southwest of Melbourne. Therefore if you live in the CBD, it makes a really easy weekend getaway that isn't too far from home. Geelong is located next to the sea in Port Phillip Bay so you can even catch a ferry from Melbourne or Portarlington.
Here are a few things you can see and do in Geelong for some inspiration during a stay at Tanglewood: 
The National Wool Museum may not strike you as the most interesting sounding museum at first, but the interactive and hands-on insight into wool production and manufacturing over the years here, brings it to life. There are often additional exhibitions too like wildlife photography and other such temporary shows which are worth a look.
Enjoy a pint and a behind-the-scenes tour at Little Creatures, one of Victoria's most popular breweries. There's even a soft play area for your very own little creatures.
As the most intact 19th century prison in Victoria, Geelong Goal is a fascinating visit. Left untouched since it closed in 1991, you can experience the brutal conditions the prisoners experienced. A bit morbid but utterly fascinating!
Enjoy a walk along the river to Buckley Falls, a small waterfall and rocky rapids with some great vantage points.
Cylindrical Yurt Tents – Moama/Echuca
Price per night: from $220
Sleeps: 2 (1 bedroom)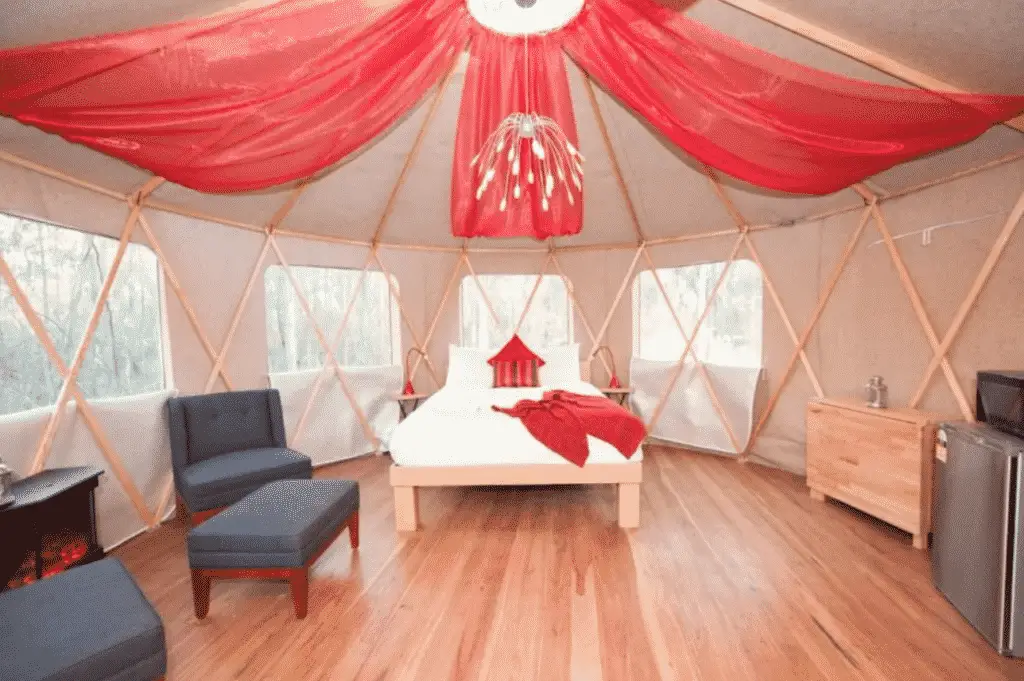 No need to take a trip to Mongolia to stay in a fabulous canvas yurt – these large circular tents with wool lining and windows bring (a much more comfortable) nomad way of life to the Australian Bush.
With their own facilities, an outdoor deck, free hot tub,  welcome hamper, bike and canoe hire, this retreat really is the height of glamping luxury to explore the Murray River and beyond.
With no one but the roos and the native flora and fauna surrounding you and only an 8 minute drive away from the town of Echuca, you really do get the best of both worlds. 
What is there to do in Echuca?
Take a cruise on an old fashioned river boat with Murray River Paddlesteamers.
Visit the Aussie Beer Shed, an eccentric private collection and tour of brewing, motoring and beer items! Despite how it sounds, it really is fun for the whole family!
Enjoy tasting at locals wineries such as St Anne's and Cape Horn Vineyard.
Jump on horseback for a tour of the local area to make you feel like a true cowboy (or girl)at Billabong Ranch.
A Tiny House – Yarra Ranges
Price per night: from $250
Sleeps: 2 (1 bedroom)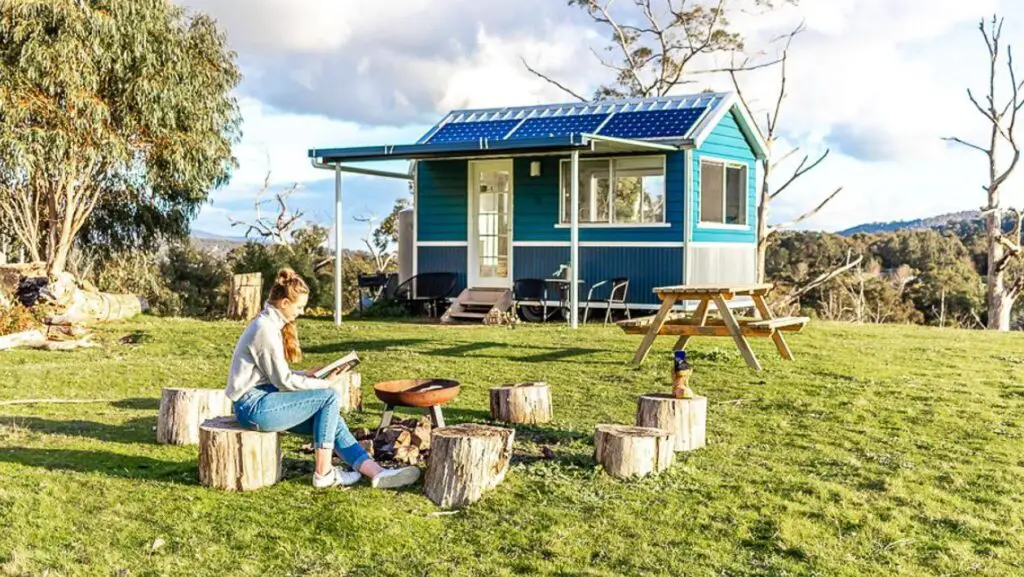 Tiny houses – you either love them or hate them. But what I especially love about this wooden cabin, is not only the beautiful setting of a lush grassy field surrounded by native trees, but the cute design too – both inside and out.
Off-grid but still complete with all the luxuries of a boutique hotel such as high quality linen, a hot shower, full kitchen, Bluetooth speaker and more, this property may well convert a tiny house cynic. What more could you possibly need!
With a triple aspect windows surrounding the bed, lazy mornings with a cup of coffee sound like the ideal way to enjoy this rather unique rental property in Victoria.
What is there to do in the Yarra Ranges?
Visit the wineries for an afternoon of tastings. As with much of Victoria, there are some fantastic wineries to explore. Some of my personal favourites are Coombe Farm, Dominique Portet and Giant Steps. If you like sparkling and don't mind paying for your tasting in a packed and fairly touristy winery, head to Chandon.
Visit the Healsville Sanctuary to see some cute koalas, kangaroos and all sorts of other cool animals.
The TarraWarra Museum of Art is an outdoor art exhibition and indoor gallery set at the TarraWarra winery. Once you have had a tasting you can head over to explore. The venue is currently is displaying the Archibald prize exhibition which if you like art, is pretty incredible.
St James Converted Church – Ballarat
Price per night: from $177
Sleeps: 5 (2 bedrooms)
With stunningly high ceilings, an abundance of light and a wonderful open plan living/dining area, this converted church accommodation from 1859 is a fantastic option for a family gathering or group trip.
With 2 acres of gardens and outdoor seating within a sun-trap courtyard (which you have exclusively to yourself), St James Church is an impressive rental for a peaceful getaway to Ballarat.
What is there to do in Ballarat?
For history and wonderful architecture, Ballarat is an easy 1.5 hour drive away making it a convenient getaway destination from Melbourne.

Here are some Ballarat highlights:
Visit Sovereign Hill the outdoor museum located at Golden Point, taking guests back to the booming heyday of the areas gold rush era.
Wander around the perfectly manicured botanical gardens or enjoy an event on the lawn which occur all year round.
Enjoy the grand architecture of Lydiard Street with its gold shops, grandiose banks and gold-themed shops.
Feel cultured by visiting the Art Gallery of Ballarat, the largest regional art museum in Victoria
Looking for more even More unique accommodation in Victoria?
Aquila Nova Retreat Castle – Dandenong Ranges
Price per night: from $132
Sleeps: 2 (1 bedroom)
Check availability here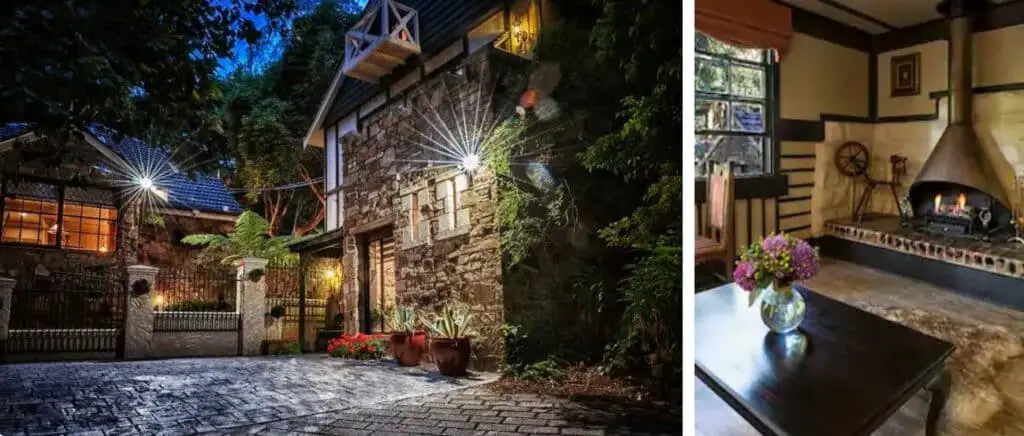 ---
Bohemian Beach Bungalow – Cape Woolamai
Price per night: from $132
Sleeps: 2 (1 bedroom)
Check availability here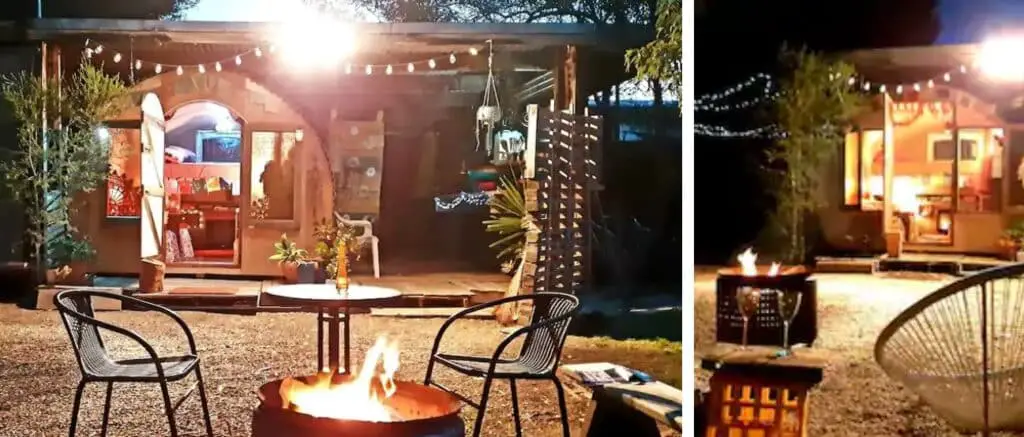 ---
As you can see, there is tonnes of unique and unusual accommodation in Victoria, Australia. Have you found somewhere you'd love to stay in for your next getaway?
If you'd like to have an explore at some more rentals in Victoria, you can click the button below. You may also like to check out my other post about glamping spots in Victoria, magical treehouses in Australia or unique rentals in Ballarat.