With more of us having to stay local with our travels this year, what better excuse is there to indulge in some luxury staycations right here in Victoria?
Luxury glamping in Victoria is something that has grown massively over the past few years. Glamping (camping but with more luxurious accommodation and facilities) is ideal for people who love the whole camping 'experience' and being outdoors, but prefer comfort and a good night's sleep!
There's no set up or fuss required for glamping and you have the benefit of all the familiar mod cons within, or next to, your cosy sleeping arrangements.
So whether you're thinking about a couple's getaway or plan on taking the whole family, here is a round up of some of the best glamping in Victoria, Australia. 
(Whilst you're here, don't forget to check out my other accommodation post about some unique & quirky rentals in Victoria!)
*This post may contain affiliate links meaning should you purchase a product via this link, I'll earn a small commission at no extra cost to you. See my privacy and disclosure policy for more.*
1. Mirador Springs Glamping
Price per night: from $262
Sleeps: 2 (1 bed)
Location: Trafalgar South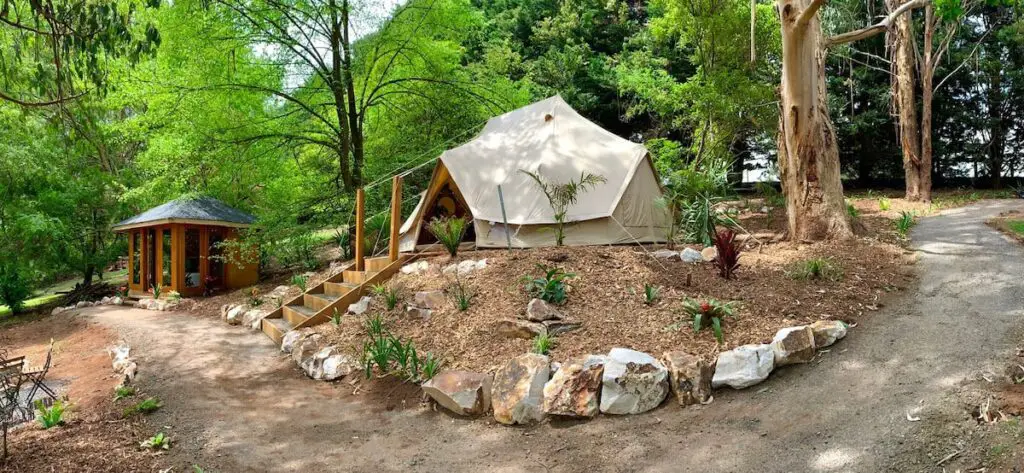 Set amongst stunning gardens once owned by a famous local artist, Mirador Springs offers your very own generously sized nature retreat.
You can access all areas of the property including the extensive gardens and paths, natural spring, orchards and even pay a visit to the resident donkeys, goats and sheep!
The tent is fitted with a queen bed, lounge chairs and even a coffee machine.
I adore the seperate 'bath house' complete with a freestanding bath with 180 degree views out over the tranquil vegetation of your private retreat.
– What is there to do in Trafalgar South?
Visit the quaint country town of Yarragon nestled in the foothills of the Strzelecki Ranges for their famous antique shops, craft shops and art galleries.
Follow the nearby Gourmet Deli Trail for a network of farms, vineyards and small local businesses selling fresh local produce and small goods.
Ride along the Grand Ridge Rail Trail between Mirboo North and Boolarra.
Drive the 132-kilometre Grand Ridge Road for sweeping views of the green countryside.
Enjoy a pint or a tasting flight from Grand Ridge Brewery who have won over 100 international award for their brewing creations.
2. Grapevine Glamping
Price per night: from $250
Sleeps: 2 (1 bed)
Location: Rutherglen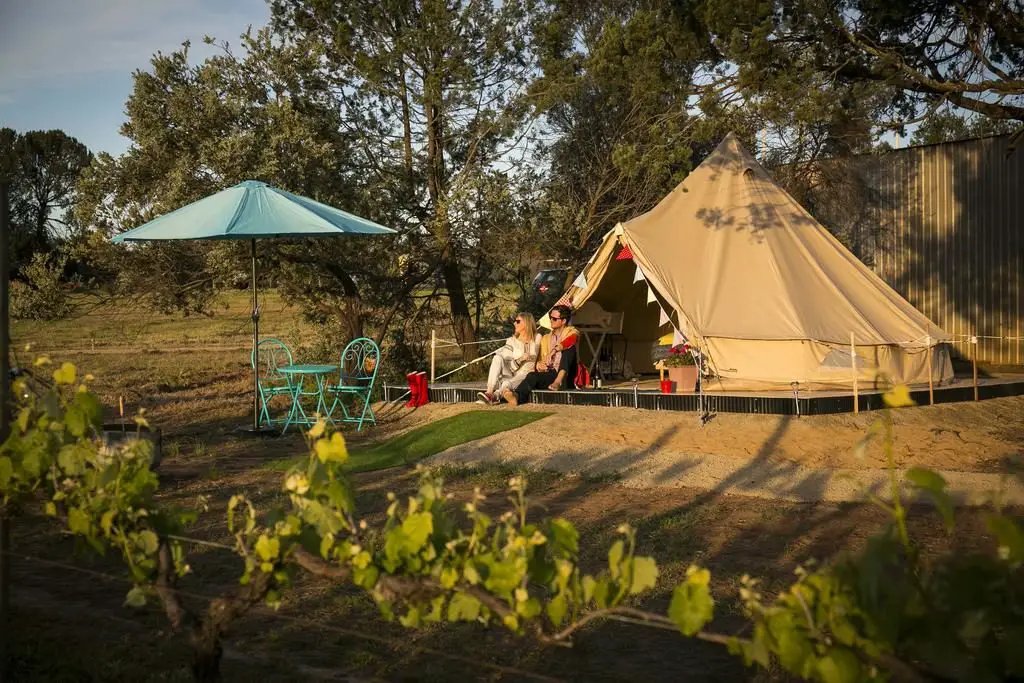 Wine and camping go together like… well, wine and more wine.
Then put wine, camping AND the setting of a vineyard together and you have Grapevine Glamping – the absolutely perfectly paired trio.
Grapevine Glamping is a luxury glamping site located in the rural setting of the Rutherglen Wine Region, 42km away from Wangaratta and 45km from Yarrawonga.
Sipping on wine as you lie next to the very vines where the grapes are grown allows you to utterly disconnect from the stresses of everyday life.
These super cute bell tent accommodations are thoughtfully equipped with a proper queen size bed, bedside tables, a BBQ and outdoor furniture. Beside each tent there is a unit fitted with air conditioning, a shared bathroom and kitchenette with the usual facilities such as a microwave, toaster and fridge. 
However, with an on-site restaurant specialising in Australian cuisine, this is true gourmet glamping where the last thing on your mind is cooking for yourself!
– What is there to do in Rutherglen?
If you feel like prizing yourself away from your glamping accommodation at Cofield Winery, there are loads of activities to do in the area: 
Visit some of the other 20+ cellar doors to sample the region's finest produce.
Hire a bike for the Murray to Mountains Rail Trail from Wahgunyah to Rutherglen.
Walk one of the many trails nearby the Murray River.
Explore the historic townships of Rutherglen with a history walking tour (or guide yourself).
Taste your way through the Corowa Whisky and Chocolate Factory.
See the Big Wine Bottle, Rutherglen's most prominent landmark.
Hike in the nearby Chiltern-Mt Pilot National Park.

See more about Grapevine Glamping

3. SkytentOZ
Price per night: from $120
Sleeps: 2 (1 bed)
Location: Raymond Island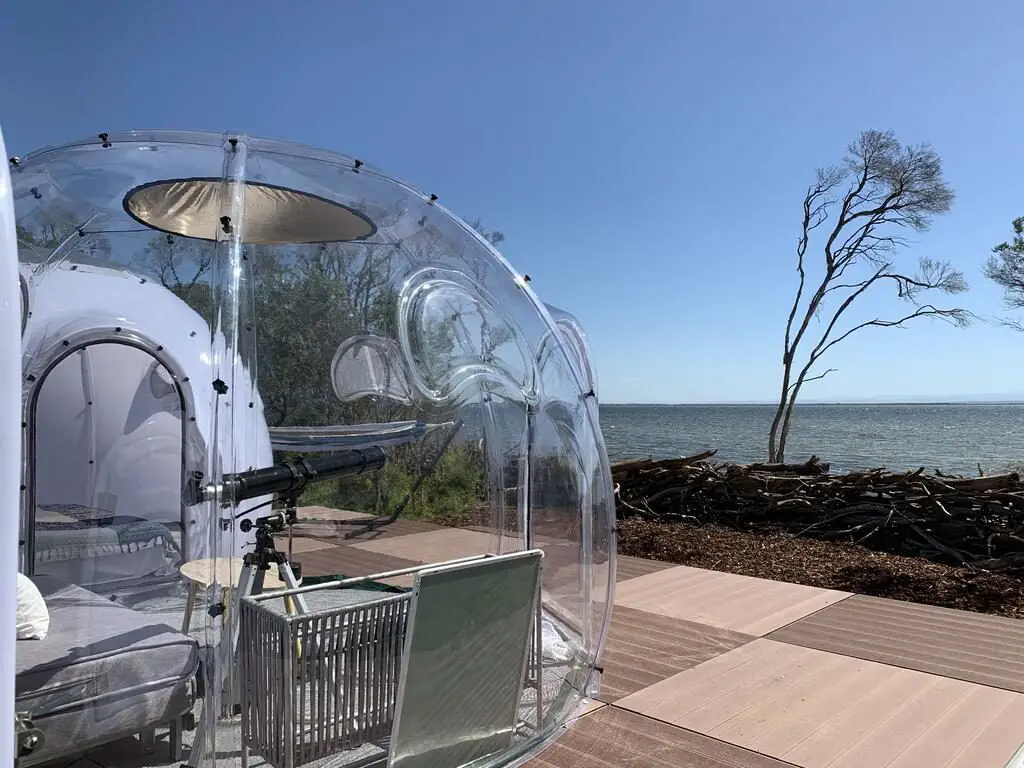 For something a little unique, how about a tent 'bubble'?
Get far away from the light pollution of the city to stargaze and nature watch from within these super cool-looking SkyTents.
Located on the remote Raymond Island near Lakes Entrance in Eastern Victoria, these glamping facilities really isolate you in the best possible way. No WiFi, close-up sea views and no neighbours to peek into your bubble (well, aside from the local wildlife) – bliss!
If you're looking for peaceful, luxury glamping in Victoria to remember  – this is certainly a memorable option.
– What is there to do on Raymond Island?
Although going to an island like this is the perfect getaway to do nothing at all, here are some ideas of other things you can do near Raymond Island:
Spot the cute locals on the Koala Trail.
Hire or bring your bike to explore the island.
Learn about the island's unique history as an early fishing station.
Enjoy fishing (just make sure you have a license).
Explore the Lakes National Park.
Join a Gippsland Lake sightseeing charter boat service.
4. Goldfield Glamping 
Price per night: from $150
Sleeps: 2 (1 bed)
Location: Clydesdale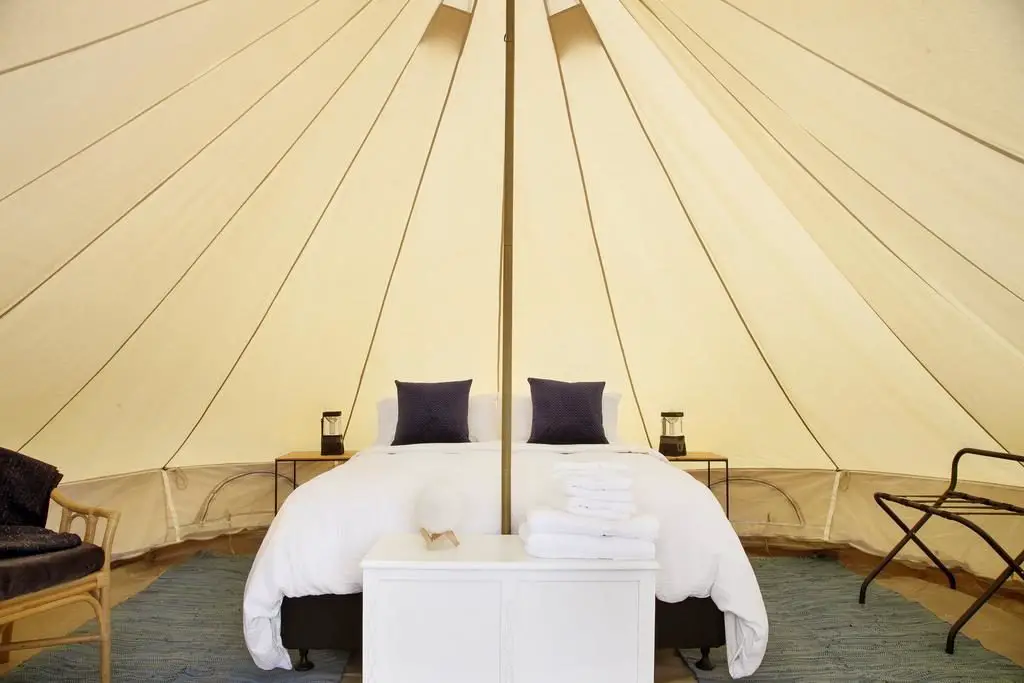 Nestled in the heart of the gold-mining region within a tranquil, rural setting, you'll quite literally be striking gold with this 'boutique bush glamping' experience. 
Unlike most other glamping options on this list, what I like about Goldfield Glamping's teepees is that they come with their own private bathroom complete with toiletries, just metres away from the tent. It just adds that extra bit of privacy and convenience.
If you want to get social and meet your fellow glampers, there's a communal firepit to drink wine, toast marshmallows and make some new friends. 
There's also a BBQ, so make sure you stock up on some great local produce to cook up for dinner.
Looking for more accommodation options nearby? Check out my other post on the best and most unique rentals in Ballarat!
– What is there to do in Clydesdale?
Clydesdale itself is fairly remote, but it's an ideal base to stay to explore the nearby towns of Daylesford, Castlemaine and Hepburn Springs. Here is what you can do in Clydesdale and the surrounds:
Ride a restored heritage train at the Daylesford Spa Country Railway for a step back in time.
Enjoy bush walking at the Rise and Shine Bushland Reserve.
Relax at the Hepburn Bathhouse and Spa, a popular activity since 1895.
Explore the wonderful Buda Historic Home and Garden.
Visit Anderson's Mill for an insight into the areas' industrial past.

See more about Goldfield Glamping

5. Phillip Island Glamping
Price per night: from $150
Sleeps: 2 – 4 (1 bedroom)
Location: Phillip Island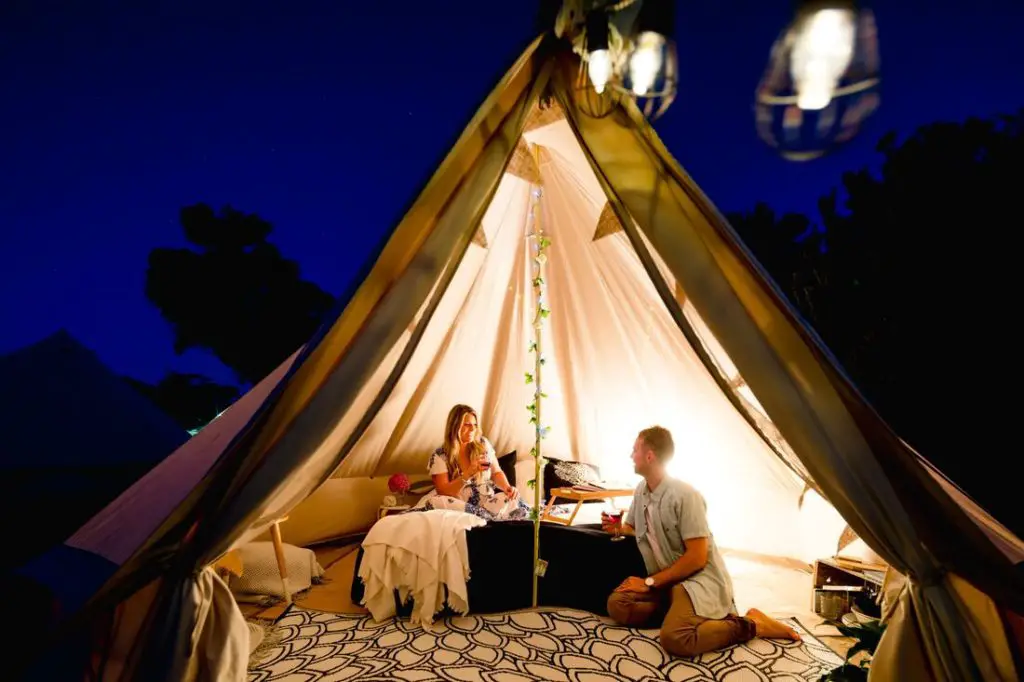 So turns out penguins aren't the only reason to go to Phillip Island – you can camp in comfort under the stars, at any location on the island you wish!
Just tell this company where you would like to go and they'll set up (and deconstruct) everything for you. All you need to do is pack your bags! 
I love this flexible concept and the detailing within these bell tents are simply adorable.

See more about Phillip Island Glamping

6. Eco-friendly 'Safari' Glamping
Price per night: from $363
Sleeps: 4 (1 bedroom)
Location: Phillip Island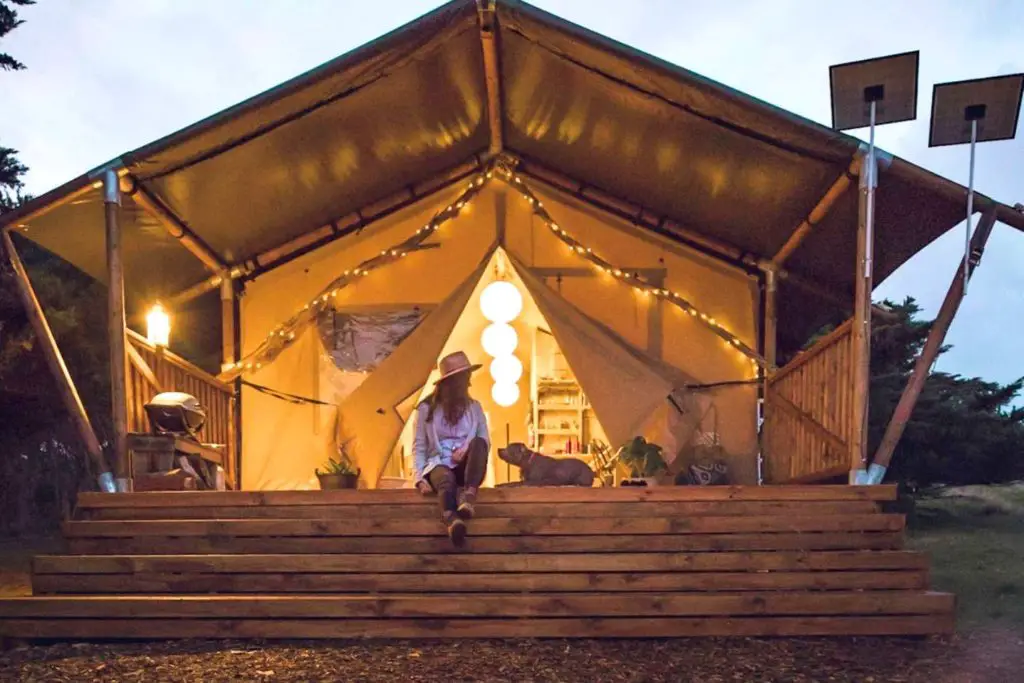 Another, more luxurious glamping option on Phillip Island is this utterly divine extravaganza that is so far from a tent, it will be suitable for even the most extreme camping hater!
Not only is there a private hot tub just outside, but also a four poster bed, wood burner, kitchen, bathroom, and lounge area INSIDE the tent. Safe to say it is pretty huge and would make the most romantic weekend getaway or a staycation with the kids.
It's basically a whole house with a twist set in the pristine and secluded surrounds of Phillip Island. I'm in!!
– What is there to do on Phillip Island?
Watch the 'Penguin Parade' as the cute locals go out for their nightly feed.
Visit Nobbies Centre at Point Grant for education displays, fantastic boardwalks and admiring Australia's largest seal colony.
Enjoy sweet treats at Phillip Island Chocolate Factory.
Enjoy a huge range of coastal, beach and lookout walks.
Visit the Koala Conservation Reserve.
Enjoy the island's wineries.

See more about the Emperor Glamping Tent

7. Balgownie Estate Winery Retreat
Price per night: from $78
Sleeps: 2 (1 bed)
Location: Bendigo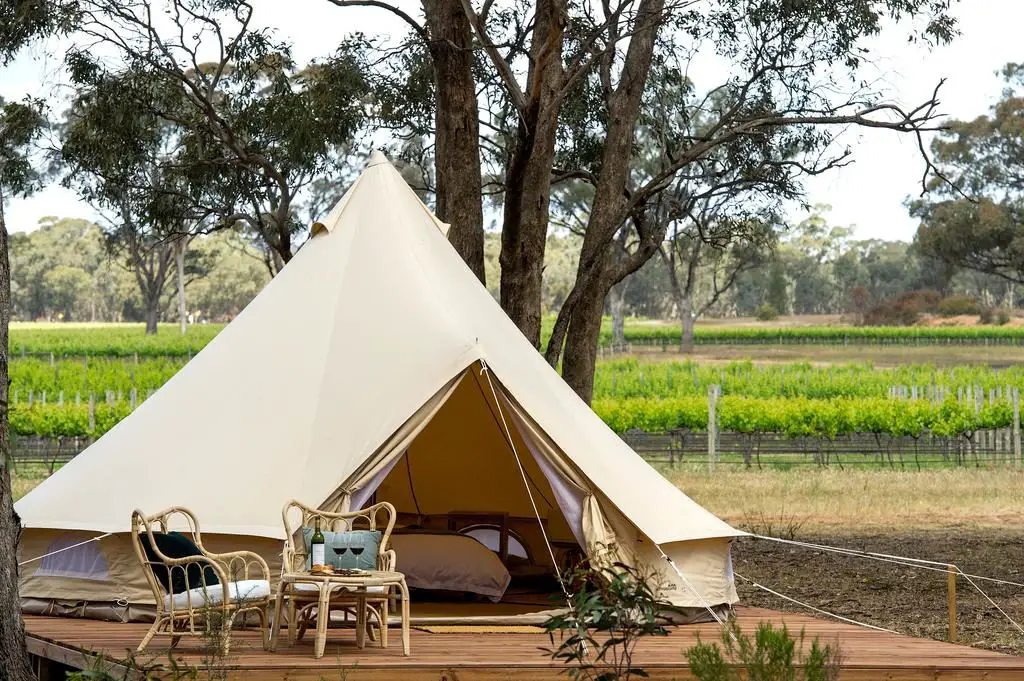 For a winery setting AND local gold mining heritage, Balgownie winery retreat just 10 minutes from the town of Bendigo, is another incredible location to enjoy a true culinary treat. Balgownie is Bendigo's oldest winery with a historic cellar door and a fantastic on-site restaurant. 
With open-plan safari tents or classic bell tents to choose from, there are great value off-the-grid retreat options here for everyone.
There is everything you would expect for a true glamping experience at Balgownie Estate, such as an outdoor deck area with seating, a comfortable proper bed, and an inside sofa seating area.
– What is there to do in Bendigo?
To clear the head after a few too many glasses of delicious wine, there are plenty of nearby attractions to visit:
See international exhibits at the Bendigo Art Gallery.
Ride on a vintage tram.
Be struck with gold fever with an underground tour of the Central Deborah Gold Mine.
Visit the Golden Dragon Museum to understand local Chinese history.
Enjoy walks around Lake Weeroona and Rosalind Park.
Here's my guide on how to spend 48 hours in Bendigo!

See more about Balgownie Winery Retreat
9. Castlemaine Garden Glamping
Price per night: from $150
Sleeps: 2 (1 bed)
Location: Castlemaine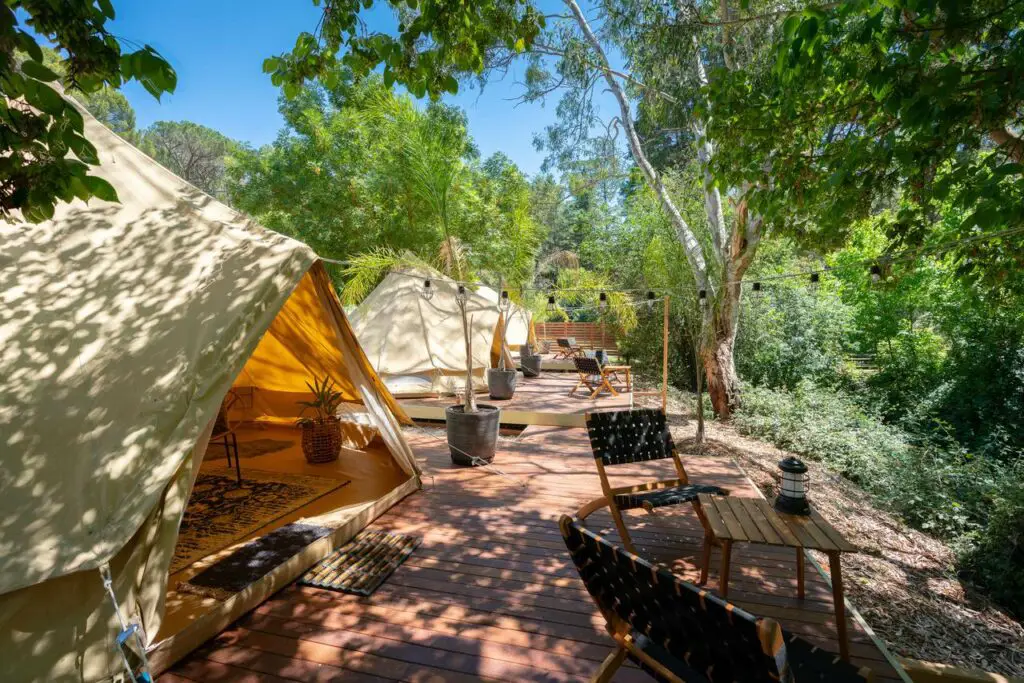 49 km from Maryborough and 38km from Bendigo, these plush glamping tents in Castlemaine are set in luxury gardens on a large elevated terrace shaded by greenery. 
This is ideal option for someone after a more social glamping experience. Although tents are private, you share the deck and lounge with your fellow glamping neighbours. It's also perfect for a large group if you rented all the tents out together!

See more about Castlemaine Garden Glamping

8. Eco-Friendly Mongolian Yurt
Price per night: from $220
Sleeps: 2 (1 bed)
Location: Oxley (near Wangaratta)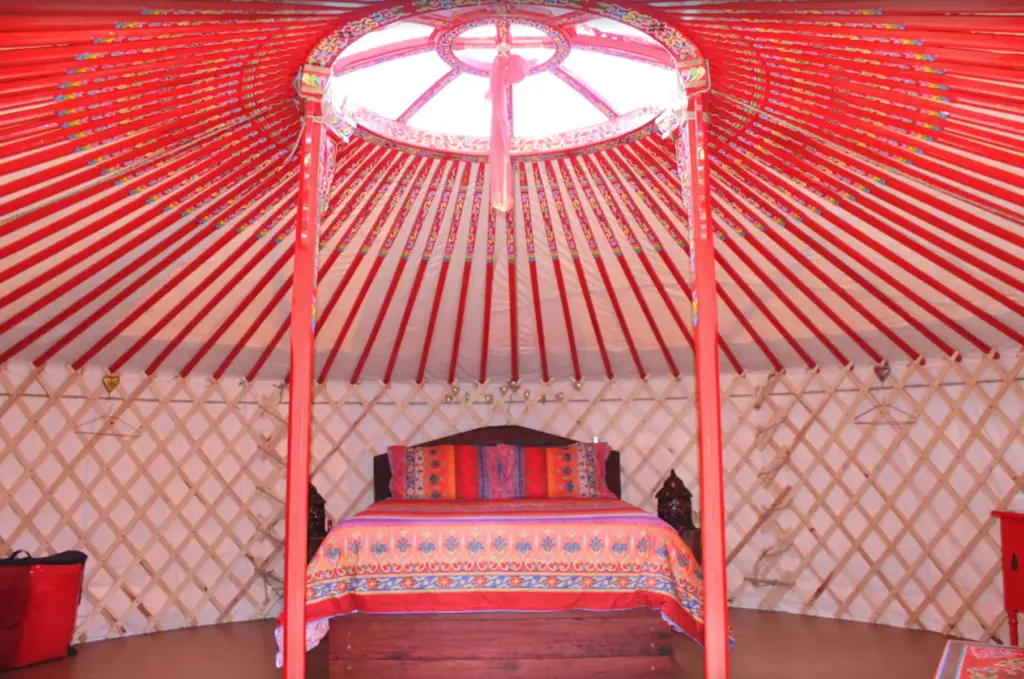 This gorgeous hand crafted Mongolian tent is by far the quirkiest on this list – and that's just from the outside! Inside, the bright and bold Mongolian-inspired furnishings are a boho-lovers dream. 
Above the bed is an attractive circular sky window flooding the room with an abundance of light. Just outside the yurt you have your own private deck with seating area and a Redwood Gum ensuite.
Set in the wonderfully quiet town of Oxley in the gourmet region of the King Valley, you have an abundance of brilliant High Country wineries and artisan producers to visit during your stay.
– What is there to do Near Oxley?
I did my second year Working Holiday Visa farm work at a winery near Oxley and lived in Wangaratta, so it is an area I know very well. Here are the best things to do in Oxley and the surrounds:
Enjoy a day out at the wineries – don't miss Brown Brothers, Sam Miranda and the King River Estate.
Indulge in great artisan produce including Milawa Mustards, The Milawa Cheese Shop, the Olive Shop and more!
Swim in the watering hole in Eldorado or visit the smallest pub in Victoria – McEvoy Tavern!
Hire or bring your bikes for the fantastic Murray to Mountains Rail Trail.

See more about the Eco-friendly Mongolian Yurt

9. Garden Beds Glamping
Price per night: from $265 
Sleeps: 2 (1 bed)
Location: Blackwood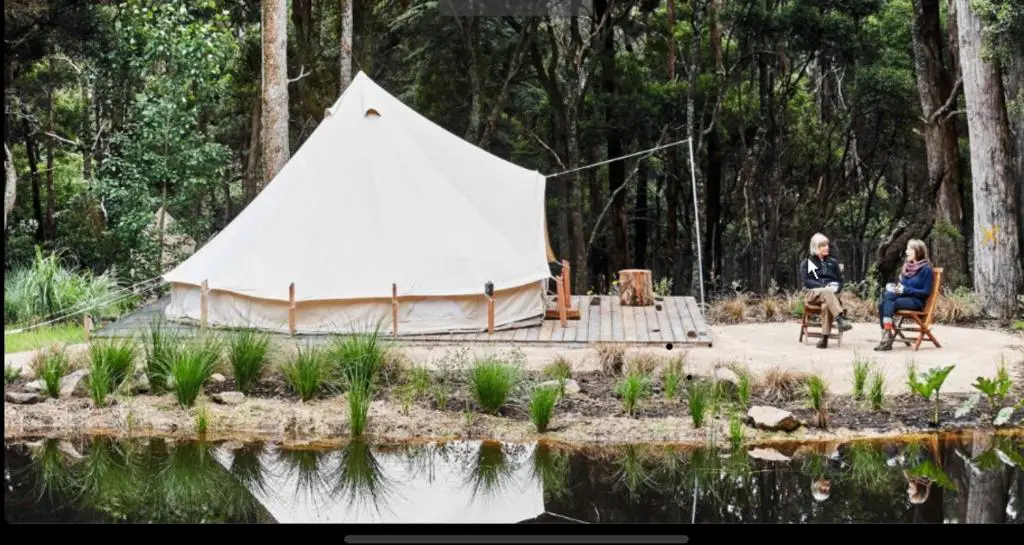 If you're sick of the city and want to be submerged in the Great Aussie Bush, these very well equipped glamping tents provide a tranquil retreat. You even get access to the surrounding award-winning Garden of St Erth before and after public opening hours.
Each of the pretty 5-metre wide bell tents are carpeted, private and decked out with all the mod-cons a city-dweller could want such as dishwashers, WiFi and a BBQ! This is ideal for a romantic weekend or a girls getaway for anyone who loves to be surrounded by nature.
– What is there to do in Blackwood?
Exclusive before or after hours access to the Garden of St Erth.
Enjoy heirloom produce at the on site garden cafe, For to Fork.
Wander around cool climate bush gardens in the Wombat State Forest.
Marvel at one of Victoria's longest single drop waterfalls, Trentham Falls.
Stock up on delicious treats at the Red Beard Historic Bakery.

See more about Garden Beds Glamping

---
I hope you feel inspired to stay at one of these fantastic glamping spots in Victoria and to show your support for local businesses throughout the state!
Best glamping in Victoria!
PIN ME FOR LATER:
*This post may contain affiliate links meaning should you purchase a product via this link, I'll earn a small commission at no extra cost to you. See my privacy and disclosure policy for more.*