Ballarat is one of my favourite day trips from Melbourne whenever I want a fascinating trip into the past with a healthy dose of beautiful architecture and nature. However if you can spare a little longer, I would absolutely recommend you to make at least a weekend of it to allow you to fully explore all that this charming ex-gold mining town offers. 
If you're wondering where to stay during your trip and are looking for unique accomodation in Ballarat that is a little unusual and special, take a look at this list of the very best unique rentals both in the town and surrounding serene countryside. 
Whether it's for a special occasion, a romantic weekend, a trip with the whole family or a solo getaway, I'm confident you'll find somewhere out of the ordinary to sleep from this hand-picked selection of Ballarat homes.
If you're looking for even more fun accommodation inspiration, make sure you check out my other posts about the best unusual accommodation options and glamping spots across Victoria.
*This post may contain affiliate links meaning should you purchase a product via this link, I'll earn a small commission at no extra cost to you. These are still products or experiences I use or believe in regardless. See my privacy and disclosure policy for more.*
Bishops Palace
Location: Lake Wendouree
Price per night: from $280
Sleeps: 1-12 (6 individual rooms sleeping 2 or whole property available)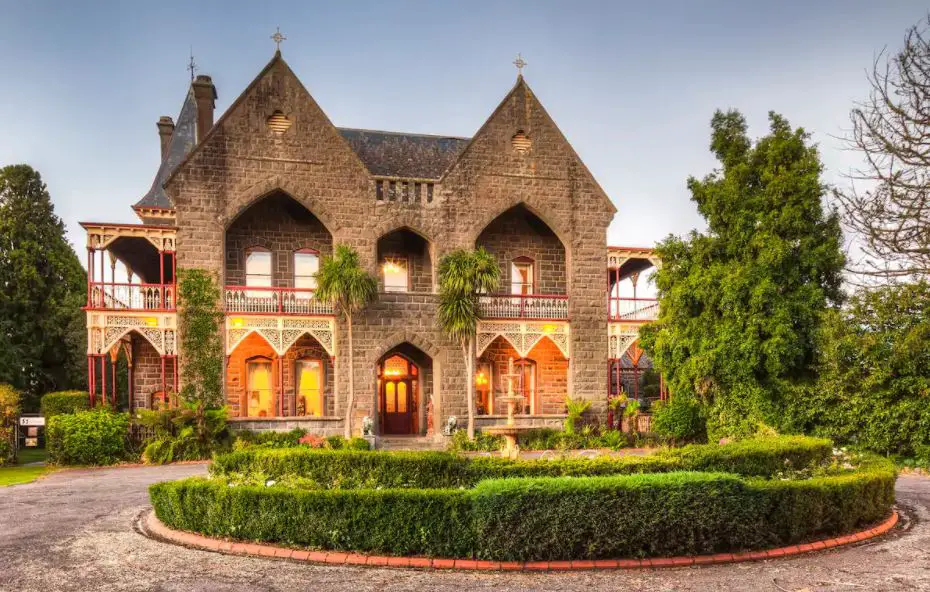 If you're looking for an exceptionally grand and VIP accommodation option, look no further than a room in this stunning gothic mansion, one of the most imposing buildings in the whole of Ballarat. All six rooms at Bishops Palace can also be booked out for an event or special occasion (sleeping up to 12).
A one minute walk from Lake Wendouree, this stunning privately owned property set within 4 acres of heritage listed gardens, is a luxuriously tranquil getaway.
Inside, guests have access to a  library/billiard room, dining room, parlour, spa pavilion, kitchen and laundry.
The sleeping quarters within the mansion are as glamorous as you would expect from the exterior, complete with either King or Queen sized beds and decadent provincial French-inspired furnishings. And just look at those incredibly high ceilings and glorious windows!
Waking up in one of these rooms is guaranteed to make guests feel like a true king or queen!
The Railway Carriage
Location: Buninyong
Price per night: from $60
Sleeps: 2 (1 bedroom)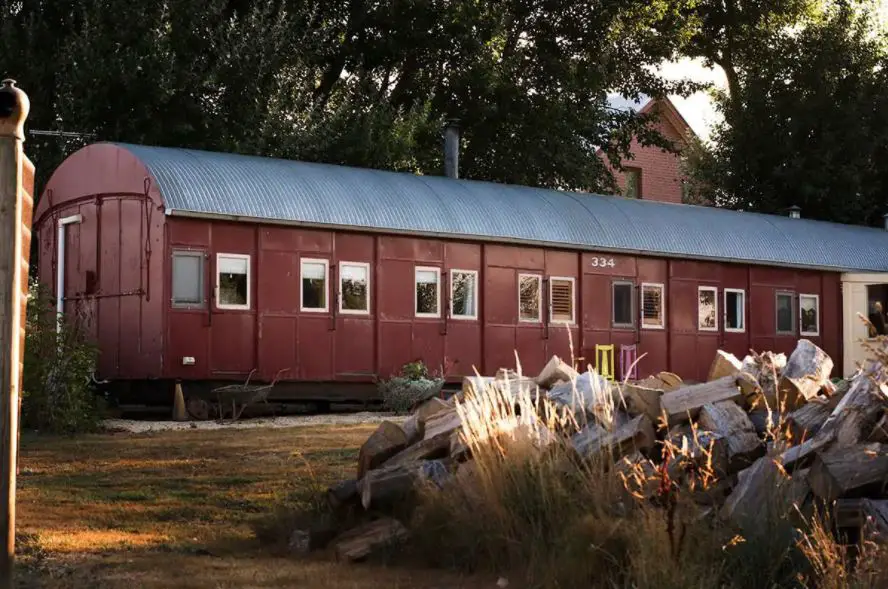 Only 15 minutes away from the centre of Ballarat is this truly unique accommodation option – a stunningly opulent railway carriage! 
Located within peaceful farm land, this unusual rental with a fantastic blend of mod cons and original features is sure to wow guests who stay here.
With 1920s furnishings and finishings you may well think you're on the set of a Hercule Poirot film! For train buffs or just anyone who likes something a bit fun and quirky, this train carriage is the perfect special occasion treat.
St James Converted Church
Location: Nerrina
Price per night: from $379
Sleeps: 4 (2 bedrooms and 2 bathrooms)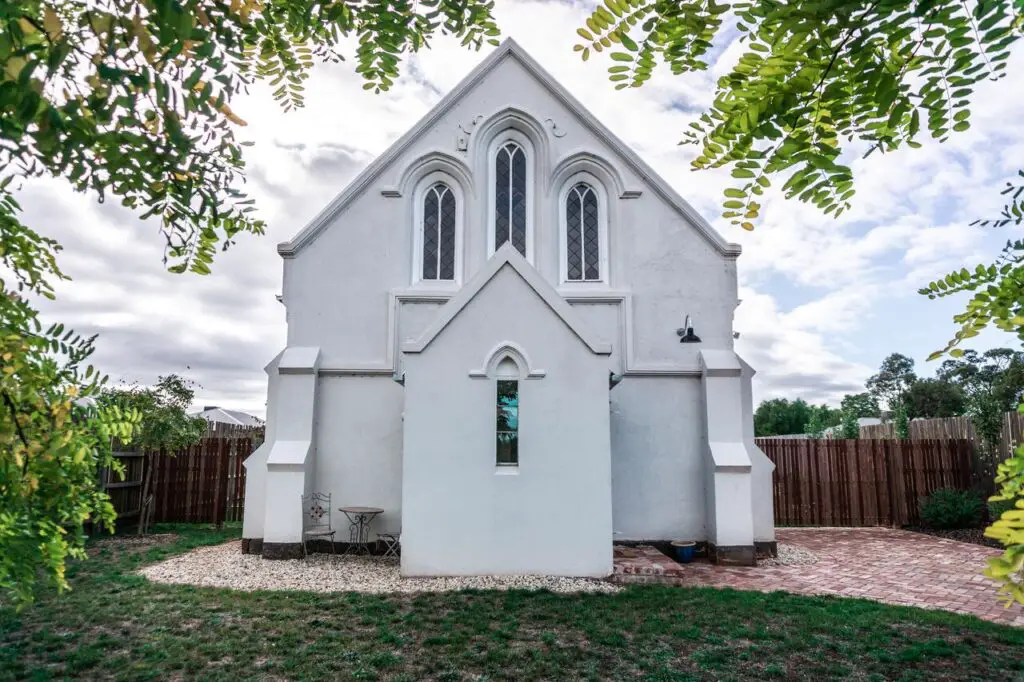 With stunningly high ceilings and an abundance of ambient lighting, this converted church accommodation from 1859 has all the ethereal atmosphere you would expect from an old religious building. 
The fresh white interior and beautiful arched windows in this spacious property are an absolute treat.
With 2 acres of gardens and outdoor seating within a sun-trap courtyard which you have exclusively to yourself, St James Church is a unique but comfortable rental for a peaceful getaway to Ballarat.
The Californian
Location: Dana Street
Price per night: from $370
Sleeps: 8 (3 bedrooms)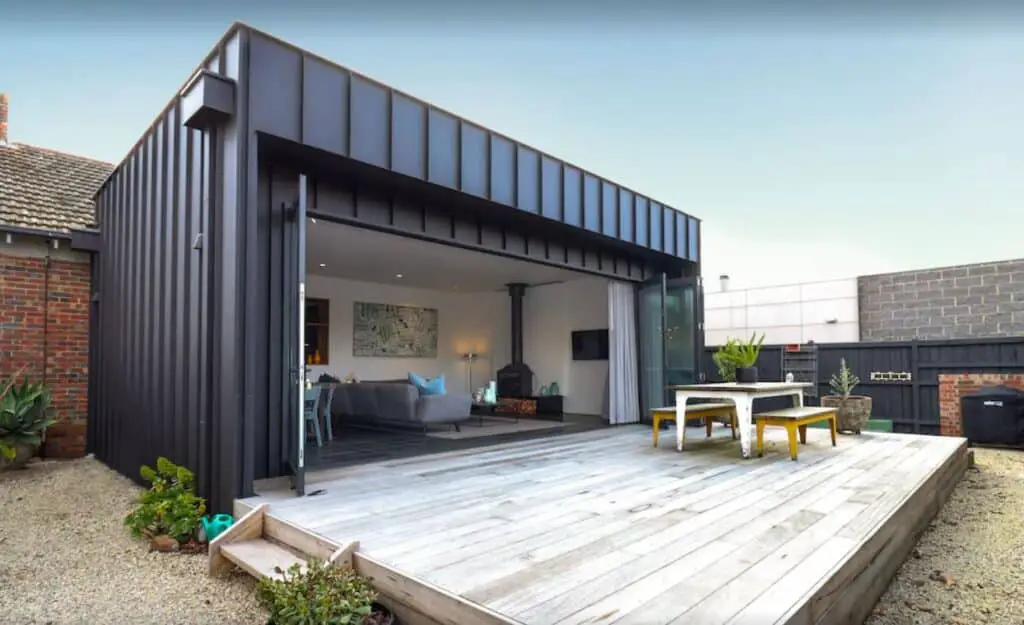 The open plan kitchen is ideal for hosting or just preparing meals for the whole family to enjoy around the 8 seating dining table or outside bench in the warmer months.
Centrally located only a few minutes walk from Ballarat's CBD, this is an ideal rental for a family or a group (plus small pets are welcome!).
Kryal Castle 
Location: Leigh Creek
Price per night: from $92
Sleeps: 1-4 per room, depending on type
If you're staying with kids or just want something totally fun and quirky, the Medieval adventure park and resort of Kryal Castle should be your top unique accommodation pick in Ballarat!
By staying at the castle, guests will gain access to the fortress to explore after hours. During weekends and public and school holidays, kids can take part in the various activities at The Kryal Castle Adventure Park such as Jester's Theatre shows, the Dragon's Labyrinth, jousting shows, events at the Torture Dungeon & Museum and more!
Inside the accommodation, Medieval-style arched doorways lead through to bright and cleanly designed modern rooms finished with hand-woven French and Belgium tapestry interior decoration. The rooms have all the staple hotel mod-cons essential for a comfortable stay but the room is made unique by the quirky architecture inspired by the Middle Ages.
Stonehenge Retreat
Location: Ballarat North
Price per night: from $142
Sleeps: 8 (3 private bedrooms and one sofa bed)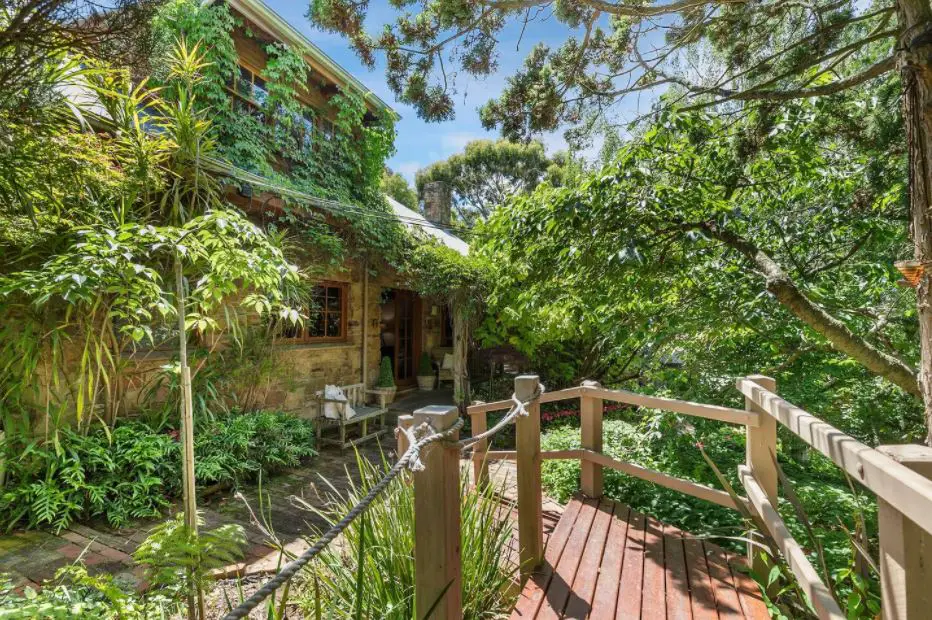 Nestled amongst a tree-lined garden you will find the gorgeous rustic retreat of Stonehenge. With 3 bedrooms sleeping up to 8 guests, this self-contained property is ideal for a small group or special occasion. 
Beautiful interior wood and a loft-style master bedroom with a fantastic A frame roof almost makes this property feel like a luxury treehouse.
The Rocks Tiny House
Location: Creswick
Price per night: from $99
Sleeps: up to 4 (1 bedroom)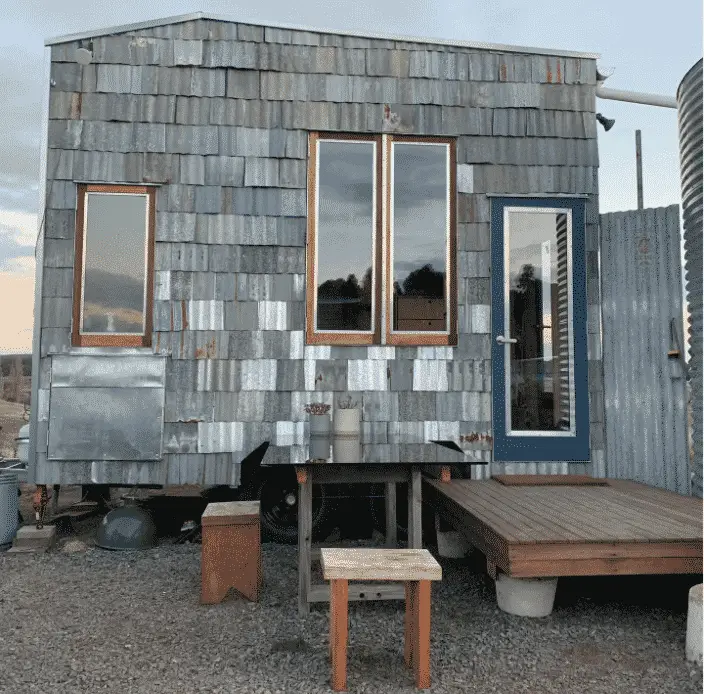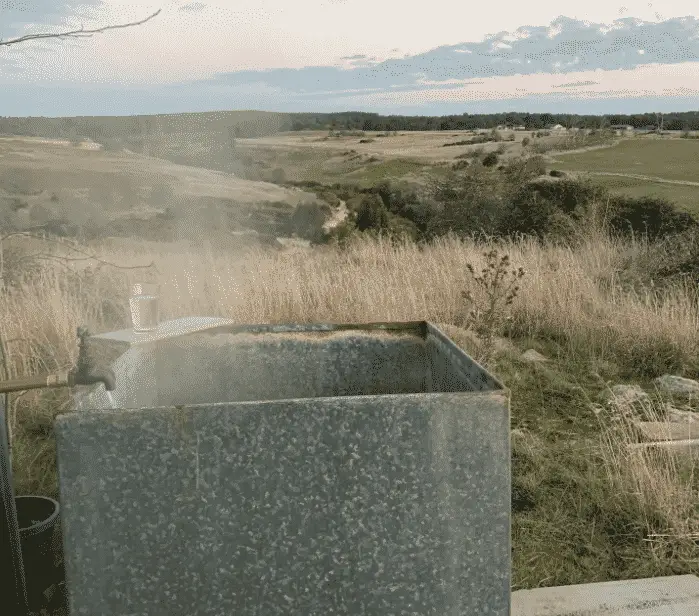 Set in the serene surrounds of stunning wild fields near the small town Creswick, (a 20 minute drive from Ballarat), is this rather unique accommodation in Ballarat – an off-grid stone and metal tiny house.
The metal-clad building is an ideal wallet-friendly unusual accommodation getaway near Ballarat. For adventurous guests, there's even a private outdoor shower and bath to enjoy the fresh air and nature's elements!
Inside, unlike most tiny houses, this property sleeps up to four people: there's 1 queen bed with skylight stargazing views, 1 single bed and a 3/4 single bed. Ideal for a couple and a small child or two.
Lascelles Bespoke
Location: Ballarat CBD
Price per night: from $350
Sleeps: up to 12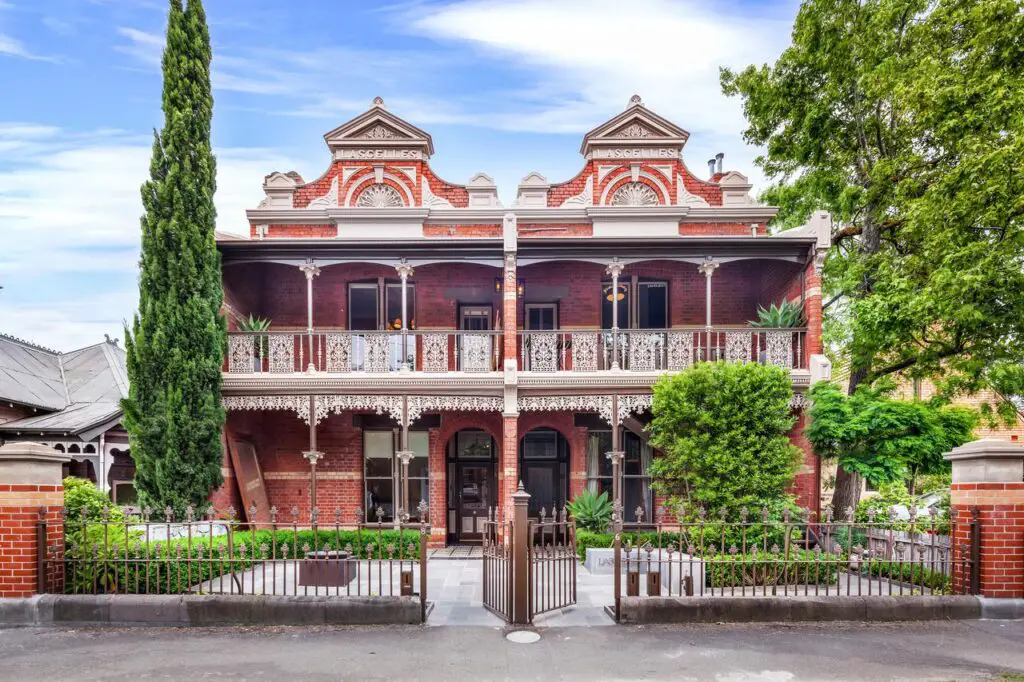 This stunning property is flexible for your guest numbers whether it's a large group of up to 12 people, or a small group of 4. How? Well, the 2 storey townhouse can be either rented upstairs (with 6 bedrooms) or just the ground floor for a maximum of 4 people.
Lascelles is luxury bespoke accommodation blending history with total opulent comfort – and all within walking distance to Ballarat's amenities.
Luxury Warehouse Conversion
Location: Ballarat East
Price per night: from $500
Sleeps: 11 (3 bedrooms, 6 beds)
For inner city chic, look no further than this beautifully converted warehouse with sleek interior design accentuating some of the original features (like that gorgeous brick!).
Split across multiple levels, this old biscuit factory is ideal for a large group, with plenty of space for people to mingle around the house together, or own their own on the outdoor deck, living areas and dining room. 
In the evening, you can pull out  the projector and have a cosy movie night with your guests.
Madam Saddler Shop Cottage
Location: Clunes
Price per night: from $260
Sleeps: 4 (3 bedrooms)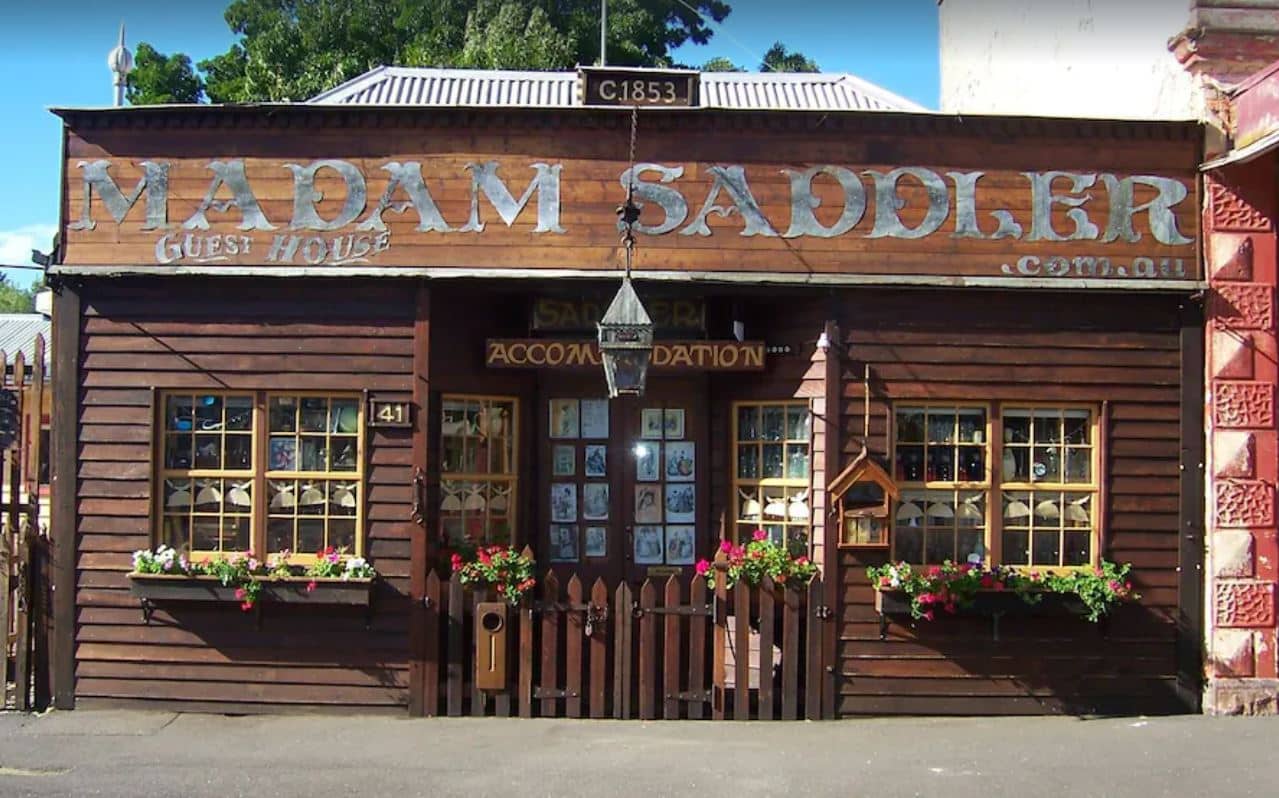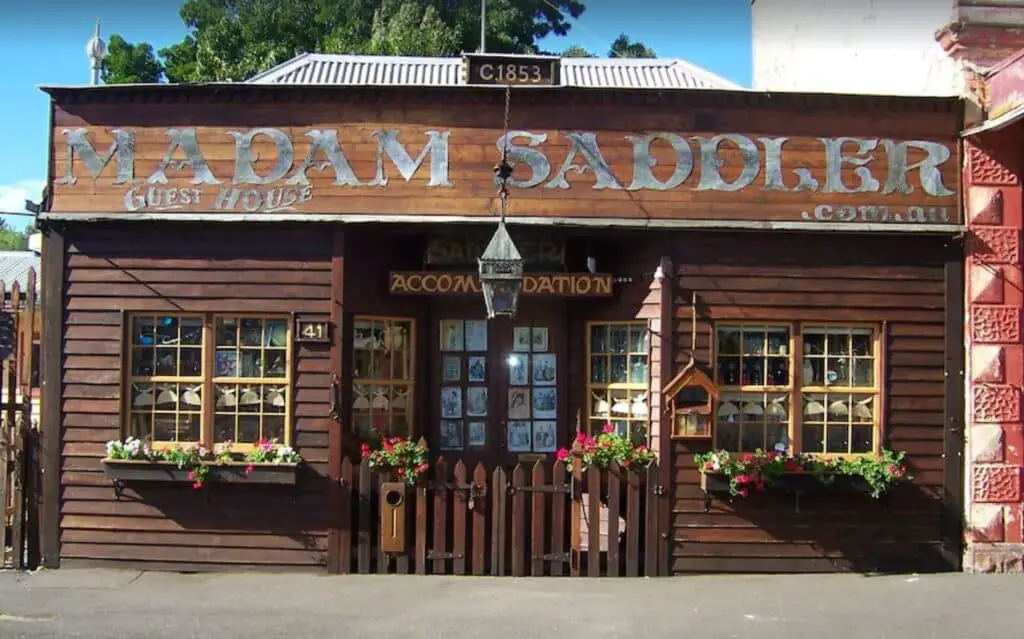 Ballarat oozes history of a bygone era to when thousands fled to the area in search of gold, and consequently enjoyed the economic boom that came with their success.
For an insight into what life was like back in the 1800s, check out this tastefully restored shop front cottage, Madame Saddler.
This property still retains much of its original quirky old world charm such as an incredible open plan all-wood kitchen and antique furniture. If you're looking for something that combines history and quirkiness – this is it!
Rustic Log Cabin on Private Lake
Location: Gordon
Price per night: from $240
Sleeps: 9 (2 bedrooms)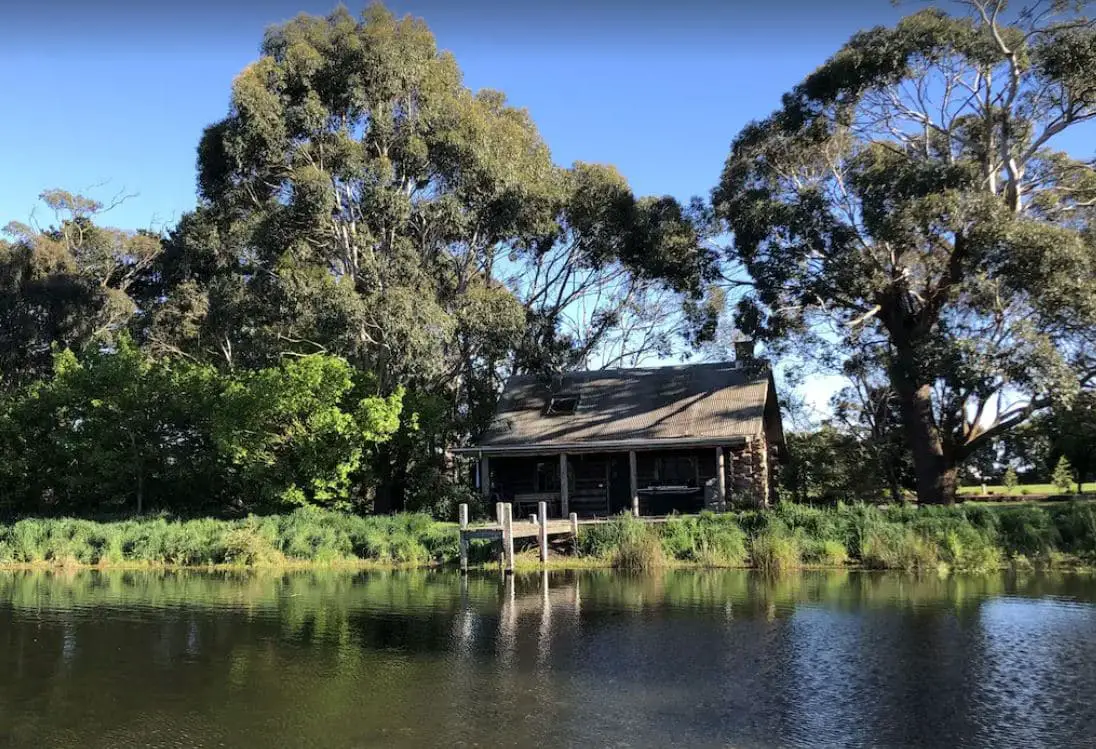 This cosy log cabin set on a private lake is an absolutely picture-perfect rental only a 15 minute drive away from Ballarat's CBD, but seemingly a million miles away from civilisation. For those who want to get back to nature, this wooden cabin will provide just that but with comforts such as air conditioning and a log fire.
Sitting outside with a glass of wine to watch the sun set, whether rugged up in winter or in the warmth of summer will be an absolute treat beside this cabin.
---
There is a huge range of unique accommodation in Ballarat, from the very modern to historic jewels that show off the glittering, rich past of this ex-gold mining town. Have you found somewhere you'd love to stay? Let me know by leaving a comment below!
Heading to Australia soon? Don't forget these essentials!
Flights: compare and search using Skyscanner
Accommodation: hotels to hostels, glamping to apartments I always use Booking.com
Tours: to search and compare the best group tours and activities worldwide (with up to 20% off), use Viator
Visa: don't forget to check the entry requirements for Australia on the government website for the passport you are travelling with
Inspiration: Lonely Planet's guide to Australia or for your next trip, how about Lonely Planet's Guide to the World?
PIN ME FOR LATER:
*This post may contain affiliate links meaning should you purchase a product via this link, I'll earn a small commission at no extra cost to you. These are still products I use or believe in regardless. See my privacy and disclosure policy for more.*