When you're living and/or travelling in a confined unit on wheels, optimising every bit of available space is not just a nice to have – it's a necessity.
So much thought needs to go into designing the layout of a campervan (which I have especially discovered since buying my tiny Ford Econovan to convert!). Every little thing needs to be multi-use or a thoughtful addition to the space. And when it comes to buying things for your van, they need to ensure you stay completely organised both when stationary and on the move!
If there's one thing you need to do before you kit out a campervan, it's to do lots of research. Researching different layouts and discovering various tips and tricks about how you can save and utilize minimal space is the best way to ensure you design something perfectly suited to you with no regrets or frustrations. 
And of course van life is always an ongoing project! The more you use a camper van and realise how you personally use it, the more you will make little adaptations to suit your needs. 
To give you some inspiration, I have spoken to some regular van dwellers to show me real-life examples of the space saving techniques they use in their own camper vans. From kitchen to bathroom, dining to sleeping, we share some useful ideas and tips for all aspects of van life.
I hope you find these space saving and organisational van life hacks interesting and useful!
*This post may contain affiliate links meaning should you purchase a product via this link, I'll earn a small commission at no extra cost to you. See my privacy and disclosure policy for more.*
Sleeping & Bedroom Space Saving Ideas:
– Convertible bed/seating layout
Contributed by Geena from Beyond the Bucket List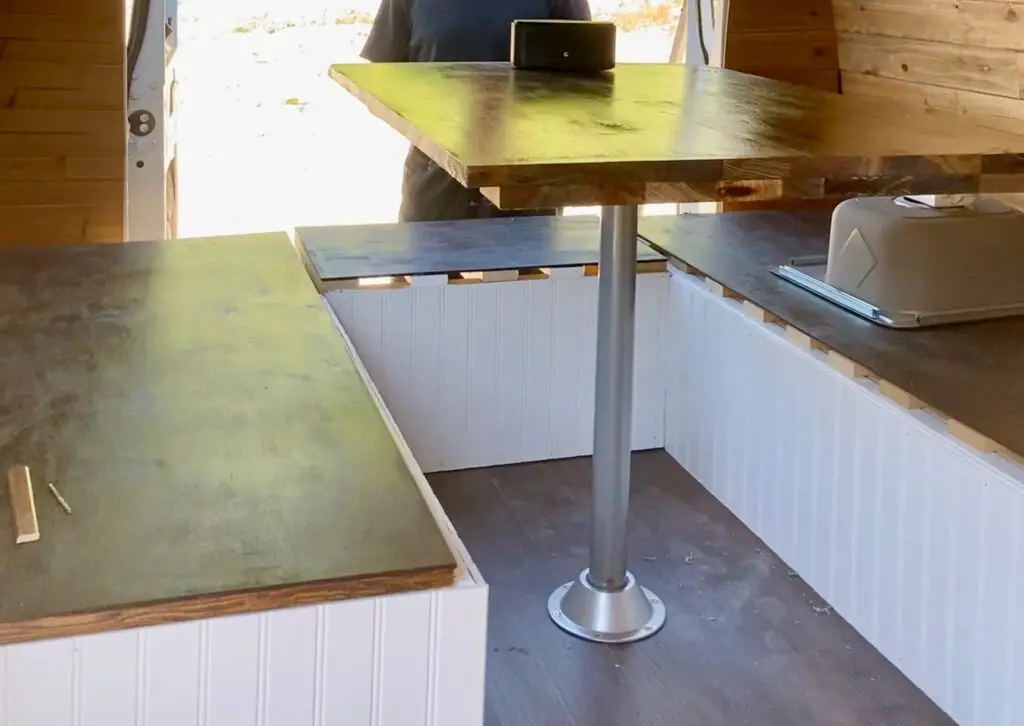 This summer I converted a run-down 1994 Dodge conversion van into a cozy log cabin-esque home that I've been traveling in full-time. Space was a huge issue when planning my conversion because my van has significantly less room than the more popular (and more expensive) Sprinter models.
My favorite space-saving hack I came up with was my DIY bed/table unit. My bed is in the rear of the van and is made out of 3 U-shaped benches and a large square table that can pop-up when I want to convert my van into "day-mode". 
The table collapses and fits into the open space between the benches creating a flat bed surface. For cushions & a mattress, I purchased a 6-inch memory foam mattress & cut it into five cushions (3 for benches, 2 to cover the table while in bed mode).
It's so important to make versatile furniture when planning your van layout and this hack was a cheap way to have both a bed & a table and benches for daytime without wasting any space.  
– Pop-up rooftop tent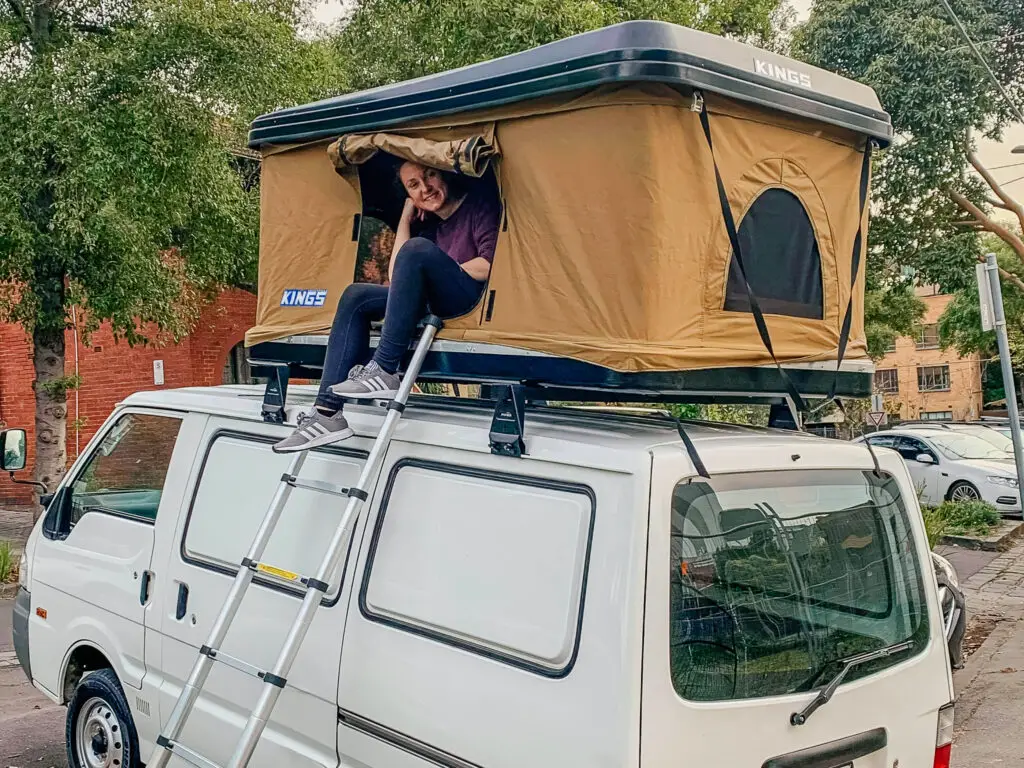 If you're in a tiny vehicle like me, beds take up a lot of space that you just can't afford. In my case, 3/4 of the floorspace would have been taken up by a permanent bed.
An alternative solution which is worth looking into (though which may not be right for everyone), is sleeping on the roof!
This hard top pop-up tent by Adventure Kings is amazing. It literally unstraps, you push one side up and the gas struts lift it up automatically. You then do the same to the other side and put the fold up ladder to the side and voila! A bed in mere minutes.
To pack away you push one side down and loosely strap it, then do the same on the other side. You can even close this pop-up tent with all your bedding in it too. 
A rooftop bed is an extremely quick and useful space saving technique I would highly recommend (so long as you're in good physical shape and aren't a nighttime bathroom visitor)!
– Raised bed & garage space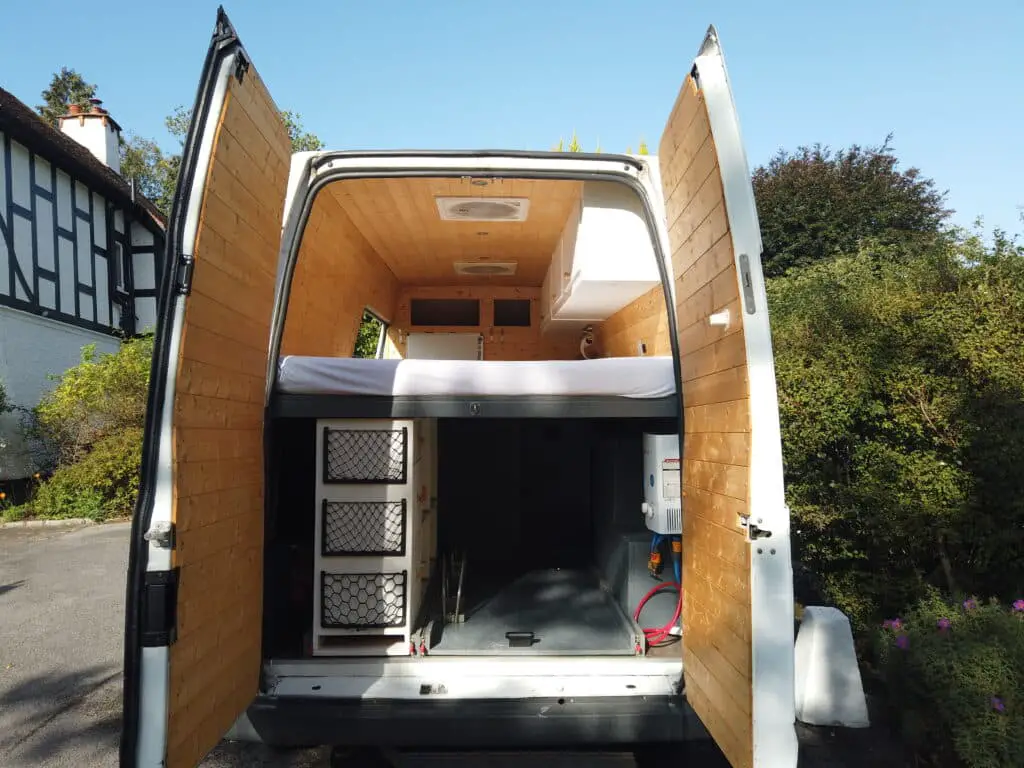 Arguably, every build decision in a campervan has its pros and cons, but having a raised bed is definitely a great way to maximise space.
Some prefer a fold out bed to save space in the interior, whilst a raise bed on the other hand allows you to have a fixed bed that doesn't have to be taken apart and put together each night and morning. Additionally the underside of the bed can be accessed, usually from the back of the van depending on placement, for a garage.
The storage space underneath can be used to store van electronics, bikes, sports equipment, luggage, additional clothes, and anything else you could think of.
Storage boxes can be used or the garage can further be subdivided with shelves or pullout systems, meaning that tidiness can be maintained. The possibilities are dependent on what you want and need to store and live with in your campervan.
Kitchen & Dining Space Saving Ideas:
– Collapsible kitchenware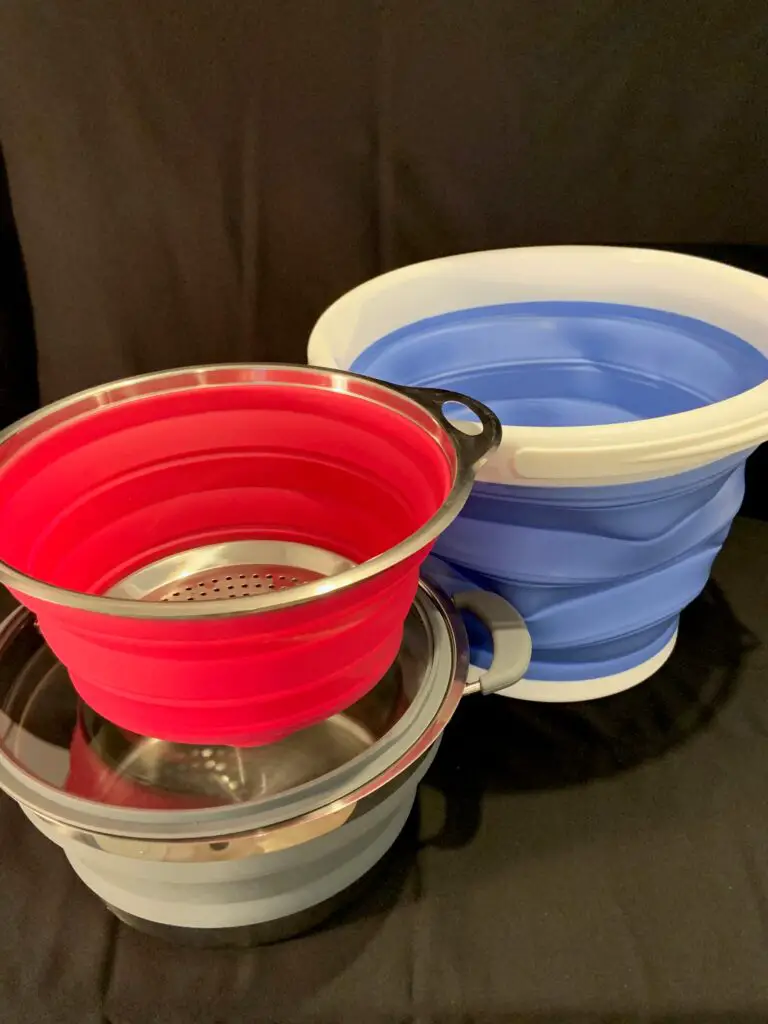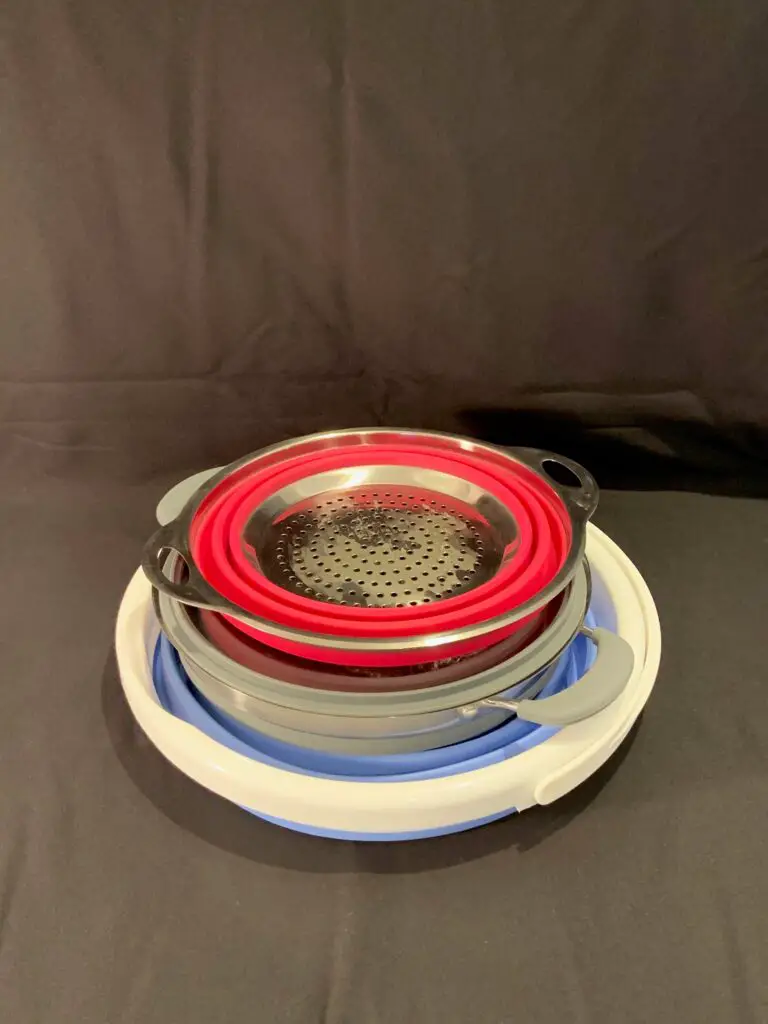 When you own a camper van you quickly realise that any available storage space in your van is an absolute premium and needs to be used as sensibly as possible. 
A great way to save space, especially in the kitchen, is to use collapsible camping gear like buckets, saucepans, cups & bowls, storage containers and even a collapsible kettle.
Collapsible camping products have a section at the top and bottom that is made of a solid material, for example plastic or stainless steel and then a section in the middle that is made of silicone. The middle section acts like a concertina which opens out to use and then collapses back down again for storage.
Prices for these products will vary considerably depending on whether you buy the originals at a camping store or purchase cheaper knockoffs at the reject shops. Whichever option you choose, you'll find that you can fit so much more in your van by purchasing a few items that collapse down to save space.
– Hanging utensils & utilising wall space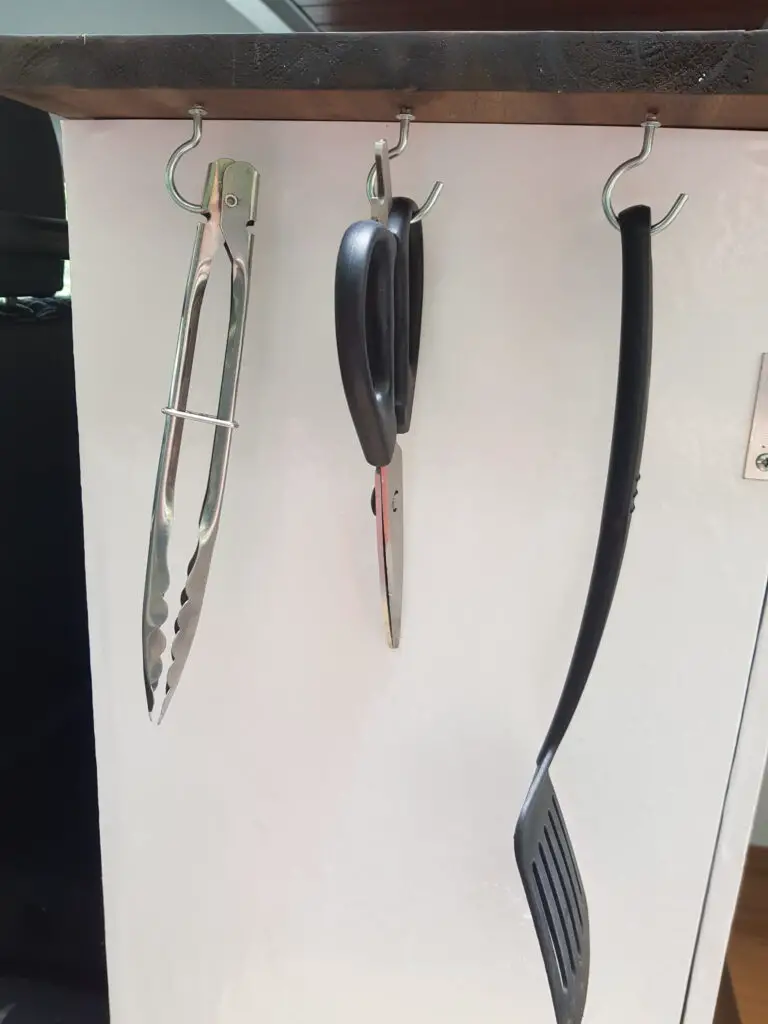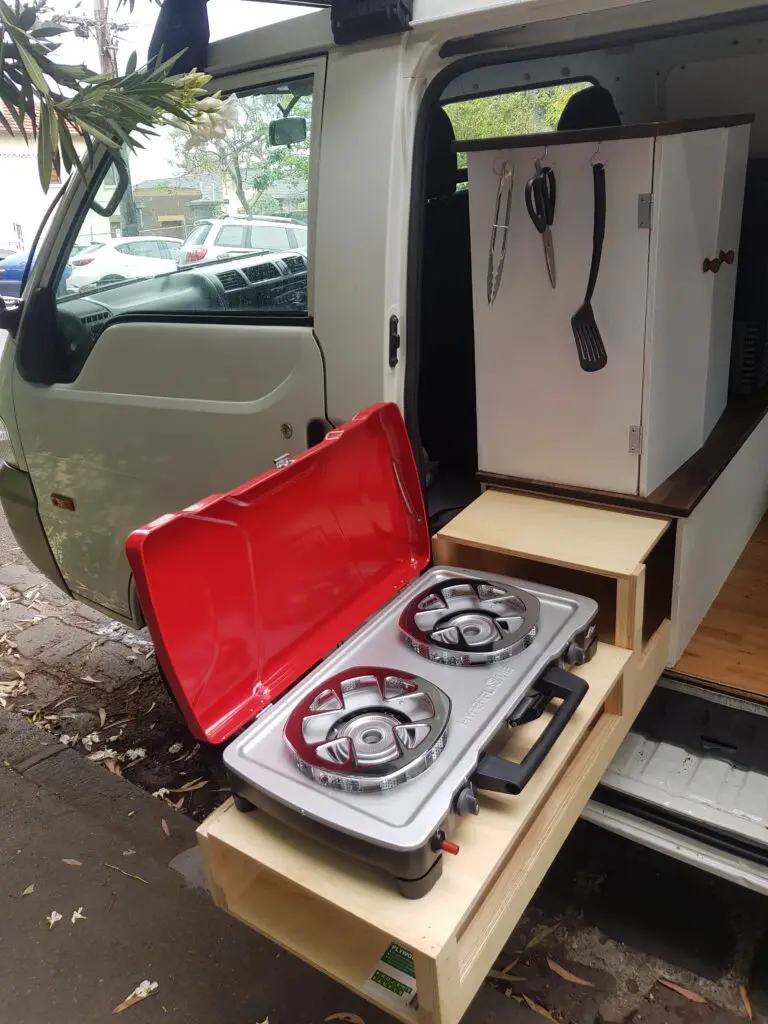 Cooking good meals on the road is always something I love to do and so having a great kitchen set up is important to me.
Above my pull out stove (which has pantry space underneath and to the side) I have some simple hooks where I can hang some basic frequently used utensils so I don't have to go routing around draws or cupboards. Utilising vertical spaces is such a great space saving hack that I would recommend using throughout your van and not just for kitchen items.
Whether it's knives on a strong magnet strip, a washbag, fruit hanging in a net bag, a spice rack mounted to the wall or hanging basic utensils like me, attaching hooks or sticking/screwing things to the wall is such a cheap way to prevent taking up unnecessary storage space and makes items easily accessible.
Living & Storage Space Saving Ideas:
– Multi-use storage units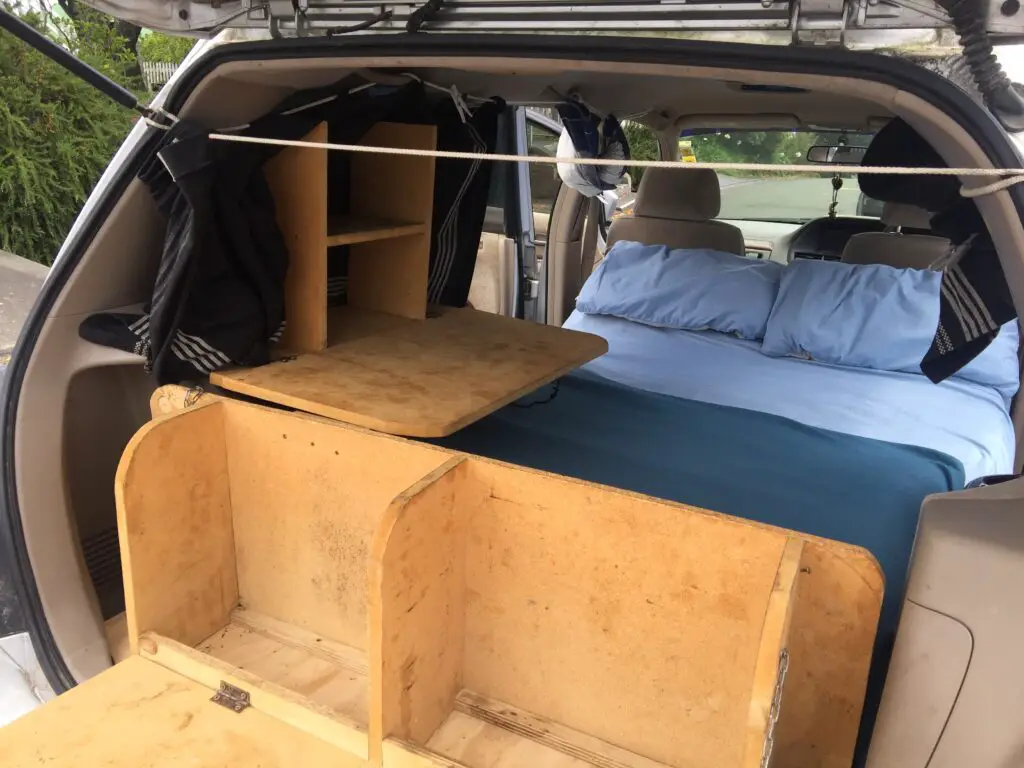 When you're living in a campervan long term, space-saving hacks are incredibly important! Especially if your campervan is as tiny as my converted Honda Odyssey, which took me around New Zealand for over a year and was my beloved home from home.
The small size of the vehicle meant that the majority of the space was taken up by the bed, so some clever storage space was required.
The previous owner of this adorable camper had come up with the fantastic idea of creating two wooden storage areas: one at the back and one in a rear window. Both were covered and hidden by a sheet of wood, which folded out to create a table, revealing the storage area behind.
Of course, when driving, the tables were folded up and secured to stop my belongings from flying around.
I loved these creations not just for the storage space, but for the handy surfaces they provided for preparing food, eating dinner or even as an office space!
– Storing soft clothes in pillows
Contributed by Kat from the Wandering Bird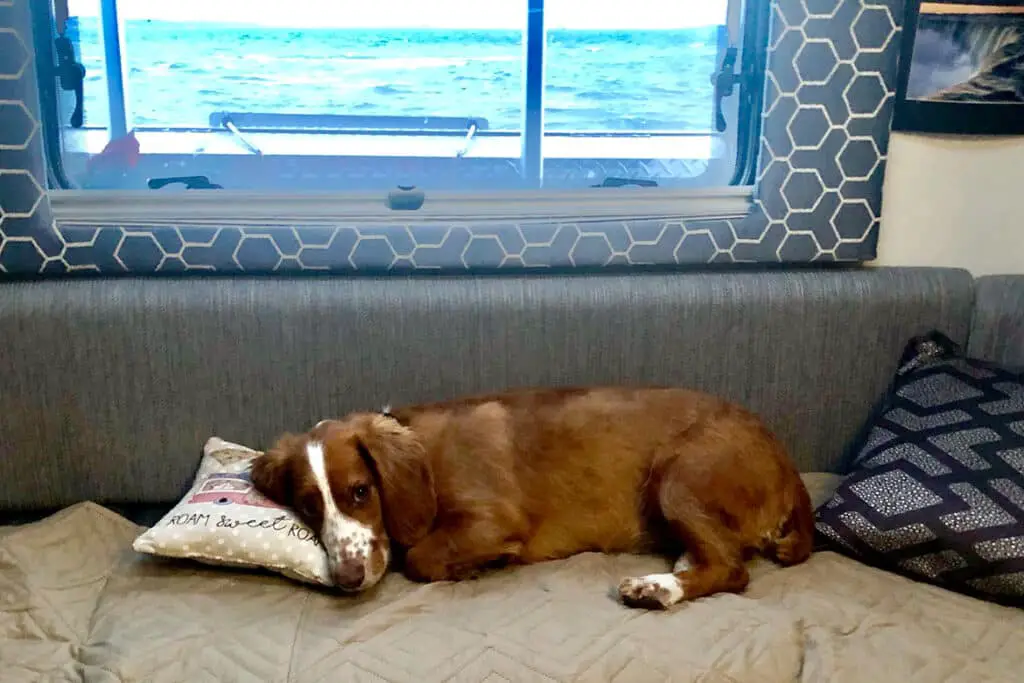 One of biggest things we've learned from living in a motorhome is how to cram more things into a very small space!! 🙂 
Our favourite tip is one we heard from another van lifer and it involves organising and storing your soft clothes… in your pillows. 
We have several pillows on our van- both the type we sleep on and also a couple of throw pillows in the sofa area. We both prefer using 'proper' pillows to sleep on, but you might be surprised to learn that we don't have a pillow in our throw cushions… it's our clothes. 
More specifically, it's warm winter gear (hats, socks, gloves), thicker jumpers and trousers and even a hot water bottle and 2 thick and snuggly blankets.
By storing them in our throw cushion covers, we save space in our cupboards for other things, and we keep everything more organised. Win win (our dog Mac loves it too!)
– Packing cubes
Contributed by Jacquie from the Flashpacking Family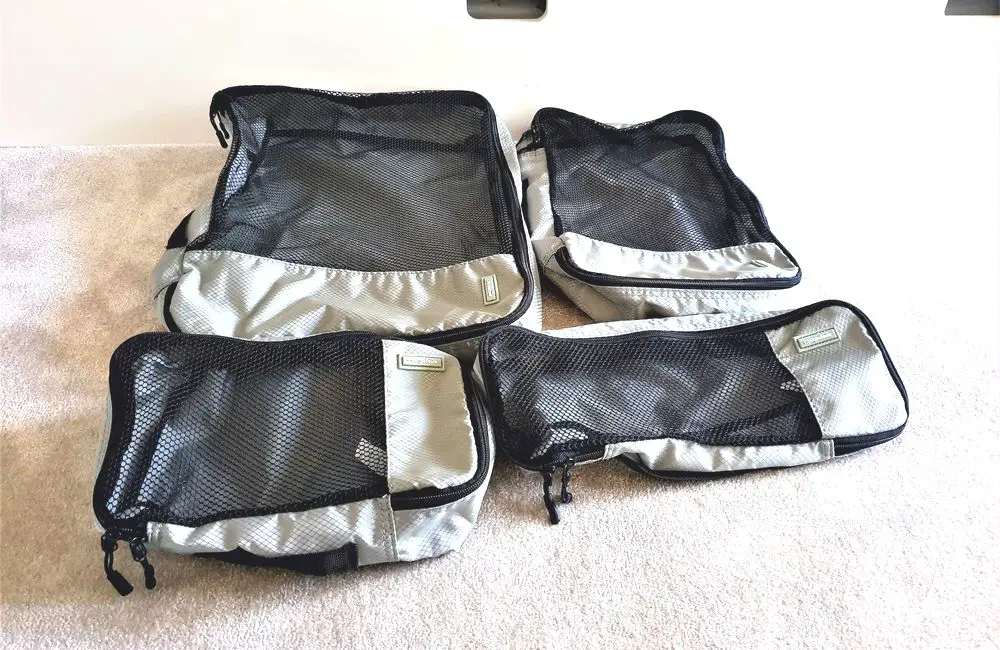 We discovered packing cubes a couple of years ago after seeing loads of people rave about them. We were seasoned travellers and thought we managed quite well with our packing but wondered what all the fuss was about. We gave them a go and were instantly impressed – we're now total packing cube converts.
If you haven't come across them before, they are essentially mini suitcases and they are the perfect shape for fitting into otherwise awkward-to-fill spaces, especially in a campervan.
Not only do they help with space saving but they are also great for organising clothes. Everyone in the family has their own and we even go as far as having our own colours which makes it a lot easier for the kids.
We recommend getting a multi-pack which includes different sizes, like the Amazon Basics 4-pack. If you need to pack more stuff into them, then we would recommend looking at compression cubes. One tip is to take an extra one for dirty laundry and pop a scented sheet which helps with odours until the next laundry day!
We mix up our travels between longer trips during the summer and weekends away. Either way, the amount of clothes we take on each trip is usually the same and we strictly stick to what fits in our packing cubes.
Bathroom & Utility Space Saving Ideas:
– Seat concealing a toilet
Contributed by Bailey from Destinationless Travel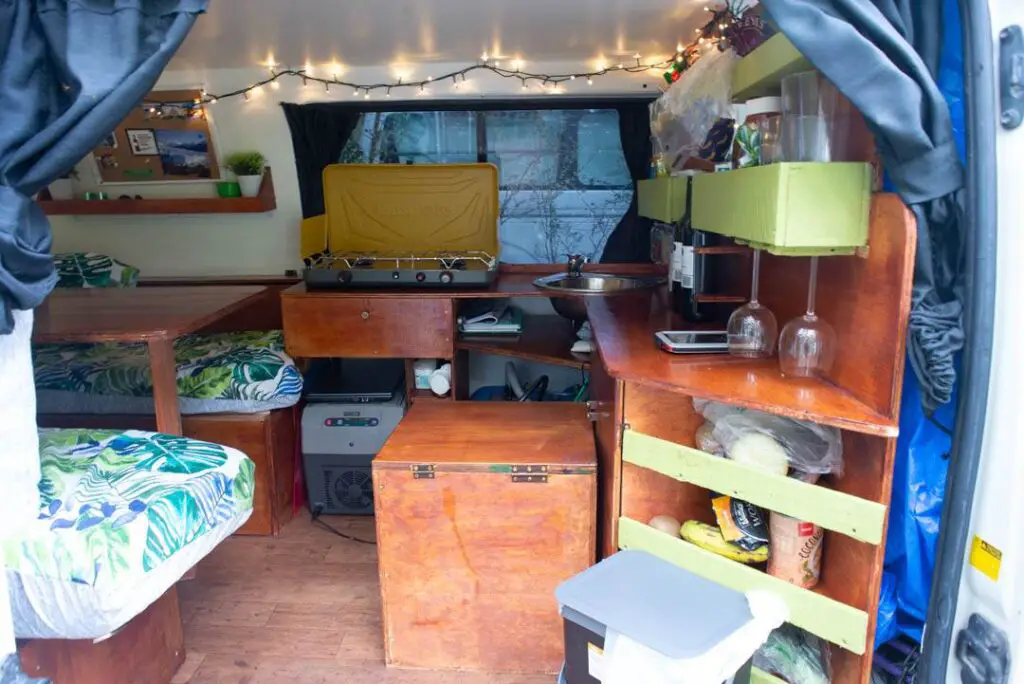 When I was building my campervan, I came across one problem – where was I going to store the portable chemical toilet?! In New Zealand, all self-contained campervans must have this toilet. Although I never intended on using it (public bathrooms are much easier), I still needed to have it in my campervan at all times. With limited space in my tiny campervan, I need a place to put this toilet that wasn't super inconvenient to my living situation. 
In order to save space, I turned my tiny toilet into a seat! I built a box out of plywood with a hinged lid. The toilet fit perfectly inside the box completely concealed. 
The seat was the perfect height to use when I was cooking in the kitchen area. Since my campervan wasn't tall enough to stand in, the seat was necessary in the kitchen area whenever I was cooking or doing dishes. 
The seat looked like a wooden storage box, but nobody knew that it was actually storing a toilet – it worked perfectly for the entire 4 months in which I lived in my campervan in New Zealand.  
---
These are just a few of the many space saving hacks for vans which will help you travel smarter and be organised. Have you found some of these van space saving techniques useful? I'd love to hear if so and especially if you have any more solutions that you use yourself. Please let me know in the comments section below!
PIN ME FOR LATER:
*This post may contain affiliate links meaning should you purchase a product via this link, I'll earn a small commission at no extra cost to you. These are still products I use or believe in regardless. See my privacy and disclosure policy for more.*