Welcome to my review series where I share independent, authentic reviews of travel, lifestyle and outdoor gear I have bought or been gifted. You can be sure they're always unedited photos and my 100% unbiased and honest opinions. Please note this post may contain affiliate links. See my privacy and disclosure policy for more.
This week I am sharing a Helinox Chair Zero review.
---
After a difficult slog of a multi-day hike, when your feet throb and your back aches from a heavy pack and sleeping in a tent, I can tell you now, there is nothing more delightful than whipping off the walking boots and putting your feet up in a comfortable chair. 
A simple thing. But when you're on the trail, the simple things like being comfortable, actually turn out to be the big and important things.
It was for these reasons, (and especially the discomfort of crouching to sit in a small tent – we've all been there!), that made my partner and I fork out to buy a Helinox Chair Zero. 
And boy has this ultra lightweight and portable Helinox Chair Zero been an incredibly useful purchase.
The first time I used it after hiking Mount Bogong, the highest mountain in Victoria, I just couldn't believe how much relief it gave. More importantly, how we had even camped so long without it! It's now absolutely an essential piece of gear for any of my overnight hikes.
Having owned this chair for well over a year, I thought an honest Helinox Chair Zero review was well overdue.
*This post may contain affiliate links meaning should you purchase a product via this link, I'll earn a small commission at no extra cost to you. See my privacy and disclosure policy for more.*
---
PIN FOR LATER:
What is the Helinox Zero Chair?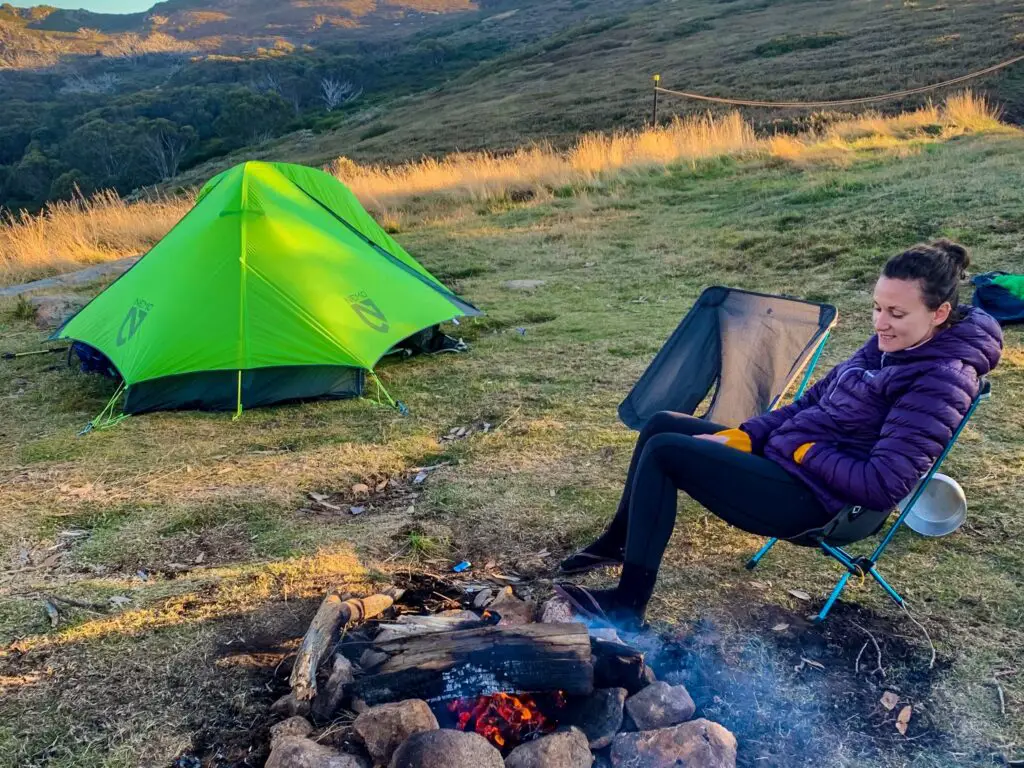 The Helinox Chair Zero is a lightweight portable chair ideal for camping and hiking. Folding up to the size of a water bottle (35cm) and weighing only 510g, it's clear why this chair is a favourite among outdoor gear enthusiasts, especially weight-conscious ones.
The Helinox Chair Zero is not exactly a luxurious chair for slinging back beers and sitting around in all day. It's a small and ultra lightweight functional chair for outdoor adventures.
Helinox also produces many other portable chair models. The Chair One is similar to the Zero in the sense it's also a small, low back chair but perhaps sturdier. It's slightly heavier than the Zero Chair and sits higher up off the ground. The brand also sells bigger and more sturdy chairs with high-rise backs and sometimes accessories such as a cup holder, like the Savanna Chair and the Sunset Chair.
The Chair Zero is the brand's lightest and most stripped-back model. It's ideal for not only hiking but bike-packing, multi-day kayaking/canoeing trips or moto-touring.
The model comes in two different colours: grey with a yellow-gold frame and black with a metallic blue frame, which I own.
Materials & durability
The frame of the chair is constructed with DAC aluminium alloy poles which were initially developed for high performance expedition tents. Helinox is the only furniture brand to use this pole technology in their designs. For how light the poles seem, the frame is certainly extremely strong.
The joining elements are made from a sturdy nylon resin which are engineered with strength and security in mind.
When it comes to the seat material, it feels smooth and tent-like. But don't be fooled by its apparent delicateness – it's polyester ripstop: resistant to sun, weather, and the odd bit of rough treatment.
If you accidentally left the Chair Zero out in the rain for a night, then you don't need to worry about it staining or damaging. The material is certainly hardy and easily wipeable with soap and water if a clean is ever required. Though with being so light-weight, I would be aware it would easily blow away. I always ensure I pack it up at night, or put it in the tent vestibule.
Ease of Assembly & Packing Down
Setting up the Helinox Chair Zero is pretty foolproof. There's an extremely handy 'This side up' note and arrow to ensure you don't get the material upside down on the frame. And if that's not enough, there's even dummy proof instructions printed on the back. Hallelujah for no fiddly and impractical instructional booklets!
Simply assemble the elastic-sprung frame together like it leads you to. Put the top spokes of the frame through the loops at the top back of the material. Lastly, firmly stretch the material down to hook it onto each of the bottom spokes of the frame.
All in all, setting up the Helinox Chair Zero takes about 60 seconds. Dreamy.
Putting the chair away is probably just as fast, if not faster. Just do everything in reverse: whip the material off from the bottom, pull it off the top. Fold the frame away, bringing all the mobile parts of the poles inwards to the fixed middle pole. You then fold the material in half or thirds, and tightly wrap it around the folded-up frame and insert into the outer stuff sack.
Setting up and packing away the Helinox Chair Zero is most definitely not a chore (tents on the other hand…)
Stability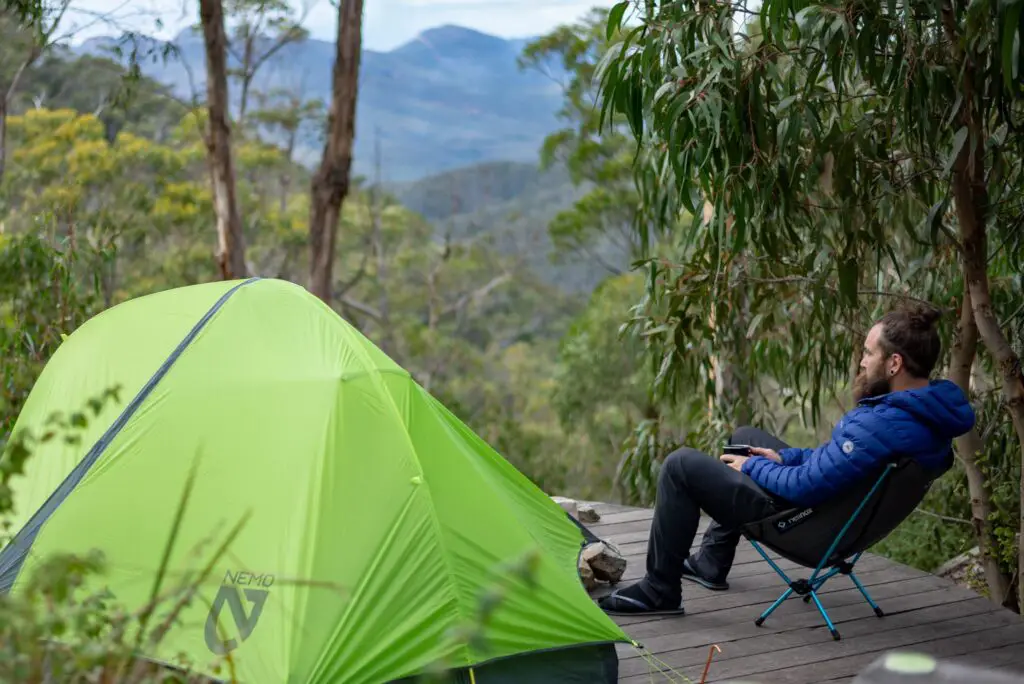 Where the Helinox Zero Chair probably loses a few points compared to the other Helinox models is stability.
I am around 58kg and I find it very stable for my weight, however only on firm ground. Like with high heels on damp grass, if the terrain underneath is not solid, then you can sink into it a bit.
To combat this, Helinox have developed many useful accessories such as ball feet and attachable ground sheets. For me, it's not a common or bothersome enough issue to invest in these add-ons. However, if you plan to regularly use it on sand or muddy/damp terrain, then it may be worthwhile.
It's worth pointing out that the Zero Chair is perhaps a little on the small side too. Anyone who has a larger build or backside may find the Zero chair potentially a little tight.
The above being said, I have a friend who is 6ft 3″ and weighs over 100kg who loves it and doesn't find the slim size an issue.
Comfort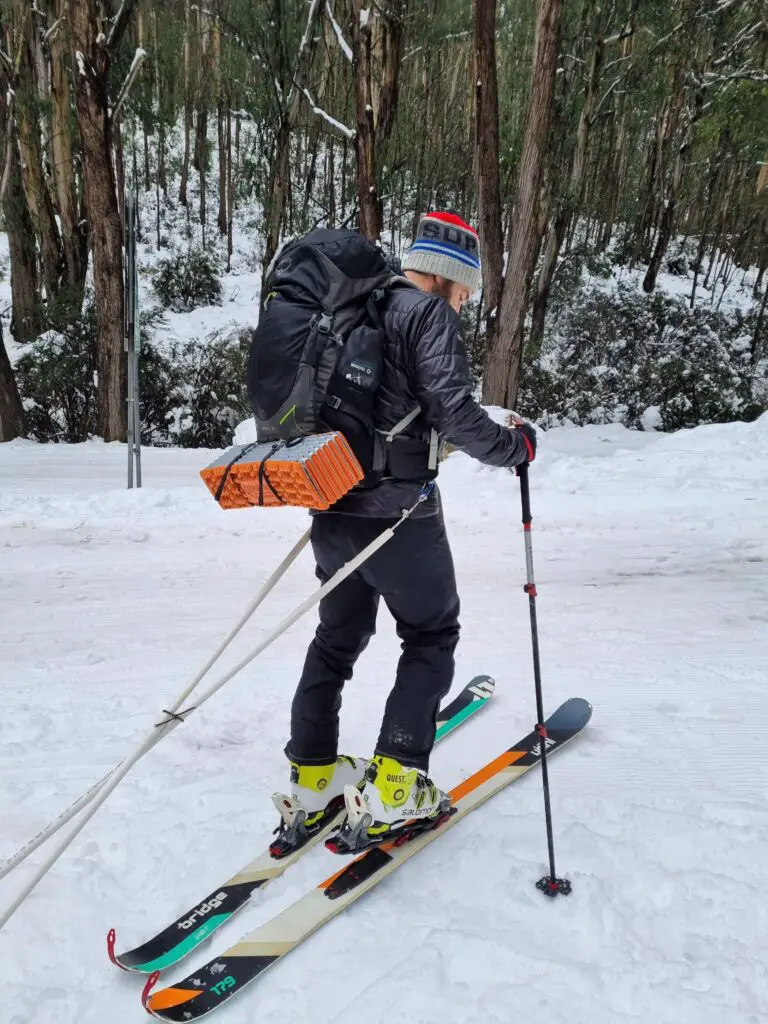 The flexible, light material of the Helinox Chair Zero means that when you sit, it is pulled  taught, nicely shaping to and supporting your derriere.
The low back support is well angled – a happy medium between a comfortable slouch and an upright engaged position. It's certainly a comfortable chair for short-medium periods of time, there's no doubt about that. 
It's not a chair for longer periods of time though. You may want somewhere to rest your arms and adjust the position, which you cannot do.
There are also two ventilation 'slits' at the base of the chair which adds some breathability to a non-breathable material.
Personally, I do find the Zero chair a little on the low side (it sits 11 inches off the ground), especially if others in a group have a taller chair. But considering it's not an everyday chair and it well and truly serves its purpose, it's not an issue. Being any taller would of course affect weight/size so it's a compromise I'm sure most hikers are willing to take!
The verdict
Overall, the Helinox Chair Zero absolutely ticks all the boxes for a great lightweight chair to stash in your pack for a day or overnight hike. 
I've been a little fussy in my review thinking of potential cons which could be considerations for others, but for me, it suits my needs perfectly. I would definitely recommend it.
I hope you have found this Helinox Chair Zero review useful and it has provided some guidance if you are thinking about buying one.
Pros:
One of the lightest portable chairs in the market
Small and not bulky
Easy to assemble and pack away
Built with high-quality durable materials
A range of accessories available
Comfortable for short-term sitting
5 year warranty for any manufacturing defects
Cons:
Sits quite low to the ground
Unstable on wet, soft ground or rocky terrain
Not great for long-term sitting
Expensive