For the top hikes in Australia, look no further than these recommendations of incredible walks around the country. From Western Australia to incredible Tasmania, each state has brilliantly distinct hiking trails to enjoy all year around.
Australia is one of the most landscape and climate diverse countries in the world. That being said, there is a hike for everyone. Through atmospheric temperate rainforest, up vantage points for city views, along cliffside coastal paths, up alpine snowy mountains and through the dry and arid desert of the outback.
With a mixture of day hikes and longer and more challenging multi-day hikes, you will find something for every preference and walking ability in this list. 
So without further ado – here are some of the top hikes across Australia!
*This post may contain affiliate links meaning should you purchase a product via this link, I'll earn a small commission at no extra cost to you. See my privacy and disclosure policy for more.*
Mt Kosciuszko – New South Wales
Contributed by Emma Adventures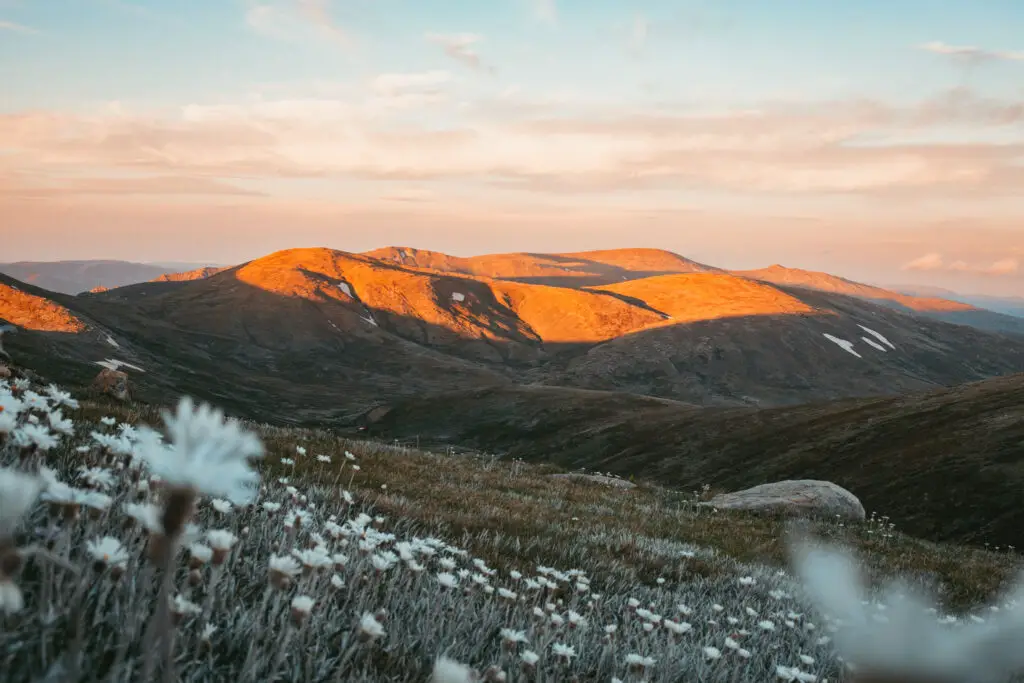 Mount Kosciuszko is easily one of Australia's best hikes, and it really sells itself. Standing at 2,228min the heart of the Snowy Mountains in Kosciuszko National Park, Mt Kosciuszko is Australia's highest mountain. There's beautiful landscapes and scenery surrounding you for the duration of the hike. And it's pretty cool to stand on the top of Australia's highest mountain!
There are a couple of routes to hike Mt Kosciuszko, but the route starting and ending in Thredbo is generally considered the best option. From Thredbo village, you can take the chair lift to the starting point of the trail, and from there, it's a 13km round trip to the summit and back. 
The hike is considered relatively easy, and can be done in a couple of hours depending on your fitness. Of course, you'll want plenty of time to enjoy the amazing views! 
As the hike can easily be done in one day, I recommend staying in Thredbo village overnight and getting an early start in the morning. The area itself is beautiful, and then you can pop in to one of the bars afterwards to celebrate reaching the top of Australia's highest mountain!
Scenic Rim Trail – Queensland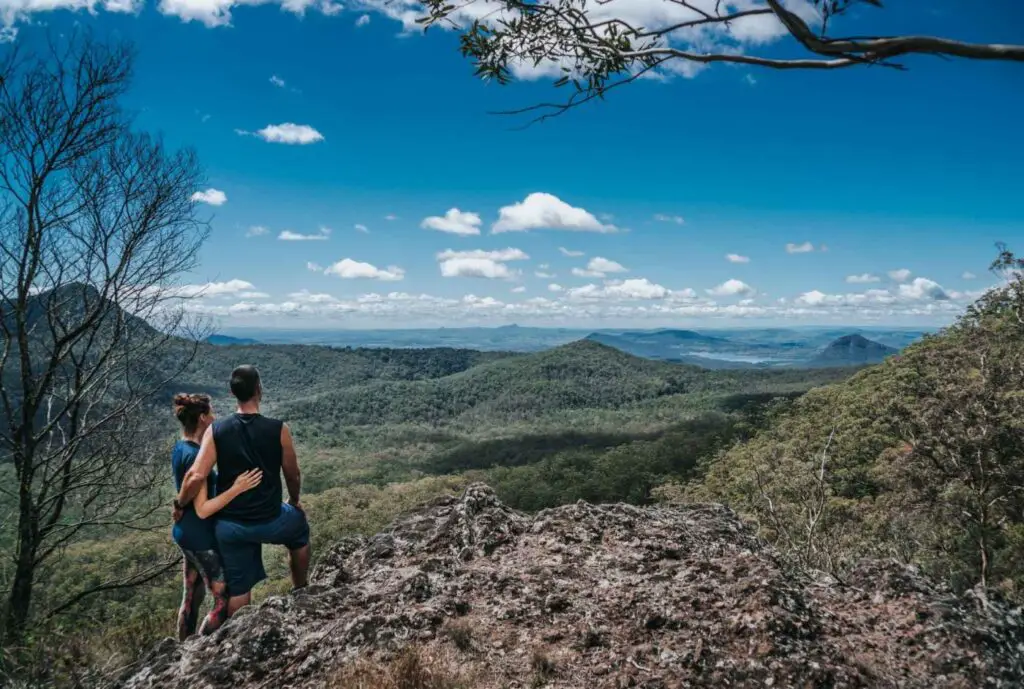 The Scenic Rim trail in Queensland is located within a UNESCO world heritage region. The Scenic Rim region incorporates iconic mountain ranges such as the Great Dividing Range, the Border Range and Tamborine Mountain. The current landscape was shaped over millions of years when it was largely dominated by volcanoes.
The Scenic Rim Trail is approximately 50 kilometres in length. However, hiking along the Scenic Rim Trail can be done in many different ways. 
Many locals opt to explore the region on day hikes, conquering one part of the trail after another, while avid hikers can set out on multi-day hikes, carrying all of their equipment and provisions with them. If you are embarking on a multi-day hike you will need to book camping permits in advance through Queensland Parks.
A popular option is to take a guided hike on the Scenic Rim trail. We took a guided 2 day tour of the Scenic Rim trail and it included accommodation, food and drinks, and a local guide who led and informed us about the area. We would highly recommend it as one of the top hikes in Australia!
1000 Steps Walk, Melbourne – Victoria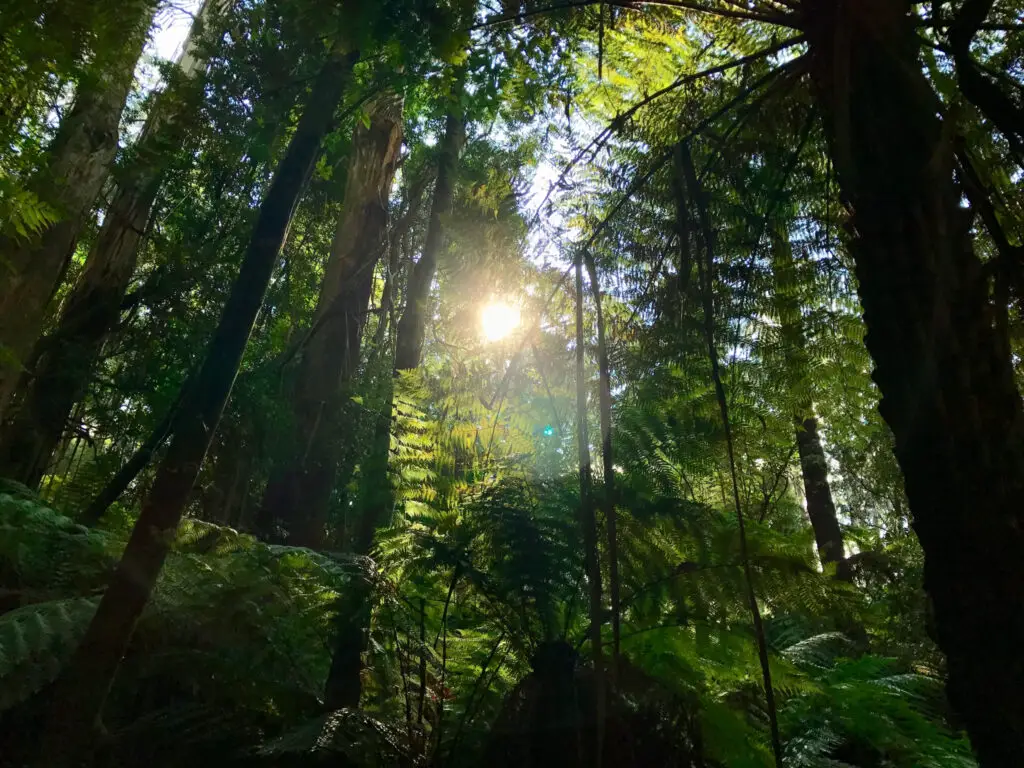 The 1000 Steps hike, also known as the Kokoda Track Memorial Walk, is a gruelling stairs workout located in the Dandenong Ranges, Melbourne. The hike is dedicated to the Australian Military that fought and died on the Kokoda Track in Papua New Guinea.
This completely uphill walk is very popular among both locals and tourists thanks to its beautiful rainforest scenery that leads hikers to a stunning view overlooking Melbourne.
To access the hike, you can park at the Ferntree Gully Picnic ground, which is approximately 45 minutes from the Melbourne CBD. From the car park, it is 1.6km (UPHILL) to the top viewpoint. If you are walking at a steady pace, it should take roughly 40 minutes (return). I would not recommend attempting this hike if you do not have at least a moderate to good level of fitness; IT IS TOUGH!
One side of the hike has more steps than the other. I would advise going up on the side with more steps and coming down the other side. Most people do it this way, so going with the flow helps with the flow of foot traffic. The hike can get extremely busy during peak times. 
If you are fit and able, the 1000 Steps Walk is a perfect way to spend a couple of hours while staying fit and enjoying the beauty of Melbourne.
Cradle Mountain – Tasmania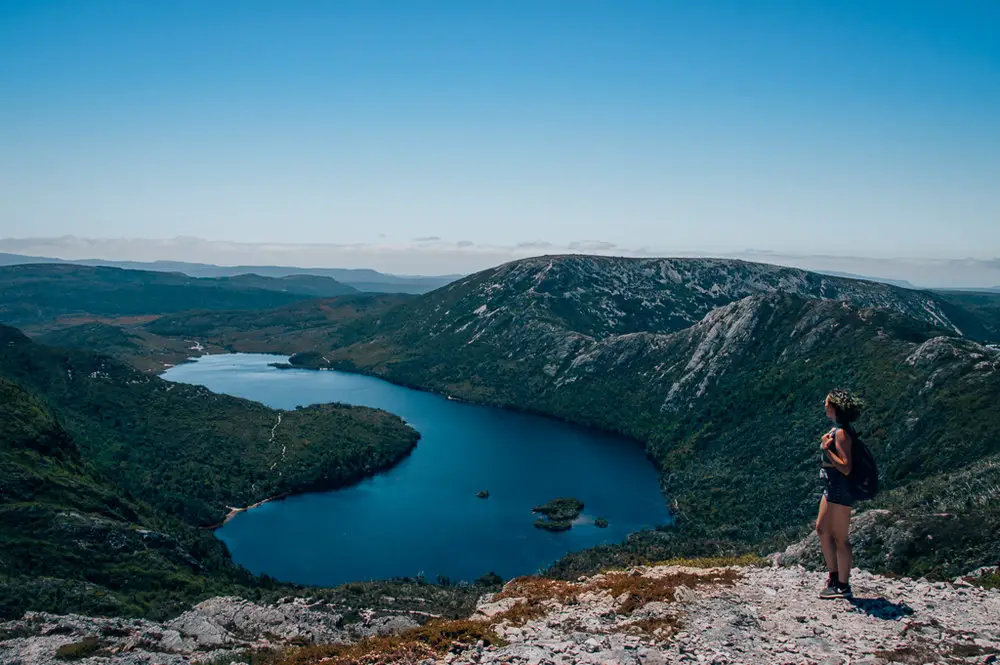 I adore hiking in Australia for the sheer diversity of scenery. I've lost count of how many brilliant walks I've done over the past few years. But the most stand-out hike of them all has to be Cradle Mountain in the incredible state of Tasmania.
Words cannot describe that moment when you first arrive to the Lake St Clair National Park. The jagged, saw-like Cradle Mountain sits like a regal crown on top of the midnight blue Dove Lake. Adorned with smoother rock mountains all around it like a green velvet robe, every view here is simply picture-perfect.
The best thing about Cradle Mountain is the variety of walks that can be done for all abilities (and time restraints). For those after an epic adventure, there is the challenging Overland Track, a 6 day 65km mammoth hike. For an easier day walk, the circuit around Dove Lake is a great choice.
My favourite hike of all is the moderately hard 11.5km walk up to Marions lookout, along part of the Overland Track to the Cradle Mountain Face, and back along part of the Dove Lake Circuit. On this walk you see it all – Dove Lake from above, Cradle Mountain up close and a forested decent through ancient trees.
I can't recommend a hike at Cradle Mountain/Lake St Clair National Park highly enough. It will stay in your mind for years. It's definitely one of the absolute top hikes in Australia!
Porcupine Gorge – Queensland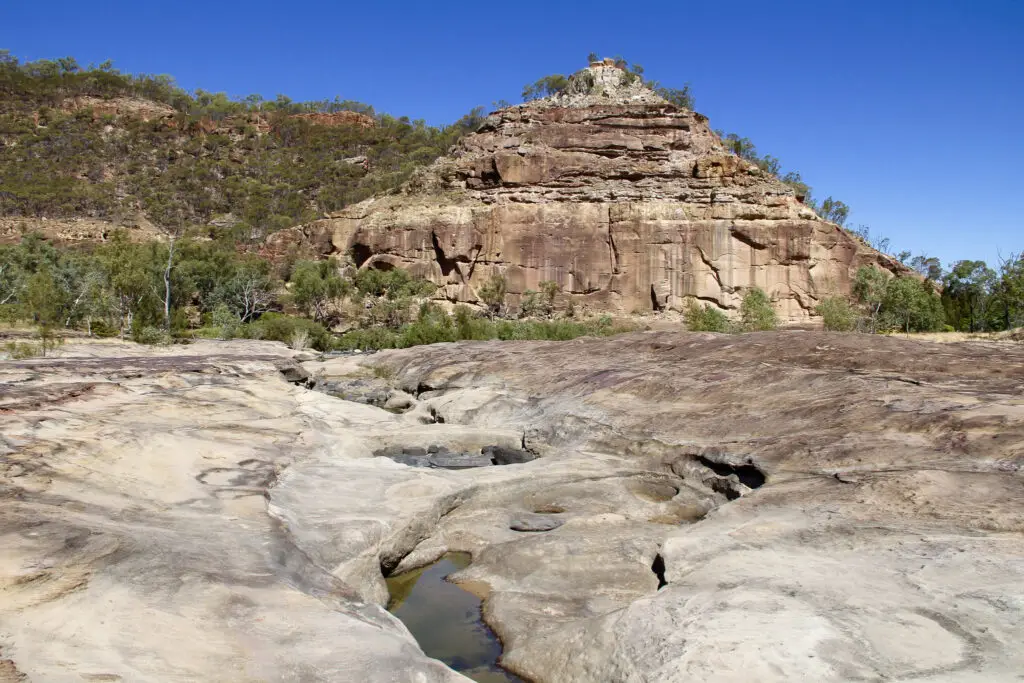 If you're looking for a unique day hike in Outback Queensland, Porcupine Gorge really ticks the box. You'll find it nestled just 60km from the rural north-west town of Hughenden (here are some more ideas for things to do while you're visiting Hughenden). 
There is a great lookout up the top of the gorge, which is an easy 200m stroll. It offers a fantastic vantage point of 'Australia's Grand Canyon,' which Porcupine Gorge is sometimes fondly referred to.
The Gorge Hike can be accessed a further 10km up the road at the Porcupine Gorge National Park camping ground. Entering the National Park for hiking and day trips is free, camping can be booked here.
As you start your descent down into the gorge, you'll notice that the walk itself doesn't appear to be too long, but it's very steep! Although the track down is only around 1km long, looks can be deceiving. What goes down, must also come back up the same track.
Once you enter the bottom of the trail, it opens up into a beautiful oasis, abundant with wildlife. The highlight is the crystal clear, flowing creek. With multiple places to swim, you'll forget that you're even in the Outback at all! We did about an extra 6-8 kilometres exploring the Gorge itself and all of its nooks and crannies.
Mt Rosea Loop, Grampians – Victoria
Contributed by Go Camping Plus
If you're looking for an epic day hike in the Grampians National Park, then the Mt Rosea Loop is absolutely the one to choose.
Most people stay in or around Halls Gap, it is a great base for many Grampians hikes. For a day hike, make your way to Rosea Campground, just a short drive from Halls Gap; alternatively, arrange to camp at the campground to get the most out of your Grampians experience.
The Mt Rosea Loop walk is 12km in total, it is graded medium and will take you 4-5 hours. The duration, however, is very much dependent on your fitness level as well as how much of a hurry you're in! If you have the time, I recommend you take your time and enjoy everything this walk has to offer! 
The track seems to change on every bend, there are some fantastic boulders to climb up and around, stunning viewing points and some lovely spots to stop for a picnic. I would recommend you make a day of it.
Pack some snacks and lunch, plenty of water, a jacket for the cooler temperatures you'll experience at the top, sunscreen and a hat for the exposed sections and enjoy this magnificent part of the Grampians National Park.
Windin Falls – Queensland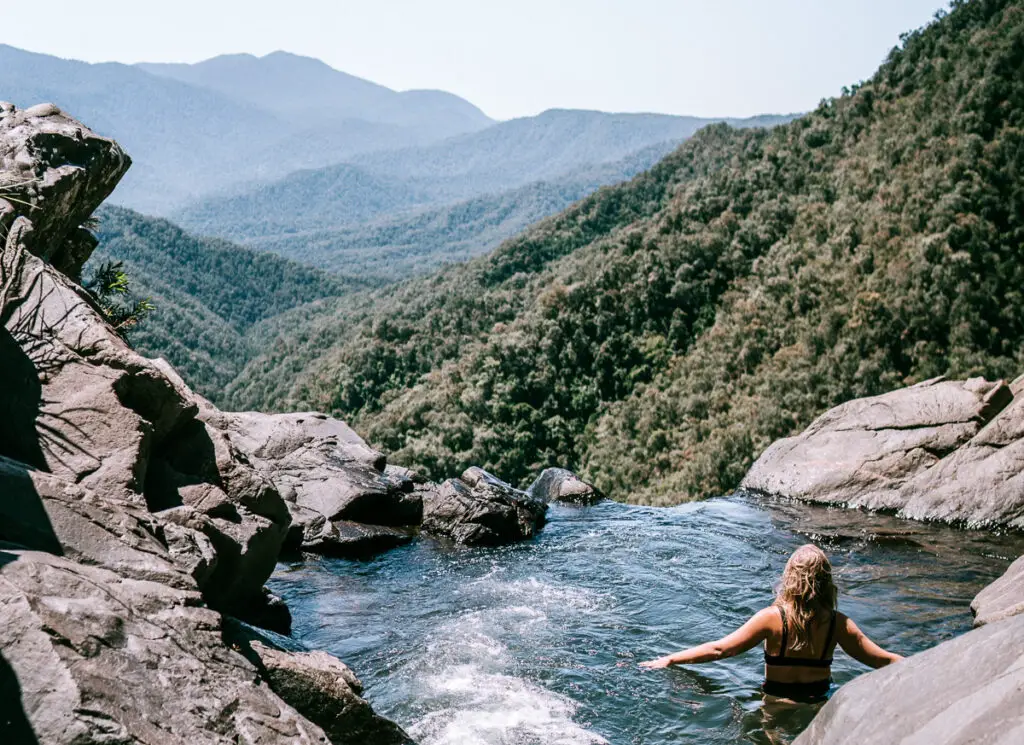 One of the best hikes I had the privilege of experiencing in Australia was the hike to Windin Falls in Tropical North Queensland. This area is known for its amazing waterfalls, but none are quite as epic as Windin Falls. 
The hike is about 5.5 km each way which sounds easy, but it does get a little steep towards the falls. You'll want to be in moderate shape for this one. It only takes about an hour up and an hour down and the walk itself is just stunning, there is nothing quite like the lush greenery in Tropical North Queensland.
Once you get to the top you can hear the babbling of the creek around the corner and then the view just hits you. The falls are an estimated 120m high, with an incredible view over the World Heritage rainforest. 
Right in front of the falls an infinity pool forms, perfect for swimming when the water is not too high (use caution with this of course). At the top, there is plenty of space for exploring or just setting up a picnic and relaxing- a great way to spend the day.
Tips: be sure to bring plenty of water, and snacks if you plan to stay a while, as there is nothing provided on this hike. The drive is about 1.5 hours from Cairns and it can be a bit tricky to get there, so check out my directions. I highly recommend taking your own car, the drive itself is absolutely amazing and you can explore the area too.
Valley of the Winds, Kata Tjuta – Northern Territory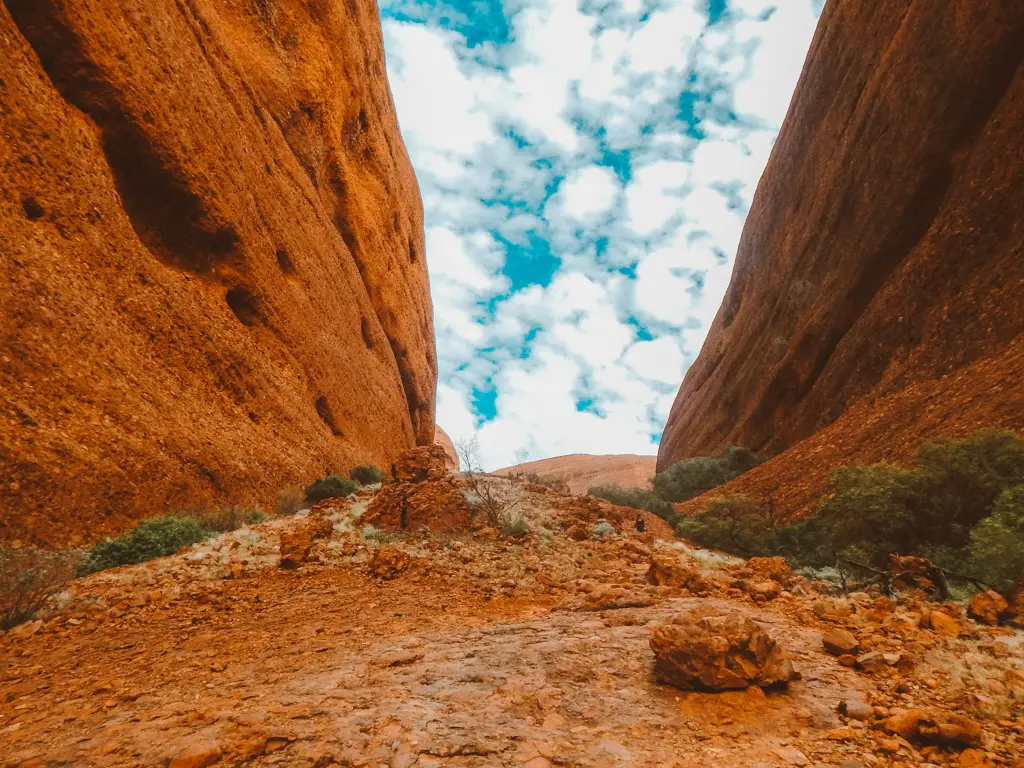 Whether you are travelling from Sydney, Melbourne or Adelaide to Uluru, visiting Kata Tjuta is a must do. It's one of the natural landmarks in Uluru Kata Tjuta National Park. The other one is, of course, the world famous Uluru. 
Kata Tjuta is home to one of the best hikes in Australia: the valley of the winds walk!  This 7.4km hike is classed as moderate to hard. In reality, most of the trail is pretty easy, it's only the 2 ascents to the lookouts that are a bit strenuous. It's very steep and quite slippery. Make sure you are wearing good hiking shoes and consider taking a fly net. 
There are two lookouts in Kata Tjuta: Karu and Karingana. They both offer breath-taking views over the valley of the winds.  Unlike Uluru, Kata Tjuta offers a wider selection of landscapes. You will be going up and down, weaving in between the beautiful red rocks and through the valley and the trees. On top of featuring some of the most iconic landscapes in Australia, the valley of the winds is a very interesting place to visit if you want to learn more about the aboriginal culture in the red centre.
If you've always been dreaming of visiting the Australian Outback, Kata Tjuta will be perfect for you. You can easily get there by car from Yulara. If you are flying into Alice Springs. you can either rent a car and drive down (5h) or go on a tour.

St Mary Peak, Flinders Ranges – South Australia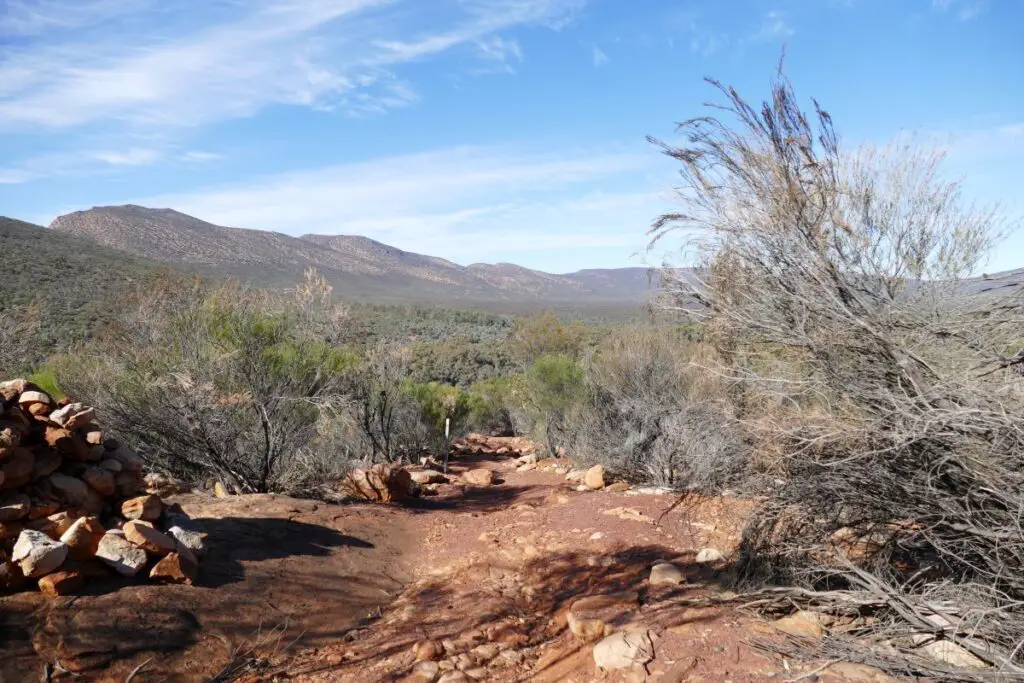 The Flinders Ranges are a spectacular series of mountains in the mid-north of South Australia five hours north of Adelaide. The area's best known feature is Wilpena Pound – a giant oval shaped range with towering, jagged peaks. Seeing and hiking the Flinders Ranges are a compelling reason to put South Australia on your Australian itinerary.
At 1171 metres above sea level, St Mary Peak is the highest point of Wilpena Pound in the Flinders Ranges National Park. From the summit you get stunning views of the Pound and the surrounding ranges.
There are two paths to the summit. There's a 21 kilometre loop trail inside Wilpena Pound and a 14.6 kilometre return trail up the much steeper outside face. Both trails begin from the bushwalking trailhead at the Wilpena Visitor Centre.
Be prepared, this is a tough trek. Towards the summit you will be scrambling and climbing to the peak rather than walking but the reward at the top is worth the effort! It is recommended not to begin the walk after 9.00am and take plenty of water.
Due to high temperatures, the walk is closed in December, January and February. National Park fees apply.
St Mary Peak is a culturally significant site for the Adnyamathanha people who prefer the peak not be climbed.
Southern Circuit, Wilsons Prom – Victoria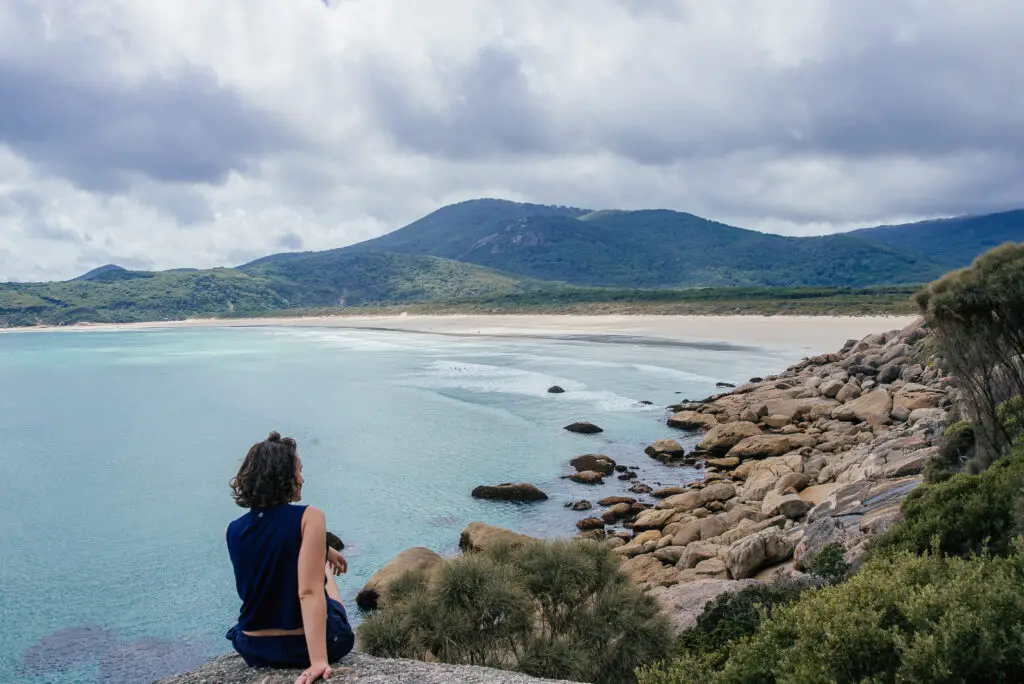 Wilsons Prom is mentioned in many different Indigenous clan's dreamtime stories (aka creation stories) and when you're hiking here, it's obvious why the land holds such cultural significance. 
Squeaky white sand, stunning turquoise waters, smooth boulders and stunning cliffs and mountains covered in lush vegetation makes Wilson's Prom one of the most attractive coastal national parks in Victoria. 
The most popular hike in Wilson's Prom is the Southern Circuit. This three day, two night 41.5km looped bush walk usually starts at Tidal River. Hikers can opt to go anti-clockwise starting with Little Oberon bay and a summit up the incredible Mount Oberon, and then inland to loop up the eastern coast. Alternatively they can go clockwise, straight to the east coast and south to the Bass Strait, taking in the sights of many spectacular bays and mainland Australia's most southern lighthouse.
There are a few campsites on the way for you to pitch your tent and enjoy your hard earned dinner (that you have carried of course). Refuge Cove, the lighthouse and Roaring Meg are probably the most popular of the camping spots.
The Southern Circuit is a breath-taking multi-day hike showing off the absolute best of the sublime Wilsons Prom National Park. I hope that you get to make it one day!
Freycinet Peninsular Circuit Track – Tasmania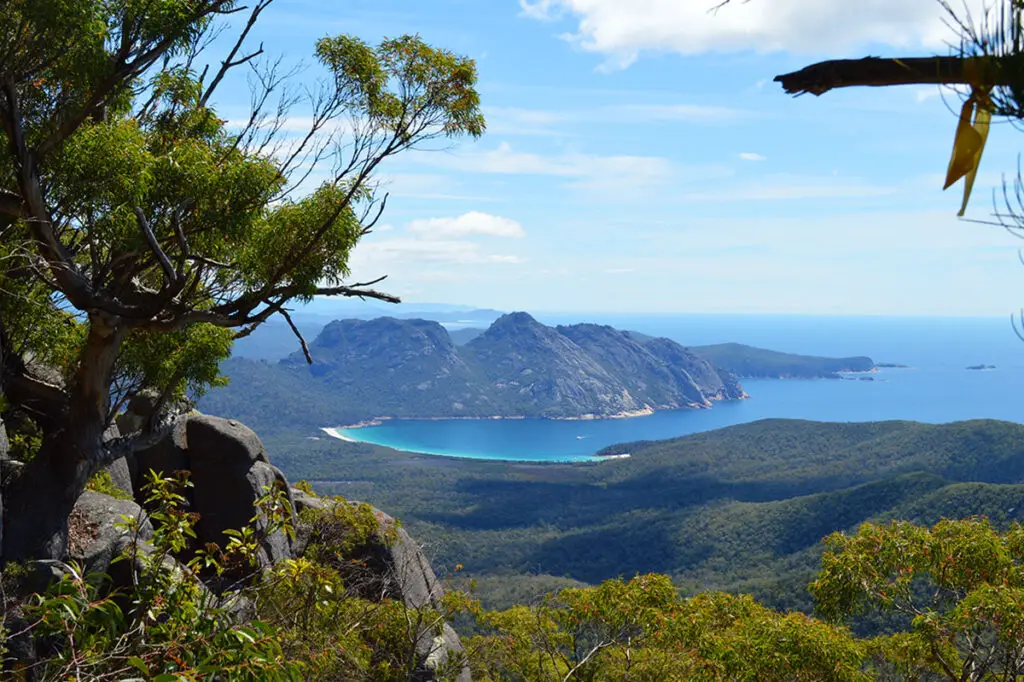 The Freycinet Peninsular Circuit Track is within the Freycinet National Park at Coles Bay, Tasmania. This bucket-list hike should be on your list as it involves trekking across Wineglass Bay, one of the most incredible bays in Australia.
From Launceston Airport, it takes about two hours to get to the national park. It is a beautiful drive and it will feel quicker, but the road is not the easiest drive. Prior to starting your hike, you will need to register at the national park office.
The Freycinet Peninsular Circuit Track is a multi-day hike that can comfortably be completed in 2 nights and 2 ½ days. The circuit is 27km long. While it doesn't sound long, the second day is quite a difficult day.
On the second day, you will hike continuously for 8-9 hours if you do the side trip up to the top of Mt Freycinet. If you've travelled all this way, you might as well! Hiking to the top will necessitate some rock scrambles – but the view from the top is worth it.
For hiking this track, you will need to carry all your own supplies, including water. There is no road access for food drops.  There are no huts or accommodation on this circuit. It is tough scaling mountains with your full backpack, so keep that in mind when packing your essentials.
But don't let that put you off! This is an amazing hike and you should do it if you get the chance
Mt Coot-tha Summit, Brisbane – Queensland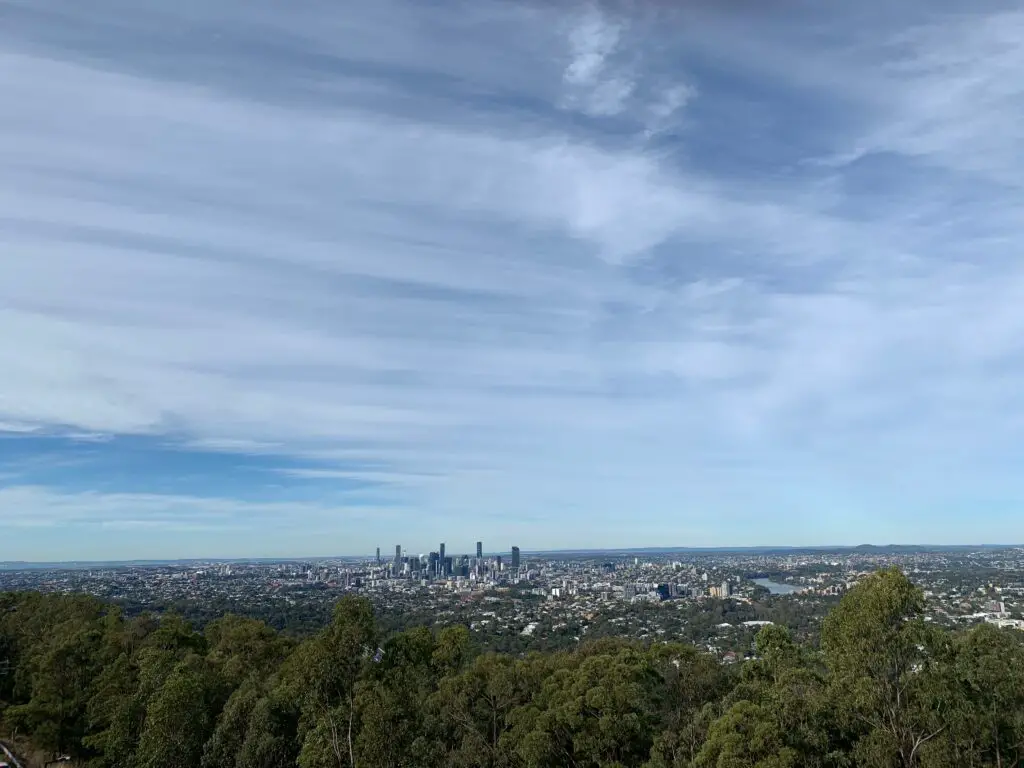 Located only 15-minutes west of Brisbane's CBD you'll find the Mt Coot-tha Summit Track, an easy yet exciting hike that allows you to get amongst nature and experience a phenomenal view of the city.
The hike is roughly 4km and takes around 1.5 hours (including viewing time at the top). The walk begins at the JC Slaughter Falls second car park and quickly ascends into the lush Mt Coot-tha forest.
The walk is a mix of paved gravel and stairs that take you through the green forest, ancient rocks, and bush. Along the way, you can even veer 200m off to the right and view the majestic JC Slaughter Falls.
After looping up and around the mountain walking through beautiful forestry, you'll come out at the edge of the forest. Cross the road and follow the footpath for a few minutes and you'll be rewarded with one of the best panoramic views of Brisbane City. To treat yourself, I recommended indulging in an ice cream while sitting down and taking in the spectacular view.
To return, follow the path that brought you to the summit.
St Columba Falls – Tasmania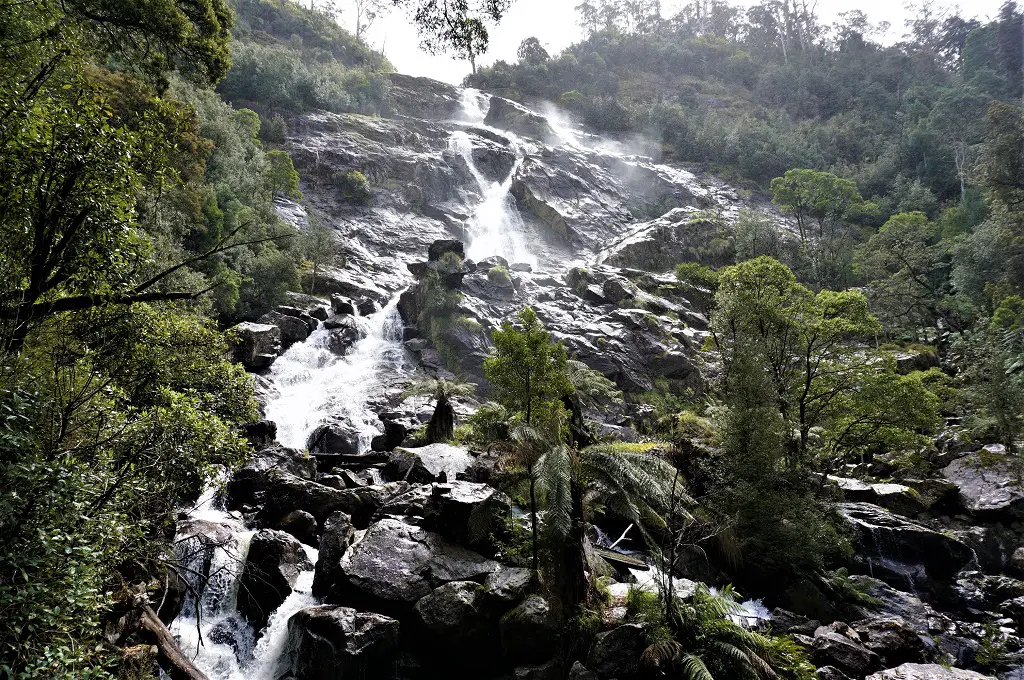 Located just an hour's drive due west from Binalong Bay on the east coast of Tasmania, St Columba falls offers you a fairly short hike (1-1/2 hours), suitable for the not-so-young.
From the car park and trailhead, you get a distant view of the falls on the other side of the deep gorge. You will pass through a shelter with maps and information.
The trail to Tasmania's tallest (90m) permanent falls is a downhill 600m slope along the side of the hill, with a rainforest on one side full of tall ferns and the verdant gorge on the other. The slope is deceptive, can be slippery and you have to be careful.
The trail crosses the gorge and climbs up the other side through the rainforest, and you can hear the muted roar of the water which grows tantalizingly louder as you near the falls. And then you are there!
The falls extend up the hill, with many branches carving their way through the rocks. After taking in your fill of the falls you can wander around amongst the trees and venture to the edge of the gorge for some lovely views.
The climb back is uphill and although you may need several stops to regain your breath, it's totally worth it!
The Great Ocean Walk – Victoria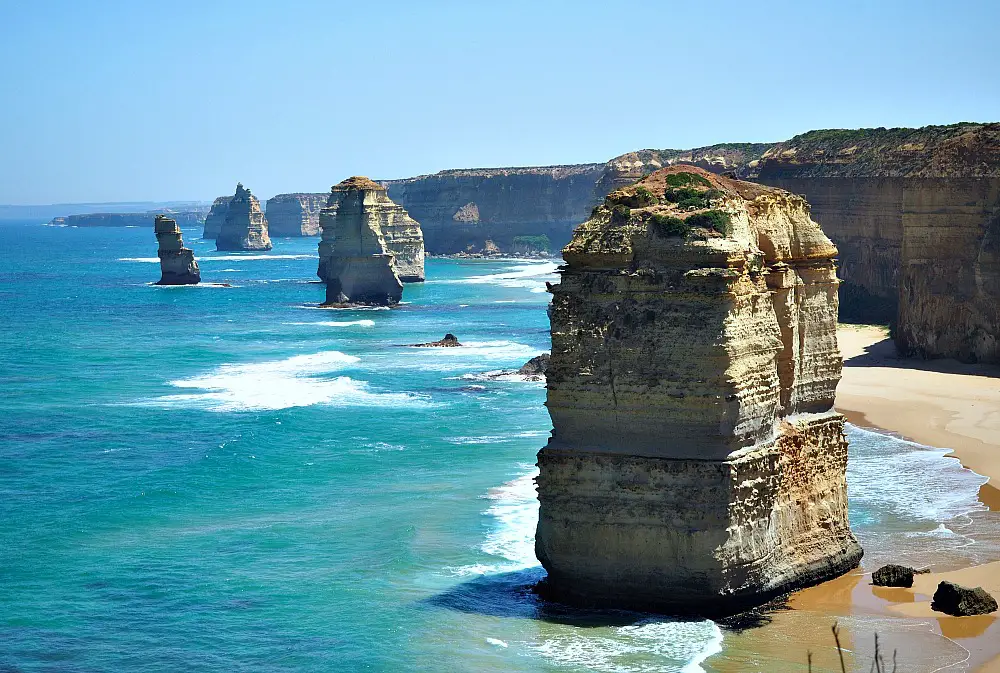 Living in the city of Geelong we're fortunate to have one of Australia's best hikes, The Great Ocean Walk, right on our doorstep.
Starting in Apollo Bay on the Great Ocean Road, this amazing journey travels over 100 kilometres and takes 8 days to complete. At the end, walkers are rewarded with views of the world famous Twelve Apostles. For those who have the time and ability to complete the walk, there is no better way to see and experience this incredible part of Australia.
The trail travels along soaring cliffs with unforgettable ocean views and at times it feels like you're a million miles from civilisation. It offers tall forests, heathlands and beaches, and the chance to spot kangaroos, wombats, koalas, echidnas, dolphins and at the right time of year even whales!
One of the best things about the Great Ocean Walk is its flexibility. Walkers can choose to hike independently on a self-guided tour or choose to use one of the many licensed tour operators. You can opt to hike in and camp under the stars or choose the comfort of a soft bed and hot shower.
The walk is one-way moving in an east-west direction that maximises views and provides the best gradient. Shuttle services are available for pick-up and drop off.
The Stirling Ridge Walk – Western Australia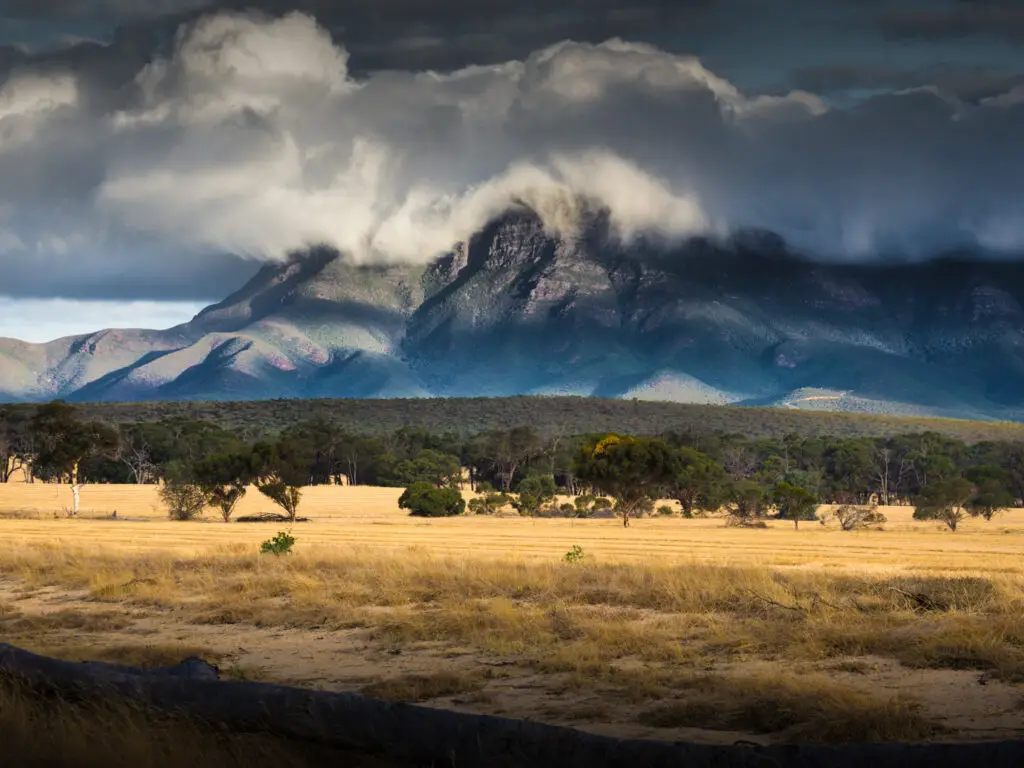 Probably the top hike in Western Australia, is the Stirling Ridge Walk, a 24.5km point-to-point trail which will take most people with a moderate pace 3 days and 2 nights.
Rated as 'difficult', this track has many ascents that will certainly push you. The weather is also an important consideration when planning this hike, as many people have to turn back if the conditions aren't right. Sometimes it gets snow. Like most multi-day hikes, you have to take all your supplies, including plenty of water and a small trowel for your… business.
Starting at Ellen's Peak, the walk takes you along the spectacular ridges of the Stirling Ranges, finishing at Bluff Knoll. You'll need to either need to get picked up here or stay a night at some great Bluff Knoll accommodation to rest and recover.
Although physically, emotionally and logistical challenging, the Stirling Ridge Walk is a spectacular walk in Western Australia for those avid hikers looking for their next challenge. 
Blue Mountains Six Foot Track – New South Wales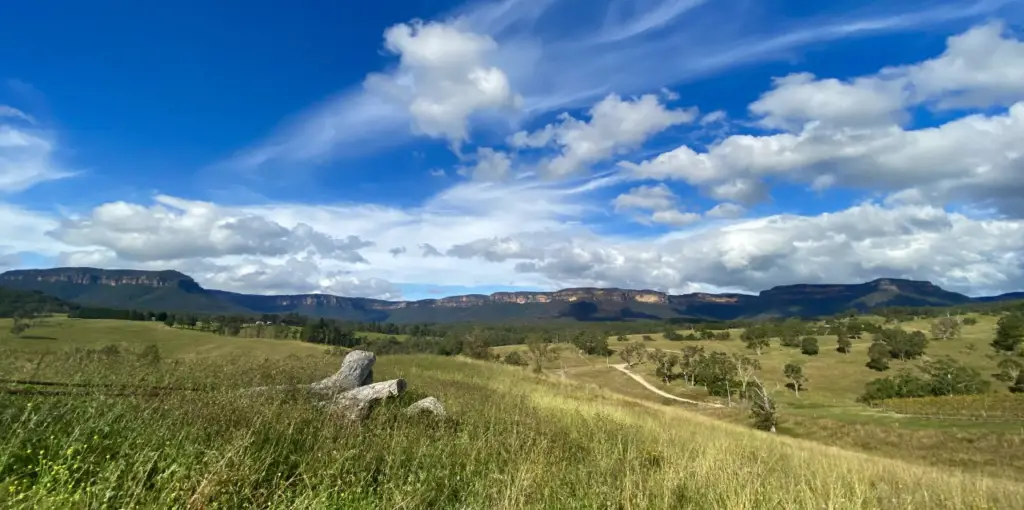 The Six Foot Walking Track is the Blue Mountains' most famous overnight walking track and only a 2 hour drive from Sydney. 44 kilometres from Katoomba to Jenolan Caves, this is an introductory overnight hike for walkers who have an intermediate to high level of fitness. 
The trail which is clearly signposted, makes it way through the Blue Mountains National Park and long fire trails. The landscape is a diverse mix of forest, farmlands, canyons and valleys. There are magnificent views, creeks and a river as well as a swing bridge crossing over the Cox River.
Walked in either direction there are five campgrounds along the track with the most used being the Cox River Campsite and Black Range Campground. All campgrounds can also be reached by car and this means you can do a shorter section if 44 kilometres is too far. To do the Six Foot Track in its entirety, you will need to wear suitable clothing and footwear and carry basic camping gear, food and sufficient amounts of drinking water.
The general advice is to walk the Six Foot Track over 3 days and 2 nights however it can be done in 2 days and 1 night with 8-10 hours of walking each day. However you do it, the Six Foot Track is a great adventure. 
Bondi to Coogee Coastal Walk – New South Wales
The Bondi to Coogee Coastal Walk may not be the most challenging hike in Australia, but it's definitely one of the most iconic – for good reason! This beautiful 6km walk takes hikers along the coastline of Sydney, showcasing some of the best beaches along the eastern suburbs of the city. 
The official starting point of the hike is at Notts Avenue, right by the famous Bondi Icebergs Club, just south of Bondi Beach, although you could really start the walk from anywhere on Bondi Beach. On the walk, you'll follow a series of coastal paths which pass golden-sand beaches, dramatic cliffs, scenic parks, swimming baths, and epic viewpoints all the way to the finish point at Coogee Beach.
Be sure to bring a bathing suit and snorkel mask as you'll visit 5 beautiful bays during the hike – Bondi Beach, Tamarama Beach, Bronte Beach, Clovelly Beach and Coogee Beach – as well as Gordons Bay Underwater Nature Trail, which is an incredible 620m snorkelling trail for you to follow.
Not only are the coastal views spectacular, but you'll also want to watch out for dolphins and migrating humpback whales, who are often visible from the trail between May and October!
Mount Feathertop (via Bon Accord Spur) – Victoria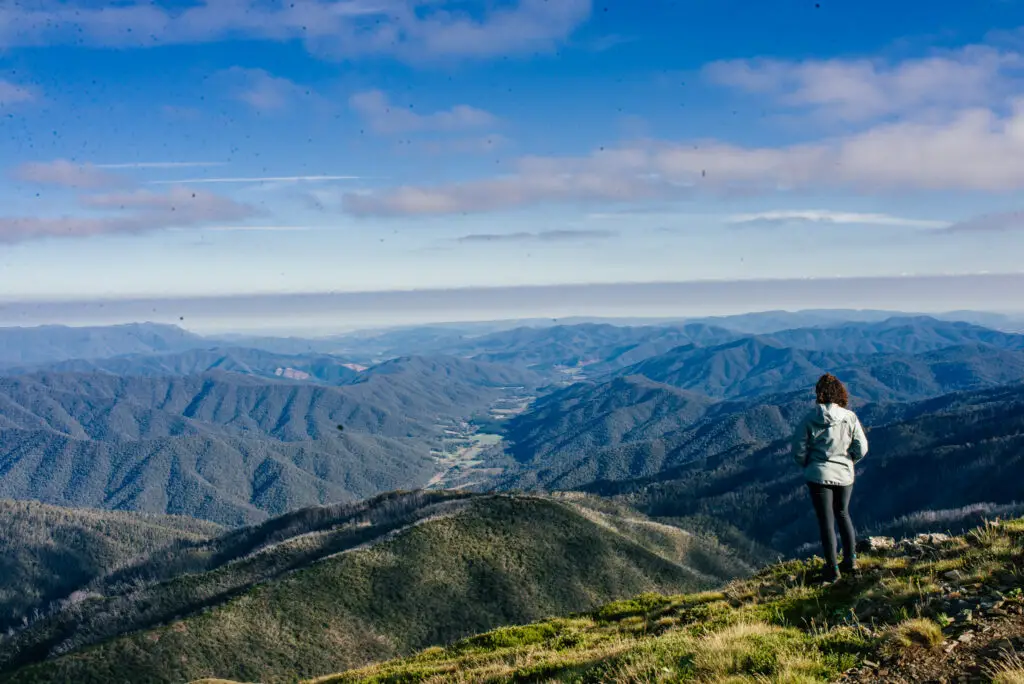 One of the most challenging and rewarding hikes I've done in a while was to Mount Feathertop, Victoria's 2nd highest mountain via Bon Accord Spur.
Starting at the alpine town of Harrietville, this 45km, 3 day and 2 night hike requires some level of multi-day hiking experience. It's a mixture of 'bush bashing' in parts (thanks to overgrown trails), exposed, fairly high-altitude hiking on the ridges of mountains, and at least one night of 'wild camping' with no facilities. Depending on which way you go up (for me it was up Bon Accord Spur first), it will require a high level of fitness as the first day is steeply uphill for about 6 hours.
Not only will you need to bring all your own food, you will also need your camping gear and water. There's only one stream which you will cross only a few hours into your first day.
On the second day, when you scale to the top of Mount Feathertop, words cannot describe the view. You are literally on top of the world, overlooking clouds, townships and the rolling mountains-capes around you.
As hard as it was (I would recommend scaling Mt Feathertop first and then making your way down Bon Accord – not what I did!), it was surreal. The views were like nothing else I've seen. In Victoria, it is absolutely one of the tops hikes in the state you should endeavour to do one day. I'd also highly recommend the nearby highest mountain in Victoria – Mount Bogong, done as an overnight hike.
---
I hope that these personal recommendations about the top hikes across Australia have inspired you to get your walking boots on to explore these trails. We'd love to hear which ones you like the sound of!
Heading to Australia soon? Don't forget these essentials!
Flights: compare and search using Skyscanner
Accommodation: hotels to hostels, glamping to apartments I always use Booking.com
Tours: to search and compare the best group tours and activities worldwide (with up to 20% off), use Viator
Visa: don't forget to check the entry requirements for Australia on the government website for the passport you are travelling with
Inspiration: Lonely Planet's guide to Australia or for your next trip, how about Lonely Planet's Guide to the World?
PIN ME FOR LATER:
*This post may contain affiliate links meaning should you purchase a product via this link, I'll earn a small commission at no extra cost to you. These are still products I use or believe in regardless. See my privacy and disclosure policy for more.*