The Great Ocean Road is hands down one of the most scenic coastal drives in the world. The iconic route stretches 243km from Torquay to Allensford in Australia, showing off some of Victoria's most attractive and interesting natural tourist sites along the way, including incredible waterfalls.
From Melbourne, a Great Ocean Road weekend trip is one of the best in Victoria. Or, even better if it's enjoyed more slowly over three days and two nights.
After visiting the Great Ocean Road for a quick weekend (and having regularly visited parts of it since), here is a guide to everything I know about this stunning world famous Aussie road trip.
*This post may contain affiliate links meaning should you purchase a product via this link, I'll earn a small commission at no extra cost to you. See my privacy and disclosure policy for more.*
PIN FOR LATER:
---
Where Should You Stay?
Deciding on your accommodation for your Great Ocean Road weekend trip can be a bit of task when faced with so many interesting towns along the way. Here is where I would suggest you stay for your one night:
My Option: Lorne
I personally stayed in Lorne, which is 143km from Melbourne and 45km from the start of the GOR. After getting up early to leave Melbourne on the Saturday morning and stopping off at places all day until dusk, Lorne felt like the right kind of distance to stay at overnight. Some people venture further down the coast but if you're starting from Melbourne, I think it would be too far considering you will already be doing a lot of driving.
Lorne is a pretty lively seaside town with loads of quirky bars, restaurants, cafes and boutique shops. It had a great, almost hippy/surfer atmosphere, although it was probably the most touristy and busiest town I drove through.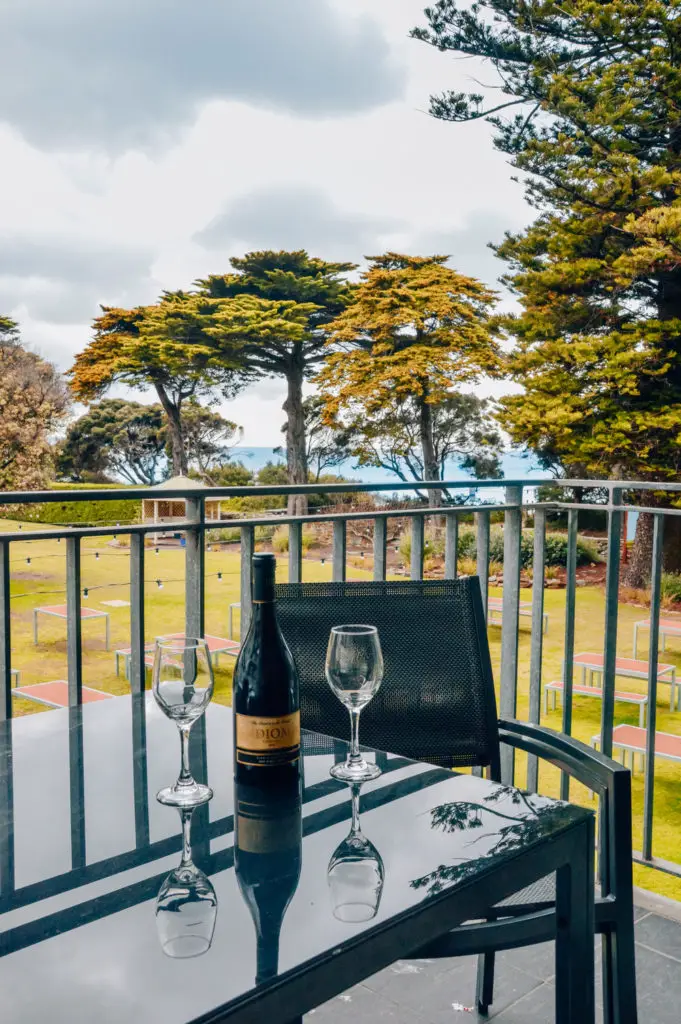 There are an abundance of nice hotels in Lorne. I stayed at the 4* beach front Mantra Lodge Hotel. We had a really nice one bed apartment with a living area and a balcony with a sea view.
The buffet breakfast was also incredibly generous, the rooms modern and clean so for $200AUD per night for two, I would highly recommend staying here.
There are of course lots more budget options available too but this was a really nice treat.
The Quiet Choices: Kennet River/A Rural AirBnB
An hour drive beyond Lorne you will find the tiny town of Kennet River with a minuscule population of only 50. It borders the Otway National Park and so it's ideal if you want to do some walking and wildlife spotting as you can find koalas, glow worms and parrots residing here.
If you want to be somewhere more rural but not completely off track, you can find some quiet HomeAway and VRBO options along the coast between Kennet River and Apollo Bay.
Best for your second night (if you have one): Apollo Bay
Although I didn't stay here, I would have been keen to book near Apollo Bay if I had organised a second night. It is half way along the GOR so ideal in terms of distance, especially as there is less to see at the end of the Great Ocean Road compared to the first half.
Like Lorne, Apollo Bay was once a quiet fishing town but now a modestly bustling seaside hub surrounded by great viewpoints such as Mariners Lookout, rainforest walks like Maits Rest and stunning waterfalls like Triplet Falls.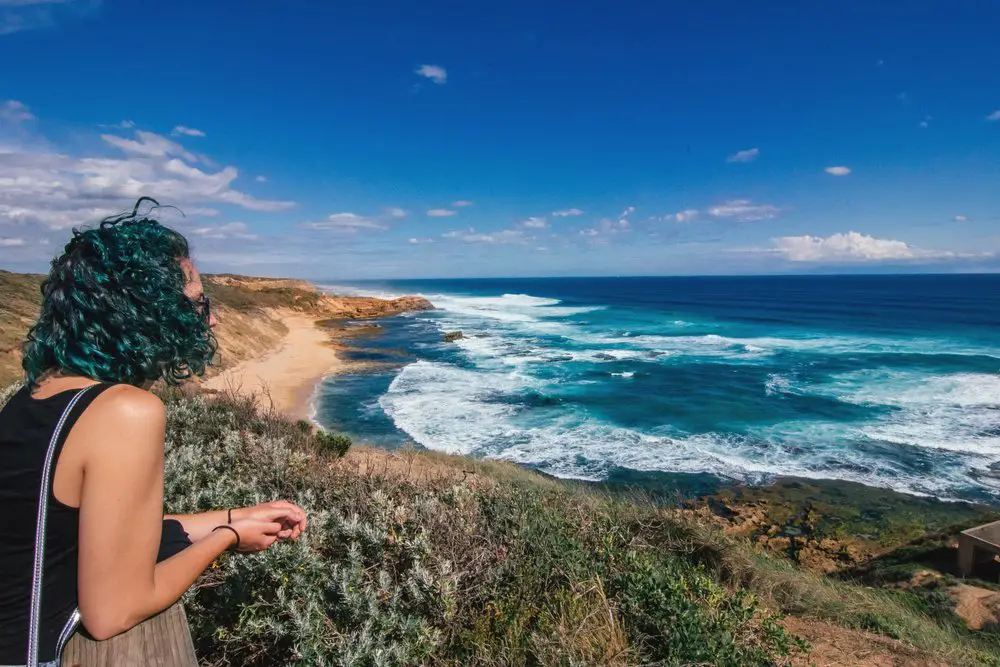 When Should I go to the Great Ocean Road?
No matter what time of year you go, be prepared for the route to be pretty busy. The majority of people on the road will be tourists like yourselves and you'll see lots of caravans and motorhomes.
Visiting in the Australian summer (December – February) is a great idea if you want to surf, enjoy the beaches and swim in the waterfall pools, however it may be too hot if you plan to do any hiking beyond the odd short boardwalk. Of course this will also be the busiest time with tourists and traffic jams in Summer are especially no fun.
To avoid the sting of the Australian sun, I would definitely recommend going in the Spring (September- November) where it is often sunny but cool. I went in September and although a jumper (and at times a waterproof) was needed, it was the ideal climate for some decent hiking and snapping some photos.
It would be a shame to go in Winter unless you find an unusually sunny weekend as you'll spend all your time outside and the scenery looks so much more attractive in the sun!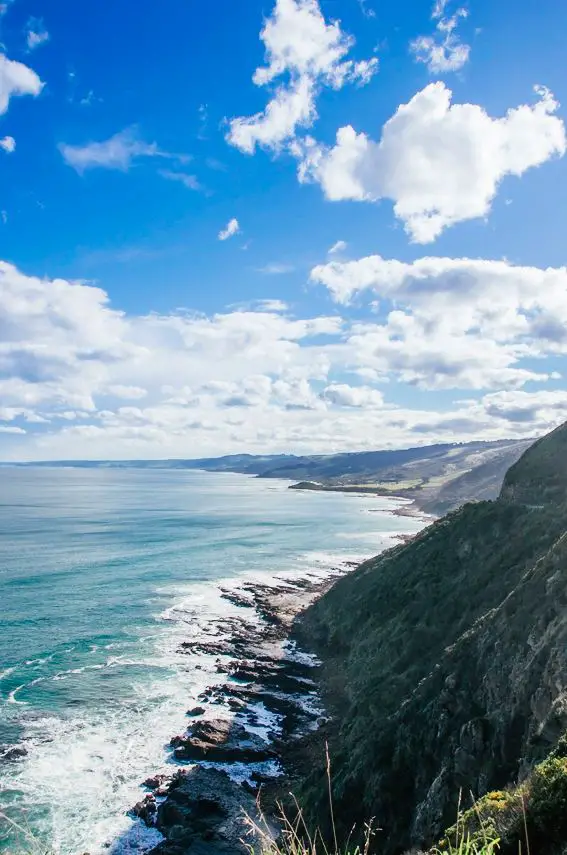 What Can you See and Do?
Although the Great Ocean Road can be approached the opposite way from Melbourne (i.e. from Allensford to Torquay), it is highly recommended to instead start at Torquay as this way, you will get to see the scenery as you drive along the left hand side.
So long as you get up early to make the most of your days, here is how you can spend a two day Great Ocean Road weekend road trip:
DAY 1
Get Some Sea Air at Anglesea
110km from Melbourne you can find the inlet of Anglesea which makes a lovely first stop to enjoy the sea air and stretch your legs with a coastal bush walk.
The beach here is pretty pristine and popular with beginner surfers as it's flat and the waves are gentle. Parks and gardens also line the coastal foreshore, like the Coogoorah Park which is a network of islands between wetlands, linked by boardwalks and bridges.
Go Around The Twist at Split Point Lighthouse
Aires Inlet is another super cute coastal inlet just a 10 minute drive down the Great Ocean Road from Anglesea. Here you can find a short uphill walk to Split Point Lighthouse, a famous landmark in children's television. The iconic Split Point Lighthouse was the setting of the 80s cult TV series 'Around the Twist' about a widowed dad and his children who got up to all sorts of magical adventures. It's open inside daily for tours if you want to learn more about the history and TV show but it can simply be admired from the outside.
In front of the lighthouse there is a boardwalk to a viewing platform where you can sometimes spot whales. We saw a mum and her baby surfacing about four times which was a perfect start to the road trip!
Just behind the lighthouse you can find the super cute Willow Tea House for a mid morning cake and coffee stop. If it's a nice day, I would definitely recommend sitting in the garden, surrounded by the flowers and pretty bunting. It appears to be a surfer family's little Australian dream and this hippy atmosphere is definitely what makes the place.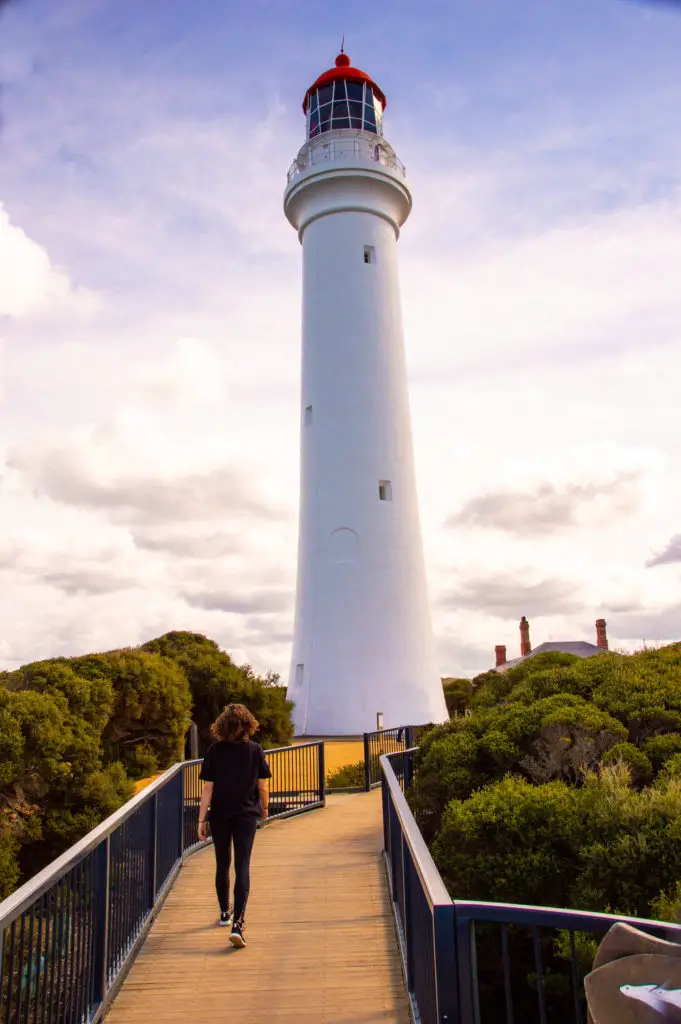 Get Your First Waterfall Fix at Sheoak Falls
A few kilometres past Lorne you will see signs for Sheoak Falls, the first waterfall you approach along the Great Ocean Road. This is a great one to quickly visit, as the walk to the waterfall is really easy (aside from a bit of uphill at the start) and it only takes 15 minutes.
The falls are fairly short in height and the gorge is shallow but the layered rock sections that the water cascades down give it a unique character. It's small but a really pretty, peaceful gem to discover just off the main road, though probably unimpressive if there hasn't been much rain.
You can also take another path up from the waterfall to see it from the top and visit Swallows Cave, aptly named after the swallows that nest there in the spring.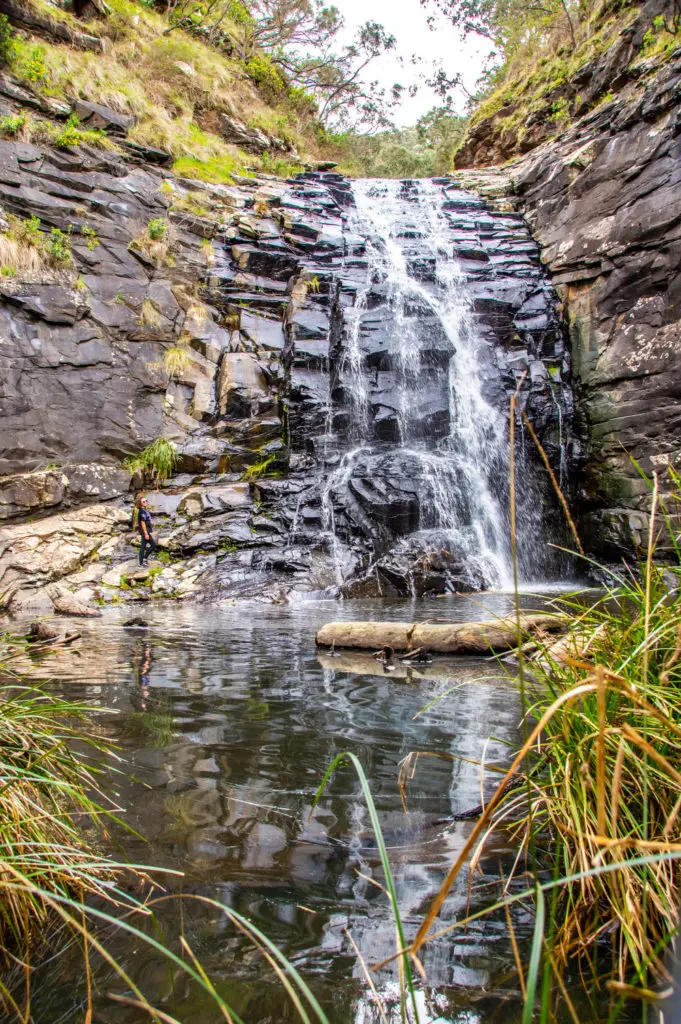 Have a Picnic on the Beach
The stretch of coast along the Great Ocean Road is stunning whichever part you go to. So pack a picnic mat in your car and cool bag stocked with some food (or stop at a supermarket on the way) to make the most of Victoria's beautiful beaches.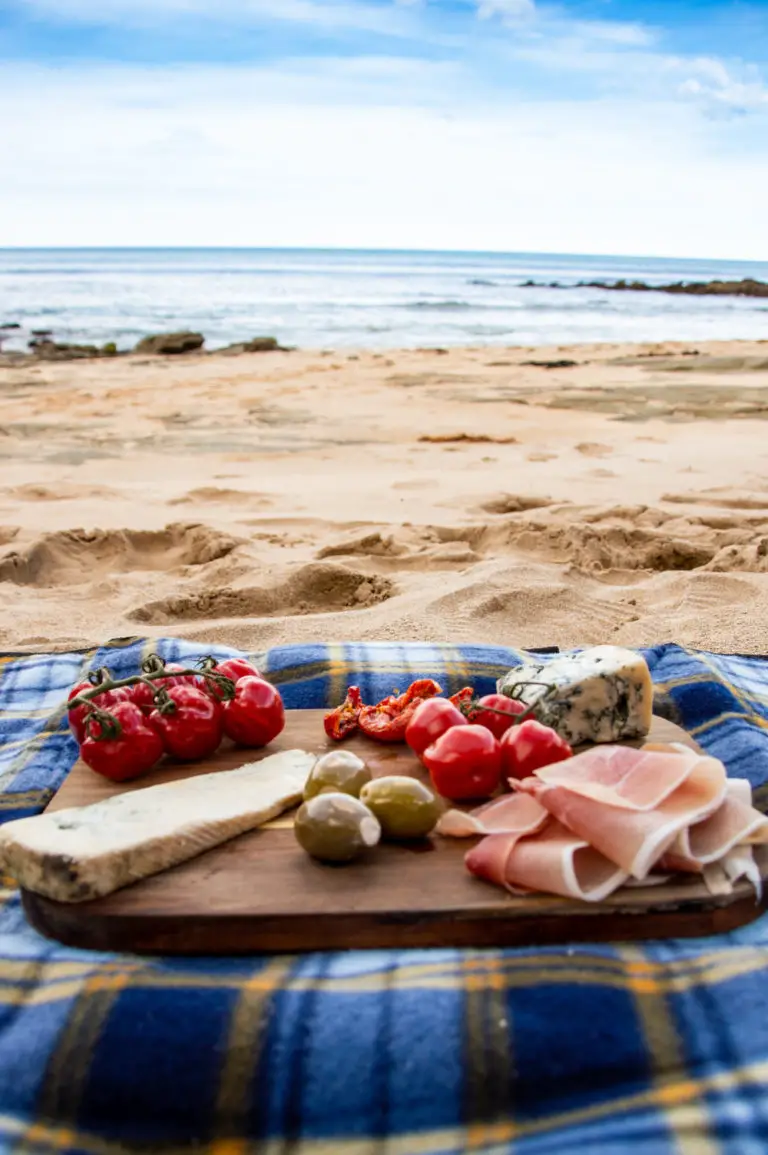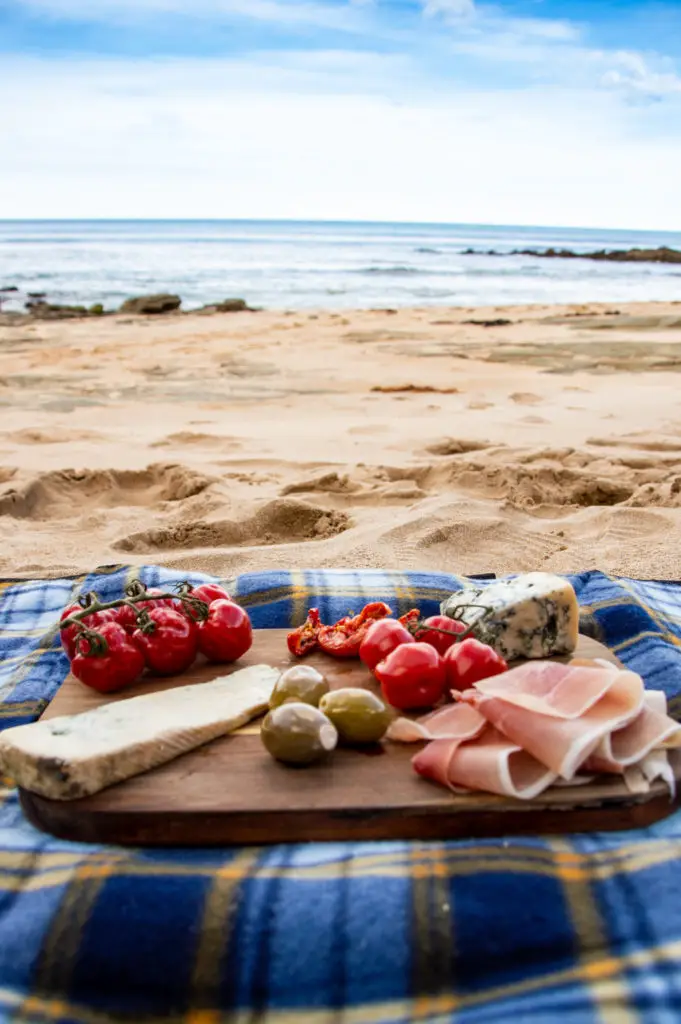 Admire the Twelve Apostles
There are a few more things to do around the Lorne area however it made sense to me to drive on further towards the more popular Great Ocean Road sites such as the Twelve Apostles on the first day. Therefore there were still some things to do more locally in the morning and also on the drive back to Melbourne on the Sunday.
The Twelve Apostles are limestone stack formations just off the shore of Port Campbell National Park. Though due to erosion and storms they are now unfortunately down to just 8 which is a bit of a sorry sight!
A boardwalk leads along the coast so you can see the Apostles from many angles but you'll no doubt be battling to see them at all due to the sheer number of other tourists here. Despite the fact it was late afternoon and raining when I went, the car park was jammed with tour buses and there were so many people taking pictures and selfies it was actually hard to get a clear shot.
The Apostles are best admired at dawn or dusk but overall I would only just head here for a quick stop and then go onward to the Gorge.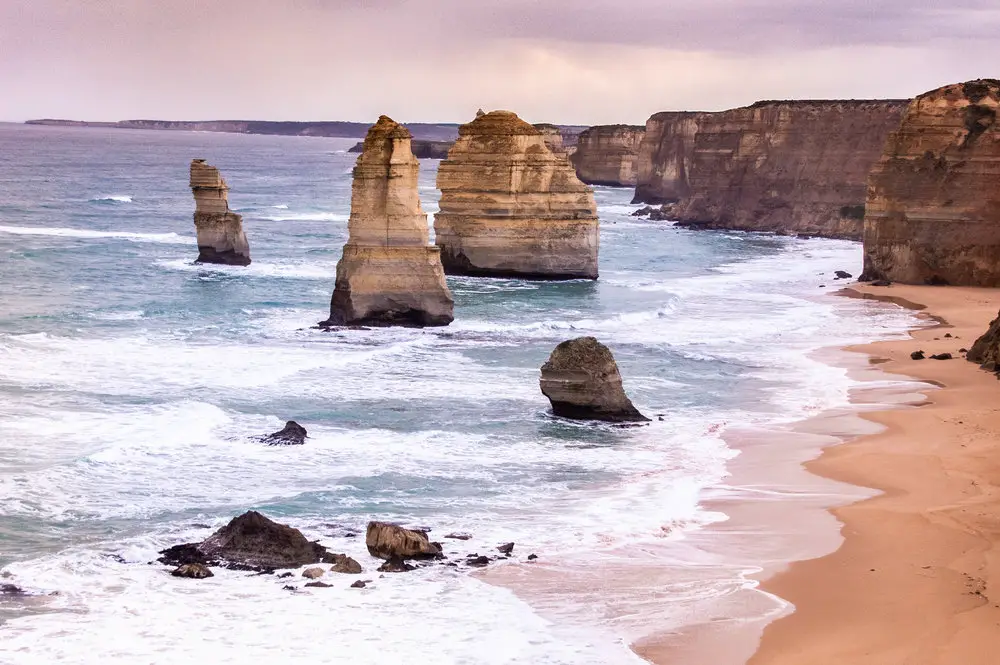 Learn Local Maritime History at The Loch Ard Gorge
Three minutes away from the Apostles you will find the beautiful, slightly rugged gem, the Loch Ard Gorge. With limestone cliffs towering over a small bay with aqua blue waters and soft, pale orange sand, it's a very picturesque sight but the history behind this place adds another fascinating dimension.
Back in 1873 a large ship travelling from England beached itself in bad weather on an island nearby the Gorge. Tragically 52 of 54 passengers died but two were washed ashore alive on this beach – a 15 year old boy called Tom and the other a 17 year old Irish girl called Eva.
In a touching tribute, not only was the Gorge given the name of the ship in remembrance of the deceased, one side of the Gorge is called Tom and the other Eva, in homage of the two survivors. You can learn all about this and also the maritime history of the area in the nearby tourist centre in Port Campbell.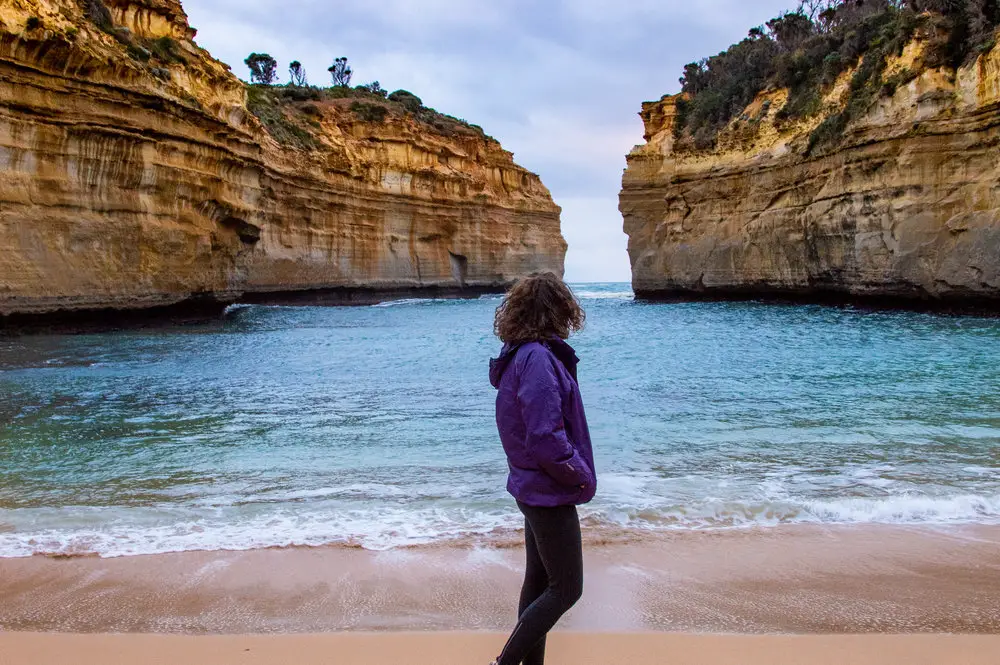 This should take you up to the early evening meaning you have a 1 hour 45 minute drive back to Lorne to your accommodation, or enough time to get elsewhere.
Should you have more time, then definitely head further down the coast to visit the other shoreline sites such as London Bridge, and The Grotto.
DAY 2
Soak up the Views at Teddy's Lookout
Just a 5 minute drive from the centre of Lorne, you can find Teddy's Lookout, a viewpoint to see sweeping coastal views and the surf crashing into the Saint Gorge River – a great way to start another busy day.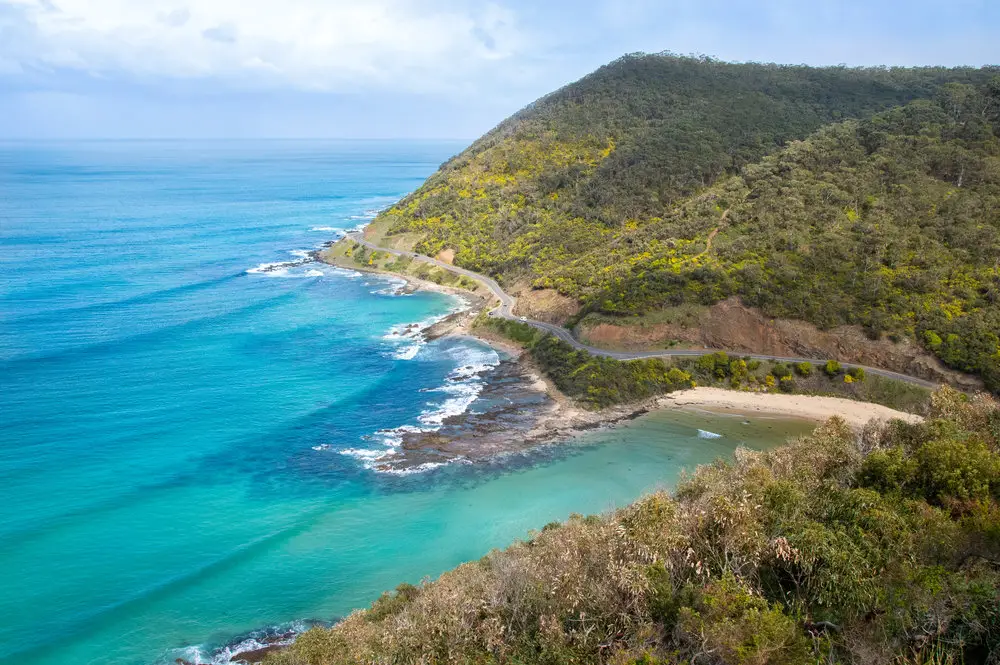 Explore Erskine falls
10km from Lorne you will find Erskine Falls. This waterfall is the most popular in the area but this should definitely not put you off – it is truly one of the best. The falls cascade down one of the highest drops in the Otways and coupled with the surrounding ferns, mist and lush vegetation, it creates a truly dramatic rainforest scene.
There is a viewing platform at the top of the falls, but the lower one, accessed by steep wooden steps, is the best to get to grips with the true scale of this idyllic waterfall. Be prepared to spend lots of time here snapping pictures.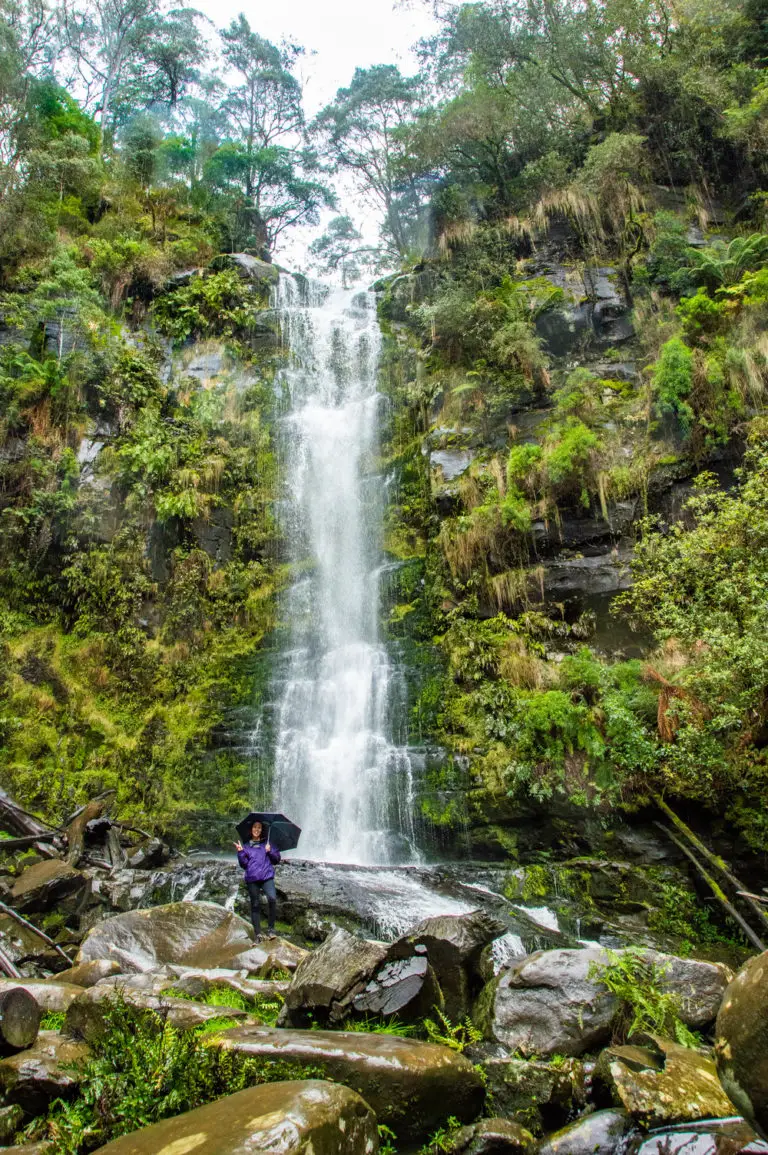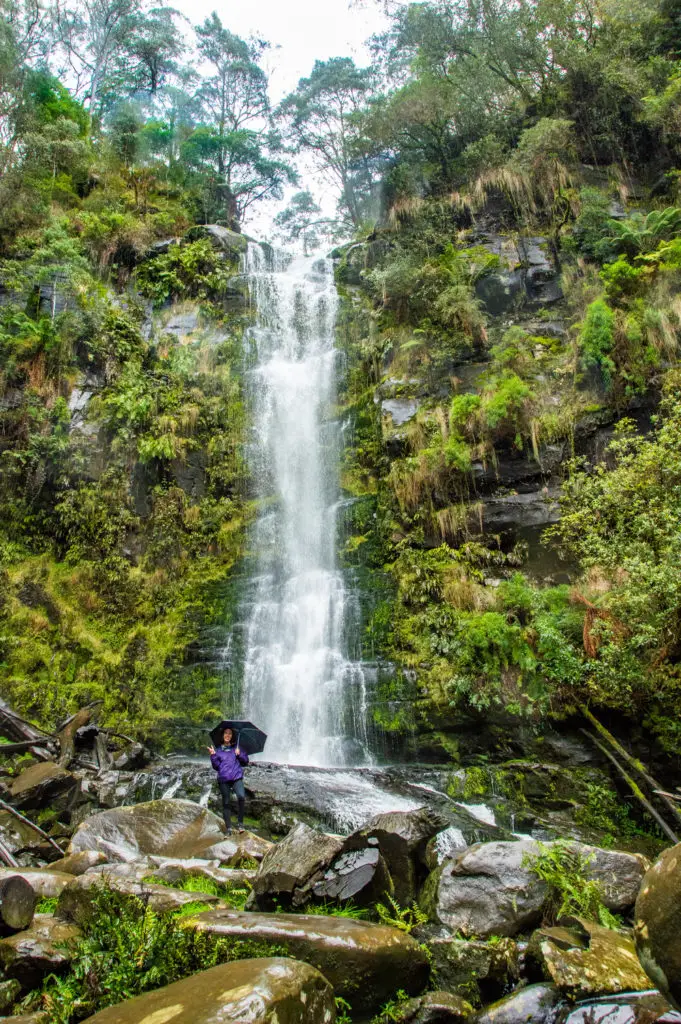 Hike and Swim at Phantom Falls
If you're not all waterfalled out by now, then I would definitely recommend moving on to the next waterfall, which takes a 10km hike to get to. You can start your hike to Phantom Falls from the Allenvale Carpark (2km out of Lorne) or make it slightly shorter by starting at the Allenvale Campground.
The walk from the car park takes you along a river and then through the bottom of someone's farm which is the hangout for a huge family of kangaroos. They seem pretty chilled out but you have the river separating you both just in case they are fiercely protecting their babies!
The waterfall here is not as high as the others but it's wider and often has more water. The best thing of all is that Phantom Falls has a shallow pool at the bottom (once you get past the rocks), so this would be ideal for taking a dip and cooling off in the Summer.
Because it's not too high, the water isn't too forceful meaning it doesn't churn up mud and unsightly debris. The result is a refreshingly clear and inviting swimming pool that appears suitable for kids as well.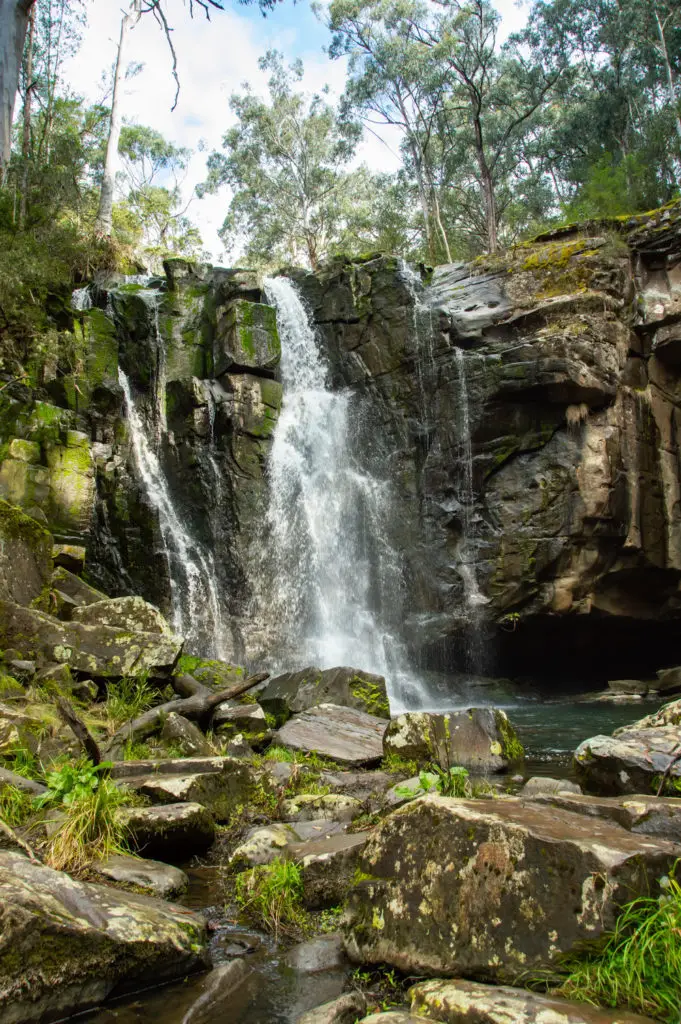 Head to lunch at Lorne
After such an active morning exploring you are likely to have worked up quite an appetite. Head back to Lorne for a late lunch at one of the many amazing restaurants or pick up something light at the bakery.
We stopped at Chopstix Noodle Bar, an Asian street food restaurant on the main street, for a colourful feast. The food was fresh, incredibly tasty and portion sizes really generous.
The decor was quirky, incorporating a blend of styles and props that kept us intrigued. I would definitely recommend eating here.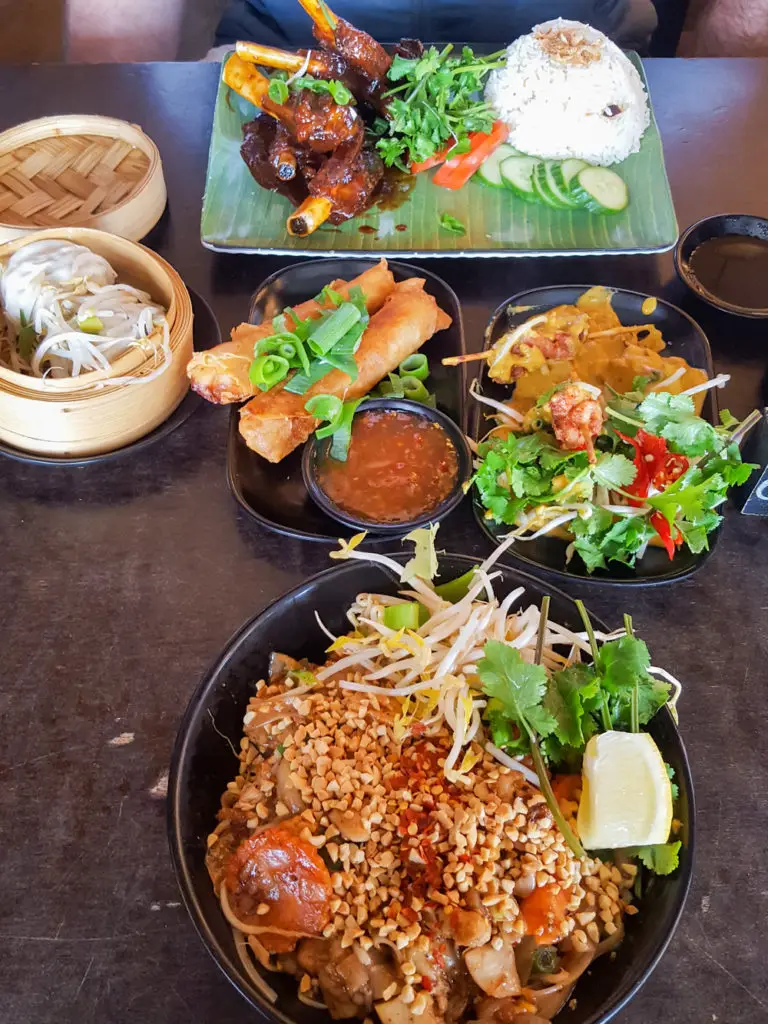 Potter at the Pier
After lunch you just need to cross the road to admire Lorne's beach and pier or alternatively hunt down Lorne's Swing Bridge if you're not afraid of suspension bridges!
Head Back to Melbourne
If you want to spend longer down the Great Ocean Road than I would recommend you check out this South West Victoria Guide.
However, if like us you don't want to get back too late and you only have the weekend, after your walk around Lorne you can head back to Melbourne, which will take you just over 2 hours. The drive for the most part is back along the coast so you also have the opportunity to stop to snap some pictures you didn't manage to get on the way in.
And whilst you're on your road trip, how about listing my an all out Australian Rock playlist?
---
Have you been on a Great Ocean Road weekend road trip or visited any of these places? Let me know in the comments below!
Thanks for reading!