Located 200 miles from Manila, the island of Boracay stands out as the Philippines' premier beach destination. In a land of countless beautiful beaches, that's saying something. After all, the country has over 7600 islands, brimming with unique travel experiences. Tiny Boracay manages to encapsulate the best of the Philippines within 4 square miles of tropical paradise – but only if you know which parts of it to go to.
Boracay was practically unknown until the 70s when it appeared in two Hollywood films and the 80s saw the influx of backpackers looking for budget lodgings. The 90s onwards witnessed a surge of curious tourists drawn to its vibrant nightlife, unforgettable sunsets and signature white sand so fine it glides through your fingers like water.
But the explosive tourism growth took its toll on the island, prompting the Philippine government to order a six-month closure for major rehabilitation.
When the island reopened in October 2018, it had tried to shed its notorious party island reputation in favour of sustainable tourism. From 'LaBoracay' (a rowdy summer beachside event that rivals Thailand's full moon parties), the island switched to 'Love Boracay', a week-long festivity that celebrates environmental awareness. 
However if partying is your jam, you can still drink and dance the night away within the confines of bars and clubs, or, if you are the adrenaline-rush-loving type, partake in exhilarating watersports.  
White Beach, a 4-km stretch of shoreline lined with hotels, bars, restaurants and shops, is the island's activity hub or 'main' beach. White Beach is typically overflowing with tourists and hawkers scrambling for space, and when I went, it made Boracay look like a bit of a dump. In fact, I wrote a pretty damning report about Boracay and wished I had stayed on another part of the island.
Despite its popularity, White Beach isn't for people hoping for a solitary stroll at sunset. Well, unless your idea of peaceful walks is fending off persistent vendors, weaving through tourists every five steps and all against a backdrop of derelict buildings and construction… 
Oddly enough, many of the best beaches in Boracay stay under the radar yet they are so much better than the islands hot spot. So forget about White Beach – here are five amazing must-visit beaches in Boracay that you should visit instead.
*This post may contain affiliate links meaning should you purchase a product via this link, I'll earn a small commission at no extra cost to you. See my privacy and disclosure policy for more.*
PIN FOR LATER:
---
Puka Beach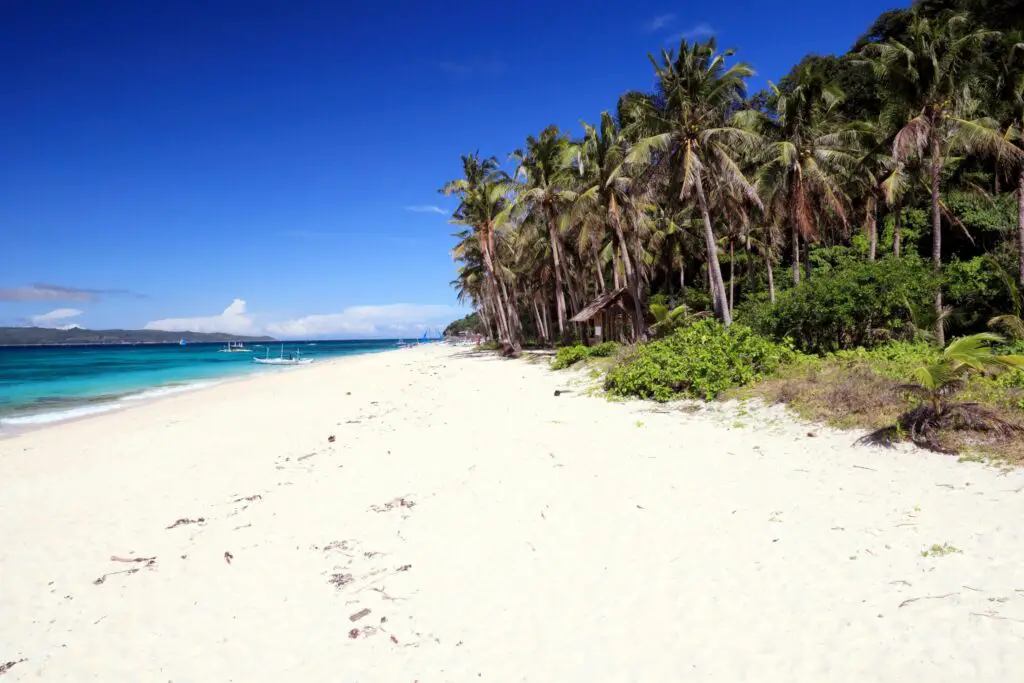 Before Boracay became a popular holiday destination, it was known for its beautiful puka shells, concentrated mainly in the northern areas. It is here that you will find the 800-meter long Puka Beach named after the famous shells, flanked by a verdant hilly jungle on one side and turquoise blue waters on the other. The tiny bits of coral and shells make the sand coarser but still soft enough to not hurt your feet if you stroll on the shore barefoot.
Puka Beach is generally remote and quiet. Most of the action happens at the beach entrance, where you'll see a long line of restaurants, souvenir stalls, makeshift bars, and various shops. There are no hotels or lodgings on the beach itself, but you will easily find accommodations in Barangay Yapak.
The far-left side of the beach is undeveloped, more spacious and secluded, with fewer people and only one or two establishments. It's the perfect spot to have a picnic (you can bring your own food and drinks), sunbathe, or sit down and read a book.
Puka Beach isn't just for beachcombing and beach bumming. You can go kayaking or paddleboarding, play volleyball, enjoy a massage or swim.
If you decide to take a dip, be sure to take extra caution as Puka Beach does not have lifeguards, and the sea becomes deep quickly because of the slightly sloping terrain. Also, note that there are no shower facilities on the premises, although the toilets double as changing rooms.
If you want the beach all to yourself, visit early morning or late in the afternoon. The sunsets are surreal, and you might catch a glimpse of flying foxes gliding over the lush vegetation at dusk.
The most common mode of transport going to Puka Beach from the island center is by tricycle. It costs around ₱150. Recently, the government added electric jeepneys, which are cheaper but carry more people. You also can access Puka Beach by water on a charter boat or on an island-hopping tour.
Bulabog Beach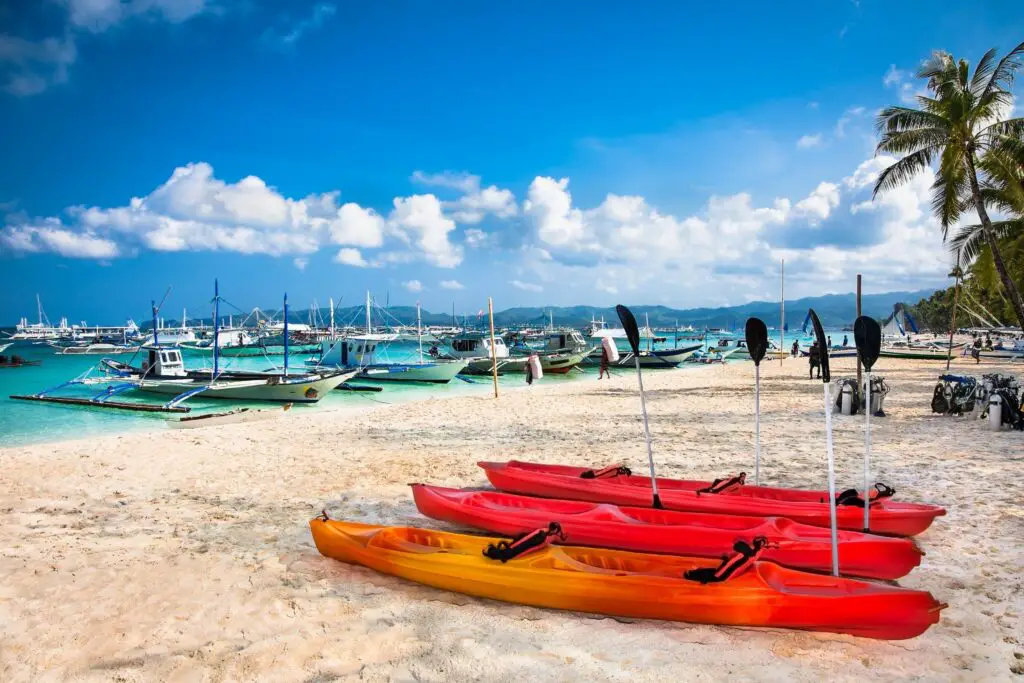 Located on the eastern side of the island, opposite White Beach, windswept Bulabog Beach is unofficially the watersports capital of Boracay. So if you're feeling adventurous, this is one of the best beaches in Boracay for thrill-seekers!
Roughly a mile long, the beach is not ideal for swimming. Blame it on the consistently strong winds that create strong currents. But it is also this wind that lures thousands of kiteboarding and windsurfing professionals and enthusiasts to visit the beach to compete, hone their skills, or simply enjoy the sport. Most competitions happen between November to April, when the temperatures are mild with low rainfall.
Bulabog is perfect for adventurous families and thrill-seeking couples. But even if you're not a surfer, there's still a lot to enjoy in Bulabog.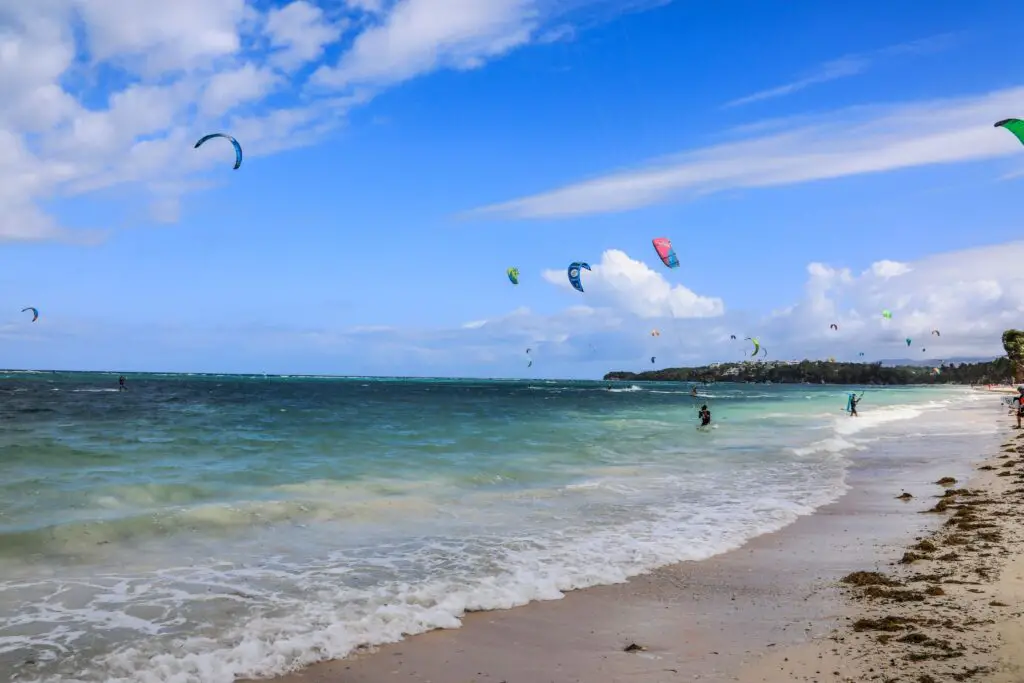 First off, the beach is unconventionally scenic – lush palm trees, a long stretch of sparkling white sand, and a burst of multi-colored kites over the horizon. Lounge on a beach chair and watch experienced riders pull off jumping tricks in the waves or find a quiet spot to lie down for sunbathing.
In case on a whim you want to learn how to ride the wind, the beach has several kitesurfing and windsurfing schools. If not, try dabbling in other water activities, such as parasailing, water sledding, stand-up paddle boarding and kayaking.
As one of the more developed beaches on the island, Bulabog has a string of accommodations ranging from budget-friendly hostels to self-catering villas to lavish resort hotels, many of which are on the beachfront. If you're in the mood for a drink, you can easily find a laid-back bar perfect for a relaxing evening.
Getting to Bulabog is easy and convenient as it is merely a 10-minute walk from D'Mall on White Beach, the island's touristy commercial zone.
Ilig-Iligan Beach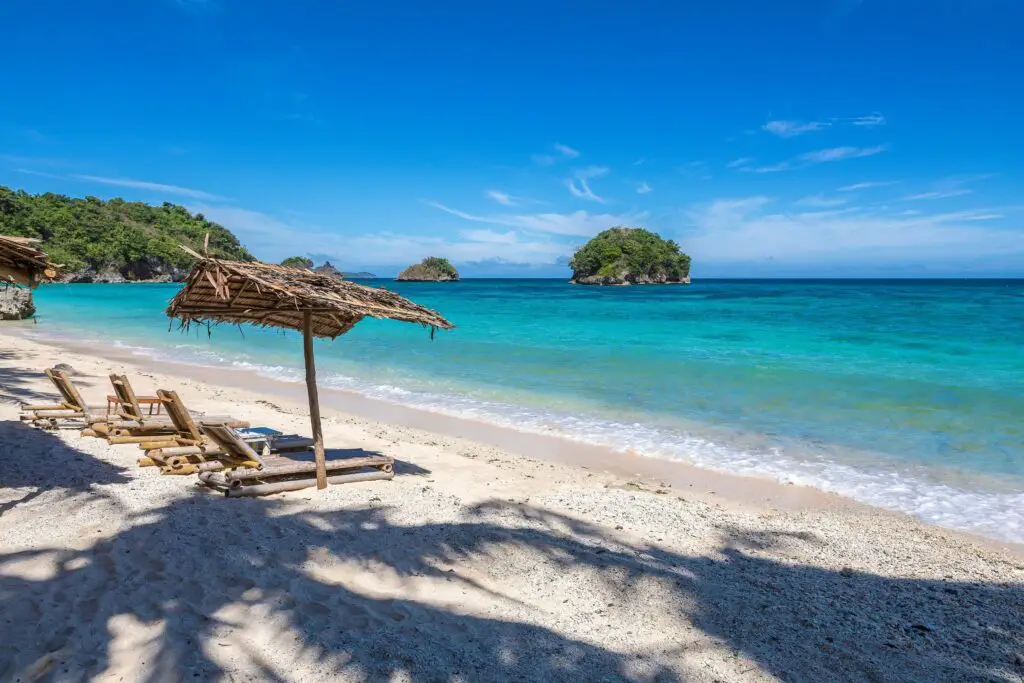 Ilig-iligan is the definition of an unspoiled tropical paradise. Except for a couple of family-run restaurants, barely any infrastructure exists on the beach.
Instead of upscale resorts, glitzy clubs, and bustling shops, you will find pristine waters, picturesque bays, limestone cliffs and shimmering white sand. There are no fancy watersports, either. But the surrounding waters abound with fascinating marine life, making Ilig-iligan Beach ideal for snorkeling and diving.
A narrow hiking trail leads to a dense inland jungle where you'll find fruit bats hanging on trees. If you explore the north end of the beach, you'll reach a fascinating bat cave. 
Some local boys will offer to show you around; most know secret spectacular spots only a few tourists have seen, including hidden coves and exotic flora. It's well worth hiring them as your guide to uncover the secrets of Illig-iligan.
At the nearest village there is a small museum with an extensive shell collection. The exhibit also includes national dresses, woodcarving, and ceramics.
Ilig-iligan Beach lacks modern amenities though, so be sure to bring your own necessities, including beach mats, towels, food and drinks. Bring garbage bags as well, as there are no bins in the area. 
There are also no shower rooms, and the only toilets are in the restaurants, which charge around ₱20 for every use. Remember, however, that the incomparable serenity of the beach makes up for all these inconveniences.
Getting to Ilig-iligan is challenging however. The beach sits on the tip of Boracay's northeastern coast, making it one of the farthest places from the main pier. Many of the tourists who reach Ilig-iligan are island-hoppers brought by motorboats.
Sure, you can get to Ilig-iligan by motorcycle or tricycle, but the cost would be hefty. To save on money, you can go to Puka Beach first (at least ₱150 fare), then walk the 1.6 km distance to Ilig-iligan through the Boracay Highway Central.
Tambisaan Beach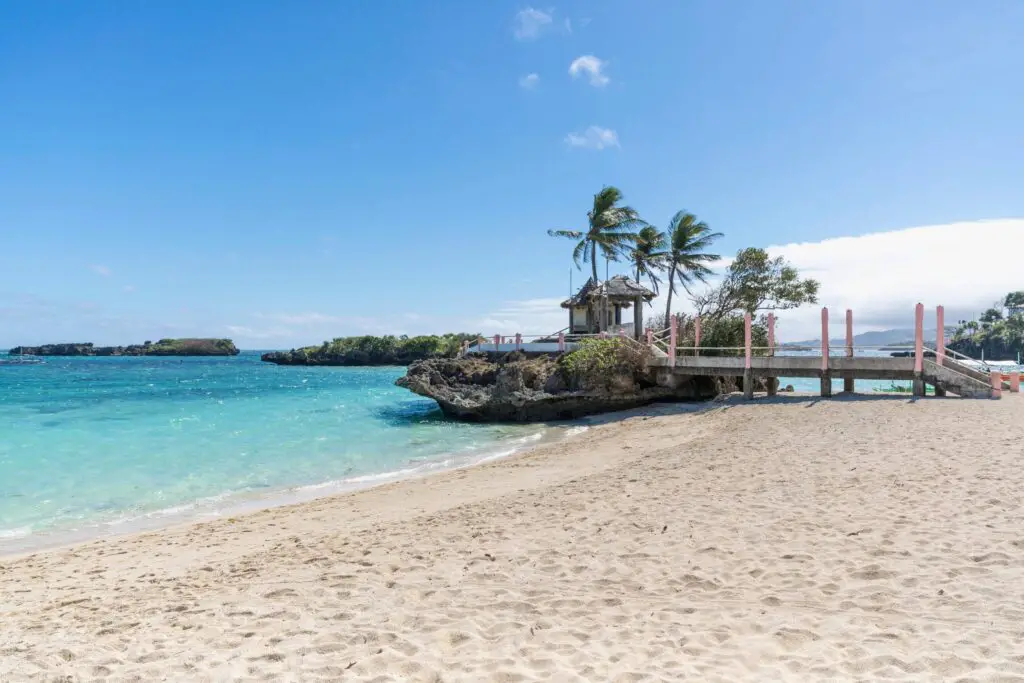 Most tourists skip Tambisaan under the assumption that there is nothing special to see on the beach. Who can blame them? Many people, including tour guides, consider Tambisaan an alternative option to more exotic beaches in times of bad weather.
What is in Tambisaan, anyway? Coarse sand, rough currents and a cluster of coconut trees that you'll find everywhere else on the island.  
But Tambisaan isn't about the looks; it's about the feel. And no other place in Boracay exudes a genuine local island vibe better than Tambisaan. 
What makes the beach extraordinary is its homey, authentic atmosphere. After all, this is where many of the locals live. You can chat with the residents, learn about island life, and even fish with the fishermen. For this reason alone, Tambisaan is one of the best beaches in Boracay.
Tambisaan Beach is located on the southeastern part of Boracay and consists of two sections separated by a large rock protruding into the sea. There are no upscale hotels or fancy shops here. But, there are cozy homestays, unpretentious resorts and a smattering of restaurants that offer fresh seafood and authentic local cuisine.  
Blessed with rich marine life, Tambisaan is perfect for snorkeling and diving. If you are a good swimmer and the currents are suitable, you can cross to Crocodile Island, known for its beautiful coral reefs, moray eels, sea snakes, and wrasses.
You can get to Tambisaan by motorbike or trike via the main highway. A trike ride usually costs ₱50, but the driver may ask a little extra, especially if there are no other passengers. You can also reach the island by boat from Station 3 in White Beach.
Boracay Newcoast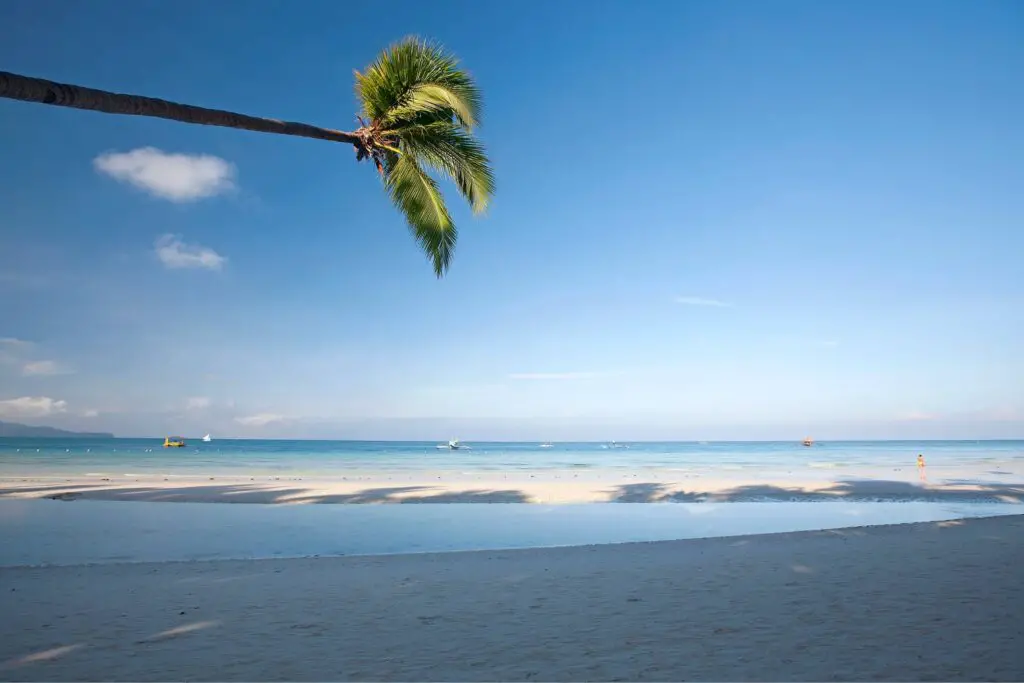 If you're looking for something chic and luxurious but quiet and peaceful, then the beach in Boracay Newcoast is for you. Situated on the eastern part of Boracay, Newcoast is a 150-hectare tourism development estate hosting three luxury hotels, clusters of residential condominiums, a commercial and retail district, a casino, and a 75-hectare golf course. It has a French Riviera-Santorini-Miami Beach feel, but tropical and more exotic.
Newcoast has its own 1.5-kilometer white sand beach that has secluded coves, perfect for relaxation, sunbathing, and swimming sans the crowd.
If you want a bit of adventure in the mix, get on a kayak or a paddleboard and brave the turquoise blue waters. Along the sandy stretch stands a unique rock formation called the Boracay Keyhole. Visitors come to this enchanted spot to throw a coin and make a wish. Adjacent to it is an exclusive jetty port for the guests.
The project, however, isn't just about high-end living. It focuses on sustainability which aims to protect Boracay's beaches and natural environment by recycling collected waste materials, using solar LED streetlights, and having its own sewage treatment plant.
In addition, Newcoast promotes green transportation and uses e-jeepneys for guest pick up. It means getting there is not a problem, and it's also eco-friendly.
---
Overshadowed by the popularity of trashy White Beach, many of the best beaches in Boracay remain unnoticed. But with the growing interest in off-the-beaten-path destinations, this may soon change.
For a tiny island, Boracay teems with hidden gems. Perhaps, it's time you explore the overlooked side of the island – one that is serene, secluded, and spectacular.
Heading to The Philippines Soon? Don't forget these essentials!
Flights: compare and search using Skyscanner
Accommodation: hotels to hostels, glamping to apartments I always use Booking.com
Tours: to search and compare the best group tours and activities worldwide (with up to 20% off), use Viator
Visa: don't forget to check the entry requirements for the passport you are travelling with
Inspiration: Lonely Planet's guide to The Philippines, or for your next trip, how about Lonely Planet's Guide to the World?