If you're looking to breathe in some fresh sea air and do some quality sightseeing without having to leave Melbourne, then you should consider a day trip to Williamstown!
Williamstown, located only 11km south-west of Melbourne's central business district (CBD) is a fantastic historic port city. Being at the mouth of the Yarra River at Port Phillip Bay, there are tonnes of rugged coastal walking tracks, marine sanctuaries, boating (and of course non-boating themed!) things to do.
Williamstown is the oldest suburb in Melbourne and thus oozes Victorian charm. There are plenty of great shops and restaurants within beautiful historic buildings which were built when Melbourne was first colonised. 
A day trip to Williamstown is a relaxed way to spend a day beside the seaside – here are some ideas about what you can do!
*This post may contain affiliate links meaning should you purchase a product via this link, I'll earn a small commission at no extra cost to you. See my privacy and disclosure policy for more.*
How to get to Williamstown
The beauty with Williamstown is that it's a suburb of metropolitan Melbourne, so it's fairly easy and quick to get to on many different means of transportation.
By Car
Of course the easiest way to get to Williamstown is by taking your own car. 
Although the main high street of Williamstown has paid metered parking, there are plenty of free parking spaces off the side roads mere seconds away. Beyond the main high street, there are free parking spaces around the main attractions such as the beach, sanctuaries and botanical gardens.
Driving is a convenient way to get from place to place, as otherwise you should expect a day filled with a lot of walking.
By Ferry
A popular and fun way to make your day trip to Williamstown feel more like on occasion, is to get the ferry across with Williamstown Ferries or St Kilda Ferries, from the following locations:
Southbank
Federation Square
Port Melbourne 
St Kilda Pier
Docklands
The journey will take an hour each way and you'll learn interesting snippets about the area from the captain. Taking the ferry to Williamstown allows you to not only take in views of the city skyline and explore Melbourne from a totally new perspective, you'll also skip the city traffic.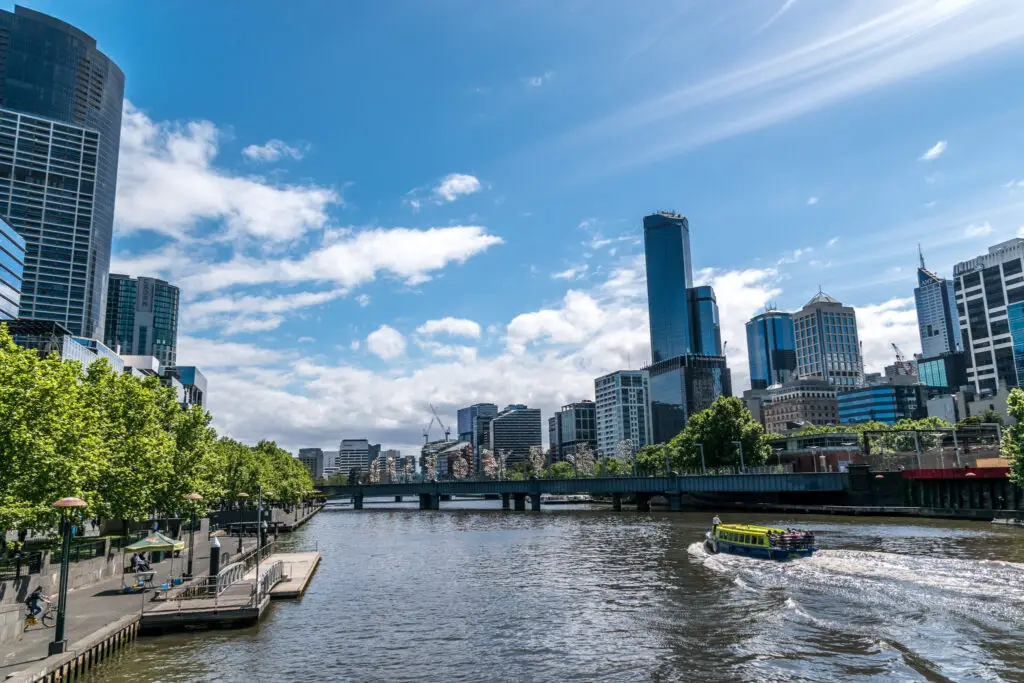 By Tram/Train
Probably the least convenient method of transportation is by taking a tram and/or a train.
Depending on where you are coming from, you could well need to take a number of trams or trains due to Williamstown being a peninsula. 
Melbourne's famous tram network also doesn't reach Williamstown. That means you have to go all around the bay on public transport to get there and potentially an Uber or taxi for the last 10 minutes or so. 
Taking a train and/or tram can of course be done, but it might be more of a hassle and take much longer than the alternative of driving or taking the ferry.  
Now you've arrived into Williamstown, here are some ideas about what can you do in this fantastic maritime village.
How to spend a day trip to Williamstown:
Jawbone Marine Sanctuary & Flora and Fauna Reserve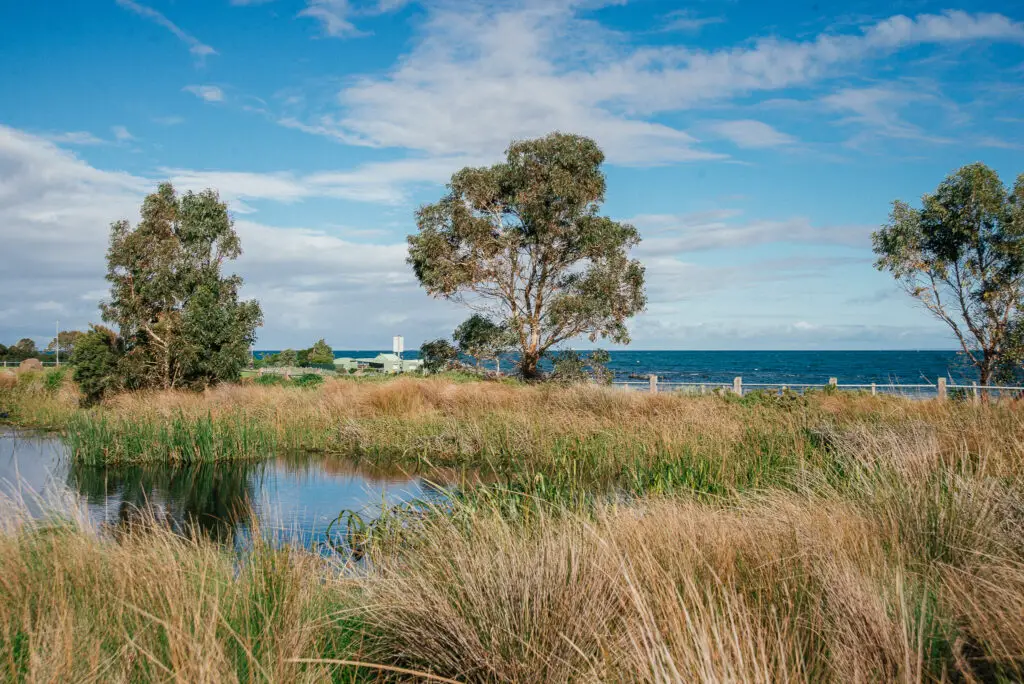 With a combined total of 80ha of protected coastal waters, the Jawbone Marine Sanctuary and Flora & Fauna reserve is an absolute must-do when you visit Williamstown. A network of boardwalks, bicycle tracks and walking trails meander along wetlands, rocky pools, lakes, tall grasses and coastal vegetation. You feel a million miles away from the hustle and bustle of city life.
For over 80 years, the protected lands have been a haven for nature. On your visit, you'll no doubt see an abundance of different wildlife such as seabirds and depending on the time of year, swathes of stunning, dainty wildflowers. 
The reserves are a particularly popular place to go bird watching – over 150 different species have been recorded here. I think that's pretty amazing considering how close it is to the centre of the city!
In the summer, the waters of Williamstown are a popular place to go snorkelling and diving to admire the sealife. Jellyfish, rays and shrimp are just a few of the many species thriving within their underwater seagrass and mangrove habitats.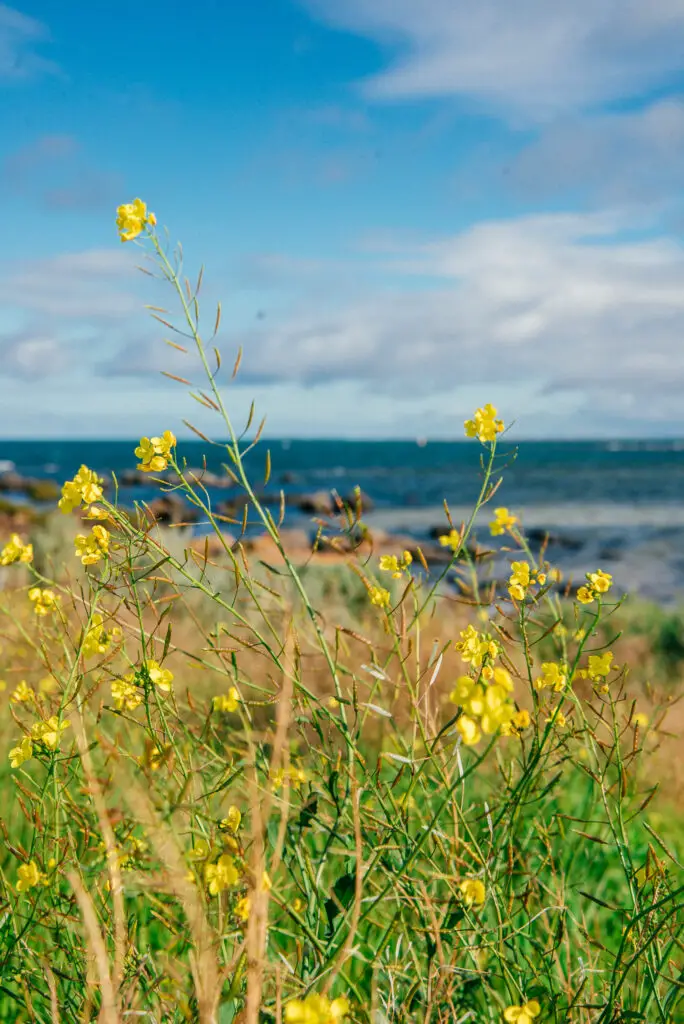 To protect the nature of the Williamstown reserves, fishing is strictly prohibited, dogs must be kept on leashes (or are banned in certain parts) and you must only stick to designated tracks.
Williamstown Beach 
Just past the Jawbone Marine Sanctuary is Williamstown Beach, a wide and sandy cove to swim and sunbathe with amenities such as toilets and open fresh water showers.
The nearby cafe kiosk serves hot drinks, ice creams, light bites and cakes which you can eat on the beach or in their small outdoor seating area. 
For a more cosy lunch or brunch (but still with great beach views), try West Eighty One, just across the road. 
Considering you're in a metropolitan city, Williamstown Beach is certainly one of the best beaches within central Melbourne.
A 1.5 Hour Day Sail on the Enterprize Tall Ship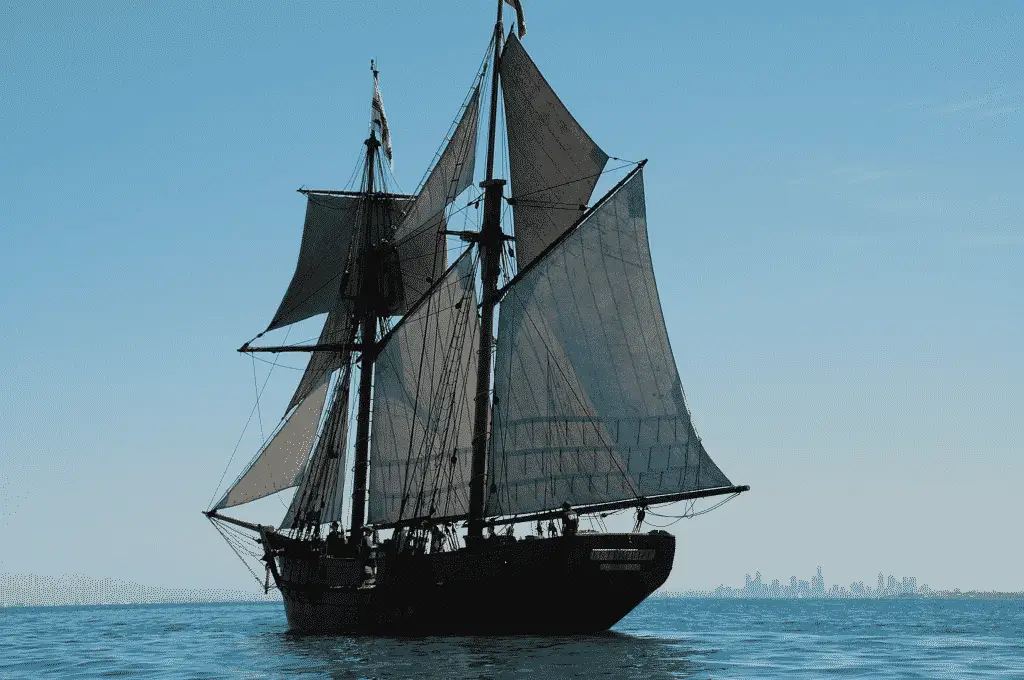 For history buffs, how about setting sail from Williamstown on a wooden historic tall ship?
Though it's not any old ship. The Enterprize, usually berthed at North Wharf in Docklands, is a replica of the first colonial ship that travelled from Van Diemen's Land (Tasmania) to Melbourne, brining the first white colonial settlers.
A day sail on this ship gives visitors a fascinating insight into the no doubt challenging (but exhilarating) life spent aboard a vessel in the 1830's.
1.5 hour daytime sails are available on the third Sunday of every month setting off from Gem Pier at 11am, 12:30pm and 2:30pm.
Evening sails to watch the sunset are also available on select Saturdays. Check out the Enterprize Trust's website for more information.
Williamstown Botanical Gardens
Who would have thought such a stunning formal garden would be tucked just a few hundred metres behind the wild coastline and unkempt marine reserves – and more surprisingly – surrounded by a housing estate?
Williamstown Botanical Gardens are one of Victoria's first formal public gardens. As a result, this 1860s horticultural community project is listed on the Victorian Heritage Register and classified by the National Trust of Australia. The gardens are a special local place with notable historical, scientific and social significance.
The main feature of the garden is the grand palm-tree lined avenue headed with statues which cuts right through the middle of the park. To the sides you will find perfectly manicured flower beds and quiet pockets of garden, brimming with rare and significant trees and plants.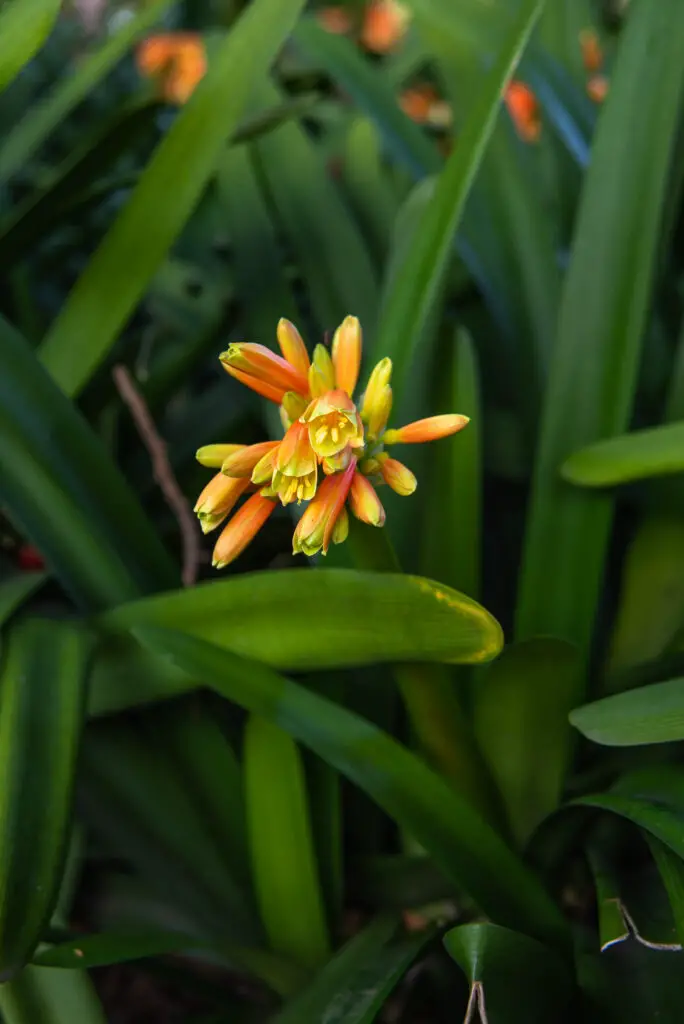 Probably the most attractive feature is the Edwardian ornamental pond with a fountain which emits the serene sound of flowing water.
Although the garden is small, it's a truly beautiful bubble of serenity to enjoy for around half an hour or so, or even longer with a picnic.
The Seaworks Museum
For only $5 you can gain access to this small but interesting maritime museum run by dedicated volunteers.
Brimming with historic artefacts, model ships and two life-sized Sea Shepherds moored outside, the museum is a great way to get acquainted with Victoria's maritime history. 
Seaworks is located on Nelson Place but it's only open a couple of days a week. It is best to check it's open before you set your heart on going.
Nelson Place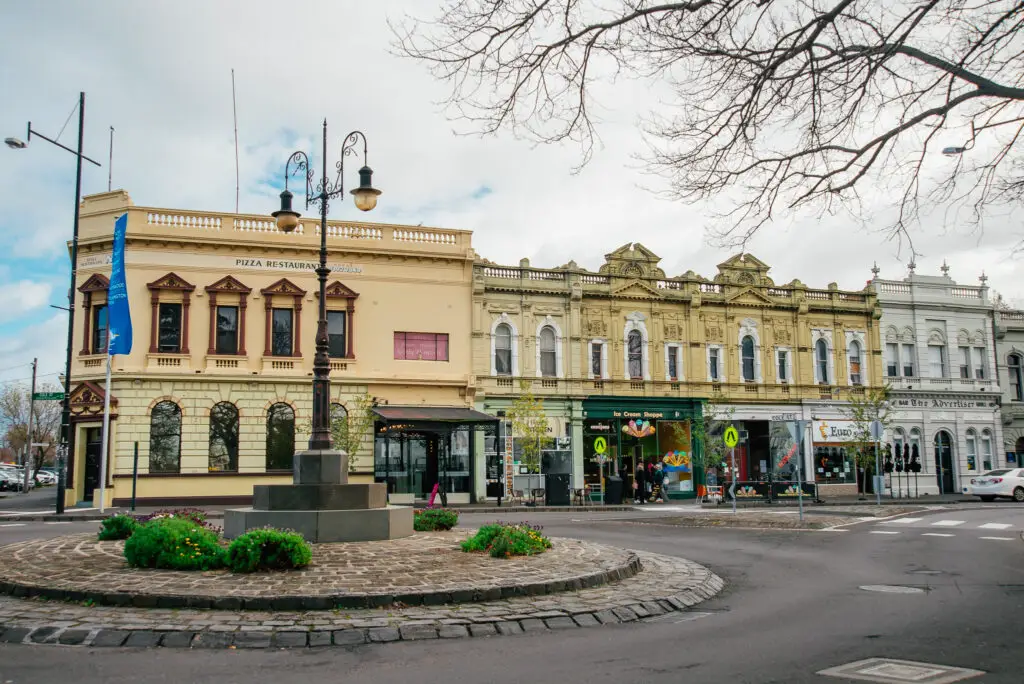 Built by convicts, the main square and high street of Williamstown is an attractive streetscape of ornate buildings overlooking the green space of Commonwealth Reserve with a backdrop of boats moored at Gem Pier. 
The buildings along Nelson Place are now mainly all commercial. There are plenty of restaurants, cafes, shops, galleries and of course ice cream parlours. 
You'll definitely be spoilt for choice about where to go for your afternoon pick-me-up. Though the 'Ice Cream Shoppe' is probably your best bet – they have over 70 different flavours for you to choose from!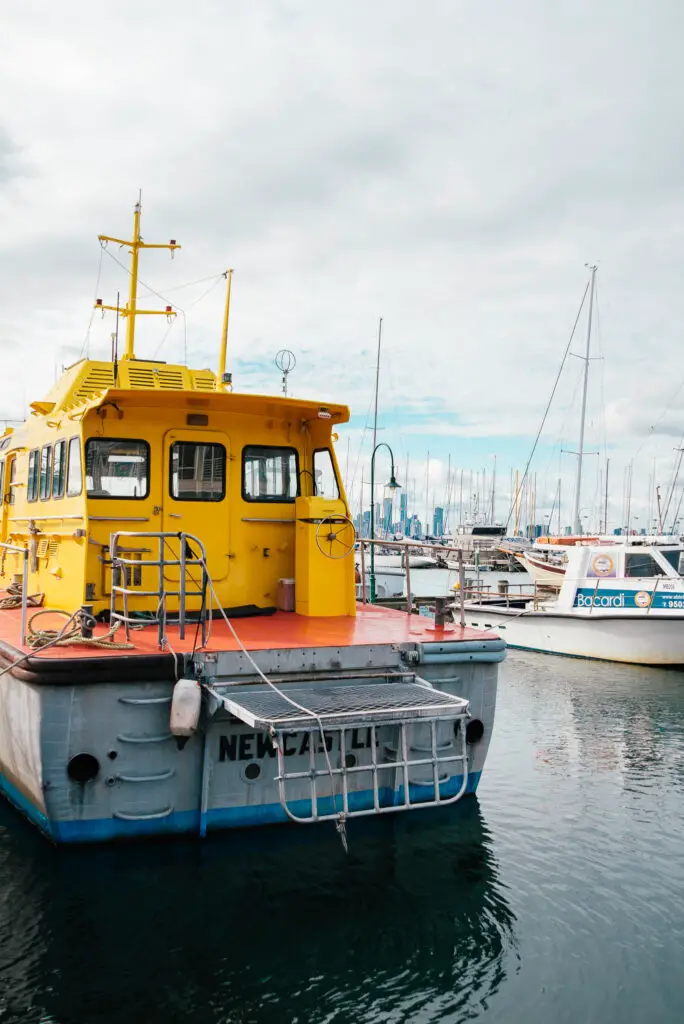 At the harbour just in front of Nelson Place, you can also catch a seaplane ride for a birds eye view of Melbourne. Or if you'd rather stick to the water, visitors can set sail on the wooden tall ship, the Enterprise, a replica of the first vessel to carry European settlers up the Yarra and into Melbourne.
Nelson Place is the bustling hub of Williamstown that played an essential role in the development of the metropolis of Melbourne as we know it. It's well worth having a good look around and soaking up the lasting remnants of the square's Victorian atmosphere.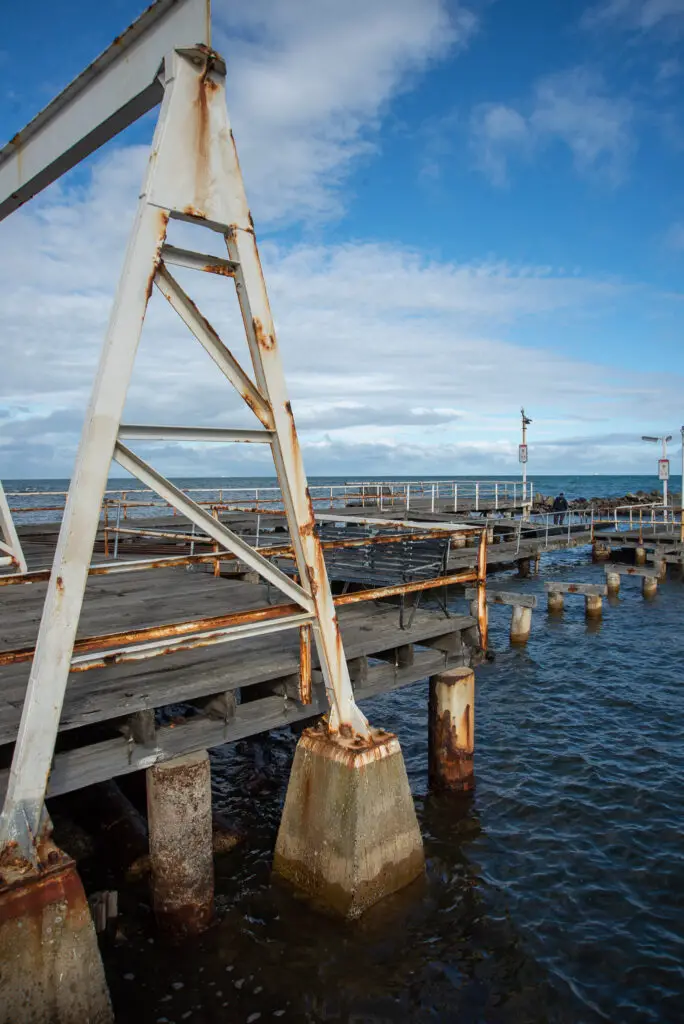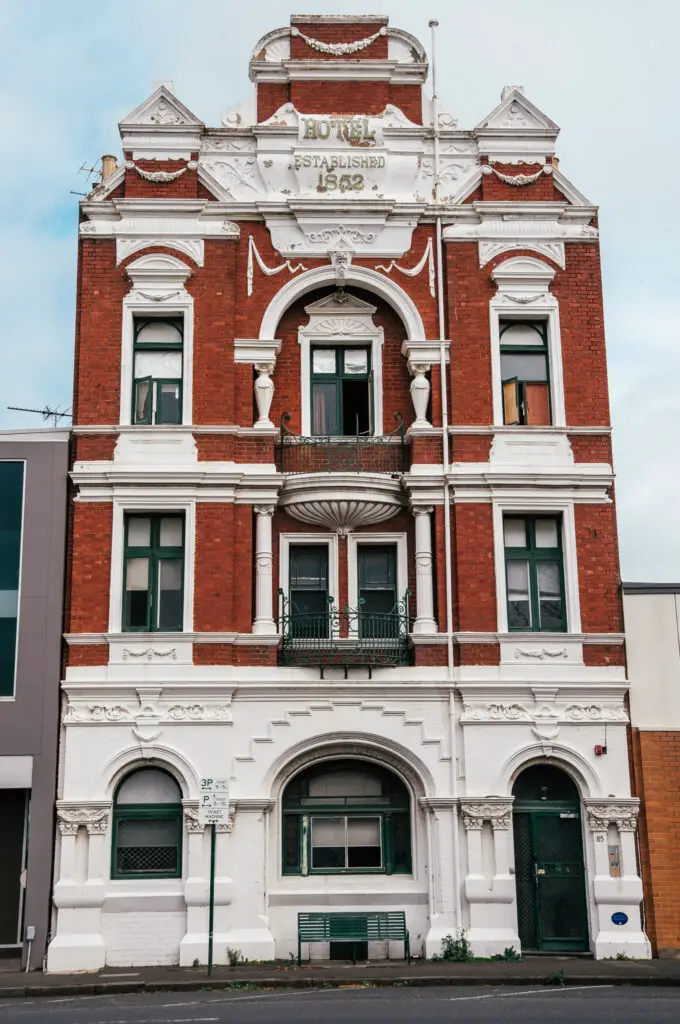 Ghost Tour by Lantern
If there is one way to dig up the past and learn something cool, it has to be through a walking tour guided by a local. Even better – an entertaining ghost tour bringing forgotten stories 'alive' with vivid storytelling.
With a ghost tour starting at Hobson's Bay Information Centre, you can recount the early days of Williamstown's port history. You'll visit cemeteries, hidden alleyways, the oldest morgue in Victoria and even dinner in a haunted pub if you so wish!
Even if you're not the supernatural type, a Lantern Ghost Tour is an exciting way to spend the evening before you head back home from your day trip to Williamstown!
---
For anyone interested in early colonial history, a day trip to Williamstown makes a low effort and highly enjoyable day out for beautiful parks, good food and to learn something new. Like the sound of Williamstown? Then you may be interested in visiting nearby St Kilda. Here is a list of 50 things to do in St Kilda, Melbourne another fantastic seaside suburb.
PIN ME FOR LATER:
*This post may contain affiliate links meaning should you purchase a product via this link, I'll earn a small commission at no extra cost to you. These are still products I use or believe in regardless. See my privacy and disclosure policy for more.*