On the western coast of Japan's Honshu Island, is Kanazawa, a city embalmed in history and wrapped in natural beauty.
Unlike the bright neon lights and skyscrapers that define Japan's larger cities, Kanazawa's charm lies elsewhere, where modernity modestly entwines with unique tradition. It's a side of Japan (and indeed a destination) that often gets skipped by the everyday tourist.
From the snow-capped peaks of Hakusan National Park to the serene tranquillity of Kenrokuen Garden, and the bustling energy and food of Omicho Market, Kanazawa provides both thrilling outdoor and cultural adventures at every turn. 
So I guess if you're wondering "is Kanazawa worth visiting?" then absolutely yes, it is! Kanazawa has everything that you'd want to experience on a trip to Japan. Let's delve deeper about why Kanazawa is so special, and discover why you should endeavour to visit Kanazawa this year.
PIN FOR LATER:
---
Where Exactly is Kanazawa Anyway?
Kanazawa is located in Ishikawa Prefecture on the north western coast of Honshu, the main island of Japan. It nestles comfortably between the Sea of Japan and the towering Japanese Alps, offering a unique geographic position that blends coastal and mountainous landscapes.
Kanazawa is the largest city in its prefecture, serving as its capital, and is just about 320km northwest of Tokyo.
Reasons to Visit Kanazawa:
The reasons to visit Kanazawa are numerous – but here are just my personal top eight!
1. It's Like Historic Kyoto, but Quieter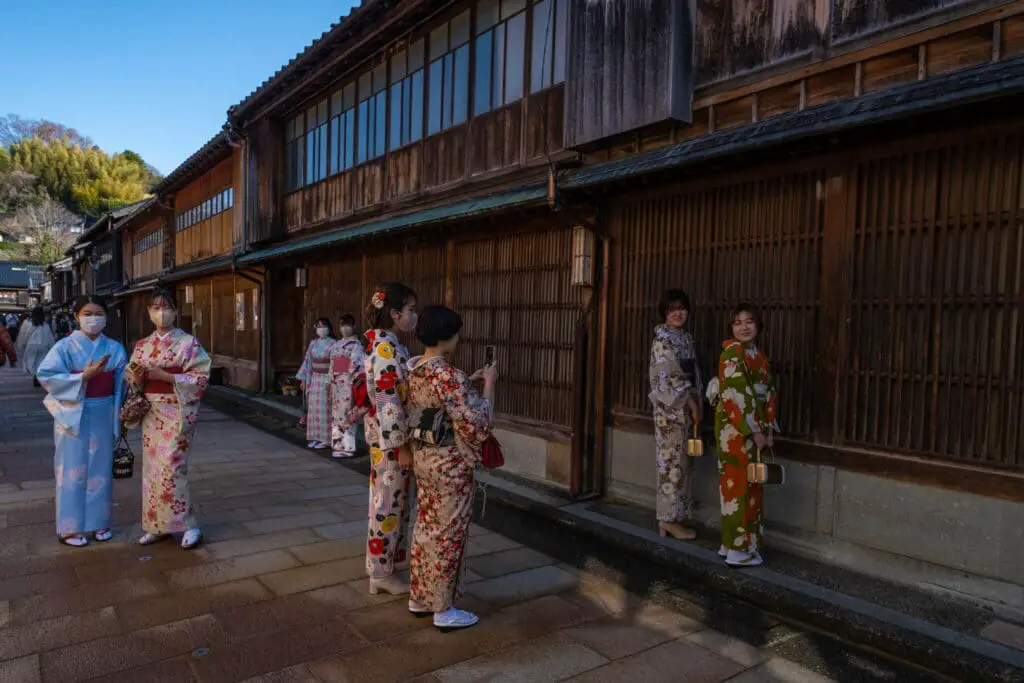 Kanazawa is affectionately known as "Little Kyoto" and its similarities to Japan's former imperial capital city are numerous, but there are also some huge advantages to choosing to visit Kanazawa instead.
Much like Kyoto, Kanazawa is renowned for its historic districts, teahouses, samurai residences, and beautifully preserved traditional Japanese architecture, providing that lovely sense of stepping back in time. This is mainly because Kanazawa didn't suffer extensive damage in WW2, just like Kyoto, so there are mainly structures still standing which date back several centuries.
Just as Kyoto has its world-renowned Kinkakuji (Golden Pavilion), Kanazawa also boasts Kenrokuen Garden, one of Japan's three most beautiful landscape gardens.
Yet, while it has many parallels with Kyoto, Kanazawa offers a less crowded, more tranquil experience due to being less known internationally. Whereas Kyoto has a population of nearly 1.5 million, Kanazawa also has a population of under 500,000, so it's considerably smaller.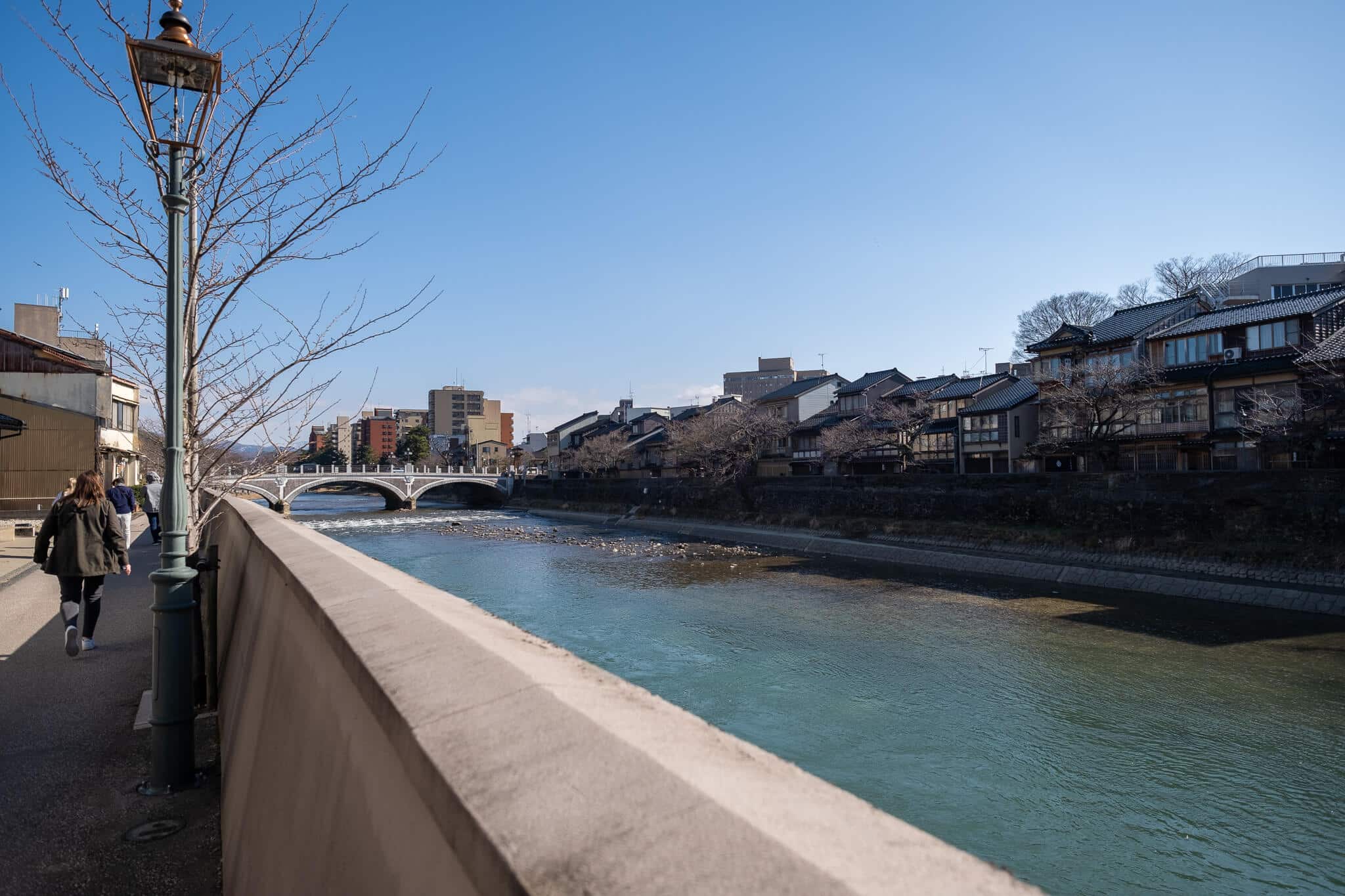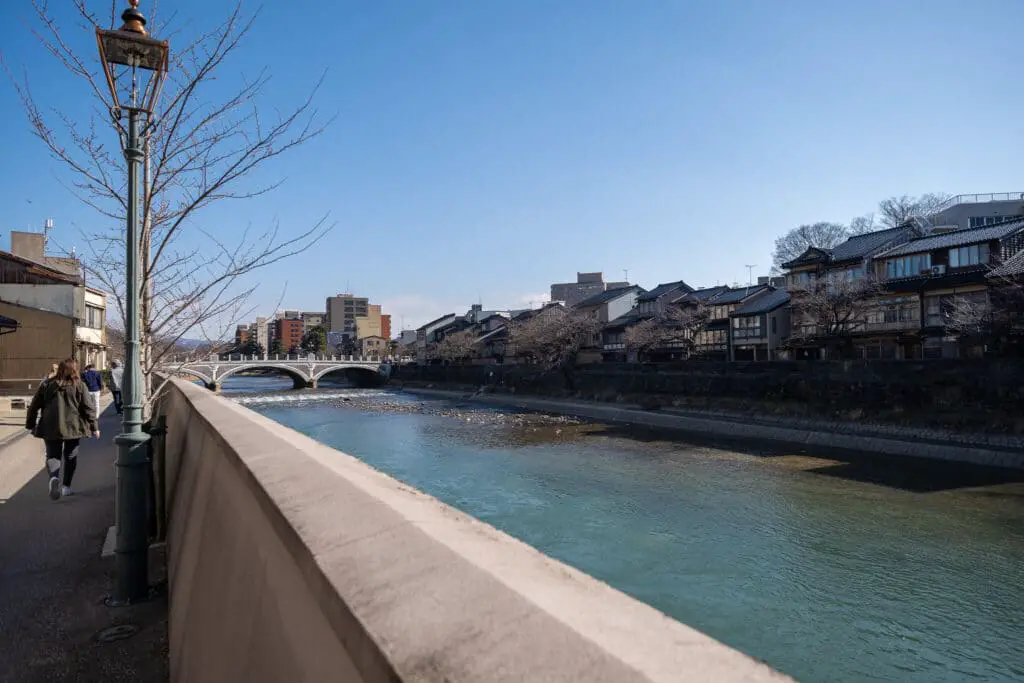 Kanazawa is totally worth visiting simply for the reason that it's a wonderfully preserved ancient city, without the volumes of tourists that you'd experience in Kyoto.
2. To Try Gold Leaf Ice Cream (and Explore the Famous Artisanal Goods)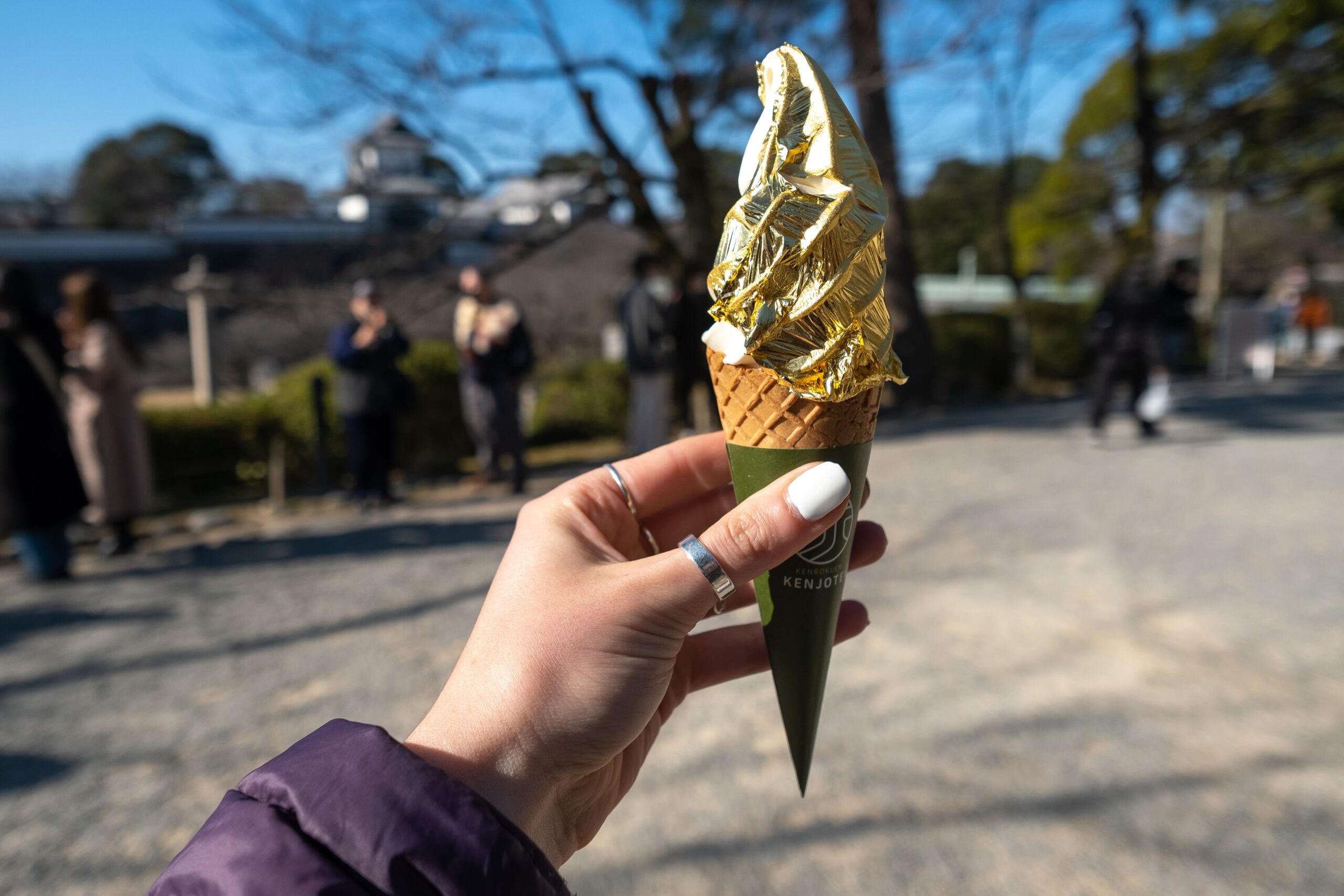 Kanazawa is renowned for its rich artisanal history, including Kaga-yuzen silk dyeing, gold leaf craftsmanship, and Kutani pottery. The reasons for this can be traced back to the influence of the Maeda clan during the Edo Period (1603-1868). 
Maeda lords were great patrons of arts and culture, strategically using their wealth not for military purposes but to promote cultural and artistic growth in their domain. They invited skilled craftsmen and artists from all over the country and provided them with the resources they needed to refine and pass on their crafts. This encouragement resulted in a thriving cultural scene, and over time, Kanazawa became a major centre for traditional Japanese arts and crafts.
Today you'll find cute antiques, pottery and craft shops everywhere and the city splashed in its iconic gold. Most unique of all, you can even eat a soft serve ice cream wrapped in a delicate gold leaf!
3. For the Incredibly Fresh & Delicious Seafood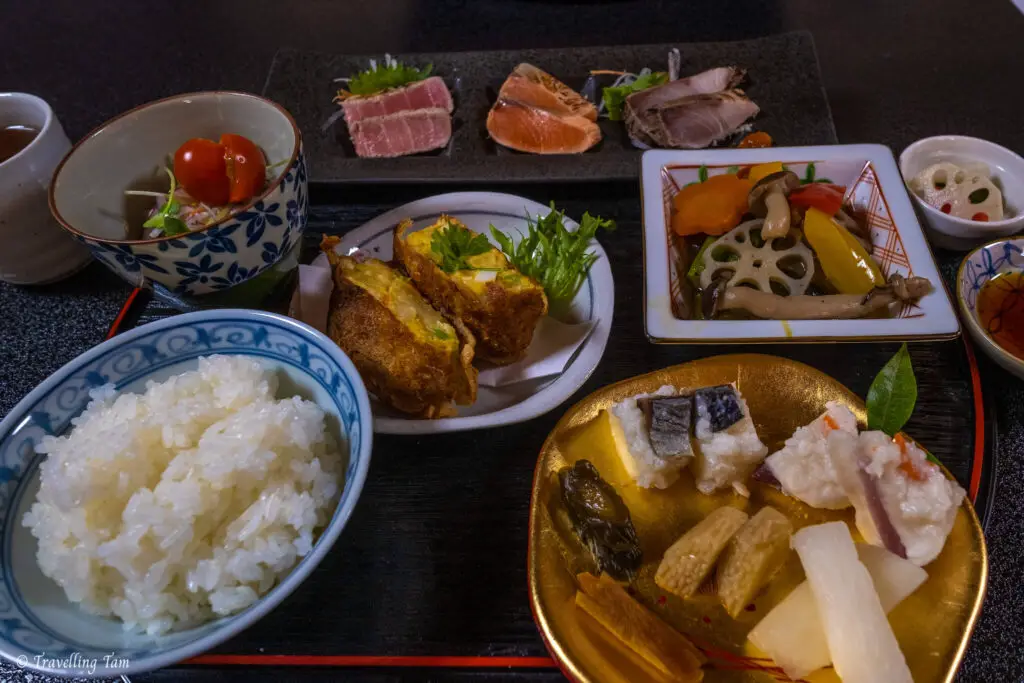 Some of the best seafood I ate in Japan was in Kanazawa. It was so ocean fresh, I can never look at sashimi outside of Japan in the same way again. 
Kanazawa is situated on the Sea of Japan which with its cold and nutrient-rich waters provides an excellent environment for a diverse range of seafood, including crab, shrimp, squid, and a variety of fish species.
Seafood comes in from the port daily, so it'll be straight from the ocean and onto your plate, sometimes within only hours of being caught.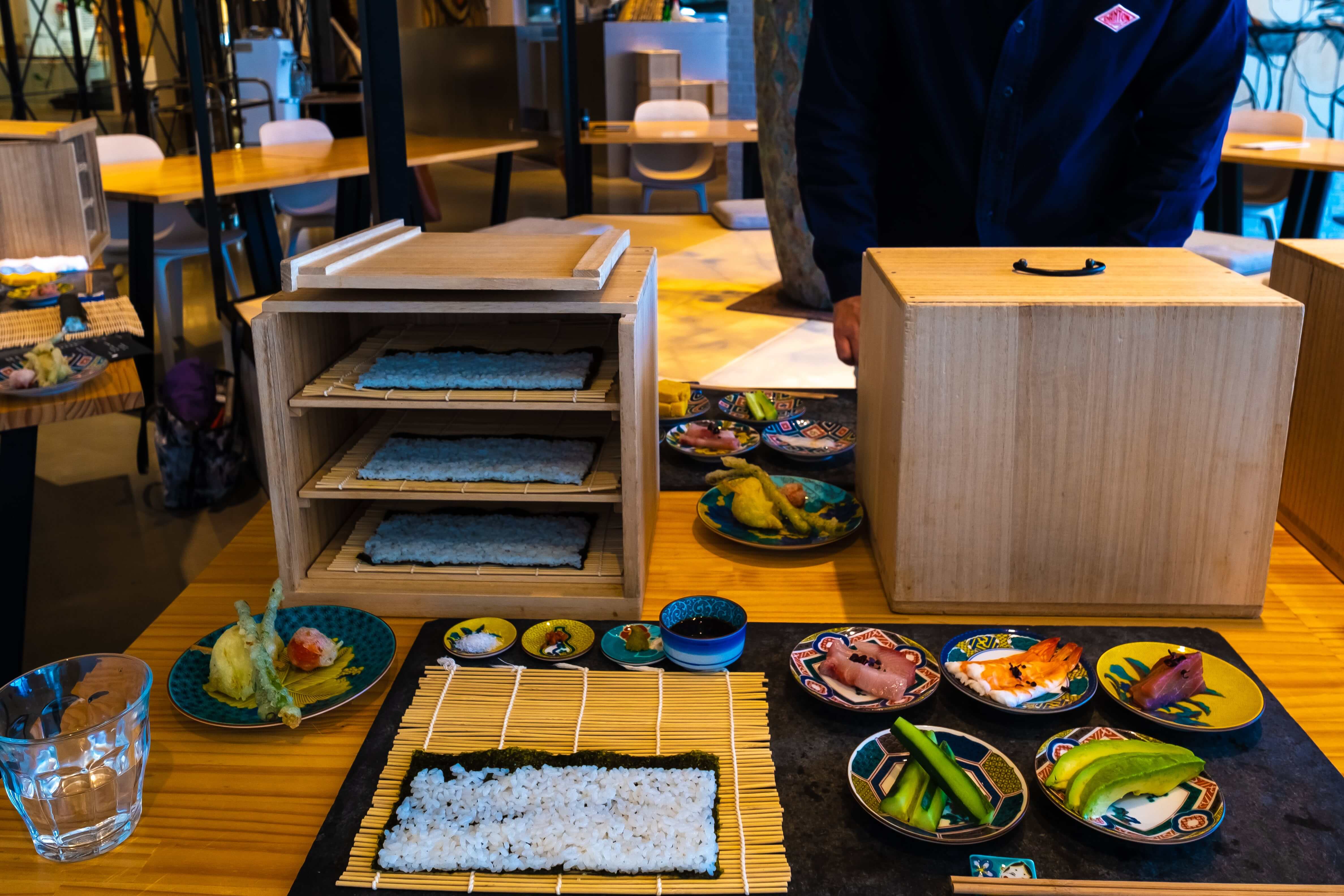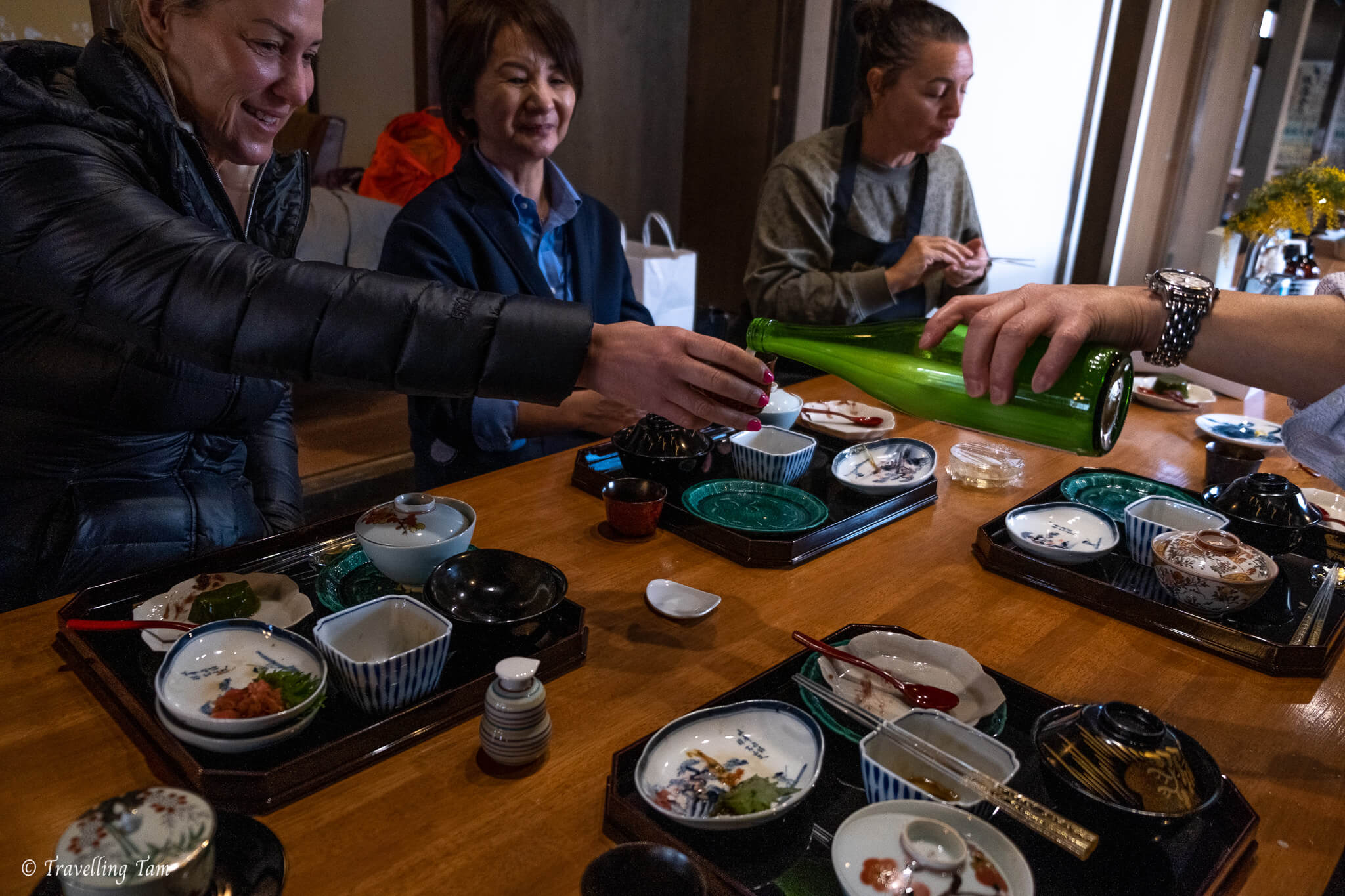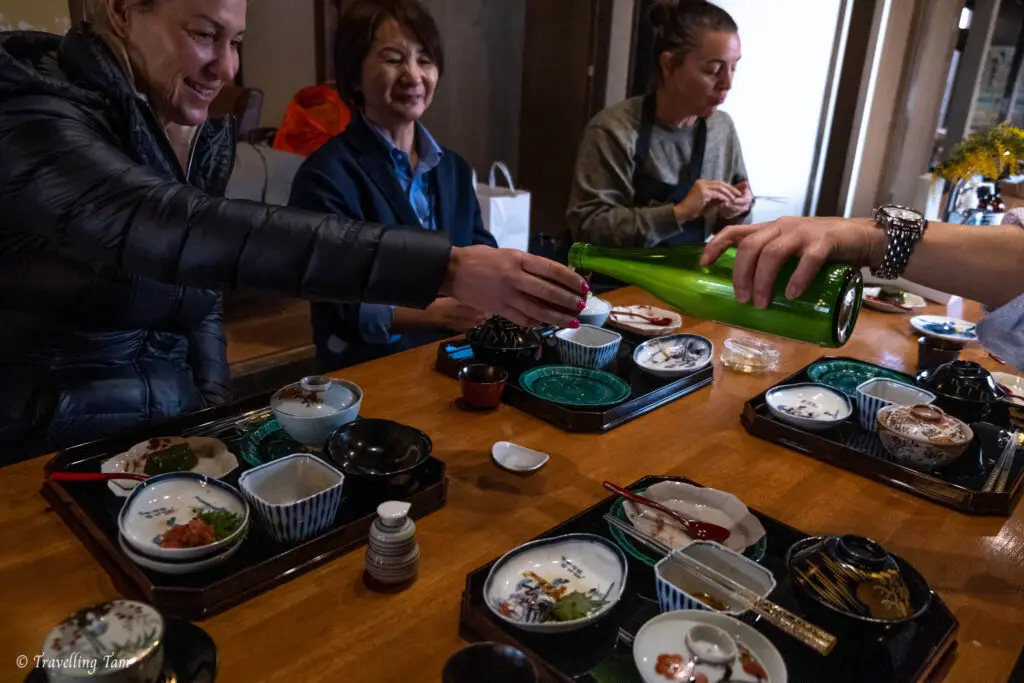 Not forgetting that the city's long-standing culinary traditions have also played a role in its seafood reputation. The chefs in Kanazawa have been perfecting their seafood preparation methods for generations, resulting in a mastery of flavour and presentation that's hard to rival. Techniques such as ageing fish to bring out its flavour, expertly slicing sashimi, and crafting sushi are all part of the culinary expertise in this city.
4. To Experience the Bustling Omicho Market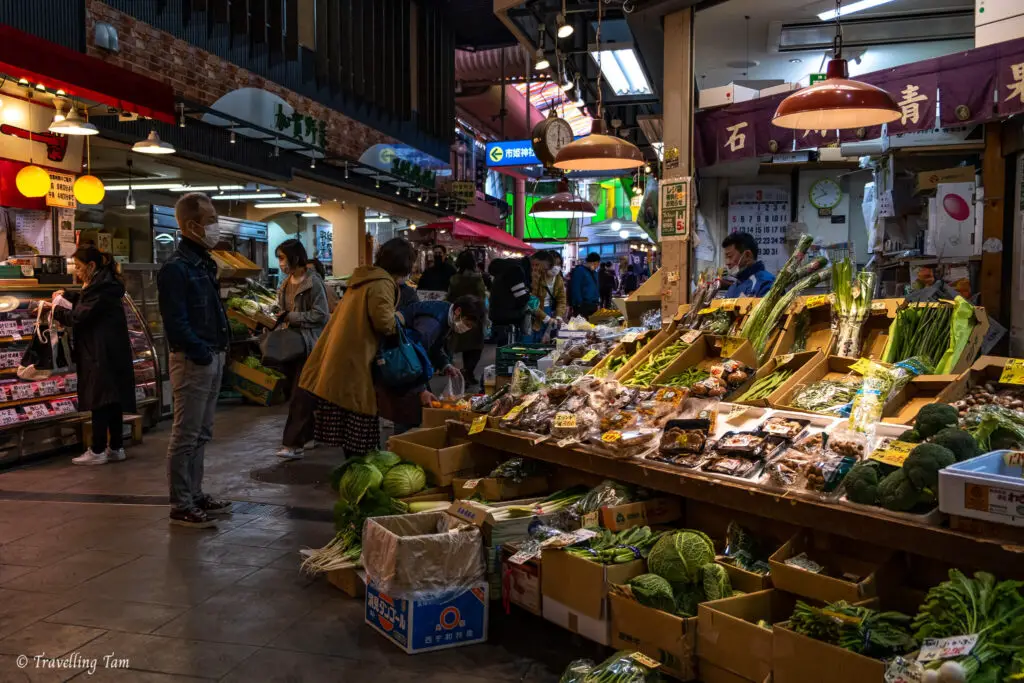 Talking about food, there is one place in Kanazawa any foodie should visit – Omicho Market which has been running since 1721. Known as "Kanazawa's Kitchen", you'll find anything and everything tasty (and unusual) here, as well as many non-edible things too.
From live seafood to sake, fresh fruit and veg to spices and clothing, you can spend hours getting lost in this 180+ store market loved by locals and tourists. It's simply a fantastic place to tuck in and explore Kanazawa's famous food scene.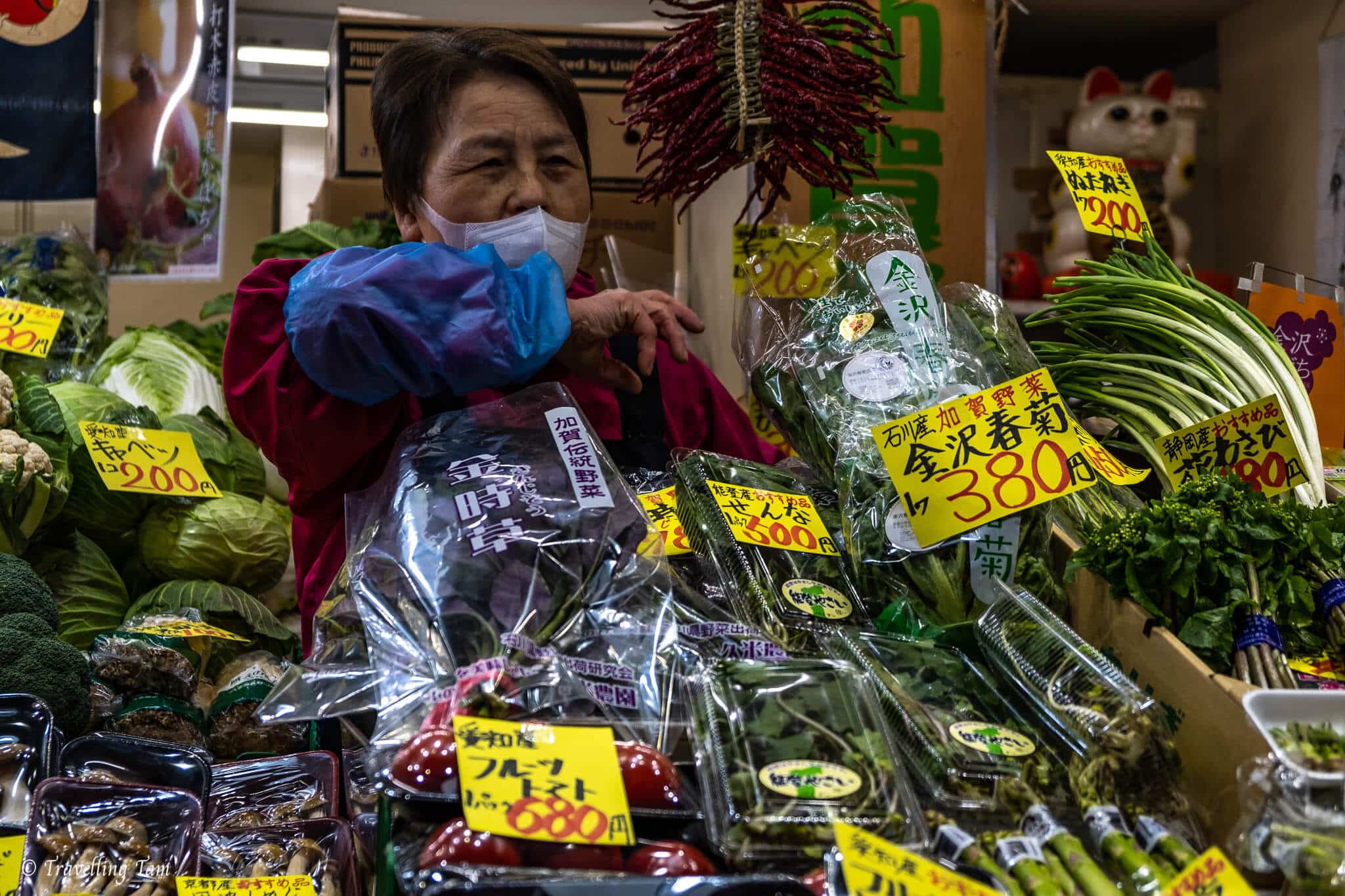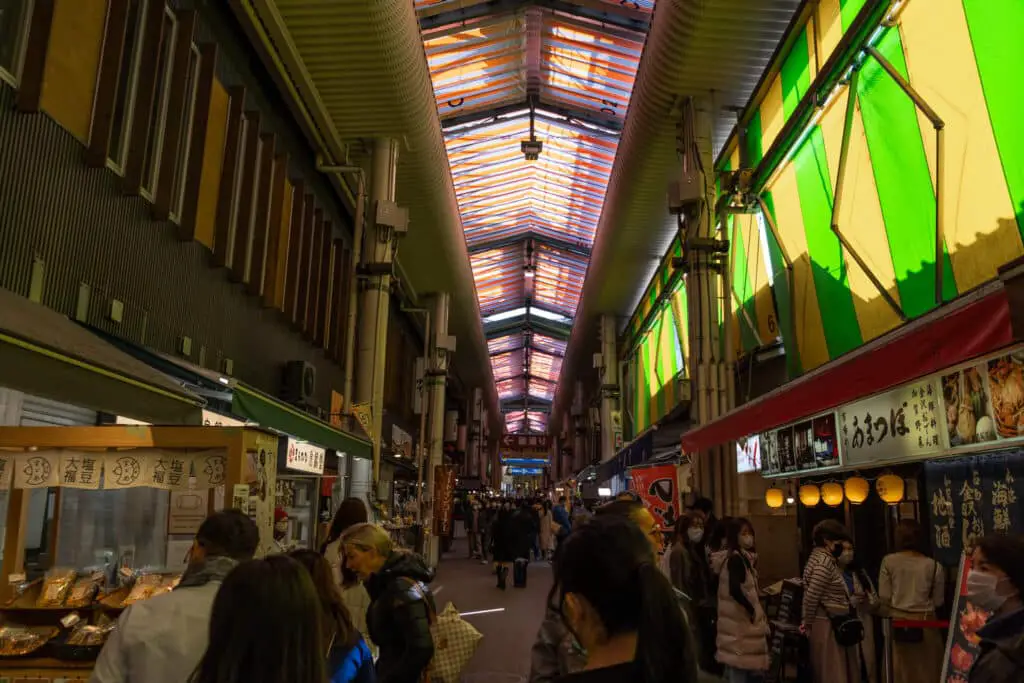 Omicho Market is only about a 10-15 minute walk away from Kanazawa Train Station. It can get really busy in the afternoon with tour groups though, so aim to visit in the morning if you can.
5. To Admire One of the Most Perfect Gardens in Japan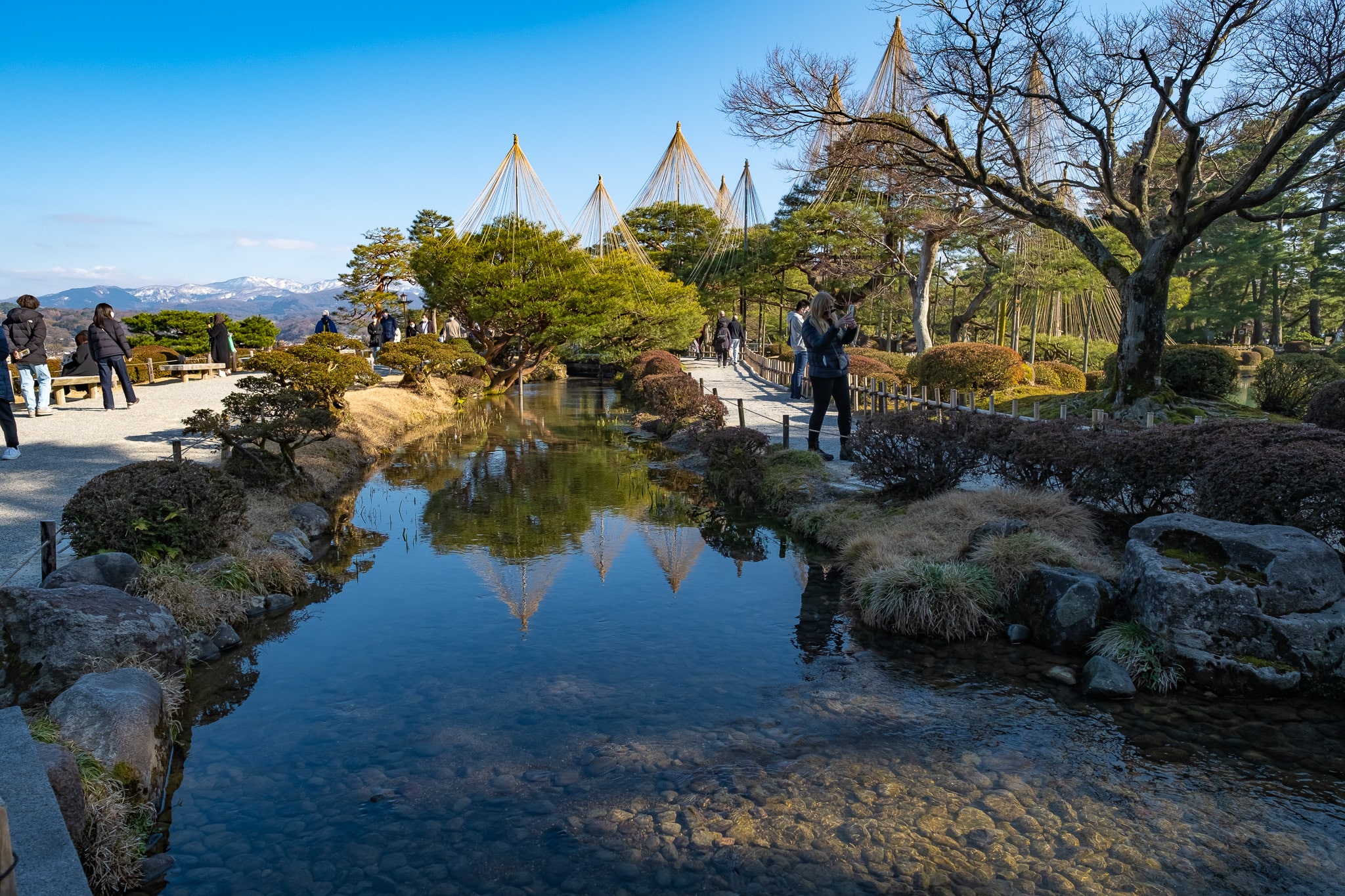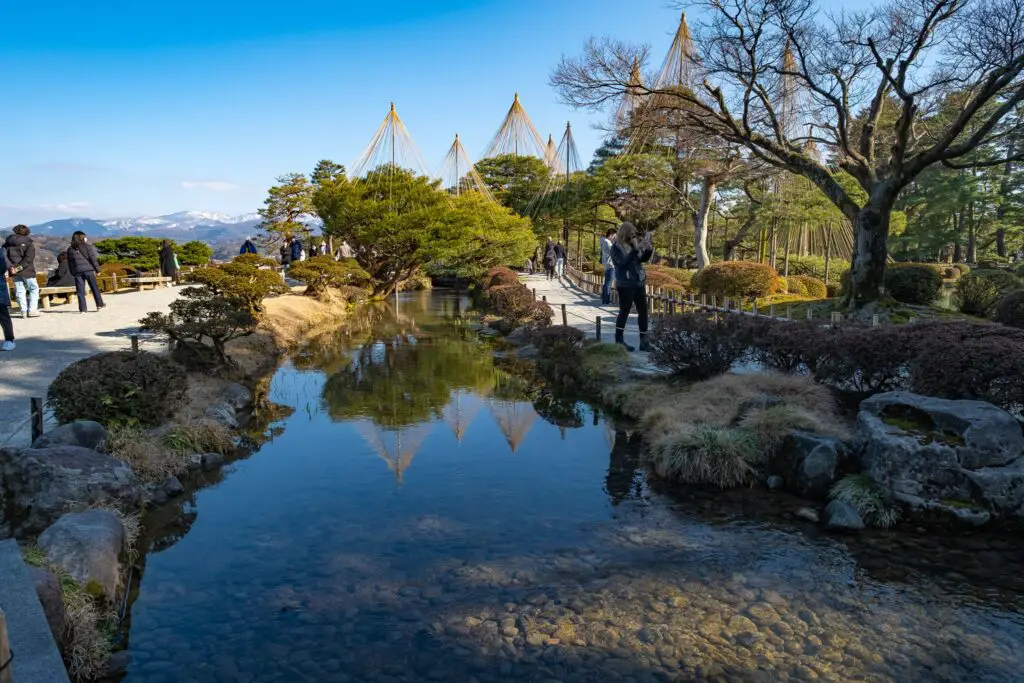 Considered one of Japan's "Three Great Gardens," Kenrokuen is a beautiful landscape garden constructed during the Edo period by the Maeda clan.
The name "Kenrokuen" literally translates to "Garden of the Six Sublimities" or "Garden with Six Attributes," which refers to the six essential qualities that a perfect landscape garden should possess, according to Chinese landscape theory. And this garden is said to have all elements balanced in harmony: spaciousness, seclusion, artificiality, antiquity, abundant water and wide views. 
The gardens also transform each season, presenting visitors with a new character. From the pink cherry blossoms in spring which were starting to bloom when I visited in March, to the rope encased snow laden trees in winter, Kenrokuen Garden is interesting and attractive all year round.
6. To Enjoy It's Surrounding Natural Beauty
The city of Kanazawa itself has so much to offer visitors you may not find time nor a reason to even leave it, but if you do prize yourself away from the rich culture, you'll be rewarded with some pretty magical scenery.
Just over an hour's drive away is Hakusan National Park, a UNESCO Biosphere Reserve. Mount Hakusan, the park's centrepiece, is a popular destination for hiking during the summer, with several well-marked trails offering stunning panoramic views. In the winter, the park transforms into a snowy wonderland, attracting skiers and snowboarders.
Or if the sea is more your thing, two hours north of Kanazawa is the Noto Peninsula, famous for its remote coastal scenery and quiet beaches.
The peninsula is divided into two regions: the inner (uchi) side, with its calm and protected bays, and the outer (soto) side, featuring dramatic cliffs and crashing waves. A drive along the scenic Noto Kongo coastline on the outer side, presents breathtaking views, including unique rock formations and the famous Ganmon Sea Cave. 
7. To Immerse Yourself in the City's Modern Art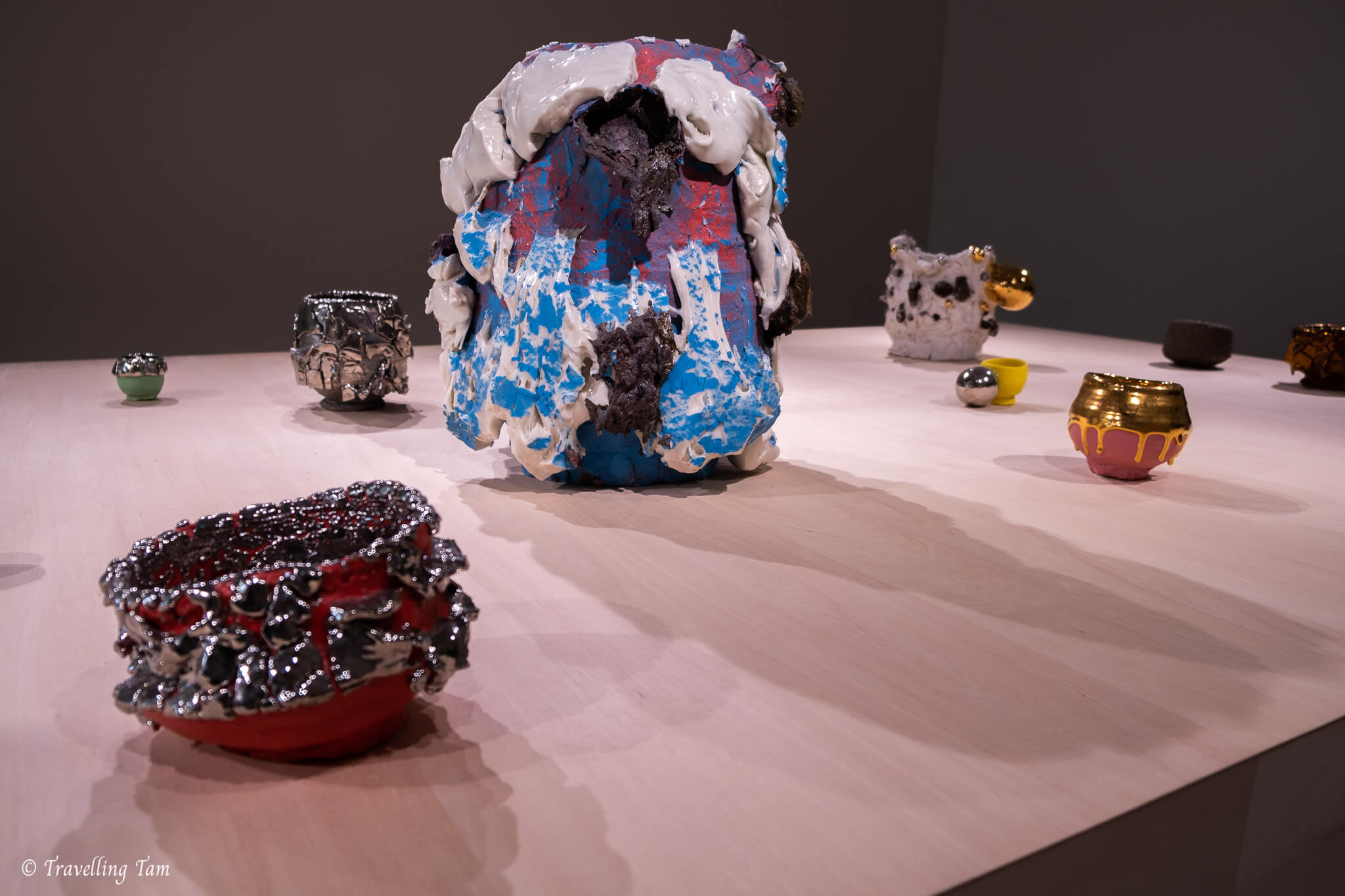 Have you seen that famous illusion of people standing underneath the water of a swimming pool on Instagram? Well, it's a popular installation by Leandro Erlich at Kanazawa's famous 21st Century Museum of Contemporary Art. And there are so many other cool exhibits to immerse yourself in.
Contrasting to much of Kanazawa traditional architecture, this modern museum has curves and glass, blurring the boundary between the interior of the museum and the city inside. There are no front or back entrances, allowing visitors to enter from multiple points, fostering a sense of openness and accessibility. 
The museum's collection focuses on contemporary art from the 1980s onward, with an emphasis on art that rethinks our understanding of the world and our everyday lives. It features works from both Japanese and international artists across various media, including installations, visual art, film, and digital media.
The art museum is an especially popular attraction with the Japanese youth and you'll see large groups of friends enjoying taking photos at many of the interactive exhibits. You'll no doubt be compelled to do the same!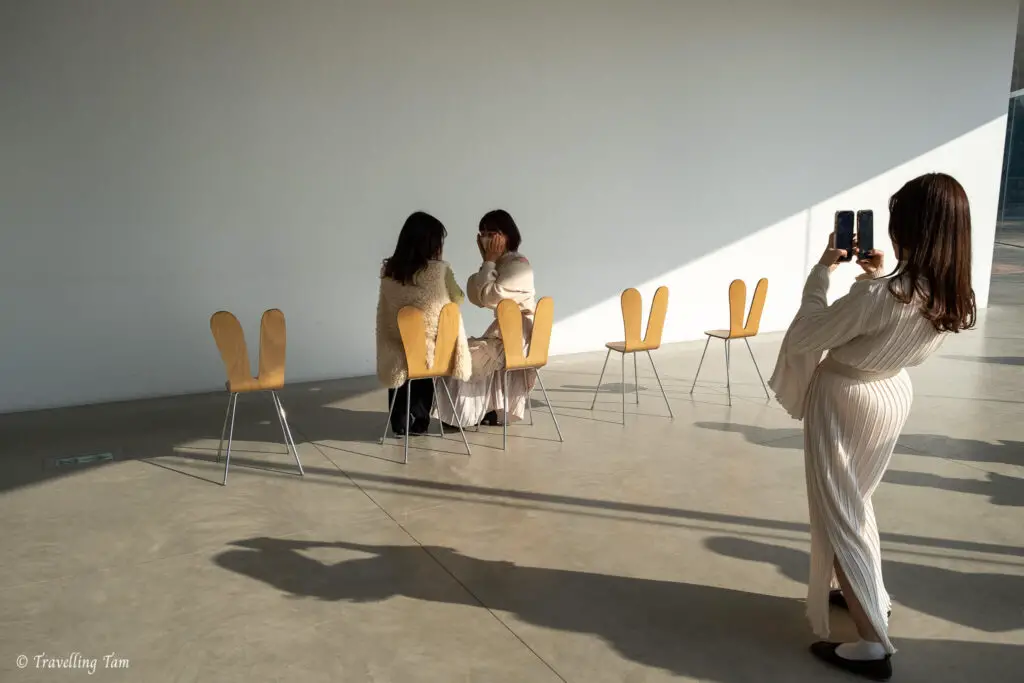 Aside from the museum, there are many smaller pop-up art installations at venues all over the city, highlighting Kanazawa's love for the arts.
8. It's Easily Accessible From Tokyo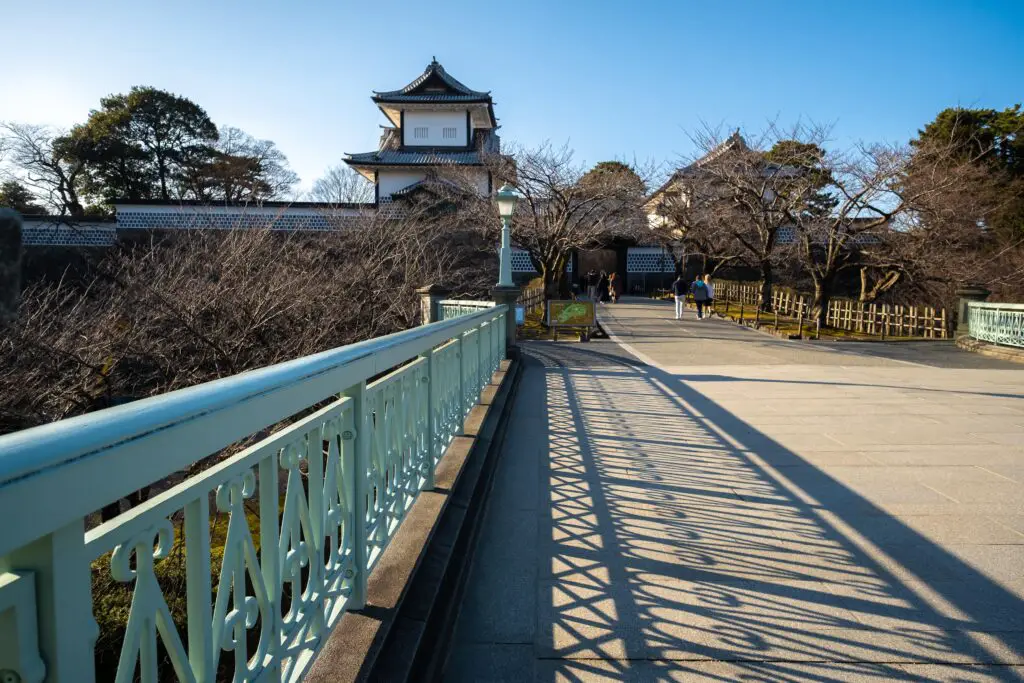 Kanazawa is easily accessible and convenient to access thanks to Japan's efficient and extensive public transportation. So really, you have no excuse to just stick to Japan's capital!
If you arrive into Tokyo, here are your main options for getting to Kanazawa:
By Shinkansen (Bullet Train): The fastest and most convenient way to travel between Tokyo and Kanazawa is via Japan's famous bullet train. You can catch the Hokuriku Shinkansen from Tokyo Station to Kanazawa Station. The direct Kagayaki train takes about 2.5 hours, and the slightly slower Hakutaka train takes about 3 hours. All seats on the Kagayaki train must be reserved in advance, while the Hakutaka train also offers non-reserved seating.
By Air: Flight can be taken from Tokyo's Haneda Airport to Komatsu Airport, which is the nearest airport to Kanazawa. The flight takes approximately 1 hour. However, after landing, you'll need to take a bus from Komatsu to Kanazawa, which takes another approximately 40 minutes. This being said, it's actually easier to get the train.
By Car: If you prefer driving, you can rent a car and drive from Tokyo to Kanazawa. The journey can take around 5 to 6 hours, depending on traffic and the route you choose. While this option gives you a lot of freedom, it's important to note that navigating and parking in Japanese cities can be challenging, and there are tolls on Japanese expressways. Make sure you have a valid International Driver's Permit (IDP) too. 
By Bus: The cheapest option are overnight buses available from Tokyo to Kanazawa. They are however the longest option, with travel times usually around 8-9 hours.
No matter how you decide to get to Kanazawa, it isn't a big chore from Tokyo, so you really have no excuse not to visit this characterful small city!
---
Kanazawa perfectly marries history with modernity, traditional culture with contemporary art, and gourmet delicacies with local simplicity. It's a city that encapsulates the essence of Japan in ways few other destinations can, from its well-preserved samurai and geisha districts to the modern marvel of the 21st Century Museum of Contemporary Art. Kanazawa is simply a charming destination to visit in Japan, all season round.
Have these reasons convinced you to visit Kanazawa yet?
MORE POSTS ABOUT JAPAN: