Are you looking to channel your inner Tarzan? Was your favourite Disney movie the Jungle Book like mine? Then you are in the right place to find some truly magical treehouse accommodation in Australia to make you feel like a child once more! 
Whether it's for a solo escape, romantic getaway or a trip with the whole family, these wooden tree top rentals will thrust you into the heart of nature and offer a unique stay on another level – literally!
Make the forest your playground with these incredible treehouse accommodation options!
(And whilst you're here, if you're planning on visiting Victoria, take a look at this list of incredibly unique accommodation).
Private Canopy Sanctuary – Tarzali, Queensland
Price per night: from $399 
Sleeps: 6 (2 bedrooms)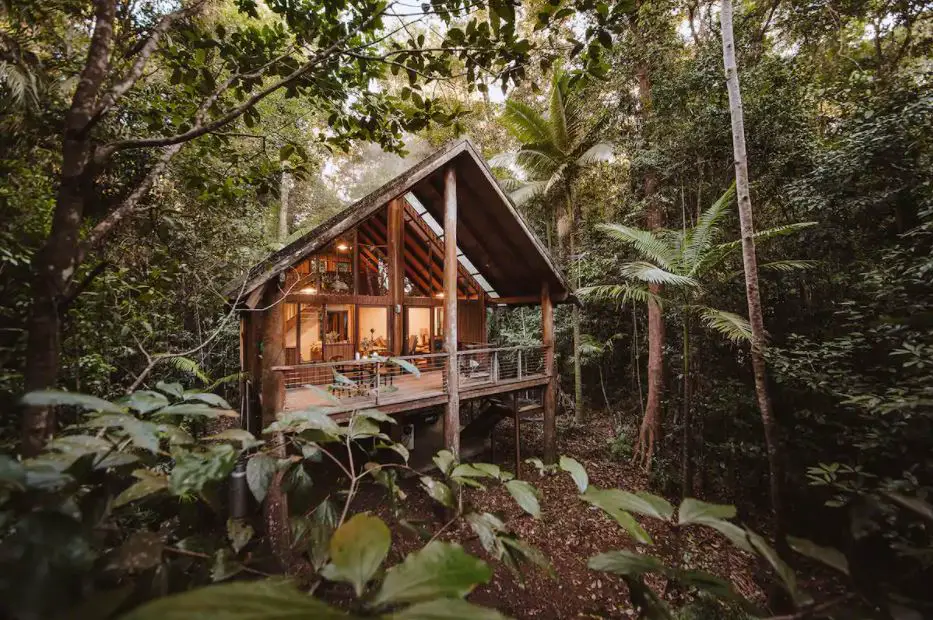 What could bring you closer to nature than staying in a treehouse on your private 100 acres of rainforest? OK – so maybe it's not fully private – you'll be sharing your 100 acres with the resident platypus, tropical birds and wildlife that might even pay a visit to your balcony.
This accommodation leaves you fully immersed in the natural world and will leave you feeling grateful for the tropical climate that Queensland has to offer. 
With no Wi-Fi this is the place to switch off and swap your devices for binoculars. Take advantage of the great hiking, wildlife, bird watching and things to do in the area. Although personally it'd be hard to get me out of the luxe corner bath with epic jungle views…
View Private Rainforest Sanctuary

Bohemian Blue Mountain Escape – Bilpin, New South Wales
Price per night: from $1095
Sleeps: 2 (1 bedroom)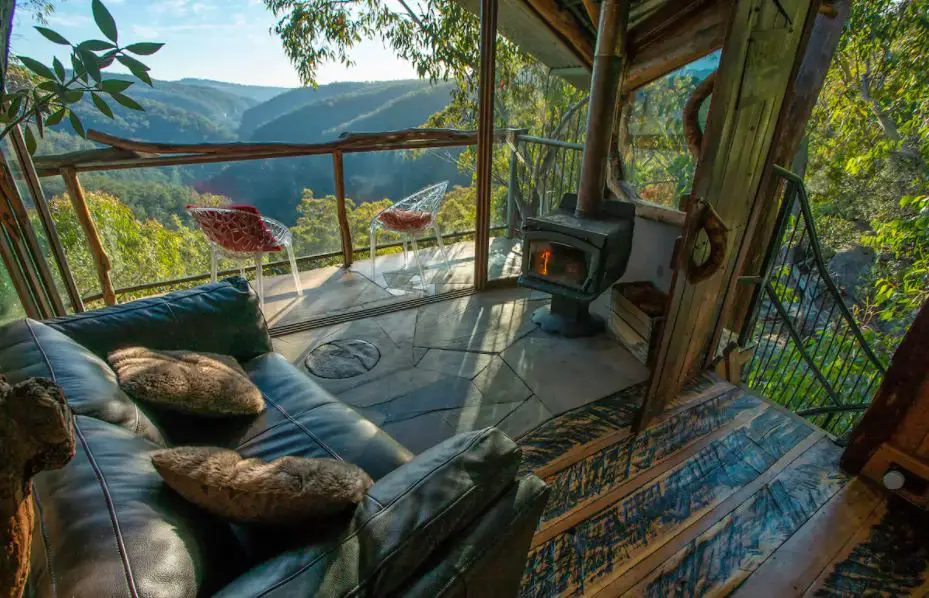 The Blue Mountains are home to some of the greatest outdoor activities – bush waking, rock climbing, mountain biking, bouldering and canoeing. It has some breath-taking views and now it has this Secret Treehouse accommodation for extra special occasions. 
One review declared "it looks like it was created by which-craft" – it really is an astonishing build with its simple yet quirky designs both structurally and with the interior design.
To access this treehouse, there is a suspended bridge that just adds to the Tarzan vibe (and of course privacy). With a corner bath and a glass ceiling perfect for stargazing, this host really has thought about so many details with this build.
This treehouse also provides a meal delivery service that comes with some great reviews and a variety of meals to choose from.
View the Bohemian Blue Mountain Treehouse

Toolangi Woodland Cottage – Narbethong, Victoria
Price per night: from $1,000
Sleeps: 2 (1 bedroom)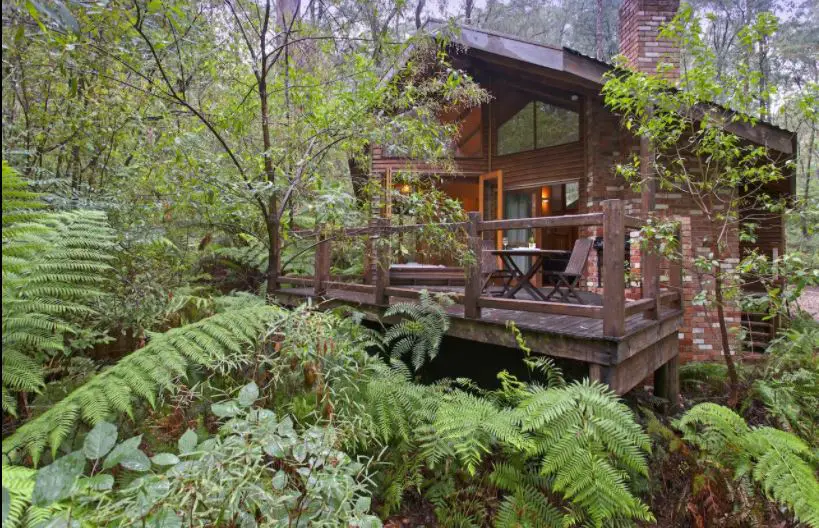 Bringing the European Alps to Victoria, this wooden cottage offers a range of fun activities but most notably, it has to be the seasonal skiing. It utterly embodies that luxurious ski chalet feel in its contemporary, cosy décor and special features. So if the sunken floor bath or hot tub weren't enough to make you feel pampered and relaxed, then you will have to take a trip to the on-site spa for one of their many treatments.
If you're visiting in summer then you can try fishing, bike riding or spend some time in the gym. These cabins have a gorgeous sun terrace too, perfect if you wanna kick-back and enjoy the sunshine whilst BBQ'ing with cold beer in hand. Cheers to that!
View Toolangi Woodland Cottage

Heritage Rainforest Secret Tree Home – Earlsville Queensland
Price per night: from $188
Sleeps: 5 (2 bedrooms)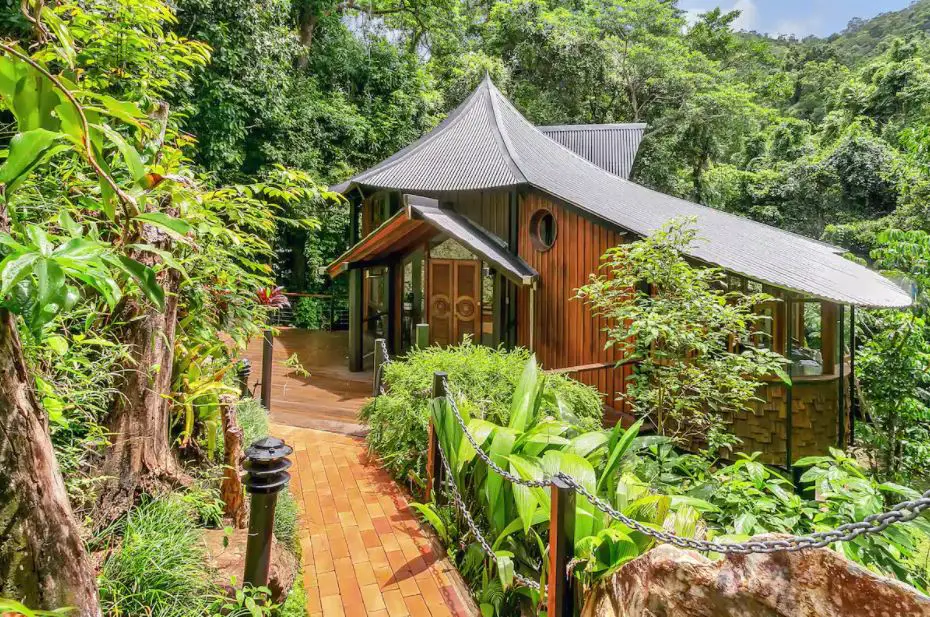 This bright, spacious treehouse is what Instagram dreams are made of. Beautifully decorated to reflect the colourful birds and butterflies that surround this property, I'm not quite sure whether the interior or the exterior are prettier.
As you listen to the sounds of the rainforest; the birds, critters and waterfall you'll find it impossible to believe that you are only 10 minutes away from Cairns. 
If you can pull yourself away from this idyllic spot then the host is a registered and experienced travel agent who can give you reliable, and most importantly, honest advice on tours and attractions if you're not familiar with the area. What could be better than a day exploring Daintree Rainforest / Great Barrier Reef / Port Douglas and afterwards relaxing by this property's own private creek?!
Noosa Hinterland Hideaway – Kin Kin, Queensland
Price per night: from $160
Sleeps: 2 (1 bedroom)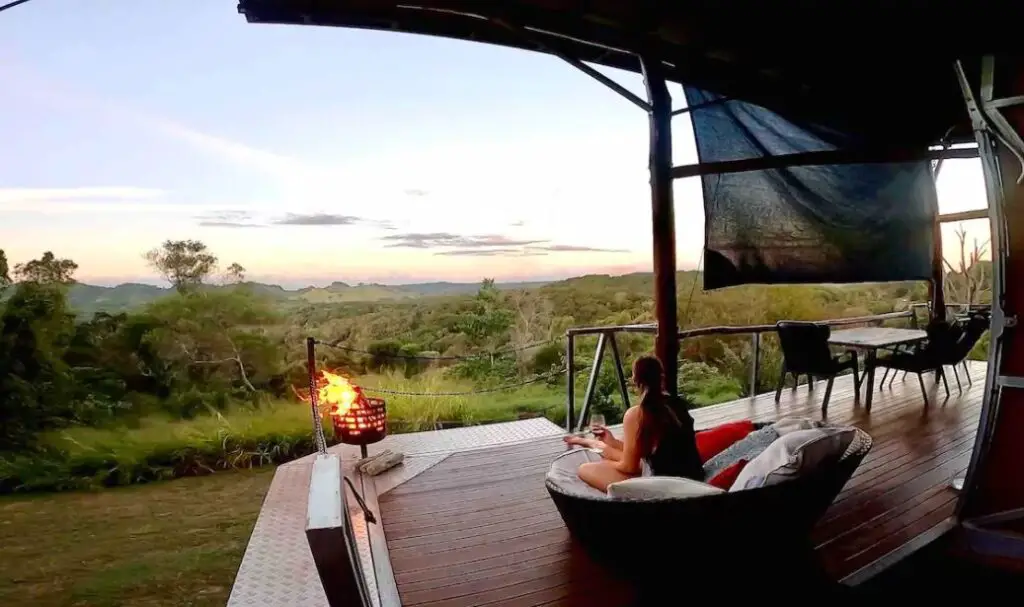 These quirky and budget-friendly hideaways are kitted out with décor made from natural materials to bring the outside in. Views of the valley are uninterrupted and even visible from the loft bedroom. 
I can literally picture myself now doing early morning Sun Salutations on the balcony as the sun rises and later relaxing with a yoga massage from their onsite therapist. This could be the perfect place to create your own yoga retreat.
If that's not your cup of tea and you're looking for a space where you can stay connected, then you'll find a great work space and Wi-Fi here too. So if you're bored of working from home, come and work from this very special treehouse hideaway in Australia.
View the Noosa Hinterland Hideaway

Rose Gums Wilderness Retreat – Butchers Creek, Queensland
Price per night: from $351
Sleeps: 2 (1 bedroom)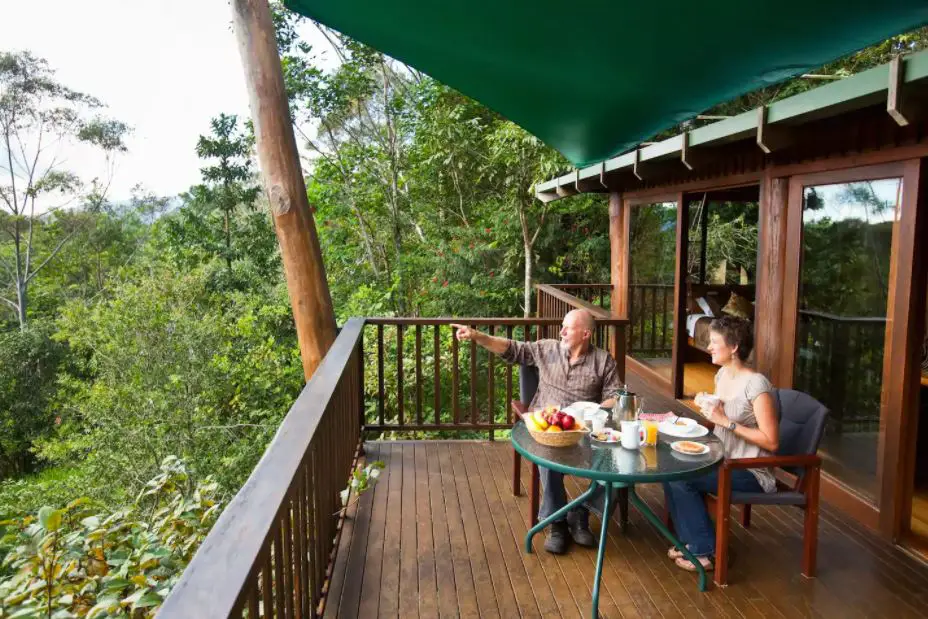 If you're looking for a romantic getaway then you've found it. This treehouse is set amongst the tops of the trees connecting you to the rainforest even more. It'll definitely be the key to any nature lovers heart. 
With incredible hiking trails straight from your doorstep you'll enjoy everything Butchers Creek has to offer. You can even spend a competitive morning with you other half on the onsite tennis courts.
View Rose Gums Wilderness Retreat

Gaiananda Treehouse – Gold Coast, Queensland
Price per night: from $424
Sleeps: 4 (2 bedrooms)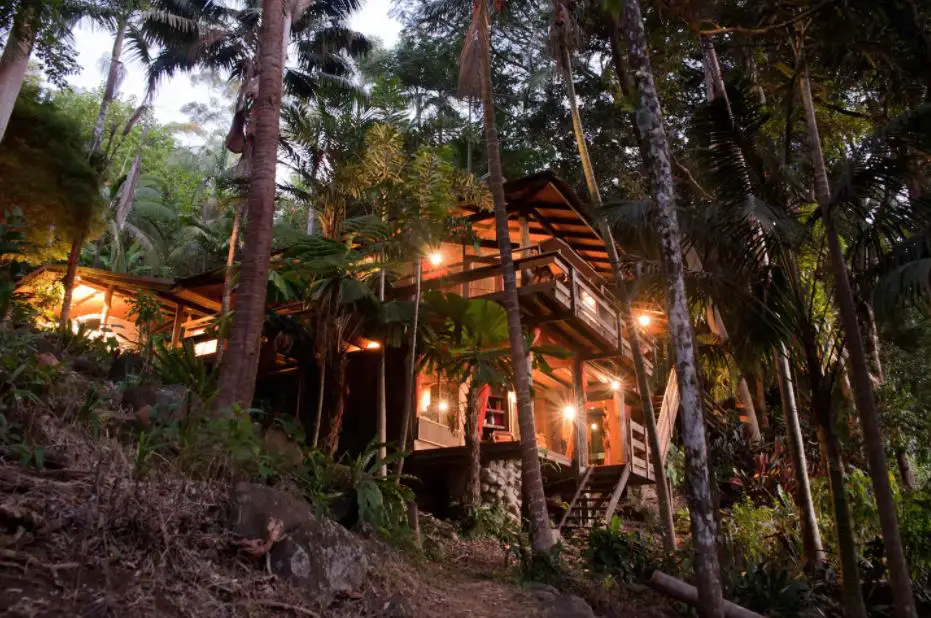 This vegetarian only treehouse is the perfect place for you to reconnect, recharge and detox. Not only are the rainforest views and sounds enough to rejuvenate even the most hardened city-slicker, there also luxurious extras that come with this booking.
To turn up the self-care dial to 100 with a menu of spa treatments, four poster beds and built-in hot tub.
The treehouse itself fits beautifully in the tranquil surroundings and with the limited phone single, I can't think of a better place to curl up with a good book than on its outdoor day beds before falling into a dreamy afternoon snooze.
Blue Canopy – Clifton Beach, Queensland
Price per night: from $395
Sleeps: 6 (3 bedrooms)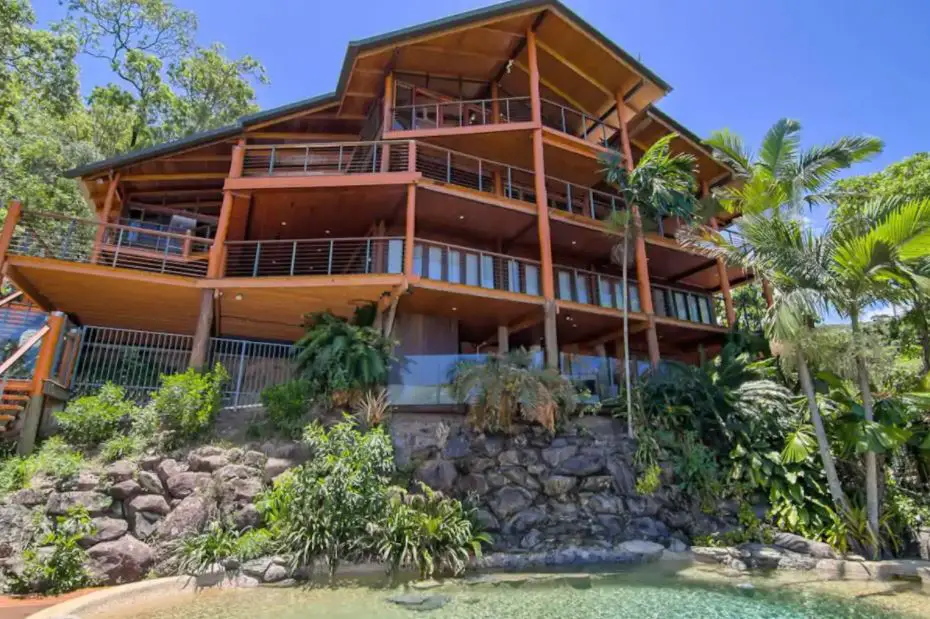 Grab your girlfriends and head to this epic beach treehouse, the perfect spot for a boozy hen do or chilled out baby shower – just make sure you bring your grazing platters!
There is more than just one treehouse and the space inside, as well as the pool, means it's a great space to entertain. 
Standing at 90 meters above sea level, it has to be noted that to access this property you need a 4WD. However in sure you'll agree, it's totally worth it to be one of the only properties this high up with VIP views of the wildlife, kangaroos and the ocean horizon. 
The Tree House – Denmark, Western Australia
Price per night: from $240
Sleeps: 4 (2 bedrooms)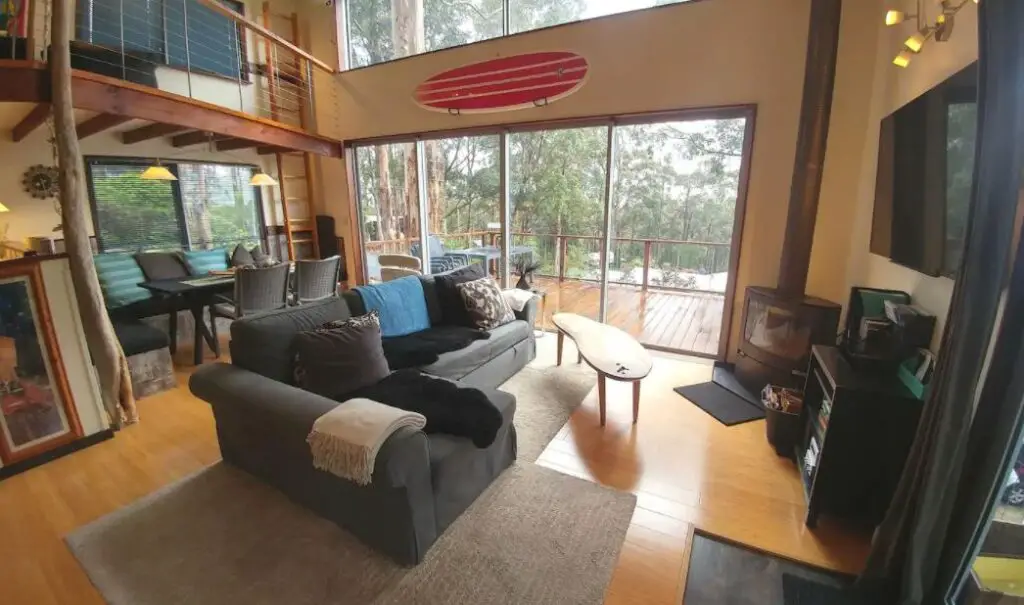 Looking for the Hygge factor? Then look no further. This cool, surf inspired pad has all the rich textures, warm lighting and coziness of a Scandinavian treehouse. As the saying goes – Denmark by name, Denmark by nature. 
With a beach within walking distance and plenty of sleeping space (up to three children), this makes it a perfect family get away. There's no better way to relax after a busy day exploring the beach and surrounding bush land than with a log burner, hot chocolate and a long soak in the double bath! How very Danish.
Wanggulay Bali – Cairns, Queensland
Price per night: from $335
Sleeps: 13 (5 bedrooms)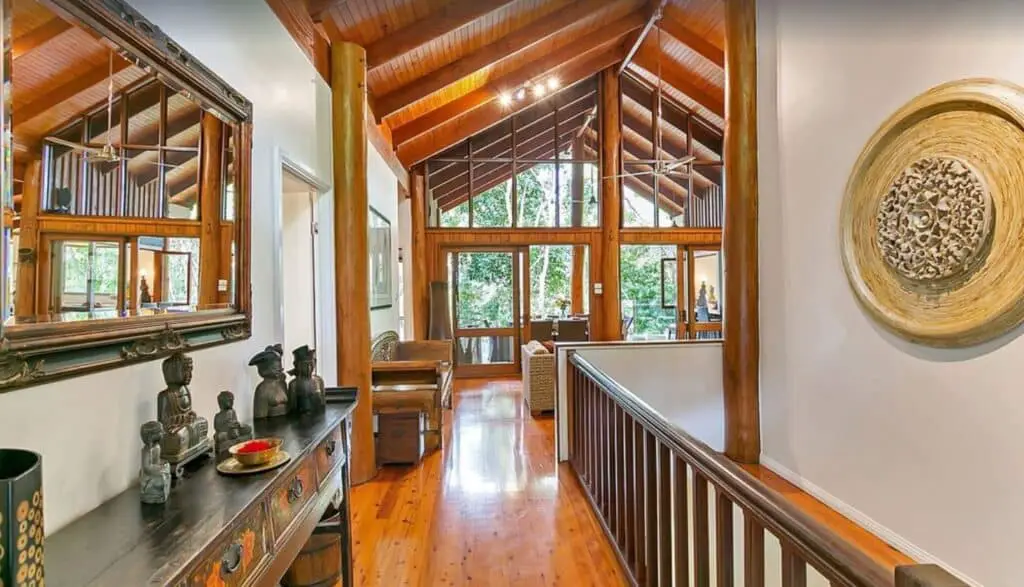 Forget getting on a plane to Bali – this unique tree house in heritage listed rainforest brings the feeling of South East Asia to you without having to jump on an international flight (outdoor bath and all!). Inspired by Balinese culture and the tropical laid back way of life, the soaring wooden ceiling, fresh white walls and huge windows create a light-flooded paradise to temporarily call home.
Winner of Stayz Luxury Travel property in Queensland, it's clear this one-of-a-kind tree house is an absolute treat, especially for a large family or group as it can sleep up to 13 people.
But it gets better – just a 10 minute walk away from the front door you will have 4 waterfalls to enjoy in your very own tropical Queensland paradise.
Bohdi Treehouse – Coopers Shoot, New South Wales
Price per night: from $332
Sleeps: 2 (1 bedroom)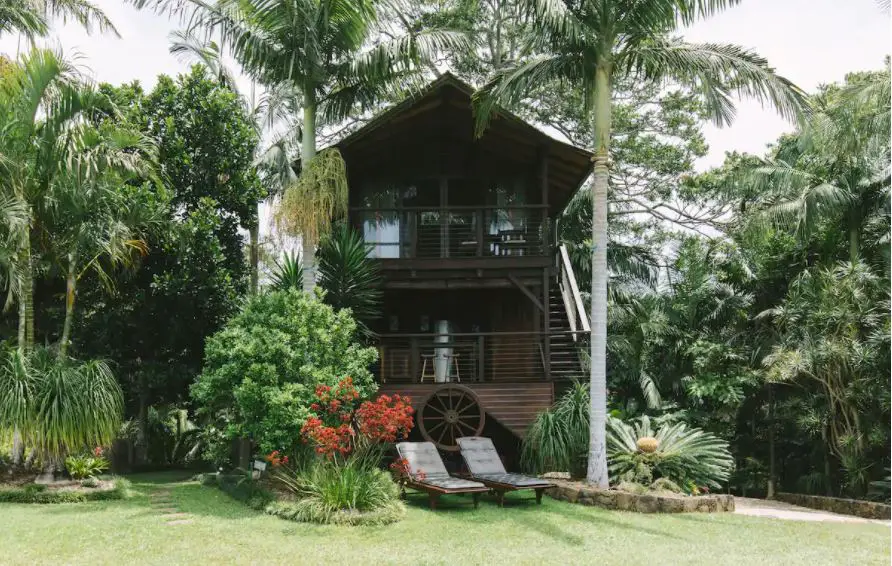 This Bodhi treehouse oozes the "Byron" vibe and dares to purify the mind with therapeutic effect. Boasting a host of ecological products,  rainwater stone bath and outdoor kitchen, this really does embody that hippy feel Byron is so famous for. 
This property comes with the best kind of extras too; including a sauna and yoga classes. It even has an organic garden and fruit trees you can sample from. 
Ideal for a getaway with the best friend or for a girly weekend of rejuvenating and pampering. It's also just a 7 minute drive from Byron Bay, giving you the best of both worlds. 
Octagonal Jungle Hideaway – Cape Tribulation, Queensland 
Price per night: from $165
Sleeps: 2 (1 bedroom)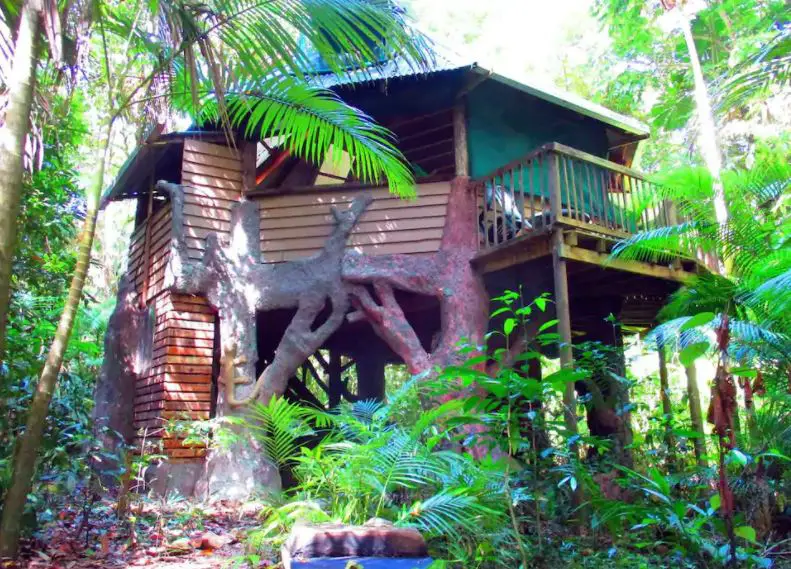 This is not the typical, purpose-built property you find on Airbnb. It's an authentic treehouse built by, and for, the Daintree locals. It's a stripped-back, basic, octagon shaped accommodation suited to the adventurous travellers out there looking for the real back-to-nature experience. This no frills treehouse accommodation in Australia will make any trip more memorable!
If you're a wild couple looking for a spot to explore the oldest rainforest in the world, then this is for you. It has walking trails, Cassowaries and a creek to dip in. This Jamanji jungle hideout even has hammocks for those post-hike chills. 
View the Octagonal Daintree Jungle House

---
Have you found a magical property you would love to stay in from this list of treehouse accommodation in Australia? Which is your favourite? Please let me know by leaving a comment below!
PIN ME FOR LATER:
*This post may contain affiliate links meaning should you purchase a product via this link, I'll earn a small commission at no extra cost to you. These are still products I use or believe in regardless. See my privacy and disclosure policy for more.*