South Australia teems with extraordinary experiences for everyone. Fantastic wildlife, world-class wineries, historic townships and white characterful beaches are just a few of the many things that draw people to holiday here from all over the country.
The state's capital city, Adelaide, is a gem in its own right, especially the beautiful Adelaide Hills with its abundance of conservation parks and gardens. Then, there's natural wonders such as the lush Umpherston Sinkhole, pristine Blue Lake, the otherworldly mountainous amphitheatre of Wilpena Pound, popular Kangaroo Island, the stunning Limestone Coast, and the mighty Murray River. Being the driest state in Australia, South Australia is a fantastic choice for an active and rejuvenating holiday.
To top it all off, you will find some of the country's most unique accommodation in South Australia. Want to explore the region? Why not add an element of something new and a little different to your next trip by staying somewhere unconventional?
From boathouses to dugouts, old churches to former jails, I've compiled a hand-picked list of some of the most unusual accommodation in South Australia.
*This post may contain affiliate links meaning should you purchase a product via this link, I'll earn a small commission at no extra cost to you. See my privacy and disclosure policy for more.*
PIN FOR LATER:
Underwood Court fresh Dugout – Coober Pedy
Price per night: from $150
Sleeps: 2 (double room) or 8 (family room)
Check availability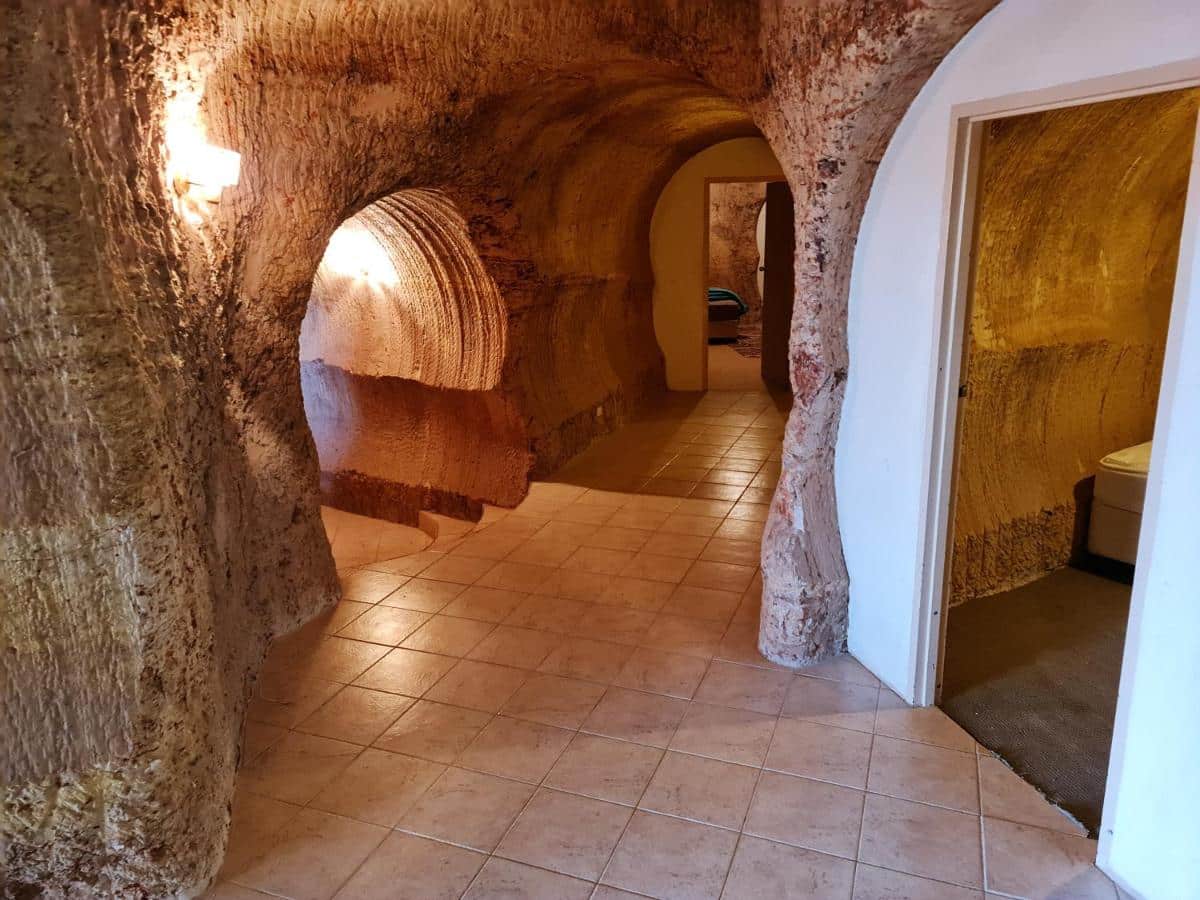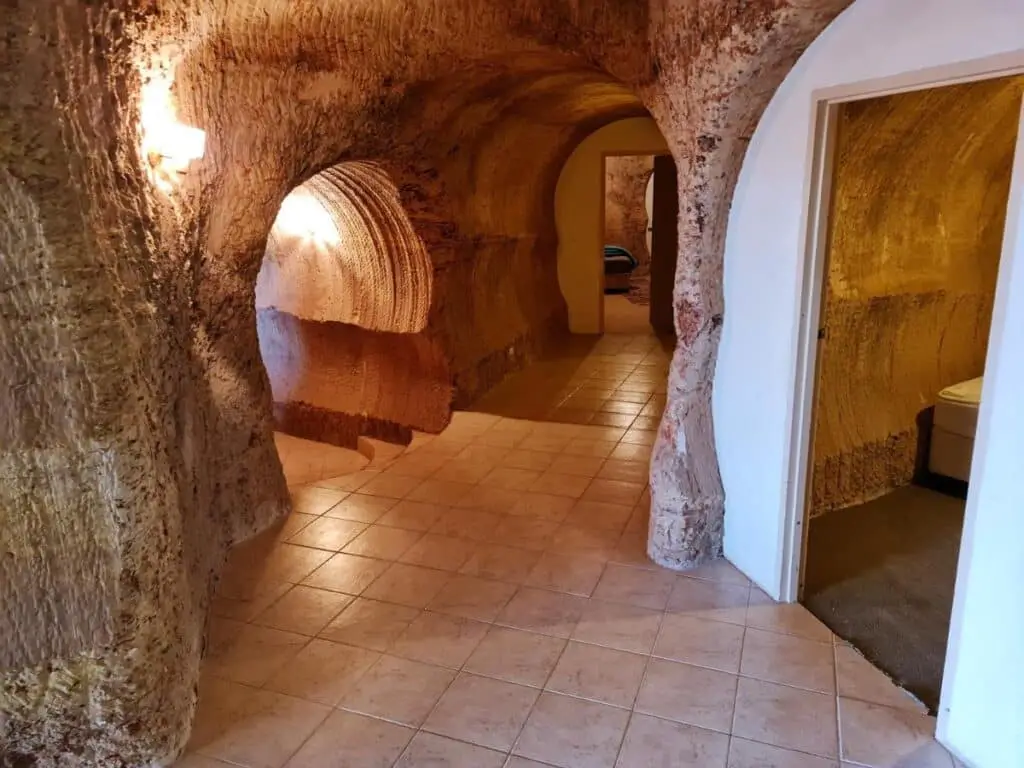 Located deep in the outback northwest of Adelaide is one of the most unique towns in Australia – Coober Pedy.
Just in case the title of the opal capital of the world wasn't enough for this small town of 2,500, Coober Pedy is also famous for another, more unusual reason – the whole town is buried underground! Over 80% of the town inhabitants live in underground dwellings called dugouts which provide respite from the scorching desert sun.
Not only are there a range of unusual underground hotels, pubs and shops, there's also a dramatic church with intricate carvings of saints on the walls.
If you're looking for the most unusual accommodation in South Australia, then Underwood Court has got to be it! Ideal for families, the Underwood Court Fresh Dugout offers authentic underground lodging without sacrificing the modern conveniences of a typical home. The accommodation has a fully-equipped kitchen, private bathroom, spacious lounge, parking lot, barbeque area, and sun terrace.
The neighborhood is secluded thanks to the thick stone walls so you can make as much noise as you want without disturbing others. The surrounding desert and mountain views are incredible, but at their most spectacular at sunset.
The Church – Barossa Valley
Price per night: from $260
Sleeps: 6 (3 double rooms)
Check availability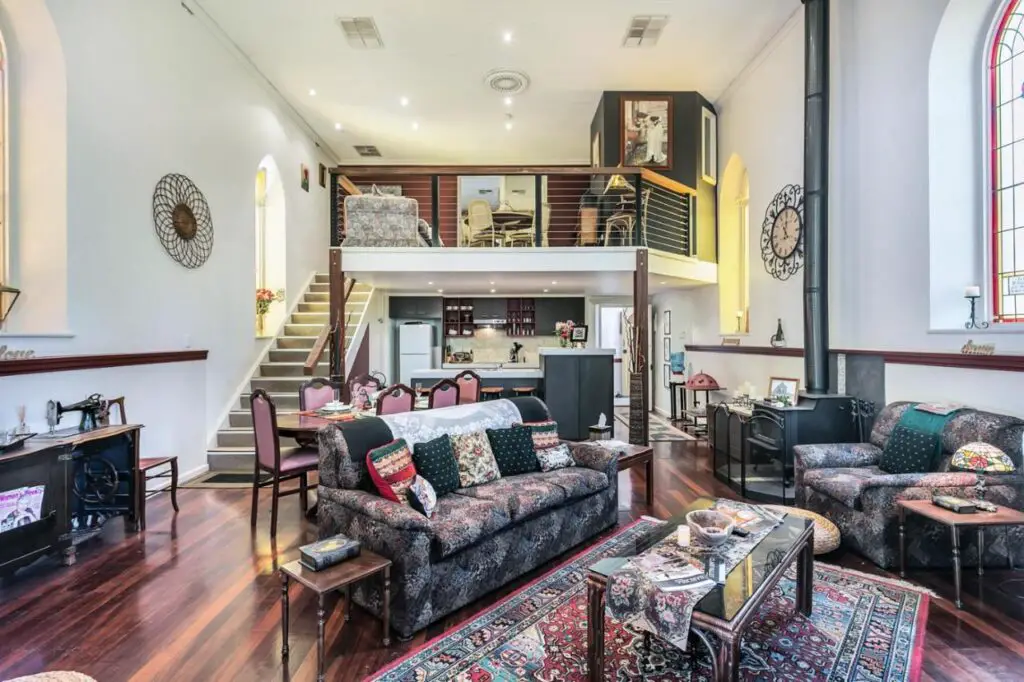 If you're planning to explore the wonderful Barossa Valley, The Church, located in the town of Gawler, makes a memorable base for touring the wine country.
This rustic building is a former church, converted and refurbished into a quirky guest house with a homey ambiance. The gloriously high ceilings, characterful windows and solid hardwood floor are fantastic original features.
The Church is a self-contained and comes with state-of-the-art facilities, a cosy living area with a log burning fireplace, a well-furnished kitchen, and an outdoor dining area set in a beautiful garden.
The Church is right in the heart of the town and is close to cafes, shops, and restaurants. It is also a short drive to Adelaide, making this rental ideal for either a weekend getaway with friends or family, or a respite after a day of city sightseeing.
The Fire Station Inn – North Adelaide
Price per night: from $265
Sleeps: 2-5 (multiple rooms/apartments available)
Check availability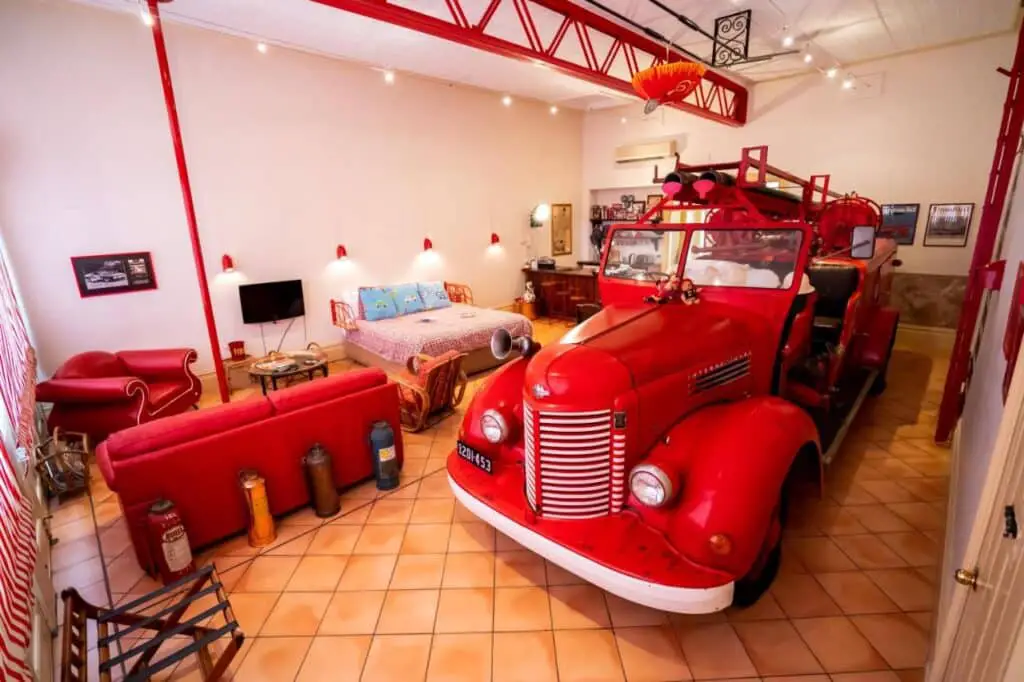 While many hotels brag of rooms with a view, the Fire Station Inn boasts a suite with a real-life 1942 firetruck, a fireman pole, and even fireman dress-up uniforms!
Indeed, this historic fire station turned into a boutique-style lodging is a hot contender for the most unique accommodation in South Australia!
Kids will surely love this place, but if the Fire Engine Suite seems a little too 'extra' for you, there's the Loggia Suite, with its own kitchenette and courtyard. Or, the two-bedroom penthouse, with its private sundeck to enjoy vistas of the city. Although you can prepare your meals in your own kitchen, breakfast can be delivered to your suite every morning. There is also an Indian restaurant nearby that provides free room service.
Fire Station Inn is an excellent base to see Adelaide. Close by are renowned attractions such as the Adelaide Zoo, Adelaide Botanic Garden, Ayers House Museum, the Art Gallery of South Australia, and Victoria Square.
Old Mount Gambier Gaol
Price per night: from $101
Sleeps: 1 – 10 (multiple rooms available)


Check availability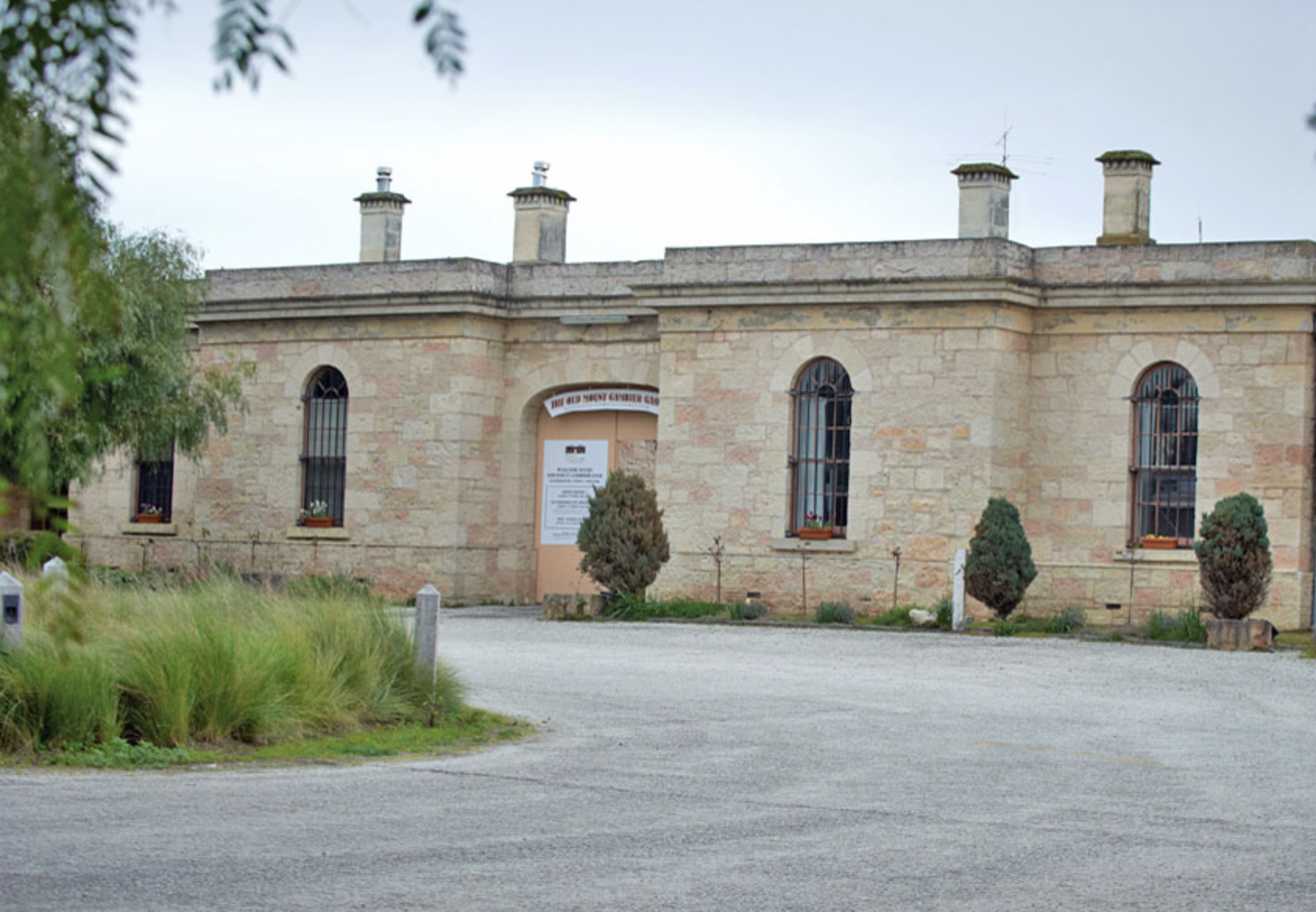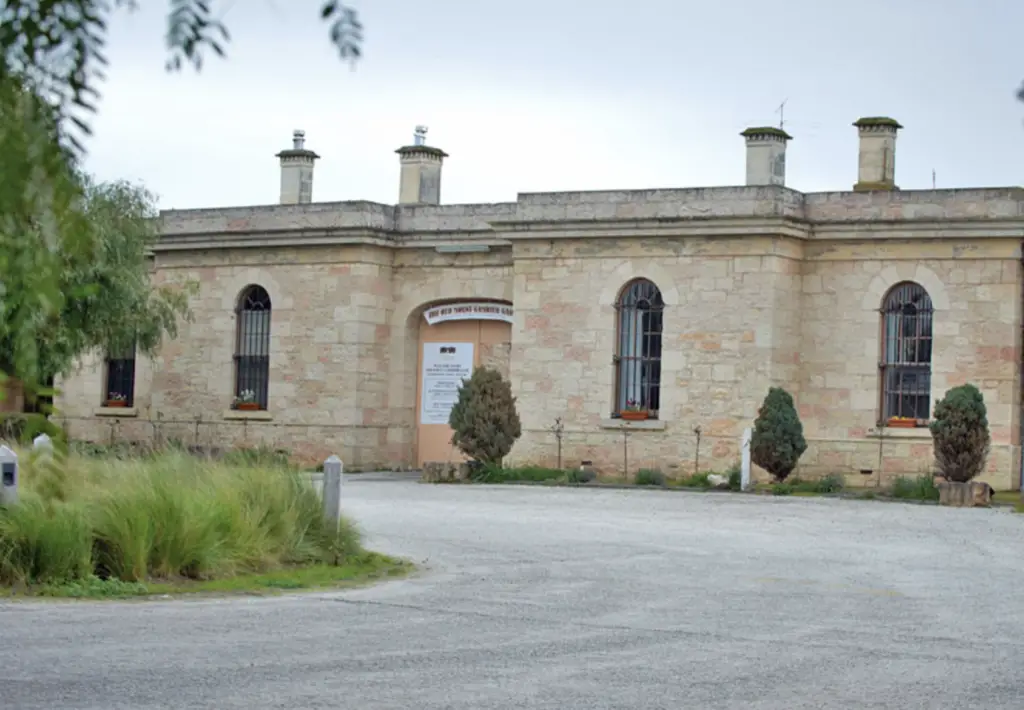 No, you've not read that wrong. You can literally stay in a cell at a former heritage-listed jail in in Mount Gambier. Can you get much more unique (and creepy) accommodation than that?!
A night spent between the walls of a 19h century prison is certainly not for everyone, but it will be perfect for fun and horror-loving thrill seekers. If the thought of sleeping cell is a bit too much though (or you want a bit more space!), there's also self contained cottages with the option to hang out within the gaol grounds and rooms, such as the former wardens office.
Only a couple of minutes drive away from the famous deep blue waters of the Blue Lake and the main high street of Mount Gambier, the gaol is also tucked away in private grounds offering a desirable location.
So, are you brave enough to book a night where former criminals were locked up at the Old Mount Gambier Gaol…?
Middleton Beach Huts – Middleton
Price per night: from $204
Sleeps: 1-4 (multiple chalet huts available)
Check availability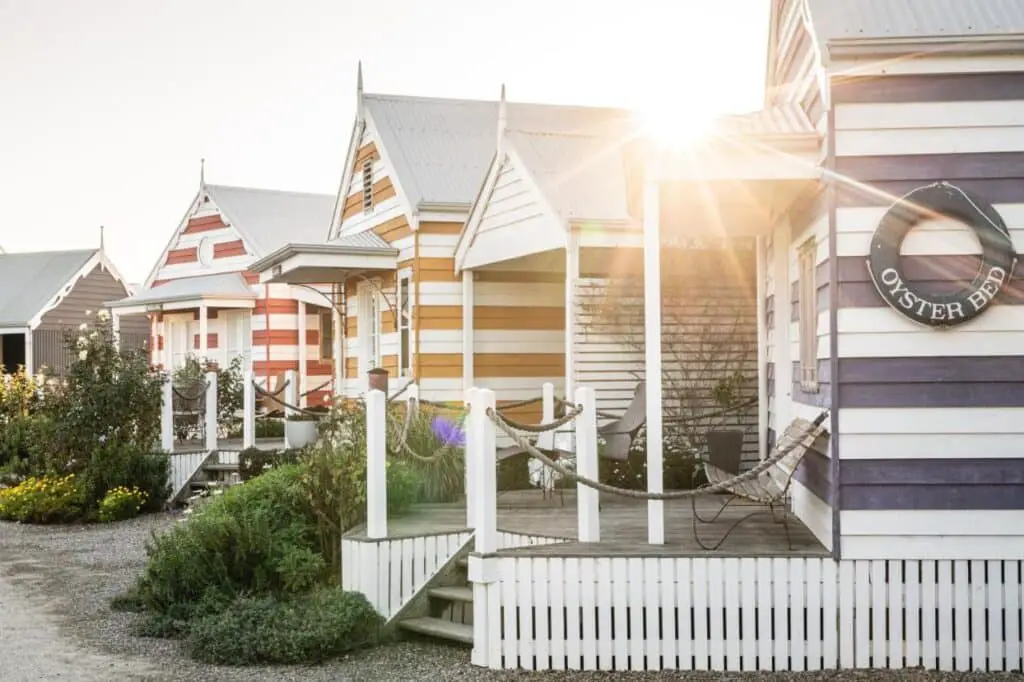 The Middleton Beach Huts feature charming wooden chalets and studios set in a tranquil property just 500 metres away from Middleton Beach. The wooden, cutely painted huts each have their own small terrace, perfect for those who want to enjoy the sea breeze.
The chalets provide excellent service, a warm welcome (a bottle of champagne upon arrival!) and opportunities for great adventures.
Middleton Beach is perfect for swimming, canoeing, fishing or some good old sunbathing. You can play tennis at the property's private tennis court or drive to the South Lakes Golf Club, about 3-km away, for a round. Want to explore the surrounding area? Go horseback riding, hiking or cycling. 
In the evening, you can unwind in the gardens while enjoying a barbeque and and a few beers at the picnic area. If you want something a little more gourmet, try the onsite Blues Restaurant, which serves steaks, venison and fresh seafood.
The Manor – Basket Range
Price per night: from $238
Sleeps: 1-4 (double rooms with or without sofa beds)
Check availability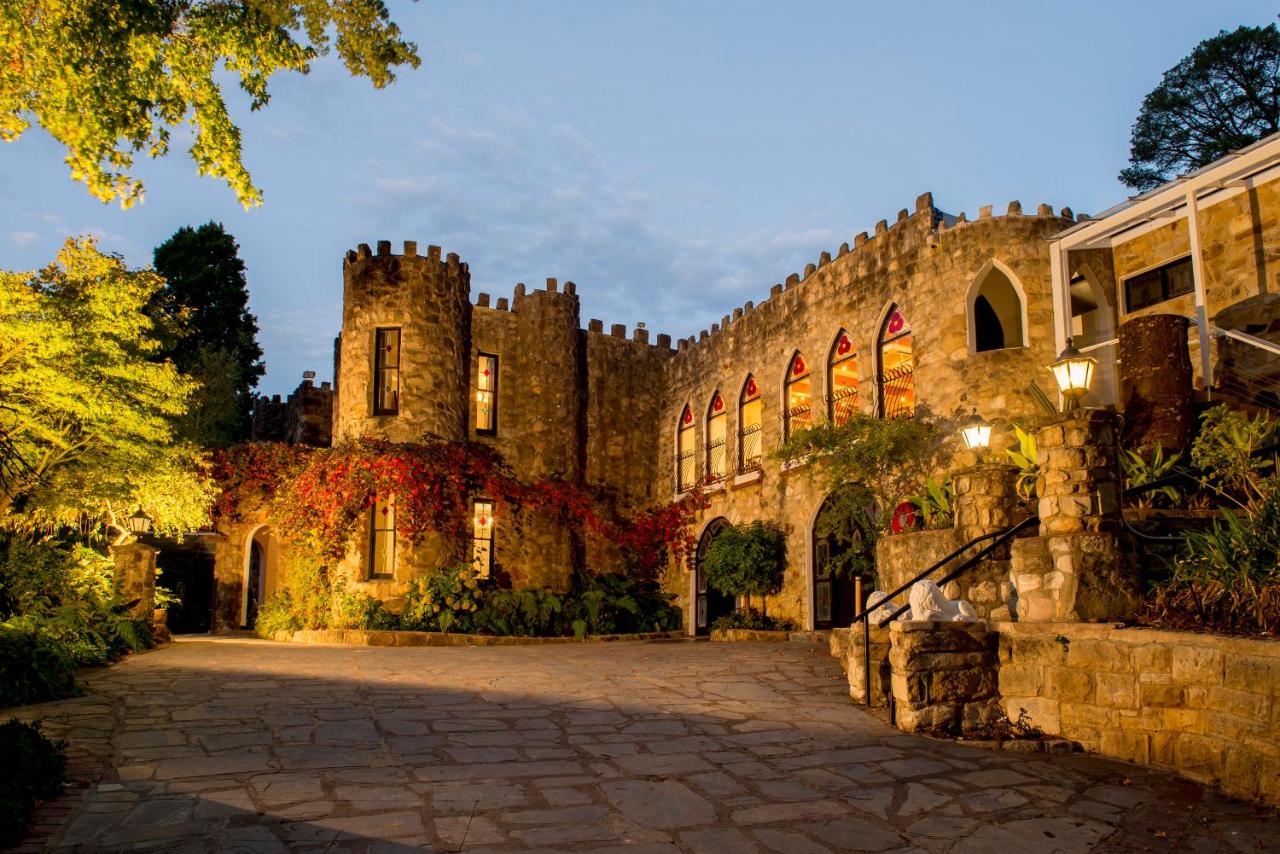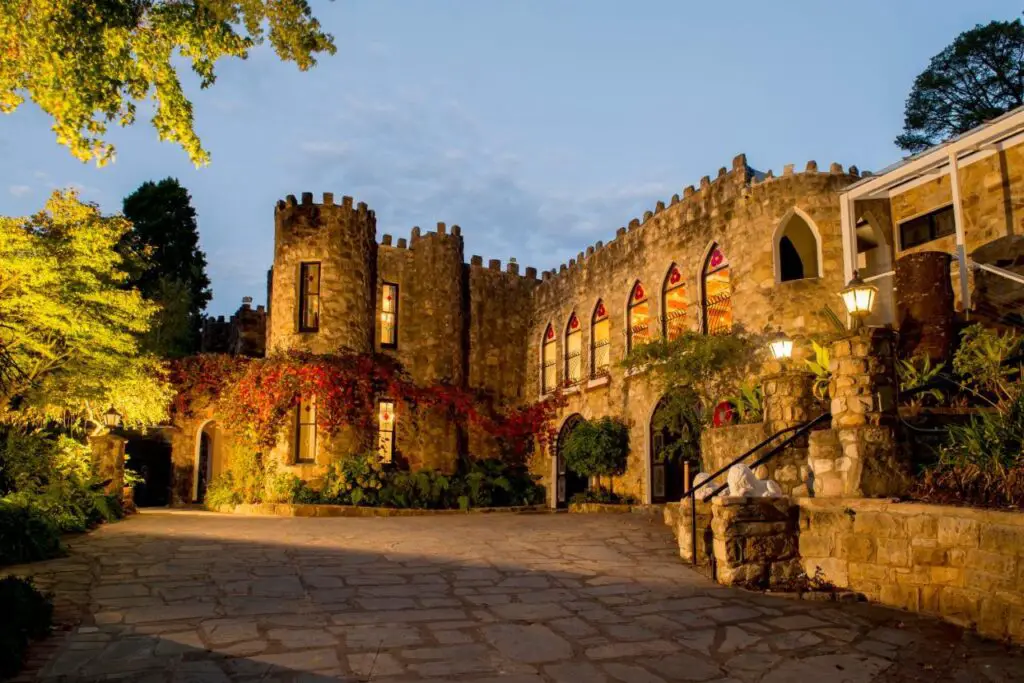 Tucked away in the scenic Adelaide Hills, The Manor is a charming stone castle built in 1935 set within a stunning country estate. If you're looking for unique accommodation in South Australia that is a little on the opulent side for a special occasion, then this is a fantastic pick.
The Manor has a small chapel nestled within lovely gardens, and 12 townhouse-style suites complete with a separate lounge, kitchenette, private bathroom, and balcony. Breakfast, consisting mainly of local produce, is served every morning.
The Manor is only 6.6 kilometres away from Mount Lofty Summit, a majestic peak accessed by a 8km return hike which offers panoramic views over the city skyline. Nearby are also some vineyards and wineries, including Pike & Joyce Wines, Hahndorf Hill Winery, The Lane Vineyard, and Bird in Hand Winery.
Bukirk Glamping & Tiny Houses – Clare
Price per night: from $331
Sleeps: 1-2 (single or double rooms)
Check availability
Bukirk Glamping & Tiny Houses lie on 42-acres of farmland in the picturesque Clare Valley. It is the ideal place to stay if you want to do a foodie tour around Clare, one of the favourite destinations of gourmet food enthusiasts and wine connoisseurs. There's also the nearby historic rural town of Burra, and the fantastic self-driven Burra Passport is the best way to explore it.
On this property you can choose between five glamping tents and two rustic but fancy tiny houses. The tents feature large and comfortable beds, cosy sofas, heating and cooling facilities, a private bathroom, and a deck from which you can take in unobstructed views of the farm. Meanwhile, the tiny houses include a private ensuite, a small kitchen, television, and a dining area. They also have a porch, where you can drink your morning coffee or afternoon wine while enjoying the sunset.
The property has a spacious covered area with a shared kitchen, barbeque equipment, and dining space. In the evening, you can gather around the fire pit and roast marshmallows, stargaze or tell stories over pots of locally brewed beer.
Sticky Rice Villa – Stirling
Price per night: from $345
Sleeps: 2 adults, 1 child
Check availability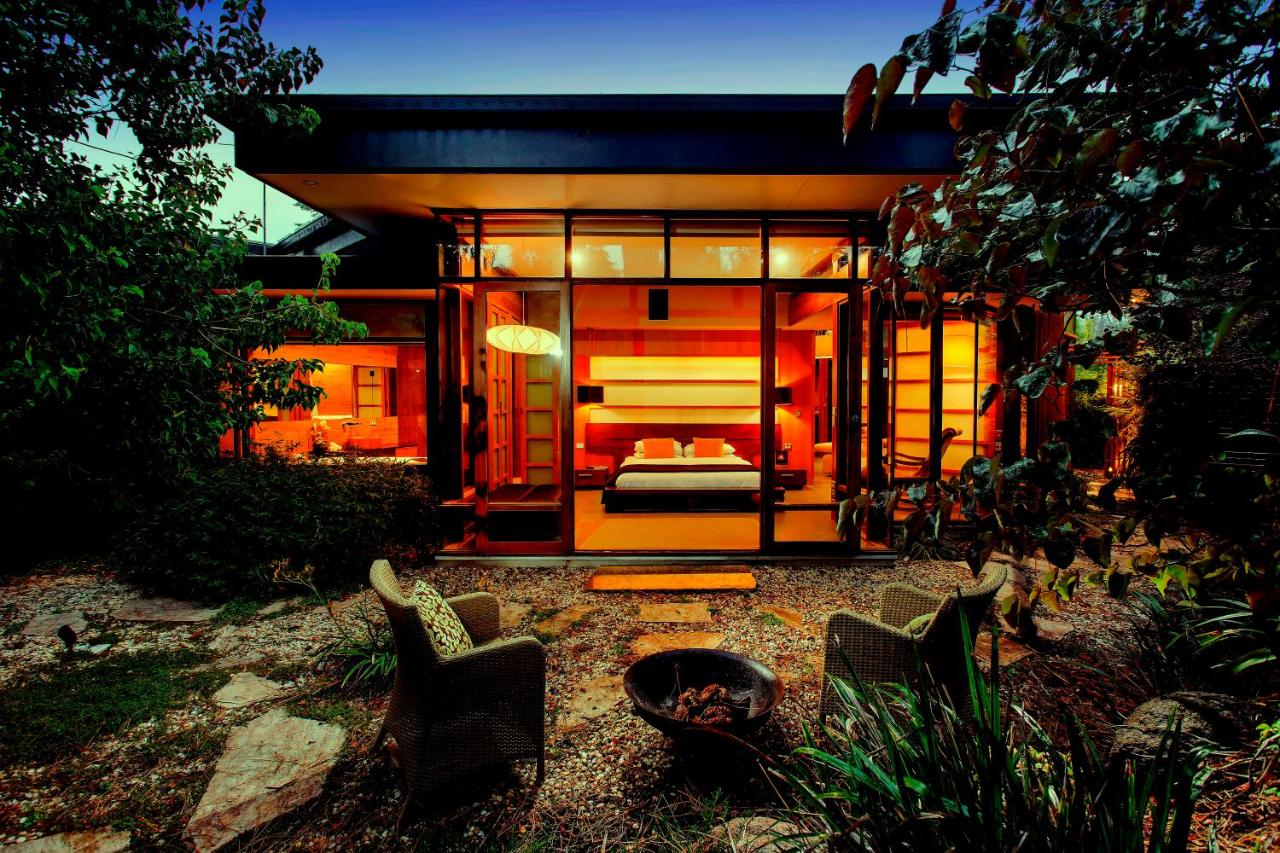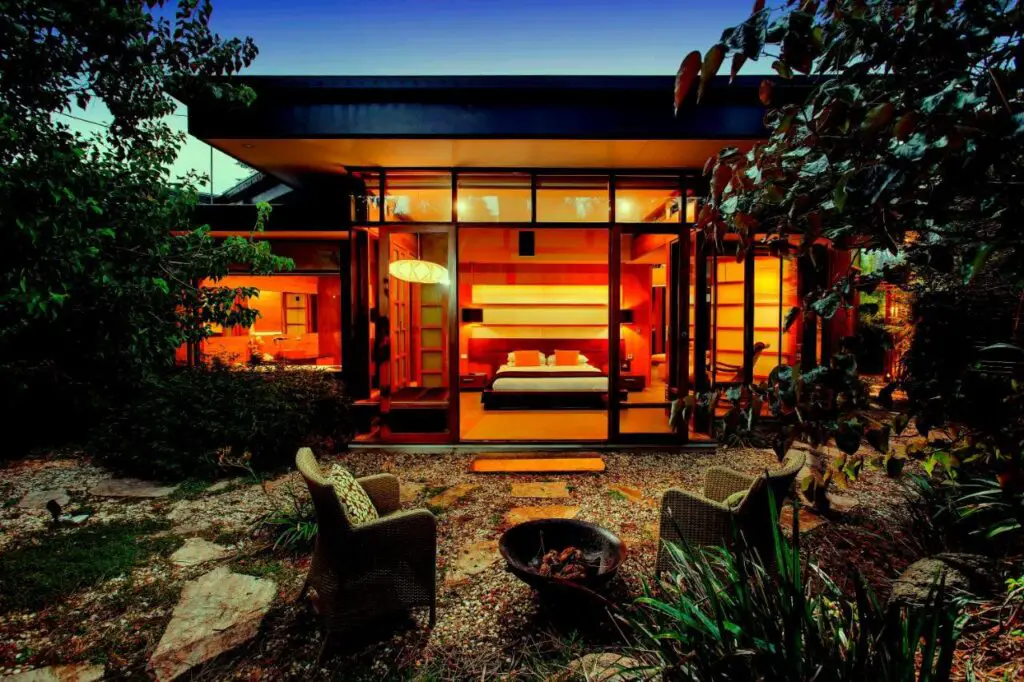 You don't need to travel far to experience the incredible ambiance of Asia. At Sticky Rice Villa, you can stay in an eco-friendly luxury lodge inspired by Japanese, Thai, and Balinese designs.
The villas feature underfloor heating, remote control black out blinds, a fully-equipped kitchen, lounge area, and floor-to-ceiling glass doors that open into a private garden. The property also offers cooking classes where you learn to prepare various Asian, Spanish and Moroccan dishes.
Sticky Rice Villa is only five kilometres away from the Mount Lofty Summit lookout and about a 10-minute drive of both Mount Lofty Botanic Garden and Cleland National Park. You can cycle around the area, go on forest walks, or join a wine and cheese guided tour.
Birks River Retreat Boathouse – Goolwa
Price per night: from $325
Sleeps: 1-2
Check availability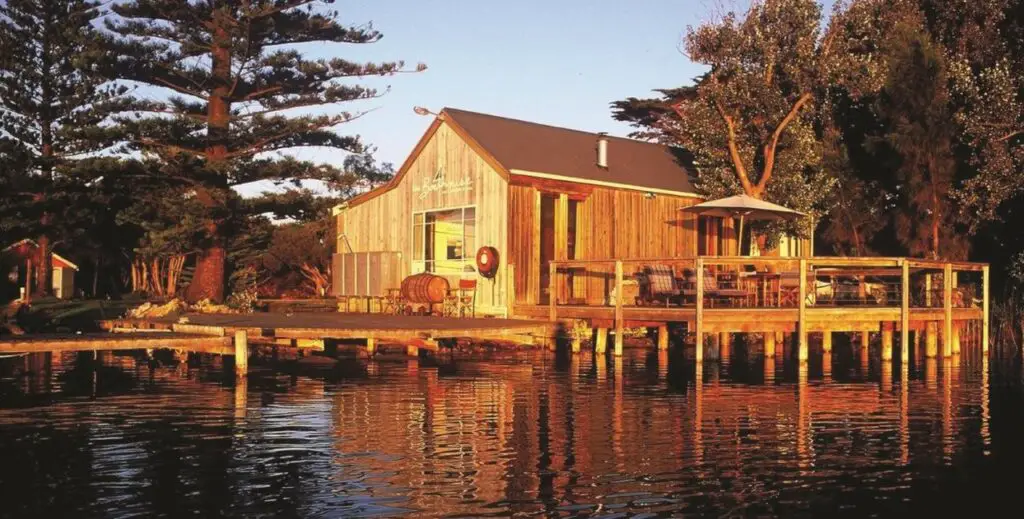 Undoubtedly one of the most unique accommodations in South Australia, Birks River Retreat Boathouse sits on the historic Birks Harbour Marina on the bank of the Murray River. The area is famous not only for its breathtaking views but also for its abundant birdlife. 
The luxurious cabin features a fully-equipped galley kitchen with a complimentary gourmet breakfast basket, an elegant living room with a flat-screen TV and a cosy couch, and an ensuite shower and bath complete with robes and organic body care items.
Outside is an alfresco dining area with barbeque equipment and sun lounges. It also has an overwater private sundeck where you can marvel at the river and watch wooden boats bobbing in the water. Nearby, you will find pristine beaches, scenic trails, farmers' markets, small galleries featuring local art, boutique wineries, and seaside cafés and restaurants.
Swamp Fox luxury Dutch Barge – Goolwa
Price per night: from $349
Sleeps: 1-4
Check availability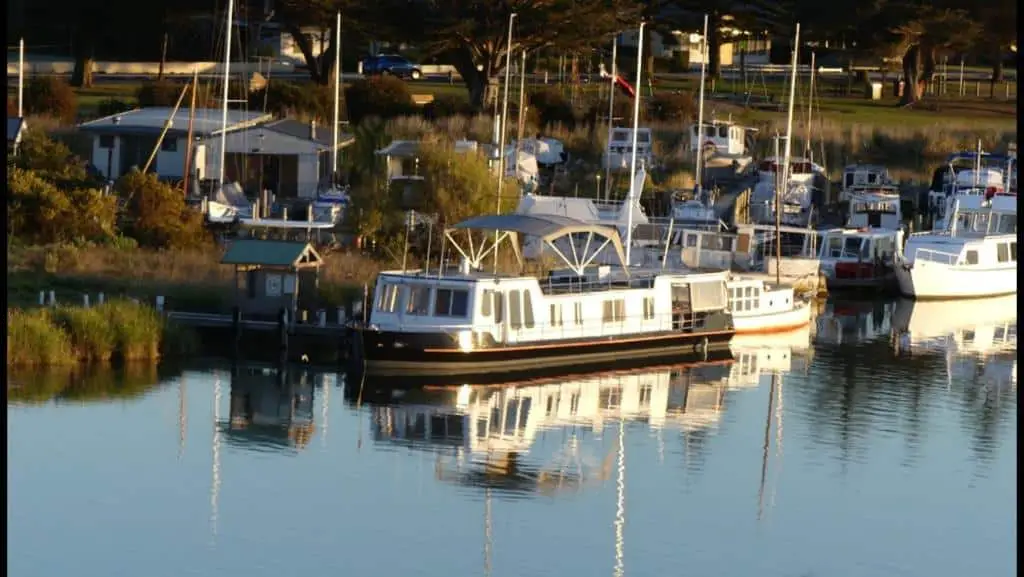 If the boathouse above isn't quite unique enough, then how about actually getting on the water and staying on a Dutch Barge for an experience of true opulence on the water?
The newly refurbished Fox Swamp Barge features a roomy open plan living room with books, TV, board games and DVDs. There's a dining area that seats up to 8, a kitchen and a designer bathroom with a brass rain shower. It also has a spacious top deck with a barbeque area and outdoor furniture for dining and entertaining guests. From the patio, you can soak up the gorgeous river views and lovely sunsets.
The barge is moored on a private jetty and offers utter tranquility, perfect for those seeking escape the hustle and bustle of life. But the property is not wholly isolated. In fact, it is merely five minutes away from the Goolwa Wharf, where you'll find a host of restaurants, cafés, bars and shops. There are also several stunning beaches nearby, including the waterfront estate and marina Coorong Quays Hindmarsh Island.
Wilpena Pound Resort Safari Tent – Flinders Ranges
Price per night: from $349
Sleeps: 4 adults, 3 children
Check availability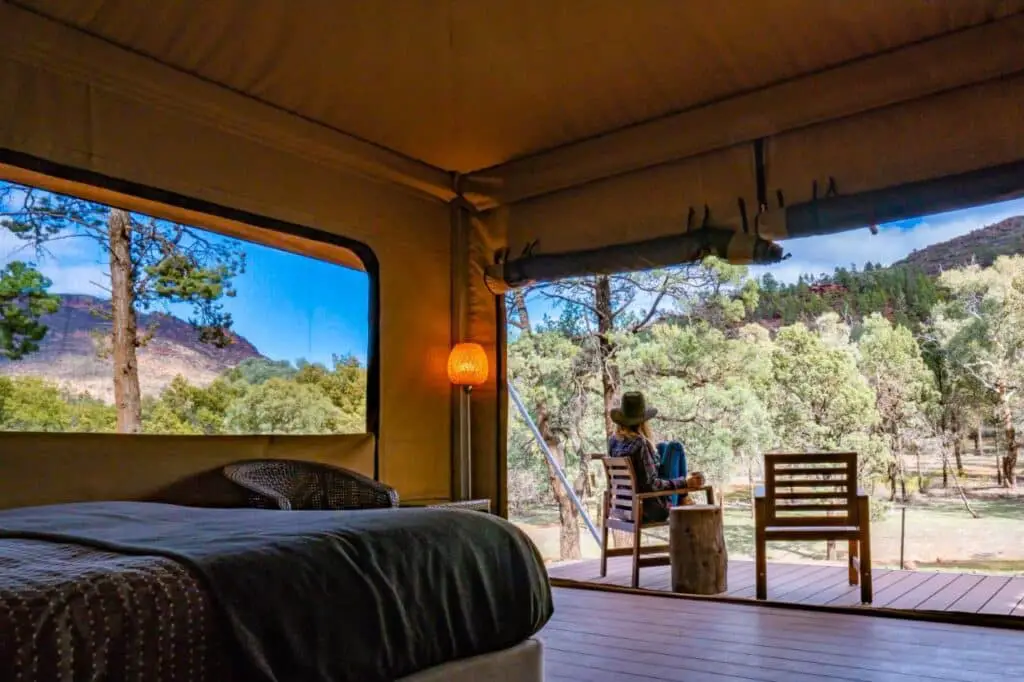 Located on the edge of the stunning Ikara-Flinders Ranges National Park, the Wilpena Pound Resort safari camp is ideal for those who desire to commune with nature but do not want to give up the comforts of home. It is one of the best places to stay if you plan on exploring the National Park.
The air-conditioned safari tents include a modern ensuite bathroom, comfortable king-size beds, and a private deck with a fire pit. Cosy and intimate, the tents are perfect for couples on a romantic holiday, singles on self-introspection, or families looking for quality bonding time.
The resort also has a swimming pool, a convenience store, a bar, barbeque areas in the native gardens, and a restaurant that features Indigenous flavours.
---
As you can see there is an abundance of unusual and unique accommodation in South Australia to make any sightseeing trip anywhere across the state truly memorable. Whether a romantic getaway or with the whole family, there's something for everyone. Where would you like to stay the most? Let me know in the comments below!
Still not found something special? How about these?
All photographs are copyright of Booking.com and their respective properties and photographers.
Heading to Australia soon? Don't forget these essentials!
Flights: compare and search using Skyscanner
Accommodation: hotels to hostels, glamping to apartments I always use Booking.com
Tours: to search and compare the best group tours and activities worldwide (with up to 20% off), use Viator
Visa: don't forget to check the entry requirements for Australia on the government website for the passport you are travelling with
Inspiration: Lonely Planet's guide to Australia or for your next trip, how about Lonely Planet's Guide to the World?