Are you looking for a solo female travel playlist to accompany your adventures?
Solo travelling is one of the most empowering and socially rewarding things a person can do, no matter what age or gender. However for a female, it certainly takes a little more assertiveness to ignore concerned family members, unnerving international news and the fear of judgement and harassment by men, to explore a strange country, completely alone.
I know for a fact, because I have female friends who have told me so, that many women just unfortunately don't have the confidence to take the plunge.
But if there was just one thing I would urge every woman to do in their life, it's to try out solo travelling just once. It may just change your life!
Understandably not everyone feels the need to travel solo, but if I can help persuade just one intrigued woman to think about or look into booking an adventure for one, then my job here as an avid solo travel ambassador is done.
Whenever I need an emotional or confidence boost in life, music is my source of inspiration. It can at times completely transform my mindset, let alone my mood. 
So whether you're in need of encouragement or if you're on your travels already, I have compiled a solo female travel playlist of my rock and indie favourites to remind you of how utterly badass and unstoppable you are.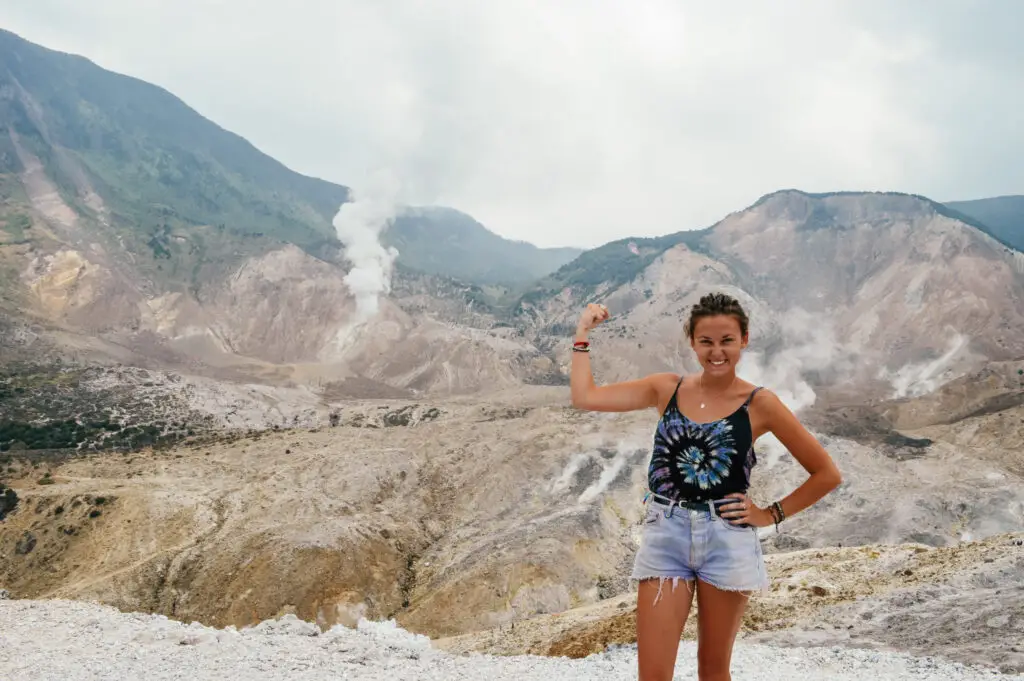 Not necessarily what you'd immediately think of as your usual travel anthems, this solo female travel playlist consists of many songs with intense dirty guitars to induce adrenaline and fierce lyrics to inspire independence. 
There are a couple of golden oldies thrown in, but most of the music featured has been released in the last few years.
Oh, and over 70% of the playlist includes female fronted bands for that added touch of girl power.
You can listen to the full playlist on Spotify below, but continue further for a taste of my personal top six tracks for solo female travel:
Solo female travel playlist:
Alice Merton – 'No Roots'
– "I've got no roots, but my home was never on the ground/Ask me where I come from, I'll say a different land/ But I've got memories and travel like gypsies in the night"
Written as a reflection of Alice's own turbulent lifestyle, 'No Roots' is like a personal diary entry, expressing how constant upheaval and not having a place to call home can both harden and enlighten a person.
Alice's music has an upbeat, electro-pop-rock edge (making it hard to resist dancing around to), which for me proves this track to be an acceptance, or even celebration of the nomadic lifestyle she sings about. After all, she has grounding in the people she loves – despite the places around her constantly changing, 'the rest is still the same'.
I love the concept of having no roots; the freedom of having no ties yet having emotional bonds in intangible sentiments instead. As how many travellers feel, you can instead find elements of 'home' and belonging all around the world, and with the new people you meet.
The track starts with a teasingly simple guitar, each layer of the song building individually: crisp vocals, then marching drums, a rigid bassline and finally a repeating refrain, kept interesting with vocal emphasis on the word 'roots'.
The overall affect of 'No Roots' is an empowering and memorable ballad for solo female female travellers with a nomadic heart.
Foo Fighters – 'Run'
– "There's somewhere to run/Wake up/Run for your life with me"
'Run' comes from the Foo Fighters latest album 'Concrete and Gold' which was released in 2017. Just as people thought the Foo Fighters were dead, they smashed doubters aside, producing an album of quite literal gold. The album is so shiny and fresh yet there is still the beautifully familiar arena-ready sound on every track that the Foo's are so famous for.
Arguably one of the bands best songs, 'Run' blew me away when I first heard it. Beginning with a beautifully delicate guitar progression, Grohl tenderly beckons to run away with him. It's gentle, affectionate and could almost be tender pillow talk. However his coos are rapidly smashed aside with awesome thrashing drums and savage guitars. A sudden urgency has taken over; it's now not a choice, but a desperate necessity to run for your life.
The adrenaline this song induces from its manic riffs and distorted vocals, which beautifully contrasts with the half-time chorus, is quite literally staggering.
The Concrete and Gold album is the reason that a quick walk I planned in Montserrat, Spain, turned into a three hour solo hike with a 15kg backpack cutting into my shoulders – I literally did not want to, and could not stop hiking with this song and album on repeat.
If this song doesn't make you want to run away on an epic adventure once it's rattled through your ears, mind, body and soul, then quite frankly, I don't know what will.
First Aid Kit – 'My Silver Lining'
–  "Gotta keep on going, looking straight out on the road/Can't worry 'bout what's behind you or what's coming for you further up the road"
Swedish sisters Klara and Johanna have been captivating hearts since they were first discovered on Youtube in 2008. It wasn't long (in fact only four years) after they were poached, that they reached platinum sales with their 2012 album 'Lion's Roar', which was soon followed by another fantastic platinum album, 'Stay Gold'.
Their quick success is no surprise to me; the hippy folk sisters have created some of the most dreamy and sun-drenched music I've ever heard, owing to their melancholic violin climaxes and haunting silky-smooth harmonies.
When they sing together their voices somehow entwine as one, heightening their sound and producing something that I can only describe as a soundtrack to a surreal dream.
Whenever I listen to First Aid Kit, the image of driving through empty winding roads, fields of wildflowers and snow-capped mountains is never too far away in my mind.
There is in fact a recurring theme of travel, or being 'on the road' within the majority of their music, but it's almost bittersweet. There's a sense of displacement, weariness and pensiveness, but their journey is not only physical; it's one of positive self-discovery too.
The sisters are learning important life lessons through travel and the way they encapsulate this in their music, is pretty damn beautiful.
Listening to the eloquently poetic lyrics of 'Silver Lining' is like a counselling session whereby you learn and gain strength from the sisters' own emotional experiences.
The Nyx – 'Hideaway'
– "All I ask is to be alone when I'm in the unknown"
The Nyx are one of the smallest and lesser known bands on this list but are utterly deserving of being thrust into the limelight.
The ferocious foursome, originally from London, released their single 'Hideaway' in 2017 and it is one of the most impactful songs from a band of this size I've heard in a long time. The riffs are weighty and fuzzy and the drumming on this track is nothing short of fierce. The guitars are so powerful and raucous that it makes me want to desperately learn to play in the hope that one day their guitarist breaks an arm and I'll have to miraculously step in and save the day (sorry not sorry).
The belting vocals are soulful and raw, adding to the unstoppable power of this song. I almost feel proud to simply share the same gender with The Nyx, as they effortlessly deliver an empowering message challenging the stereotypes of rock music.
According to the band, 'Hideaway' is about the struggle of the push and pull of an over thinking mind, which is one reason why I think it so perfectly belongs on this travel playlist.
Wolf Alice – 'Beautifully Unconventional'
–  "She's beautifully as tough as leather/As light as a feather/Grade A smart clever/Floating in the ether"
According to Wolf Alice's lead singer Ellie Rowsell, this song is a "celebration of non-conforming friends. A celebration of individuality and the adventures that come with embracing that". The admiration of an independent and intrepid female resonates; personally I find myself brimming with free-spirited desires and encouraged to disregard what others may think.
The mystery woman Ellie sings about is somehow easy to relate to and if you're anything like me (i.e. sad as hell), you even begin to fantasise that it's you she is admiring. 'Beautifully Unconventional' encourages and celebrates going against the grain and proves that it's cool to be different and true to yourself.
The undertones of the song are (in true Wolf Alice style) slightly grungy due to the sludgy bass, yet the super tight drumming gives the track a distinctly 'poppy' edge. This, coupled with the melodic and sweet vocals, makes it a powerful and uplifting sing-along song.
Also included in this playlist is the contrasting Wolf Alice track, 'Yuk Foo'. Unlike 'Beautifully Unconventional' this song wreaks heavy, angry grunge from the outset. The profusion of vulgar lyrics perfectly mirrors the anger oozing from the raw, and at times shrieking, vocals that pierce your ears from start to finish.
Whatever Ellie is singing about, this lady has been scorned big time and it will get your blood boiling and heart pumping with every irate f-bomb she belts.
Just maybe don't play 'Yuk Foo' around your grandma.
Cage The Elephant – 'Punchin' Bag'
–  "Heaven help ya the girl likes to fight/Afraid of nothing and she carries a knife"
Cage The Elephant are an energetic American rock band from Kentucky who I've had the pleasure of seeing live a few times. I've followed them since their first self-titled album back in 2006 and have adored each album, especially their latest one entitled 'Tell Me I'm Pretty'.
Punchin' Bag was an obvious choice for this playlist as the subject is a cantankerous, rebellious female who is fed up of being taken for a ride and is (literally) fighting back – successfully.
Although set in the context of domestic abuse, there is something about her transformative journey of regaining personal strength that rubs off on the listener. She's hardened by her past, fearless about her future and is now unstoppable. Not only do the lyrics reflect this, but the stomping, warped riffs and thumping beats reflect the badass chick this woman has now become.
It has been tough to whittle this solo female travel playlist down to just six songs, as I have endless reasons why I love every track and why they have been featured on this quite specific playlist! However I hope you have enjoyed reading and listening to my selection.
If you feel that there is a song that belongs on this playlist, I'd love to hear about it. Please put it in comments below! You can also 'follow' the playlist on Spotify to keep updated with any new additions.
PIN ME FOR LATER:
*This post may contain affiliate links meaning should you purchase a product via this link, I'll earn a small commission at no extra cost to you. See my privacy and disclosure policy for more.*