When you think of Bradford in West Yorkshire you may picture a few things – a once booming Victorian industrial city or even its title as the curry capital of the UK. Quaint villages may not necessarily be the first thing that spring to mind.
But located just 20 minutes away from the city centre is the small and beautifully romantic village of Haworth which, with its stone cottages, cobbled streets and surrounding wild moorland, makes a fantastic slow-paced day trip within the North of England.
The village is not only romantic in looks however. Haworth was once home to the Bronte Sisters, famous authors and poets who wrote literature classics such as Wuthering Heights and Jane Eyre. Encapsulating an era we can now only largely imagine through reading, it was here in time-frozen Haworth that these characters were born from skill, ink and paper.
Through its history and scenery, a Haworth day trip captures your imagination and sparks a sense of creativity, no matter how many times you visit.
Whether you're interested in uncovering the lives of the Bronte Sisters or just want to explore this pretty village and its neighbouring scenery, here is how you can spend a Haworth day trip!
*This post may contain affiliate links meaning should you purchase a product via this link, I'll earn a small commission at no extra cost to you. See my privacy and disclosure policy for more.*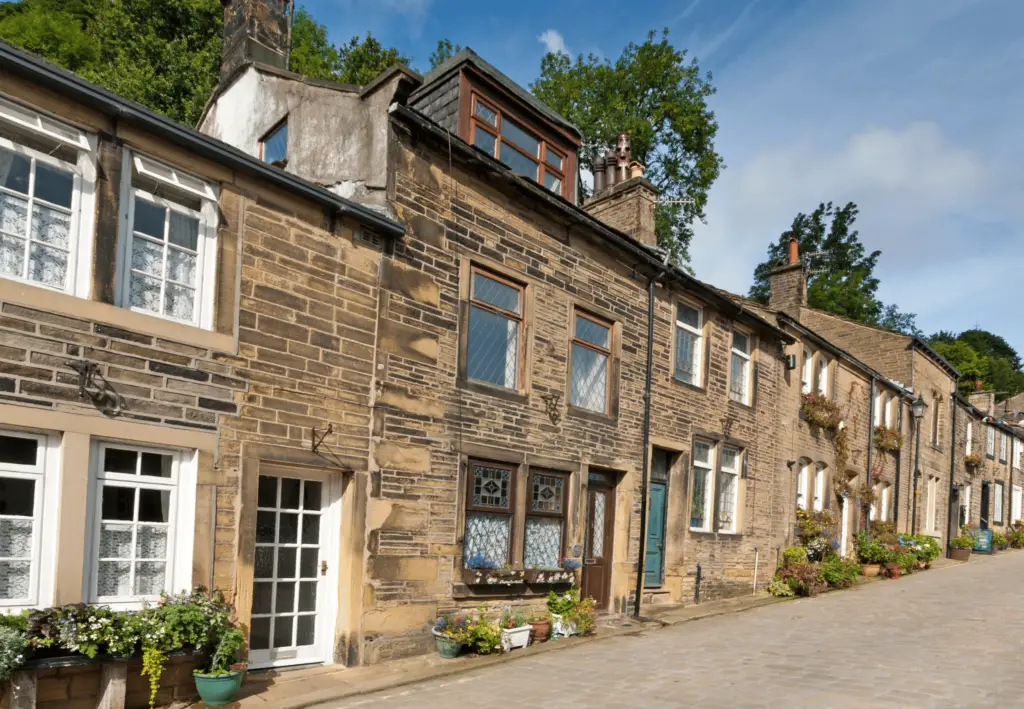 How to get to Haworth
Haworth is just over an hour drive from Leeds and York and two hours from Manchester. 
It's also accessible by rail, the closest train station being the historic station of Keighley. If you're able to, arriving to Haworth by train is a really enjoyable experience.
You may also wish to consider taking an organised day trip from one of the tourist cities such as York, however you will only get a brief and limited insight into Haworth. Doing it independently – if you can – is highly recommended.
How to spend a day trip to Haworth: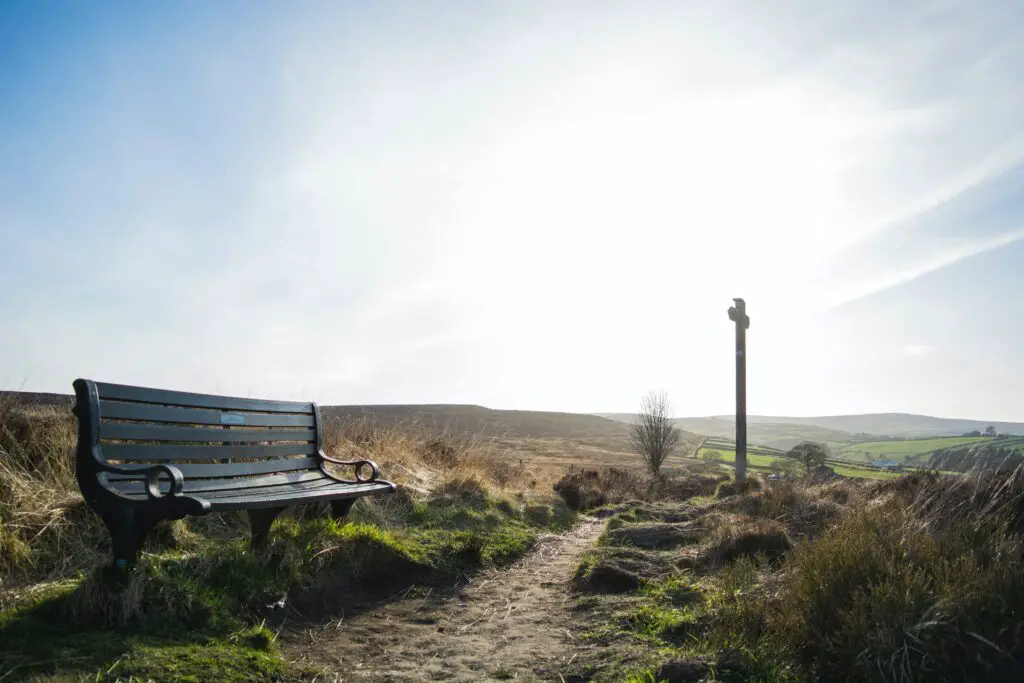 Enjoy the romance and tranquillity of Bronte Waterfalls
Named after the famous sister trio, this beautiful waterfall walk is by far my favourite part of a day trip to Haworth. I would recommend doing it first thing as it will take up most of your morning, leaving the afternoon to explore the village. 
There are several car parks along the way to the waterfalls so it's up to you how far you would prefer to walk. You can either walk to the waterfalls and straight back to the town which takes around 1.5 to 2 hours, or opt for the longer, circular route taking 2.5 – 3 hours.
I have done both and if you have enough time I would opt for the circular walk. Although understandably this isn't always as appealing when it is -5 and the Yorkshire wind is howling! 
Both waterfall walks are very well signposted and just outside Haworth centre. However if you'd like, there are also free maps you can download online, with extra facts and some quizzes/treasure hunt games which are great for occupying children.
Once you've strode across rolling hills and brooding moorland you'll reach the gently cascading falls which draw people from all over the country for meditation or reflection.
Emily Bronte often came here to gain inspiration for her writing, (including for her novel Wuthering Heights), and many writers also visit the waterfalls seeking the same creative insight.
The Bronte Waterfall walk is not suitable for wheelchairs, pushchairs, very young children or the elderly. Walking boots are an absolute must as it can get very boggy when approaching the waterfall.
There are no shops or toilets along the walk except for the pub in Stanbury, so ensure you buy any drinks or snacks and have a toilet break before commencing.
Admire Bronte Bridge & Little Laithe Reservoir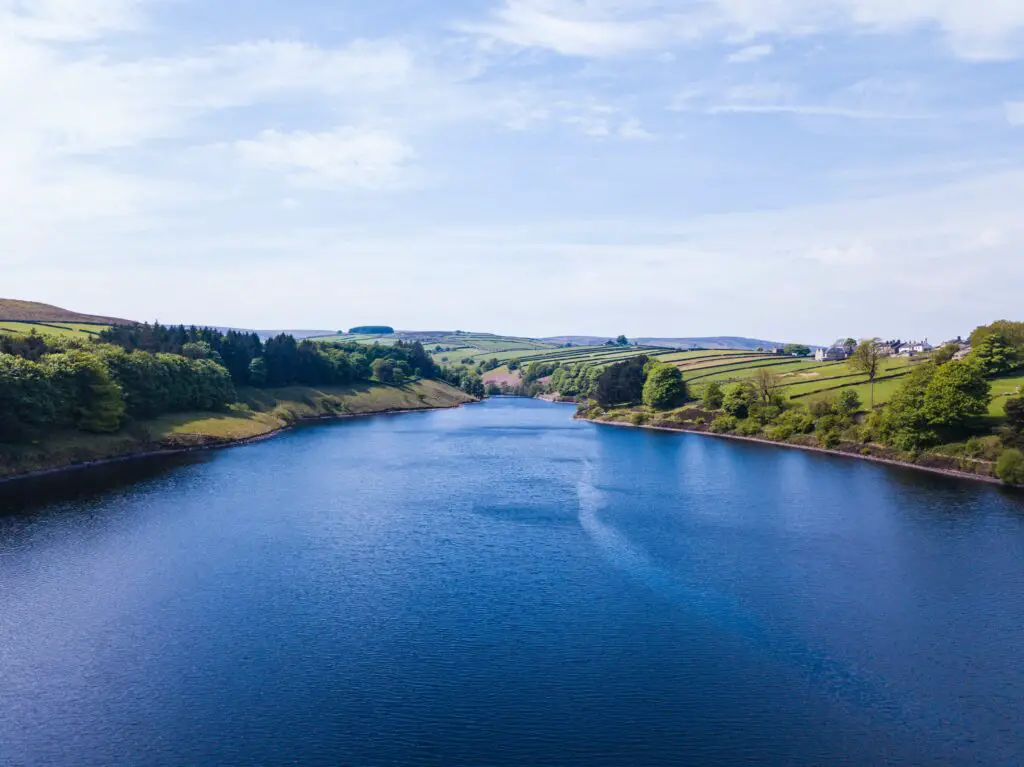 If you decide to do the circular waterfall walk, you'll come across the pretty stone Bronte Bridge and the evocative ruins of Top Withens farmhouse which was said to have inspired Wuthering Heights. Afterwards you can visit the Wuthering Heights pub in Stanbury for a quick refreshment. 
On the route back Haworth you will also walk past the impressive Lower Laithe reservoir which began being built in 1911 but was only completed in 1925.
Explore the quirky cobbled streets and shops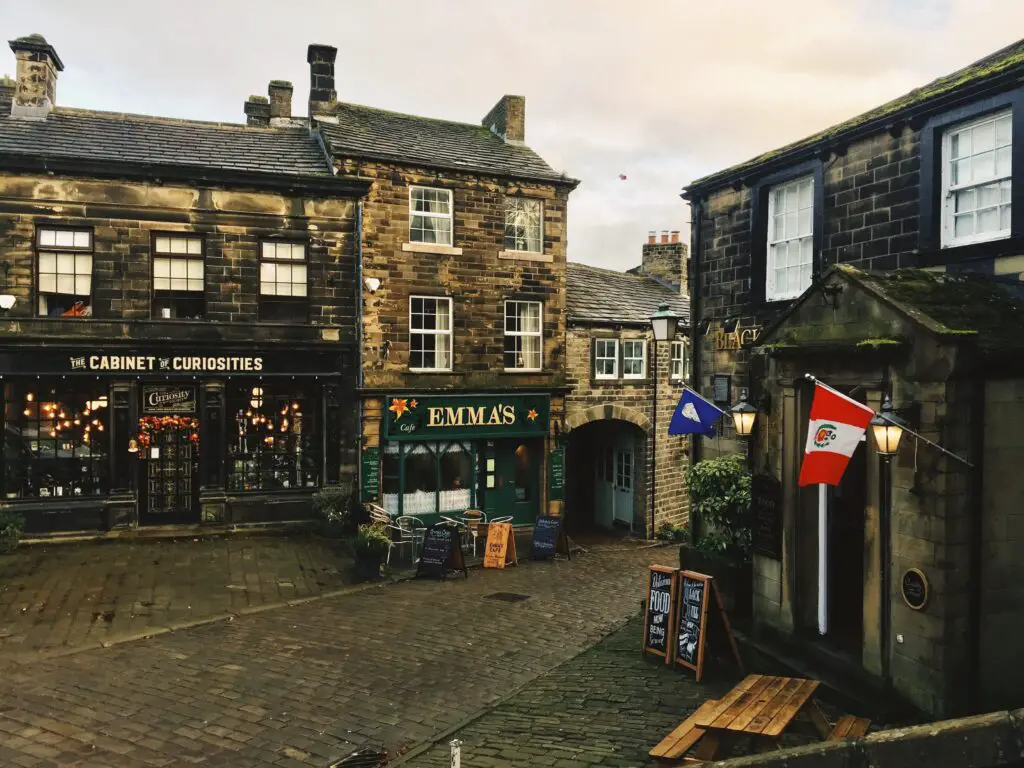 Once you have arrived back to the main street of Haworth you will certainly want to absorb the atmosphere of the place. Although it doesn't sound like much, you could spend many hours just exploring the main high street and its charm.
There are a wide variety of pubs, small restaurants, cafes and tea rooms in Haworth. For somewhere small and cosy, visit Cobbles and Clay which is also a pottery and painting studio.
The traditional independent shops in Haworth are also not to be missed. You'll find handmade souvenirs and gifts, chocolatiers, specialist bookshops and art galleries. Even if you don't want to purchase anything, the window displays are enchanting and worth admiring.
As you walk the streets 'The Cabinet of Curiosities' will no doubt catch your eye – a unique gift store set in an old Victorian pharmaceutical building, now restored with a nod to its former glory. The ex-apothecary sells homemade botanical soaps, candles, toiletries as well as some Bronte classics and even witchcraft books!  This store is where the Bronte sisters only brother Branwell Brontë bought laudanum in the 1840s which ultimately contributed to his untimely death. 
Another shop you cannot miss out on (especially if you have children!) is 'Mrs Beightons Sweet Shop' selling 100s of traditional sweets, guaranteed to make you feel nostalgic.
I also really enjoyed spending some time sitting back and people watching in Haworth, admiring the little houses full of character and imagining living in this picturesque little village. 
Step back in time at St Michael and All Angels Church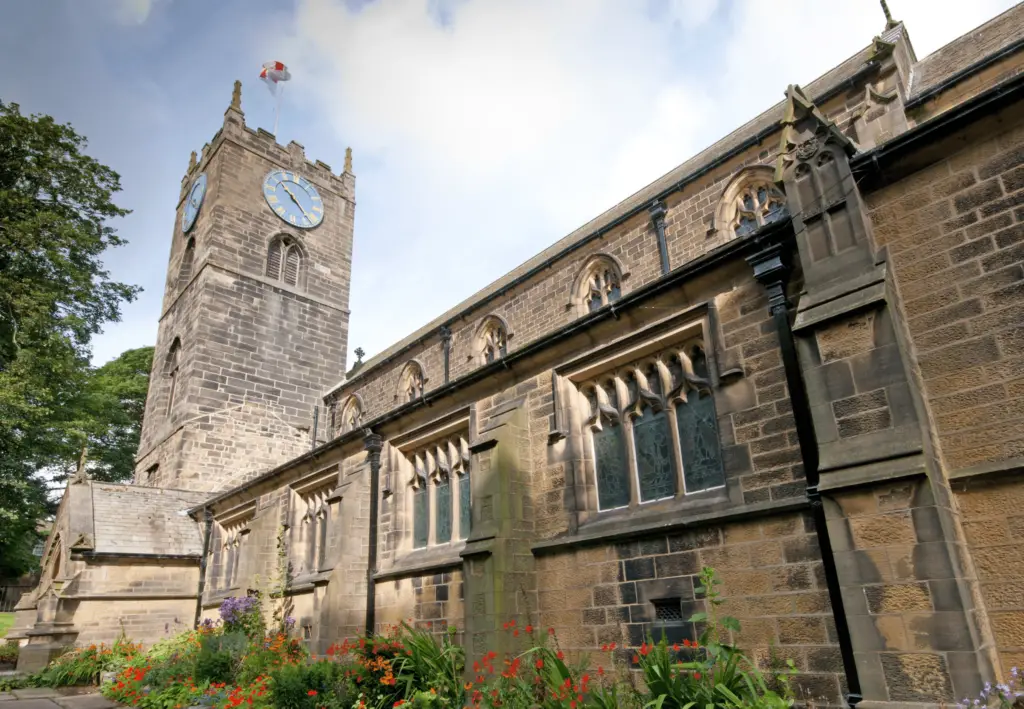 Another must when visiting Haworth for a day trip is a trip to the church where most of the Bronte family are buried.
St Michael and All Angels Church dates back to the 14th century. The historic building is worth visiting inside if you can, and outside around the grounds and graveyard. 
On a dark and misty winter day it can be quite eerie and atmospheric!
Connect with the Bronte Sisters at the Bronte Parsonage Museum
Just next to the church is the former home of Charlotte, Emily and Anne Bronte where they resided between 1820-1861, and where some of their most famous novels were written.
The Bronte Parsonage Museum is brimming with artefacts such as the very table they wrote at, the Bronte family's personal possessions and even first editions of many of their well-known novels.
If you didn't know much about the Bronte Sisters before your Haworth day trip, you will certainly leave with in-depth knowledge of their extraordinary lives and writing!
The staff that work at the Parsonage Museum are extremely knowledgeable and helpful. Make sure you ask them questions and take full advantage of their specialist Bronte knowledge!
The museum also has a great gift shop where you can buy their novels, which after your day trip to Haworth I am convinced you will feel inspired to read!
Ride a vintage steam train at Keighley and Worthvalley Railway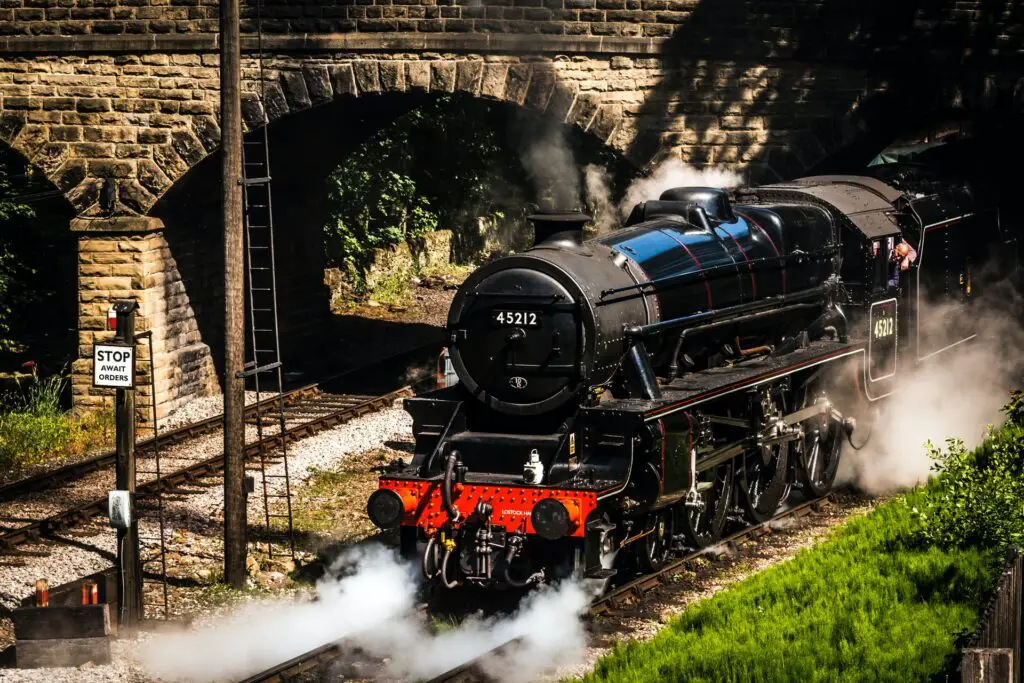 To finish your day trip to Haworth in style, take a vintage steam train ride along the 5-mile heritage railway line from Haworth to Keighley, taking around 30 minutes. Alternatively, you can just head to the bridge to watch and wave as the classic train chugs by.
The station at Keighley was featured in the classic 1970s film 'The Railway Children' and most recently, the remake of Disney's 'Dumbo'. These films are worth a watch before visiting to see if you can recognise where the iconic scenes were shot.
Keighley Station has been largely conserved to its original condition since its opening in 1867. Even if you're not into rail history, the station is another part of the village that feels absolutely frozen in time!
If you have time and have a particular interest in rail history, you can also get off at Ingrow West and visit the small museum and workshop. It's home to many historic carriages and offers an insight into the evolution of rail travel. The museum also often puts on special exhibitions and events so I would take a quick look on their website before visiting to see if they have anything on during your visit.
Tips for a Haworth day trip: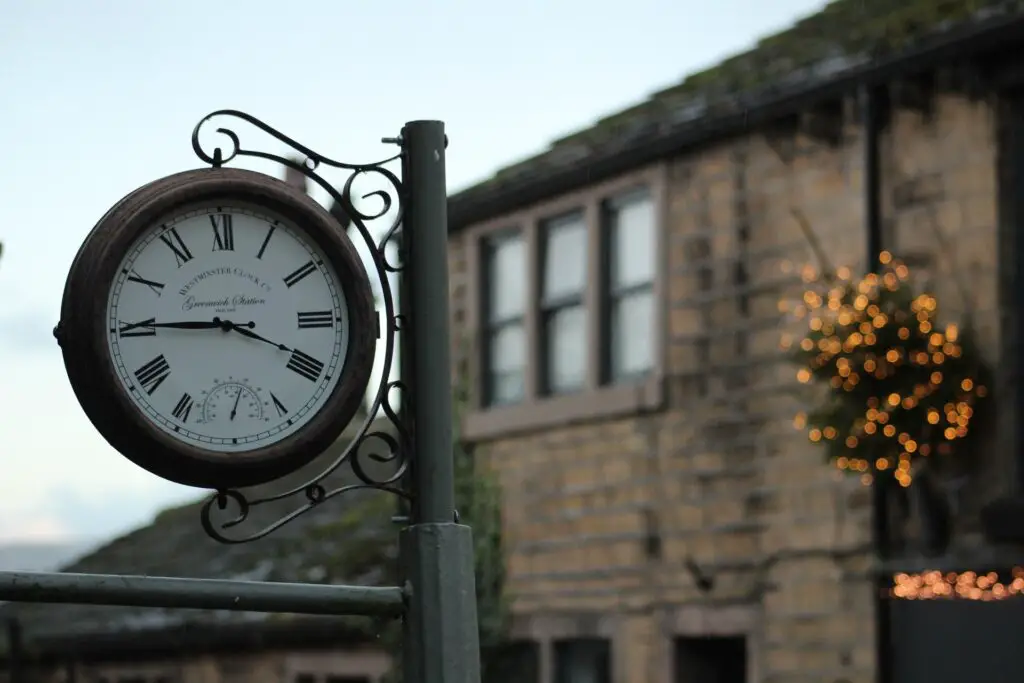 Read Wuthering Heights or any of the Bronte Sister's other novels before visiting to fully appreciate the village of Haworth.
The Bronte Falls waterfall walk has lots of uneven surfaces and in winter can have spots of black ice – take care and wear proper footwear.
It can be much colder on the moors than what you may expect due to the exposure. Ensure you bring additional layers and a spare pair of socks!
If you can, arrive to Haworth via train to enjoy a timeless experience and to do your bit to keep the pretty streets free of cars.
Haworth really is a charming village to visit for a day trip but be warned – you may leave feeling like there is still so much more to do!
---
Are you looking for more day trip ideas in Yorkshire? Check out my posts on beautiful Helmsley, the best National Trusts in North Yorkshire and the best places to visit in Yorkshire to give you some more inspiration!
PIN ME FOR LATER:
*This post may contain affiliate links meaning should you purchase a product via this link, I'll earn a small commission at no extra cost to you. These are still products I use or believe in regardless. See my privacy and disclosure policy for more.*