If you're a person who seeks out the best of food culture when you travel, then there's one must-visit gastronomic destination in Australia to visit – Bruny Island.
Nestled just off the southeastern coast of Tasmania, Bruny Island offers not just a palette of natural beauty, but a platter of epicurean delights, making it a truly exciting destination to go a Bruny Island food tour.
Comprising two isles adjoined by an iconic thin stretch of land called 'The Neck', Bruny Island is a short journey away from Tasmania's capital, Hobart. In under an hour, you're transported to a day trip escape popular for its pristine natural environments, unhurried lifestyle, and most importantly, its renowned gourmet produce.
Packed with independent producers, locals have leveraged the island's natural resources to craft some of the country's tastiest cheeses, chocolate, fruits, wine and much more.
The island's seclusion has not only resulted in some seriously good food, it's also provided a haven to many endangered and rare flora and fauna, meaning it's a fantastic destination for nature enthusiasts too. The unspoilt landscape is great for birdwatching, spotting wildlife for penguins and seals and bush walking in the South Bruny National Park.
Simply put, Bruny island is all about incredible nature and great food. So even a small break from Hobart can offer a big taste of Bruny Island! Here's my personal experience of taking a Bruny Island food tour as a day trip from Hobart.
*This post may contain affiliate links meaning should you purchase a product via this link, I'll earn a small commission at no extra cost to you. See my privacy and disclosure policy for more.*
PIN POST FOR LATER:
How to get to Bruny Island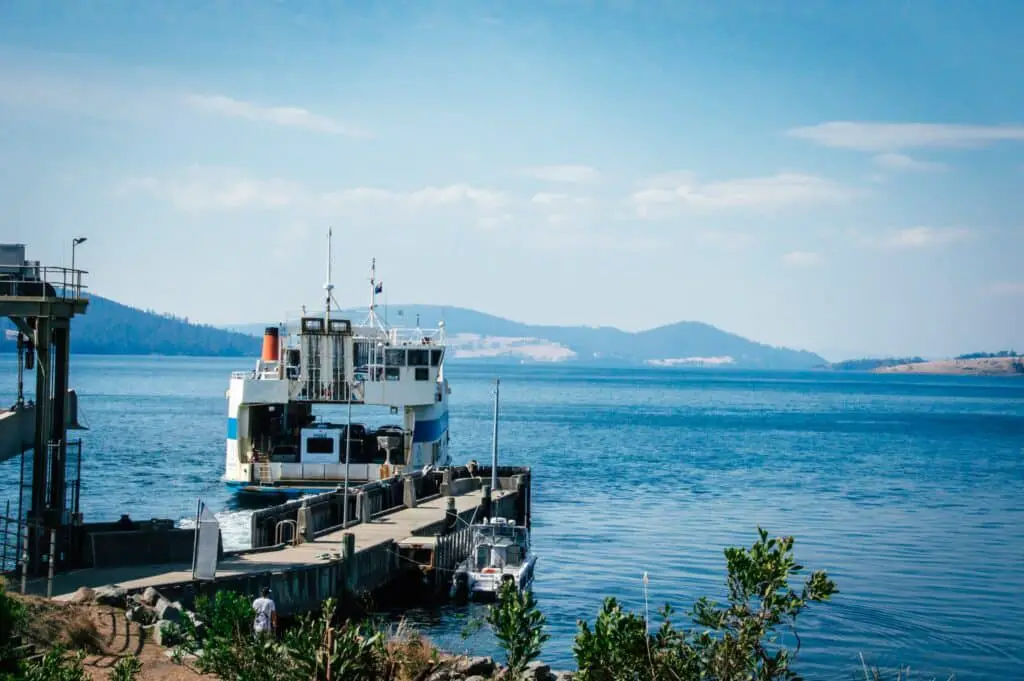 From Hobart, the capital of Tasmania, it's a quick and easy 35-minute drive to the Bruny Island Ferry Terminal, located in Kettering. From there, it's a 15-20 minute ride on the ferry to access Bruny Island. During the summer, SeaLink operates approximately 20 departures a day.
SeaLink is equipped to transport vehicles up to 6 meters in length, and the best part – passengers ride absolutely free! Additionally, there's no need book specific time slots, offering you a flexible and stress free experience to Bruny Island.
Remember, the last ferry service returning to the mainland is at 7:15pm though, so plan your day accordingly. You can book your open-ended ticket on the SeaLink ferry here.
For those without access to a vehicle, fear not! There are numerous organised gourmet day tours that can guide you on a culinary journey similar to the Bruny Island food experience I have outlined. These tours offer a stress-free way to explore and enjoy the gastronomic delights of Bruny Island.
If you opt for a tour, you'll get picked up from your accommodation so you don't need to worry about getting around.
Choosing a Bruny Island Food Tour Company:
There are loads of tour companies that can take you on a day trip to Bruny Island. They all have slightly different itineraries, depending on what you want to see and do, and cater to different budgets.
Budget tour: If you want to see Bruny Island's highlights on the cheap, this day trip tour includes transportation, entry fees, and key highlights such as the Neck and Cape Bruny Lighthouse. You have a cheese tasting included and you'll visit most of the local producers. However other tastings at these places (such as oysters, icecream, chocolate etc), and your lunch are at your own expense. From $145AUD pp.
Gourmet tasting tour: If you want to really dive deep into the food scene of Bruny Island, then you'll want to do this seven course gourmet tasting tour, which includes oysters, award winning cheeses, local honey, mead and chocolates, as well as behind-the-scenes talks and visits to the islands famous landmarks. From $235AUD pp.
How to spend a day trip to Bruny Island: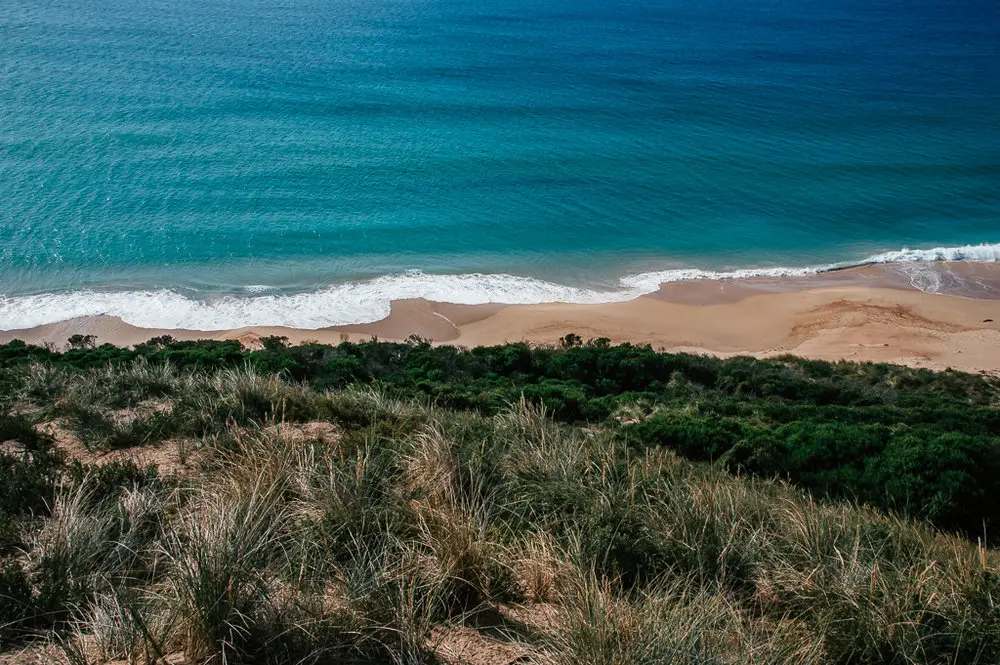 This itinerary for a foodie day out at Bruny Island is what I did with a tour company and covers the most iconic 'outdoorsy' things to do on the island first, in order to beat the crowds and work up an appetite for the day.
Trust me – there is a LOT to eat on a Bruny Island food tour so it's worth being hungry for it! In fact, I skipped breakfast and didn't regret it!
It's also worth noting that a lot of the shops and food spots on Bruny Island close at 4pm or 4.30pm. So if you go independently, set that alarm for the crack of dawn – the earlier you can get on the ferry the better!
Admire the island from The Neck viewpoint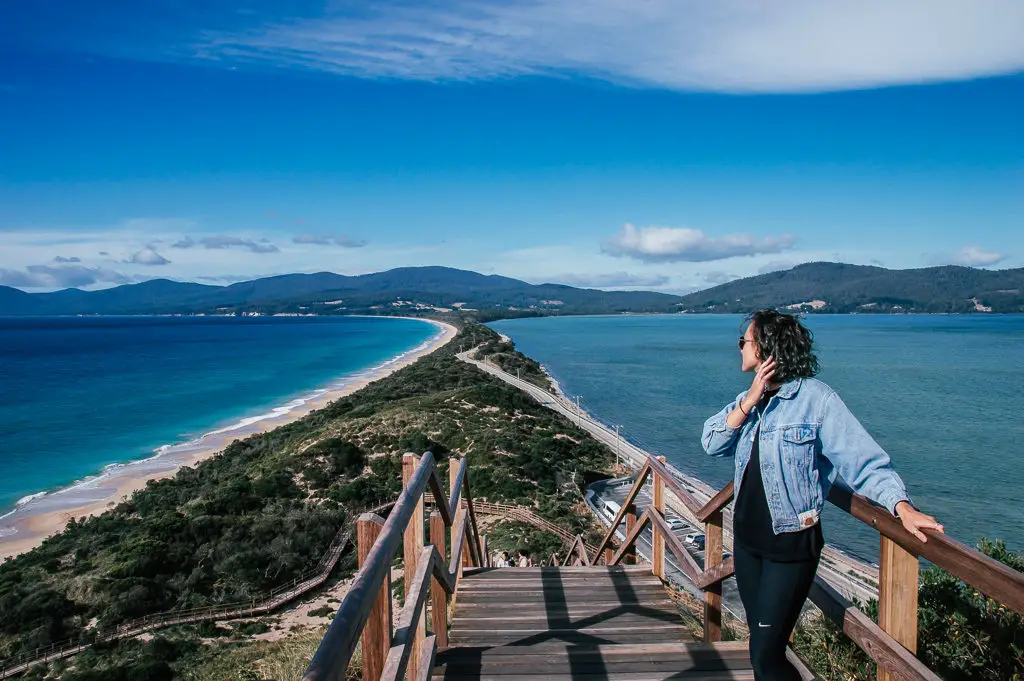 Once we touched down on solid land, we were whisked off to visit the island's most iconic view – The Neck lookout.
From the carpark, a brief two minute ascent up 279 wooden steps offered an expansive view of the isthmus – the narrow ribbon of beach dotted with shrubs, which connects the two bodies of land. Visiting this must-see landmark as our first port of call allowed us to admire the landscape and geography of Bruny Island before the day's crowds gathered.
To the left, an aquamarine bay meets your gaze, trimmed with a lightly golden sandy beach and thick vegetation. To the right, a deeper and darker-hued sea with a more sparse beachfront, casting an illusion of one body of water being higher than the other.
Not just a visual treat, these verdant dunes also serve as a sanctuary for adorable local penguins. These industrious creatures return home at dusk, after a demanding day of fishing.
Having savoured the scenic panorama and snapped some pictures we walked down and to the left hand side to have a little stroll on the stunning pristine beach.
But don't spend too long on the beach – there is still so much more to see (and most importantly, eat!) later.
Visit the iconic Cape Bruny Lighthouse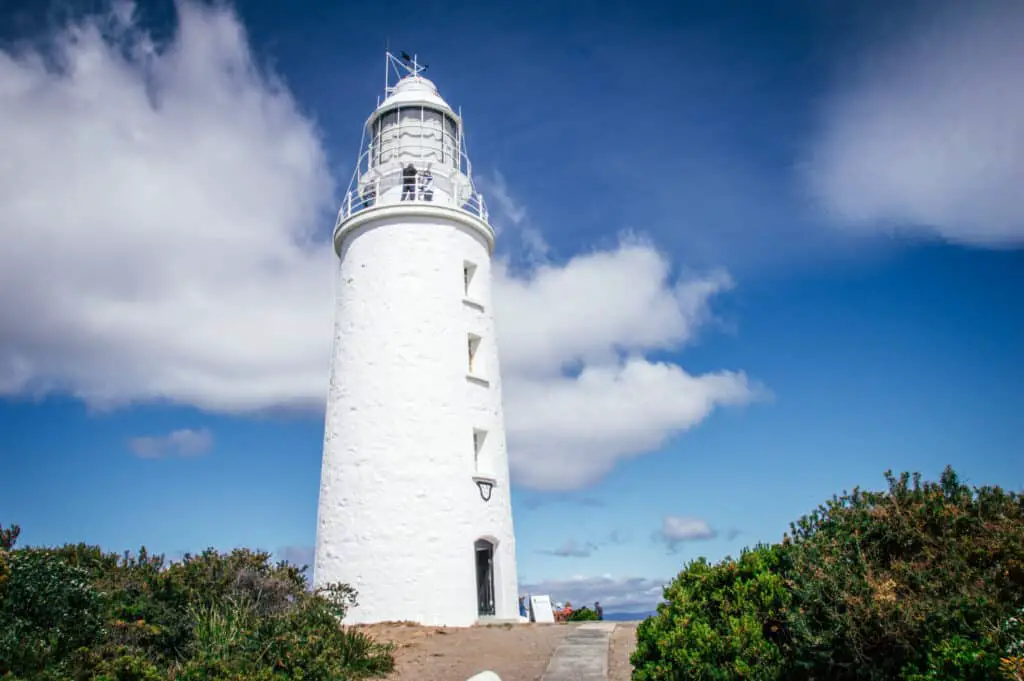 To work up an appetite before tucking into some tasty treats, we headed to another scenic spot, the furthest point of the island, the southwest tip. Here you'll find the inactive but very attractive heritage-listed Cape Bruny Lighthouse.
Surrounded by dramatic dolerite cliffs which look like individual stone columns compacted together, the wild coves and rock faces are quite literally Jurassic.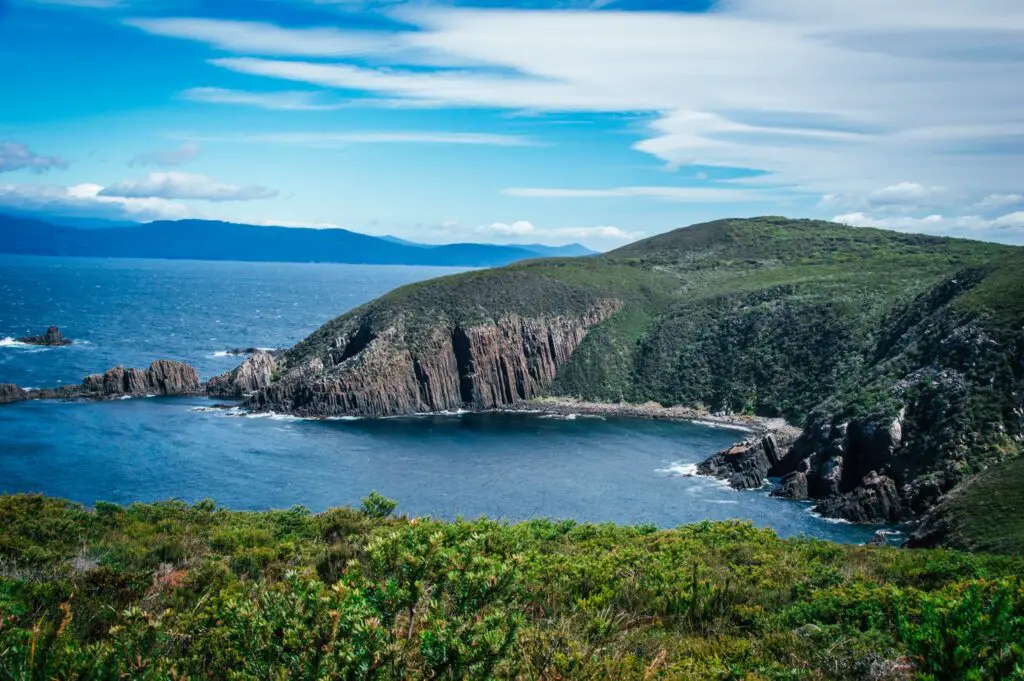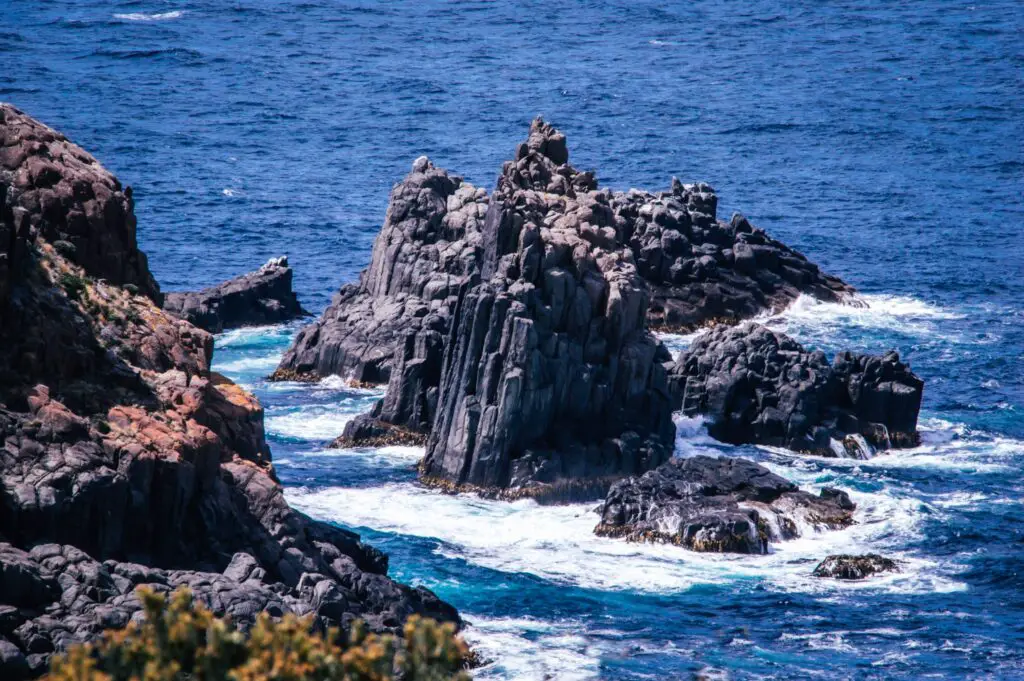 When visiting between September – November and if luck is on your side, it's possible to spot whales from this part of the coast, which is apparently quite a common encounter on Bruny Island! Sadly it wasn't the right time of year for me to see any.
Regardless, this is simply a stunning spot to enjoy the raw beauty of the exposed coastline and perilously crashing sea. You can also go inside the lighthouse on a tour if you arrange it in advance. For $20, you'll be able to climb up to the top of the 114m tower via the cast iron spiral staircase, get some information on the history by a knowledgable guide and visit the lighthouse museum. 
Taste Bruny Island grown and produced wine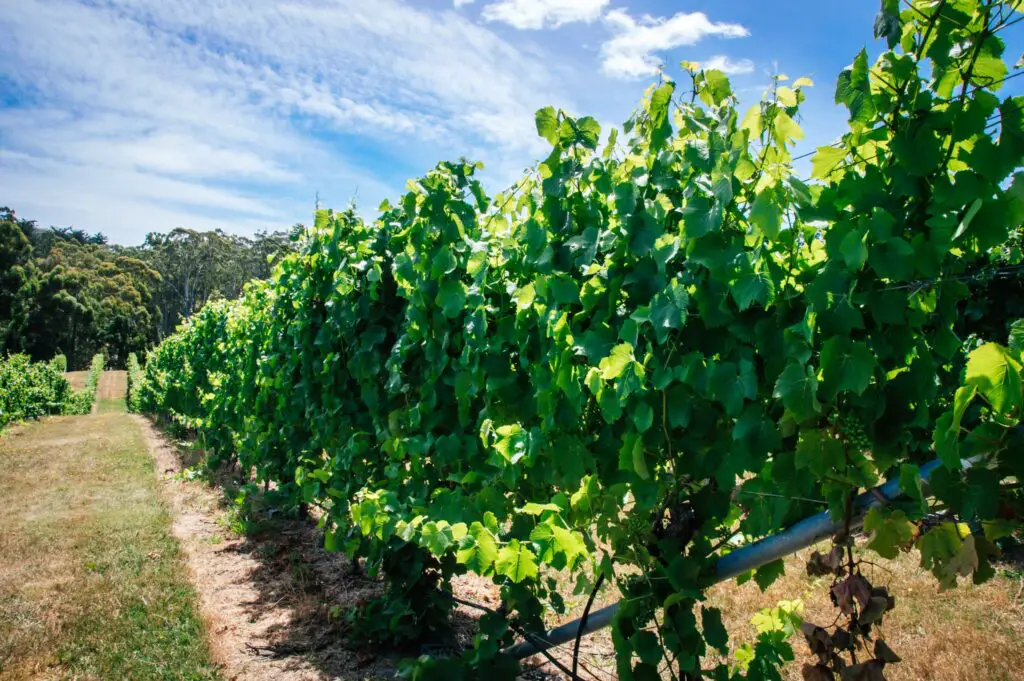 After visiting two of the most iconic landmarks on Bruny Island and having a walk around, it was time to seriously dig into some good food and drink (and not feel guilty about it).
The first thing we consumed on our Bruny Island food tour was a little tipple before lunch – a tasting at Bruny Island Premium Wines. It's a small vineyard near sleepy Lunawarra and so booking beforehand is recommended.
Australia's most southerly vineyard is a family run business which primarily grows cool climate loving Pinot and Chardonnay vines. The wine is great – in fact, the vineyard has won over 40 medals in national and international wine shows!
For non-wine drinkers (or maybe if you like all alcohol!) they also ferment (not brew) their own cider with champagne yeast, resulting in a refreshingly crisp cider with a unique twist.
They also have a small farm-to-fork restaurant serving delicious locally sourced produce. On the menu you can find things like Bruny beef burgers, lamb and wallaby burgers, grilled salmon and slow roasted lamb shoulder.
Try Fruits at the Bruny Island Berry farm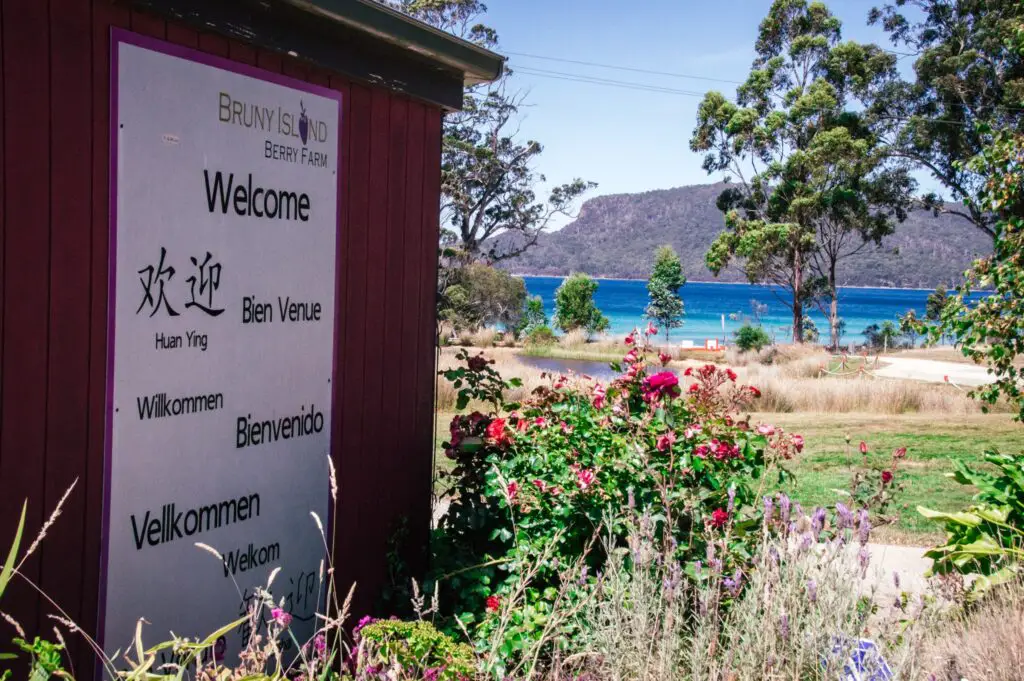 At lunch make sure you don't get dessert – instead head to Bruny Island Berry Farm for some ice cream topped with delicious homemade berry coulis. 
The contrasting zing from the berries and the smooth cold creaminess of the local ice cream is a match made in heaven. We enjoyed some refreshing ice cream sat on one of the benches in the garden, with a view out towards the bay and hills poking out behind the trees.
Alternatively, for something a little lower in calories, some people opted for a punnet of seasonal berries from the counter. I tried the strawberries and they were pretty tasty.
Stock up on sweet treats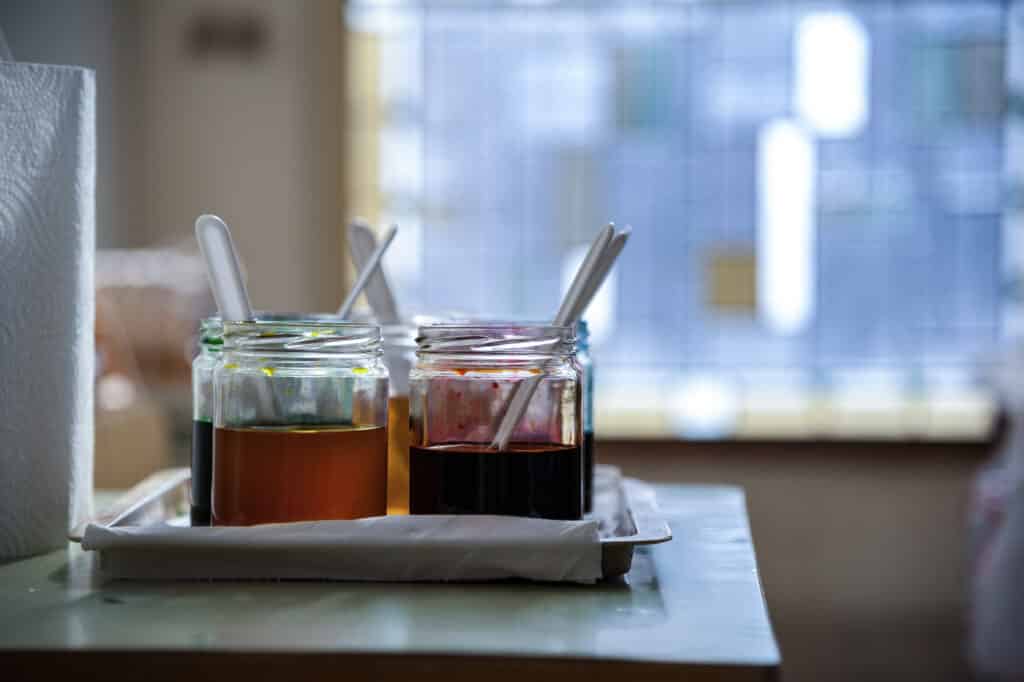 Heading back towards the North part of Bruny Island and just before the isthmus, is a stop for anyone with a sweet tooth – Bruny Island Chocolate Co.  
This cute little roadside shack-come-shop produces chocolate and fudge made freshly on site. You can watch the chocolatiers working their magic in their open factory kitchen.
Not only are there a vast selection of chocolate box-style truffles and treats available from the counter to build your own custom box, there are shelves upon shelves of different flavoured chocolate bars and bags.
Of course you need to know what it's like before you buy, so luckily there are plenty of samples on offer!
If you're wanting to take a reminder of Bruny Island home with you, or have a gift to get someone, you can't beat chocolate from the Bruny Island Chocolate Co! 
Alternatively, just further down the road from the chocolate shop is the Honey Pot producing 100% pure Tasmanian honey. The most iconic honey of the area is Tasmanian Leatherwood, known for its strong and distinct flavour.
Relax at Bruny Island Cheese and Beer Co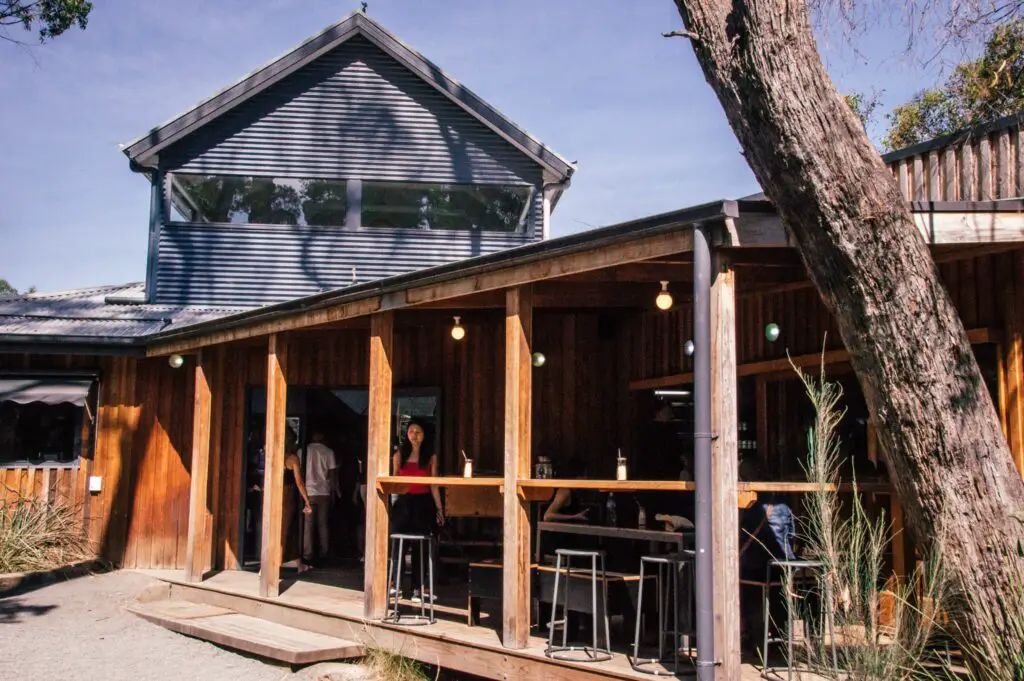 This cosy and rustic shop with a large outdoor seating area is a welcoming place to sit down with a home brewed pint. Outside there are many picnic benches and crates to sit on and in the summer, plenty of picnic rugs.
If you have any space left after your lunch (and your dessert) then grab a cheese tasting platter to enjoy their home crafted highlights.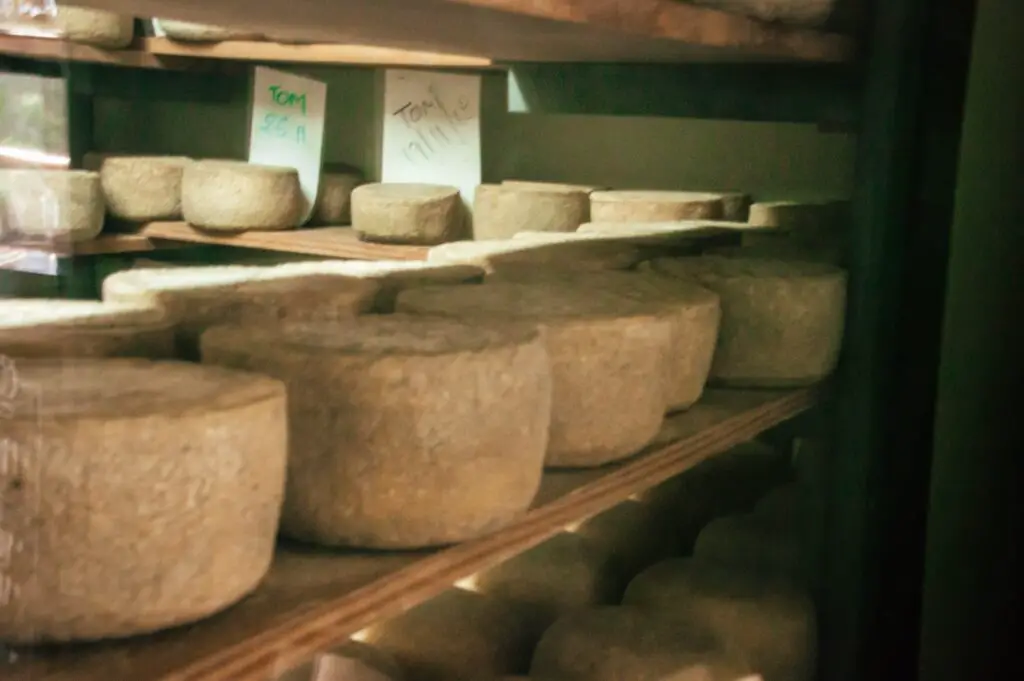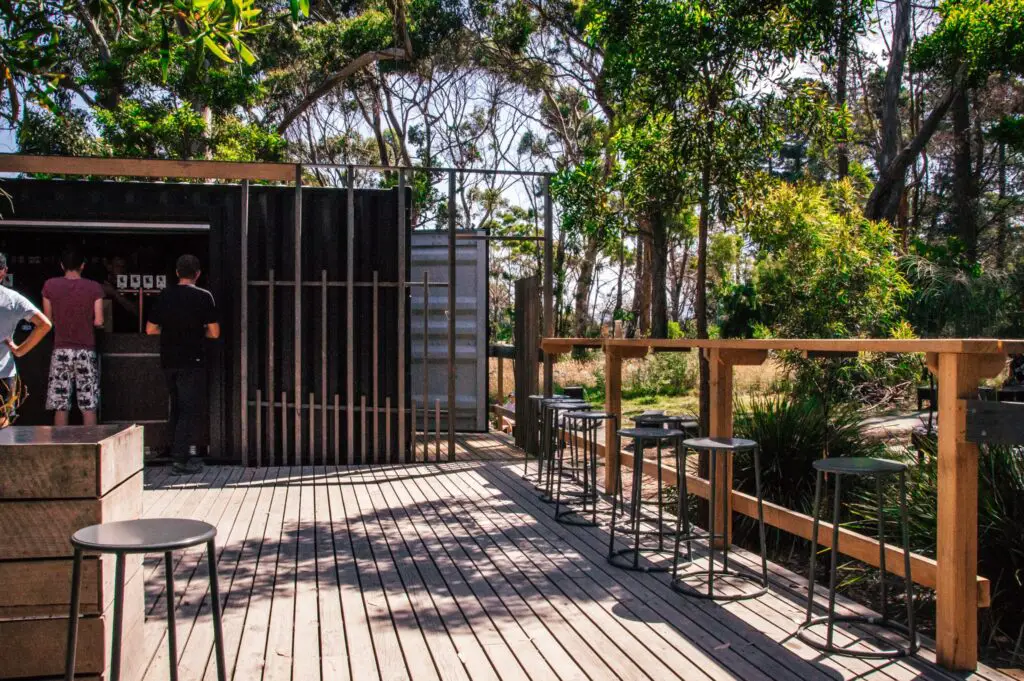 Alternatively, you can ogle at the wheels upon wheels of cheese through the large glass window inside and snag any samples on offer, or buy some cheese from their counter/shop to take home with you. Made with traditional techniques and from dairy produced on their farm, you'll no doubt find something delicious, no matter what your preferences are.
Otto – a fresh cheese wrapped in prosciutto ham which you bake at home until it's soft and gooey sounded amazing. A fresh crusty baguette and a balsamic dressed salad with this cheese would be a truly indulgent dinner!
The only cheese I was a bit unsure of was 'Nannies Undies' – a slightly quirky name for a semi-hard, herb-rubbed cheese! 
Private tasting experiences at Bruny Island Cheese Co. are also available for $35 per person, where you'll also get to learn about cheese making and brewing processes.
Grab seafood to go at 'Get Shucked' Oyster Drive Thru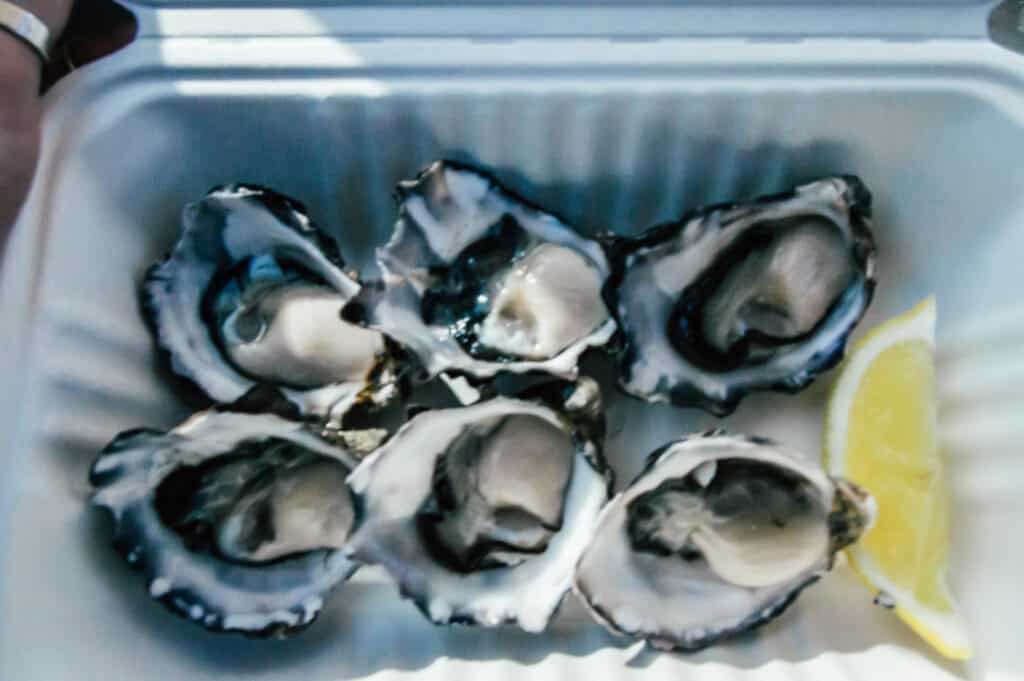 My favourite and our last stop on the whole gastronomic tour of Bruny Island had to be the super cool (and world first) oyster drive thru!
As we didn't have time to enjoy the farm's seafood with a glass of bubbles at their oyster bar (beware they close at 4.30pm!) we grabbed a box of oysters to go instead!
If you like oysters, then you should know that Tassie produces some of the creamiest and most sweet and juicy oysters in the country. They're not fishy and slimy – rather fresh, salty and very moorish! I think it was the moment that made me really like them.
All I can say is Australia 100% needs more oyster drive-thrus!
Bruny Island FAQS: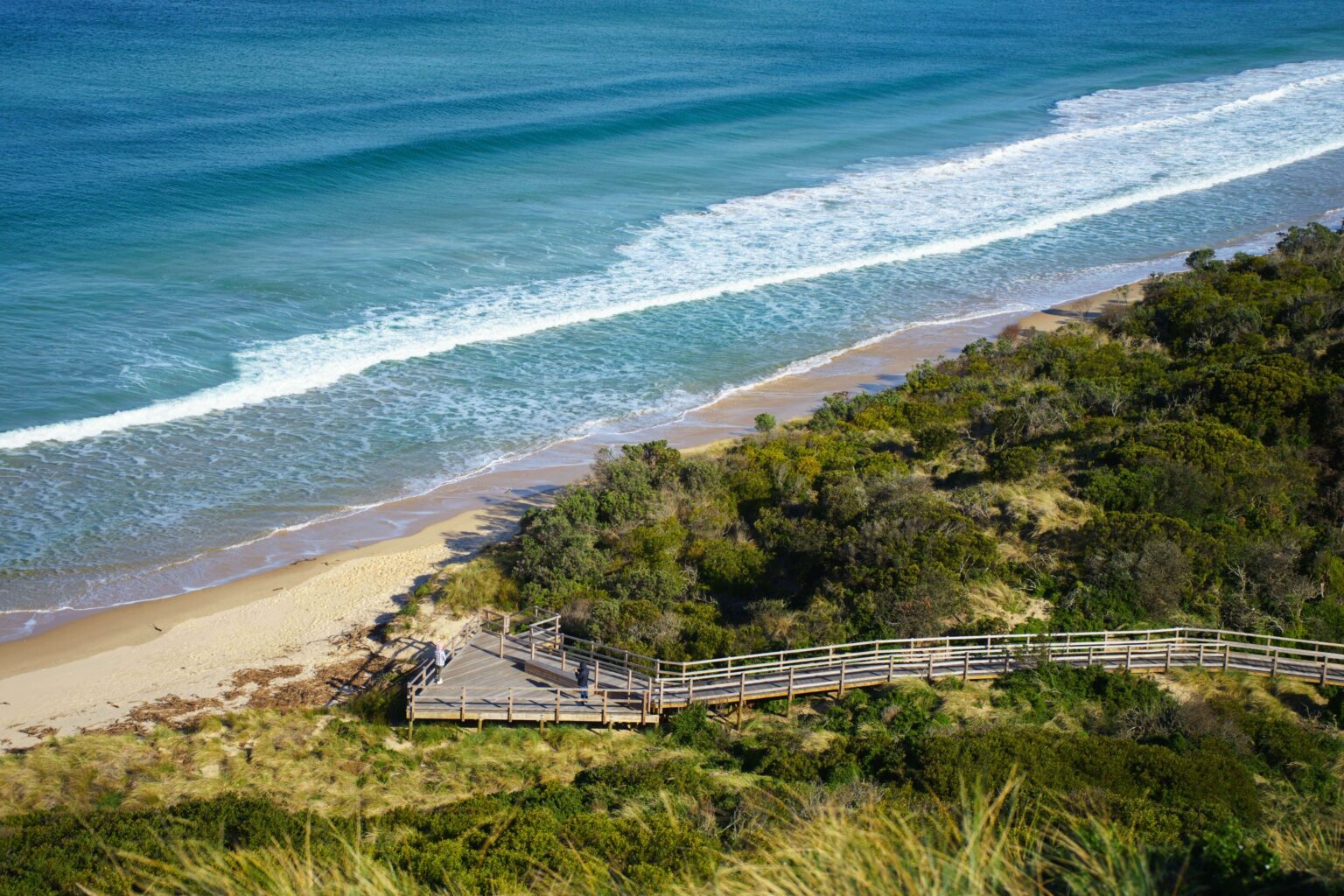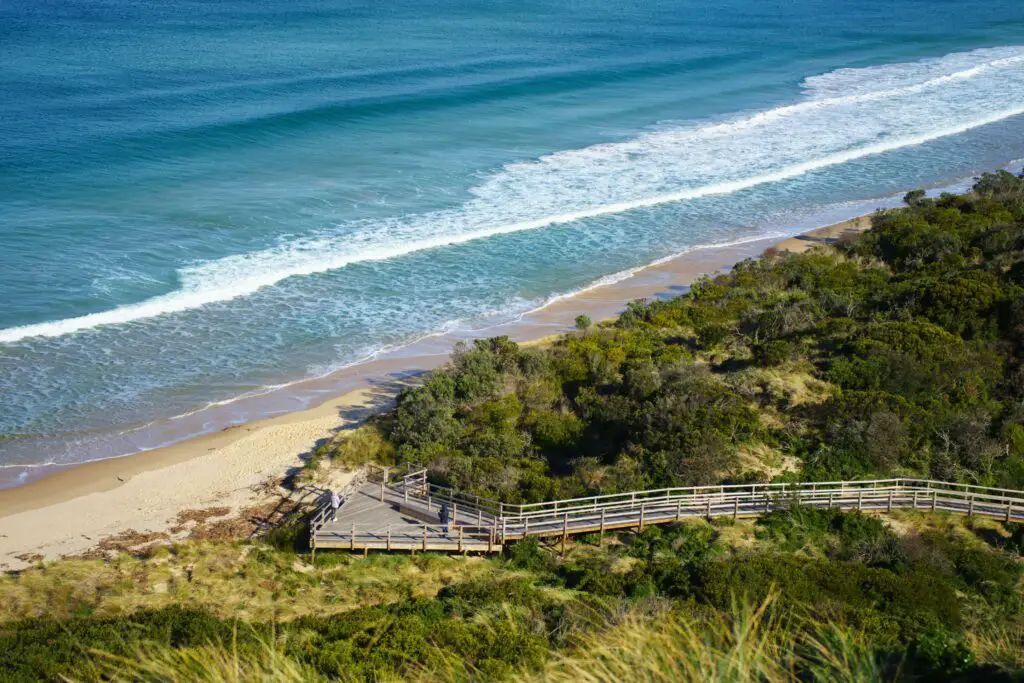 Is a day trip to Bruny Island worth it?
In short – yes a day trip to Bruny Island is worth it, especially if you're staying in Hobart for a while (like a week) and have already seen, or plan to see all the highlights. Bruny Island offers a completely different experience to what you can experience in the city.
Do you need a car to visit Bruny Island?
A car is the best way to get around Bruny Island if you want to travel there independently. However many car hire companies do not allow their cars to drive on Bruny Island, so be sure to check this beforehand. There's no public transport on Bruny Island. However, visiting as on a group tour is a good idea if you don't have a car.
Can you explore Bruny Island in a day?
Yes, you can absolutely explore Bruny Island in a day. A day trip is enough time to visit all the highlights, taste some incredible delicacies and be back in Hobart before the last ferry, without rushing.
Do you need to pre-book the ferry to Bruny Island?
No, the SeaLink ferry tickets don't need to be booked in advance, but during peak times, they may be fully booked or you may need to queue to purchase them.
Do you have to pay to visit Bruny Island?
A valid national parks pass is required to enter Tasmania's national parks, so if you want to visit the lighthouse and other points of interest on Bruny Island, you'll need to buy one beforehand to save time. Parks passes are included in the cost of any group tours.
You can opt for a two-week holiday pass for your car, providing unrestricted access to any National Park in Tasmania, or if your stay is shorter or you only plan to visit a few parks, a day pass for your car (up to 8 seats) is available for $22.
What food producers are there on Bruny Island?
Bruny Island is home to many food and drink producers which is why it's a popular gastronomic destination to visit in Tasmania. There's Bruny Island cider, honey, berries, cheese & beer, wine, chocolate, whiskey, mead and oysters. There are also many restaurants and farms.
---
A Bruny island food experience is a gastronomic delight taking you on a tasty and educational food journey around the island. The ethos on Bruny island is simple – low impact farming and locally sourced ingredients produced off the back of the island's incredible and abundant natural resources. I had a great time and a Bruny Island food tour is an activity I would recommend to anyone visiting Hobart.
Heading to Australia soon? Don't forget these essentials!
Flights: compare and search using Skyscanner
Accommodation: hotels to hostels, glamping to apartments I always use Booking.com
Tours: to search and compare the best group tours and activities worldwide (with up to 20% off), use Viator
Visa: don't forget to check the entry requirements for Australia on the government website for the passport you are travelling with
Inspiration: Lonely Planet's guide to Australia or for your next trip, how about Lonely Planet's Guide to the World?