* Updated July 2021 *
If you're a regular traveller, I am sure you know that if you break up your flight, you are able to score some really cheap flights. But the downside to this is that there's no doubt a painfully long layover somewhere halfway.
However depending on your layover destination (and if you do a little planning in advance), you can in fact utilise a layover for a whirlwind sight-seeing adventure!
When I was purchasing my one way flight to Melbourne, Air China were offering an absolute bargain deal. However the downside was that there was a 10 or 12 hour layover in Beijing. Too long to wait at the airport I thought… but what if I could leave it?
I opened trusty Google and discovered that not only does China offer a handy cost-free transit option, the absolute bucket list site the Great Wall of China could even be accessed easily from Beijing airport.
However I soon realised there was very little detailed information on how to visit the Great Wall with a time restriction. Do I have to organise the visa paperwork in advance? Who do I book with? Is there a chance I'll miss my onward flight?! My anxiety levels were low-key through the roof.
Although I successfully winged it, there were a few things I wish I'd have known in advance.
So whether you have found yourself with an unintended stopover in Beijing that you want to utilise or like me, have deliberately planned to visit, here is my comprehensive, step-by-step guide on how to see one of the seven new wonders of the world, the Great Wall of China on a layover!
*This post may contain affiliate links meaning should you purchase a product via this link, I'll earn a small commission at no extra cost to you. See my privacy and disclosure policy for more.*
---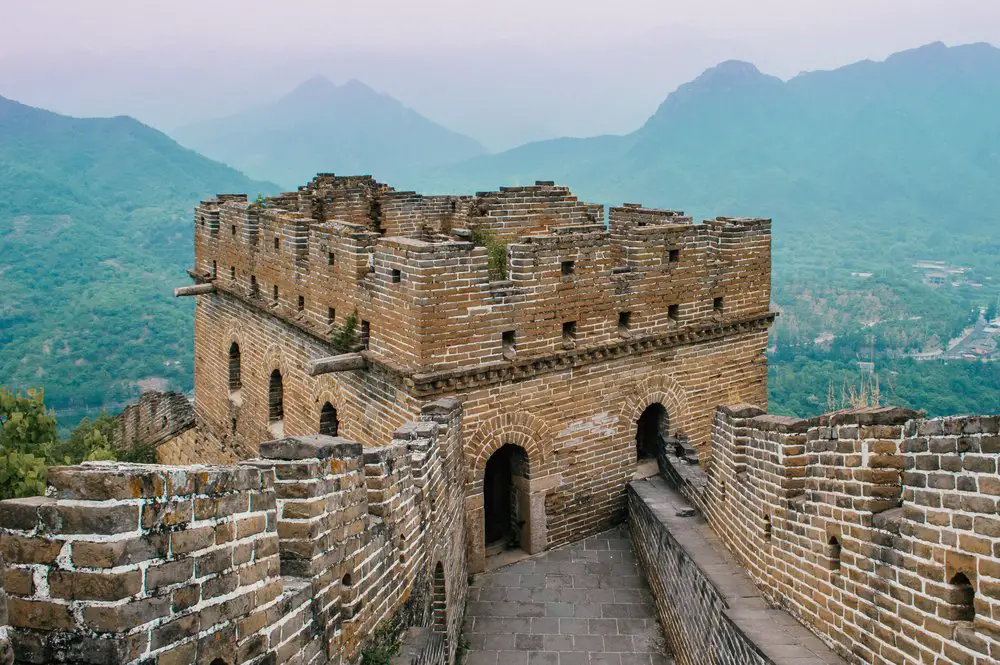 1. How long do I need to see the Great Wall of China on a Layover?
The most essential thing above all else is to first establish whether you will have enough time to visit the Wall. There's nothing worse than the stress of missing a flight (despite this never happening to me the fear haunts me with every single flight I book!!). 
This is my experience and the time I would recommend you allow:
The Airport – 3 hours
Getting through the airport is probably the most unpredictable part of the experience. Once off the plane, I managed to fill in the visa paperwork, go through immigration and exit via the transfer train in 40 minutes.
Returning in the evening took 50 minutes as it was slow going through the hand-luggage security scanning (there appears to only be a few machines). It would be best to round this up in case of queues/delays. This is also presuming your main bags are checked in through to your final destination (and not checked out and back in again at Beijing).
When returning to the airport you'll also obviously need to find your gate, maybe get some food and board before the connecting flight departure time. I would add on another one hour for this.
The Wall Transport and Sightseeing – 5 Hours
Once you have left the airport, the next step is of course getting to the wall. There are a few different options for what section to visit (I weigh up the pros and cons of each under the next heading).
Regardless of which part you choose, it will take approximately 1.5 hours to drive there from Beijing Airport. Therefore a total of three hours is needed for the transport to include the return journey.
If you plan to properly explore the wall, take lots of pictures and grab some food, you will need ideally two – three hours to do so.
Total time Verdict – At Least 8 Hours
In total I would say you will need eight hours to visit the Great Wall of China on a layover (or a minimum of seven hours) and a maximum of ten hours.
I provisioned 12 hours and I felt sitting at the airport for four hours extra was unnecessarily painful (especially as the driver didn't want to stay any longer and my flight was delayed until the next day – but that's another story!). The timings above are generous and so eight hours is pretty realistic.
If you find yourself with a bit more time, you can easily extend your layover trip to include a visit to the Forbidden City. I'm sure any tour company would be more than happy to advise and customise your preferred itinerary.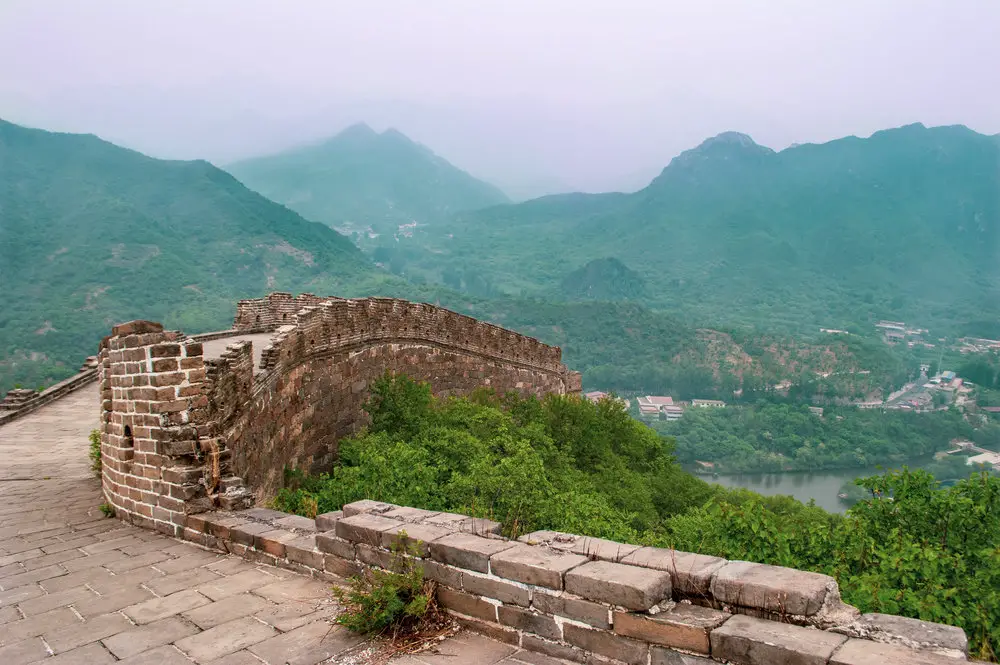 Which section of the Great Wall should I visit?
I visited the Huanghuacheng section of the Great Wall which is the part I have based this article on. I have however given a brief summary of two other options as well, in case they suit you better.
option 1: Huanghuacheng
Huanghuacheng is a secluded, generally unrestored part located 77km away from the airport. It was an easy 1.5 hour drive to get there and the wall was blissfully quiet due to being away from the touristy sections near Beijing city. Contrary to many 'reality' pictures you see of the Great Wall of China with hordes of tourists fighting to take photos, all I saw during my whole visit was a small group doing a photoshoot, just as I was leaving!
Huanghuacheng seems to be a more challenging and 'wild' area to experience as it is crumbling, a little overgrown in parts and pretty steep if you want to walk far. There is a lake to one side with mountains all around, making a stunning backdrop for photos. If you're lucky enough to catch it in summer there will also be masses of pretty yellow flowers in bloom.
The only disappointing things I found here were the huge amounts of litter on the walk up (seriously you're at a UNESCO site, take it home idiots!) and the fact the wall is divided by the main road so you can only go up in one direction. Despite this I would 100% recommend coming here if you want a peaceful visit with rugged beauty.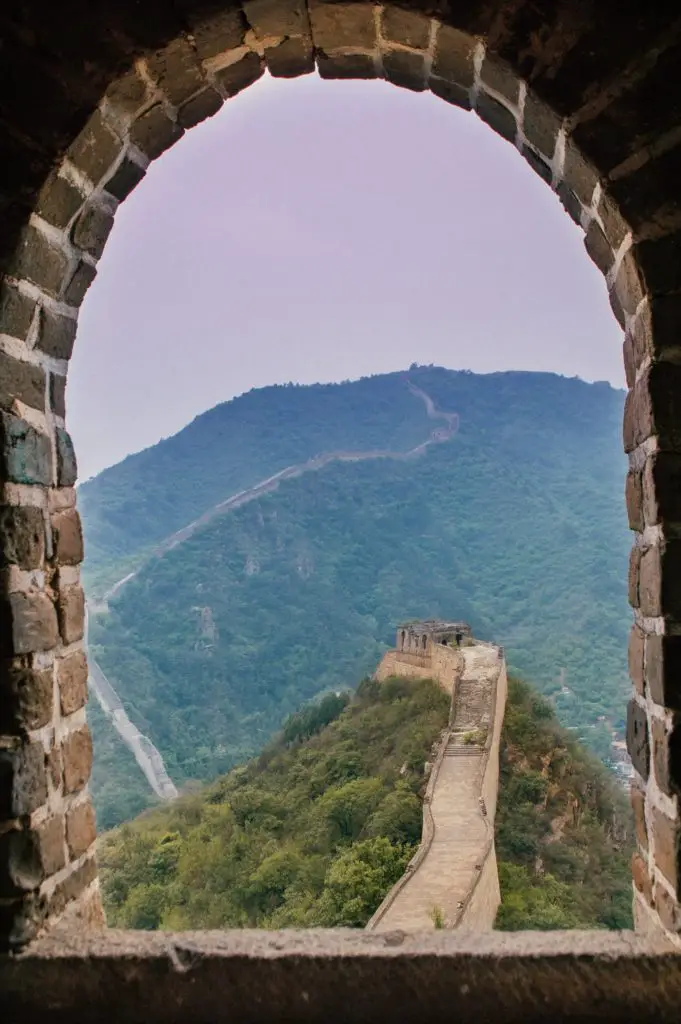 Option 2: Mutianyu
A popular option is the Mutianyu section which is 66km from the airport and pretty much directly east of Huanghuacheng. This area has a scenic cable car to the top making it easier to access and a super fun looking toboggan rail down.
Once up the mountain, it is generally flat so the hiking isn't too strenuous which is ideal for the hotter summer months. The result of all this is a much more family-friendly vibe but consequently there are slightly more people (and therefore shop sellers e.t.c) than Huanghuacheng.
This part was fully restored in the 80's so you can get a good feel of what it was like in all its splendour. There are also more of the really attractive watchtowers here compared to other parts of the wall. Three of these towers adjoin from the inside, making a unique structural feature unseen at other sections of the Great Wall.
Option 3: Juyongguan
If time is short and every minute matters, then the quickest section to get to is Juyongguan. Despite being west (and 68km) away from the airport, it is accessed by faster roads than the other two sections so it can take only an hour to reach.
It is one of the most impressively fortified sections and you not only have the wall, but some spectacular old buildings, towers and temples to explore as well. The pathways will test your fitness though and it is likely to be much busier than the other two sections as it is closer to Beijing city.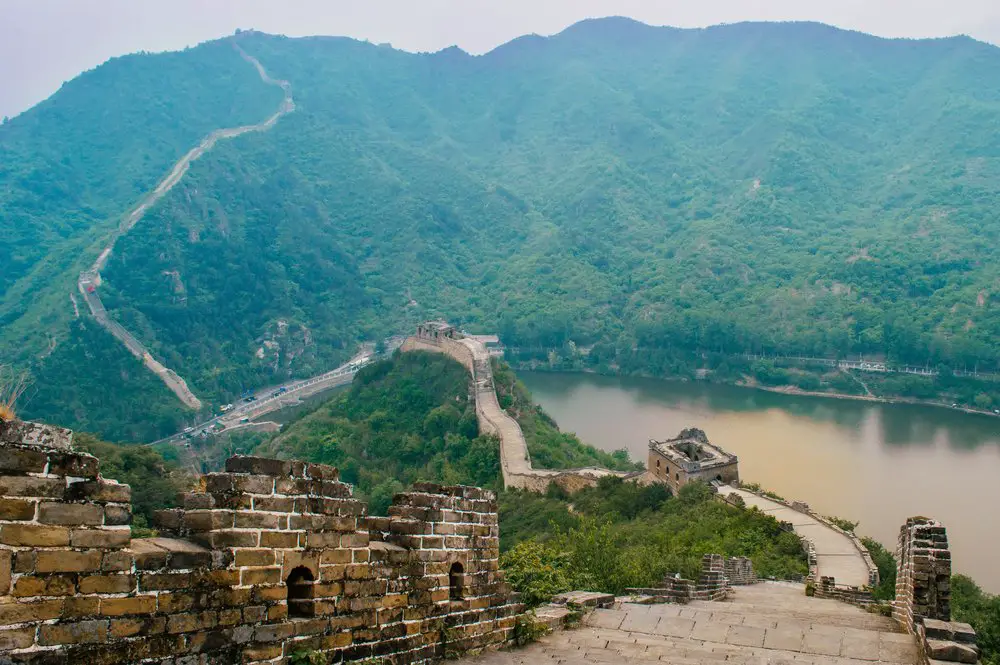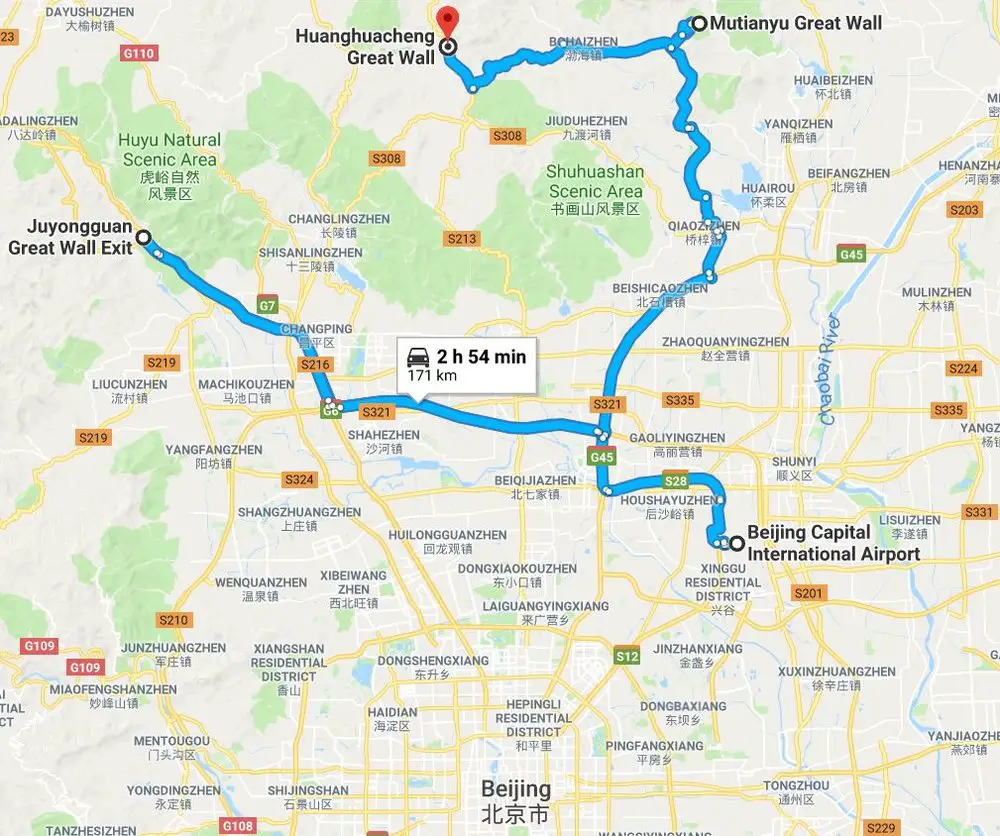 Booking and Logistics
Booking
The only thing you will need to organise in advance for visiting the Great Wall of China on a layover is your transport/driver. On the internet you will find a handful of tour companies offering layover excursions but you will notice that they are all priced around the $180-$200 USD mark. This is for a group guided tour and not even private too!
I ended up booking with Beijing Walking Tours as they were the only company who came back to me with a cheaper option. After only a couple of email exchanges where I gave my arrival date, time and flight number, everything was arranged.
I would definitely avoid getting a taxi on arrival or going through an unauthorised person or company. In China, tour companies have special insurance and licenses for working with tourists so there is an element of security/safety involved. Taxi drivers on the other hand could quite easily scam you, or not understand your time restriction (as many people do not speak English).
Pre-booking something with a registered tour agency will (hopefully) ensure a smooth, problem-free visit.
Cost
Tours are advertised as $180USD per person on the Beijing Walking Tour's website. But when I emailed asking if they had any other budget options they offered me a driver only for $125USD (¥800CNY/£90GBP). If you have the time and energy, you may even be able to haggle this down a bit.
The cost of the service not only includes someone to pick you up and take you back in a lovely air conditioned car, but also your entrance fee and any road tolls getting there. The driver provided me with a bottle of water in the car which was useful, but you will need to pay for your own food and snacks if you decide to stop for some.
The payment of ¥800CNY is made after the tour, which is great in case you have flight delays and end up missing your tour altogether. You can pay in either Chinese Yuan (which is preferred), or in US dollar. Oh – I'd also have a little bit provisioned for the driver as a tip as he look pretty disappointed that I didn't (I had no money left, sorry Mr. Driver!).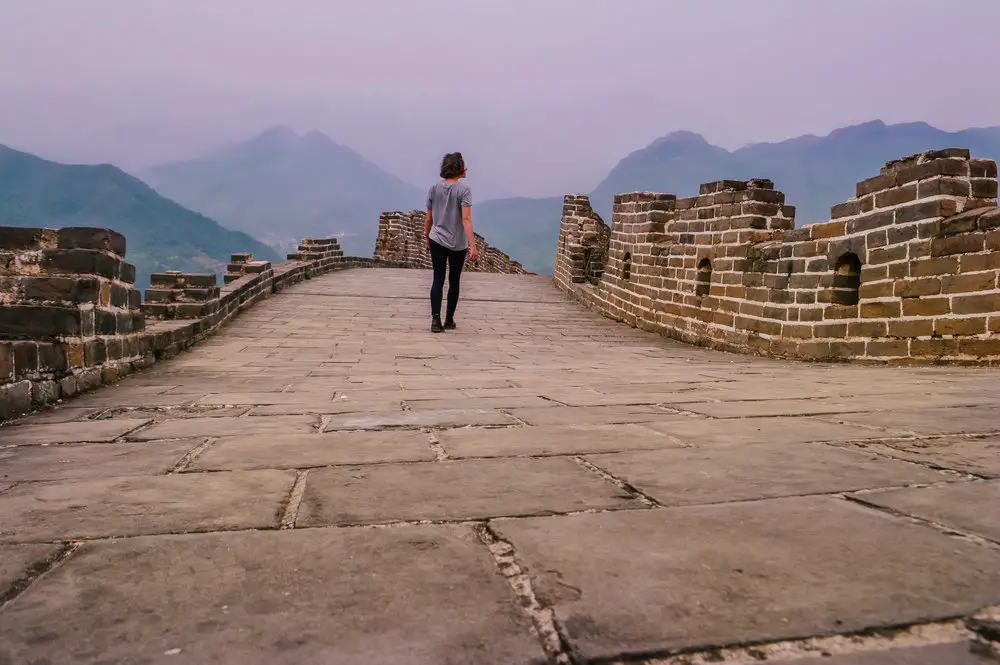 Visa & Immigration
Transit visas of 24, 72 or 144 hours are available free of charge at the airport to passengers with a passport from 53 countries. You can check the list of eligible countries on the Chinese Embassy website.
Once you get off the plane, you can go straight to the large row of self-service white scanning machines. Here, you need to scan your passport and then your fingerprints. The machine will print out a voucher which you will later present at the immigration desk. It essentially means you don't have to do it at immigration, speeding up the process but this isn't compulsory.
Follow the signs for the '24 hour layover visa'. Do not head through to immigration yet! The desk for your layover visa may annoyingly be hidden (though it depends on which terminal you arrive in). Lots of people who I heard were after the transit visa turned off somewhere else near immigration and about 15 minutes later, got sent all the way back. This would be wasting valuable time as queues at immigration can build up fast!
If you see people filling in a pale orange/yellow arrival card or get offered one on the plane, you do not need to fill one in yourself. All you need is the transit waiver, collected from the layover visa desk, to leave the airport.
At the 24/144 hour transit desk you need to fill in the blue form which has an 'arrival' and 'departure' section. Once both sections are completed, hand it in along with your passport to the desk where they will stamp it and your passport. You are then all set and can go back to join the queue at immigration.
The representative at immigration will not only check your identity/passport and onward boarding pass, but they take the 'arrival' section of the form. Make sure you keep the 'departure' section safe along with your boarding pass to hand this back in when you return through immigration later.
Once you have gone through immigration, follow signs to the exit and board the transfer train back to the main terminal. As you come through arrivals, your driver should be there holding a sign with your name to collect you. Simple!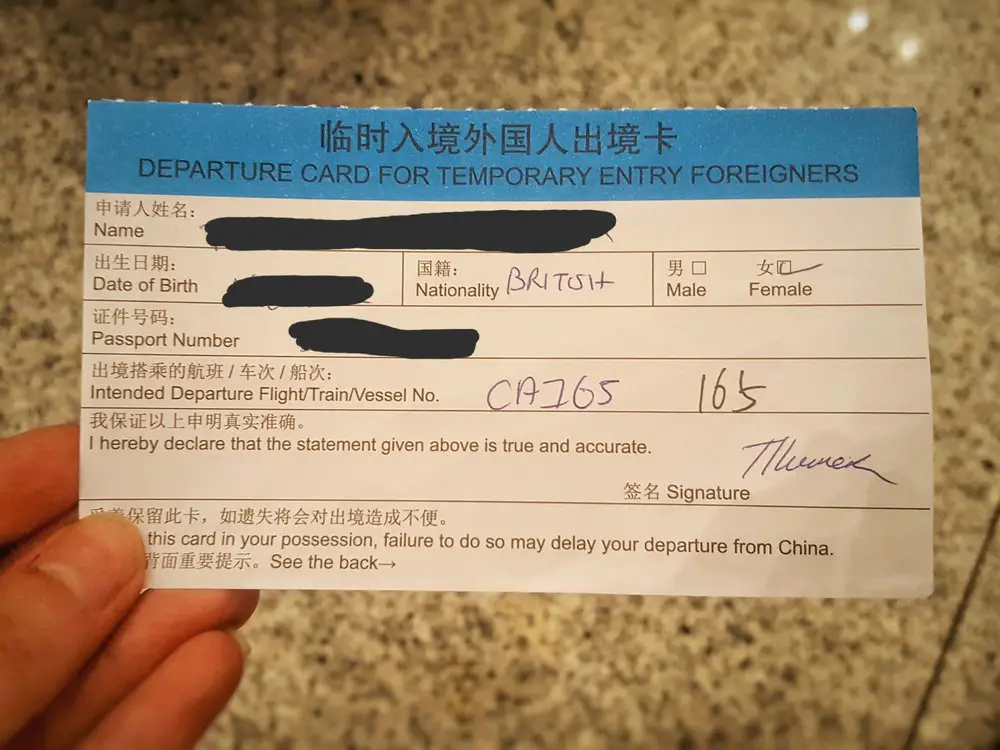 The Drive
The driver Beijing Walking Tours provided me with didn't speak English as I suspected but he used a pretty cool translation app to communicate. I can imagine this is a common thing in China so there's no need to worry about a communication barrier.
The car itself was huge, air conditioned and had a load of USB charging points for my phone which was useful.
After over an hour of driving he asked me if I wanted some food and so I was dropped off at a local restaurant as he waited outside. Considering food is on my mind 90% of the time I was relieved that he initiated it and I didn't have to awkwardly act it out.
The restaurant was like a massive garden centre and in my complete jet lagged state, the waterfalls and tropical plants under the massive plastic bubble roof made me feel like I was in some sort of weird Chinese snow-globe.
A huge plate of the most amazing egg fried rice and some sticky noodles cost around 50CNY (£5.80/$7.80USD). After this, we carried on for roughly another 20 minutes to the entrance of the wall.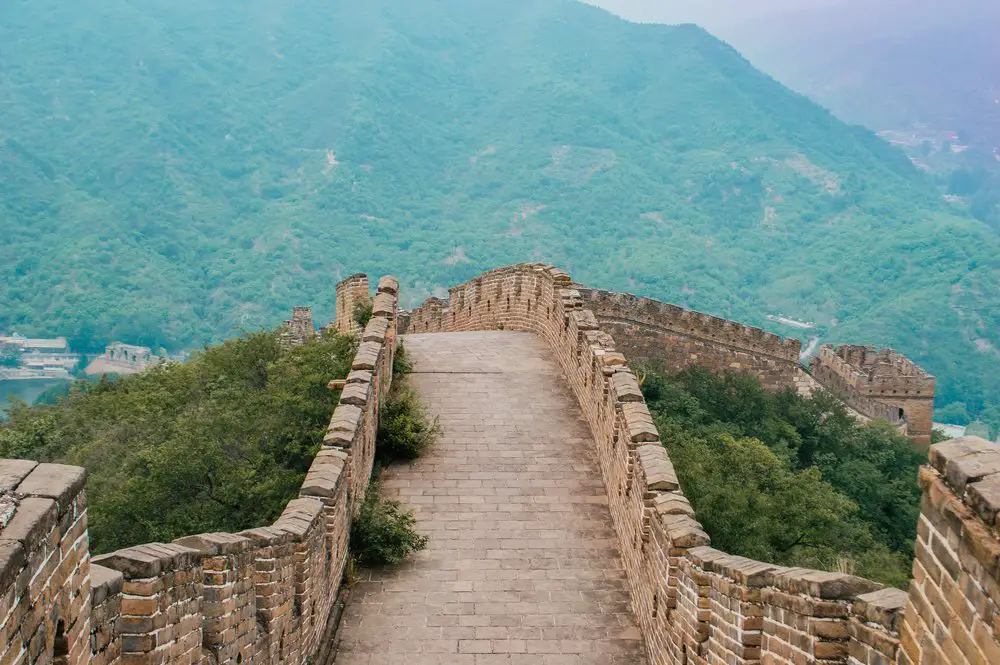 The Entrance & The Wall
As a forewarning, the entrance to the Huanghuacheng section is a little underwhelming. I don't know what I was expecting but I thought there would at least be a semi-official gate or something.
Instead the driver parked up on a side road and took me to a lady who had a snack kiosk, paid her the entrance fee and then we walked across a broken platform on a really ugly, litter filled dam. I definitely would not have been able to find it without being shown.
Once across the dam, the driver paid another person at a shabby metal gate something small like 10CNY. We walked along a gravel path and then just after a couple of run down buildings, he left me to begin my ascent up.
There is no need to pay extra for a tour guide unless you want a bit of a history lesson, as the driver walks you through the crucial bit, then leaves you in peace (which suited me perfectly!).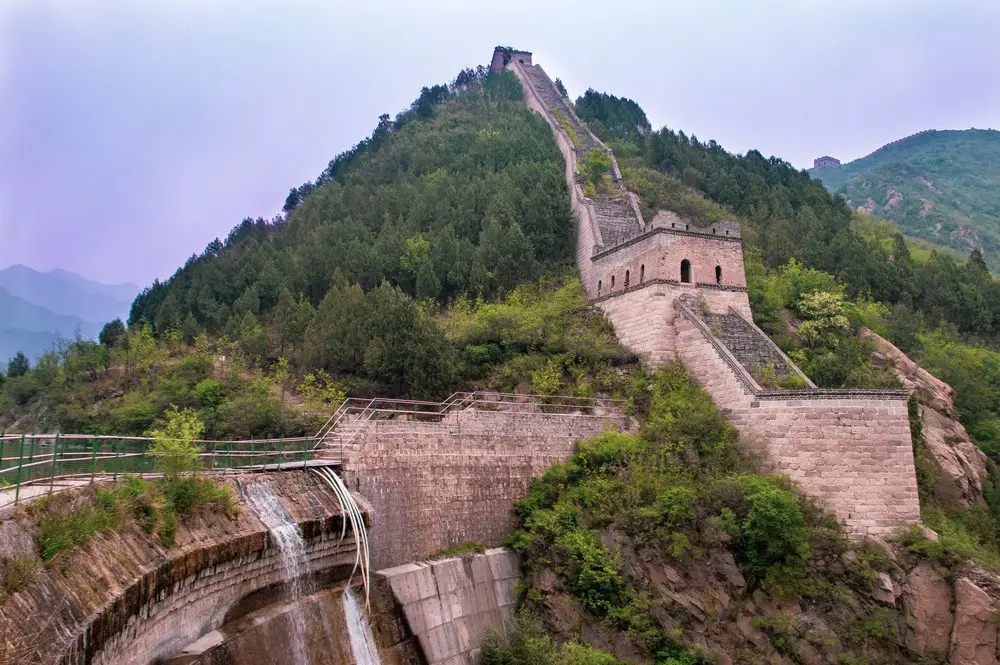 Once at the top of the hill, I was met with a steep and unsteady metal ladder to get onto the wall. Definitely make sure you are wearing good shoes as you will face not only this, but loose and unsteady terrain throughout the visit.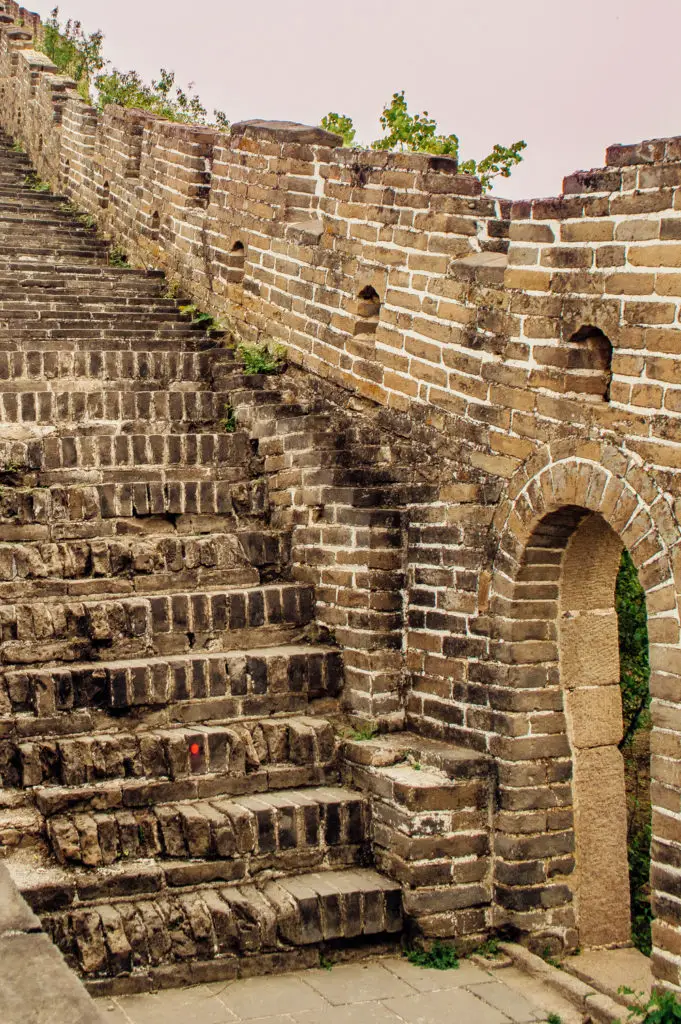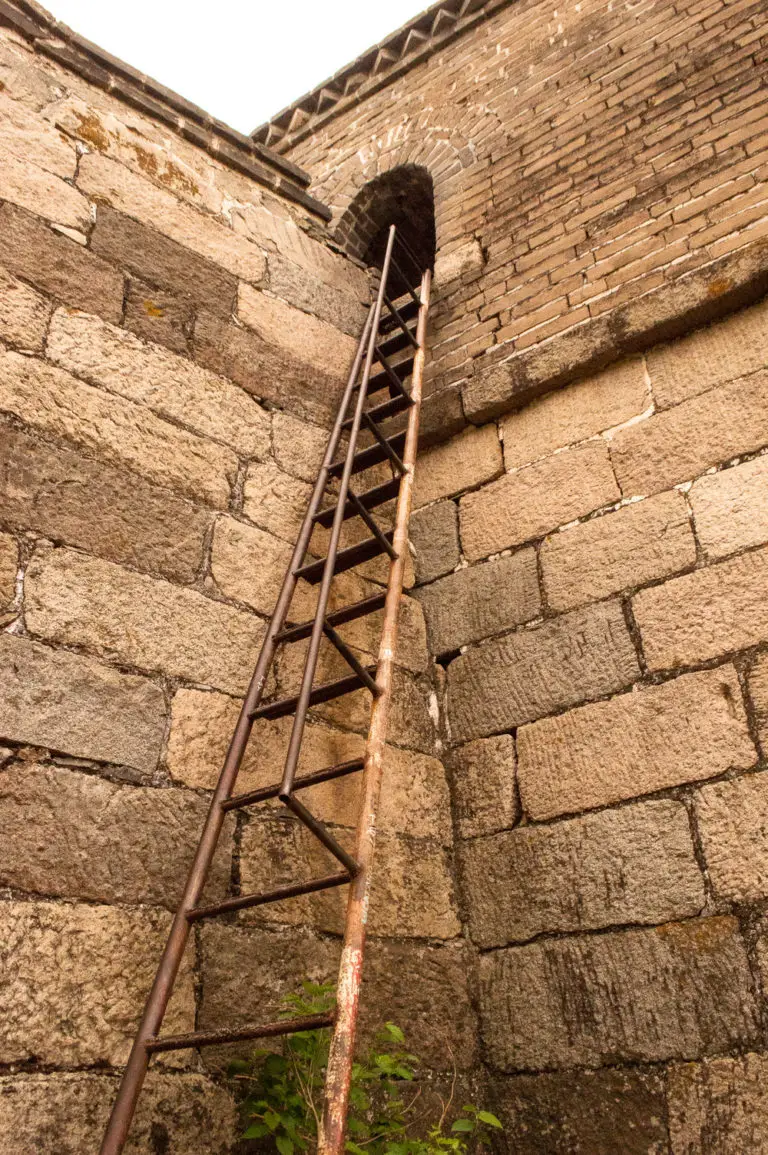 Once up on the wall, you can pretty much walk as far as you want, although the further up you go the steeper it seems to get. The backdrop to this section of the wall is an epic scene of mountains and two lakes which are separated by the ugly dam (which you fortunately can't see).
I was so lucky to have had the whole section of the wall to myself, which meant that not only did I have complete peace and quiet, I had no one to strategically dodge out of photos or watch me awkwardly take self timed photos – bliss!
Two and a half hours here absolutely flew by and to be honest I would have loved another hour. Regardless, it was a truly memorable experience that has completely inspired me to visit China properly in the future.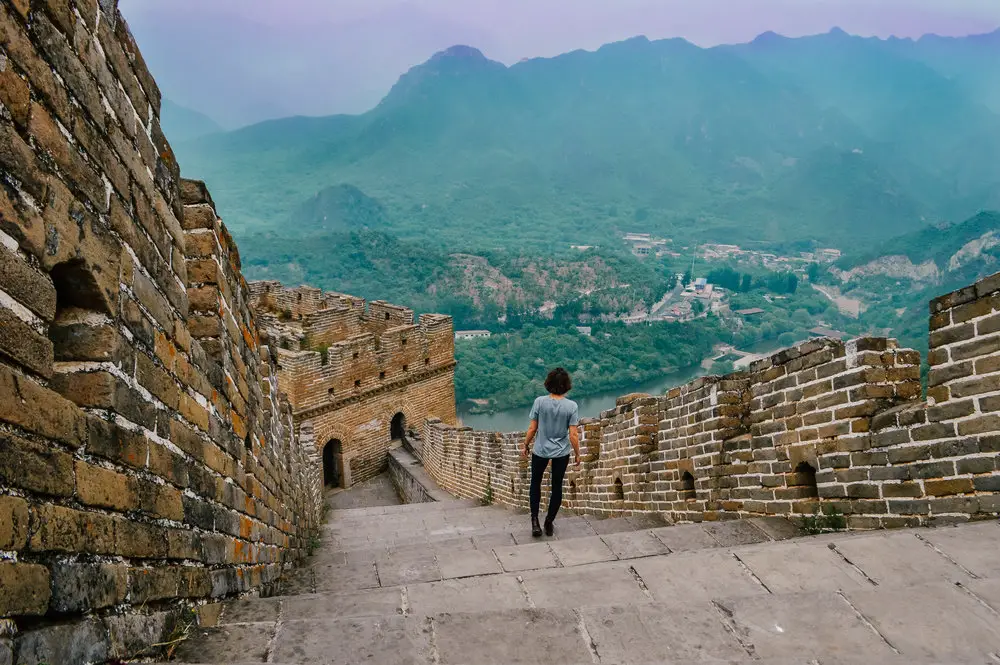 Returning to the Airport
The return journey was just as smooth as the outbound journey with no traffic and barely any other cars on the road for the first 40 minutes.
Once my driver dropped me off outside the airport and I had paid him, the walk through the airport to the initial departure gates took about 10 minutes. If you are flying outside of China, follow the walkway labelled with the yellow 'international' signs which again, aren't all that clearly positioned.
Beijing airport is absolutely huge so make sure you have left enough time to walk to your plane gate as mentioned in point one. Getting to mine took about 20 minutes and I power walked!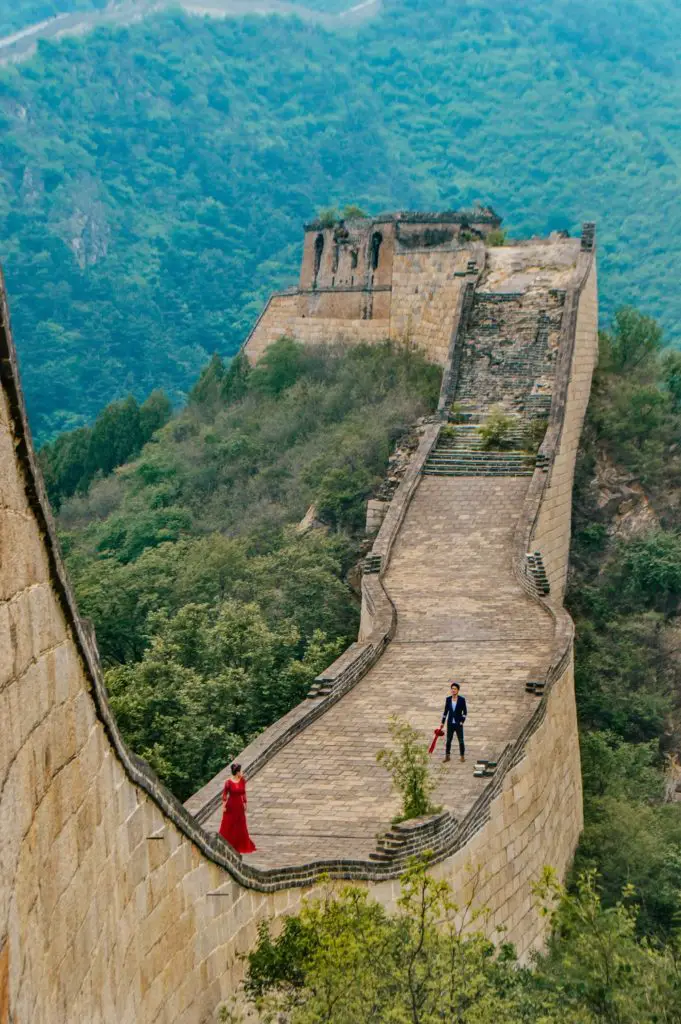 This visit to the Great Wall of China on a layover was the first time I had ever experienced layover travel and it completely opened my eyes to this exhausting but thrilling way to see some of the world's most iconic tourist sites. I discovered it is a totally feasible, efficient and cost-effective means of sightseeing.
Now to get organising my next one..
---
Do you have any questions for me on how to visit the Great Wall of China on a layover? If so, please feel free to drop them in the comments section below!
PIN FOR LATER:
Going travelling Soon? Don't forget these essentials!
Flights: compare and search for the cheapest flights using Skyscanner
Accommodation: hotels to hostels, glamping to apartments, I always use Booking.com
Tours: to find the best group tours and activities worldwide (with up to 20% off), use Viator
Visa: don't forget to check the entry requirements for the passport you are travelling with
Inspiration: to kick-start your next adventure, how about Lonely Planet's Guide to the World?