Situated between rainforest clad mountains and behind the main high street of Warburton, in a highly sought-after residential street, lies Warburton Lodge, quaint motel-style accommodation for those on a budget.
And when I say budget, well, nothing is very cheap in popular Warburton these days.
Being only 90 minutes away from Melbourne in the beautiful Yarra Ranges in Victoria, Warby's old world charm and abundance of wonderful outdoor activities such as the Redwood Forest and Rainforest Gallery Boardwalks, means that it's flooded with tourists all year round. Expect to pay a premium for the privilege of being one of them. The cheapest room in the heart of Warby will set you back around $120 – $150AUD or so per night.
With that in mind, Warburton Lodge is probably one the lowest cost properties, at $130AUD for a budget queen or double room. What you get in return is well, unsurprisingly, budget. But a night or two definitely does the job if you want to save some dollar, especially if you will be spending most of your time outside anyway.
Yes, there is probably more dark wood cladding, plastic covered wood chip and flimsy infrastructure than your average, more modern motel. But Warburton Lodge is clean, functional and has a rather lovely charming quaintness to it, which in my opinion, is its main selling point.
I enjoyed my stay at this quirky, independently run rural hotel and it was a great base to explore Warburton for the weekend.
Here's my independent review of Warburton Lodge accommodation, Victoria!
*This is an independent Warburton Lodge review. I have not received payment or free/discounted goods in exchange for this review, I stayed as a fully paying guest. This post may also contain affiliate links meaning should you purchase a product via this link, I'll earn a small commission at no extra cost to you. See my privacy and disclosure policy for more.*
Quaint communal areas with character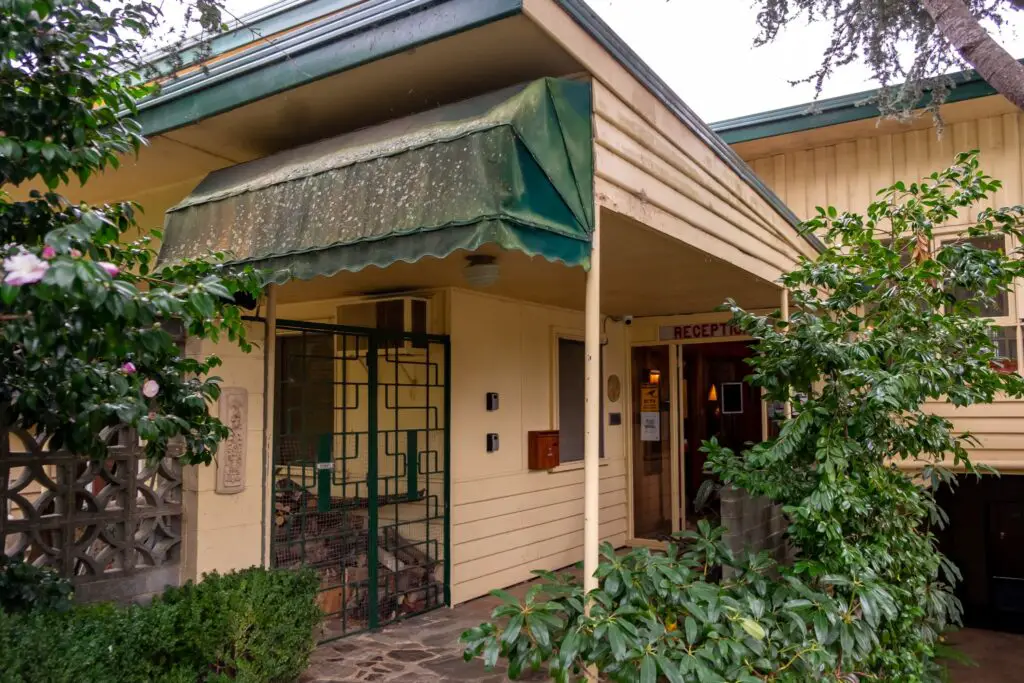 Entering through the glass-paned reception door, a whiff of musty carpets and old wood greets you before a staff member even can.
But it's not totally as unpleasant as it sounds.
This place is clearly old. In fact, the lack of recent refurbishment is actually this accommodation's most endearing feature. It's kind of a cross between your grandma's house and an old alpine hut: a time-frozen home adorned with a treasure trove of twee trinkets and so much wood you could mistake yourself for being in a Swiss chalet – in the communal areas at least. 
The communal areas at Warburton Lodge are at its heart and quite frankly, you'll either love or hate them.
Just to the left of reception is a cosy lounge area with various seating, including large leather chesterfields and dining-style chairs, a handsome fireplace (which sadly was not lit when I stayed), a piano, and walls lined with attractive hardcover encyclopaedias. A touch of extravagance is added with very ornate and slightly OTT chandeliers.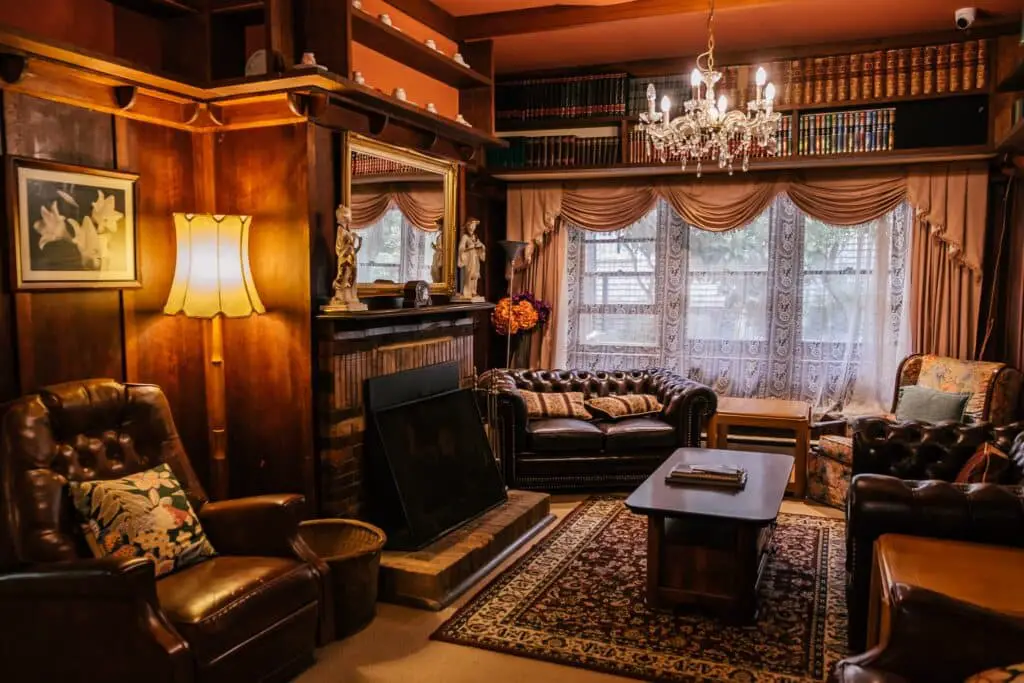 Mixed in with this elegance are vases of fake flowers, twee floral and net curtains, china mugs and other random dated ornaments. These personal touches by the owner brings, what could otherwise be a quite pretentious room, back down to earth in a slightly tacky yet charming way.
This mix-mashed interior design results in a very interesting and cosy place to relax – be that to read, write or even have a glass of wine. In winter with the fire roaring, I can imagine it even more inviting.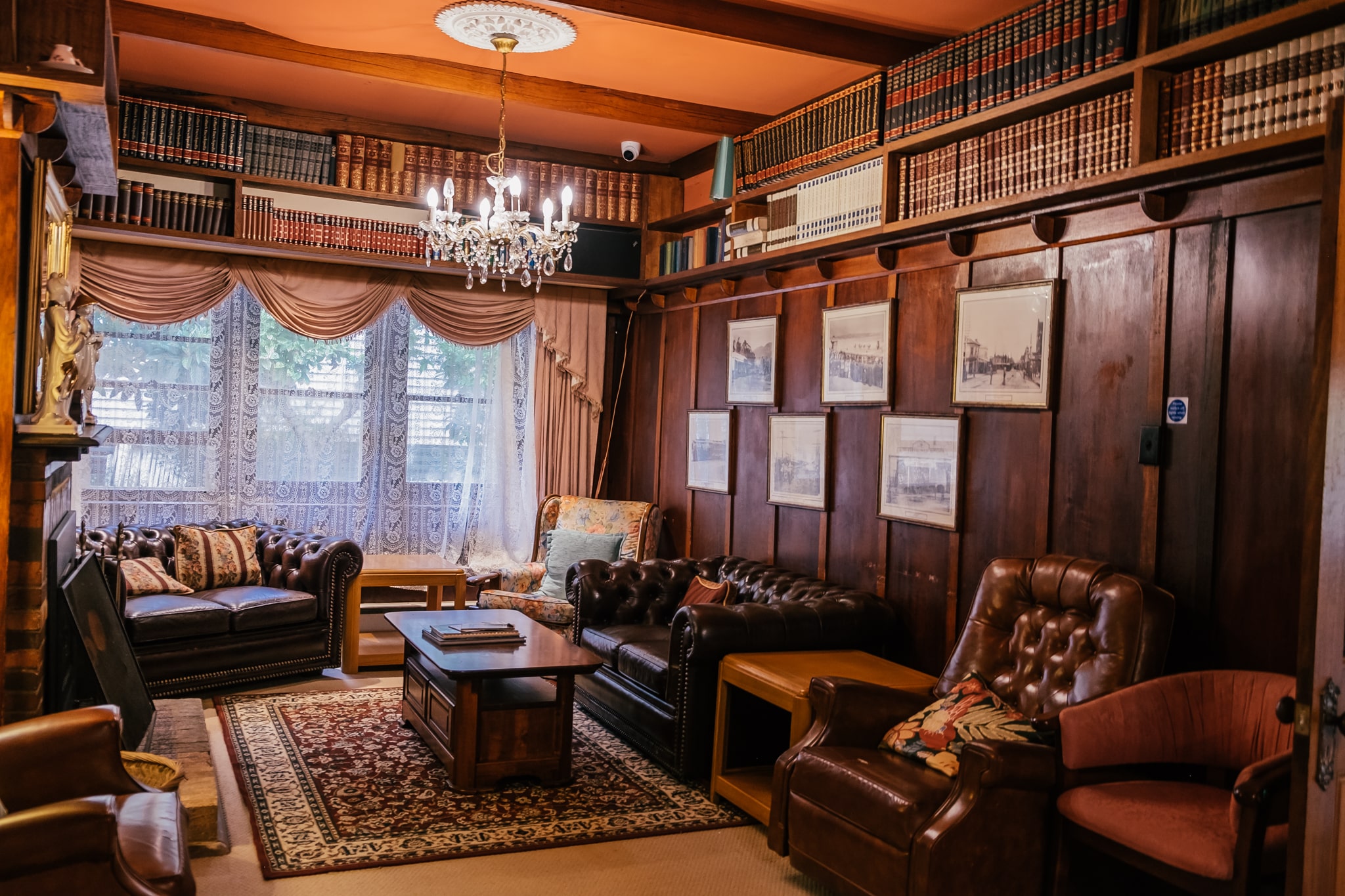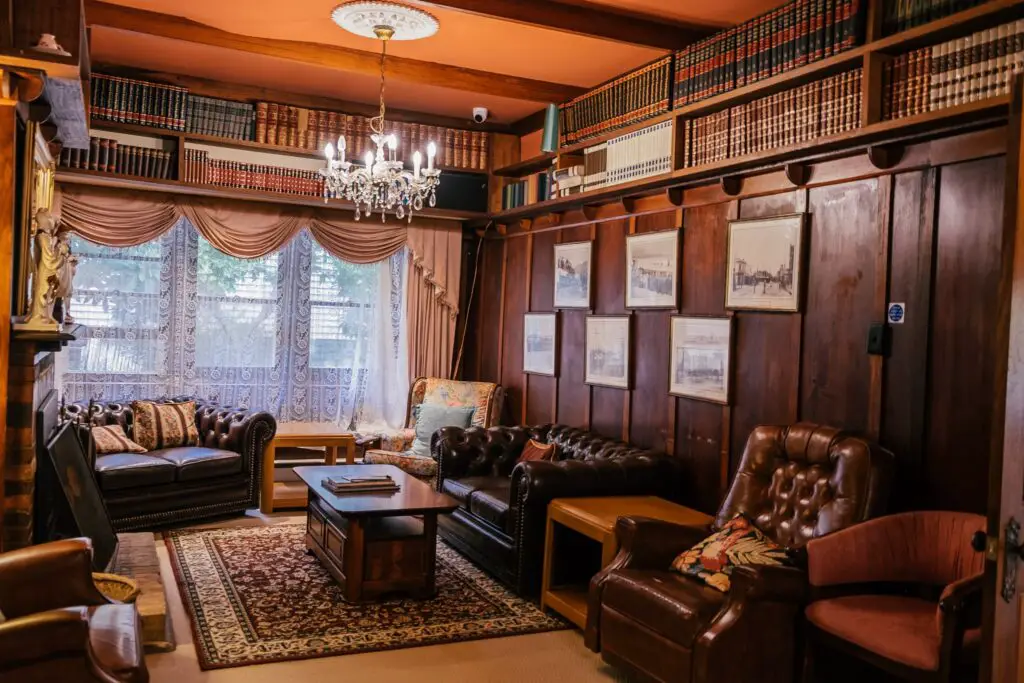 Beyond the lounge to the front of the property is a wood-clad games room complete with a small free pool table, a bookshelf and a cupboard of board games.
A game or two is a nice way to wind down an evening. The games room is a real asset to the property so you don't feel like you have to stay locked in your room.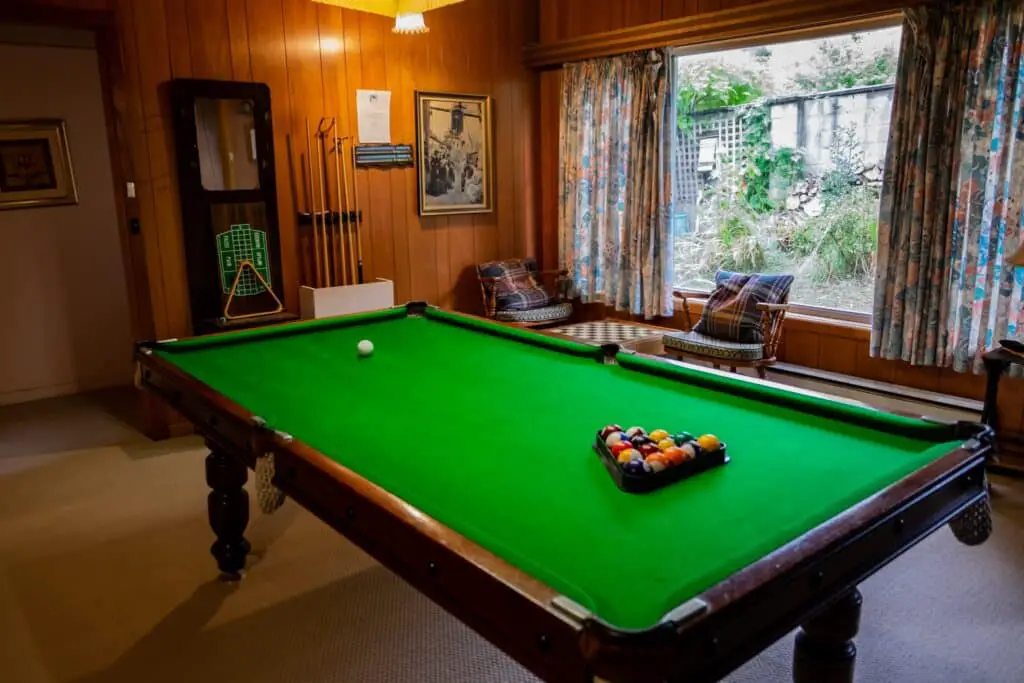 There is also a dining/breakfast room on site with similar interior as the other communal areas but sadly it was empty as it doesn't seem as though breakfast is offered here these days.
A comfortable, no frills room with a slight compromise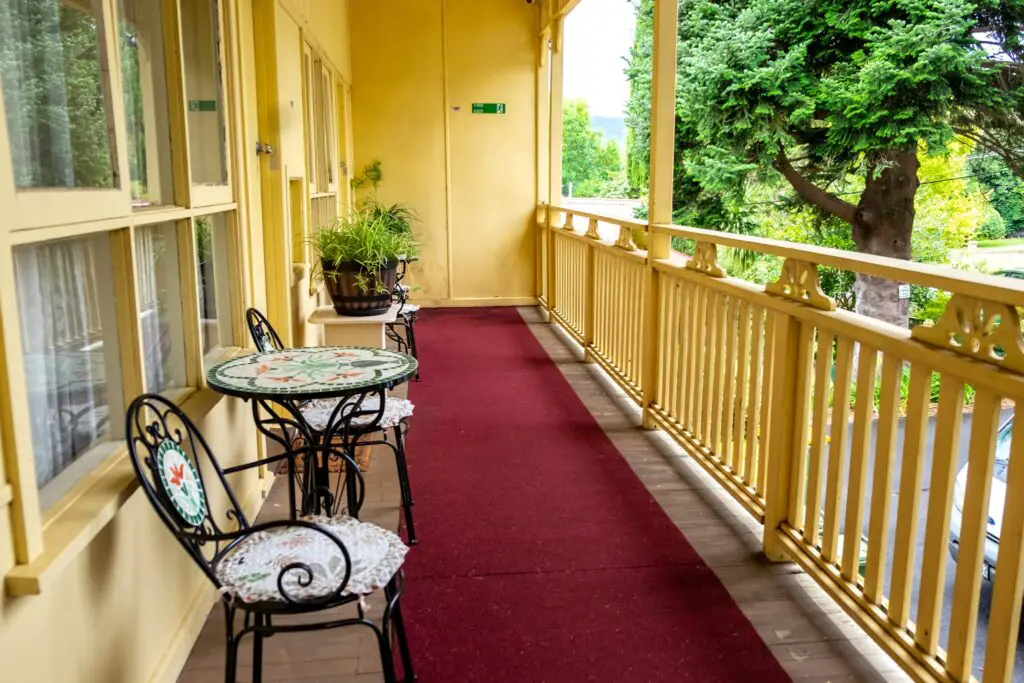 Access to my budget queen room was via a shared balcony walkway that had a small table and two chairs outside. The room itself was simple with a dated wardrobe, bedside tables, two chairs and curtains that were just too short for the window to prove mildly irritating. 
Unsurprisingly, expect nothing more than the very basics in terms of room amenities at Warburton Lodge: a kettle, tea and coffee, a microwave, toaster, TV and a fridge with a small carton of milk. 
The bed however was really comfortable and the linen fresh and high quality. If only the man in the room next door wasn't snoring for 10 hours straight, which could be clearly heard through the wall, I may have had a delightful sleep… 
As my overnight serenade proved, probably the biggest downside to Warburton Lodge is that the walls aren't as thick as they should be for a hotel with people constantly coming and going. A sign of the property's age no doubt.
I also went to bed early to get up at sunrise and I could clearly hear people noisily walking along the shared balcony accessing their room. Then again, I am a light sleeper and will wake at the slightest of noises so if you're a normal or heavy sleeper, then you may well have no issues.
Amenities that do the job
All of the rooms at Warburton Lodge come with a tiled ensuite bathroom with a surprisingly powerful shower and plenty of hot water. The towels were also abundant and fluffy, so they clearly got the memo that towels are one thing a hotel really can't scrimp or compromise on. 
Before I booked, the reviews for Warburton Lodge's Wi-Fi were very poor so my expectations were that I would go the weekend without any. However I had absolutely no issues and I found the internet connection fast and reliable. It appears they recently had some issues, but they are now resolved. 
It was an unusually cold weekend in Warburton for early April and I was pleased to see that the modern air conditioning unit also had a heat setting that actually worked – hallelujah! 
Location of Warburton Lodge
As far as location is concerned, Warburton Lodge is fantastically positioned. A street above the main road, slightly east of the centre, it benefits from the quiet residential road whilst still being within a comfortable walking distance to local amenities.
An IGA, pizza-takeaway-come-cafe, hardware store and petrol station are a few hundred metres away. The 'main' street with the majority of cafes and shops, is a 10 minute walk further down the road (roughly 1km).
Just 1.5km behind the motel is the La La Falls carpark. This attraction is a 3.2km return walk beside a babbling creek and through a mossy and fern-clad forest, to one of the area's most popular serene waterfalls. You can also walk to it from the motel, which I've done before, if you fancy making it a little more challenging.
---
Overall, Warburton Lodge may not be the accommodation for everyone but its retro alpine-esque charm does win you over but only if you go with an open mind and no expectations. It has the warmth of someone's home, the cleanliness of a well regarded hotel and the location is ideal for a peaceful break to Warburton.
Interested in booking Warburton Lodge? Click here.
I hope you enjoyed my very honest Warburton Lodge review. Don't forget to check out my other accommodation posts such as the most unique accommodation in Victoria, cosy cabins in Victoria and my other hotel reviews!
PIN FOR LATER