Australia is a place of fascinating landscape contrasts. From tropical temperate rainforest, dusty desert, rugged coast to snow capped mountains and turquoise waters – Australia really has some of the most diverse scenery in the world. No matter how you travel or your preference of climate, Australia will be able to offer you something incredible.
Despite these endearing points, Australia has unfortunately faced a slump in tourism recently due to not only the bushfires, but Coronavirus restrictions.
So to encourage people to travel to Australia (and prove how awesome it is), I wanted to compile a list of much loved Aussie destinations. And who better recommend these places than well-travelled bloggers and travel writers?
Here eight awesome travel bloggers reveal their favourite places in Australia with recommendations about what you can do there:
Byron Bay – New South Wales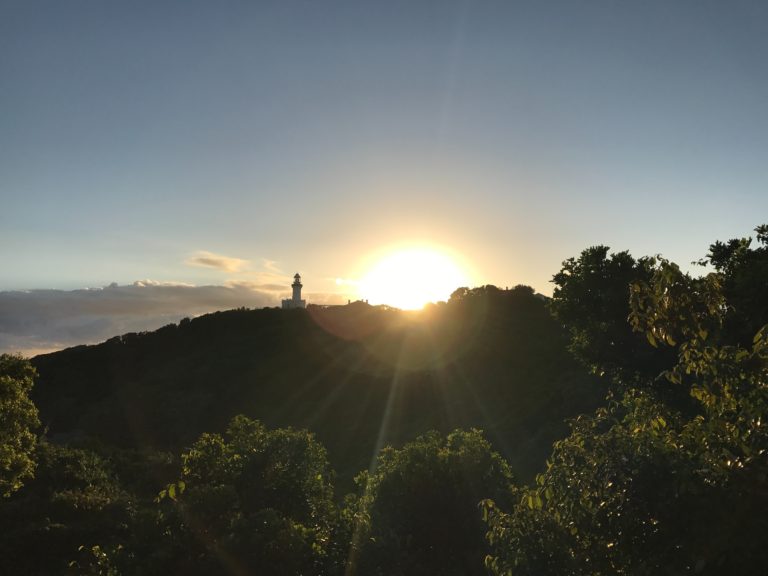 My favorite place in Australia has got to be Byron Bay. This coastal idyll full of hippies and surfers stole my heart from the moment I first set foot in it. 
Why, you ask? Let me tell you a little bit about myself so you can understand why Byron Bay is the perfect place for me (and it might be for you as well!).
I am a vegan solo traveler, beach lover, sunrise/sunset addict who loves smoothie bowls and being active in nature. Vegan food? There are loads of amazing vegan-friendly places in Byron Bay. Traveling solo? Byron Bay is full of backpackers, you won't have any trouble making friends! Beach lover? Like I mentioned, Byron Bay is on the coast with plenty of beautiful beaches around. Want to see an incredible sunrise or sunset? Just head up to Cape Byron Lighthouse. Want to be active in nature? There are so many possibilities – just keep reading!
There are a lot of things to do in Byron Bay, like going for a surf, kayaking with the chance of spotting some turtles and dolphins, biking to the sunflower fields at The Farm, listening to some crazy talented buskers while watching the waves at the main beach, and many more. But one thing you simply cannot miss is hiking up to Cape Byron Lighthouse for sunrise or sunset (or both!). 
Another insider recommendation is to check out the silent disco at the main beach. When we went, I honestly had one of the best nights of my life – everyone was jumping around on the beach, singing along, running into the water and going crazy.
My typical day in Byron Bay consisted of heading to the beach for some morning yoga, having a smoothie bowl for breakfast, spending the day surfing, hiking or going on other little adventures, watching the sunset from Cape Byron Lighthouse and concluding the night at the main beach watching the amazing street performers do their thing. I don't think I can think of a more perfect day! So, I can definitely recommend going to Byron Bay.
Rottnest Island – Western Australia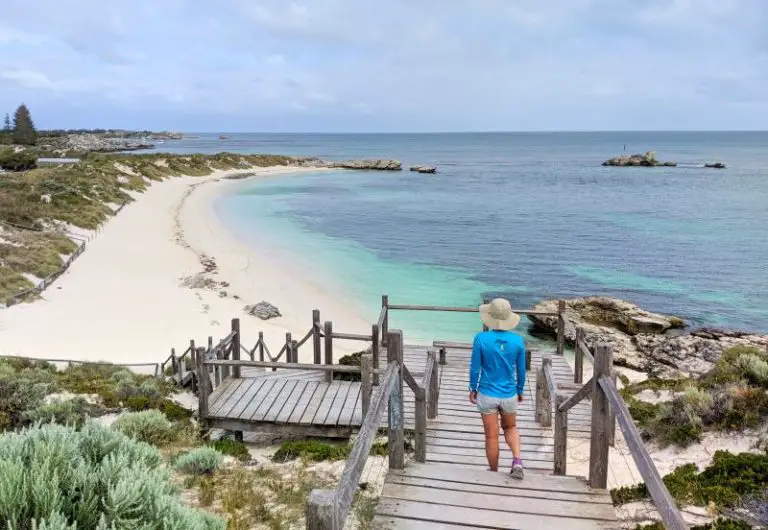 Visiting Rottnest Island (aka Rotto to the locals) was one of the best memories that I had when exploring Western Australia. Most visitors tend to stay one day on Rottnest Island, yet my husband and I decided to spend two days here. It was the perfect escape from Perth and Fremantle to relax and get some sunshine.
Our main agenda was to meet the Instagram famous marsupials – the quokkas. They're known as the happiest animals in the world. When we saw them, we realized that the previous statement was true. You can't help but smile at their adorable faces and their excitement to see people. Don't forget to take a selfie with them. 
Besides the quokkas, there are plenty of things to keep visitors occupied. The beaches on Rottnest Island are incredible with the clean sand and water. Since there are 60+ beaches, feel free to go beach hopping. For those who want to learn more about the island's history, visit historic places such as Wadjemup Lighthouse or Oliver's Hill Lookout. If seeing nature is your preference, the island has many forest areas and even pink lakes (though they look more maroon) to explore.
Even though the island is not big, visitors will need a way to travel around. Walking will take a while so it's recommended to rent a bicycle. There is also a hop-on-off bus that takes visitors to popular sightseeing stops. We hope you get a chance to visit Rottnest Island! 
Blue Mountains National Park – New South Wales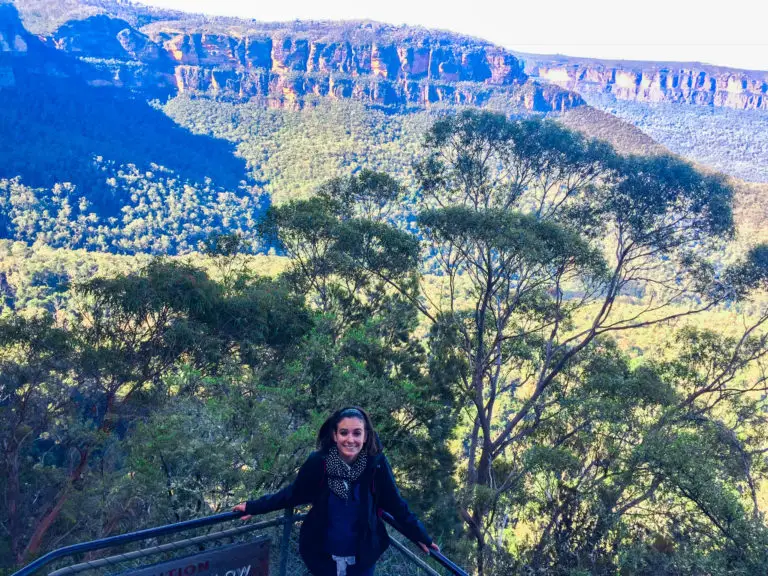 The Blue Mountains National Park is located near Sydney in the New South Wales region of Australia. This National Park contains tons of scenic places including waterfalls, forests, and cliff overlooks. It is the perfect place for people who enjoy the outdoors and hiking. 
The Blue Mountains make for an easy day trip from Sydney. There are many tours that visitors are able to book, but I recommend making the trip on your own as you will have more time, money, and it allows for more flexibility. 
Upon arrival in the Blue Mountains, hop on the Blue Mountain Explorer Bus. This takes visitors to 29 different stops around the National Park. Every stop offers something unique and gorgeous, but I recommend making sure to stop at Katoomba Falls, Echo Point, the Honeymoon Lookout, and Leura Cascades. I enjoyed stopping at the Honeymoon Lookout and Echo Point the most.
From the Honeymoon Lookout, visitors can take a nice walk along the cliffside to Echo Point. Throughout this walk, there are great views of the Three Sisters, one of the most iconic limestone formations in the park. It is a nice leisurely hike and not too strenuous. 
The Blue Mountains was one of my favourite places in Australia due to its beauty and scenic lookouts. It is a great escape from the city and provides opportunities for some fantastic hikes. I enjoyed venturing to the Blue Mountains on my own as I was able to take my time at each stop. It also ended up being half the price of taking a tour from Sydney. 
Sydney Coastal Walking Tracks – New South Wales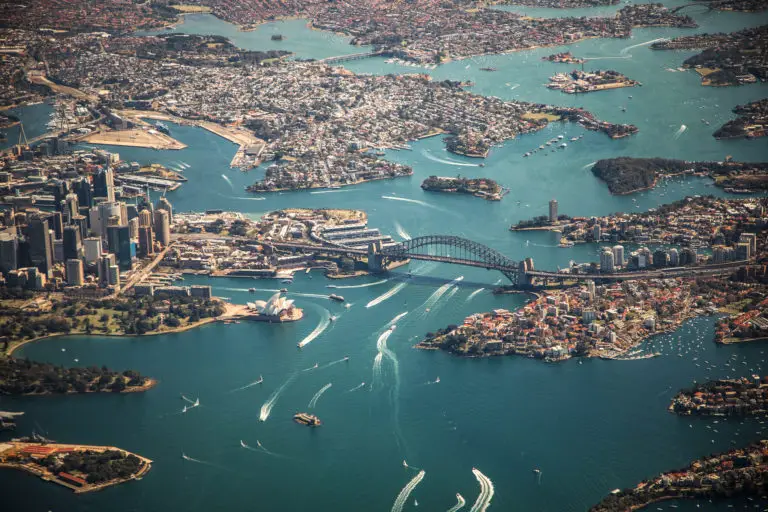 The Sydney coastline, and the multiple walking opportunities that come with it, is my favourite place in Australia.
Technically 200km long and stretching all the way from Barranjoey to Cronulla, most of us are more familiar with smaller sections of the walk than the entire multi-day hike. From the famous Bondi to Coogee Walk (a must-see introduction to Sydney's coastline for tourists) to the beautiful North Shore boardwalks, there are endless things to see in this area. There are dozens of vantage points over both the famous Sydney Opera House and Sydney Harbour Bridge as well as the gorgeous navy blue waters of the Pacific Ocean.
If you have a short time in the area, I would suggest visiting the Rose Bay to Watson's Bay Walk or Coogee to Bondi Walk, which are not far from the city centre.
Another great day hike option is the Manly to Spit Bridge Walk, where you can spot aboriginal rock engravings at Grotto Point, or you could head north for a day trip to Palm Beach. From Barrenjoey Lighthouse, there is an amazing 360-degree panoramic view over Palm Beach and the surrounding area, which has to be THE ultimate sunset spot. Read my full list of Sydney coastal walks.
In my opinion, it is the stunning coastline and unique harbour views that make Sydney stand out from other cities worldwide. Not only does it have more ocean rock pools than any other, but seeing locals head out to surf and snorkel in the ocean or stroll along the coastal boardwalks gives you a wonderful flavour of the Australian lifestyle.
When I worked in Sydney, it was the perfect incentive for me to get out at the weekend and go hiking, and I will always associate this part of the world with not only beautiful views but also a healthy mind.
Fraser Island – Queensland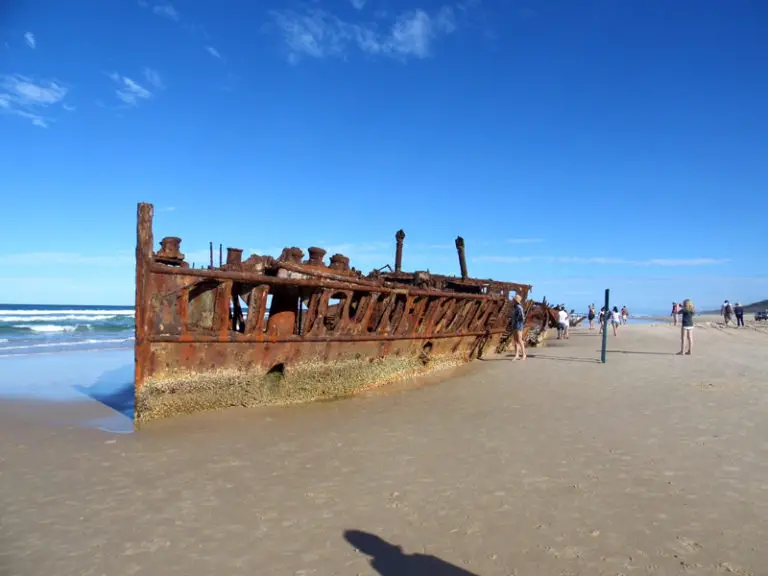 Before I arrived in Australia, I hadn't even heard of Fraser Island – so it surprised me when I saw it on every single backpacker itinerary at every single travel shop. What surprised me even more, was that it became our favourite place on our east coast Australian road trip. Well, thousands of travellers can't be wrong, right?
Fraser Island is a few hours north of Brisbane, and features some of Australia's best nature, from lakes with pure silica sand and native dingoes, to creeks that you can float down and beautiful pools. Even the 'roads' are completely made of sand, and the best place to drive is the beach (it even has speed limits!). The east side of the island has a 75 mile beach which is literally a "sand highway" and it's so much fun!
If it sounds like paradise, it pretty much is – a highlight of any trip is an afternoon relaxing at the beautiful Lake Mackenzie, and exploring the shipwreck of SS Maheno, which crash-landed on the shores of Fraser Island in 1935 and has never left since. If you do a 3 day tour, you'll get to the magical-looking Champagne Pools and Lake Wabby, both of which look fantastic!
As well as dingoes, if you're lucky (and there at the right time of year – we were there in July), you might even see whales! Ironically, we saw whales but no dingoes – nature is always unpredictable, after all.
The best way to visit Fraser Island is with a tour – because of the nature of the "roads", it's too easy to take a car over and get stuck or break down in the middle of nowhere. You CANNOT go without a 4×4 vehicle.
I think that's partly what makes it so fun – even though it's a popular stop on the east coast trail, it feels really off the beaten path once you're there.
If you're looking at doing an east coast road trip, definitely make sure you put Fraser Island on your itinerary!
Karijini National Park – Western Australia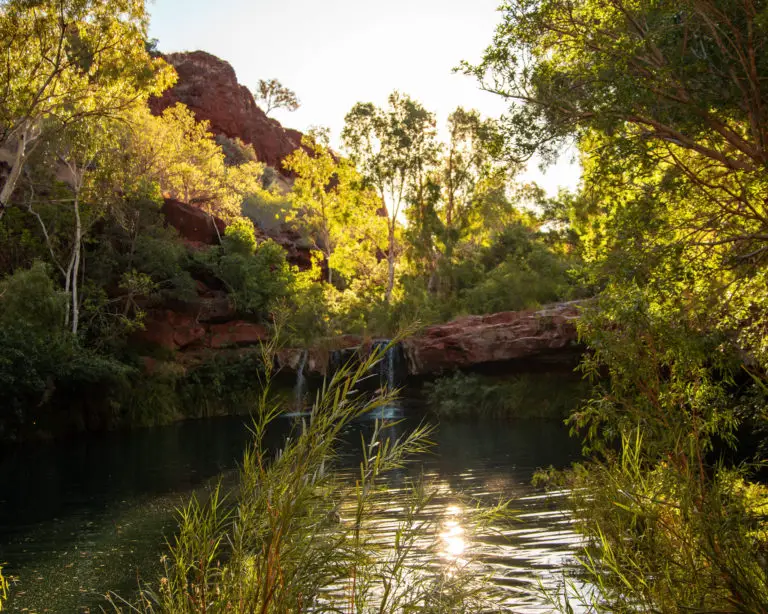 There are many incredible and beautiful places in Australia, but Karijini National Park is my favorite. It is located in the Hamersley Range in Western Australia so most people that explore this part of Australia skip it. It is a real hidden gem with stunning scenery and amazing gorge hikes. It is a must for every outdoor and nature lover. Karijini is unlike any place I have ever seen and has a unique charm.
It is possible to swim in crystal clear swimming holes and to explore red rock gorges of varying levels. Furthermore, the national park has a large variety of flora and fauna due to firestick farming by thousands of years ago. If you visit Karijini just after rainfall, you can see the upper ranges in full bloom.
Karijini National Park offers a multitude of amazing things, but in my opinion the best three gorges are Hancock Gorge, Weano Gorge and Dales Gorge. If you camp at Dales Campground observing the sunset at Fern Pool is a must. The natural pool is amazing in daylight, but the fading light of the day makes the scenery magical.
Hancock and Weano Gorges offer some of the hardest hikes that are available to the general public, but they also offer the most spectacular sights. Hiking in Hancock Gorge is an adventure as you start out by walking through water that can be as deep as shoulder high. Then you reach a natural amphitheatre followed by an area known as the 'spiderwalk'. At the end of this incredible hike you are rewarded by a swim in Kermit's Pool with its ice-blue water.
The contrast between the colors is vast and something you do not see in many places. Meanwhile the Weano Gorge hike ends just after the handrail pool in which you can swim surrounded by towering red rock walls.
Experiencing this scenery makes you feel small and grateful that you get to see it with your own eyes.
Noosa – Queensland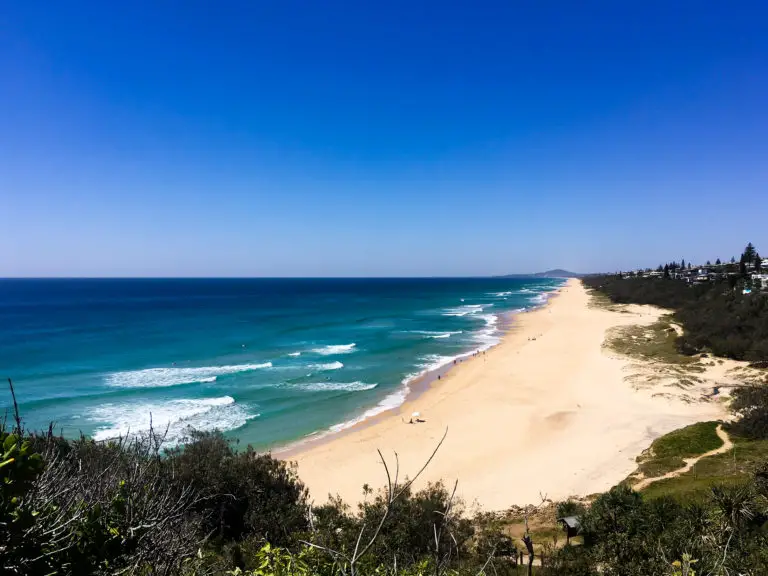 If you're looking for awesome surf, beautiful golden beaches and tropical weather, Noosa is the perfect Australian destination for you.
Located on the aptly named Sunshine Coast in Queensland, Noosa is a relaxed resort town surrounded by a National Park and the ocean. It was the first place I visited in Australia, and I fell head over heels with its relaxed vibes.
One of the most popular things to do in Noosa is to hike the National Park trail. This walk around Noosa's coastline takes around 3 hours and stops off at a number of amazing, empty beaches and hidden rockpools. You'll struggle to find ocean views as beautiful as this anywhere else.
Start at Noosa Main Beach and end the trail on Sunshine Beach, which is the perfect place to catch your breath for an hour or two. Time your visit to Sunshine Beach in the early evening to see the local surf lifesaving club practicing their drills, then head to Sum Yung Guys for delicious Asian food right on the beach.
Noosa embraces the outdoors and promotes a healthy lifestyle, which you'll notice from the array of healthy food on offer. Acai and poke bowls are standard fare, and if you want a fresh smoothie you won't have to look far. Noosa is famous for its great surf, so hire a board or take a class and see what all the hype is about. The conditions in Noosa are ideal for both complete beginners and intermediate surfers alike.
On Sunday mornings head to the famous Noosa Farmer's Market to get your hands on some fresh local produce and cute gifts. If you're wanting to do something more active, a kayaking trip around the Noosa Everglades is a must-do.
A steady stream of backpackers, expats and locals mingle in Noosa to form a buzzing beach community with everything I was looking for to enjoy a relaxed few days on the Sunshine Coast. I'm a huge fan!
Hobart – Tasmania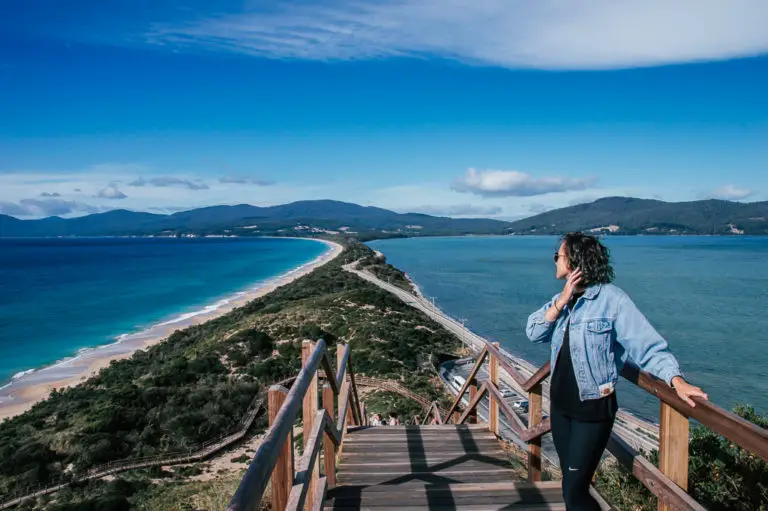 Tasmania is hands down my favourite place in Australia and nothing is quite like the island state's capital, Hobart. Hobart has heaps of Victorian, old-world charm blended beautifully with a modern, outdoorsy lifestyle. I really can't compare Hobart to anywhere else in Australia – it has such a unique look and atmosphere.
Hobart is an ideal place to base yourself when you are exploring the state's many national parks such as Freycinet and Mt. Field. However, the whole city is surrounded by stunning rolling hills and lush bushland, so you really need not venture very far to get a healthy dose of the stunning landscape Tassie is so well known for.
One of the most famous places to go for a day trip is to the wilderness isle of Bruny Island (only an hour away), to taste fresh oysters, pick berries from farms and enjoy scenic walks. 
On the other end of the scale, Hobart has an incredible, cutting edge dining and art scene. One of my favourite places to eat is the hole-in-the-wall restaurant Templo which has out-of-this-world seafood and a really creative menu.
You also can't mention Hobart without a reference to MONA, one of the best modern art galleries in the world. Built by a multi-millionaire, this gallery is shocking, though-provoking and totally exciting – it's absolutely worth a visit.
If you're interested to know more about Tasmania, have a read of these 20 incredibly fascinating facts, or if you're thinking about travelling here, make sure you read these eight things to know before you go.
---
I hope that this list of travel blogger's favourite places in Australia has given you some inspiration about some fantastic destinations to visit across the country.
Heading to Australia soon? Don't forget these essentials!
Flights: compare and search using Skyscanner
Accommodation: hotels to hostels, glamping to apartments I always use Booking.com
Travel insurance: make sure you're covered for any unplanned situations. I use and would recommend World Nomads
Tours: to search and compare the best group tours and activities worldwide (with up to 20% off), use Viator
Visa: don't forget to check the entry requirements for Australia on the government website for the passport you are travelling with
Inspiration: Lonely Planet's guide to Australia or for your next trip, how about Lonely Planet's top 500 places to see… ranked?
PIN ME FOR LATER:
*This post may contain affiliate links meaning should you purchase a product via this link, I'll earn a small commission at no extra cost to you. These are still products I use or believe in regardless. See my privacy and disclosure policy for more.*