Steeped in 6th Century, Viking and religious history, Lindisfarne Island (also known as Holy Island) is one of Northern England's most intriguing and mysterious islands.
At only 3 miles wide and located just off the coast of Northumberland, it is a fantastic way to spend a day trip from the tourist town of Alnwick, or a visit to the North of England in general.
With imposing castles that whisk you back in time, quaint cottages that make you dream of the sleepy English island life, and wide, rugged coastal shores – a Holy Island day trip is sure to captivate you in one way or another.
The most mystical part of a Holy Island day trip is that it can only be visited during low tide. The causeway connecting the mainland to the island is built on low sandy shores, making it inaccessible during certain times of the day. The tides however usually allow for around 6-7 hours of daytime exploring, which is an ideal amount of time to discover all that Holy Island has to offer.
Here is a suggested itinerary of how to spend a fantastic Holy Island day trip.
PIN FOR LATER:
Getting to Holy Island
Holy Island is located 10 miles south (a 15 minute drive away) from the Northernmost town in England, Berwick-Upon-Tweed. 65 miles north (1.5 hours away) is Newcastle, the large university city and former industrial powerhouse.
The island is best accessed by car via the small hamlet of Beal as public transport options are poor. A local public bus (route 477) runs during the summer months to Holy Island via Berwick-Upon-Tweed. However be warned: it is very infrequent, sometimes only once per week!
Shuttle buses now run from Northumberland's mainland to Holy Island during low tide hours.
As mentioned, Holy Island is a tidal island. That means that when the sea levels rise, you cannot access it via the road from Beal (otherwise known as the causeway) as it floods with the Northern Sea. Of course that also means if you're already on the island at high tide, you can't leave it until it goes back out!
It is important that you research the causeway crossing times before you set off for your day trip to Holy Island.
A Holy Island day trip itinerary: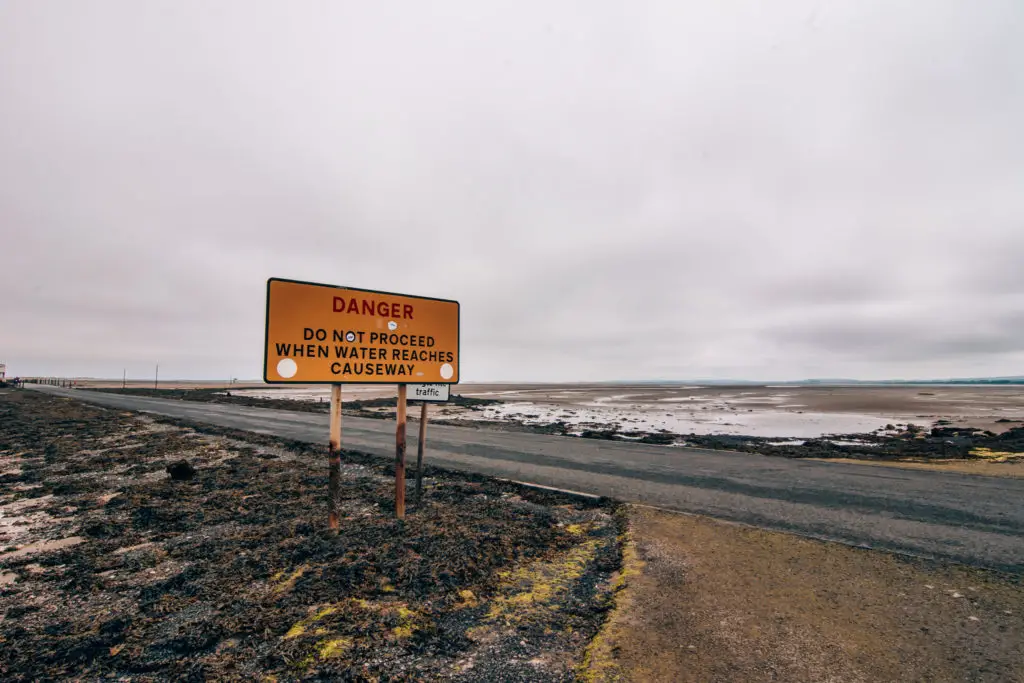 Discover Lindisfarne Castle
Lindisfarne's position on the North Sea made the island a vulnerable target from Norsemen and Scots. In order to protect the isle, Lindisfarne Castle was built in 1550 using stones from the dissolved priory.
Perched at a great vantage point atop a basalt hill, the castle blends into the rocky mound as if it were a planned natural design feature. As a result of its stunning location and dominating skyline position, it is one of the most photographed castles in England.
A walk to the castle, with the coast to one side and green fields on the other, is one of Holy Island's most popular activities.
If you want to go inside this National Trust property, there is a dramatic steep walk to the entrance but it is a worthwhile task once you are inside. The castle isn't always open though, so it is best to check opening hours on the National Trust website beforehand.
Enjoy Local Seafood
After your walk and visit to Lindisfarne Castle, you will probably have worked up quite an appetite. Luckily there are a mixture of traditional English pubs, restaurants and cafes in the centre of Holy Island for you to choose from.
For hearty beer battered fish and chips served in a cosy British pub atmosphere, head to the Ship Inn. However if you want to grab something to eat whilst exploring the beautiful, quaint streets, make sure it's a fresh lobster roll from one of the street-side seafood vans.
There is a great gourmet dining scene in Holy Island so you'll want to make sure you stock up on great local produce.
Try Traditional Mead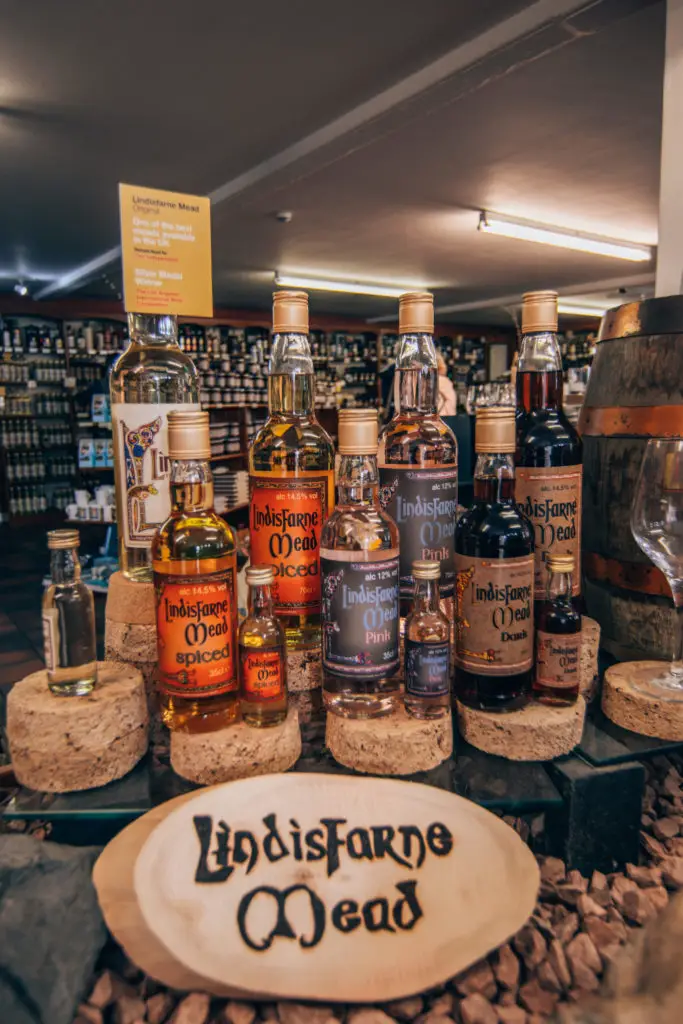 Once you have lined your stomach, head to St. Aiden's, a traditional mead shop to enjoy plentiful tasters of this delicious alcoholic beverage.
I'm sure mead is something that not many people drink, or have even tried before, so it really is an exclusive 'must-do' stop on an island tour.
Made by fermenting water, honey and sometimes fruits and hops, mead is actually one of the oldest alcoholic drinks known to man. Throughout its ancient history, it has even earned the nickname of 'the nectar of gods'!
There are so many different varieties of mead; blended with anything from cherries, blackberries and orange to warm spices, elderflower and ginger!
The versatility of mixing this spirit is astounding – some you can drink like a gin with tonic, some like a spiced rum with coke and others straight as if it were a fortified or dessert wine – yum! A bottle of Lindisfarne Mead would make a really original gift idea for an alcohol drinker.
If you don't drink alcohol, a visit to the mead shop is still a really eye-opening experience regardless. There are lots of other local products and produce on offer such as soaps, honey, chutneys, confectionary and much more.
Step Into the Past at Lindisfarne Priory
The Priory on Holy Island was, at the time, one of the most important centres of Christianity in Britain. Founded in 635, it was raided by the Vikings over 150 years later in 798, sending shock waves through Anglo-Saxon England. This event is often pinpointed as the start of the Viking Age in England.
You can learn all about the Priory's part in this landmark historical event and the life of the monks here in the interactive English Heritage museum.
The Priory itself is just ruins now, but gaze upwards towards the dramatic arches and crumbling walls set against a backdrop of isolated island life, and you can be transported to the tranquillity once savoured by the resident monks.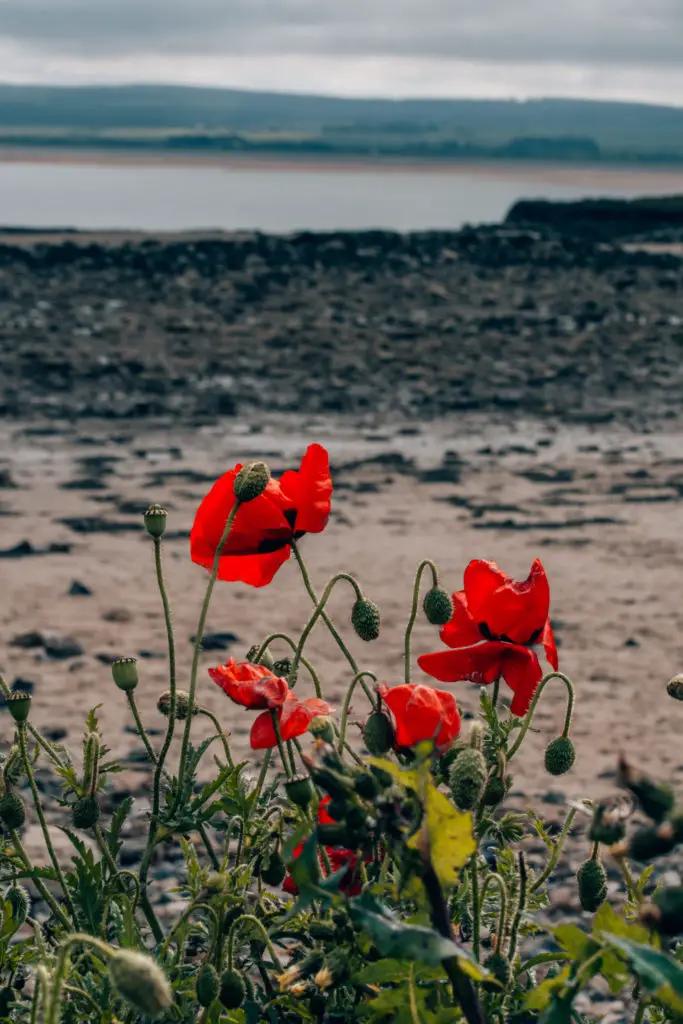 Visit St. Mary's Church
Just next to the ruins of the Priory, you will find a small historic church called St. Mary's. It is the oldest building on the island, retaining many parts of its original Saxon structure.
From the outside you will no doubt be drawn to admire the stone which blends in so perfectly with the surrounding historic dry stone walls and rocky beach.
The flower beds outside the walls of St. Mary's are gorgeous in the spring or summer, overflowing with colourful flowers and foliage. From this walled path, you can walk out onto the sweeping sandy shore to explore some miniature sub-islands.
Inside, this deceptively large church is peaceful. It's well worth taking a few minutes to sit and enjoy the buildings antiquity.
Along the south aisle you may notice an elm sculpture titled "The Journey" which was carved largely with a chainsaw. It depicts six large hooded monks carrying St Cuthberth's coffin, a journey undertaken by the monks of Lindisfarne.
Indulge in Local Ice Cream and Fudge
Before you leave, grab a home-made ice cream or block of fudge from Pilgrims Fudge Kitchen to enjoy on your final walk around Holy Island. The honeycomb caramel fudge is incredible so you may want to stock up!
The store is also attached to a cute Celtic Craft shop if you're interested in browsing some unique souvenirs.
To Know Before You Go to Holy Island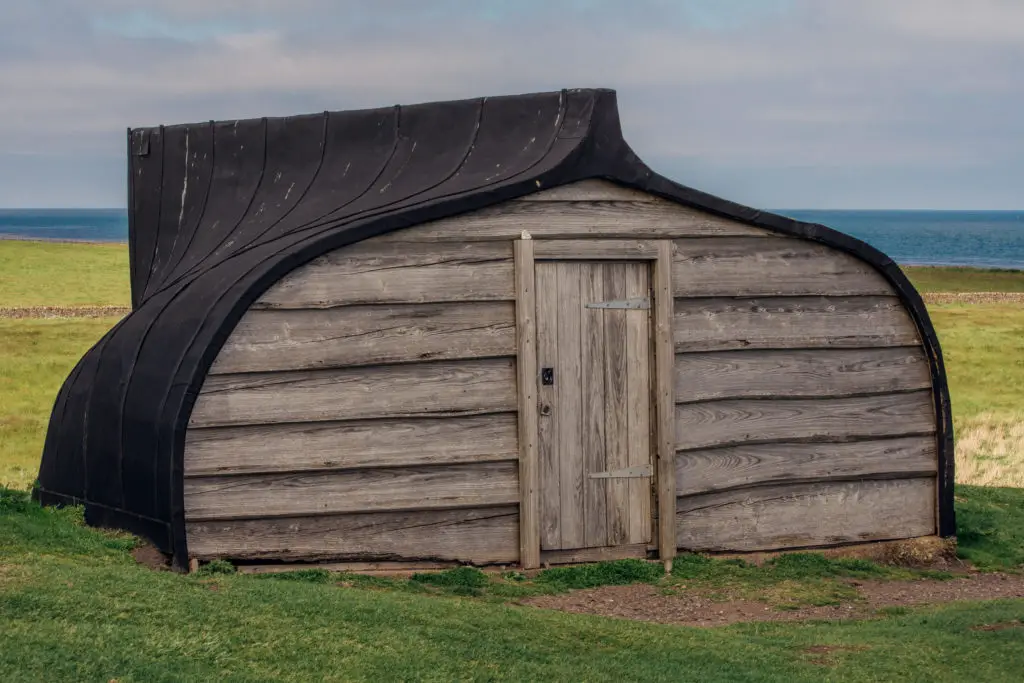 Parking & Respecting Locals:
If you drive to Holy Island, to respect the locals who live on the small island, you will need to ensure you park at the designated tourist car park.
This is on the left hand side about 2 minutes after you have driven onto the island. From here, it is only about a 3 minute walk along the main road to the centre.
Tourist cars parked up on verges (avoiding paying the couple of pounds car parking fee), clog up the narrow roads, block driveways and destroy local flora on verges and hedgerows.
They're an inconvenience to residents and of course become eyesore when you want to take pictures of the cute streets!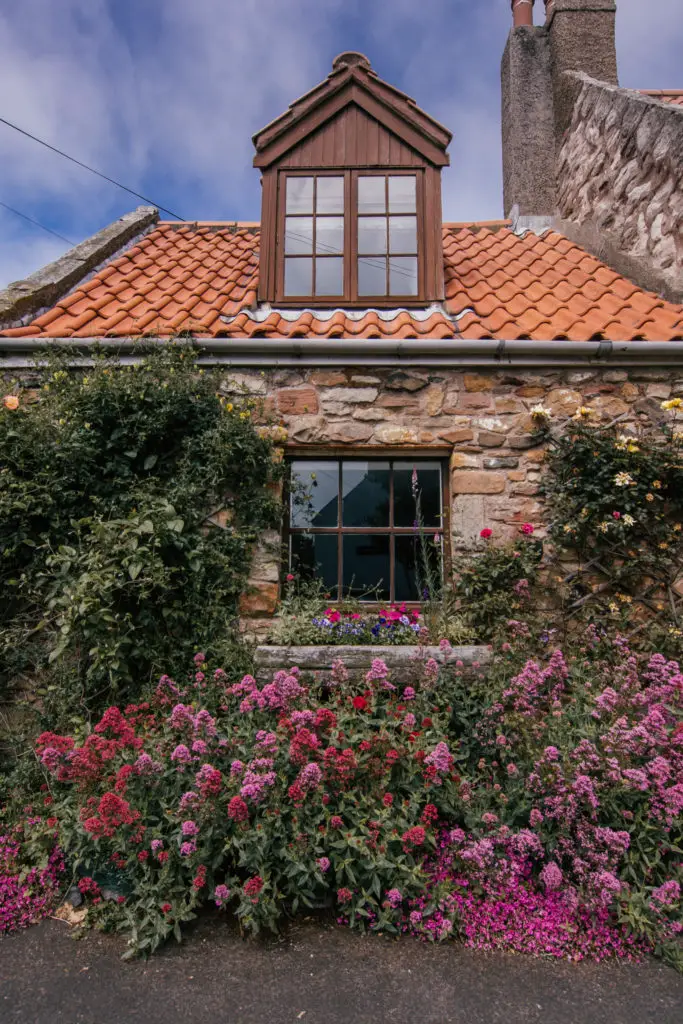 The houses on Holy Island are very attractive and you may want to do a bit of imaginary window shopping. Just make sure you respect the privacy of those who live there and avoid looking through windows or standing in their doorways.
---
Holy Island is a much loved holiday destination for both tourists to Northumberland and locals. The abundance of nature walks, history and foodie spots makes it an appealing and memorable outdoor day excursion for all. Enjoy your Holy Island day trip, and perhaps next time you'll be back for longer!
*This post may contain affiliate links meaning should you purchase a product via this link, I'll earn a small commission at no extra cost to you. These are still products I use or believe in regardless. See my privacy and disclosure policy for more.*