We all have one of those friends who is forever coming up with crazy ideas. They're the kind of people who are infectious to be around. But there are probably only a few of us who have friends that regularly action their far-fetched ideas.
Well, I appear to be one of the lucky ones. Let me introduce you to my good friend and ultimate travel inspiration, Aled Davies.
With nine years in the military as his background, Aled's life now revolves around jetting off on sudden whims to obscure lands, often with little more than a tent, some money and his GoPro.
But what gets me most about his travels is not the destinations themselves, or spontaneity of how his trips come about, but the fearless (and to be honest chaotic) way he approaches travel situations. Trekking in the desert with no fresh water? No biggie. No food for 24 hours? Slightly inconvenient. Whereas others may perceive these as life-threatening situations, it's all in the name of adventure for this one.
Off the social media radar, he's not doing it for the Gram, or to low-key brag on Facebook. He's doing it because he has an undying hunger for life and adrenaline-inducing adventures. Aled is to me the epitome of a free spirit and his wild stories completely motivate and inspire me to become a more fearless traveller.
I caught up with him to share with you what I think is one of his most hilarious adventures; cycling Europe from his doorstep in London to Greece.
From getting arrested in Macedonia to getting attacked by wild dogs in Montenegro, his cycling expedition highs and lows certainly make for a good read.
So, you recently embarked on a rather spontaneous trip cycling Europe with no prior training or experience. What made you want to do it?
To be honest, I needed to go back to Santorini. I was going to fly and then I suddenly just thought, I can cycle!
I spoke to some people about my idea and they told me I can't cycle, it's too far. So instinctively I said, screw you, I'm going on a mountain bike, just watch me.
I have a few friends who have taken part in Ultra Marathons and Iron Man's and other long distance endurance races, so I approached them about equipment, training etc. But all of them were like "so how are you going to do it? How much training have you done?" I said, none! Every one of them said it's too much, you absolutely have to train for this sort of stuff. You have to buy the bike, you have to buy the trailer and have proper navigational equipment and pre-plan everything. You can't just get on the bike and cycle.
So, I let it slip a bit and then when I left Iraq after work, I was on a Turkish Airways plane from Istanbul to London. I was looking through the on-board map of the countries they fly to. Then I got out a pen and drew a route on the map and decided sod it, I'm going to do it and I'm going to do it like this.
I got home, I put my bicycle in for a service, bought a trailer for £200 off Gumtree and then the day after it arrived, I set off with the map at 2am to Dover.
So where was first?
So from Dover I went to Calais, in and out through France, Belgium – I pretty much hugged the border. I went from gorgeous rural France and Belgium to cosmopolitan Metz which was so busy with cars, covered in graffiti and there were homeless people everywhere. There were literally people doing drugs in the street too so I decided to get out fast and hug the Rhine river towards Germany and Switzerland.
As I crossed the border into Switzerland, that is when I lost my wallet and the fun began!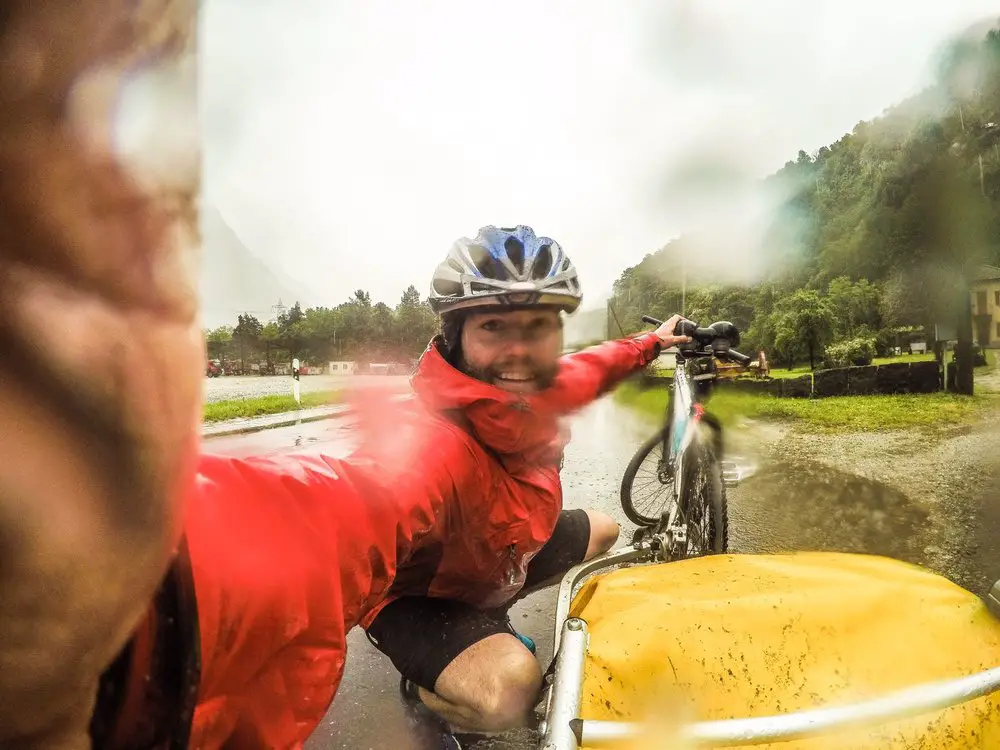 Typical you to have lost your wallet straight away! Tell me about how it happened?
I had bought some vegan croissants from Lidl. I had three pouches on the back of my cycling shirt. I kept putting food there so I could eat bread and apples whilst cycling. My little purse that I had bought in Africa was in one of those pouches. So as I was taking something out of my back pocket, it fell out without me even realising.
I arrived at the YMCA hostel in Basel, Switzerland and I was like damn! I had lost my wallet with $150 in it, my keys, all my cards. Everything. I thought that was it. I have to go back to the UK. It's over already. That was the first week! But I suddenly remembered I had one card left as a back up and as everyone kept telling me I couldn't do it, I thought, the show must go on!
I guess a week isn't too bad to encounter your first problem…
I actually had ones before that. The moment I got to Calais, the first night, my sleeping bag ripped too. So I had no warmth.
The weather was atrocious in France and Belgium. I mean, I was waking up in the rain, cycling in the rain and going to sleep in the rain. It was that cold. I also thought that I wouldn't pack too much initially so my trailer wouldn't be too heavy. I didn't pack a roll mat for example, I planned to just use clothes to put some distance between myself and the floor for warmth.
In reality the clothes weren't working and so I was waking up at 2am, every morning, so bitterly cold I had to get up and cycle just to keep warm. So literally every night, when the cold got too much, I got my waterproof on, all my head torches and just cycled in the pitch black in the rain!!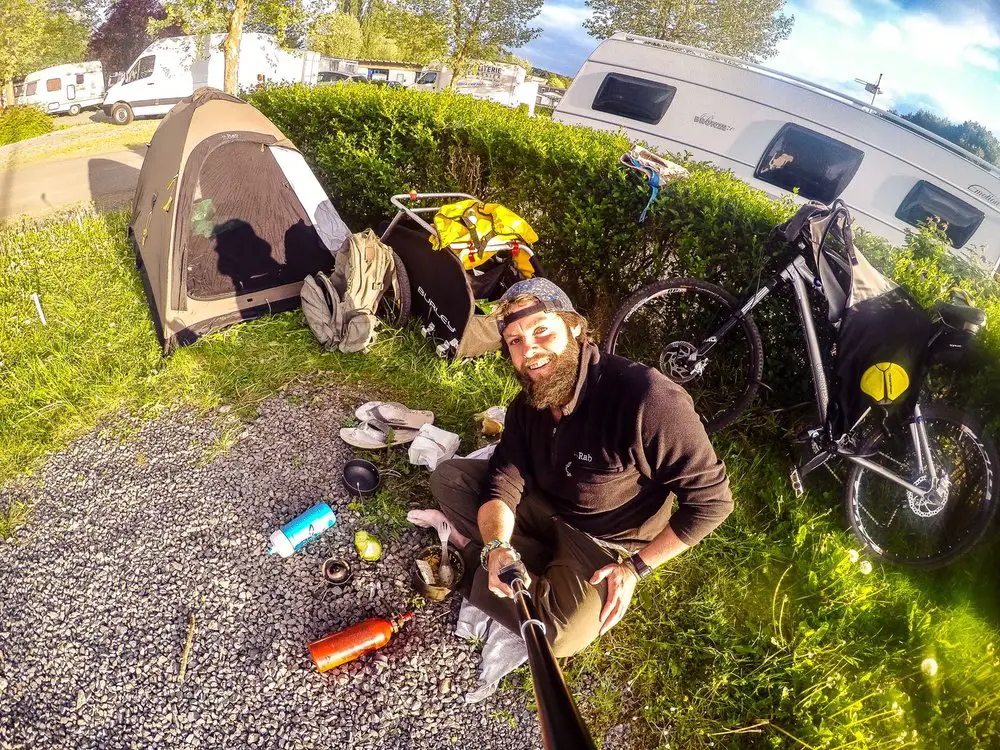 How did you navigate from country to country?
I can't remember routes and I can't really tell you specifics to be honest because it was all done off the cuff and with no real planning. However I met a German couple in a campsite somewhere near Saraberg. They looked at my bike and said I was crazy and asked where I've cycled from. They had all the high tech bikes and everything and asked how I was navigating. I said I was just picking a road and just going in that direction.
They thought it was outrageous and suggested a thing called Eurovello which are set cycle routes around Europe that are actually meant for cycling. So they showed me how to download the app and the route that I was meant to be cycling.
Thanks to them I pretty much followed the app until I got to Italy. But ironically that day when I went from Sarberg towards Basel, I got lost and accidentally cycled 140 miles just that day. I was fuming.
I didn't realise I was lost until I went past the same workmen three times. They were all waving at me and said 'you're back!'. I was like damn, I really have gone the wrong bloody way!
Tell me about the people you met…
When I left Basel and I was cycling up to the Alps, it was torrential rain, smashing it down. I got a puncture so I pulled in to fix it. Then set off again and got another puncture, then another and another. Because it was raining so much the glue wasn't sticking.
I was outside some houses frantically trying to sort my tyre and this guy just came out his house and started speaking in French to me. My extent of French is pretty much "Parley-vous anglais?" so I didn't get very far, but he literally just dragged me into his house, leaving my bike and trailer outside. He sat me down, made me a coffee and didn't say a thing. Then he went back outside, and weirdly as soon as he did, the rain literally stopped – the clouds parted and the sun came out. It was crazy. He then started to fix my bike.
I got my GoPro, went outside and said "Vive La France!" and started singing and then we started dancing and laughing, him speaking French, me speaking English back – it was great. I offered him some money and he wouldn't take a single Euro. He was the first of four people I met that helped me out who I will never forget.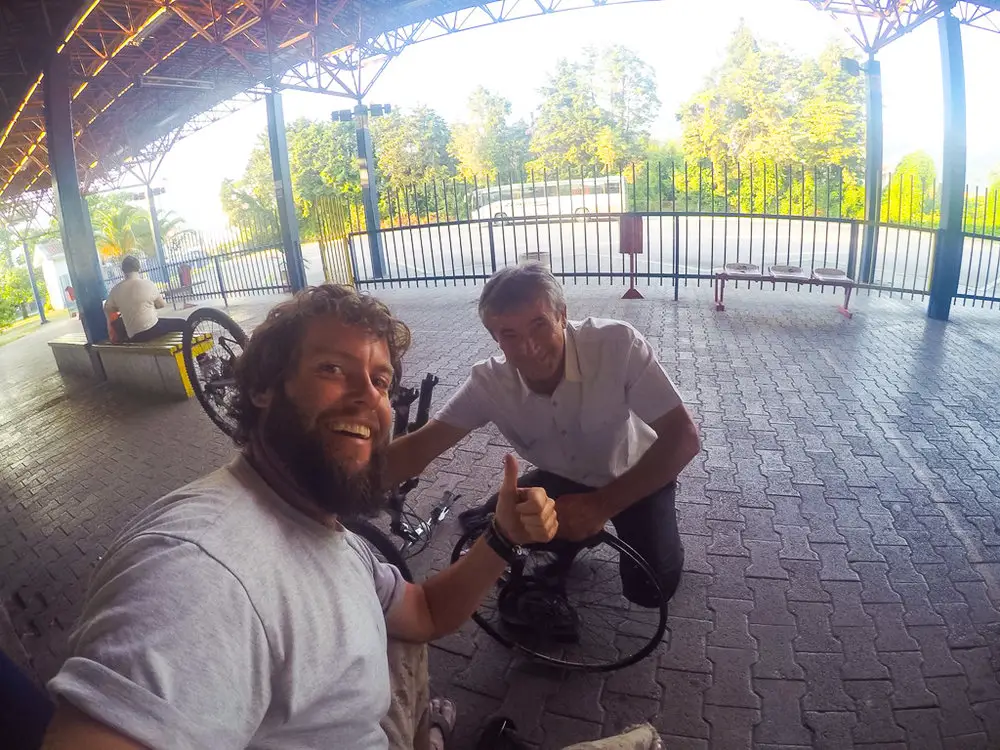 Then there's the other extreme. When I had one of many tyre blow out in Montenegro, I walked for hours trying to flag someone down. It was 36°C and I had run out of water. I knocked on someone's house as I was getting so desperate, and they said no. Then the second house I went to, the lady made me pay. But I was desperate so I gave her money, thanked her and got back to walking. 
Hours later I'm out of water again and tired, but someone finally pulls in to give me a lift. It was like a mirage. I was so happy and relieved. So I ran up saying thank you, thank you so much, over and over. But just as I'm about to get in, they accelerate and drive off laughing. 
I lost it. I threw my bike, smashed my helmet against the floor, threw my stuff everywhere. At that moment in time I hated everything absolutely everything about Montenegro.
That sucks, did it improve?
Immediately after that, no. As I had two flat tyres, I decided to walk with my bike. It was pitch black at this point and I'd been walking for about 9 hours up a mountain and when I finally got to the top, I decided I was going to ride it down the other side. It was black, absolutely pitch black. I had my head torch on and all you could see were these gleaming eyes in the dark and I was like shit!
There was this huge pack of dogs barking viciously at me and there I was riding on two flat tyres. I thought, I can't go back because of my tyres so I'll have to cycle downhill through them. But they were vicious so if I had fallen off, I was going to be dinner. So there I was getting chased by this wild pack of dogs and it wasn't even the first time!
In Bosnia there was a dog foaming at the mouth who just lurched out the bush and started chasing me. I cycled as fast as I could with a trailer but it wasn't going away. I threw my water bottle at the dog and it just made it even angrier as it started to try and bite my foot. I swung left to cross the road out of its path but suddenly a car appeared and it nearly hit me. However instead of hitting me, it hit the dog and it crumpled to the floor! I felt awful. I went back to get my bottle and the dog had disappeared!
But there were some amazing parts, like when I was in Italy, around Lake Como. That was phenomenal, the views were so gorgeous. The people in Italy were so friendly and it also helped it was getting warmer, the weather was getting much better.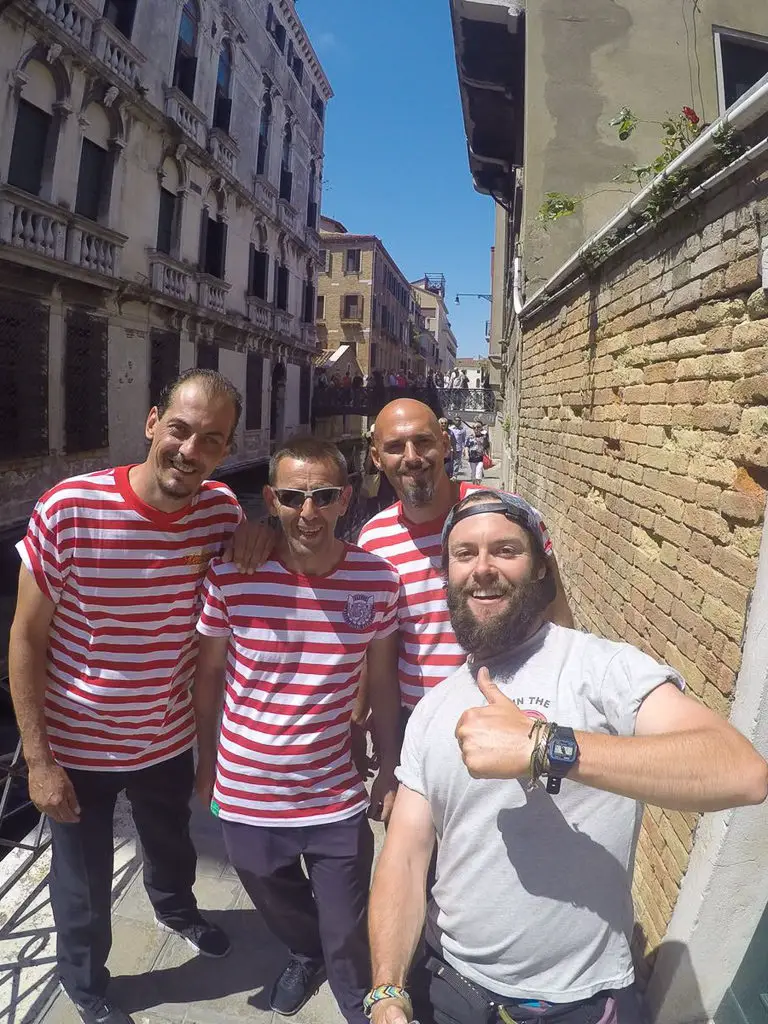 When I went towards Slovenia I also ran into a vintage car rally so for three days I followed it. Everyone was beeping their horns at me and messing around and I was going the exact same route, so that was really fun. 
Then I broke away and decided to hug the coastline and continue wild camping which I had done since the alps. It was easier to wild camp as I often ran out of water and so could drink out of streams and lakes. 
However I remember one time in Zadar in Croatia, it was the weekend and everywhere was shut and I was starving and needed to cook my food. I only had a tiny bit of drinking water which I needed to save but as I was on the coast I decided to boil my courgettes in salt water. I can tell you now it was horrific. Absolutely horrific.
Bosnia was where I really started to enjoy it though. The people were so friendly. I was cycling through these poor villages and all these children were running after me and cheering. I also knocked on people's doors asking for water and if I could camp on their land and they were so happy to oblige which was really nice.
People came and brought me beers. They were legends. I would be cycling in the morning and people would offer me vodka and beg me to come and drink with them! It was crazy. Bosnia was amazing, it was my highlight.
You hear bad things about Bosnia but the people just couldn't do more for me, always offering me food and water. There was even this one guy who started filming me. He said he had a website and so he followed me for two days. No idea who he was or where that footage is though but that was fun.
But then it wasn't long before things went tits up again!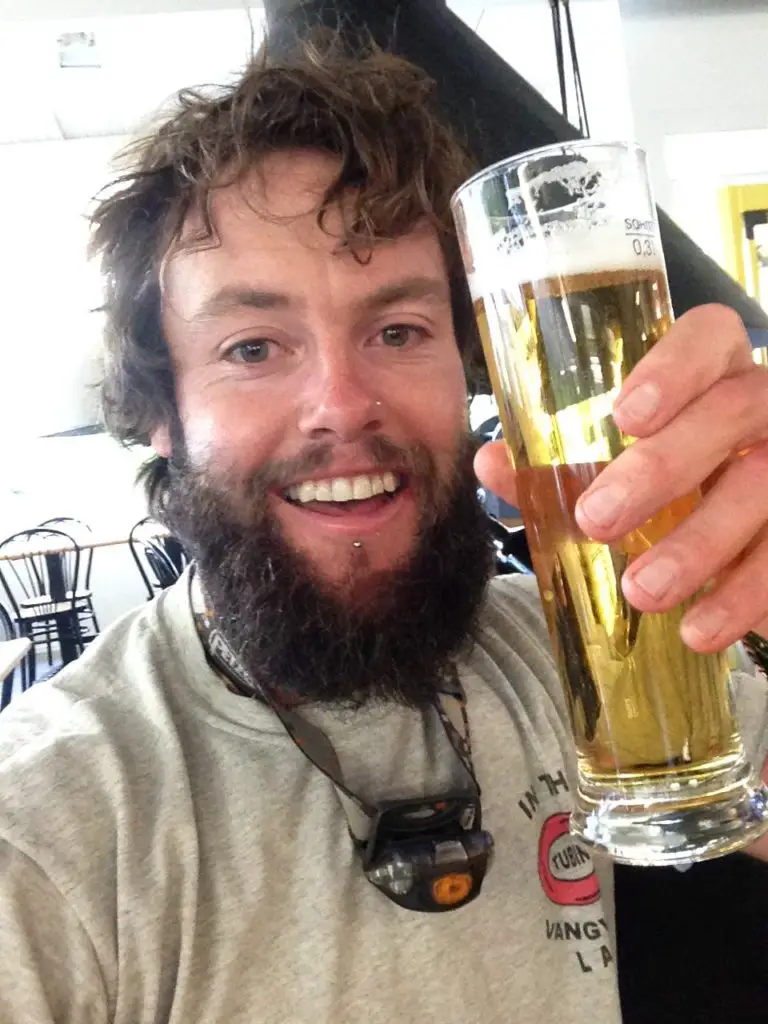 Oh no, just as it was all looking up too! What happened?
I got arrested. So, I had just crossed from Kosovo into Macedonia and for those who do not know the region, Skopje, the capital of Macedonia, is only 20km from the border crossing in Kosovo. I had been cycling through the night and decided to carry on (which was a mistake) to get to the capital to have a well deserved two-day rest before my final leg into Greece.
I arrived into the capital and was about to check into a hotel, when I turned around to find my bag missing from my trailer. Instantly, my heart dropped and I went into a flat spin of anxiety. I immediately cycled back to the border crossing of Kosovo to see if it had fallen off. I arrived at the border crossing and was greeted by police who were asking why I had returned.
All I could do was go back to the hotel to explain my situation. I had no money to pay her to stay but I begged and promised her I'd pay her double as soon as I could. She told me I had to go to the police station to get a statement to prove my story and then I could stay, so I went.
However on arrival I got arrested and then placed into in a prison cell. The police officers then proceeded to interrogate me for 8 hours. They did not believe that I had been cycling Europe from London and kept asking me over and over for proof of identity – which I obviously did not have!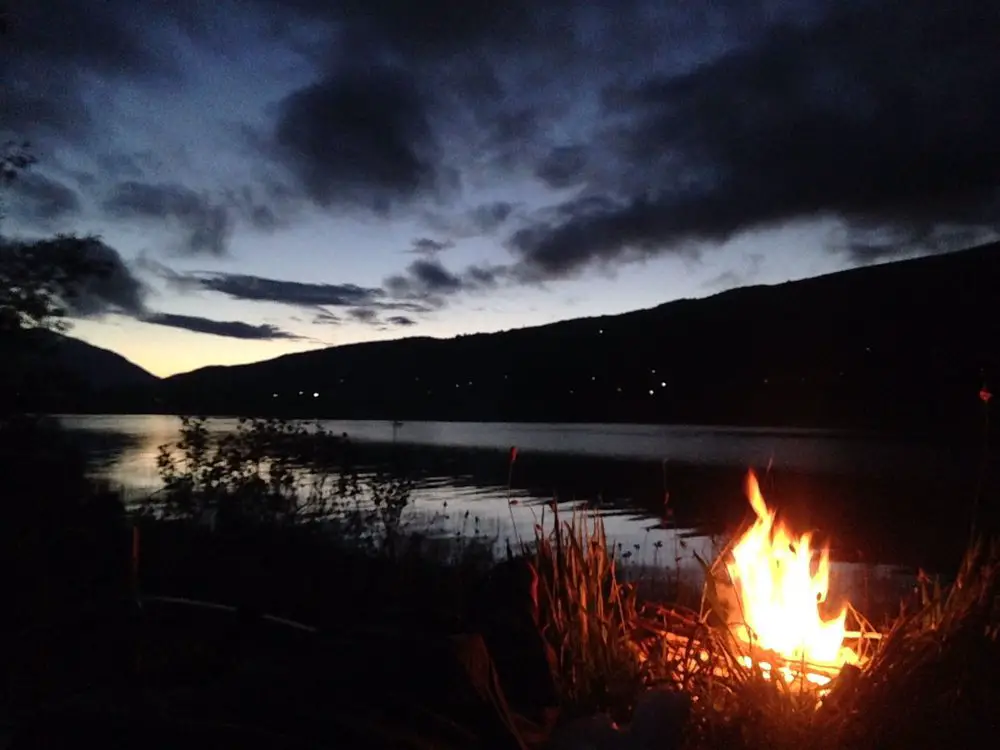 Frustrating! What would you say was your best moment though?
It was when I got to a lake in Bosnia. I had not had any proper human interaction for a few days and at this stage of my trip, my biggest worry every day was what lake I would camp at and what beer I would be drinking while watching the night sky.
I remember that night as the sky was crystal clear and I was listening to Ludovico Einaudi's, 'Nuvole Bianche'. For the entire four minutes of the song, I was untouchable and finally achieved mindfulness after years of suffering from events that happened to me in Afghanistan. It was a moment that really changed me and a feeling I will never, ever forget.
What an adventure, thank you for sharing it with me Aled and can't wait to hear about your next ones!
PIN ME FOR LATER:
*This post may contain affiliate links meaning should you purchase a product via this link, I'll earn a small commission at no extra cost to you. These are still products I use or believe in regardless. See my privacy and disclosure policy for more.*