The Yorkshire Dales are a well known beauty spot in Northern England, famous for a combination of protected rolling hills and valleys, unique landscapes and ancient woodland interspersed with handsome historic stone villages and towns.
The area's unusual geology and wet weather (typically around 60mm of rainfall per month), results in an abundance of wonderful waterfalls. In fact, there are over 50 Yorkshire Dales waterfalls to explore! Everything from relaxing, undulating 'stepped' falls, to dramatic single drops, even magical hidden woodland cascades.
Water, in its various forms, has played a major role in shaping the topography of the Dales. During the Ice Age, retreating glaciers exposed underlying softer carboniferous limestone. This subsequently eroded over time, forming beautiful undulations in the landscape, many rivers, (locally known as 'becks'), and of course some spectacular waterfalls too!
You really are spoilt for choice when deciding which Yorkshire Dales waterfalls to visit. In this list we present just 8 of our favourite, to admire on your next visit to this fantastic part of the world.
PIN FOR LATER:
*This post may contain affiliate links meaning should you purchase a product via this link, I'll earn a small commission at no extra cost to you. See my privacy and disclosure policy for more.*
---
Aysgarth Falls – Aysgarth
Waterfall information:
For over 200 years, serene Aysgarth Falls near Leyburn has been attracting tourists and famous artists such as painters Turner and Wordsworth. In fact, it is one of the most visited out of all the Yorkshire Dales waterfalls, and for good reason.
Aysgarth Falls are actually a series of three waterfalls spread out along the wide river Ure, simply named Upper, Middle and Low Falls. Each part of the waterfall has a different character and together can be combined into an easy 3.5km (2.2 mile) woodland waterfall walk.
Waterfall character:
Low Force is the most gentle of the falls as it has multiple gentle 'steps'. Middle Force is the most picturesque as it has the longest drop of them all at 2 metres high, as well as a lovely backdrop of the extremely attractive St Andrew's Church. High (or 'Upper') Force is the most vivacious.
Aysgarth Falls is best visited after heavy rain to see each of the falls at its most dramatic.
How to get to Aysgarth Falls
Aysgarth Falls is well connected by the A684 and best reached by car. There is a paid National trust Visitor Centre carpark near Middle Falls, and another carpark at the Falls Coffee House and Gift Shop where you can walk down to the falls.
There is also a regular bus service between Leyburn and Hawes to the village of Aysgarth. The National Park Centre and Falls are a 10 minute walk away from the bus stop.
Hardraw Force – Wensleydale
Contributed by Maja from Away with Maja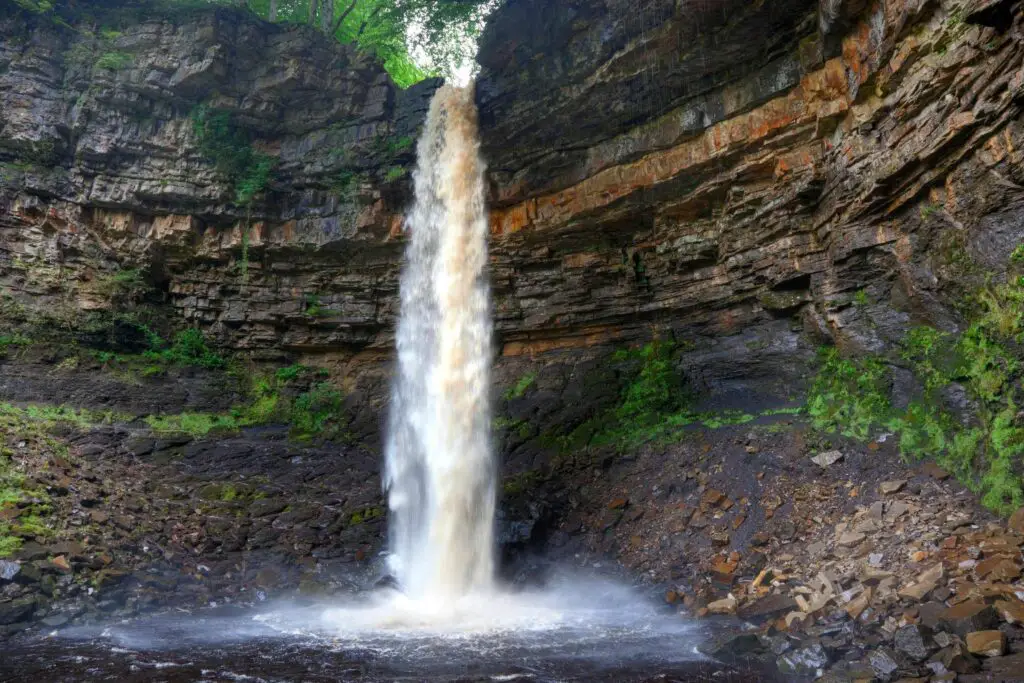 Waterfall information:
Hardraw Force is a beautiful waterfall in Wensleydale, in the Yorkshire Dales National Park. Hardraw Beck flows through into a single drop waterfall, which is 100ft (30m) high.
Hardraw Force is located on private land, so please note there is an entrance fee in order to visit the gorge and waterfall. The costs are £4 per adult and £2 per child (under 5s are free), payable at the heritage center (which also has a tea room), next to the Green Dragon.
Waterfall character:
Hardraw Force claims to be the longest unbroken waterfall in England and the surrounding gorge creates a dramatic natural amphitheater. In the rock, distinct layers of carboniferous limestone can be seen.
This waterfall was even featured in the 1991 film Robin Hood: Prince of Thieves! in the scene where Maid Marian catches Robin Hood bathing under a waterfall.
How to get to Hardraw Force:
There is very limited public transportation to Hardraw. The Little White Bus operates between Gayle and Garsdale Station, stopping at the Green Dragon. It's easiest to visit with your own vehicle or as part of a hike.
It is a short 10-minute walk to see the waterfall from the entrance point at the Green Dragon pub. There is a car park here, or you can enjoy a nice countryside walk from the nearby village of Hawes.
Janet's Foss – Malham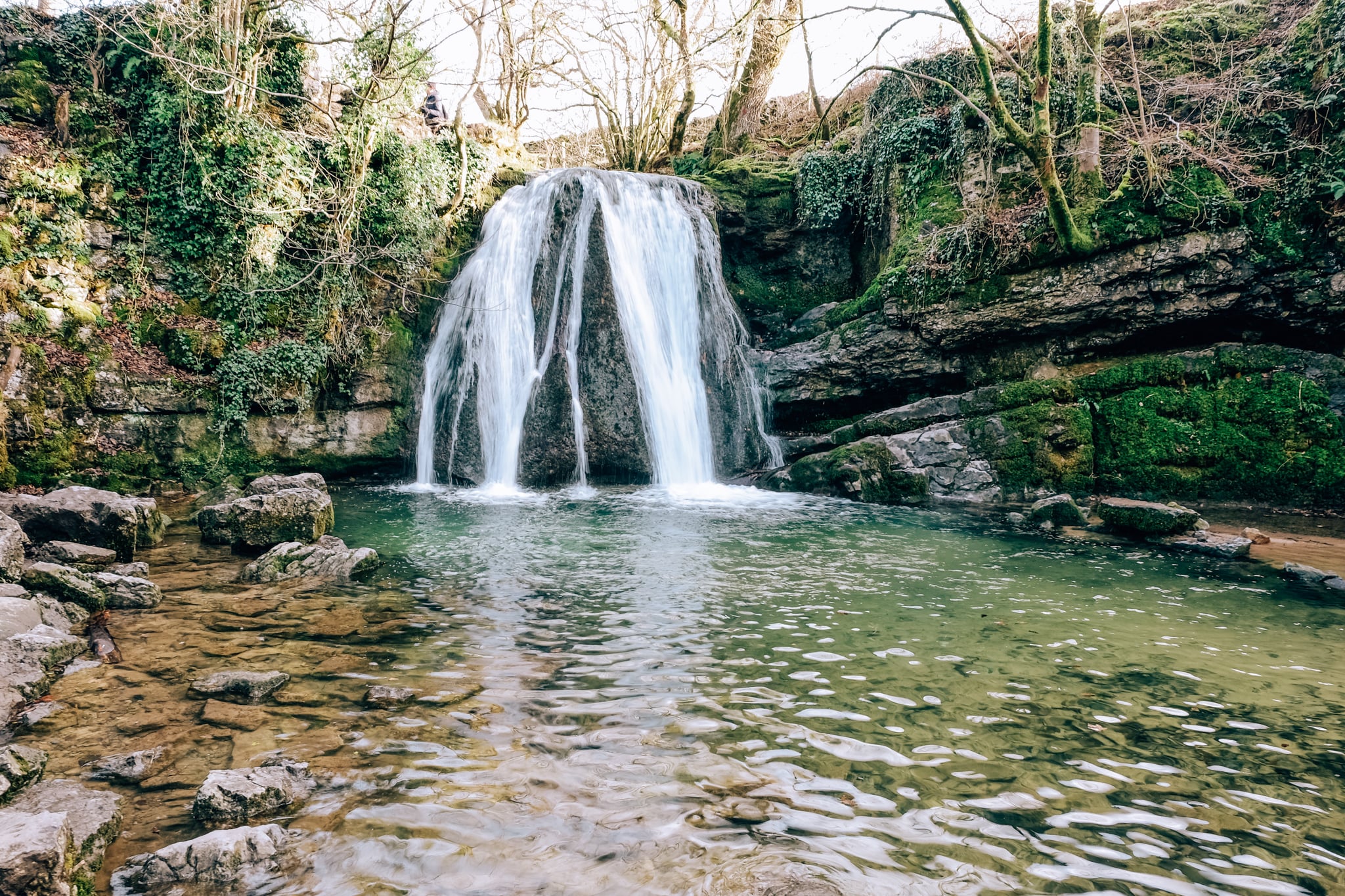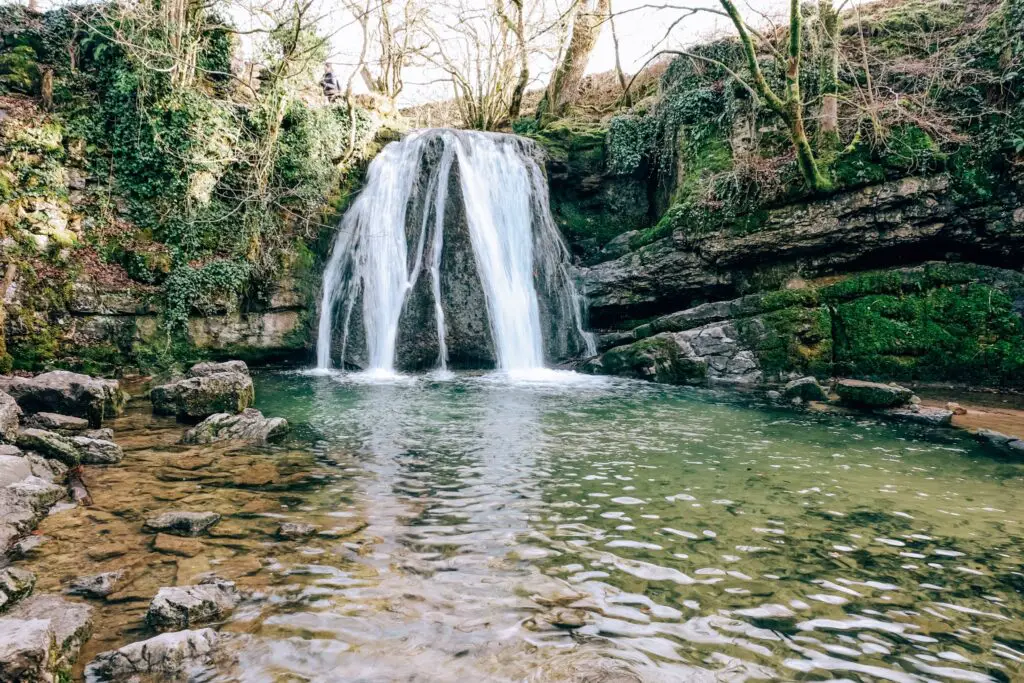 Waterfall information:
Janet's Foss is an extremely pretty and understated Yorkshire Dales waterfall, located near the village of Malham. Gordale Beck cascades over a smooth rock about 4 metres high, and into a large pool.
The water here is often crystal clear having been filtered through limestone. This, combined with the size and depth of the pool, makes Janet's Foss appealing to wild swimmers who visit all year round from across the country. And yes – even in winter!
Waterfall character:
Janet's Foss is as magical as its name, as it is believed that Janet, (or Jennet) the Queen of the Fairies, lives in the small cave to the right of the waterfall.
The waterfall can be accessed through pretty National Trust owned woodland, which in spring is carpeted in bluebells and wild garlic. The small rock amphitheater is covered in ivy and moss, adding to the atmospheric setting of this lovely small waterfall.
How to get to Janet's Foss:
Malham is roughly a 20 minute/11 mile drive away from the market town of Skipton and an hour and 10 minutes/ 38 miles away from Leeds.
This waterfall is best accessed via the fantastic Malham Circular Walk, a 8-9km loop of Malham's iconic geological wonders. It includes Gordale Scar (which is also on this list of Yorkshire Dales waterfalls), and Malham Cove & limestone paving.
Alternately, you can just drive along the small laneway to Gordale Bridge to park, and walk down to Janet's Foss.
Ingleton Waterfalls – Ingleton
Contributed by Hannah from Get Lost Blog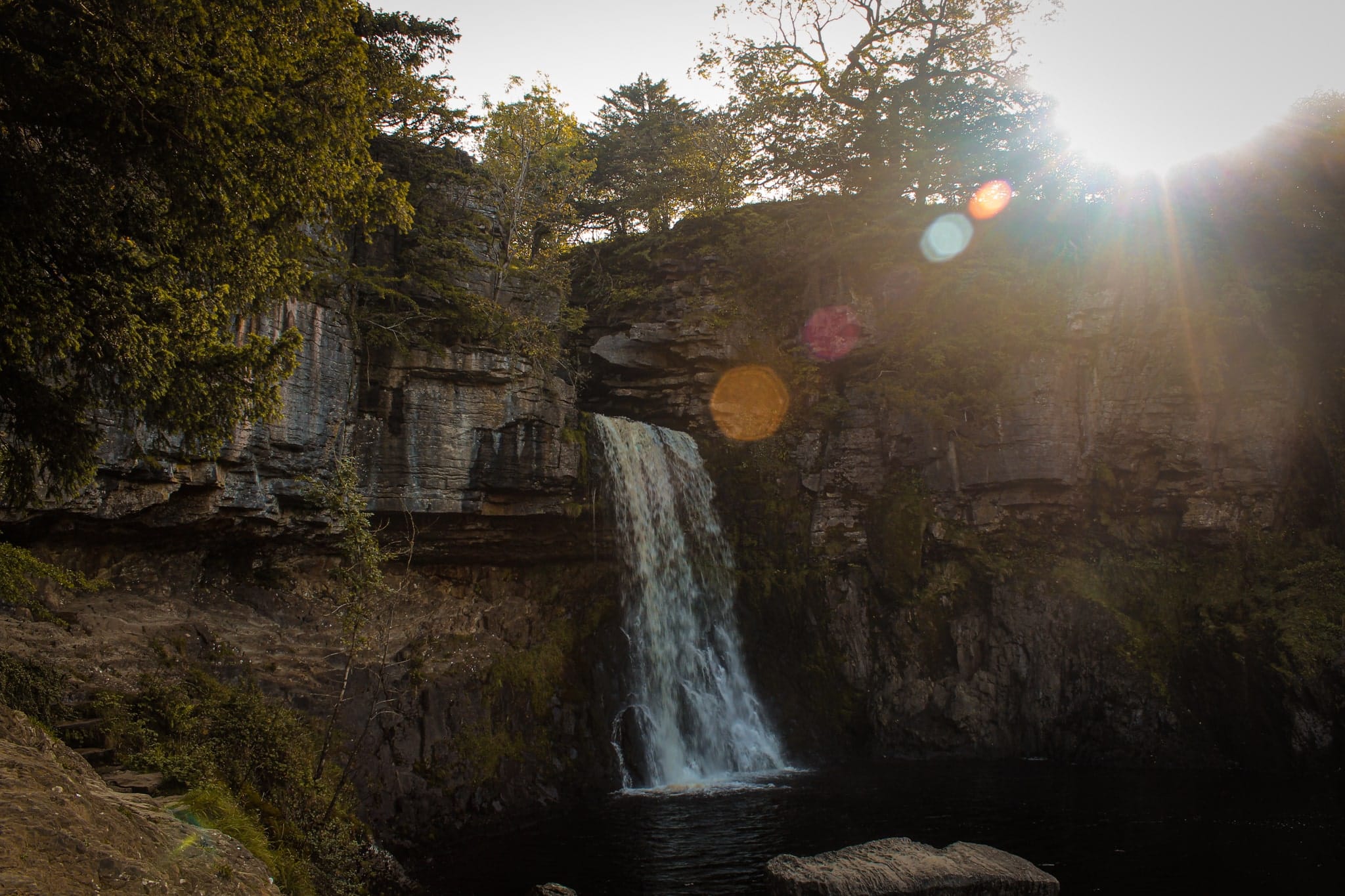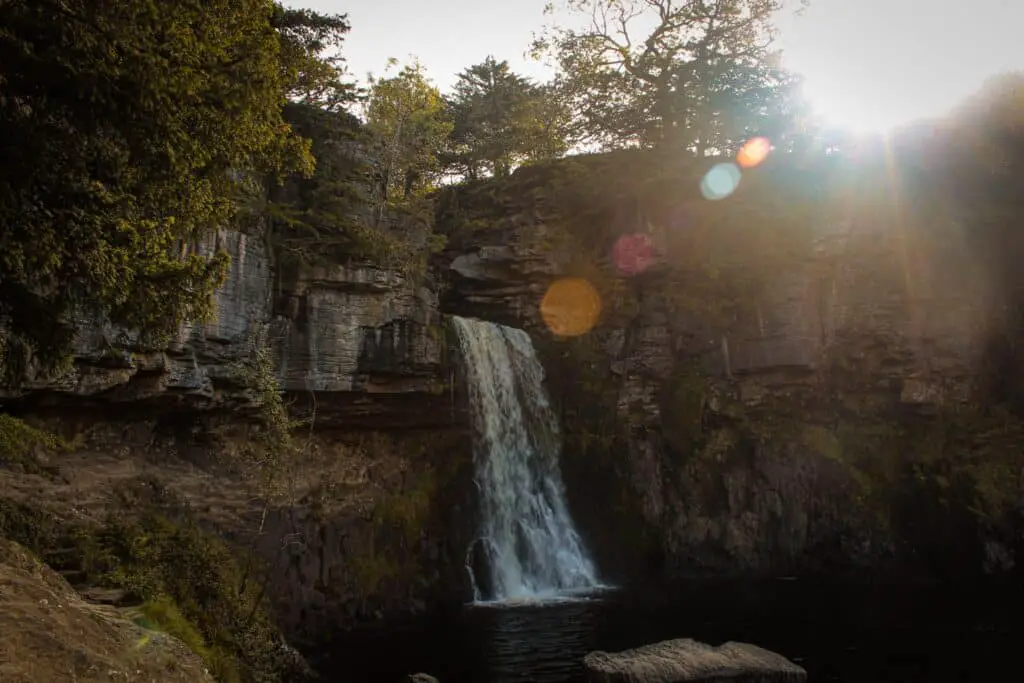 Waterfall information:
Ingleton Waterfalls Trail is a 4.5-mile circular route that follows two rivers: Twiss and Doe. It is on the western edge of the Yorkshire Dales in the town of Ingleton. The route takes in six varied falls including Pecca, Beezley and Snow Falls, Hollybush Spout, Thornton Force, and Baxenghyll Gorge.
The woodland paths are easy to follow but does get slippery in wet weather. It is unsuitable for wheelchairs or pushchairs. There is an admission fee and the whole route can take up to four hours to complete.
A handy tip is to arrive early – ideally aim to be the first through the gate when they open. The waterfalls trail is a magical experience when you have it all to yourself, but as the day goes on, you're battling crowds for the best views!
Waterfall walk character:
Along the length of the walk, you will not only encounter a variety of spectacular waterfalls, but also wonderful woodland gorge areas, which are part of a larger registered Site of Special Scientific Interest.
How to get to the Ingleton Waterfalls Trail:
With limited public transport options, driving is the easiest option to get to Ingleton Waterfalls Trail. There is an onsite car park (LA6 3ET) which is free for ticket holders, but it fills quickly.
There are bus services (581) from Settle to Ingleton but these are approximately every 2 hours.
Gordale Scar – Malham
Contributed by Paulina by UKeveryday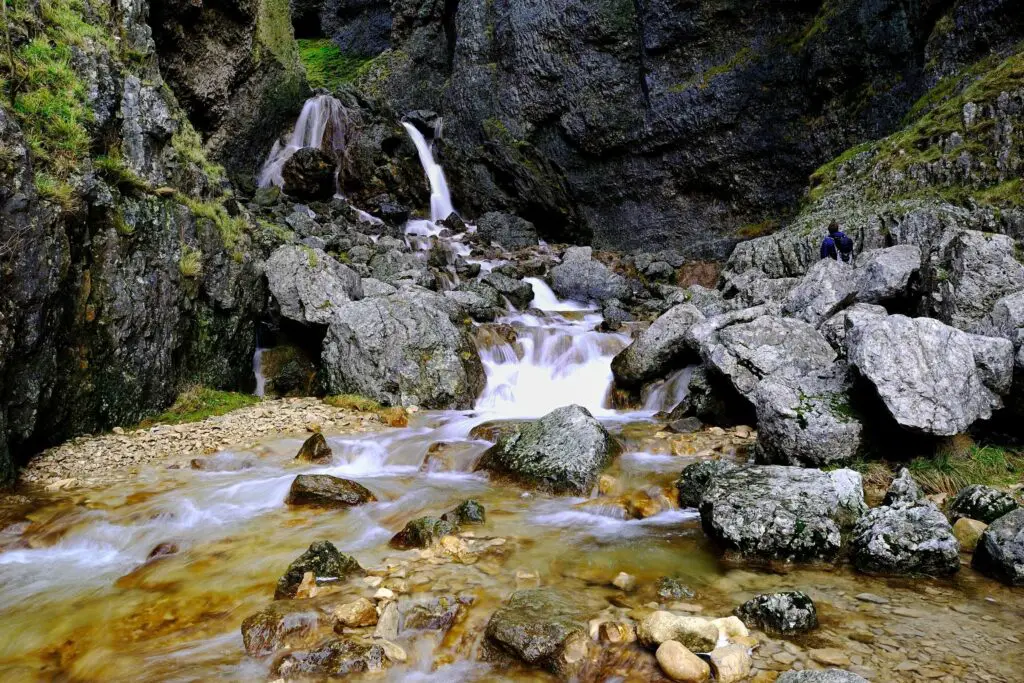 Waterfall information:
Beautiful setting of Gordale Scar is a true sight to behold in the Yorkshire Dales National Park. Water from the hills tumbles over 100m high limestone cliffs, hitting the rocks and splitting into two, creating a very interesting double waterfall in the heart of Gordale.
Gordale Scar is a very popular destination so try to avoid visiting it during weekends or public holidays.
Waterfall character:
Gordale Scar looks completely different depending on the season. You can admire the more gentle waterfalls in the summer, or see them forceful and moody in the winter.
Any time of the year is great to visit this amazing place, as the surrounding dominating limestone cliffs of the Scar as you approach the falls, offers an unforgettable experience.
How to get to Gordale Scar:
Those remarkable waterfalls are part of the Malham Cove circular walk. In around two hours you can explore beautiful waterfalls, interesting geological features and this amazing limestone gorge. This short hike is a great choice for everyone, especially for those who love backpacking trips.  
The Yorkshire Dales National Park Visitor Centre in Malham is the best place to park when visiting Gordale Scar. Remember to arrive as early as possible though because there are limited parking spaces.
Kisdon Force – Keld, Richmond
Contributed by Sinead from York with Kids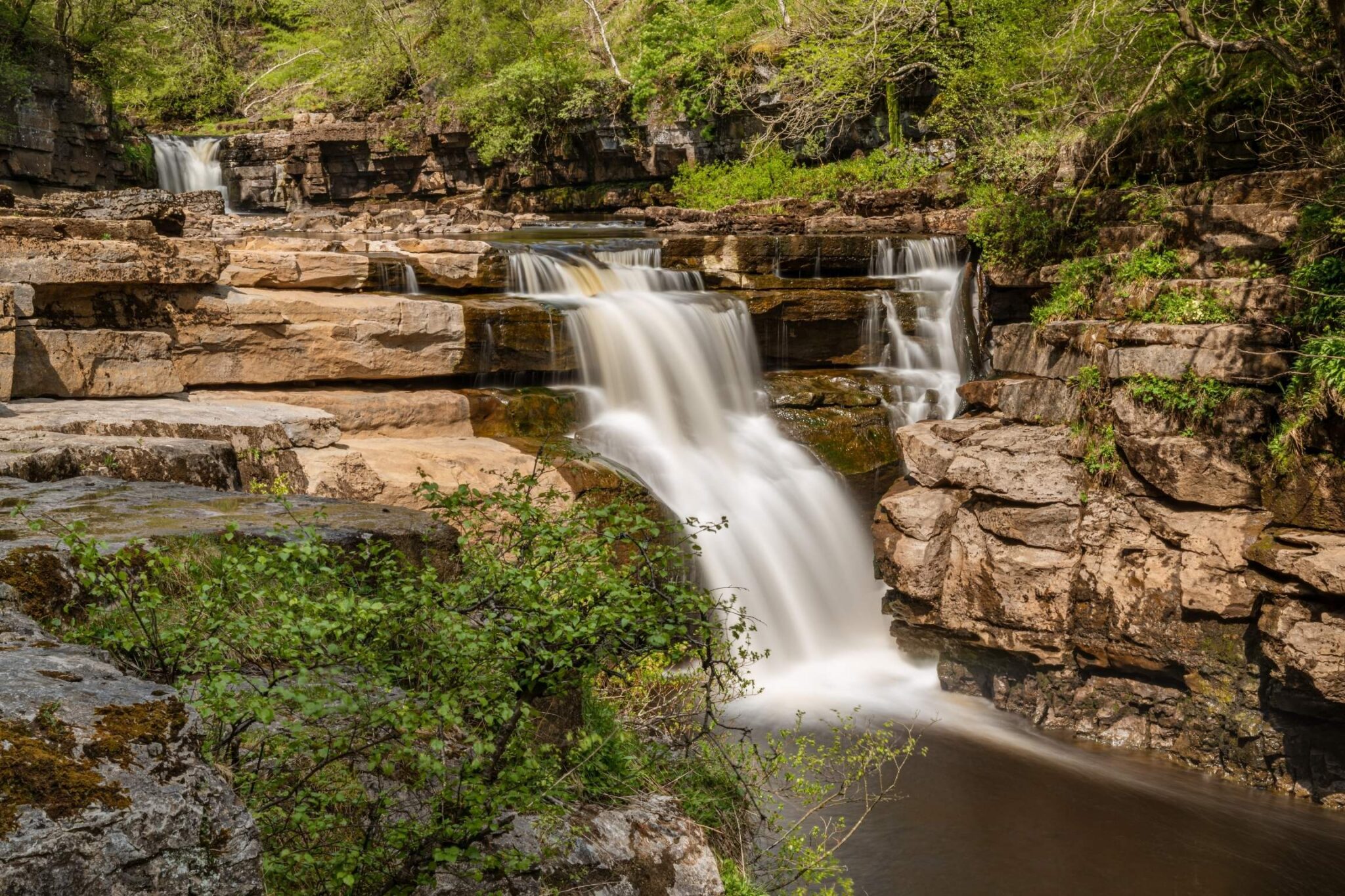 Waterfall information:
Kisdon Force comprises of two waterfalls: Upper and Lower Kisdon Force. The waterfalls feed into the River Swale in Upper Swaledale near the village of Keld. 
The two falls have a combined drop of 10 metres (or 33 feet) and both falls have a large plunge pool that is popular with wild swimmers. You can walk to Kisdon Force from Keld, a short 500-metre walk, but the final section of the path is very steep and can be slippery in wet weather.
Waterfall character:
The waterfalls have a beautiful and tranquil woodland setting in Kisdon Force Woods, a Site of Special Scientific Interest.
The trees and an open grassy area make this an ideal spot for a picnic or a runaround in the Yorkshire Dales with kids. 
How to get to Kisdon Force:
Kisdon Force falls can only be reached on foot from Keld and lie on the long-distance Pennine Way walking trail. They can also be reached via a 6-mile circular walk from the neighbouring village of Muker. This hike is particularly stunning in spring when the Muker wildflower meadows are in full bloom. 
Keld is best reached by car but you can also travel there by bus from Richmond. The Keld Lodge offers pub food or head to the Tan Hill Inn, England's highest pub, which is a short 15-minute drive away.
The Valley of Desolation/Posforth Gill – Bolton Abbey
Contributed by Claire from Why Visit Barcelona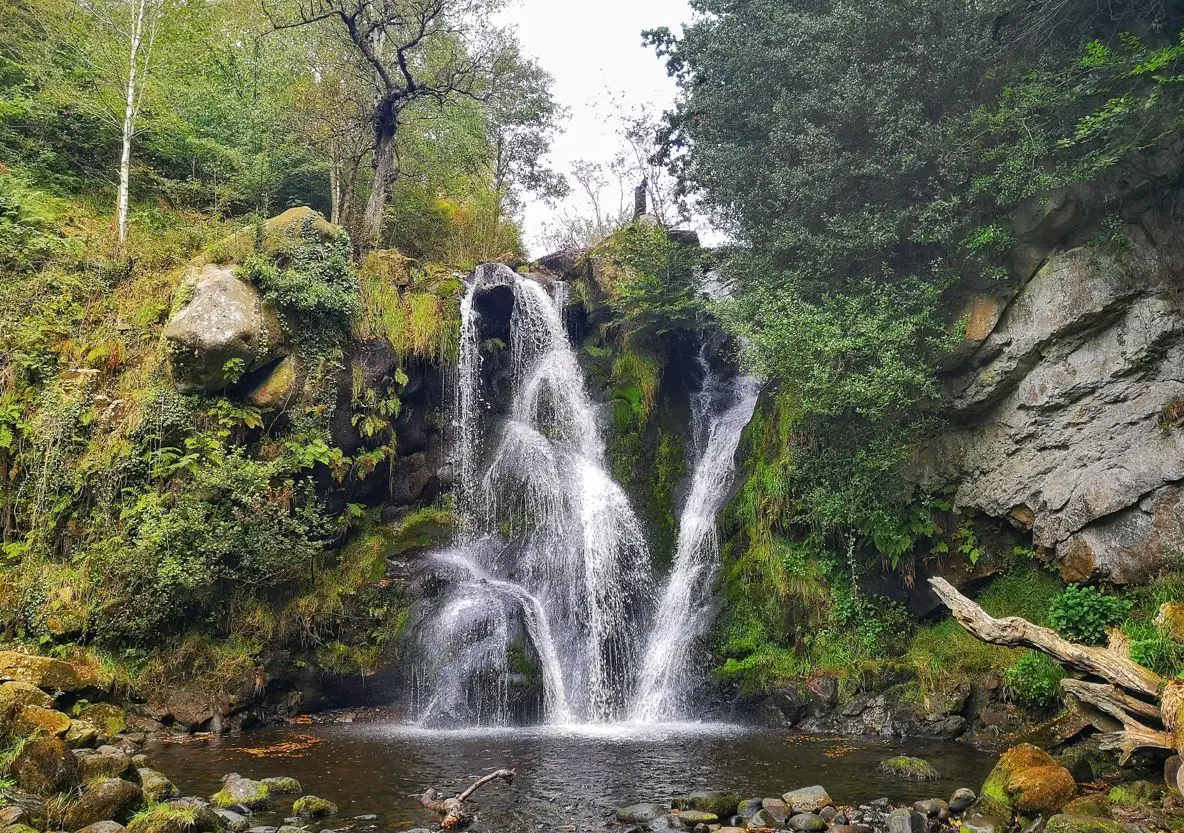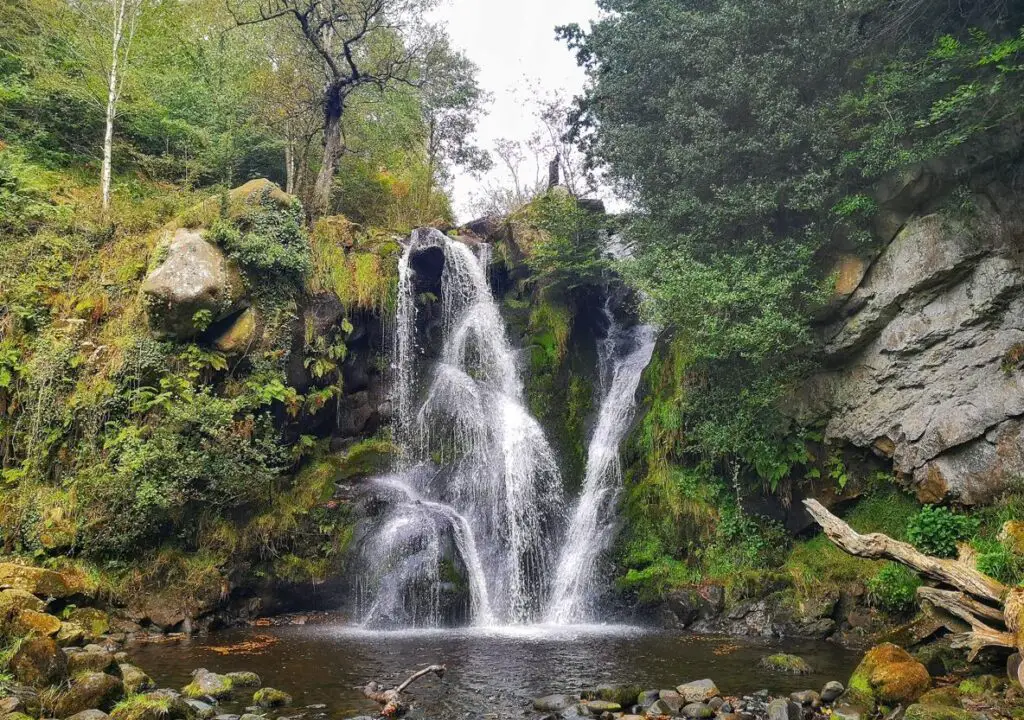 Waterfall information:
The Valley of Desolation was named after a tremendous storm devastated the valley in 1826, but since then, nature has reclaimed and repaired the area. This waterfall is found on Posforth Gill Beck, which runs into the River Wharfe, within the grounds of the Bolton Abbey Estate, near Skipton. 
It is free to access but there is a charge for car parking if you drive. 
Waterfall character:
Posforth Gill is an extremely scenic waterfall, hidden amongst the trees in the Valley of Desolation. The rock face surrounding the waterfall is mossy and covered in vegetation.
How to get to the Valley of Desolation:
The walk to the Valley of Desolation takes 45 minutes – 1 hour from Bolton Priory. It can be muddy and slippery, so hiking boots are recommended. 
Start your walk to the waterfall by stopping off to admire the beautiful Bolton Priory, then cross the stepping stones (or the bridge). Follow the "Welly Walk" along the River Wharfe to the Cavendish Pavilion where you can stop off for a snack and to use the facilities, before continuing on to the Valley of Desolation.
The last section of the path, once you leave the road at Waterfall Cottage, is not suitable for wheelchair users. Keen hikers can continue along the path past the waterfall up to Simon's Seat, with beautiful views across Barden Fell.
Wain Wath Force – Keld
Contributed by Zoe from Zoe Goes Places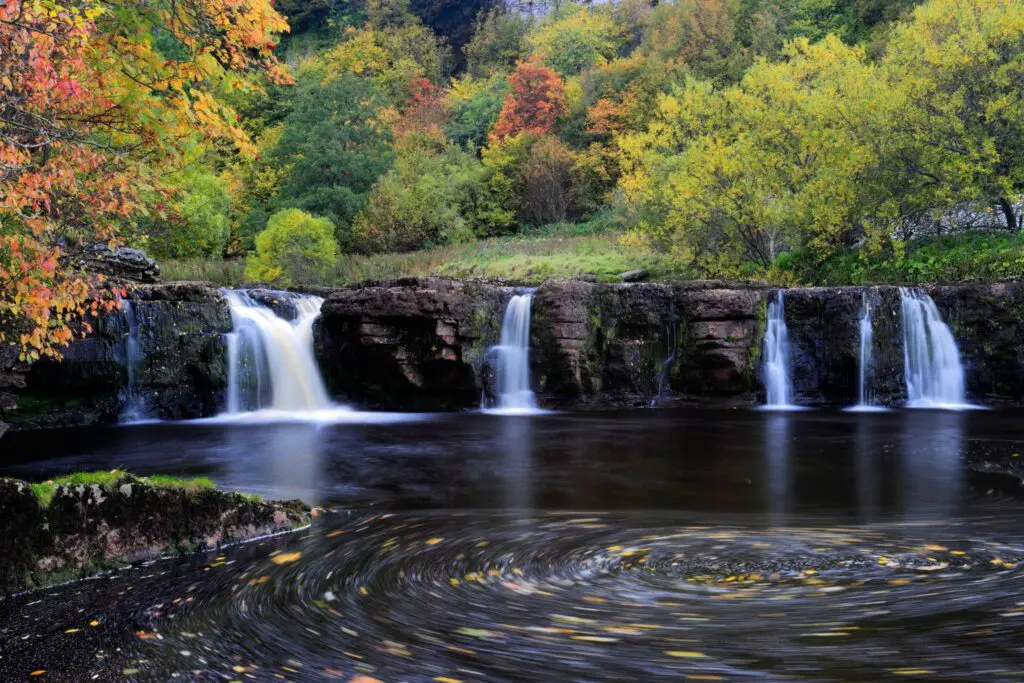 Waterfall information:
Wain Wath Force is a beautiful and easy-to-reach waterfall on the River Swale in the northern Yorkshire Dales. Located just outside the village of Keld, the waterfall is the perfect place for a weekend walk. 
Waterfall character:
This waterfall is characterised by a 2-to-3 metre tall single drop waterfall in winter or after heavy rain, that stretches at least 15 metres across. In summer or after minimal rain, it can break into a series of smaller falls.
At the waterfall, you can bring a picnic and enjoy the surrounding greenery and tree cover. Or, take a hike along the river to visit nearby waterfalls such as Currack Force, East Gill Force and the more off-the-beaten-path spot of Kidson Force. The perfect day out for chasing Yorkshire Dales waterfalls!
How to get to Wain Wath Force:
Conveniently located on the roadside around 1km outside of Keld, you don't even need to walk anywhere to visit Wain Wath Force! Instead, you can drive right up to admire it.
Free parking is available on the roadside by the waterfall, but unfortunately, no public transport options to the waterfall currently exist. Alternative paid-for parking is available in the village of Keld requiring a 20-minute walk to the waterfall.
---
The abundance and variety of waterfalls in the Yorkshire Dales makes the National Park and surrounds a must visit attraction. You could easily spend weeks exploring the babbling streams and cascading falls set in some of Yorkshire's most cinematic landscapes.
Have you been inspired to visit some of these Yorkshire Dales waterfalls?
MORE POSTS ABOUT YORKSHIRE: